We test and review fitness products based on an independent, multi-point methodology. If you use our links to purchase something, we may earn a commission. Read our disclosures.
Editor's note: These shoes are no longer made, but Reebok has a Legacy Lifters II that's very similar to this one. We also recommend you check out our best weightlifting shoes guide to see our top picks for shoes still in production. Some of our favorite pairs include the Nike Savaleos, Nike Romaleos 4, and even the Reebok Lifter PR II.
The Reebok Legacy Lifters are the best weightlifting shoe Reebok has ever made and one of the best currently available. This is not a CrossFit lifter, this is a true weightlifting shoe and we think you'll like it as much as we did.
The long-awaited Reebok Legacy Weightlifting Shoes have been released!
You see, not too long ago, a picture of CJ Cummings, a young man many believe to be the future of USA Weightlifting was seen wearing a new weightlifting shoe from Reebok.
The weightlifting community went crazy!
You see, when the only piece of equipment you wear in a sport is a pair of shoes, it's a pretty big deal when a new pair is released. When a new pair of Jordan's are released, the basketball and sneaker community go nuts. Weightlifting may be a smaller community, but there are a whole lot fewer options for footwear available.
Not to mention, every weightlifting shoe released in the past by Reebok has been a "CrossFit Lifter." AKA, a hybrid weightlifting shoe that neither works well for CrossFit or for weightlifting.
Now, with the release of a real weightlifting shoe by Reebok, we can see what they're made of.
Let's find out.
Reebok Legacy Lifters Review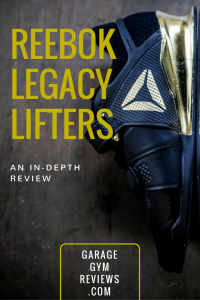 I first want to go through my current top 5 hierarchy of weightlifting shoes (that you can still buy for a reasonable price.)
Nike Romaleos II
Risto Weightlifting Shoes
Sure, there are some other great weightlifting shoes out there for sale. There's also even better shoes that are no longer made (08′ Adistars), but this is where I and many other lie, except for maybe the top two spots being flipped depending on the width of your foot.
When you think about it, that's not a lot of options for a high end, dedicated weightlifting shoe.
The Reebok Legacy Weightlifting Shoes are a pretty good looking pair of shoes, especially the gold and black pair that reminds me of Kimbo Slice (RIP.)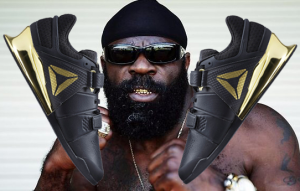 This said, weightlifting shoes should first and foremost focus on performance, and looks second.
The Reebok Legacy Weightlifting Shoes currently come in two colors.
Black and white, and black and gold.
There are sure to be more colors released as time goes on, but for the short-term, these are your options. Either a weightlifting shoe made for a storm trooper or a pair to match your grillzzz.
Thankfully for many of the Olympic Weightlifters who aren't the biggest fans of CrossFit, nowhere on the shoe is the word "CrossFit" displayed. In fact, there aren't many logos at all, something I constantly complain to companies about (less is more IMO.)
The one logo you do see is the Reebok Delta. This was originally used for Reebok CrossFit but eventually was taken over as Reebok's primary logo replacing the 1990's wannabe swoosh logo.
There are many layers to the shoe showing that at least from the looks, it appears to be a shoe that will stay secure to the foot.
Reebok went back to the drawing board after having created many different weightlifting shoes for the CrossFit athlete and came up with a design specifically forthe clean and jerk, and the snatch.
As such, just about every feature is made with the Olympic Weightlifter in mind.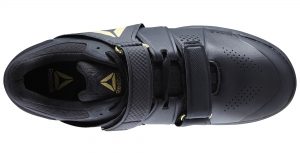 The Reebok Legacy Weightlifting Shoes feature a combination of perforated leather and mesh.
Leather has long been known as the material of choice for weightlifting shoes due to its strong properties. It also looks much better than traditional training shoes. Being a classic sport, weightlifting tends to follow the past rather than look to the future.
The mesh is perforated to provide some breathability, which it does a fairly good job of. The mesh that's used can be found near the heel which provides some extra cushion for the Achilles.
Inside of the shoe, Reebok decided to use the same material it does in its that is a 100% ETC Anti-Microbial lining that in all reality does a great job of keeping shoe stink down to a minimum.
The whole shoe is padded, except for the shoe platform (something you want hard) which allows for a comfortable and secure fit; more on that later.
The weight of a weightlifting shoe is pretty significant.
Depending on the athlete, a light shoe or heavy shoe is preferred. I find most people like a heavier shoe like the Nike Romaleos II that allow the athlete to feel suctioned to the floor.
Foot speed is important in weightlifting, but not in the same way it is in other sports. Many weightlifters, the Chinese especially use very little movement in the feet, while guys like Mohamed Ehab Youssef bring their feet very high during a lift.
The way someone ultimately achieves putting the weight over their head is very personal. As such, no weightlifting shoe is the right one for EVERY lifter.
The Legacy's weigh in at575 Grams.
For comparison, some of the heaviest weightlifting shoes on the market today are the Nike Romaleos, which weigh around 475 grams. A whole 100 grams less than the new Legacy's.
Adidas Adipowers weigh around 450 grams.
So, the Reebok Legacy Weightlifting Shoes now take the cake for the heaviest high-end weightlifting shoe on the market today. Is this a bad thing? Not at all, it's all based on preference.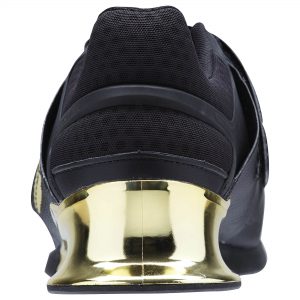 The heel height of a weightlifting shoe is one of the most important parts. More and more, people are preferring a higher heel to allow a more upright torso in the squat. I am also in this camp, in large part because I have iron ankles from years of playing hockey in a fiberglass boot with no ankle flexion (bad idea.)
The heel on the Legacy's is the industry standard .75″ effective heel height.
This is the same as the Adidas Adipowers and maybe slightly lower than the Nike Romaleos II.
For a shoe with a high heel, I suggest checking out the Adidas Leistungs–I did a full breakdown of the shoe here.
The heel is made of an "extra-hard" TPU clip (AKA plastic.) For all of you who are wanting a high-end wood-heeled shoe, don't hold your breath. I don't see them coming from Nike or Adidas/Reebok anytime soon.
The heel of the shoe provides a stable platform from which to drive into, which is all you can ask for from a weightlifting shoes heel.
The Reebok Legacy's feel SECURE.
Seriously, they are about the most secure feeling shoe on the market.
Reebok decided to include two straps with an extra strap like material in between the two straps that are tightened by the lacing system.
When I train, I typically leave the straps undone and the shoe loose.
However, when I'm attempting any max effort lift, I'll generally tighten down the straps and lace the shoes tight to provide a secure feeling. Having the ability to have some many straps along with laces makes the shoe feel great without looking goofy.
The only problem I have with the straps is how small they are. I'm worried that over time they won't hold up to being tugged on and could easily rip. This remains to be seen.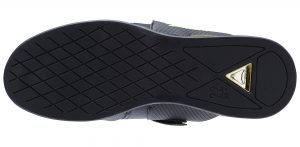 The Legacy's feature a rubber outsole similar to every other weightlifting shoe on the market.
I don't really know of any way to improve the sole on weightlifting shoes, and I don't think anybody else does which is why they're all the same.
Rubber sticks to the platform and does its job. Not much else to say.
The Legacy's have a lot of great features. But, in the end, it only matters if they all add up in helping a lifter put more weight overhead.
The Legacy's perform great. No doubt about it, but they are not my favorite weightlifting shoe.
Like I've said, the strapping system secures the foot really well, and the shoe is well-built.
The problem for me comes about when it's put up against the competition. My current go-to weightlifting shoe out of all the ones I own is the Adidas Adipowers. I like my Romaleos, I like my Leistungs, as well as the other 5 or so pairs, but they just don't compete with the Adipowers…for me.
I have an insanely narrow foot, and unless the shoe is also thin, it feels like I'm swimming in them.
The Legacy's can definitely compete with the other top weightlifting shoes, but if you have a skinny foot like mine, I'd suggest sticking to Adidas.
Sizing – I sized a half size down from my Reebok Nano's mainly because I like weightlifting shoes to feel tighter.
Stability – The heel is wide. This provides a great base without feeling awkward.
Comfort – The Legacy's were comfortable and breathable. I've been unable to do a long session in them yet, but overall they breathe well.
Break-In Period – They will take some time to break in, like most true weightlifting shoes. However, since the heel is mesh, they feel a bit better than if they were all leather.
Final Thoughts
I'm a big fan of the new Legacy's.
They're currently retailing at $199, which is a bit high in my opinion. However, with all of the sales Reebok runs, they'll be discounted soon enough.
If you have a normal to wide foot, I would suggest giving the Legacy's a shot. That said, Nike is about to release their Romaleo's III which are likely to be a home run based on what I've seen, so waiting may be in your best interest.
Full Rating
Reebok Legacy Lifter
The Reebok Legacy Lifters are the best weightlifting shoe Reebok has ever made and one of the best currently available. This is not a CrossFit lifter, this is a true weightlifting shoe and we think you'll like it as much as we did.
Product Brand: Reebok
Product Currency: $
Product Price: 199.99
Product In-Stock: InStock
Reebok Legacy Lifters FAQs
Are Reebok legacy lifters worth it?
Overall, the Reebok Legacy Lifter is a typical strength athlete's weightlifting shoe. It's as hefty — if not somewhat heavier — than other shoe models, and the size, heel height, and craftsmanship give it a really substantial feel that keeps you grounded.
Are Reebok legacy lifters good for powerlifting?
Because of its tougher structure and more solid heel, the Reebok Legacy Lifters are a better shoe for powerlifters and weightlifters. The Adipowers, on the other hand, is an excellent alternative for CrossFitters looking for a lightweight shoe to complete WODs in or beginner lifters trying out lifting shoes for the first time.
Do Reebok legacy lifters run big?
Reebok's Legacy Lifter is a true-to-size shoe.
Where to Purchase
Reebok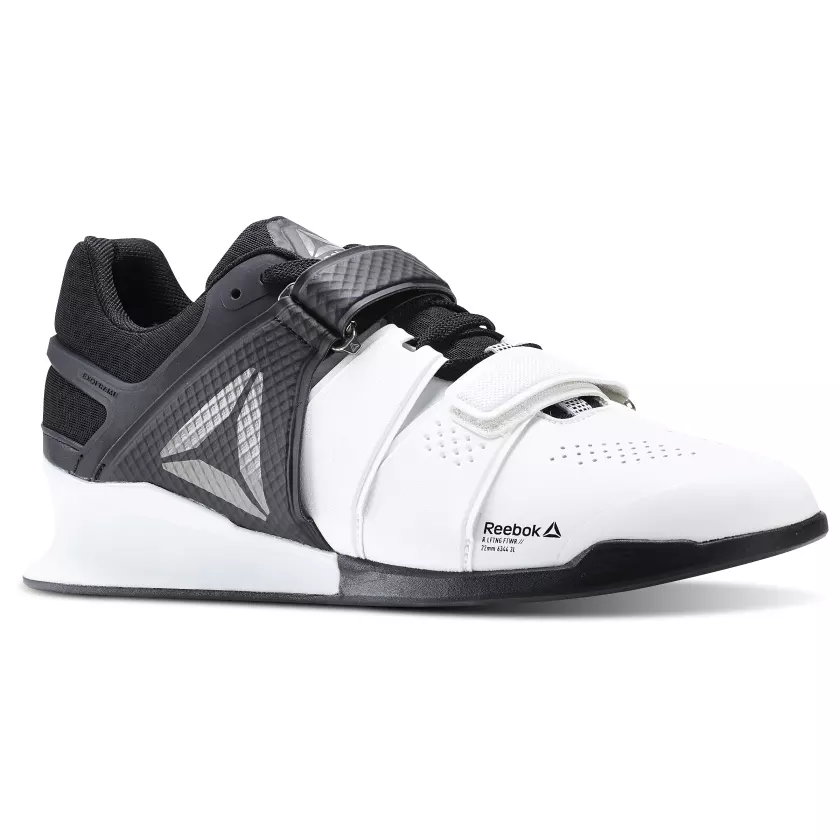 Reebok Legacy Lifter
CJ Cummings knows Olympic weightlifting. That's why we collaborated with him to design our most technical Olympic lifting shoe to hit the platform. The 3/4" heel height allows for optimal squat positioning, while the anatomical shape and two adjustable upper straps give you a customized, locked-down fit and feel. The grip rubber outsole keeps you grounded through your movements, while the Exoframe heel adds support and stability. The collar features a full foam lining with an achilles pad for added comfort.Materials: Perforated synthetic leather upper with mesh for breathabilityDesigned for: Weightlifting, powerliftingAnatomical shape with double upper straps for a customized, locked-in feelGrip rubber provides traction and durabilityExoframe technology in the heel for added supportTPU heel piece in the midsole for stability and controlWeight: 20.3oz. 22mm Drop (3/4")Imported