We test and review fitness products based on an independent, multi-point methodology. If you use our links to purchase something, we may earn a commission. Read our disclosures.
The Nike Romaleos 2 are some of the most popular weightlifting shoe available. Many have been waiting for Nike to release their latest lifters, and through some digging, we've been able to see the new Romaleos 3.
Nike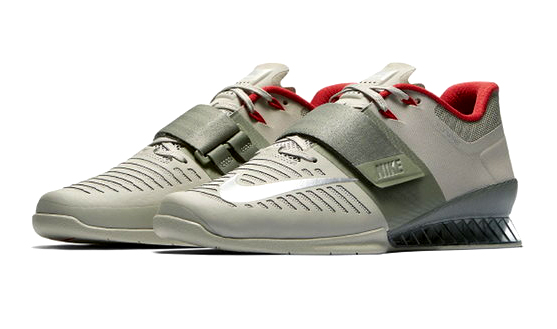 Nike Romaleos 3 Weightlifting Shoes
The Nike Romaleos 3 Men's Weightlifting Shoe delivers the stability and locked-in fit you need for intense weight training. Interchangeable insoles provide soft or firm support to match the needs of your regimen. Specifications:Synthetic leather reinforces mesh on upper for support and breathabilityFlywire cables and nylon midfoot strap offer dynamic lockdownTwo interchangeable insoles provide soft or firm supportHoneycomb TPU plate for lightweight stability during weightliftingSolid rubber outsole provides durable traction20MM offset allows natural movement
I have something very special for you today.
I have scoured far and wide to find photos of the new Nike Romaleos 3and through perseverance and too much knowledge on how to search through Google, I've found some.
Now, as you will see, the shoe is entirely black, most likely to hide as many features as possible as the shoe is still a 'prototype.'
Thankfully the photos I found were high quality enough and with a little touch up, actually don't look too bad.
*UPDATE* Nike Romaleos 3 Initial Colorways Leaked
Nike Romaleos 3 New Features
So, first I'd like to talk about some of the new features I see.
New Strap
The main feature that sticks out to me is the removal of a strap.
On the Nike Romaleos 2 there are two straps used to keep the shoe tight. Nike has bucked this idea in favor of just one strap that is quite a bit thicker than the ones used in the past.
Flywire
If you look closely, you can also see Flywire is used throughout the shoe and is most notably seen on the top two eyelets.
Personally, I greatly welcome the addition of Flywire as every shoe I've used from Nike that utilizes the technology fits like a glove. It really does add some extra tightness in a uniform manner around the foot.
Heel
The Heel is still plastic like the Nike Romaleos 1's and 2's, but does look somewhat different from the ones in the past, although it's a little hard to make out with the all black shoe.
I would guess that Nike will raise the heel some in accordance with other companies like Adidas did with the Leistung's and Reebok is doing with their new Legacy lifters.
Tongue
The tongue appears to be the same as the one used in the ever popular Nike Metcon 2's. Rather than being cushioned like in the Romaleos 2, the new tongue is much slimmer and form-fitting allowing for a lighter shoe overall and a better fit.
Ventilation
The biggest complaint I hear from people who have worn the Romaleos 1's and 2's is how sweaty their feet can become.
It seems that Nike has heard these complaints and has added ventilation all along the shoe. This is a welcome change and should also make the shoe somewhat lighter.
Photo Gallery
Final Thoughts
The Nike Romaleos 2's are some of, if not THE most popular weightlifting shoes currently on the planet.
AND, it's not just because they're made by Nike. They're also an extremely solid weightlifting shoe that also happens to come in tons of colors and look pretty good.
I'm really liking what I see so far of the shoe and can't wait to see what colors will be released or if they'll offer Nike ID (I bet they do.)
There is no leaked release date, planned colorways, or price yet, but as those come up, I will update you.
Nike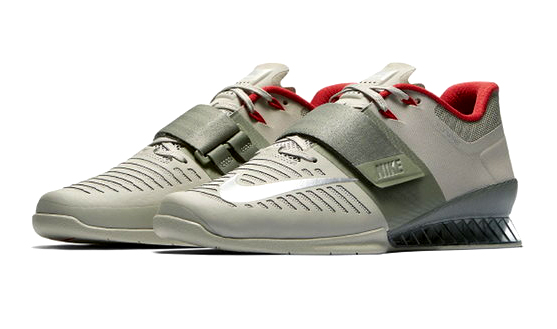 Nike Romaleos 3 Weightlifting Shoes
The Nike Romaleos 3 Men's Weightlifting Shoe delivers the stability and locked-in fit you need for intense weight training. Interchangeable insoles provide soft or firm support to match the needs of your regimen. Specifications:Synthetic leather reinforces mesh on upper for support and breathabilityFlywire cables and nylon midfoot strap offer dynamic lockdownTwo interchangeable insoles provide soft or firm supportHoneycomb TPU plate for lightweight stability during weightliftingSolid rubber outsole provides durable traction20MM offset allows natural movement