We test and review fitness products based on an independent, multi-point methodology. If you use our links to purchase something, we may earn a commission. Read our disclosures.
The barbell is the centerpiece of nearly every garage gym in the world. The problem is the amount of options available. Let this be your guide.
The almighty olympic barbell.
For generations, men and women of all ages have stared in bewilderment of this 7 foot long metal pole.
What a novel idea it was to make a metal pole with sleeves on either side that you could place weight on to hoist in all sorts of ways.
Although the majority of barbells may look similar, they certainly are not.
If you're going to shell out cold hard cash for some cold hard steel than you want to make sure you're getting your moneys worth. Not only that, but you want to make sure it will last through the abuse you inevitably will put it through.
Applications:
The applications will be:
What makes a barbell better than others?
This is the first question that needs to be addressed before we delve into the myriad of barbells that plague the market.
There are a few things that come to mind when deciding on which barbell to buy.
1. Steel
The steel that is used in a barbell is more than just about looks.
It is the essence of the barbell.
Based on various factors of the steel, such as whip and tensile strength, it can be determined what application it is best suited for.
For example, in Olympic Weightlifting it is important to have a bar that is whippy, allowing a true artist of the sport to use the whip to their advantage when cleaning, jerking, or snatching. The majority of people do not need a very whippy bar because they will never reach the weight needed where you actually start to feel a difference.
In Powerlifting, a whippy deadlift baris great, but having a straight as an arrow and stiff as a board barbell is preferred when squatting or benching. Especially when you factor in the amount of weight those who use triple ply suits in competition.
I will be writing some about the tensile strength of the steel within each barbell review.
The majority of barbells are around 150k-170k tensile strength.
2. Knurling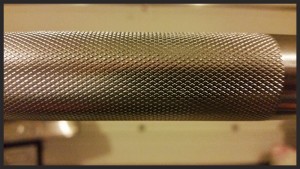 Everybody has a preferred knurling. Some want a knurl that feels like a pack of piranha's (is that a real thing?) ripping at your palms when you grip it.
Others like a really light knurl that requires a lot of chalk to get a secure grip.
The determing factorfor a certain type of knurl is most often based on it's use vs preference however.
In the CrossFit world, if you're doing a lot of reps and you go from moving the barbell to doing something on a pull up bar, your hands are experiencing a lot of friction. Because of this, a barbell with a light knurling pattern would most often be the best for CrossFit to prevent immature rips of the hands.
When attempting any sort of maximum, such as a deadlift. It doesn't matter if the bar leaves spikes in your palms, you want that sucker to stick! Which is why a powerlifting deadlift bar often has the sharpest knurling of all barbells.
3. Spin
The spin of a barbell can be very important depending on it's use.
The majority of barbells use bushings to produce their spin, these are most often referred to as "bushing bars."
If you're looking for maximum spin, then the barbell that you would look for is a "bearing bar." These typically use needle bearings inserted into the sleeve that allow it to spin freely from the shaft.
In my opinion, unless you're an elite level Olympic Weightlifter then a needle bearing bar isn't essential. That being said, I have a needle bearing bar and I'm certainly not at an elite level of weightlifting.
4. Whip
The whip of a bar can greatly change the way it feels with heavy weights.
For olympic weightlifting and deadlifting, a whippy bar is a very desirable effect.
However, for powerlifting squats, and benching you want a bar that is stiff and you are able to know how it will react.
5. Overall Construction
Barbell manufacturers all have different ways of attaching the sleeves to the shaft.
Many use similar techniques, but the most popular is the one employed by Rogue Fitness and it looks like this:
It uses snap rings to attach the sleeve and shaft and although it's quite reliable, it is somewhat noisy.
For the barbell that is the creme dela creme, it will have very little machining tolerances meaning low noise. The perfect example of this is an Eleiko Weightlifting Barbell that uses needle bearings. The inside of the sleeve looks like this:
6. Finish
The finish of the barbell is most times personal preference.
Finishes oxidize at different rates, so for a low maintenance bar, you'll want something that oxidizes slowly to keep you from having to oil it often.
The chart below explains the different oxidation rates of the various finishes most often used: