We test and review fitness products based on an independent, multi-point methodology. If you use our links to purchase something, we may earn a commission. Read our disclosures.
The general purpose barbell is the barbell for anybody at any time. It can be used for most movements and do a good job at all of them. These are our picks.
The General Purpose Barbell is the barbell for anybody at any time. If you're going to buy one bar, this is probably the bar you should buy. You can deadlift, squat, clean, jerk, snatch, curl (yes, you should curl barbells), press, and throw if you want to.
For the majority of people whether you're looking for an Olympic barbell, a barbell for CrossFit or a powerlifting barbell, having just a general-purpose barbell will suit them best.
There's a large market for people looking for a general-purpose barbell and there are all different price ranges and features. A few attributes that I think are best for a general-purpose barbell are:
Let's Dig In…
The General Purpose Barbells
Top Pick: Rogue Chan Bar
Rogue Fitness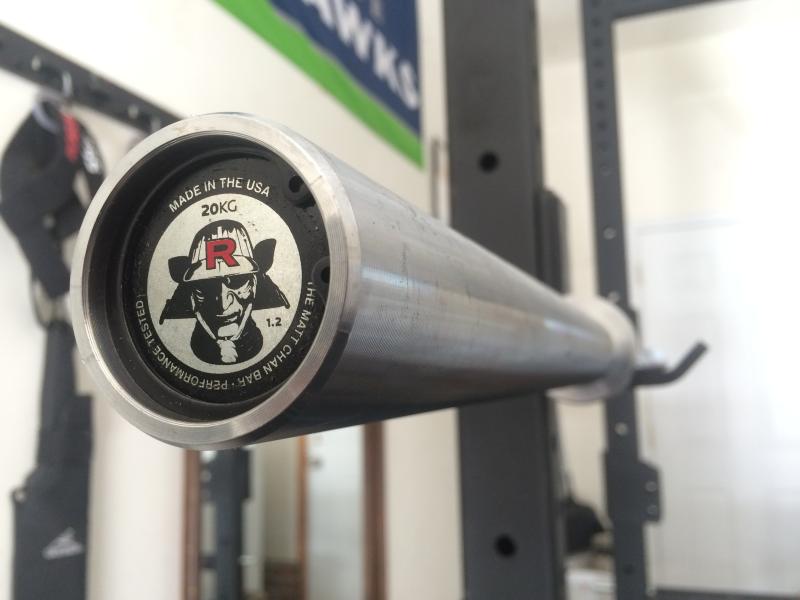 Rogue Chan Bar
An American-made barbell"¨ custom designed by Rogue Athlete Matt Chan. As a former"¨ firefighter and four-time Top 10 finisher at the CrossFit Games, Matt is a man whose opinions tend to carry weight around here."¨ That's why we invited him to come to Columbus and help us"¨ create a custom barbell that would combine the qualities of a powerlifting bar, and Olympic weightlifting bar.The Matt Chan Bar is manufactured from the same quality U.S."¨ steel as our Ohio Bar, with both powerlifting and Olympic "¨lifting knurl marks. Matt added a passive center knurl to the bar. This knurling assists"¨ athletes who prefer a little extra "stick" when in "¨the front rack position or back squatting, but it won't "¨shred the skin like more aggressive center knurls"¨ might.Matt has also increased the distance between the outer"¨ knurling which allows for a wider"¨ stance on cleans and deadlifts without the knurling scraping the "¨shins.Specifications:Machined and Assembled in Columbus, OH, USA Lifetime Guarantee Against Bending* Diameter: 28.5MM Dual Knurl Marks for O-Lifts and Power Lifts "Passive" Center Knurl Outer Knurling slightly more aggressive for easier hold during high rep barbell work Available in Murdered Out (Black Zinc with Black Zinc Sleeves)
In my opinion, the best general-purpose bar available is the Rogue Chan Bar, named after Matt Chan, a multi-CrossFit Games Athlete, and overall awesome dude.
Specifications:
Machined and Assembled in Columbus, OH, USA

Lifetime Guarantee Against Bending*

Diameter: 28.5mm

Dual Knurl Marks for O-Lifts and Power Lifts

"Passive" Center Knurl

Outer Knurling is slightly more aggressive for easier hold during high rep barbell work

Available in Murdered Out (Black Zinc with Black Sleeves)
There are many reasons why I think the Chan bar is the best General Purpose Barbell.
Finish Options
Many barbells don't come in hard chrome unless they're a specialty bar like an Eleiko Weightlifting bar. With the Chan bar, you have that option and more.
What I've found with hard chrome bars is that the finish is extremely durable. For me, I don't like spending a lot of time oiling the bar and brushing the knurling. Chrome will resist oxidizing better than any finish I've seen, and it always looks good. Whether chalky or not.
2. Passive Center Knurl.
If all you're doing is high rep barbell work then a center knurl isn't necessarily something you want. But if you're doing anything behind your neck, you want the extra confidence of a center knurls gripping your shirt.
You want the center knurl to be passive as well, which the Chan bar has.
RELATED: Barbell Exercises
3. Price
A general barbell needs to have a good price. This is less important in the BEST OF THE BEST category, but the Chan Bar as of this writing is a little bit below $400.
4. Warranty
Rogue Fitness has the best customer service in the industry and this bar comes with a Lifetime Warranty. You can't beat that.
5. Diameter
28.5 mm diameter is good for nearly all applications.
6. Dual Knurl Marks for Powerlifting or Olympic Weightlifting
7. Slightly More Aggressive Outer Knurl
Great for maximum lifts, but not too much for high rep work.
Runner Up: American Barbell Training Bar
American Barbell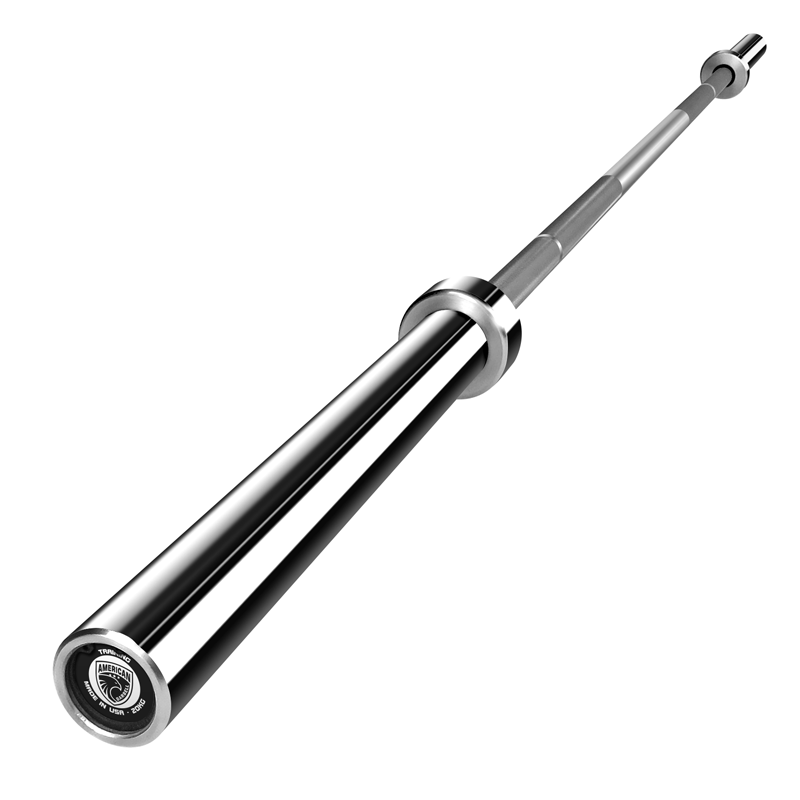 American Barbell Training Bar
The American Barbell Training Bar is a solid, versatile barbell for just about any application. We've tested it against the day-to-day abuse of heavy training and it's proven to last.The bar shaft is made from precision ground alloy steel and the strength of the shaft is tested with every shipment of raw material to ensure we have a consistent 190,000 PSI tensile strength. This attention to detail also allows for excellent whip and long-term performance of our bars. The shaft and sleeves are finished in hard chrome for added durability and corrosion resistance, and the knurl pattern is crisp with just the right amount of tack.The bar sleeves are precision machined and each one is coated with hard chrome for protection against dropping and impact. Sleeves rotate around high strength composite bushings used in aircraft and automotive industries for smooth rotation.Application: Olympic Weightlifting, Weightlifting, Competition Bushing System Center knurl: No Shaft: Hard Chrome Coating Sleeve: Precision Ground Steel with a Hard Chrome Coating IWF Specification Made in USA Warranty: Limited Warranty*
A Made in the USA barbell in a chrome finish with free shipping and a lifetime warranty. This is the bar bargain hunters dream of!
Where to Purchase: American Barbell
Specifications:
Application: Olympic Weightlifting, Weightlifting, Competition
Shaft: Hard Chrome Coating
Sleeve: Precision Ground Steel with a Hard Chrome Coating
Warranty: Limited Lifetime*
Reasons why the American Barbell Training Baris the BEST VALUE barbell in the General Purpose Category:
1. Finish
American Barbell is using a chrome finish with this bar, which I think is awesome. It not only looks good, but it is very durable as well.
2. Price
< $300 is a decent price for this bar. But, when you see that it comes with Free Shipping like is plastered all over their website, it becomes a pretty good deal.
3. Made in the USA
I love USA-made products.
4. Lifetime Warranty
LIFETIME WARRANTY. Nothing makes me happier than this combination of words.
5. Whip
Has a great whip, but not too much. Perfect for general lifting.
6. Tensile Strength
190k tensile strength steel is a steal at this price.
The Competition
Rogue Fitness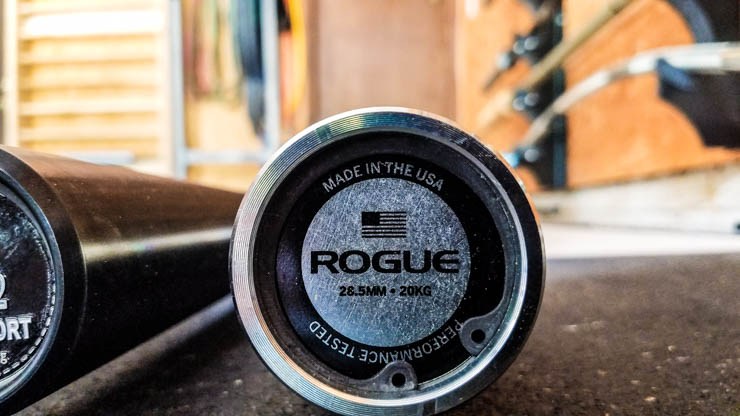 Rogue Bar 2.0
This is the next generation of the 28.5MM Olympic bar that helped launch the revolution. Now fully machined and assembled at the Rogue factory in Columbus, Ohio, the Rogue Bar 2.0 represents the highest level of precision engineering with a wide range of new features—including stronger 190 PSI steel, durable composite bushings, and CNC-machined groove sleeves with customizable color bands, available hereLike the original flagship Rogue Bar, Version 2.0 still offers convenient dual knurl marks for both Olympic and powerlifting, with a black zinc coated shaft and bright zinc sleeves. The addition of a groove in the sleeve enables athletes and coaches to more easily identify and differentiate bars by changing out the bands. The bar comes standard with Rogue-branded bands, but you can swap them out with any of the additional color options available, or even use any custom, personalized band that matches the dimensions.The Rogue Bar 2.0 is among the first in our arsenal to use composite bushings—a self-lubricating material often found in hi-tech aerospace equipment and military vehicles. For intense, high-rep training, these bushings dramatically minimize friction to both provide a reliable spin and help extend the shelf life of the bar itself.The Rogue Bar helped us cement our reputation at the CrossFit Games and beyond, and we believe the Rogue Bar 2.0 is a worthy successor to that mantle.
The Rogue Bar 2.0 is an absolute workhorse for the price. There's a reason they are the top fitness equipment supplier for people who actually use their equipment.
Where to Purchase: Rogue Fitness
Specifications:
Manufactured in Columbus, OH
Dual Knurl Marks for Oly and Power lifts
190,000 PSI Tensile Strength Steel
Composite Bushings for Reliable Spin
Machined Grooves with Replaceable Bands
Finishes: Black Zinc Shaft, Bright Zinc Sleeves
Things I like:
1. Price
As of this writing, the Rogue Bar 2.0 is right around $250. For a barbell like this, that's a steal!
2. Warranty
Rogue has one of the best lifetime Warranties going. There are other bars that I would say are a little bit cheaper and have the same specs and performance, but can't hold a candle to the warranty Rogue offers. Bill Henniger has built his company by putting the customer first. It's what has allowed Rogue to be in the top spot as far as equipment manufacturers.
3. Tensile Strength
The Rogue 2.0 uses 190k steel that is great for Olympic weightlifting, powerlifting, bodybuilding, CrossFit, and everything in between. This is a great tensile strength for general purpose lifting and is actually a bar I once owned and only got rid of because I upgraded or degraded to the Rogue Ohio Bar which is essentially the same bar, just Made in America, which I personally find to be of importance.
4. Dual Knurl Marks
Both Oly and Powerlifting Knurl marks
5. Whip
Has some whip, but is not overly whippy. Great for just about everything.
6. Durable
Utilizes Bright Zinc Sleeves and a Black Zinc Shaft. This is a durable finish and I especially like the Bright Zinc sleeves as they won't show abuse as bad as a Black Zinc sleeve will
Things I don't like:
1. Finish
They only give you one option and I'm not a huge fan of black zinc as it shows wear quickly.
Where to Purchase: Rogue Fitness
Fringe Sport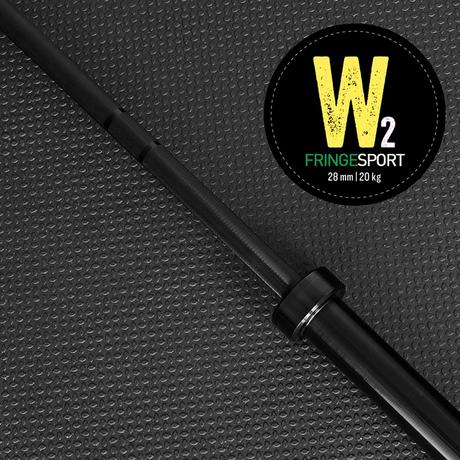 Fringe Sport Wonder Bar V2 20KG Barbell
The Wonder Bar reigns as the nucleus of the barbell universe here at Fringe. We set out on a noble quest to design and build the best bar suited for commercial gyms, and make it available to you at a home gym price. We completed our hero's journey and now offering our reward to you delights us. This versatile bar will serve almost everyone well. You can set world records on this bar, and use it for most training. If you're a seasoned athlete or an affiliate owner, consider stepping up to the Bomba Bar V2 (made in America) or even our Fringe Sport Weightlifting Barbell. Here are a couple of Wonder Bar features to be aware of:The 28mm shaft diameter is great for Olympic movements. The needle bearing cartridges provide great spin, but may require oiling in time. If you're new to lifting or building a home gym and need more info to learn what type of barbell works best for you, here's a helpful guide.We have an informal state motto here in Texas- "come and take it." Not only do we want you to do this with the Wonder Bar V2, but we'd like to put our own spin on it. Fringe it, or forget it.WONDER BAR V2 SPECS:The Wonder Bar V2 comes in a bushing version or bearing cartridges version. Except for that, the specs for both are the same.Bushing rotation or bearing collar Killer all-black Zinc finish Tensile strength: 205,000 PSI Yield strength: 160,000 PSI Weight capacity: 1,600 lb Weight: 20kilograms / ~44 pounds Collars: Bushing (Yellow "W") Bronze Oil Lite Bushing Rotation or Bearing (Green "W") 4 Needle Bearing Cartridges Per Collar Whip: Stiff Spin: Moderate (Bushing) or Fast (Bearing) Best Use: Garage Gym or WODing. Read below for Bushing vs. Bearing differences. Material: Alloy Steel, Black ZincPlated Length: 86 inches Sleeve Specs:16 inches Length and 2" diameter Shaft Specs: true28mm diameter Knurl: Dual Knurling - Double Ring IWF + IPF Knurling (No Center Knurl) Smooth knurl depth- neither a cheese grater nor too soft Warranty: Lifetime Warranty against manufacturer's defects.
Fringe Sport makes some of the best value equipment on the market. The Bomba V2 is no exception They price them really well and you can usually get Free Shipping if you look hard enough.
Where to Purchase: Fringe Sport
Specifications:
Full year satisfaction guarantee, with Free Returns
Black on black on black finish (black zinc)
High impact bronze bushing
1200 pound weight capacity
160,000 PSIGreat knurl depth- neither cheese grater nor too soft
IWF and IPF knurl hash marks
What I Like:
1. Great Price
At around $240 including shipping, it can't be beaten.
2. Knurl
Has a good knurl for all-purpose workouts. As they say, "neither cheese grater nor too soft."
3. Bronze Bushings
I really like the use of Bronze Bushings. They last forever, have a decent spin, and look great.
4. Made in the USA
For some this is important, for others they could care less.
5. Dual Knurling Marks
Both IWF and IPF.6. WarrantyFree returns is a big bonus
What I Dislike.
1. Tensile Strength
The Bomba V2 is listed as having 160k tensile strength. Although this is more than the majority of people will need, I really like to see at least 175k.
2. Warranty
I know I said I like the warranty, which I do for the free returns, but not for its length. A one-year warranty shows me they may not stand behind their product as much as someone with a 5-year warranty.
Where to Purchase: Fringe Sport
Eleiko Sport Training Bar
It's an Eleiko. Therefore you know it's going to be good. It just seems way overpriced.
Where to Purchase: Eleiko Shop
Specifications
215,000 PSI Swedish Steel
What I Like:
1. It's an Eleiko
Eleiko makes the best barbells in the world. Period.
2. Tensile Strength
210k. Very high, and very strong.
3. Finish
Chrome finish. The best finish there is in my opinion.
4. Needle Bearings
Has a high spin, a little too high for an all-around bar, but not way too much.
What I Dislike:
1. Knurling
Although they filed the knurling down a bit with this bar, it's still a little too sharp.
2. Price
Overpriced in my opinion. Great bar, but too much for an all arounder.
Where to Purchase: Eleiko Shop
CAP Barbell Olympic Bar
Cap Barbell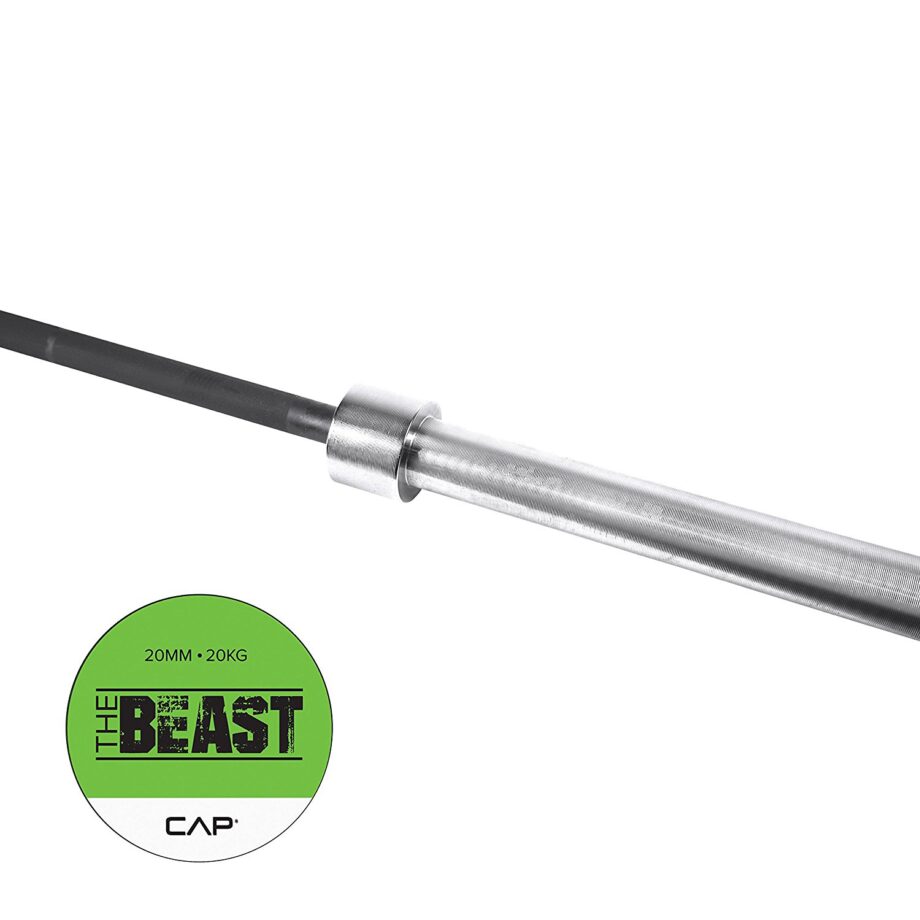 CAP OB-86B Barbell
CAP Barbell is pleased to offer a series of special custom coated colored weightlifting bars in anticipation of its 30th year in business. We have taken one of the best selling bars available and added unique/ proprietary coatings to create a one of a kind product available exclusively from CAP Barbell. As the world's largest provider of weightlifting products and accessories, CAP works diligently toward offering new quality products that can withstand any environment in which they are used.CAP's Customized Beast Bar utilizes the same specs as the standard Beast bar, but goes one step further by adding Accu-Coat specialty coatings. Make no mistake, this is not just a painted bar. Each of CAP's Customized Beast Bars is coated in the USA by Accu-Coat, Inc. utilizing their proprietary coating processes and specialty finishes. These coatings are high performance, exceptionally durable and rust resistant with proper use and care. They are easy to clean and manufactured to last for years. Feel confident in using these bars in your box, home gym or any institutional/professional setting.Accomodates 2-Inch Olympic plates 1000-Pound weight capacity Black oxide finish with polished steel sleeves Medium-depth diamond knurl
Probably the best bar you can buy for under $150.
Specifications:
Accommodates 2-Inch Olympic plates
1000-Pound weight capacity
Black oxide finish with polished steel sleeves
Medium-depth diamond knurl
What I Like:
1. Price
Sitting a little under $150 with free shipping from Amazon is crazy. Granted the bar isn't the best, but it's not meant to be. It's for the person who doesn't want to spend a ton of money, doesn't plan on using
General Purpose Barbell FAQs
How much does a barbell weigh?
A basic Olympic barbell, like the ones seen in most gyms, weighs 45 pounds or 20 kilograms. There are, however, exceptions. Women's barbells are often closer to 35 pounds, curl bars are typically 25–30 pounds, and there are a number of specialized bars weighing slightly varying amounts. However, most commercial gyms use a multifunctional Olympic barbell that weighs 45 pounds / 20 kg.
Can you build muscle with just a barbell?
Yes, absolutely. Barbells are one of the most effective tools for developing muscle and increasing strength. It's convenient to have access to dumbbells, workout machines, and cable stacks, which is why commercial gyms are so popular, but they are simply conveniences. You can exercise with a barbell for a lifetime and never be restricted by it.