We test and review fitness products based on an independent, multi-point methodology. If you use our links to purchase something, we may earn a commission. Read our disclosures.
If you squat, bench, and deadlift, then you know the importance of a good power bar. The feel of the knurling, the ease of sliding big plates on and off, the ability to tolerate maximal loads without bending: These are all factors that determine if you've got a high-quality barbell.
We have researched more than 50 power bars and tested more than a dozen to find the best powerlifting barbells on the market today.
We Know Barbells
Our team at GGR knows good barbells. We use them in our own daily training, and we know exactly how to judge one. In our multi-point testing methodology, we consider the price, tensile strength, warranty, performance, knurling, availability, and durability of each one. We also slapped on bumper plates and took the bars through all the movements to assess how they perform.
The Best Powerlifting Barbells
Best Powerlifting Barbell Overall: Rogue Ohio Power Bar
Good for: People looking for a high-quality bar at a decent price
Best Powerlifting Barbell Overall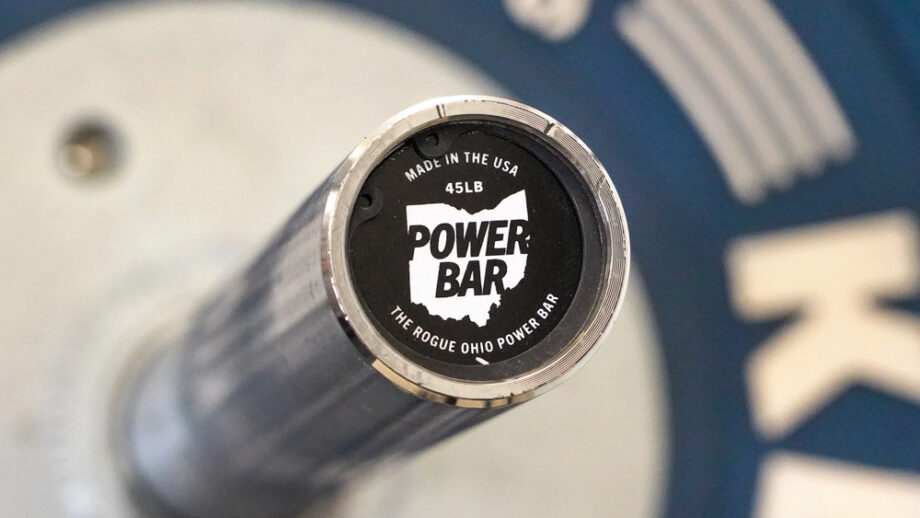 Rogue Ohio Power Bar
Fully machined and assembled in Columbus, OH, the 29MM Rogue Ohio Power Bar features a 205,000 PSI steel shaft (200,000 PSI for Stainless), single powerlifting knurl marks, and center knurling. The bar's knurl pattern is deep and coarse without being sharp or abrasive, and the 29MM shaft diameter and high tensile strength result in little to no flex or whip. This makes the Ohio Power Bar a perfectly honed workhorse for the bench, squat, and deadlift.The 45LB Ohio Power Bar includes bronze bushings, a snap ring design, and 16.25" of loadable sleeve length.When ordering, you can select from three finish options:Black Zinc shaft with Bright Zinc sleeves Stainless Steel shaft with Chrome sleeves Bare SteelRogue also manufactures a 20KG Ohio Power Bar, with friction-welded sleeves and 16.25" loadable sleeve space.The Ohio Power Bar's 29MM diameter steel shaft boasts a tensile strength of 205,000 PSI (200,000 PSI for Stainless), delivering superior rigidity and virtually zero whip/flex. Machined and assembled in Columbus, Ohio, the bar also features a snap-ring design and quality bronze bushings for a smooth, consistent feel.The bar includes single powerlifting marks and a center knurl, each featuring a deep, coarse pattern that produces a reliable grip / stick without being sharp or abrasive. Perfecting this knurl pattern is both a science and an art. Every bar shaft is machined in Columbus on new Haas machines (built in the USA) and fine-tuned and personally tested by the Rogue team.Depending on the look and feel you prefer, there is a version of the Ohio Power Bar right in your wheelhouse. The Zinc option (black shaft, bright sleeves) provides excellent corrosion resistance, the Bare Steel creates a classic look and natural feel, and the new Stainless Steel variation (with Chrome sleeves) strikes a balance between the two.The Ohio Power Bar's quality construction is backed by Rogue's Lifetime Warranty against bending. This is a barbell equipped for high intensity, everyday use. Please Note: The warranty does not cover damage due to negligent or faulty use, alteration, maintenance, storage or handling by the user, i.e., dropping the bar on a box, bench, spotter arms or pins in a power rack, excessive dropping with insufficient or damaged bumpers, or excessive dropping with iron plates, and similar usage. Any specific issues regarding a Rogue product with which a customer is not satisfied will be reviewed on a case-by-case basis.
Pros:
Volcano knurling
IPF-certified
Lifetime warranty
Four coating options
200K to 205K PSI
Bronze bushings
Cons:
May have some whip
Not the highest PSI
Priced between $300 and $485, depending on the coating
The Rogue Ohio Power Bar has all the features most people need to perform the traditional power lifts and is considered to be at the top of its class.
The instant we grabbed the Ohio Power Bar, the feeling of being able to lift heavier weights ensued. Perhaps this is why this barbell has become somewhat legendary in powerlifting circles in the short time it has been on the scene (it was introduced in 2014).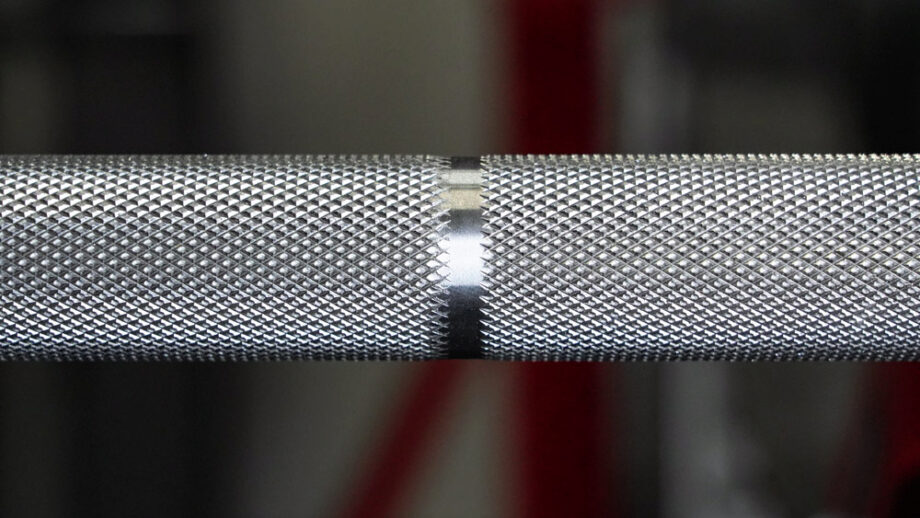 The first thing we experienced and noticed with the Ohio Power Bar was our connection to the bar through its precisely engineered knurling. Powerlifters typically prefer aggressive knurling, and the Ohio Power Bar features what many have referred to as a "volcano" style of knurl. This means that instead of the once-standard "peaky mountain"-type bump, Rogue went ahead and chopped off the mountain peak so that you get four diamond-point peaks instead.
With a 29-millimeter diameter, the Ohio Power Bar is a thick, stiff bar (compared to other 28-millimeter, 45-pound bars). Located inside the sleeve collar are Rogue's go-to bronze bushings, which provide sufficient spin.
The OPB has Rogue-hardened steel that has a 205K PSI tensile strength (200K on the stainless steel bar). Every option of the Rogue Ohio Power Bar comes with a lifetime warranty. The Rogue Barbell lifetime warranty is one of the reasons why we recommend NOT purchasing one of their boneyard bars. As we often point out, a warranty is only as good as the company servicing it, and we have good reason to believe Rogue will be around for quite a long time should any issues arise with your bar.
In summary, the Rogue Ohio Power Bar is our top pick for one of the best pieces of home gym equipment we've tested. We truly feel like this could be the last barbell you will ever buy.
For more, check out our in-depth Rogue Ohio Power Bar review.
| | |
| --- | --- |
| Coating Options | Bare steel, black zinc, E-coat, stainless steel |
| Knurling | Volcano |
| Tensile Strength | 200K to 205K PSI |
| F-Scale Rating | F2 to F8-R |
| Warranty | Lifetime |
Best Powerlifting Barbell for Advanced Lifters: REP Deep Knurl Power Bar EX
Good for: Experienced lifters who want quality knurling and impressive specs
Best Powerlifting Barbell for Advanced Lifters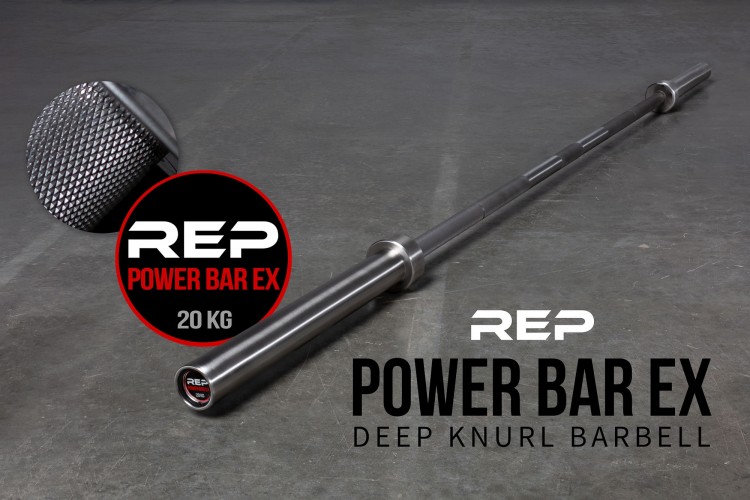 REP Deep Knurl Power Bar EX
The REP stainless-steel deep knurl bar was designed with the experienced powerlifter in mind. This aggressive knurl pattern is cut deep into the uncoated stainless-steel shaft and kept sharp, providing you with a solid grip during your heaviest lifts. It is the combined effect of both the stainless steel and our deep cut knurl that gives you the best grip imaginable. Unlike most stainless power bars, this bar is fully stainless steel, which includes both the shaft and the sleeves. Our stainless steel bar provides the best grip, and the end to end stainless steel ensures your barbell sleeves do not oxidize (rust) from repetitive sliding on and off of plates. This is because stainless steel provides the highest level of oxidation (rust) resistance compared to chrome or zinc-coated sleeves.The combination of everything from deep knurl to fully stainless steel, puts this barbell in a class of its own.Specs:29mm diameter. Knurl Markings: Powerlifting - 32" between markings. Knurl Depth: 75% deeper than any standard offering! Tensile Strength: 200k Bushing design with snap rings. Shaft: Stainless Steel. Sleeves: Stainless Steel. Bushing design with snap rings for optimal Powerlifting performance. Warranty: Lifetime*
Pros:
Stainless steel shaft and sleeves
Aggressive, deep knurl
Center knurl and IPF markings
29-mm shaft
Lifetime warranty
200 PSI tensile strength
Cons:
Priced around $450
Smooth sleeves instead of ribbed
Knurling runs close to the sleeves.
This is one of REP Fitness' best bars to date. In all honesty, it rivals the Rogue Ohio Power Bar in all the right ways, and gives Rogue a true run for their money.
First of all, the shaft and sleeves of this bar are both stainless steel. Stainless steel is the most corrosion-resistant coating you can get on a bar, and it's rare to find a bar that uses it on both the shaft and the sleeves. Given its durability, this could quite possibly be the only bar you'll ever need in your home gym because you might not ever need to replace it.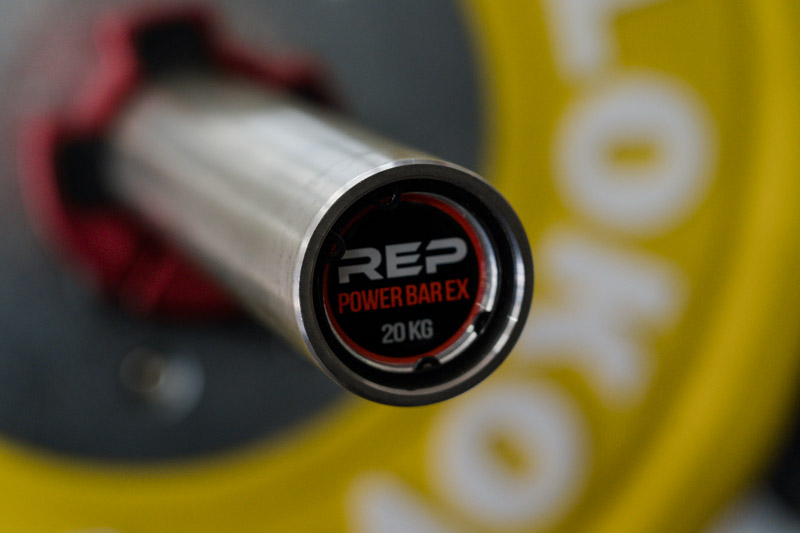 Next, the Deep Knurl Bar has the standard specs you'd want to see in a power bar: 200K PSI tensile strength, 29-millimeter diameter shaft, and IPF markings. While we wouldn't call this a deadlift bar (because a true deadlift bar would have a slightly narrower shaft), we found it excellent for pulls as well as squats and presses.
The knurling on this bar is aggressive and deep, but it's not quite as sharp as the Rogue Ohio Power Bar. Instead, it's a finer knurl, like we find on the Kabuki bar. I think this gives you a better grip without the discomfort.
There are a few downsides, if you want to call them that. For one, I don't like that the sleeves are smooth. When you're using heavy weights on lifts, you like to know that they are locked into place. Sure, you can use barbell collars, but the textured sleeves add a layer of security for people like me.
Also, the knurling runs incredibly close to the collar of the bar. If you're doing Olympic lifting and your hands are that wide, I understand the point. However, for heavy deadlifts or presses, you don't really need to extend the knurl that far. Also, users have reported that the collars were actually wearing on the knurling.
For more, check out our in-depth REP Deep Knurl Power Bar EX review.
| | |
| --- | --- |
| Coating Options | Stainless steel |
| Knurling | Aggressive, deep knurling |
| Tensile Strength | 200K PSI |
| F-Scale Rating | n/a |
| Warranty | Lifetime |
Best Powerlifting Barbell for Squats: PRx Dakota Power Bar
Good for: Those looking for a grippy bar to use on squats
Best Powerlifting Barbell for Squats
PRx Performance Dakota Power Bar
The PRx Performance Dakota Power Bar is an affordable option for those looking to move some weight. It is priced under $300 and features a black zinc finish. This is mid-range, as far as corrosion-resistance goes. The sleeves of the Dakota bar are bright zinc.The tensile strength of this bar is 190K PSI. That isn't the strongest we see in power bars, but it is still a great rating for most people. We like the aggressive diamond knurl, center knurl, and IPF knurling markings on this bar.It's worth calling out that the shaft diameter is a little thin at 28.5 millimeters. While you see that on multipurpose bars, power bars are typically a little thicker. 
Pros:
Priced under $300
Diamond knurling
IPF knurl marks
Center knurl
Cons:
28.5-mm shaft
190K PSI tensile strength
Black zinc not the best finish
PRx Performance makes some of our all-time favorite squat racks, including the Profile Squat Rack, so it comes as no surprise that the brand also makes one of our favorite bars for squats. The Dakota Power Bar is an affordable option for those looking to move some weight in the power rack.
With a price tag under $300, the Dakota features a bright zinc finish on the sleeves and black zinc on the shaft. Both of these coatings will protect the bar to some degree, but neither is the best you can get. Then again, that's why this bar is priced the way it is.
We also have to point out that 190K PSI is on the lower side for power bar tensile strength, but this is by no means a bar that can't handle the weight. A tensile strength of 190K or above means you can drop this from overhead or bail out of a squat without much fear of serious damage to the bar.
PRx calls the diamond knurling on the bar aggressive, which is what you want for strength training like squats and deadlifts. It gives you a good grip with your hands, but an aggressive knurl also keeps the bar from sliding off your back. The center knurl on this bar also makes sure it stays in place as you squat.
The shaft diameter is a little thin at 28.5 millimeters—we've seen squat bars with a thickness upward of 32 millimeters. However, for an affordable bar that gets the job done, we like the Dakota Bar.
| | |
| --- | --- |
| Coating Options | Bright zinc |
| Knurling | Diamond knurling |
| Tensile Strength | 190K PSI |
| F-Scale Rating | n/a |
| Warranty | Limited to just manufacturer defects |
Best Budget Powerlifting Barbell: Bells of Steel Barenaked Powerlifting Bar 2.0
Good for: Lifters on a budget who want a reliable power bar
Best Budget Powerlifting Barbell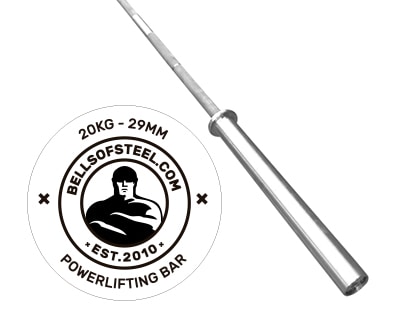 Bells of Steel Powerlifting Bar
The B.o.S. Powerlifting Bar is the best Powerlifting bar you can get for under $200. A bold claim, I know, so here's why having this bar in your gym will put you on a gainz train to muscleville.The Specs Specifically designed for powerlifting and to meet IPF specs, it is designed for people who's three favorite words are bench, squat and deadlift.An aggressive knurl with a bare steel finish gives you a superior grip and will prepare and callous your hands for meet day.With a 210K PSI tensile strength, 1,5000lb weight capacity and snap ring design, the barenaked powerlifting bar is tough enough for both novice and world-class powerlifters.A thinner block allows for more plates to be loaded onto the bar and less whip, while the ribbed shaft helps prevent plates from shifting while lifting.A powerlifting barbell differs from an Olympic weightlifting barbell in that it is more rigid in order to better accommodate the heavier weights. Our power bar is 1mm thicker than the Olympic weightlifting bar and has slightly different markings on the bar. Power bars do not have needle bearing and instead have brass bushing as they don't really need for the sleeves to spin so freely like they do on Olympic bars.
Pros:
Priced around $220
29-mm shaft
Powerlifting marks
Aggressive knurl
210K PSI tensile strength
Lifetime warranty
Textured sleeves
Cons:
Bare steel prone to corrosion
Lack of consistent knurling
5-year warranty
The Bells of Steel Powerlifting Bar 2.0 is a great affordable barbell. It is specifically designed in accordance with International Powerlifting Federation specs for barbells, so it's built particularly for the squat, deadlift, and press.
First, let's look at the knurling: There is an aggressive "pointy mountain" knurling pattern in some parts and a volcano-style in others. This is due to low tolerances in machining, but it's expected for the price. This, combined with the raw steel, makes the knurling feel like it should be on a much more expensive bar (in fact, in blind studies we had multiple people mistake this bar for the Rogue Ohio Power Bar).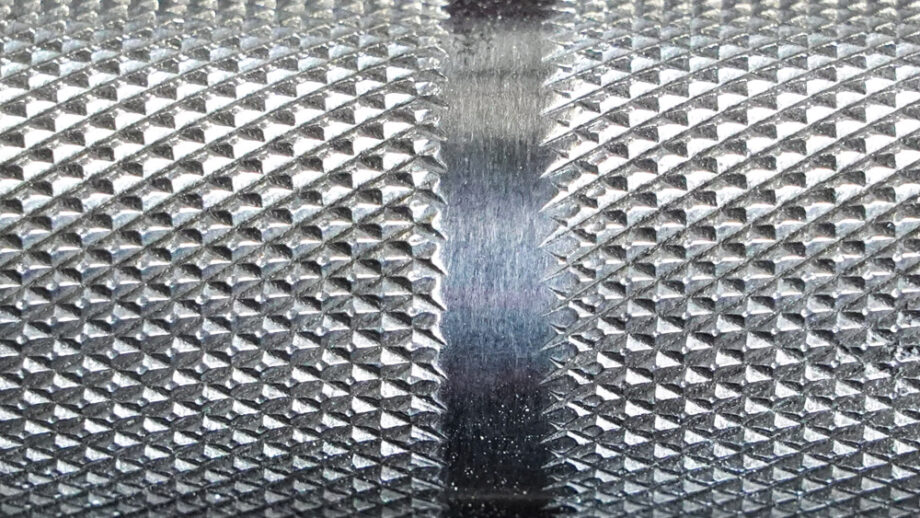 As far as feel, this bar "feels" great, but overall, the machining of the bar could use some work. For instance, there is a noticeable difference in the knurling between one side of the bar and the other, which is most noticed in the center knurling. However, this isn't a dealbreaker considering the price.
The steel is rated at a 210K PSI, which is pretty high. We should point out, though, that since the steel is imported, sometimes it's hard to know for sure if it's exactly what is labeled. Throughout the sleeve is consistent ridging that is designed to prevent plates from shifting during movement. They're a bit deeper than we think is needed, but they do their job of helping keep the plates from sliding.
The diameter of the Bells of Steel Powerlifting Bar 2.0 is the powerlifting-standard 29 millimeters. The sleeves are on the longer end of the bars we tested, measuring in at 17.5 inches, with a unique thin collar. The Bells of Steel logo is etched on the inside of the collar, giving it a very clean look.
For more, check out our full Bells of Steel Powerlifting Bar 2.0 review.
| | |
| --- | --- |
| Coating Options | Raw steel |
| Knurling | Pointy Mountain |
| Tensile Strength | 210K PSI |
| F-Scale Rating | F2 |
| Warranty | Lifetime |
Most Durable Powerlifting Bar: Kabuki Strength New Generation Power Bar
Good for: People who want the strongest barbell on the market
Most Durable Powerlifting Bar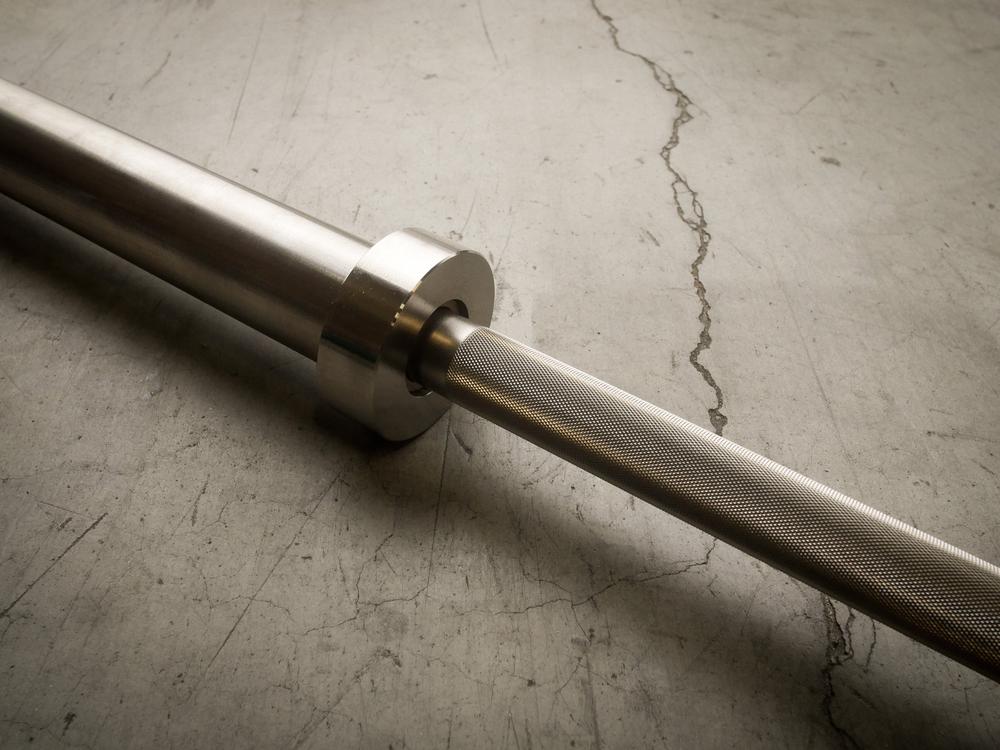 Kabuki Strength Power Bar
This bar is our IPF spec, multi purpose, power bar. It I a 29mm bar, with aggressive but not overly sharp knurl, and standard powerlifting markings.What is it about our new generation bars that sets them apart? With a tensile strength of over 250k PSI and a rockwell hardness of 51 RC, this bar is harder than any other currently bar on market. What this means in practical terms is that the knurl won't wear down over the years, leaving you with a bar that is performing sub par compared to when it was new. Even where the bar contacts the rack it will maintain that fine, tacky, aggressive knurl just like the day it was unboxed.The knurl itself is the other piece of engineering that went into this bar this bar that we are proud of. We wanted to create something that grabbed well but wasn't so unnecessarily sharp that it cut your hands rather than grabbing. The knurl of our bar is finer than most barbells you will find, giving the knurl more points per square inch and creating more surface area to create friction against.Lastly, another small feature to differentiate our bar is the center marks in the knurl. We wanted to leave the power bar with a continuous center knurl so as to not lose any of the grip effects for squatting, but still have marking to indicate the bars center for alignment purposes.We fully stand behind our product and believe in it wholeheartedly, which is why each bar comes with a 5 year warranty against any type of manufacturing defect. What this means is if your bar begins to wear prematurely, we will repair or replace it free of charge. While our bar does have a higher tensile strength – what this doesn't mean is that we will warranty against customer induced damage such as dropping the bar into metal safety pins. Depending on many variables such as the height and weight used this is just simply too much force into one area of the bar to not cause permanent deformation.
Pros:
250K PSI (the strongest bar on the market)
Three finishes available
Volcano-style knurl
Bronze bushings
Cons:
Priced at nearly $700
No stainless steel option
Short 5-year warranty
The Kabuki Strength New Generation Power Bar is certainly one of the best power bars we've ever tested. Put simply, it's one of the highest quality bars on the market at any price point. The knurling. The steel. The feel. If you want one of the best bars that money can buy, this is near the top of the list.
To understand why the Kabuki Strength New Generation Power Bar was produced, you need to understand co-founder of Kabuki Strength Chris Duffin. Duffin is an accomplished powerlifter and has a distinguished engineering background. Some of our favorite products are Kabuki Strength-manufactured: the Kabuki Strength Duffalo Bar (one of our favorite specialty bars) and the Kabuki Strength ShouldeRök.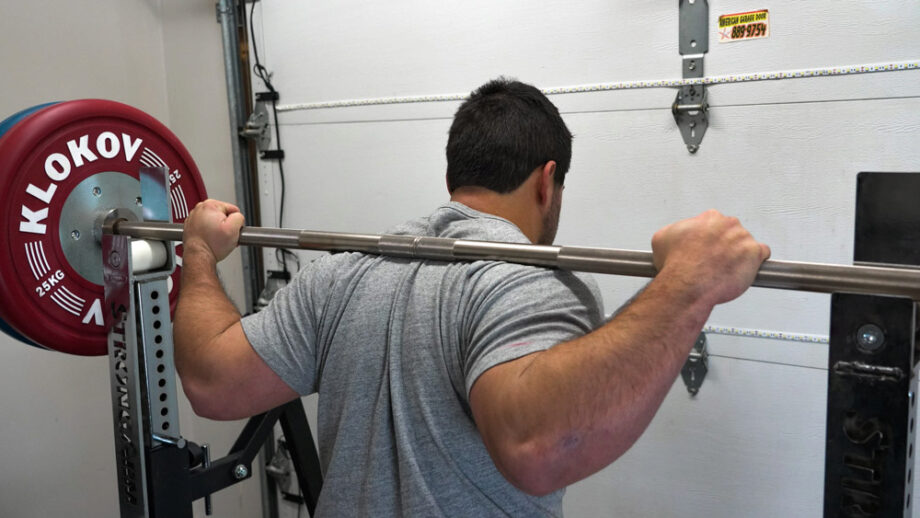 We were able to talk to Duffin when he first announced that they were launching a specialty power bar. From our conversations, we could tell that Kabuki Strength was pouring in a ton of thought and effort into making the best power bar they possibly could.
Duffin and the team decided to go with the "volcano" style of knurling that is much finer than the knurling on the Rogue Ohio Power Bar. The Kabuki Strength Next Generation Power Bar has a diameter of 29 millimeters. The sleeves utilize self-lubricating bronze bushings, which provide a reasonable spin that is not excessive and has become the standard for power bars as of late (we generally prefer them to composite bushings for longevity purposes).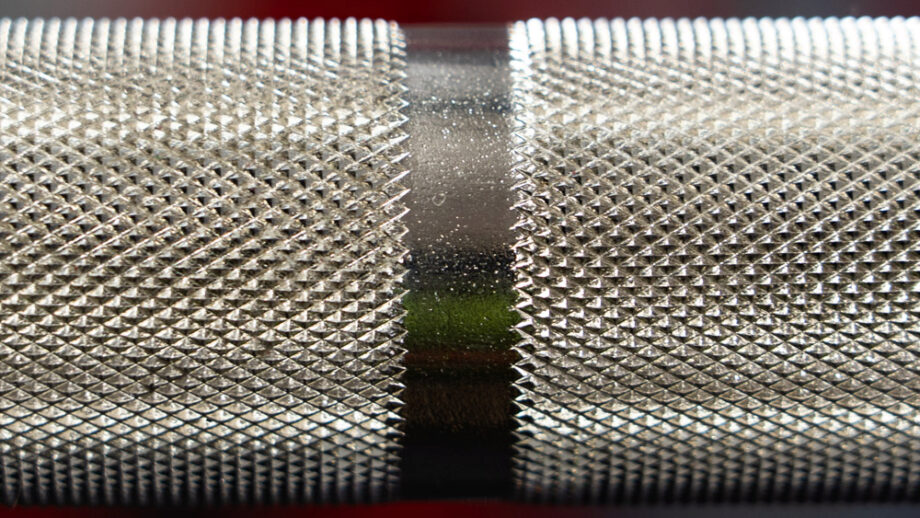 The Kabuki Strength New Generation Power Bar is produced in the U.S. with American Steel. This steel used for the shaft is rated at 250K to 258K PSI, with an associated Rockwell Hardness rating of 51 RC. This characteristic is the highest tensile strength found on this best-of list (and of any barbell anywhere).
In accordance with the F Scale, the Kabuki Strength New Generation Power Bar registers at an F0.6. This is an interesting find, but makes sense. The harder the steel of a bar is, the more brittle it is. Although you should never have an issue with the Kabuki NGPB breaking or bending if used for the squat, deadlift, and bench, you may have issues eventually if used for movements like power cleans.
You can get the bar in black oxide or cerakote. It would be great to have a stainless steel option on this type of bar, however, Chris Duffin has responded to this request with the following statement:
"Stainless is not inherently better and only provides corrosion-resistant properties. But to accomplish that, it still requires treatment such as passivation. If it requires treatment, we may as well go with higher tensile strength steel that is better to work with and keeps costs lower. Then we do the electroless nickel finish, which is arguably superior to stainless. In this manner, we improve function, cost, and finish."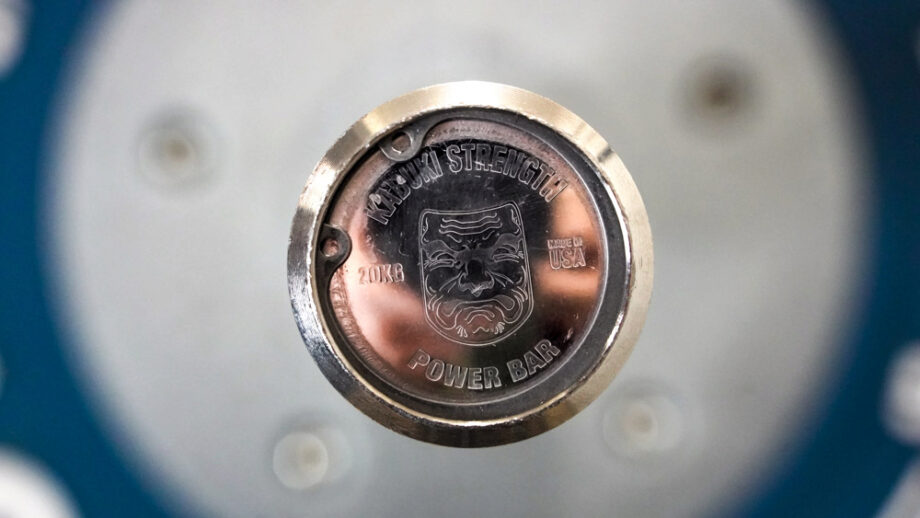 Currently, Kabuki Strength offers a short five-year warranty. At the price of this bar, we would hope that one day they could reason as to offer a lifetime warranty as Kabuki itself continues growing as a company.
For more, check out our Kabuki Strength Next Generation Power Bar Review.
| | |
| --- | --- |
| Coating Options | Black oxide, cerakote |
| Knurling | Volcano |
| Tensile Strength | 250K PSI |
| F-Scale Rating | F0.6 |
| Warranty | 5 years |
Best High-End Power Bar: American Barbell Cerakote Mammoth Power Bar
Good for: People with money to spend who also don't mind passive, medium knurling
Best High-End Power Bar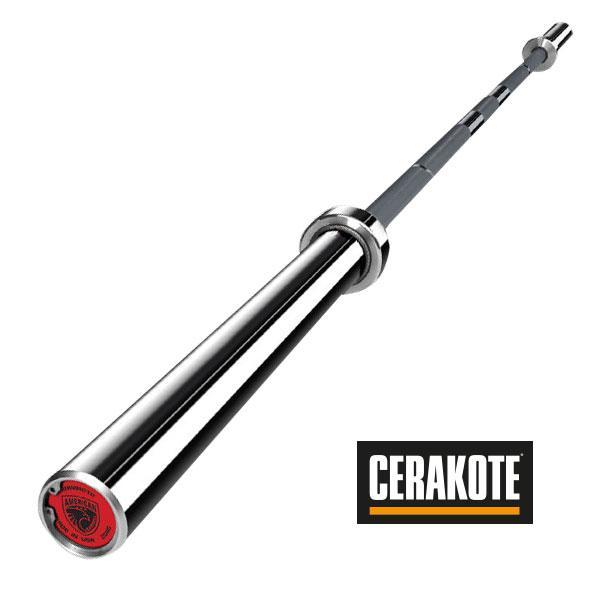 American Barbell Mammoth Power Bar
The American Barbell Cerakote Mammoth Power Bar, formerly the Super Power Bar, has a shaft made from super stiff precision grade stainless steel. The Mammoth Power bar is finished with Savage Stainless Cerakote for a look, feel, and performance that is unparalleled in the fitness industry today. The strength of the shaft is tested with every shipment of raw material and is then heat treated to ensure we have a consistent 210,000 PSI tensile strength. This ensures reliable long-term performance day in and day out.Our selected steel grade for our Mammoth Power Bar provides very little flex, making it ideal for a variety of max load lifts.After many years of producing some of the finest Olympic barbells in the world, American Barbell is proud to introduce our latest innovation: Cerakote finished bars. Nothing ever produced rivals the corrosion and abrasion resistance of this finish. Cerakote is used by major firearm manufacturers around the world in some of the most abusive and corrosive environments. Corrosion salt spray testing has shown that this coating lasts as much as 70x longer than chrome and even stainless steel.American Barbell's design team has been producing innovations in bar technology for more than 18 years, and this is one of our most exciting accomplishments. Every type of bar finish has its story, and we've determined that our Cerakote Mammoth Power Bar is unrivaled. This is an ideal choice for those looking for a powerful precision barbell that will last through the ages.Product Code: OB20-IPFM Application: Powerlifting, Strongman, Heavy Strength Training Bushing System Weight: 20KG Diameter: 29MM Center knurl: Yes Shaft Material: Stainless Steel with a Savage Stainless Cerakote Finish Sleeve Material: Precision machined steel with a Hard Chrome Finish Tensile Strength: 210K Made in the USA Patent No: US D795,971 S Warranty: Limited Lifetime*
Pros:
210K PSI
Stainless steel with cerakote finish
Made in the USA
Lifetime warranty
Bushing system
Chalks very well
Cons:
Priced around $600
Knurling is a little passive
Goes in and out of stock
The American Barbell Mammoth Bar is without a doubt the most unique barbell on our list and those who prefer its specifications will fall in love with it. Priced around $600, this is by no means a budget-friendly bar, but then again, you get what you pay for.
We like to call this bar a spec'd-out monster. Made in the USA, it has a 210K PSI tensile strength. Also, it is made of stainless steel that is then covered in cerakote traditionally used for firearms. The cerakote is applied at a consistent .001 inch, which seems thin, but with an already shallow-cut knurl, it's enough.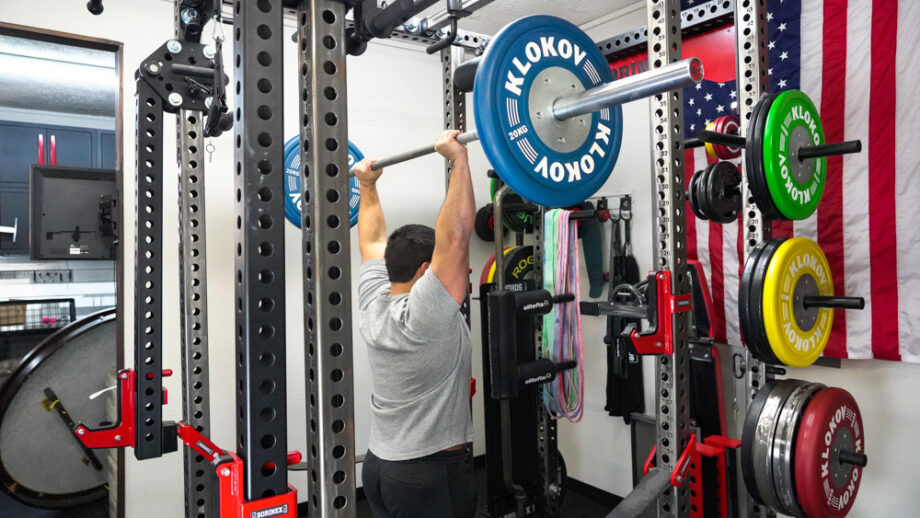 After nearly three years of consistent use, the bar is still showing little wear. This unique combo of Cerakote over stainless steel makes it one of the most corrosion-resistant barbells ever created (almost unnecessarily). In other words, it's ideal for an environment with constantly fluctuating temperatures and humidity levels…like a garage gym.
The knurling on the American Barbell Mammoth Bar is extremely precise. If a "good" knurl is defined by its precision and consistency (how we define a good knurl), then the knurling on the American Barbell Mammoth Bar is some of the best.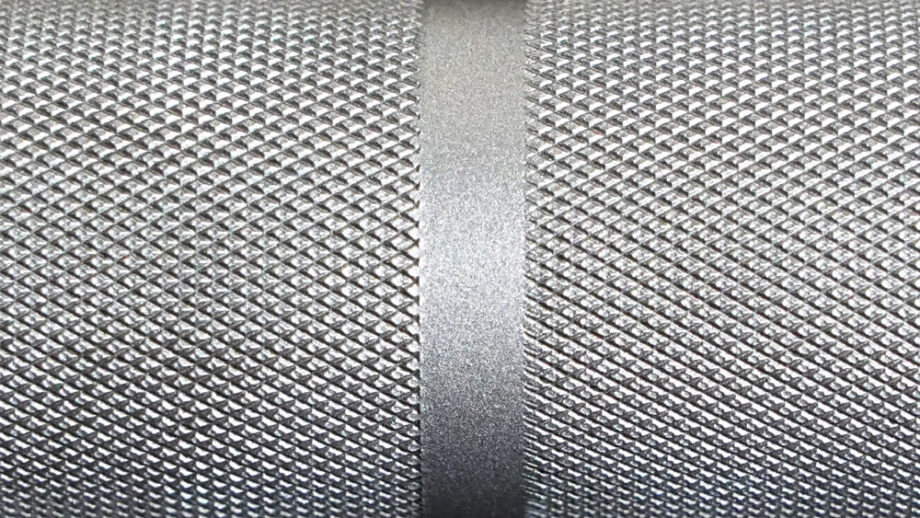 One thing that shows the precision of the manufacturing is how pronounced the start and stops of the knurling are on the bar. If you took a magnifying lens to other bars, you would notice many different results, even from bars that are twice as much as this one.
However, we have to point out how passive the knurling is for a power bar. Although we prefer more aggressive knurling, there are many who disagree (including one of our testers), which is why we constantly say that the aggressiveness of knurling is a preference.
As for the sleeves, this is another area where American Barbell is unique. American Barbell uses a precise welding feature to attach the collars to each sleeve. When they first introduced this feature, they got complaints that the weights didn't sit flush with the collar, so, to improve their design, they now recess the welds so that there aren't any issues when adding plates.
The welds are extremely clean and consistent (welded using robotic welders) and although they don't really add anything to the function of the bar, they do look great. Inside the sleeves are composite bushings that provide a smooth, slow, and consistent spin, which is ideal for powerlifting (not just composite bushings but bronze bushings as well).
To learn more, check out our American Barbell Mammoth Bar review.
| | |
| --- | --- |
| Coating Options | Stainless steel with cerakote finish |
| Knurling | Passive pointy mountain |
| Tensile Strength | 201K |
| F-Scale Rating | F2 |
| Warranty | Lifetime |
The Fan Favorite: Buddy Capps "The Original" Texas Power Bar
Good for: The sentimental kind who enjoy a classic
The Fan Favorite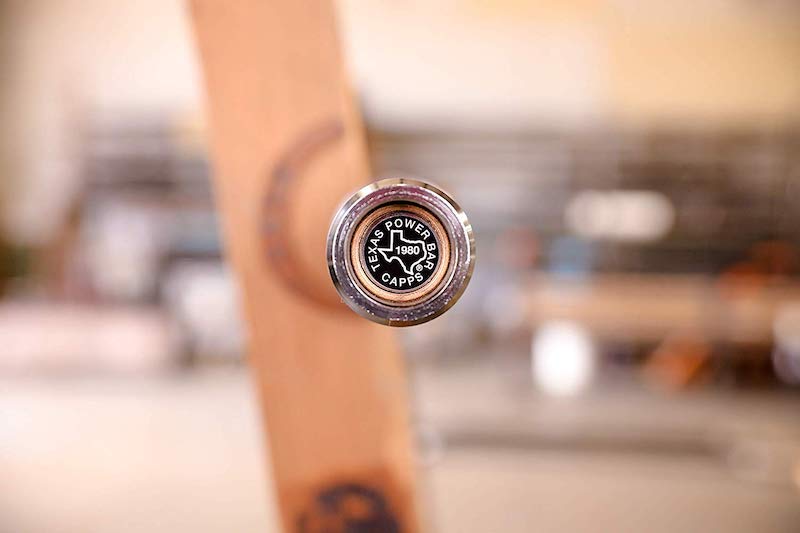 Buddy Capps Texas Power Bar
The most popular powerlifting bar on the market, Manufactured by Buddy Capps. Used in National & World Championship Meets since 1980.We are still using the same USA steel mill we started with in 1980. The shafts are center less ground, demagnetized and oiled to the max before shipping to Texas. Once at our production facility, we machine and then knurl each shaft to create a grip that is still the best in the industry. Texas Power Bars have different finishes available including black zinc and chrome plating. The sleeves are are available raw or chrome plated.Big tensile strength numbers sound very impressive and we have them but, the proof is on the platform. Hundreds of state, national, international and world powerlifting records have been and continue to be set and broken on the The Texas Power Bar.Length - 84"Weight - 20kg (45 lb w/ basic collars)Diameter - 28.5 mmCapacity - 1500 lbsFinish - Shaft is black zinc; ends are raw
Pros:
Aggressive mountain knurl
Lifetime warranty
3 finishes available
Priced around $285
Cons:
190K PSI
Thinner diameter at 28.5 mm
No stainless steel option available
The Texas Power Bar was one of the first of its kind. Produced by Buddy Capps, the Texas Power Bar quickly became the ruler other companies would use to measure themselves against. You could even say that more world records have been registered using the Buddy Capps Texas Power Bar than any barbell ever fabricated.
The most significant factor that we can think of when it comes to the likeability of the Texas Power Bar is that it was one of the first barbells that came out with knurling that surpassed all of the others at its time, especially for powerlifting.
RELATED: Rogue Ohio Power Bar vs. Texas Power Bar review
The knurling is detailed, using the "peaky mountain" style that we would describe as being aggressive and assuring. Many lifters prefer this style of knurling due to this feeling of precise sharpness that just seems to work when held across your back or wrapped tightly with your fingers.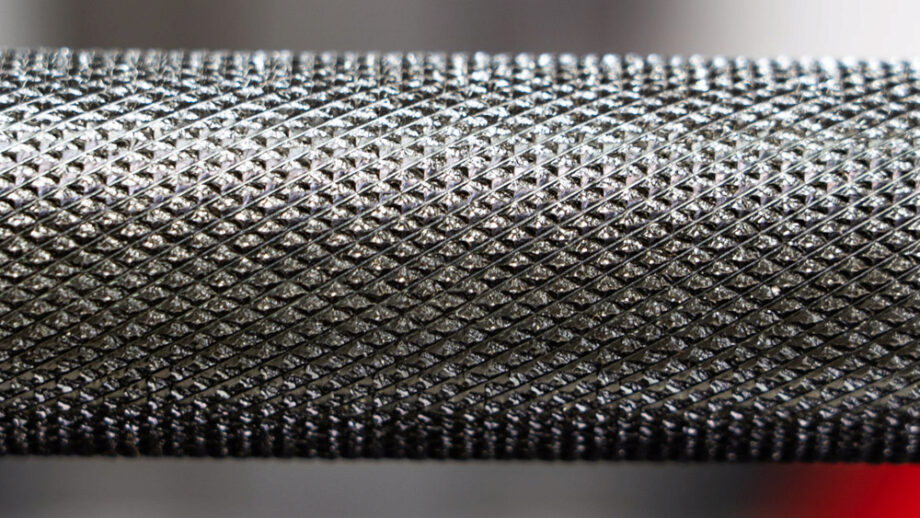 Almost as unique as the knurling is comparing the diameter of the Texas Power Bar to almost every other barbell on this list. The Texas Power Bar measures in at a slightly smaller 28.5 millimeters and also has a slightly shorter overall bar length of 86 inches.
Although the thinner diameter feels better in your hands during a deadlift, we prefer a thicker diameter for the squat and press and is why many squat bars are 32 millimeters.
The tensile strength is rated at 190K PSI, which is at the lower end when compared to other bars on the list. Although most bars these days have an extremely high tensile strength, 190K PSI is going to be enough for just about anyone.
The Texas Power Bar is rated at F2 in accordance with the F Scale Rating. Basically, this means that a garage gym or facility focused on powerlifting shouldn't worry much about whether or not the barbell will last through the years.
All around, the Buddy Capps Texas Power Bar is a good, trusted barbell with a long-backed reputation. While it is not our favorite bar, it is reliable and has stood the test of time as a treasure among powerlifters.
For more, read our Buddy Capps Texas All-American Bar review.
| | |
| --- | --- |
| Coating Options | Bare steel, black zinc, chrome |
| Knurling | Pointy Mountain |
| Tensile Strength | 190K PSI |
| F-Scale Rating | F1-F2 |
| Warranty | Lifetime |
Best Powerlifting Barbell for Beginners: CAP OB-86PBCK Power Bar
Good for: People new to lifting who want a very affordable barbell from Amazon
Best Powerlifting Barbell for Beginners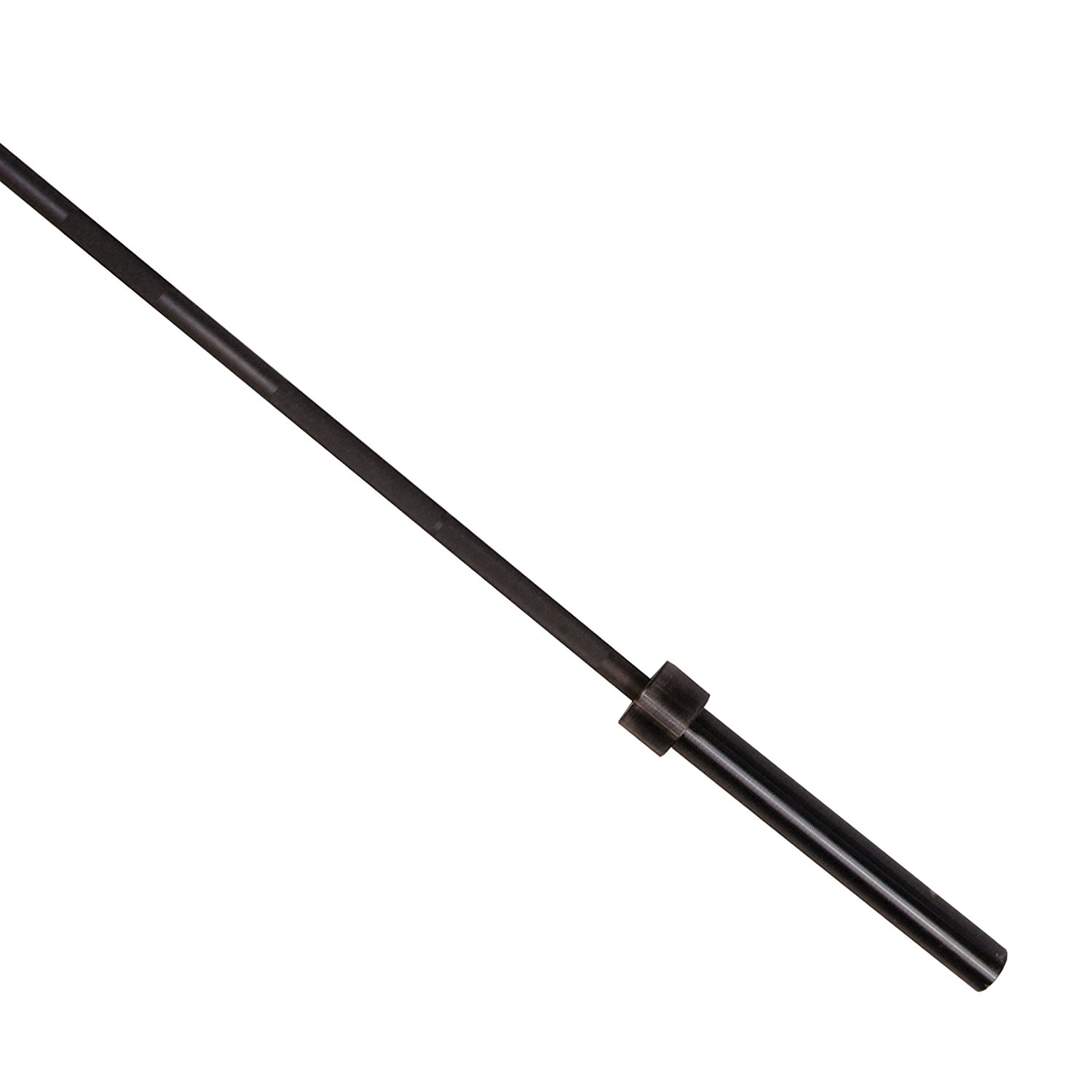 CAP OB-86PBCK Power Bar
CAP Barbell 2" solid power squat bar is designed to handle over 1000 lbs. This 7' bar has a black oxide finish and comes with proper hand placement markers and comfortable center knurling. This is the bar of choice for squats, bench presses, and deadlifts. Collars not included. Accommodates all 2" plates.Black oxide finish Hand placement markers and comfortable center knurling Ideal for squats, bench presses, and deadlifts Collars not included Accommodates all 2 inch plates
Pros:
Priced as low as $117
Free shipping on Amazon
Versatile
Textured sleeves
Cons:
110K to 132K PSI tensile strength
5-year warranty
Finishes aren't very durable
If you are just starting out with barbell training or want a "beater bar" and need a decent budget option, we'd suggest the CAP OB-86PBCK Power Bar, also known as "The Beast." It has the worst specs of any bar on this list, but it also has the lowest price and, simply put, gets the job done.
Squats, presses, Pendlay rows, landmines, and more—if it's an activity that can be done with a multipurpose barbell, it can be done with the CAP OB-86PBCk. It's one of our favorite cheap bars due to its durability and price at under $150 for certain finishes.
Yes, the knurling will get fatigued and worn over time, and the sleeves will most likely get scraped, but it will continue to perform when we need it to.
RELATED: Ultimate $1,000 Budget Home Gym
The Cap OB-86PBCK utilizes a "pointy mountain" style of knurl (although it actually just looks like dirt mounds). It's not as sharp nor aggressive as a Texas Power Bar but aggressive enough to get the job done for most lifts. It is surprisingly nice for an ultra-cheap bar, even if it feels a little rougher and more abrasive for many lifters.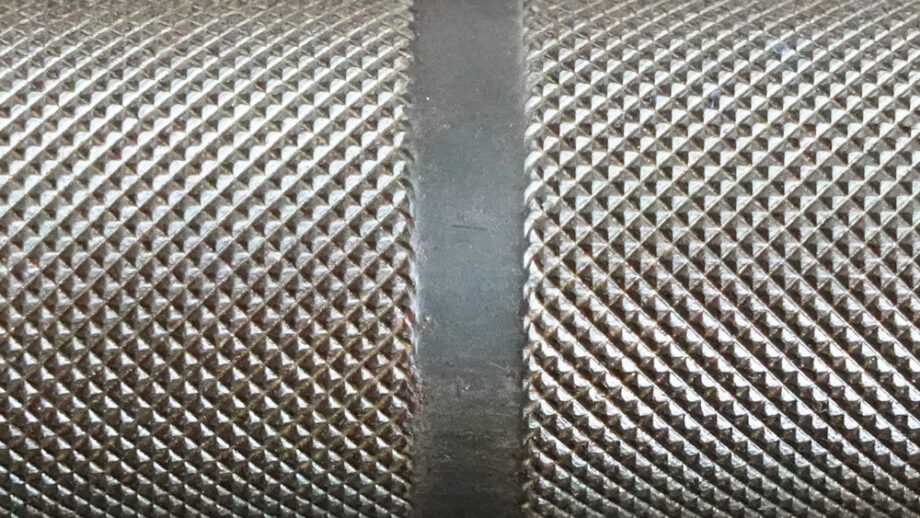 Its listed weight is 20 kilograms and has a 28.5-millimeter shaft, which is similar to the Buddy Capps Texas Power Bar, and not seen as often these days for power bars. The sleeves utilize a black zinc coating and spin on steel bushings, which are inferior to bronze and composite bushings but expected with the price point.
One downside of this bar is that there is considerable back-and-forth play in the sleeves. This can lead to unnecessary stress on the sleeve and wear down the bar much quicker and also is just kind of annoying while in use. On the plus side, however, the sleeves feature consistent grooves that allow for good weight plate security.
RELATED: Best Budget Home Gym Equipment
The CAP OB-86PBCK features a tensile strength of 132K PSI. This is by far the lowest strength steel of any barbell on this list and another reason why we only recommend it to those on a budget or just starting out. Due to the low-grade steel and also that the barbell is plated in its only option, black phosphate, the bar doesn't even actually measure on the F Scale.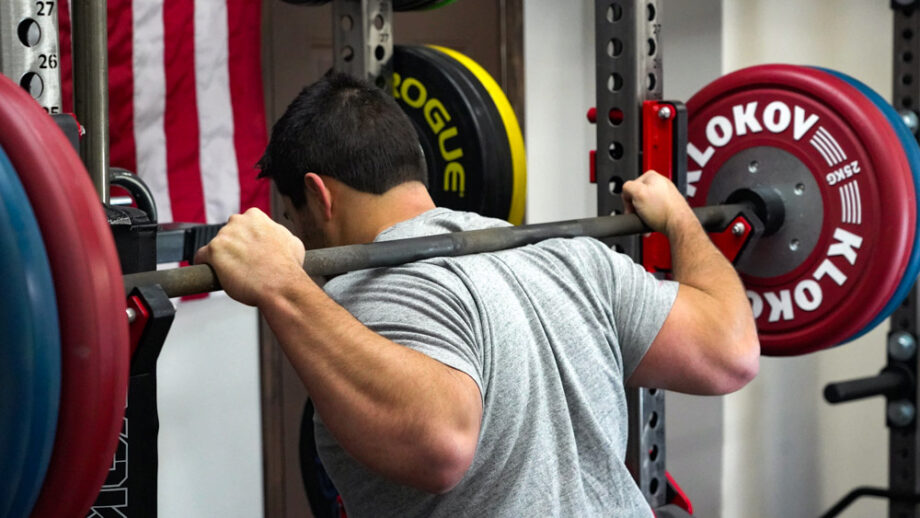 Overall, this isn't a bad barbell for the price. Most cheap bars utilize shiny hard chrome finish, so it's good to see that the black phosphate of the CAP OB-86PBCK is a major step up from that league. And, as stated above, if you need a barbell to do special exercises dedicated to rack pulls and such, this would be a great option for you.
RELATED: Building a budget home gym on Amazon
| | |
| --- | --- |
| Coating Options | Black phosphate, chrome, silver zinc |
| Knurling | Diamond |
| Tensile Strength | 110K to 132K PSI |
| F-Scale Rating | F0 |
| Warranty | 5 years |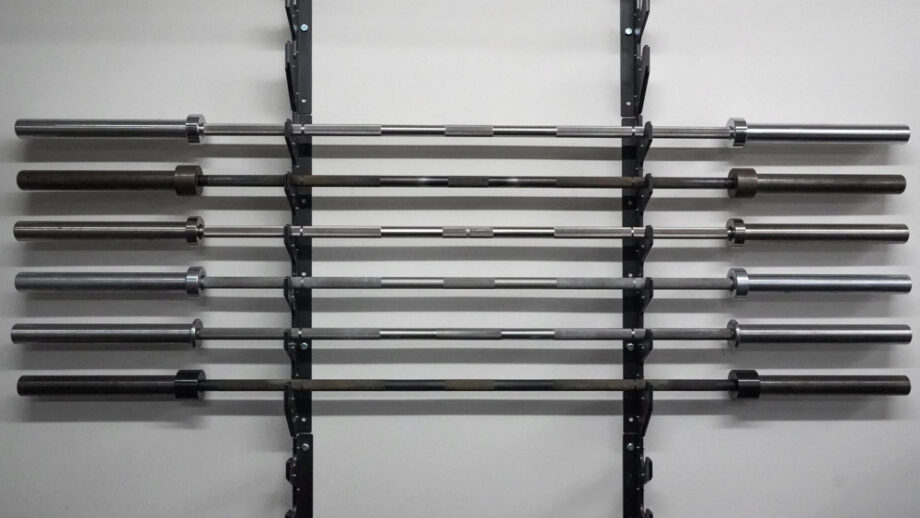 Other Bars We've Tested and Researched
Vulcan Strength Absolute Power Bar: We went back and forth on whether to replace the American Barbell Mammoth Power Bar with the Absolute Power Bar from Vulcan Strength. Although we really like the Absolute Power Bar, in use, we simply found that we preferred the knurling on the Mammoth Power Bar, although it's more passive. The Absolute Power Bar is a great bar at a good price, we'd honestly suggest it, but had to limit the list.
Eleiko IPF Powerlifting Competition Bar NxG: This is one of the only power bars currently available that we haven't been able to test yet other than a quick feel of the knurl (which is the same as their IWF Weightlifting Competition Bar.) Once we're able to use the bar (hopefully this year) then we will update the review.
Rep Fitness PowerSpeed Bar: Due to the way the knurling is done, this bar is much more of a specialty squat bar than a standard power bar.
Rogue B&R Bar 2.0: The B&R 2.0 Bar from Rogue Fitness came very close to being in our top picks, but due to its increased price despite not having any additional features, we only recommend it to those planning on doing quite a few power cleans and power snatches. It is a good bar, with a nice, slightly more passive knurl than the Rogue Ohio Power Bar, but it's pretty much the same for more money.
Rogue Westside Power Bar 2.0: The Rogue Westside Power Bar is a great bar, but not better than the Ohio Power Bar, yet costs more. If you like the black with green composite bushings, then get this one, but outside of aesthetic preferences, stick to the Ohio Power Bar.
Buddy Capps Starting Strength Texas Power Bar: We've heard awesome things about this bar, however, we have been unable to use it, so the jury is still out on how it compares to our picks.
Fringe Sport Power Bar: The Fringe Sport Power Bar is a good, budget-friendly power bar. However, the knurling is not as aggressive as we'd like to see in a power bar.
Rep Fitness Stainless Steel Power Bar V2: This was another bar that almost made our list. In fact, if the Bells of Steel Bar had not come out, this bar would have taken our 'Budget Pick' spot, but we didn't feel this bar blew it away for the difference in price. We do want to point out that we've heard Rep Fitness is working on a new Power Bar that we've heard should be pretty good, so we'll update when it comes to market.
American Barbell Elite Power Bar: This is a great power bar, however, it's not that much less than the Mammoth Power Bar which is a better all-around barbell.
American Barbell Power Bar: Another good bar from American Barbell, but it's not better than our top pick or the Mammoth Power Bar.
American Barbell Grizzly Bar: This bar from American Barbell is what we'd suggest beyond the Mammoth Power Bar due to its great value. This level of the barbell for under $300 is outstanding.
EliteFTS Power Bar: We haven't had the opportunity to use this bar yet, however, we have noticed Dave Tate the owner of EliteFTS, and Jim Wendler, an employee of EliteFTS continuing to recommend the Texas Power Bar in certain situations. This said we would like to get it in our hands as we're fans of the company that makes them for EliteFTS.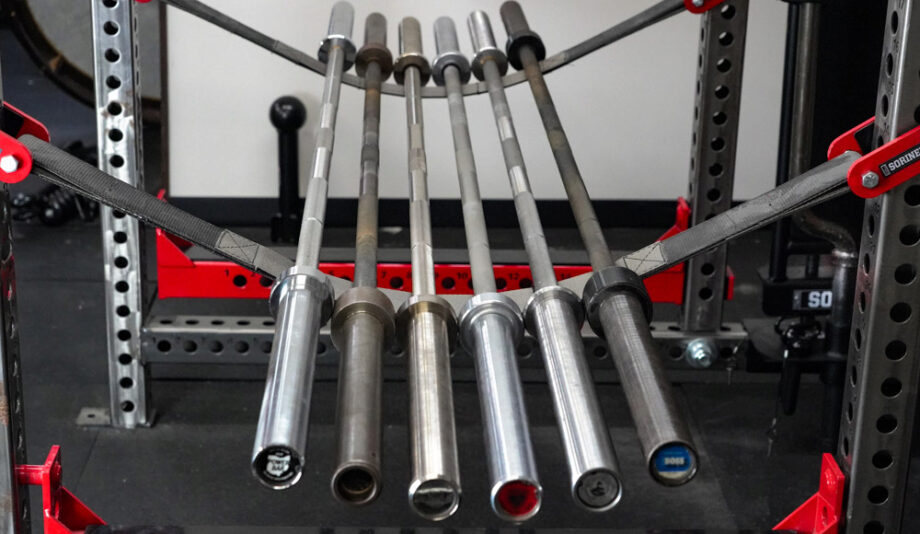 EliteFTS 5 Rings Bar: This is very similar in specs to their Power Bar. It's a cool concept, but it hasn't been chosen in our list for the same reasons as their Power Bar.
Ivanko OBX-20KG Powerlifting Bar: This is an awesome Made-in-USA Power Bar, however, it is a bit unique with a 28MM diameter. We haven't used the latest Ivanko version of this bar, so we'll hold off our opinion until then.
Ivanko OBXS-20KG-29MM Power Bar: Another awesome bar from Ivanko, but incredibly expensive. If you want a made in the US stainless bar, we'd suggest one from Rogue Fitness for the price.
ForceUSA Powerlifting Barbell: This is a pretty unique bar featuring a 200K PSI Tensile Strength shaft and bearings in the sleeves. We haven't used the bar and haven't heard from anyone else who has either. For the price though, it's quite a bit more than even many of the made in US options on our list (it's imported.)
Zaoba Bull Powerlifting Barbell: This bar is IPF approved which probably accounts for how pricey it is. It is very accurate and has a suggested weight capacity of 500KG. However, for this price, there are likely many bars we'd recommend over it.
Intek Olympic Power Bar: The Intek Power Bar features a 200K PSI tensile strength shaft with bronze bushings. It's quite pricey for what it is, however, which is why we left it off our list.
Titex Competition Bar: This is an extremely strong bar with a great warranty, however, we've heard it has a bit of a passive knurl and a black Magnetite shaft which isn't bad, but for the price, we'd like to see other options.
Crain's Okie Power Bar: The Okie Power Bar has some of the sharpest knurlings we've ever used. When you pull it out of the tube, leftover metal shards start falling off the shaft. Honestly, the knurling is almost too sharp to even use. Combine that with low tensile strength steel and high price, this isn't a bar we'd recommend.
Wright Power Bar: Due to its low tensile strength, large diameter, and high price, we do not recommend this bar.
Leoko Powerlifting Bar: The Leoko Powerlifting Bar is an IPF-approved bar that we could not figure out how to purchase. We've also not talked to anyone who has used it. We would guess, however, that it's pretty expensive.
Pallini B256 Powerlifting Bar: This is an IPF-approved bar that, similar to the Leoko Powerlifting Bar, is expensive to get in the US. Pallini is a French company, and despite it being IPF approved, we again couldn't find anyone who had used one. This said it is a 25 KG bar which is a bit unique considering it's on the IPF-approved list.
Uesaka Power Bar: We've never seen one of these, but we're told they exist. That is all.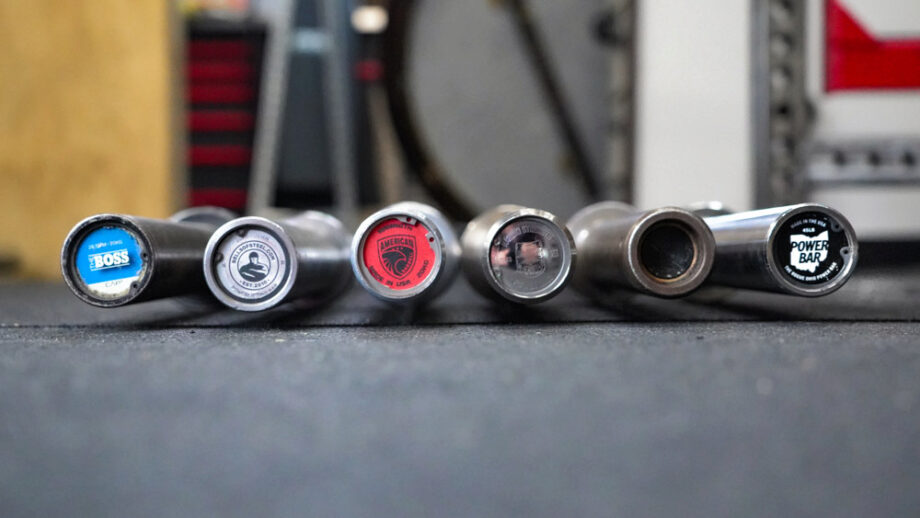 What to Look for In a Power Bar
There are four physical characteristics of a power bar that are worth considering during comparison shopping. Those are:
Steel
Knurling
Rotation System
Finish
Steel
The steel of a power bar is the most important part of the bar; it is the essence of the barbell. There are three ratings to consider when looking at the steel of a power bar. These are tensile strength, yield strength, and the bar's F-Scale Rating. In the past, and still some today, companies would throw out specifications like "this bar has a 1,500-pound test strength." This is merely a number they throw out to make their bars look better than they actually are. Today, pretty much only cheap bars use this type of rating system and it's to trick inexperienced trainees.
Companies test the tensile and yield strength of the barbell steel through various methods that can be both static and dynamic. To give a simplified example, a static test would load an enormous amount of weight (upwards of a ton) on each side of the bar and then remove weight off to see if the bar will return to its original condition.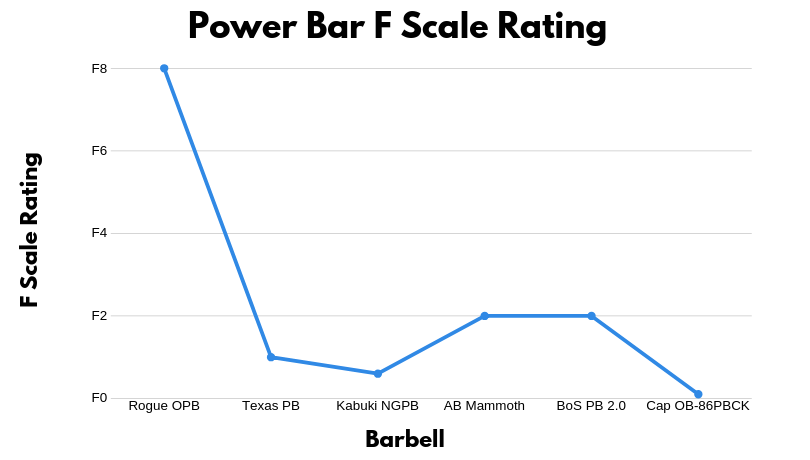 Although tensile and yield strength can be telling, the test that is the most reliable in our opinion is the testing done by SEA Limited as hired by Rogue Fitness to determine a barbell's F-Scale Rating.
To summarize what the F-Rating is, we'll quote Rogue Fitness:
"The F Rating of a barbell is directly correlated to the number of cycles the shaft lasted in the 4 Point Bend Test at a stress level appropriate for the type of sleeve used on the bar. For example, a 28 MM chrome plated bar with a tensile strength of 215,000 PSI tested at the stress level for a men's sleeve that lasted 35,000 cycles in our test received a rating of F1. A shaft, tested in the same manner that lasted 70,000 cycles in our test received a rating of F2. A shaft that lasted 210,000 cycles in our test received a rating of F6."
So, what you need to know is that the higher the F-Rating, the more durable it is. This may sound like it's most useful for people like powerlifters who are lifting the most weight, but it's actually most useful for trainees causing the most stress, like on CrossFit barbells that are dropped over and over again. Suffice it to say, despite lifting large quantities of weight, most power bars will be able to handle anything you can throw at them.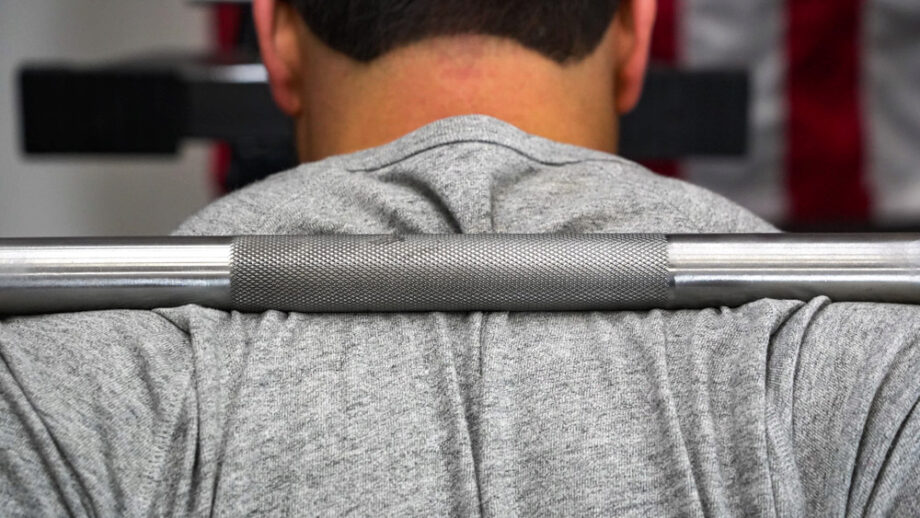 Knurling
The second most important characteristic of a barbell designed for powerlifting-type training that should be considered is the knurling. Knurling is incredibly subjective. Some say the Texas Power Bar has the best knurling ever made, while others think it's overly sharp and actually dislike it.
In our testing and research, we tried to be as unbiased as possible by polling others on what they prefer and instead of focusing on the feel of the knurl, sticking more to the precision of the machinery that is used to cut the knurling into the bar.
The goal of a power bar knurling should be to be aggressive enough that it doesn't slip during max lifts, but not so sharp that it causes calluses to rip often during training. But, this is ideal for most people, others like something more passive, or more aggressive, we detail this in the review of each bar.
Rotation System
The rotation system, in all honesty, isn't that important to consider for most people using a power bar. On an Olympic weightlifting bar, it matters, because the spin is important. But not on a power bar.
The reason is that you don't really want the bar spinning all that much during a slow lift. For instance, benching with a bearing bar is actually not all that enjoyable. We do think a power bar should not be fixed and have some sort of rotation system, preferably bronze or composite bushings.
Finish
Finally, the finish of the bar should suit the environment in which it's used. A bare steel bar feels great because the knurling is used without any coating in between the hand and bar, but it also ends up corroding quicker than a bar that has plating or a coating, which many people don't like.
Stainless steel offers both the benefits of bare steel and coated bar, however, it's more expensive steel. Thankfully, many of the bars on our list are available in a wide variety of finishes from zinc to cerakote.
Also, consider the sleeves. Chrome sleeves look great and are the most typical on power bars, but they will scratch over time. That really only matters if you care about aesthetics, however.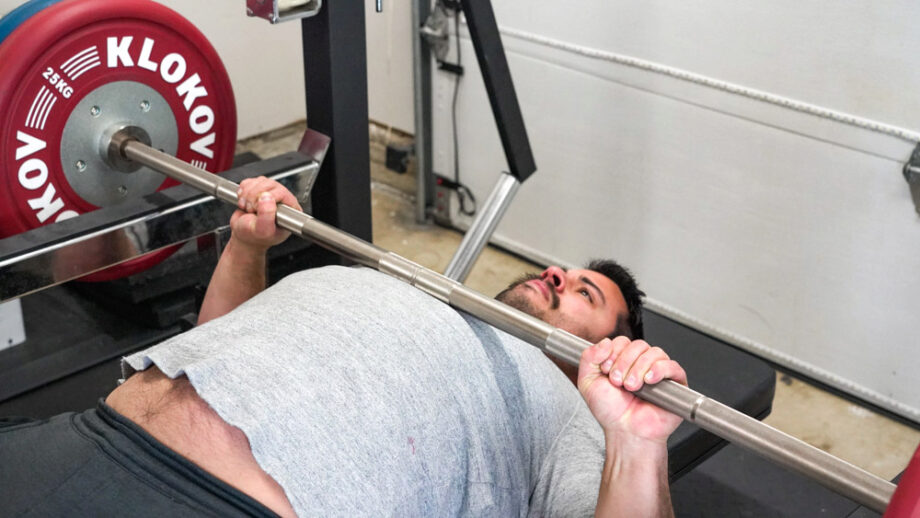 How We Picked And Tested
To compile our extensive list of barbells, we researched all of the major manufacturers as well as reaching out to industry experts and various groups such as r/homegym on Reddit, Garage Gym Community Facebook Group, and various strength athletes. In addition to this, we went into the Garage Gym Reviews HQ comprehensive barbell collection to test what we had on hand (around 50 barbells as of this writing).
After researching more than 50 additional barbells (there are a ton of power bars available today), we narrowed it down to our top picks, all of which we brought in-house to use and test.
The bars we picked to test could all be considered ideal for powerlifting-type training and at prices that are worth considering. There are other bars that are definitely "good" bars, however, they are out of the price range for this round-up.
We are looking for the barbells that offer the best value, not necessarily the best without money being considered (and, let's be honest, there's only so much you can do with a 7-foot bar of steel).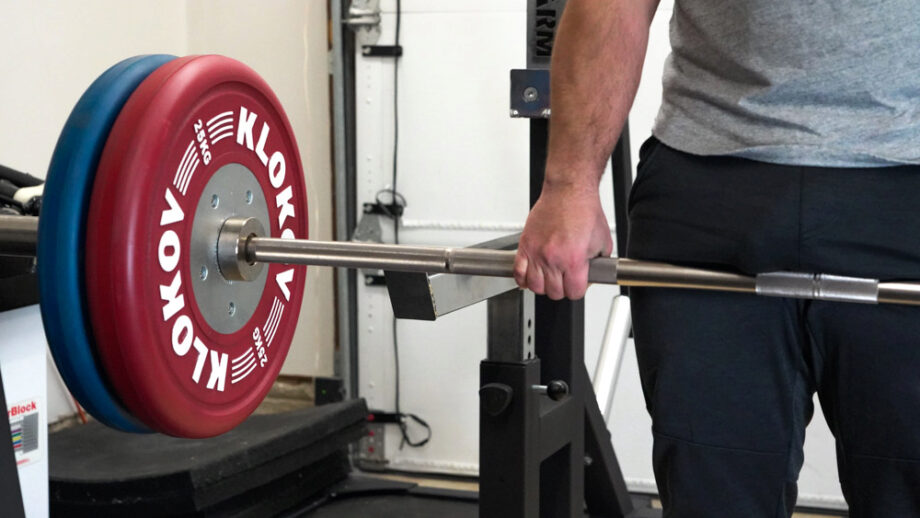 During testing, we performed the squat, deadlift, bench press, and overhead press at various weights and various rep ranges.
We blind-tested the feel of the knurling, had multiple people of various strength and training experience levels use the bars, dropped the bars from hip height, power cleaned with them, measured the diameter of the shafts and sleeves for accuracy, weighed the bars on a precise scale for weight accuracy, and tested the oxidation of the bars over months while left in an often opened garage in the midwest.
Finally, we asked the opinion of others on what power bar they view to be the best for most people, and we asked ourselves, "If we could only have one power bar, what would it be?"
Ultimately, after some deliberation of the Garage Gym Reviews Team (yes, there's more than Coop now), we narrowed down our specifications to the following list of features ordered in no particular order, which are similar to what is featured in our best Olympic barbell guide.
Overall Construction
The overall build of the barbell needs to be high quality. This means tight tolerances throughout the bar, especially the sleeves, precise knurling that starts and stops evenly, uniform diameter, and more. A power bar should last for a very long time, 50+ years depending on how much care is taken and the attention to detail provided by its manufacturer will aid substantially in reliability and durability.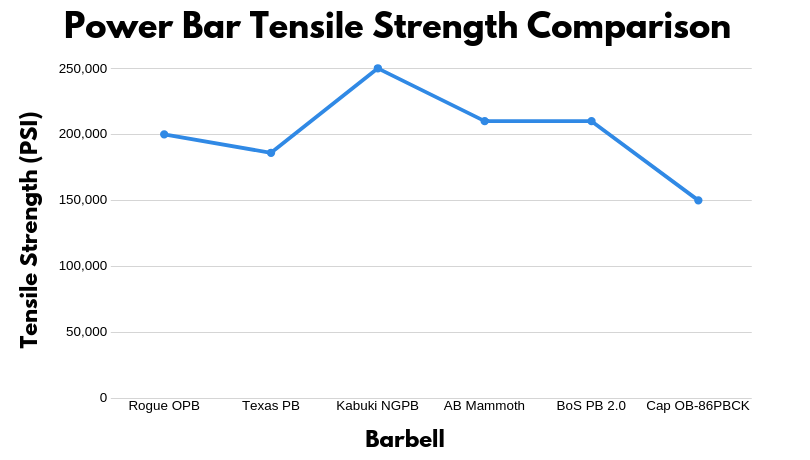 Tensile Strength of Steel/F-Scale Rating
The tensile strength of the steel used in a power bar should be at least 150K PSI Tensile Strength and preferably higher. The F-Scale Rating of a bar is also important, however, it's less important for a power bar that is rarely dropped than a bar dropped often.
The Rogue Ohio Power Bar situates itself as one of the most durable bars in the entire F Scale Rating system. With a 205K PSI tensile strength shaft, the Ohio Power Bar, although not the strongest steel on our list, falls right in the middle of a continuum between too whippy vs too brittle.
The F Rating of a barbell directly correlates to its durability, and therefore the strength of the steel used (every barbell ever made can be found somewhere within the F Scale continuum).
Even better than that, the barbell is also put through a proprietary, patent-pending process called Rogue Work Hardening (RWH™) which strengthens the barbell to further withstand excessive stresses.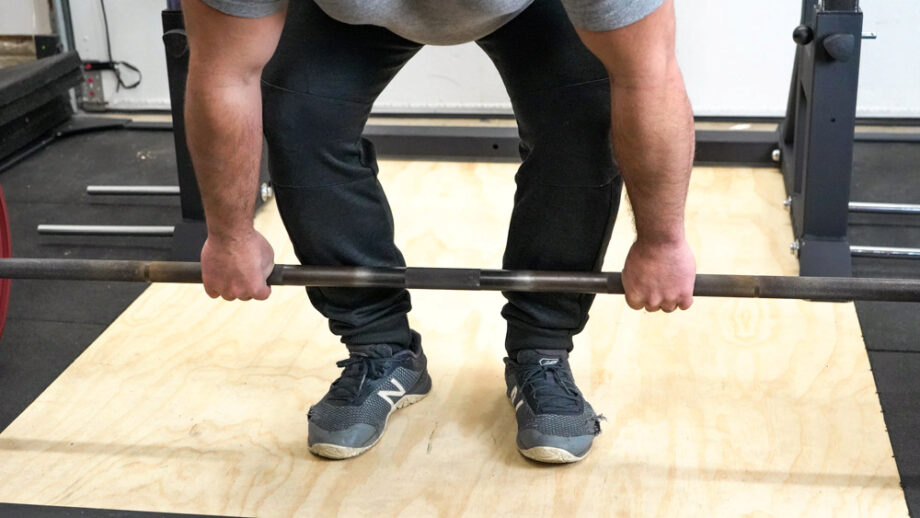 Knurling
The knurling should be consistent throughout the bar (although the center knurl can vary, we prefer a more passive center knurl). On a power bar, it is best to be somewhat aggressive. Sharpness is not always the best indicator of a good barbell knurl. A power bar should have a center knurl and IPF knurling rings.
Spin
A power bar should have some sort of rotation system that prevents metal on metal contact or a fixed sleeve.
Finish
The more finish options available, the better. Cerakote and stainless steel are the most corrosive-resistant finishes, although they are the most expensive overall. The goal of a finish is to prevent corrosion for those that want to prevent it.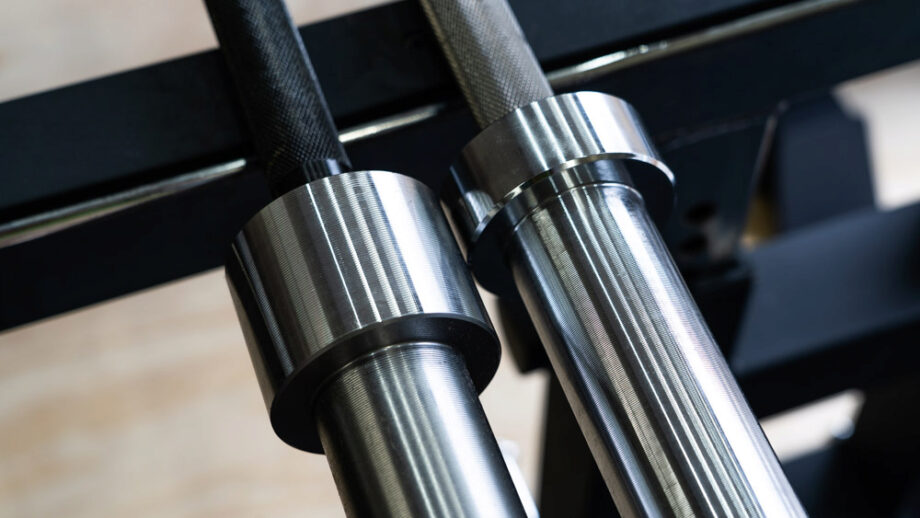 Price
The price of a barbell, as with any product, is a large consideration. A higher price is fine so long as it comes with better features and specs. Some bars garner a higher price due to their name, however, that does not mean it's a "better" bar.
Warranty
The industry standard these days is a lifetime warranty. Although this isn't necessary to be on our list, it definitely helps. However, a warranty is only as good as the company offering it, so be wary of who you're trusting to provide you with warranty service.
Best Powerlifting Barbells FAQs
Which barbell is used in powerlifting?
What is the strongest barbell?
The strongest barbell on our list is the Kabuki Strength New Generation Power Bar, which has a 250K PSI tensile strength.
What powerlifting barbell do female powerlifters use?
In 1997, the 15-kilogram bar with a thinner diameter was introduced. This became the official bar for female powerlifters, though many women still lift on 20-kilogram bars.