We test and review fitness products based on an independent, multi-point methodology. If you use our links to purchase something, we may earn a commission. Read our disclosures.
The Rep Deep Knurl Power Bar EX is the best barbell Rep Fitness has released to date. It's fully stainless, from end cap to end cap, has an incredible knurl similar to more expensive bars, and hits the details in every area. If you want a top-shelf barbell at a pretty fair price, then we don't hesitate in recommending the Power Bar EX.
Fully Stainless Power Bar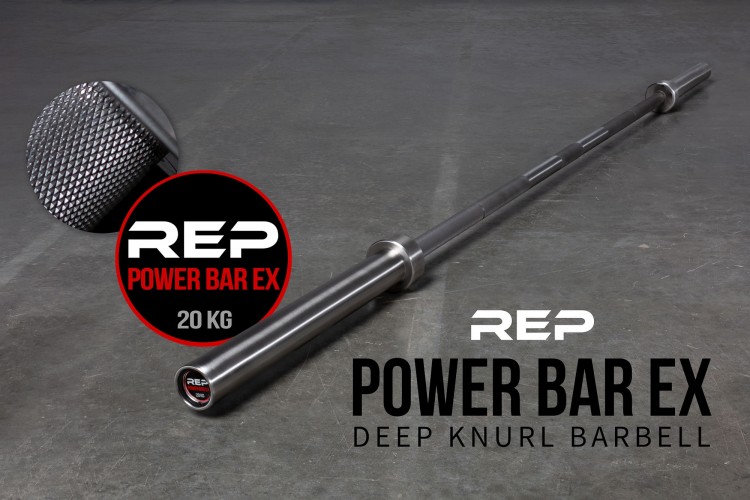 REP Deep Knurl Power Bar EX
The REP stainless-steel deep knurl bar was designed with the experienced powerlifter in mind. This aggressive knurl pattern is cut deep into the uncoated stainless-steel shaft and kept sharp, providing you with a solid grip during your heaviest lifts. It is the combined effect of both the stainless steel and our deep cut knurl that gives you the best grip imaginable. Unlike most stainless power bars, this bar is fully stainless steel, which includes both the shaft and the sleeves. Our stainless steel bar provides the best grip, and the end to end stainless steel ensures your barbell sleeves do not oxidize (rust) from repetitive sliding on and off of plates. This is because stainless steel provides the highest level of oxidation (rust) resistance compared to chrome or zinc-coated sleeves.The combination of everything from deep knurl to fully stainless steel, puts this barbell in a class of its own.Specs:29mm diameter. Knurl Markings: Powerlifting - 32" between markings. Knurl Depth: 75% deeper than any standard offering! Tensile Strength: 200k Bushing design with snap rings. Shaft: Stainless Steel. Sleeves: Stainless Steel. Bushing design with snap rings for optimal Powerlifting performance. Warranty: Lifetime*
Video Review
What is the Rep Deep Knurl Power Bar EX
The Rep Deep Knurl Power Bar EX is the latest barbell from Rep Fitness. Rep has been known for creating (for the most part) budget-friendly gym equipment for the home gym owner. However, as of late, they've started to offer higher-end equipment and in all honesty, the best-quality imported equipment we've ever reviewed.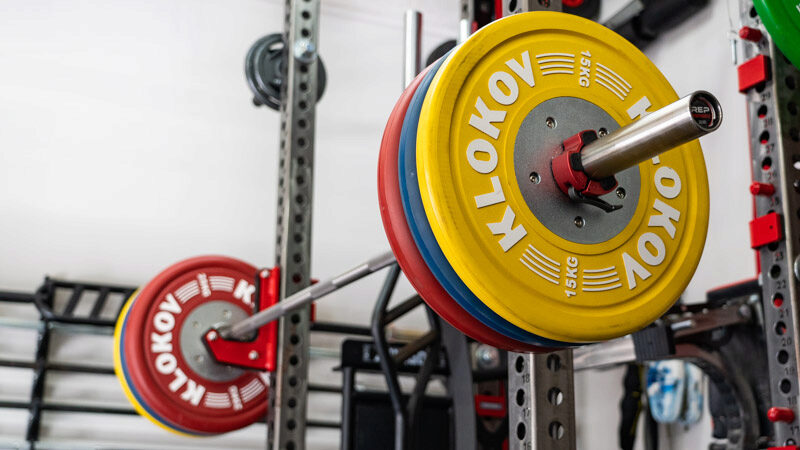 The Rep Power Bar EX has all of the features of a top-shelf barbell focused towards powerlifters which we'll detail further later in the review, however, it's most unique characteristic is it's end-cap to end-cap stainless steel finish. You can keep reading to figure out why this matters, but this is one of the only fully stainless barbells on the market and without a doubt the only fully stainless steel barbell under $500 (likely under $1,000.) At $379 not including shipping, it's quite impressive that a bar as good as this can be so low, however, this must be countered with the understanding that this bar is not made in the USA. Does that reflect on the quality? Not in our opinion.
Who This Bar is For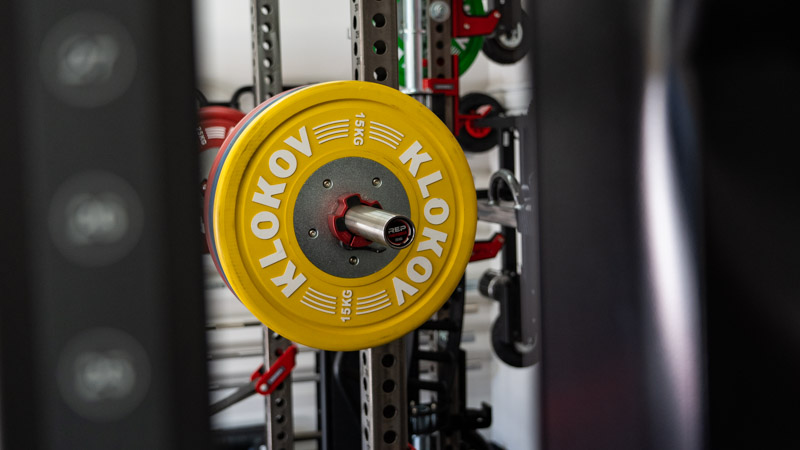 Not everyone needs a power bar and even fewer people need a fully stainless, 200,000 PSI Tensile Strength, high attention to detail >$350 barbell. But, despite really nobody needing this, many will want it and for good reason.
The Rep Power Bar EX is designed for the person who takes their training seriously, does a lot of powerlifting-type movements such as the squat, bench, deadlift and overhead press (if we're talking Starting Strength, although they don't consider themselves powerlifters), or just likes nice things. There's nothing wrong with wanting a nice barbell, despite not lifting a mega-ton. People have cars designed for rock crawling that never leave the pavement, phones that can compute massive amounts of data that get used for nothing other than Instagram, and shoes built to win NBA National Championships but are kept for their entire life in a box.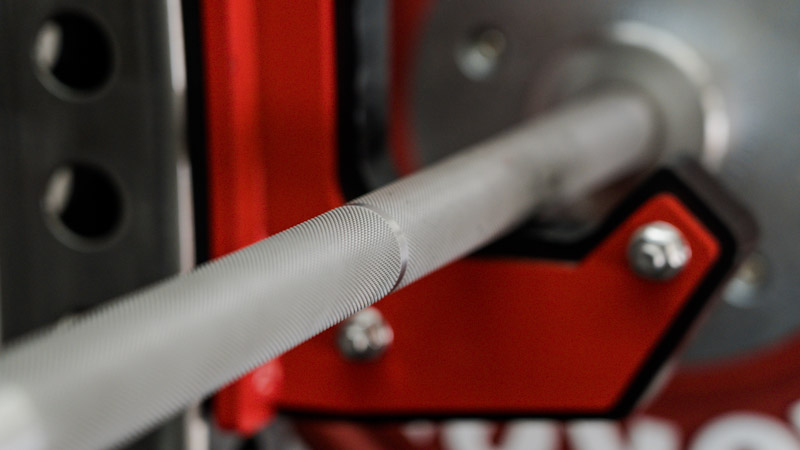 Everyone from the elite-level powerlifter to the general trainee will find enjoyment in using the bar for various reasons, but a major one is the focus that was placed on the knurling. Rather than being extremely sharp or too passive, Rep chose a deep-cut knurl depth with a finer pattern that provides a lot of grip due to the surface area on the hand that is contacting the tips of the knurling. This means it will stick to your back during squats, even at crazy loads, but won't leave your hands feeling like they went through a meat-grinder.
All of this said, due to the price tag, there are other bars we'd recommend before this one if you're on a budget. Check out the best powerlifting barbell guide to see all of our recommendations.
What We Like About the Rep Power Bar EX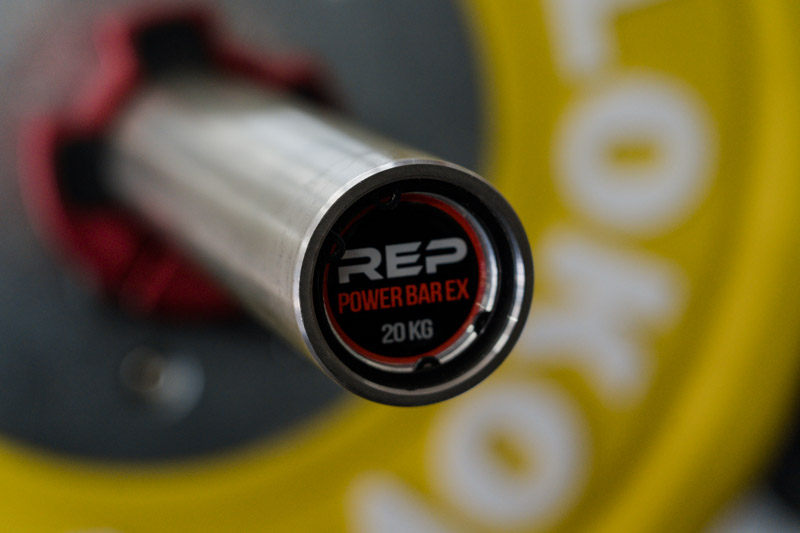 There are a lot of barbells available for purchase today. Just scanning the ones we have uploaded on our barbell product browser you find close to 300 different variations which is insane. The hard part comes in recommending a bar on our side and picking one on your side. The reality of the situation is, most bars today are good enough for just about everyone. So, why then make a new bar. Why did Rep go to the trouble of creating a brand new barbell despite the others they make?
Well, one reason is for profit. The other reason is that there's no other power bar on the market like this one. None.
Finish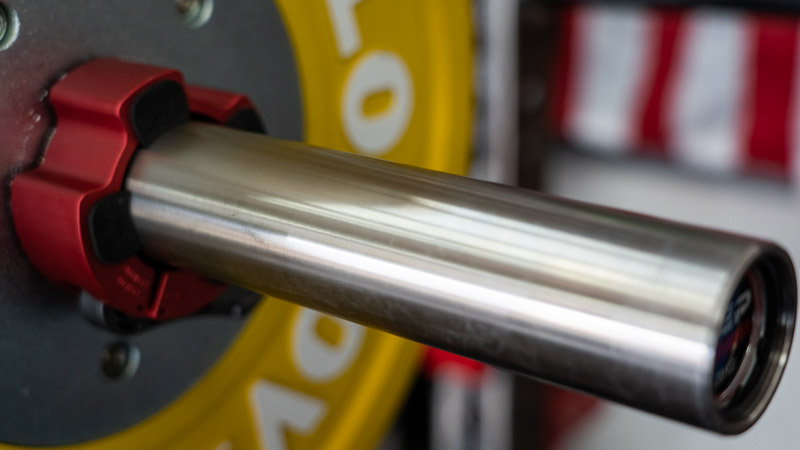 By far, the stand out feature and the most marketed feature (although there are other characteristics of the bar that shouldn't be looked over) is the bar's finish, or more specifically, it's lack thereof.
Ask just about anyone who has been training long enough to know their bars, "what's your favorite barbell finish?" and their reply will be, "none." The reason a barbell finish is disliked is because it decreases the sharpness of the knurling. Rather than your hand making direct contact with the barbell steel, instead there's a layer of oxide, chrome, nickel, zinc, Cerakote or some other plating in between your hand and steel.
The problem, however, with having no coating on a barbell is that it rusts and it rusts quickly–especially in a garage gym. When humidity levels are fluctuating and moisture combined with chalk, sweat, and blood starts embedding itself in your beloved barbell knurl, it's only a matter of time before surface rust begins to appear.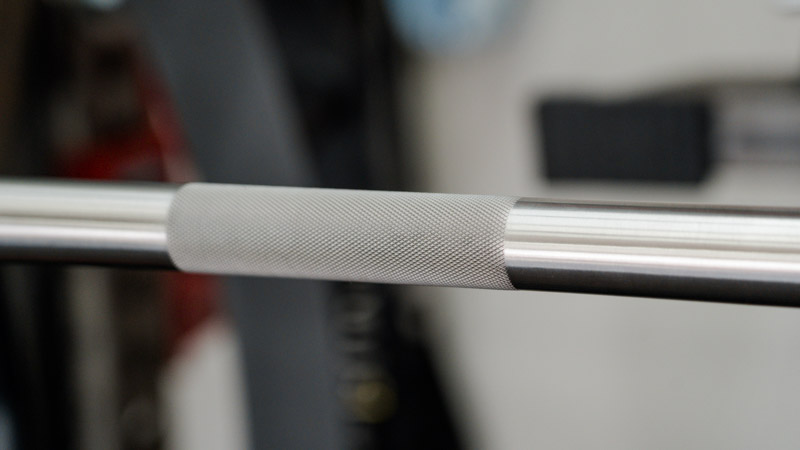 But, there's a way to combat this, combine a high corrosion resistance without the feeling of bare steel and that is by using stainless steel.
Stainless steel offers the best corrosion resistance out of any bar we've tested and reviewed, including Cerakote, and is what we recommend most often to garage gym owners. The Rep Deep Knurl Power Bar EX utilizes stainless steel for the shaft (something we've seen quite often,) but also combines that with something we haven't seen much, and that is stainless steel sleeves.
Our Top Pick for the Best Powerlifting Barbell is the Rogue Ohio Power Bar, and although we love that the shaft is stainless, one of our suggested improvements was that the bar include stainless steel sleeves. The reply we got was that it would be too cost-prohibitive for most people. Which, Rogue is right…for US-Sourced stainless steel. However, Rep Fitness isn't making (if I'm not mistaken) any equipment in the US. Everything is imported, and therefore, so long as quality control is high, they are able to sell high-quality equipment at budget-friendly prices, like a fully stainless steel barbell.
Honestly, we couldn't be happier with the finish on the bar and sleeves. It's incredible and we liked it so much we went ahead and bought their fully stainless rackable EZ curl bar as well (no big deal.)
Knurling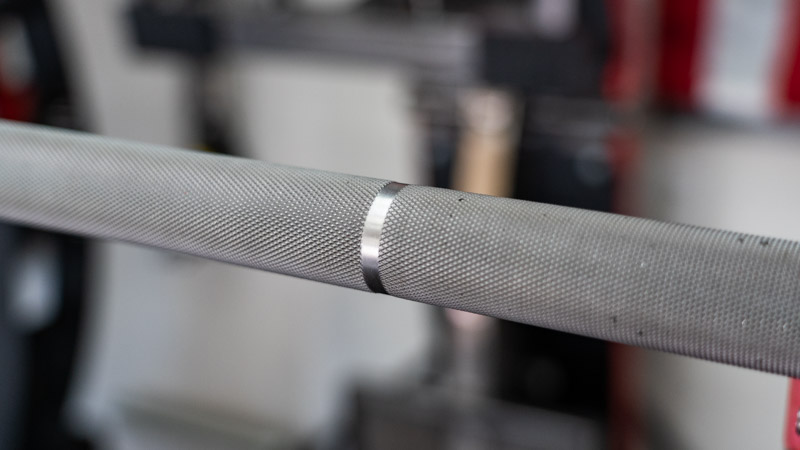 The other significant part of the bar that makes it stand out both among their own lineup of bars, but also the competitions is the knurling on the "Deep Knurl" Power Bar.
My favorite knurling pattern is either between the Rogue Ohio Power Bar and the Kabuki Strength New Gen Power Bar. They're different in that the Kabuki is much finer, but they're similar in their aggressiveness. 9 times out of 10, when I go to pick a bar to use, it's one of these two.
The Rep Deep Knurl Power Bar combines the tensile strength and stainless aspects of the Rogue OPB with the fine knurling of the Kabuki NGPB to create something truly special. The finer knurl of the bar allows for there to be more points per square inch which therefore creates more surface area for the skin of the hand to create friction against. This is why the bar can have an aggressive, grippy knurl without feeling sharp and uncomfortable. The idea was originally applied to the Kabuki NGPB and likely through seeing it's success, Rep did something similar.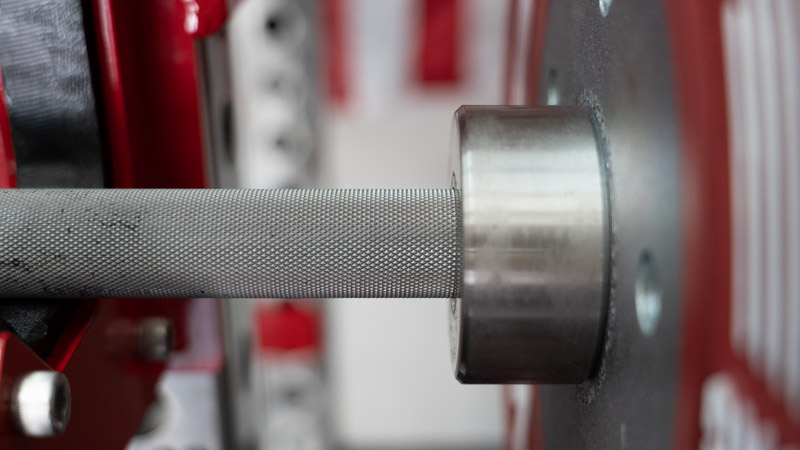 As far as the quality of the knurling…it's quite high. The knurl stops and starts evenly and consistently at the knurl marks, sleeves, and center of the bar. There is a center knurl included that uses the same knurling as the outside knurling and as such, it grips the shirt extremely well.
Again, in a similar manner as we discussed the fully stainless feature of the bar, the knurling is truly special and will appeal to a wide range of trainees.
The Rest
A barbell seems extremely simple, but there's a lot of attributes that can be discussed, especially with a bar that has as much attention to detail as this one.
Beyond the finish and knurling, the shaft of the bar utilizes 200K PSI Tensile Strength Steel. This is the same tensile strength level as Rogues Stainless OPB and is plenty strong for anyone, including the strongest in the world. The diameter of the shaft is 29MM which has become the standard for most bars, although the Texas Power Bar still uses a 28.5MM diameter. 29MM is our favorite as it feels great on the back during squats and in the hands during presses, although 28.5 or thinner is definitely superior for deadlifts and other pulls.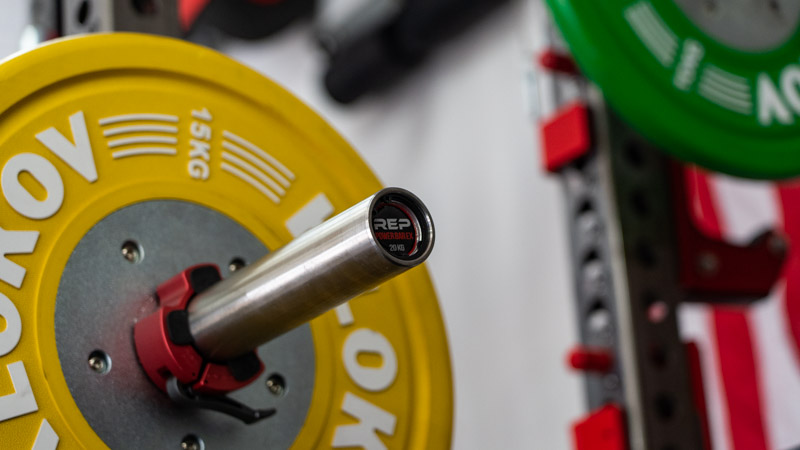 The sleeves of the bar, which again are stainless steel (so cool,) utilize two Graphite Plugged Bronze Bushings and one Stainless Steel Bushing in each sleeve end. We noticed there was some slight play between the sleeve and shaft, although it was very little. This provides for a decent spin, but definitely as much as you want in a power bar.
The sleeves of the bar are smooth with no ribbing. So of Rep's barbells feature ribbed sleeves like the BB-5000 Gladiator Barbell and others, like this one are not. I personally prefer the sleeves to have a light ribbing to prevent the plates from sliding easily on the bar, but it's a minor thing and I know others like them smooth.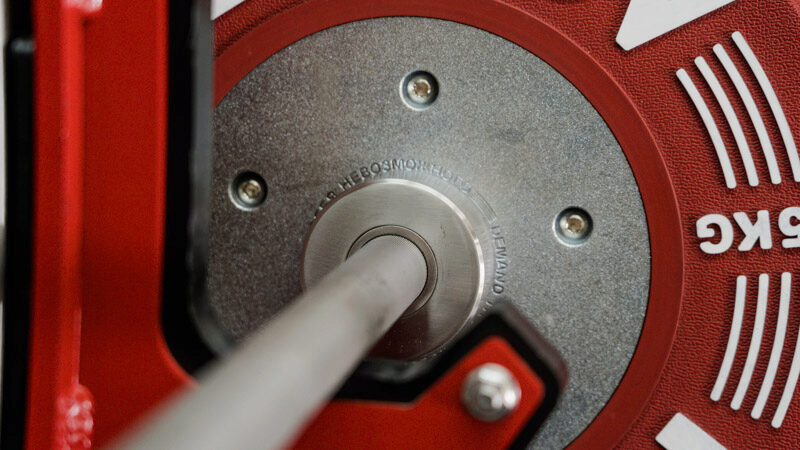 Lastly, the end cap really does cap off the entire look and feel of the bar. They inset it deep within the sleeve, used two snap rings and a gel coating to provide something that both looks and feels premium. I've been suggesting for years that companies take their end caps seriously (it's the one part on the entire bar that can be branded) and I'm glad Rep went the way they did with the Power Bar EX.
Overall, the Rep Deep Knurl Power Bar EX is the best power bar we've reviewed for some time.
Rep Deep Knurl Power Bar EX vs The Competition
Although the new Rep Power Bar EX is a stunner, it's not the only kid on the block and certainly not the only great bar available.
Rep Power Bar EX vs. Rogue Ohio Power Bar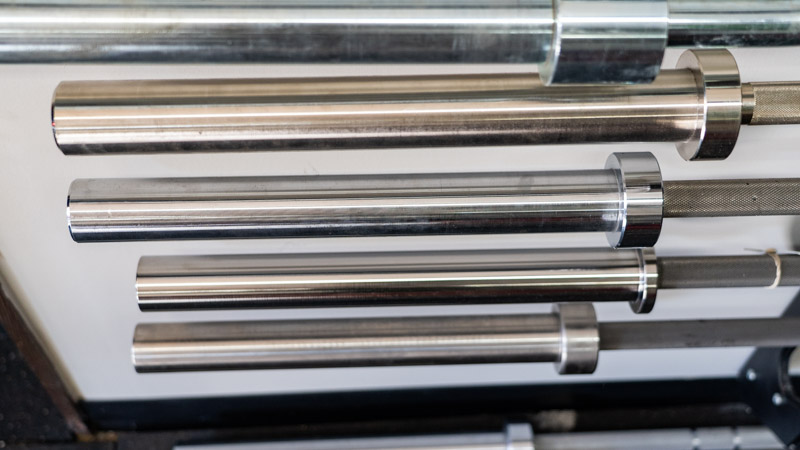 The Rogue Ohio Power Bar is the reigning champ for best value power bar and will remain as such. At $245 for their base model, the OPB is an incredible bar for the price. It's made in the USA of US-sourced steel, features a pretty much universally loved knurl pattern, uses bronze bushings, a high 205K Tensile Strength steel and has a lifetime warranty. The Rep Power Bar EX is great, and we would likely recommend it over the stainless OPB due to the slightly better price and stainless sleeves. Both have lifetime warranties, great knurling, similar steel, and shaft diameter. However, for those that want a made in the USA barbell, go with Rogue.
Rep Power Bar EX vs. Kabuki Strength New Gen Power Bar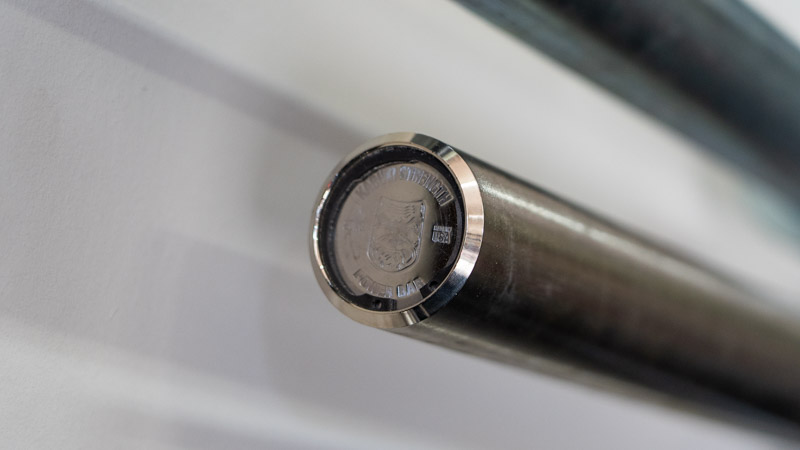 At 250,000 PSI Tensile Strength, the Kabuki NGPB is in a class all it's own. It literally chews through my UHMW sandwich j-cups and I love it. The New Gen Power Bar is not stainless, although I'd love it if it was, however, the Electroless Nickel has proved to be an outstanding coating for corrosion resistance. For most people, the Rep Power Bar Ex is a better option due to the price, but if money were no option, the Kabuki NGPB would still be one of our top picks.
Rep Power Bar EX vs. Buddy Capps Texas Power Bar
Buddy Capps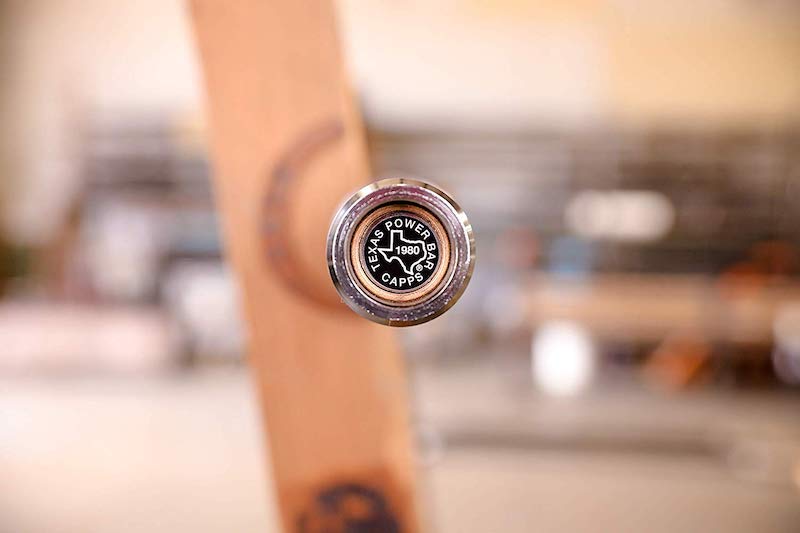 Buddy Capps Texas Power Bar
The most popular powerlifting bar on the market, Manufactured by Buddy Capps. Used in National & World Championship Meets since 1980.We are still using the same USA steel mill we started with in 1980. The shafts are center less ground, demagnetized and oiled to the max before shipping to Texas. Once at our production facility, we machine and then knurl each shaft to create a grip that is still the best in the industry. Texas Power Bars have different finishes available including black zinc and chrome plating. The sleeves are are available raw or chrome plated.Big tensile strength numbers sound very impressive and we have them but, the proof is on the platform. Hundreds of state, national, international and world powerlifting records have been and continue to be set and broken on the The Texas Power Bar.Length - 84"Weight - 20kg (45 lb w/ basic collars)Diameter - 28.5 mmCapacity - 1500 lbsFinish - Shaft is black zinc; ends are raw
I love Buddy Capps and what he's built; I really do. However, the Rep Power Bar EX is a better power bar than the Texas Power Bar (shrieks!) The all stainless build, outstanding knurling, great fit and finish, lifetime warranty, and a similar tensile strength all add up to a bar we'd recommend over the TPB. However, that's only if you have the cash to spend. If you're on a budget or just want to splurge elsewhere, the TPB is an amazing bar that will satisfy anyone for as long as they're alive.
Suggested Improvements
The Rep Power Bar EX is outstanding in many ways, but there are two things that I think could be done to improve it.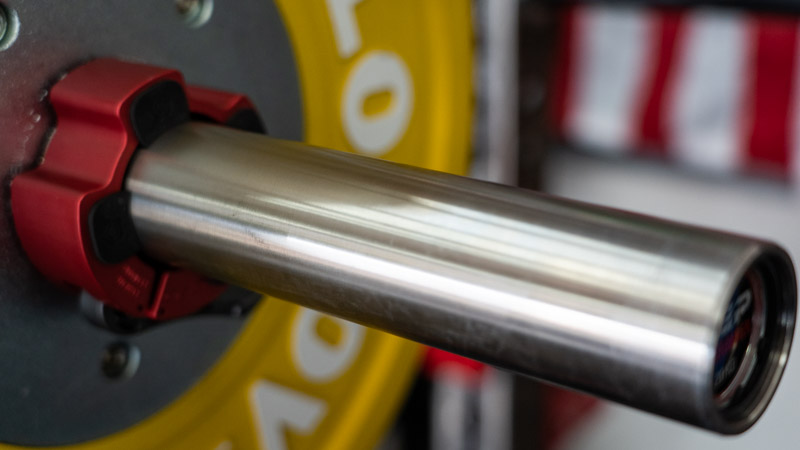 The first, as previously mentioned, is the sleeve is smooth without any ribbing. Again, this comes down to personal preference so some would view this as a negative rather than a positive. However, I often warm-up without clips and a smooth sleeve forces me to have clips. Lame? Probably. But, I'm being honest.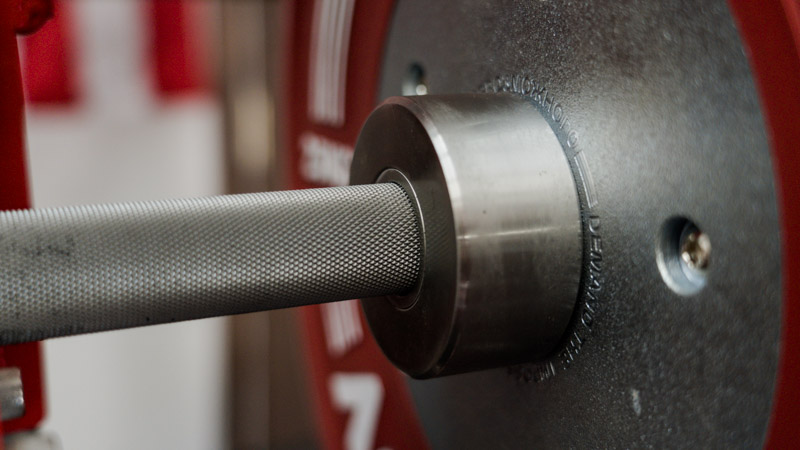 The next improvement, and this isn't something that was noticed on my bar but one someone else's that reached out to me, is the knurling is ran so close to the sleeves, that this particular person's sleeves were rubbing on the knurling while spinning. Rep Fitness offered to replace the bar free of charge, but it should be watched out for.
Full Rating
Rep Deep Knurl Power Bar EX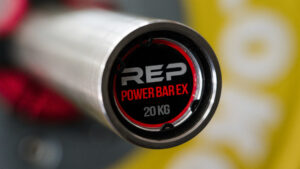 The Rep Deep Knurl Power Bar EX is the best barbell Rep Fitness has released to date. It's fully stainless, from end cap to end cap, has an incredible knurl similar to more expensive bars, and hits the details in every area. If you want a top-shelf barbell at a pretty fair price, then we don't hesitate in recommending the Power Bar EX.
Product Brand: REP Fitness
Product Currency: $
Product Price: 449.99
Product In-Stock: InStock
Rep Deep Knurl Power Bar EX FAQs
What Is The Rep Deep Knurl Power Bar EX?
The Rep Power Bar EX has all of the attributes of a top-shelf powerlifting barbell, which we'll go over in more depth later in the review, but its most distinguishing feature is its end-cap to end-cap stainless steel finish.
Who can use the Rep Deep Knurl power bar?
The Rep Power Bar EX is intended for the serious lifter who performs a lot of powerlifting-style movements including the squat, bench, deadlift, and overhead press.