We test and review fitness products based on an independent, multi-point methodology. If you use our links to purchase something, we may earn a commission. Read our disclosures.
Here at Garage Gym Reviews, we're not just enthusiastic about traditional home gym equipment like treadmills, squat racks, and dumbbells—we're also fans of fitness equipment that gets you moving when you'd otherwise be sedentary.
During an eight-hour work day, it can be hard to get your steps in or leave your desk to get exercise. That's where our expert product testers come in: We've tested the best under-desk exercise equipment on the market so you can increase your blood flow and energy expenditure without skipping a beat at work.
The DeskCycle 2 Under Desk Exercise Bike and Pedal Exerciser is an affordable, discrete, and portable way to exercise while you're tied to your desk. It can also work as a recovery tool from an injury or surgery, or act as a gentle way to introduce movement to elderly folks.
We Put Pedalers to The Test
We've tested all kinds of cardio equipment and we're not newcomers to the idea of multitasking your cardiovascular health and your day job. Our expert product testers are also a group of fitness professionals including certified personal trainers, CrossFit Level 1 Trainers, nutrition coaches, and former college athletes. Our collective expertise helps provide the most relevant information to help you achieve your fitness goals.
DeskCycle 2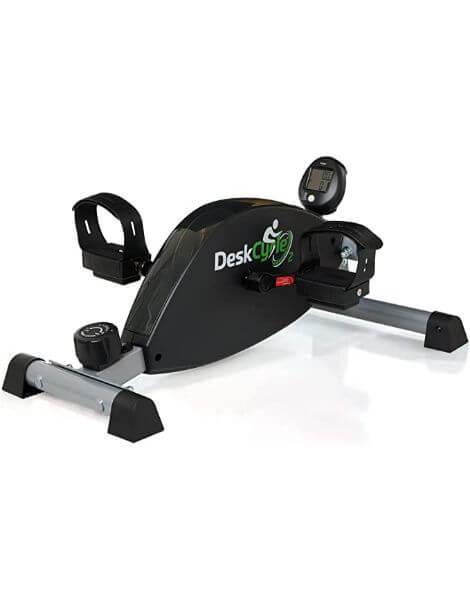 GGR Score: 4.25
Product Highlights
Features smooth pedal motion

Whisper-quiet magnetic resistance with a precision flywheel

Adjustable pedal height with minimal height of 9"

Adjustable straps for personalized fit on the stay-flat pedals

Magnetic resistance technology offers eight settings to vary intensity

5-function removable LCD display with included display stand

Fitbit and Apple Watch compatible
Pros & Cons
Pros
Quiet
Magnetic resistance
Adjustable pedal height and straps
Range of resistance
Compatible with smart watches
Monitor is removable
Cons
Expensive
People with larger feet may find the pedals too small
Bottom Line
As one of the pricier under-desk bike pedal exercisers, the DeskCycle 2 offers a smooth, quiet, and efficient pedal stroke which works via magnetic resistance.
A Quick Look at the DeskCycle 2 Under Desk Exercise Bike And Pedal Exerciser
DeskCycle's claim to fame is offering the lowest pedal height of all pedal exercisers, with the option to adjust between 9 to 10 inches off the ground. Compared to other mini bikes we've tried, we can agree that the DeskCycle does have a low profile. I've personally tried other brands and find I have to adjust my chair height and desk height to prevent my knees from banging the underside of my desk.
The website states you can use the DeskCycle at a workstation as low as 27 inches and it can accommodate a person 5 feet, 8 inches tall at that desk height. For a 28-inch workstation height, users can be up to 5 feet, 11 inches tall. The DeskCycle website doesn't mention anything about taller individuals, but presumably your workstation is higher than 28 inches if you're closer to 6-feet tall.
Before You Buy
Make sure your desk is at least 27 inches tall to make the DeskCycle feasible.
Measure the depth of your desk as well. Although this mini exercise bike is short comparatively, it measures 24 inches long.
Be prepared to squat down and pick up your DeskCycle 2, because this mini bike does not have a handle to easily carry from one room to the next.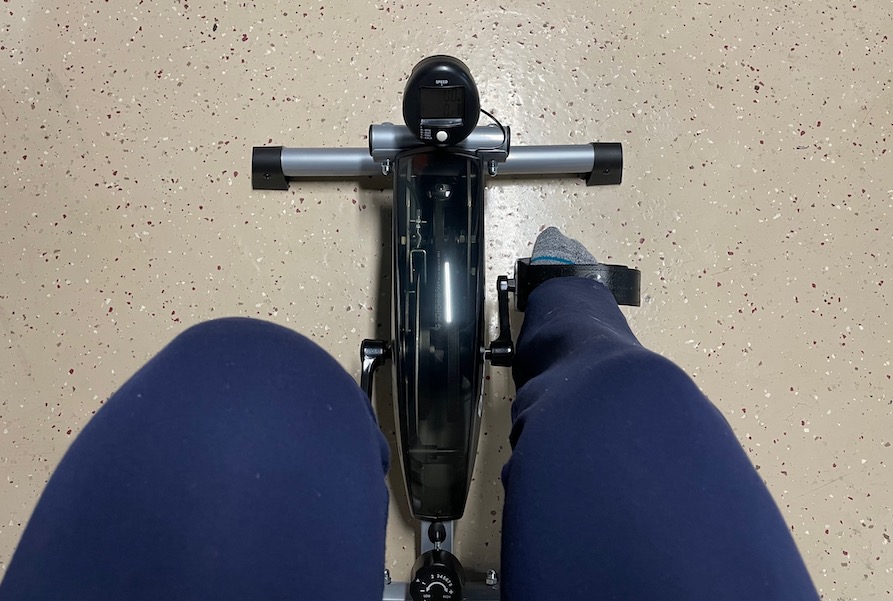 Is the DeskCycle 2 Under Desk Exercise Bike And Pedal Exerciser Worth It?
GGR editor and product tester Nicole Davis put the DeskCycle to the test at her home office. She mentions that although it's not the same pedaling experience you will get from a full-size exercise bike, the DeskCycle 2 offers an impressive 29-pound flywheel..
The high-interia magnetic flywheel is designed to keep the pedals smooth and consistent regardless of the resistance you choose. You can pedal both backwards and forwards with ease and no issues with the transition.
Great for:
Office workers looking to add more movement to the workday
Individuals recovering from a lower-body injury or surgery
Elderly folks looking to stimulate lower-body muscles
People who are open to the pedaling motion similar to a recumbent bike
Not recommended for:
Individuals over 270 pounds
Tall people without an adjustable height desk
People looking for high-tech, Bluetooth-capable exercise machines
DeskCycle 2 Under Desk Exercise Bike And Pedal Exerciser Specs
| | |
| --- | --- |
| Price | About $230 on Amazon |
| Footprint | 24" L x 10.2" W x 20" H |
| Product weight | 23 lbs |
| Weight capacity | 350 lbs |
| Display | LCD screen |
| Resistance levels | 8 levels |
| Resistance type | Magnetic resistance |
| Flywheel weight | 39 lbs |
| Adjustable height | Yes |
| Transport handle | No |
| Warranty | 1-year |
| Bluetooth | No |
Using the DeskCycle 2 Under Desk Exercise Bike And Pedal Exerciser
The DeskCycle 2 Under Desk Exercise Bike and Pedal Exerciser is going to be a solid option for anyone seeking a home workout during the workday. Once you have the mini bike placed under your desk, the movement is similar to the pedaling motion of a recumbent bike. This means that rather than your feet situated directly under your hips like an upright or foldable bike, your feet will be out in front of you.
Recumbent-style riding isn't better or worse than upright cycling, but it is worth mentioning that you shouldn't expect this indoor cycling bike to feel the same as a traditional bike. Additionally, this style of mini bike is meant to be used from a seated position, not from a standing desk position.
The DeskCycle features a 39-pound flywheel, which is astonishing for such a small exercise machine. After testing both a leisurely pace and the highest resistance setting, Nicole says the highest level is actually quite difficult, and she's not afraid to admit it. This is pretty consistent with what reviewers are saying, too. Many comments included mentions of more than enough resistance levels to challenge the average person.
In addition to difficult resistance, Nicole also enjoys the fact that this mini bike is whisper-quiet and can easily be used during work calls without anyone even noticing.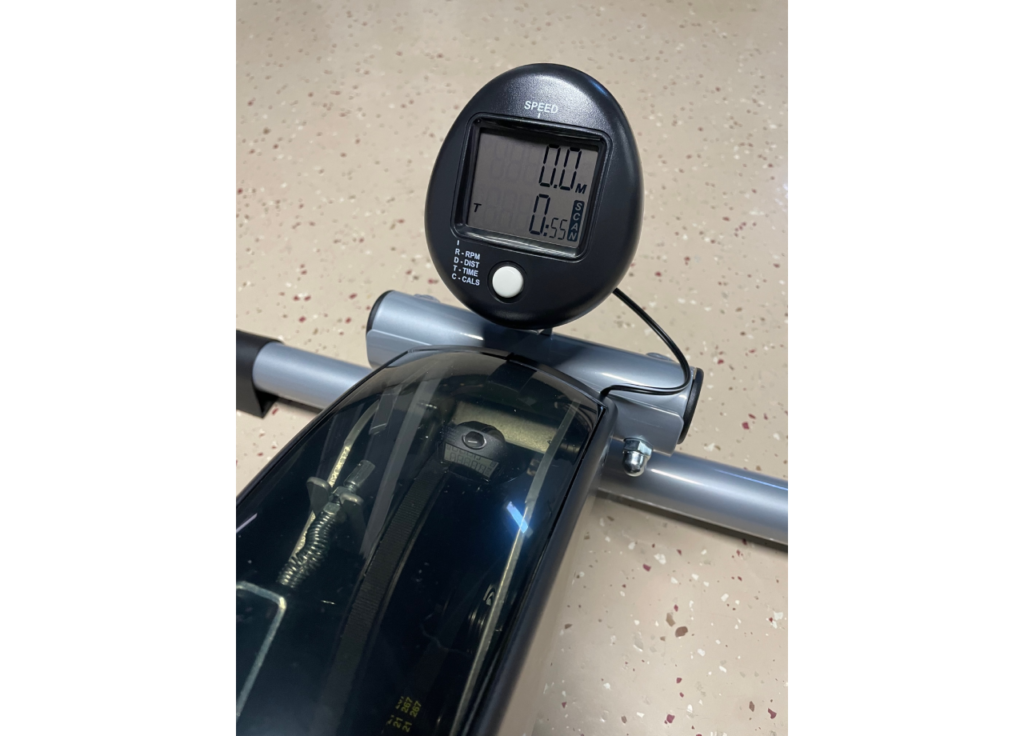 Another nice feature is the removable electronic display. You can detach the display from the front of the mini bike and place it on your desk easily with the included display stand. The display can track up to 16 hours of data (calories, time, distance, and RPM) before it rolls over and restarts.
Footprint and Portability
The DeckCycle 2 Under Desk Exercise Bike is absolutely a small machine, but not as petite as Nicole expected after placing her order. "It weighs 23 pounds, so it's not super heavy. However, there is no handle or any easy way to pick it up and carry it around," Nicole says. "It ends up being a bit awkward."
Before it arrived, Nicole was under the impression it would be more compact under her desk, too. "I have a really slim desk and it definitely sticks out when I'm using it," Nicole says.
The DeskCycle is 24 inches long, which will take up quite a bit of space under any desk once your computer chair is rolled under there as well.
Durability and Construction
Although the DeskCycle footprint is not as slim as expected, Nicole remains impressed with the overall construction of the mini exercise bike.
Nicole boasts that it "feels really stable during use." She says there is no movement underfoot while she multitasks her cardio workouts and her desk work.
Nicole is also impressed with the 270-pound user weight capacity and the 39-pound magnetic flywheel. Both of these attributes give the mini bike a super smooth ride and a locked-to-the-ground feel while in use.
Pedal Exerciser Ergonomics
For a simple piece of exercise equipment, the DeskCycle certainly aims for ease of use. Nicole likes that this under-desk cycle machine has an adjustable pedal height. You'll have the option of setting the pedals to either 9 or 10 inches off the ground.
Nicole has experienced no issues with the height of her desk in relation to the mini bike pedal height. However, she also knows this is not the case for all users, especially taller people (Nicole is 5 feet, 3 inches tall).
The foot pedals are also adjustable with Velcro straps. These straps fit a wide range of shoe sizes, with the maximum circumference measuring 16 inches. Not only will this accommodate a variety of users, Nicole especially likes that the pedals are flat and easy to use hands-free.
She has no problem slipping feet both in and out of the foot pedals without any help from her hands—making this a great option for seniors or anyone lacking mobility.
Pedal Exerciser Conveniences
Although this desk bike pedal exerciser is not particularly tech-heavy, we do like the fact the LCD display is removable from the machine so you can place the screen on your desk. It reads out the basic metric you'd want on any other bike including calories, distance, time, and RPM. After 16 hours of tracking, the metrics roll over and restart.
DeskCycle 2 Vs Cubii Move Under-Desk Elliptical
Although the Cubii is not a mini bike, this mini elliptical machine is one of the most comparable under-desk cardio options we've tried. Where these machines differ is the fact that the DeskCycle does not have Bluetooth capabilities, while the Cubii does and can connect to the Studio Plus app for on-demand workout classes.
For the same price and nearly the same footprint, the Cubii offers a more "connected" experience while the DeskCycle 2 has some of the smoothest (and most challenging) resistance we've tried on an under-desk cardio machine. Product tester and writer, Caroline Lubinsky tested the Cubii JR (now discontinued, but very similar to the Cubii Move) and reports that even the highest settings are not that difficult. 
Cubii Move Under-Desk Elliptical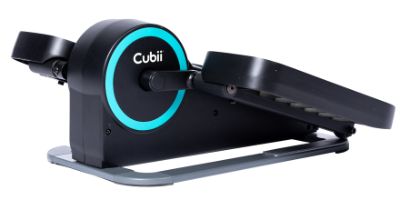 GGR Score: 3.79
Product Highlights
Lightweight and portable
Tracks stride count, mileage, duration, and calories burned
Great for under-desk use
6 levels of resistance
Pros & Cons
Pros
Lightweight
Great for under-desk pedaling
6 levels of resistance
Tracks stride count, mileage, duration, and calories burned
Cons
Does not provide a full-body workout
May wobble on carpet
No handle
Manual resistance only
Bottom Line
The Cubii move is a lightweight, portable exercise machine that allows you to seamlessly pedal while seated.
| | | |
| --- | --- | --- |
| | DeskCycle 2 Under-Desk Exercise Bike | Cubii Move Under-Desk Elliptical |
| Price | About $230 on Amazon | $199 |
| Footprint | 24" L x 10.2" W x 20" H | 21.7" L x 19.7" W x 9.7" H |
| Product weight | 23 lbs | 17.6 lbs |
| Weight capacity | 270 lbs | 300 lbs |
| Display | LCD screen | LCD screen |
| Resistance | 8 levels | 6 levels |
| Warranty | 1-year | 1-year limited |
| Transport handle | No | No |
| Bluetooth | No | No |
Customer Experience
DeskCycle does not sell products directly through the company's website. Instead, you'll have to buy the DeskCycle on Amazon. Fortunately, when it comes to Amazon, you get return an item for free with 30 days of delivery for a full refund at any of the 18,000 drop-off locations nationwide.
Additionally, if you run into any trouble with your DeskCycle, customer service is available by email (support@deskcycle.com) with a two-day response time or by phone (877-426-3292) which claims to be available 24 hours a day, seven days a week.
Ordering and Assembling DeskCycle 2 Under Desk Bike
Nicole reports that it took her all of 10 minutes to put the DeskCycle together. "It was simple and instructions were easy to follow," Nicole says.
She ordered the DeskCycle from Amazon and had no trouble with the ordering process or the delivery. The one thing she did mention was that the batteries that came with the machine for the small electronic display were dented. Other than the batteries, all the parts were flawless and ready to assemble.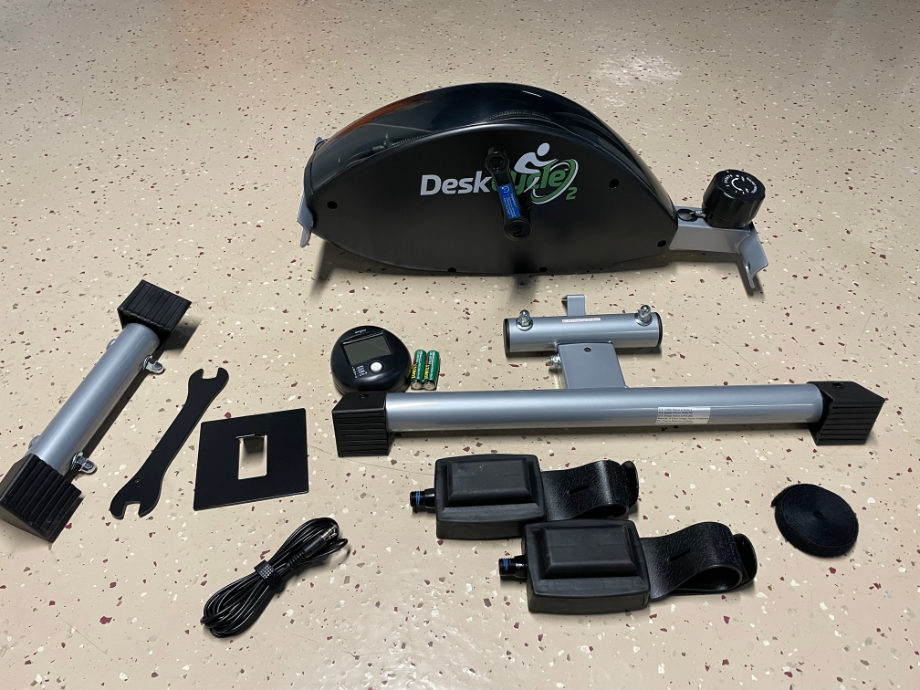 Customer Reviews
Reviews for the DeskCycle 2 are all over the place–ranging from thrilled customers to people who returned the product. However, the more negative reviews centered around individual ergonomics rather than the quality of the machine. On Amazon the DeskCycle 2 has more than 4,000 customer reviews with an average star rating of 4.6 out of 5.
Final Verdict of Our DeskCycle 2 Under Desk Exercise Bike And Pedal Exerciser Review
The DeskCycle 2 might not be the answer to everyone's fitness goals, but it will certainly help anyone looking to add more movement into a long work day. We like the following features on the DeskCycle:
Smooth magnetic resistance
8 levels of resistance
Fairly lightweight machine
270-lb user weight capacity
Low-to-the ground profile
Removable monitor
Foot pedals can be set hands-free
DeskCycle 2 Under Desk Exercise Bike And Pedal Exerciser Rating
DeskCycle 2 Under Desk Bike Pedal Exerciser
Want to move while you work? Find out the pros and cons of this low-profile machine in this DeskCycle 2 Under Desk Exercise Bike and Pedal Exerciser review.
Product Brand: DeskCycle
Product Currency: USD
Product Price: 239.00
Product In-Stock: InStock
DeskCycle 2 Under Desk Exercise Bike And Pedal Exerciser FAQs
What is the difference between the DeskCycle and the DeskCycle 2?
The only difference between the DeskCycle 2 and the original DeskCycle is that the second generation offers a lower 9-inch setting for the pedal height.
Is a pedal exerciser a good workout?
Although a pedal exerciser can enhance movement throughout a sedentary workday, it might not be enough exercise to offset the effect of prolonged sitting.
Is an under-desk treadmill or bike better?
This depends not only on your budget (under-desk treadmills are often more expensive), but your fitness level as well. Exercise bikes offer low-impact workouts while treadmills will have more impact on your ankles, knees, and hips.