We test and review fitness products based on an independent, multi-point methodology. If you use our links to purchase something, we may earn a commission. Read our disclosures.
If you're on a budget, buying a treadmill can feel like an impossible task. The thing is, treadmills under $400 actually exist and are totally worth considering adding to your home workout space.
With a budget machine, don't expect to find all the high-end or high-tech features of commercial-grade equipment. However, an affordable treadmill will still help you get your steps in and meet the American Heart Association's recommendation of 150 minutes of moderate to vigorous exercise per week.
Increasing your daily movement (and intensity) can even decrease your risk of heart disease and stroke. If that's not a reason to hop on a treadmill, then I don't know what is!
We Know A Good Treadmill Deal When We See One
Our team of expert product testers knows that it's important to consider quality when you're shopping for budget home gym equipment. You can spend hundreds and thousands of dollars on a home gym set up, but you don't have to.
We've put dozens of treadmills to the test so you can determine the best budget treadmill for your space. Our expert product testers are made up of former college athletes, certified personal trainers, CrossFit Level 1 Trainers, and nutrition coaches. That means we know a thing or two about cardio equipment and what most people are looking for.
Best Treadmills Under $400
Best Overall Treadmill Under $400: Sunny Health and Fitness (SF-T4400) Treadmill
Good for: Anyone looking for a folding budget treadmill with incline options
The Sunny Health & Fitness SF-T4400 treadmill is a trusty choice when it comes to getting the most bang for your buck. Will this treadmill be right for everyone? Probably not. Will this treadmill get the job done for a lot of home gym owners? Sure.
The SF-T4400 is a solid budget treadmill that can be found on Amazon for right around $350. That price point won't lend itself to high-tech features like a touchscreen. However, you will find an easy-to-read LCD display and nine preset programs. The SF-T4400 is easy to assemble, has a soft-drop folding mechanism, and features a compact footprint.
Although there are some solid selling points, there will also be some shortfalls on a treadmill in this price range. The 2.2 horsepower motor won't offer the best power for a lot of running and sprinting (although not impossible). You may also be disappointed to know that the running belt measures 49 inches long and 15.5 inches wide. It's not only narrow, it's shorter than we like to see for treadmills designed for running.
You will however be able to take advantage of the three manual incline options. These adjustable incline settings will require the treadmill to be stopped and you to be entirely off the running deck. The SF-T4400 will be a solid option for casual runners and those looking to get in more steps throughout the week.
| | |
| --- | --- |
| Price | Just under $350 on Amazon |
| Footprint | 62" L x 25.5" W x 50" H |
| Weight capacity | 220 lbs |
| Product weight | 103 lbs |
| Motor horsepower | 2.2 Peak DC HP |
| Top speed | 9 MPH |
| Warranty | 3-year frame, 180 days other parts and components |
Best Interactive Programming on Treadmill Under $400: Weslo Cadence G 5.9i
Good for: Anyone who wants an iFIT-enabled treadmill without spending big bucks
When it comes to treadmills under $400, you'll be making some compromises in the tech department. However, the Weslo Cadence G 5.9i might be one of the best options we've reviewed with interactive programming in this price range.
The Weslo comes with a 30-day trial of iFIT interactive programming, which gives you access to a vast library of on-demand workouts (and not just for your treadmill). You'll have to use your own smartphone or tablet to create an account and stream workouts, but you will benefit from Bluetooth technology that automatically adjusts your speed to the coaching cues or your virtual trainer. You can adjust the incline of the treadmill, but it will need to be done manually when the treadmill isn't running.
Other features we like about this Weslo treadmill are the deck cushioning, tablet holder that doesn't cover up your workout metrics, and folding space-saver design. A few things you'll need to keep in mind if you're considering the G 5.9i: the running deck is 50 inches (which is fairly short for tall runners or anyone who has a long stride) and the 2.25 horsepower motor is less powerful than we'd like to see on treadmills intended for running.
| | |
| --- | --- |
| Price | $350 on Amazon |
| Footprint | 64.5" L x 29" W x 55.5" H |
| Weight capacity | 275 lbs |
| Product weight | 118 lbs |
| Motor horsepower | 2.25 HP |
| Top speed | 10 MPH |
| Warranty | 1-year motor, 90-day parts and labor |
Best Walking Treadmill Under $400: SereneLift Smart Digital Treadmill
Good for: Anyone shopping for a lightweight, portable, and compact walking treadmill
The SereneLife Smart Digital treadmill has a short belt surface measuring only 39.3 inches long and 13.4 inches wide. That doesn't leave a whole lot of room for anything more than getting in your daily steps. Don't expect to do much running on this ultra-budget treadmill.
The SereneLife is considered a smart treadmill because it has Bluetooth capability to FitShow app, which allows you to track your workout data and challenge friends. Although this connectivity might not be a huge selling point, there are a few other features worth mentioning.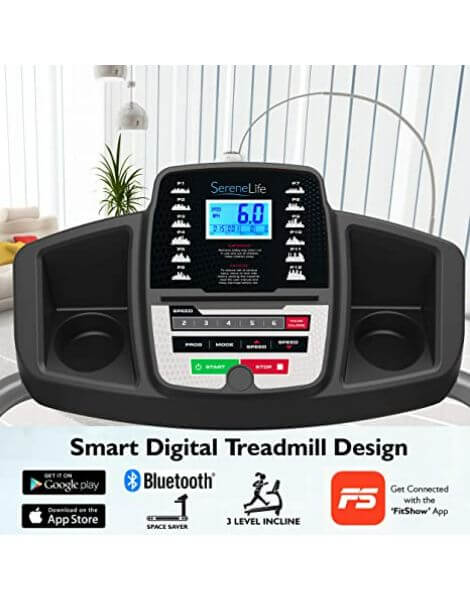 For home gym treadmills, our expert product testers like to see a user weight capacity of at least 275 pounds. With budget treadmills, it's hard to find maximum loads that high. However, this SerneLift Smart Digital treadmill comes in just under what we normally expect at 265 pounds.
This machine features 12 built-in workout programs to keep your workouts interesting, however the top speed is only 6 miles per hour and incline options are adjusted manually. Perhaps not a deal-breaker, but good to know what you'll get at this price.
| | |
| --- | --- |
| Price | About $280 on Amazon |
| Footprint | 51.2 L X 24" W X 49.6" H |
| Weight capacity | 265 lbs |
| Product weight | 57.3 lbs |
| Motor horsepower | 1 HP |
| Top speed | 6 MPH |
| Warranty | 1 year |
Best Incline Treadmill Under $400: XTERRA Fitness TR150
Good for: Casual joggers or walkers looking for incline settings to enhance calories burned
At this price range, you won't find a lot of treadmills that offer incline settings. It's one more feature that costs the manufacturer supplies and labor to build in. The XTERRA Fitness TR150 does include a manually adjustable incline option.
That means you will have to get off the treadmill belt and set the incline manually. Although this might be a hassle, our expert product testers like to see the manual option more than no incline at all.
The XTERRA Fitness TR150 has pretty similar specs to the Sunny Health and Fitness SF-T4400 treadmill, which we think is a fantastic deal for a treadmill under $400. Both treadmills have similar running deck sizes, motor horsepower, and top speeds.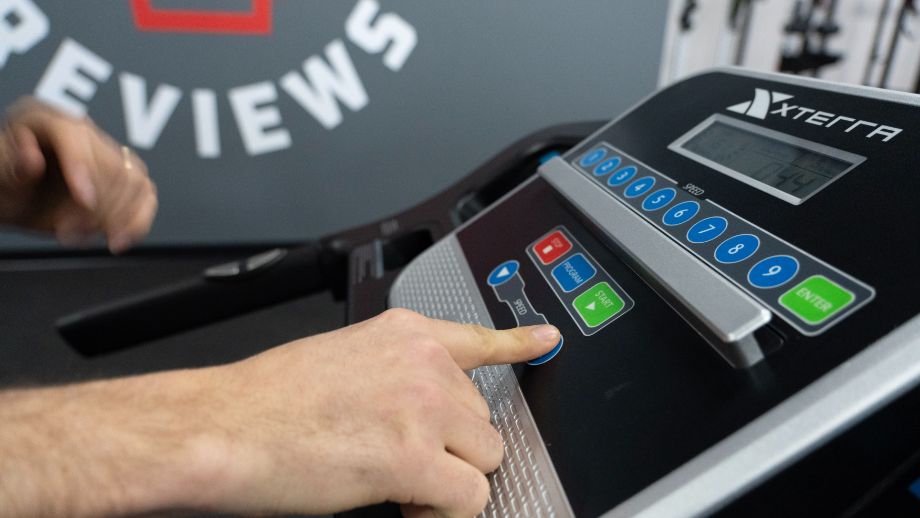 However, we think the XTERRA stands out with its lifetime warranty on the frame. The TR150 also has a heavier user weight capacity of 250 pounds (which is still under industry standards, but decent for a treadmill in this price range).
If you're wondering why the XTERRA TR150 didn't make the spot for best overall treadmill under $400, it's mostly because the TR150 doesn't have a gas shock to help slow down the unfolding process. Our product testers found that if you're not careful, the treadmill deck can crash to the ground. It's not only noisy but unsafe if you have pets or children at home.
I will mention that the price fluctuates quite a bit on Amazon. When we wrote our original full length review of the TR150 it was priced around $350 but I've seen it fluctuate over $400. On average, it seems to be right around $400.
| | |
| --- | --- |
| Price | Around $400 on Amazon |
| Footprint | 63.4" L x 28.75" W x 51.4" H |
| Weight capacity | 250 lbs |
| Product weight | 108 lbs |
| Motor horsepower | 2.25 HP |
| Top speed | 10 MPH |
| Warranty | Lifetime frame, 1-year motor, 90 days labor |
Best Under Desk Treadmill Under $400: GoPlus 2-in-1 Treadmill
Good for: Small spaces or the ability to get steps in during the workday
The GoPlus 2-in-1 treadmill is a highly adaptable and compact treadmill you can use both under your desk during the workday or to supplement your fitness routine. The GoPlus is a perfect walking treadmill, and not for anyone who plans on doing any amount of serious running (the walking surface is only 40 inches long).
It features a design you can pretty much use right out of the box. You'll have two optional handrails you can install if you plan on using the treadmill without a standing desk.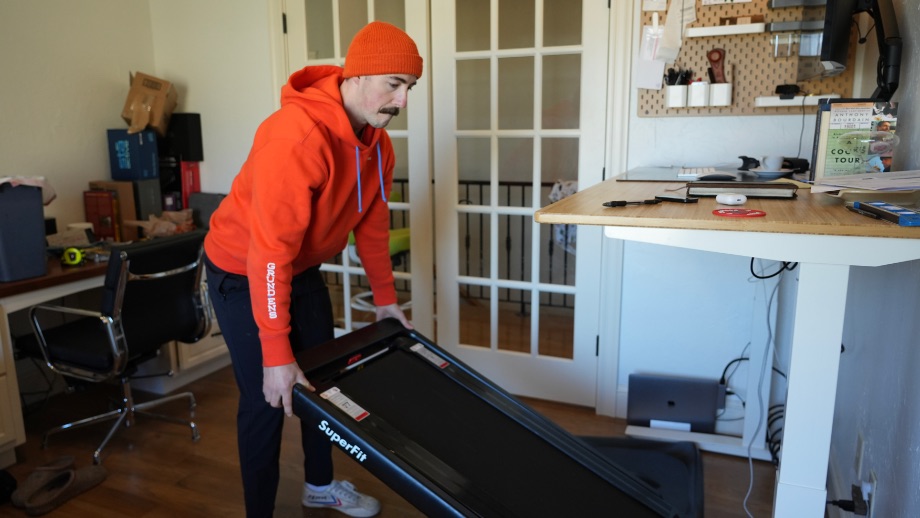 Because the GoPlus doesn't feature a traditional console or monitor, you'll start, stop, and control the treadmill speed with a remote control. This is super handy for changing speeds and stopping the running belt while you work, but it's worth mentioning that the remote control is the only way to get the treadmill started or stopped.
Without a console, you'll also notice your workout metrics are shown at the base of the treadmill on a small LED display. Also at the base of the treadmill is a built-in Bluetooth speaker.
Lastly, our product testers noticed that if you're standing on the treadmill while you get the belt started with the remote control, the motor can bog down a little. Our testers have noted it's worth starting the treadmill belt before hopping on.
| | |
| --- | --- |
| Price | Right around $350 on Amazon |
| Footprint | 49" L x 27" W x 42" H |
| Weight capacity | 265 lbs |
| Product weight | 69.5 lbs |
| Motor horsepower | 2.25 HP |
| Top speed | 8 MPH |
| Warranty | 3-month warranty |
Other Treadmills Under $400 We Tried and Researched
Sunny Health and Fitness SF-T7603: This treadmill was close to making this list, but the SF-4400 is very similar and usually ranks higher with our product testers.
UREVO 2-in-1 Treadmill: This desk-friendly machine almost made the list, but our product testing team usually ranks the GoPlus higher than the UREVO for under-the-desk options.
Zelus Folding Treadmill: This machine offers incline training and has good customer reviews, but because we haven't tested this one ourselves, we left it off the list.
How We Picked and Tested the Best Treadmills Under $400
For our cardio equipment roundups, there is a lot of thought going into what products make the list. Here are the considerations I made when choosing the best treadmills under $400:
Price range: Is the treadmill priced under $400?
Warranty: Is there a warranty for this product and how does it compare to industry standards?
Construction: Does the treadmill feel solid while walking and can it be used for running?
Weight limit: What is the maximum user weight capacity and how inclusive will that be for larger people?
Assembly: How many parts come with the treadmill? How long will assembly take? Deck size: Does the length of the running deck allow for walking only or can it support running strides?
Display: What metrics are shown on the console? Is this a backlit display or LCD display?
Speed range: What is the maximum speed of this treadmill?
Extras: Does the treadmill have Bluetooth connectivity? Does it have cup holders, storage options, or a tablet holder?
Compactness: Does the treadmill fold (and does it feature gas shocks for a soft drop system)? Does the machine feature transport wheels for portability?
Benefits Of A Treadmill Under $400
Other than the fact you're not spending an arm and a leg on cardio equipment, here are some other benefits to buying a treadmill under $400:
Cardiovascular Health
If owning a treadmill challenges you enough to increase your heart rate, you'll be able to keep your heart healthy and efficient at pumping blood to the rest of the body. The American Heart Association recommends 150 minutes of moderate to vigorous activity each week. But what is moderate activity defined as? The AHA states that a brisk walking pace of 2.5 miles per hour is enough to be considered moderate activity.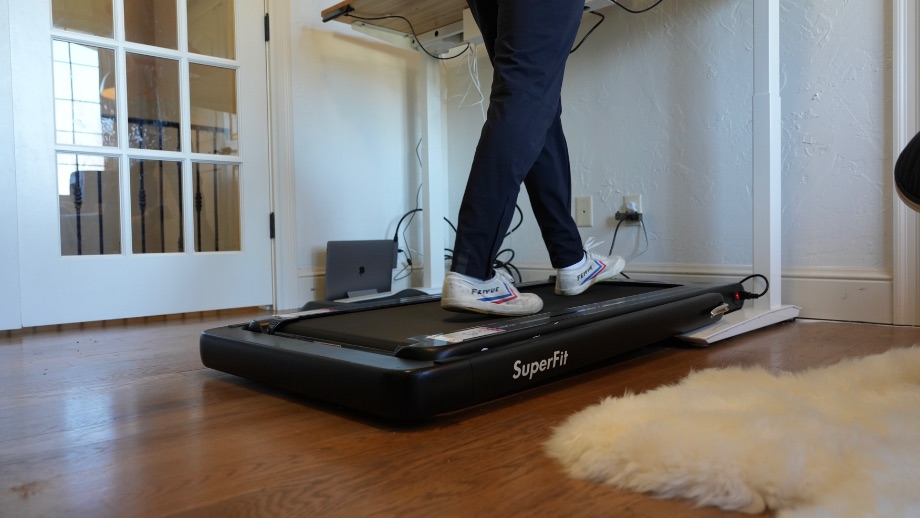 Lightweight and Moveable
If you're not in your forever home, it's worth thinking about how many times you'll have to move your treadmill as part of the total moving process. Most affordable treadmills offer space-saving footprints and typically weigh less, making moving one a little less of a hassle.
Budget For More Home Gym Equipment
Because you didn't spend thousands of dollars on a treadmill (yes, you can literally spend $2,00 or more on a treadmill machine), presumably you'll have a little more wiggle room in your budget for your next home gym purchase. Perhaps it's time for a squat rack or an adjustable dumbbell set?
Things to Consider When Buying A Treadmill Under $400
When you're shopping for your budget treadmill, contemplate the following factors:
Price: When shopping for a treadmill under $400, keep in mind you won't always have financing options. However, I'd still recommend sticking to a budget because exercise equipment can get pricey fast.
Motor: Budget machines usually have less powerful motors than commercial-grade equipment. We like to see at least 2.25 horsepower motors for running, but that's not always the case for treadmills in this price range.
Warranty: In general, we like to see at least 10- to 15-year warranties on the treadmill frame. In budget-friendly treadmills though, you won't always see the same high-quality warranties you're used to with brands like NordicTrack and ProForm.
Weight limit: We like to see at least 275 pounds as the maximum weight capacity on treadmills. Budget machines are often lighter and can't tolerate as much load. Pay attention to the weight capacity and make sure it will accommodate your body weight.
FAQs on the Best Treadmills Under $400
Which is the most affordable and good quality treadmill?
This depends a lot on what you consider affordable, but overall the Sunny Health and Fitness SF-T4400 is a terrific treadmill option that won't have you paying over $400. However, if you're looking for versatility, the GoPlus 2-in-1 under-the-desk treadmill could offer a lot of value to your work life and overall fitness goals. 
What is the best indoor treadmill for home use?
We have an entire list dedicated to our top picks for the best treadmills for home gyms. Prices range drastically, but a top contender is the NordicTrack Commercial 1750. 
How much should I pay for a good treadmill?
Quality treadmills that are built to last (and for running) will average around $1,000. For a treadmill that can be used for both walking and running, you'll want a machine that offers a 55- to 60-inch running surface and a motor of at least 3.0 horsepower. 
Is it OK to buy a cheap treadmill?
Sure it is—it highly depends on what you consider cheap and what your fitness goals are. There are plenty of options to buy a treadmill under $1,000.