We test and review fitness products based on an independent, multi-point methodology. If you use our links to purchase something, we may earn a commission. Read our disclosures.
According to a study done by Stanford University during the height of COVID, 42 percent of U.S. workers were working from home full-time. Although the pandemic appears to be slowing, the work-from-home culture doesn't seem to be going anywhere. Much to the delight of many employees, more and more businesses are adopting this model.
However, a lot of us are realizing we're getting less steps than we were previously, likely because we're sticking to a single room in our home rather than buzzing around the office. Finding the best under-desk treadmill can help you solve your step conundrum and may even help with overall job productivity.
Our Treadmill Reviews Aren't Run-of-the-Mill
Boring treadmill reviews on the internet are a dime a dozen, but GGR's cardio reviews are more similar to finding the golden ticket in the Willy Wonka movie––you'll feel like you've hit the jackpot. Time to jump out of bed in delight like Grandpa Joe after Charlie brought home the famous ticket! Our team of expert product testers and reviewers are extremely qualified to give you our knowledgeable opinions––after all, we're certified personal trainers, nutrition coaches, and former college athletes. I like to think we're all a bunch of walking golden tickets, to be honest.
6 Best Under-Desk Treadmill
Best Under-Desk Treadmill Overall: Sunny Health and Fitness WalkStation Slim
Good for: People who want a name-brand under-desk treadmill
Best Under-Desk Treadmill Overall
Sunny Health and Fitness Walkstation Slim Flat Treadmill
Looking for an under-desk treadmill from a brand you trust and know? Check out the Sunny Health & Fitness Walkstation Slim Flat Treadmill. At under $300, this cardio machine is an excellent option for those with a standing desk. It is worth noting that there isn't a handlebar to steady yourself, but the treadmill is so sturdy, it may not matter to you.
Pros:
Feels very sturdy
Portable
Simple to store
Comes assembled
Under $300
Machine automatically will pause if you hop off
Comfortable belt
Cons:
No handlebar
Short deck
Emergency stop clip is too short for taller people
I was the lucky person who tested the Sunny Health and Fitness WalkStation Slim, which materialized at my doorstep in under a week after ordering. My roommate described the box it comes in as "coffin-shaped," but that worked just fine for me since the treadmill arrived fully assembled.
Even though I have carpet in my bedroom, the WalkStation Slim felt extremely sturdy while I was using it. I didn't feel like the motor lagged at all as I walked throughout a "Meeting Monday" (I privately call Mondays at work this even though no one else does). Plus, the WalkStation Slim is really easy to move from one room to another. I was able to easily utilize the included transport wheels to move my machine into the living room to watch television.
I was also intrigued by the automatic machine-shut-off feature. If you hop off the deck while the WalkStation Slim is moving, the treadmill will automatically come to a halt. The feature makes the WalkStation safer for kids and pets to be around, even when you're having an air-head moment and forget to turn the machine off.
It is worth noting that the emergency safety clip was too short to be useful for me. However, for those around 5 feet 4 inches tall like my roommate, you likely won't have this issue. I think the brand just needs to extend the attached string to eliminate this concern for taller folks.
Another thing to consider is the weight capacity. At just 220 pounds, this weight capacity certainly wouldn't make this the most inclusive under-desk treadmill. On traditional treadmills, we typically expect to see a weight capacity of 300 pounds, so I was hopeful to see a number close to this standard.
| | |
| --- | --- |
| Price | Under $300 |
| Weight | 55.1 lbs |
| Weight capacity | 220 lbs |
| Deck size | 39" L x 14" W |
Best Simple Under-Desk Treadmill: Goplus 2-in-1 Folding Treadmill
Good for: People who want an uncomplicated under-desk treadmill
Best Simple Under-Desk Treadmill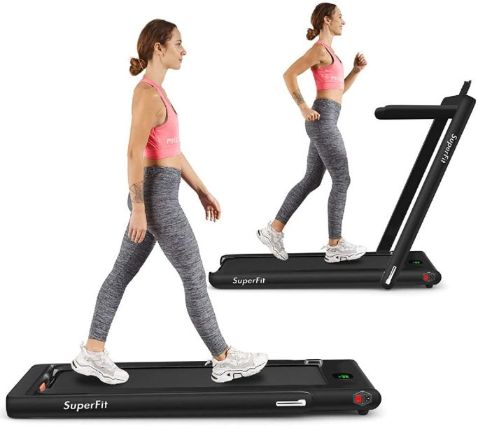 GoPlus 2-in-1 Folding Treadmill
If you are new to the world of exercising, enjoy walking, or are an occasional jogger, the GoPlus 2-in-1 Folding Treadmill could be the treadmill for you. The GoPlus 2-in-1 offers two sport modes, running and walking, with maximum speeds of 8 miles per hour and 2.5 miles per hour respectively. With a 2.25 horsepower motor, it can easily be used under a standing desk so you can get your workout in while working. The GoPlus 2-in-1 Folding Treadmill features a five-layer non-slip and shock-absorbing running belt, safety key, Bluetooth speaker, remote control to change speeds and a phone mount on the handrails. With these features, you can connect and listen to your favorite music, watch a show or talk on the phone all while getting a workout! Although the running surface is a bit smaller than most measuring 40 inches by 16 inches, it does provide cushioning to decrease the tension put on your back, joints, knees and ankles.The LED display has a sleek and minimalist design which shows time, speed, distance and calories, monitoring your movement data in real time. Overall, this is a great budget treadmill for the right customer. That said, the GoPlus 2-in-1 Folding Treadmill is not built to withstand any sustained or fast running. Additionally, because of the smaller running deck and fixed handrail height of 3.5 feet, the GoPlus 2-in-1 is not a good fit for taller people.
Pros:
Simple display
Easy to use
Foldable
Bluetooth speaker
265-pound user weight capacity
Cons:
Cannot be put on carpet
Motor lags if you stand on the machine before starting it
Treadmill can only be turned on by the remote
GGR founder Cooper Mitchell frequently uses the Goplus 2-in-1 while working during the day in his home office. He lauds the machine for its simplicity.
"The only buttons to press are the three on the Goplus' remote control––power, increase speed, and decrease speed are all you have," Coop explains.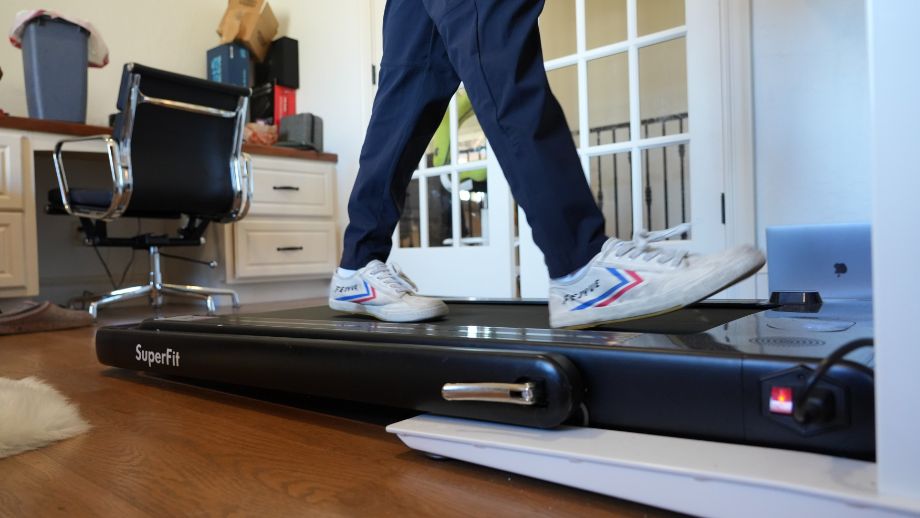 For an under-desk treadmill, I actually think simple is better. You don't want to be distracted by a gleaming touchscreen or a dozen buttons while you're trying to work. The display on the Goplus has also followed the same simple-is-best guideline as the remote control. You'll see a few sparse metrics cycle through on the LED display, but that's the extent of the tech features.
Coop also likes that there is a foldable handlebar included on the GoPlus, which is especially useful if you have balance concerns. Plus, the machine can easily be stored under a bed or couch when you aren't using it.
It is worth noting that the motor will lag if you stand on the GoPlus before giving it a chance to start. You should also limit the GoPlus to use on hard floors, as it is recommended in the manual that the machine shouldn't be used on carpeted surfaces.
Take a look at our full Goplus 2-in-1 Folding Treadmill review.
| | |
| --- | --- |
| Price | Around $330 |
| Weight | 69.5 lbs |
| Weight capacity | 265 lbs |
| Deck size | 40″ L x 16″ W |
Best Under-Desk Treadmill with Incline: Egofit Walker
Good for: People who want to walk on an incline while working
Best Under-Desk Treadmill with Incline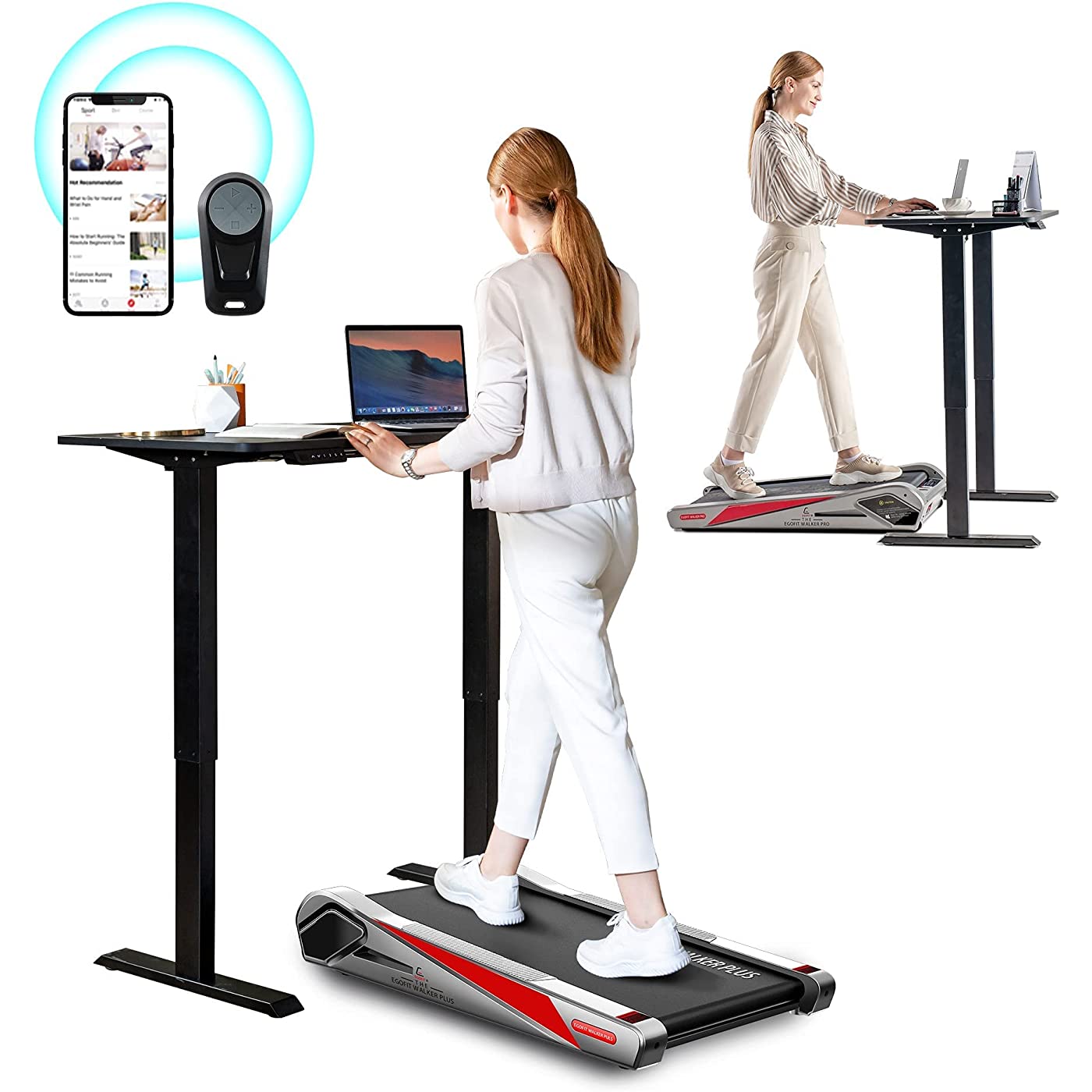 Egofit Walker M1/M1T Smallest Under Desk Electric Walking Treadmill
The Egofit Walker M1 is an under-desk treadmill designed to help you get steps in while you work. This isn't your average under-desk treadmill; She has incline! And 5% incline at that. You'll be able to feel the burn in your calves throughout the day as you climb up the hill of your treadmill (and the hill of your workday).Although the deck is on the smaller side, this makes the M1 a compact option for those in small spaces. You're also able to fold down the included handle for even more compatibility. So what are you waiting for? Grab your very own M1 today for under $500!
Pros:
Has incline options up to 5%
Compact footprint
Remote holder included
Arrives assembled
Works well on carpet
Cons:
Very short deck
1-year warranty
Weak motor
For those who find under-desk treadmills to be a little too easy, we recommend the EgoFit Walker, which has a 5 percent incline. That's not much, but as certified personal trainer Anthony O'Reilly, who tested out the Egofit, explains, it's better than nothing.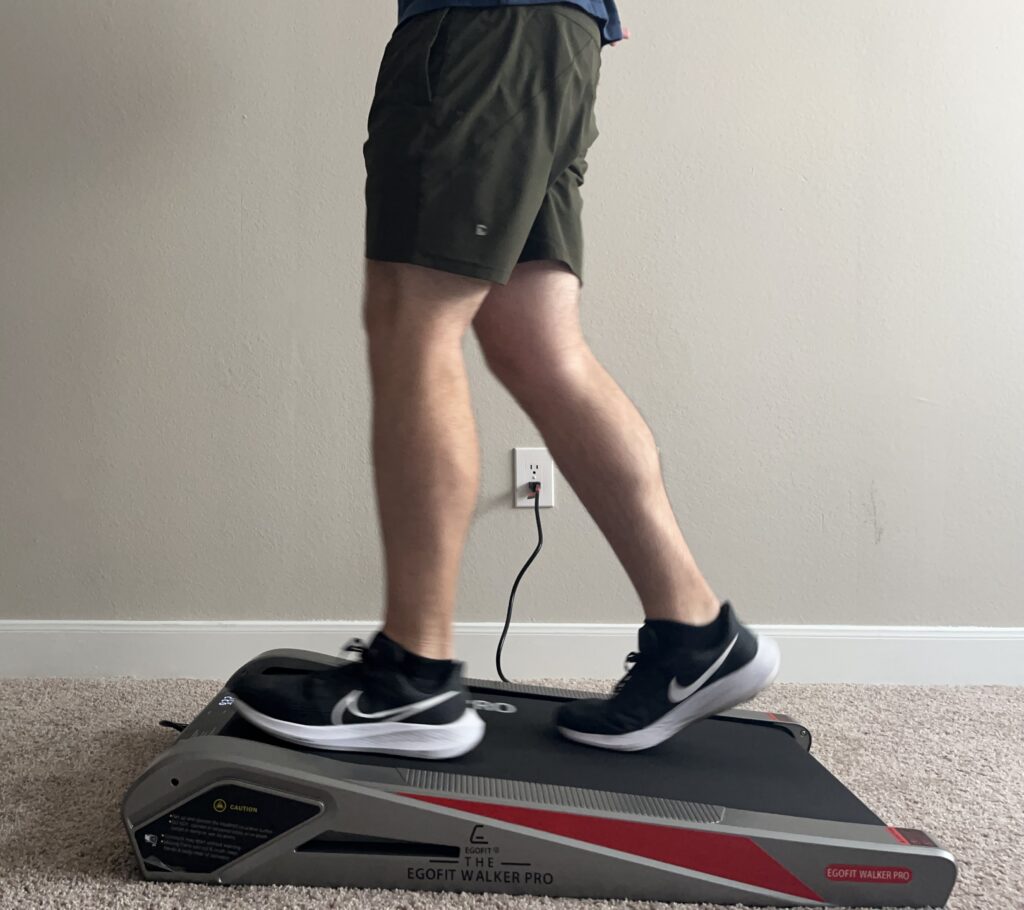 "Walking at an incline has been shown to increase the amount of calories you burn, and helps tone your posterior chain," O'Reilly says. "The Egofit's not nearly as challenging as a 12-3-30 workout, but I could feel the difference compared to most other under-desk treadmills."
Anthony notes that the Egofit is not the best treadmill for everyday use. For one, it only has a .75 horsepower motor, so walking on it for an hour a day everyday is going to wear that down fast. It also has a weight limit of 242 pounds, and while Anthony is around 220 he's noticed the tread is already getting a little tired of him.
The treadmill comes with two bottles of lubricant to help it run smoothly, which will come in handy if you want to hold onto this thing for a while.
On the bright side, there's no assembly required. Simply take it out of the box, plug it in, and start walking.
| | |
| --- | --- |
| Price | Around $460 |
| Weight | 58.42 lbs |
| Weight capacity | 242.5 lbs |
| Deck size | 34.25" L x 16.54" W |
Best Budget Under-Desk Treadmill: UREVO 2-in-1 Under Desk Treadmill
Good for: People on a budget who want an under-desk treadmill for a small space
Best Budget Under-Desk Treadmill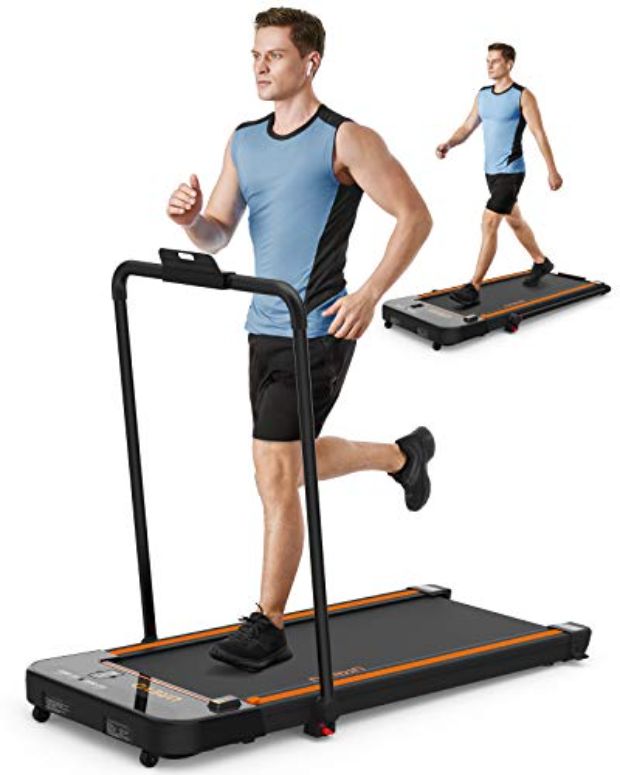 UREVO 2-in-1 Under Desk Treadmill
If you live in an apartment or other compact space, the UREVO 2-in-1 treadmill might be a good option for you. This lightweight machine clocks in at under 60 pounds, which makes it easy to fold and move into a closet or against a wall to free up space. Plus, the handle easily folds down to allow it to be used under a desk while working from home.However, the deck itself is very thin and short. If you're over 5'9", this treadmill might be too short for you to take normal length strides. Although the machine has a maximum speed of 7.6 mph, you likely wouldn't be able to take appropriate strides if you're of average height or taller. However, I personally wouldn't really recommend anyone use thew UREVO for running, as it is better suited for slow paced walking.
Pros:
Inexpensive at $370
2.5 CHP motor
Handlebar is foldable
Anti-slip belt
265-pound user weight capacity is solid for an under-desk treadmill
Cons:
Device holder is flimsy
Lacks incline options
1-year warranty
If staying on budget is your No. 1 concern, check out the inexpensive UREVO 2-in-1 Under Desk Treadmill. This portable machine is under $370 and available on good ole' Amazon (we worship thee, Jeff Bezos). The 2.5 CHP motor packs an impressive punch that most smaller under-desk treadmills do not and goes up to 7.6 miles per hour. Consider me impressed. Plus, the 265-pound user weight capacity is pretty decent compared to others at this price.
Although you should be wearing running shoes when using an under-desk treadmill, I do like that the UREVO has a non-slip belt. It made me feel like I had less of a chance of falling off, which is always a distinct possibility if you're me. The belt is also constructed with five layers of rubber and Silica Gel, so you don't feel like you're plodding along on a rock-encrusted trail.
RELATED: How to Choose Running Shoes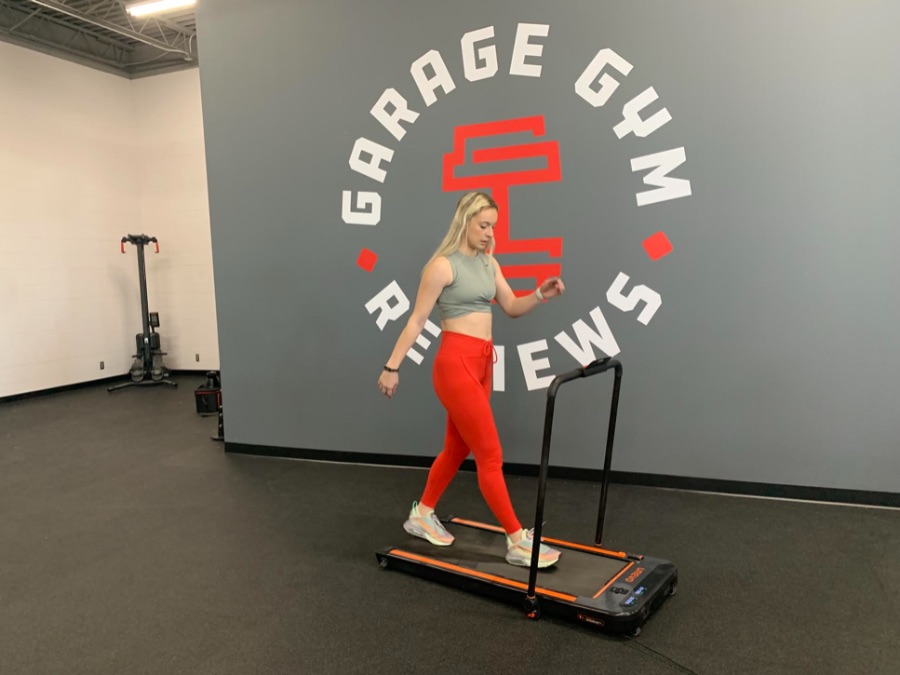 I will say, don't expect to actually use the device holder. Although the UREVO does have one, I wouldn't trust my phone or iPad in it. This isn't a huge deal, especially since most of us would likely be using it with the handle folded down under a standing desk.
The one-year warranty isn't particularly surprising for the price, but it is worth noting anyway. You may end up purchasing another under-desk treadmill within a few years (especially if you're using yours every single day), but it is simply par for the course.
Read our entire UREVO 2-in-1 Under Desk Treadmill review.
| | |
| --- | --- |
| Price | Around $370 |
| Weight | 72 lbs |
| Weight capacity | 265 lbs |
| Deck size | 42.5" L x 16.9" W |
Best Foldable Under-Desk Treadmill: REDLIRO Under Desk Treadmill
Good for: Storing under beds or couches when not being used
Best Foldable Under-Desk Treadmill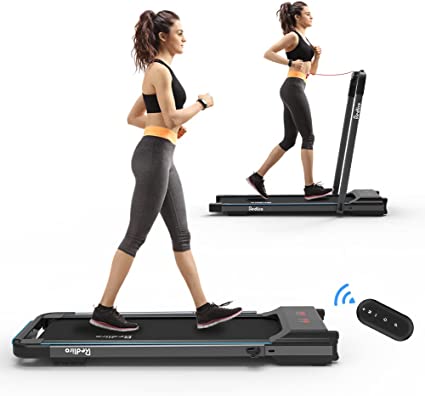 REDLIRO Under Desk Treadmill
For under $400, the REDLIRO Under-Desk Treadmill impresses with a 2.25 CHP motor, a shock-absorbing deck, and foldability for easy storage. If you're tired of not getting enough steps during the workday, the REDLIRO might be the solution for you!This under-desk treadmill is controlled by a handy remote and features 12 different preset programs for you to choose from. This is especially helpful for those who like to be able to switch things up from time-to-time.
Pros:
Foldable
Adjustable handrail
Slim and fits under a desk easily
Wheels on the bottom make the treadmill very portable
Comes assembled
12 program settings
Cons:
Belt seems thin
Wobbly at higher speeds
Slot for device is unstable
The REDLIRO treadmill is a versatile, under-desk treadmill. It has a thick handlebar if you need more support or have balance issues. You can also easily fold this down and stick the REDLIRO underneath a standing desk to tippity-type away on your computer. The duality. We truly love to see it.
Director of SEO for GGR Ashley Little tested the REDLIRO treadmill herself.
"This is a good option for those looking to walk at their desk while working, or those who want a brisk walking pace workout to get more steps in during the day," Ashley reported.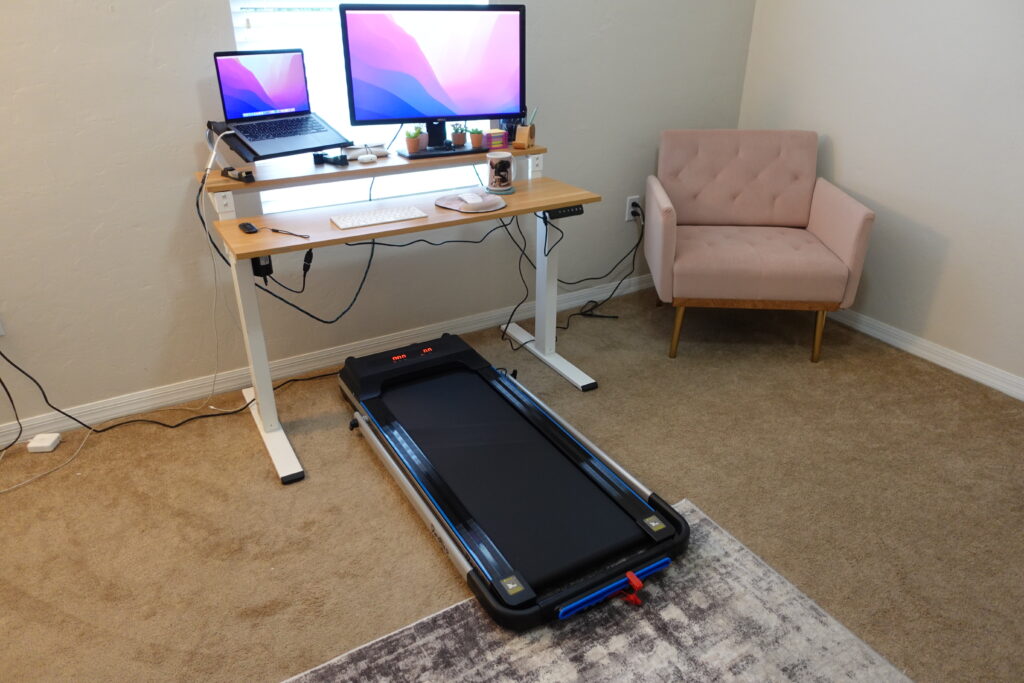 Ashley used this machine both barefoot and with shoes, although she recommends you use it with shoes (we do, too, for safety reasons).
"The treadmill deck got pretty warm after using it for a while, so just be aware of that," Ashley explained.
The REDLIRO has 12 preset programs to cycle between and can even max out at 7.5 MPH, although the deck might be a little short for serious jogging or running.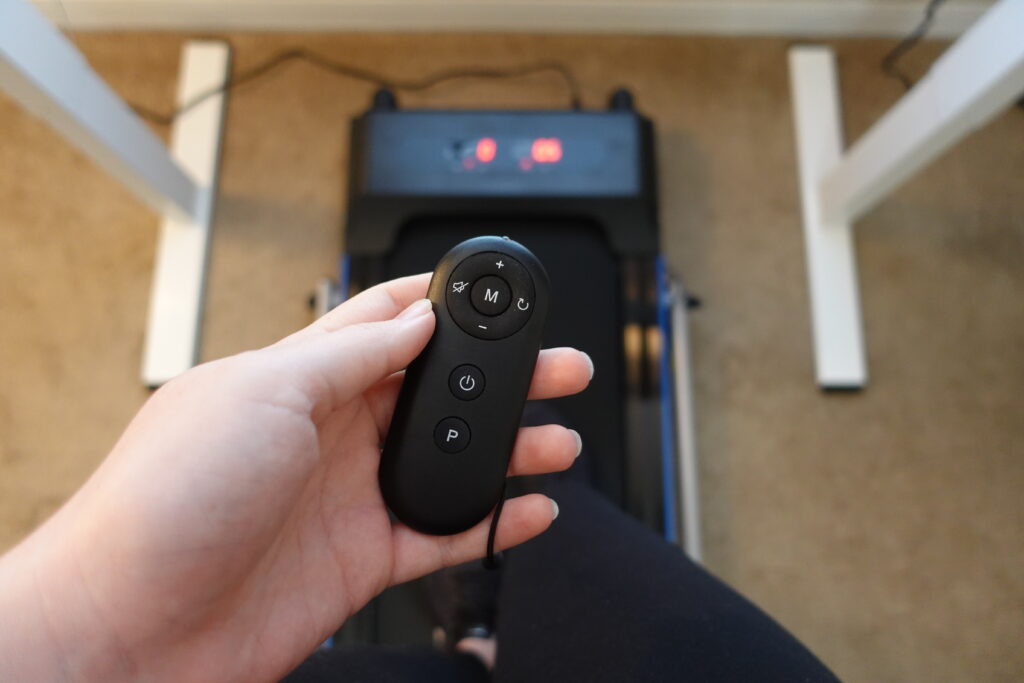 However, Ashley did say the REDLIRO was really easy to move, likely due to the attached transport wheels. She was able to drag it from one room to another without any concern.
"It's also thin enough to fit under most beds or couches, which I found to be very handy," Ashley mentioned.
| | |
| --- | --- |
| Price | Around $370 |
| Weight | 57 lbs |
| Weight capacity | 220 lbs |
| Deck size | 41" L x 15" W |
Best Under-Desk Treadmill for Walking: WalkingPad P1 Folding Treadmill
Good for: People who live in small spaces
Best Under-Desk Treadmill for Walking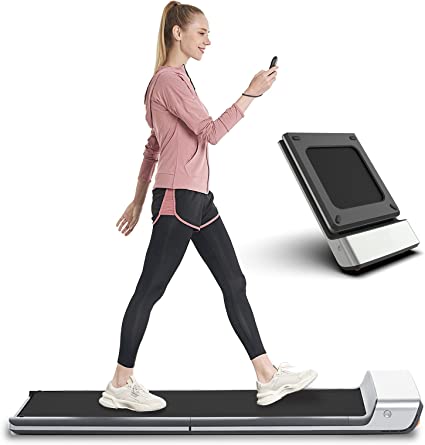 WalkingPad Folding Treadmill
The WalkingPad Folding Treadmill is a good option for people who want to get some movement in while watching television or listening to music. Plus, if you live in a studio apartment or other small space, you'll appreciate the small folded dimensions.I like that you can control the WalkingPad with a remote or through an app depending on whatever if easiest for you.
Pros:
Folds for easy storage
Comfortable to walk on for tall and short people alike
Comes assembled
Compatible with KS Fit App
Features foot-sensing controls
Cons:
Remote isn't very responsive
Doesn't feel particularly durable
1.0 CHP motor is weak
If you live in a studio apartment but still want to get in on the under-desk treadmill craze, the WalkingPad P1 might be the best choice for you. This machine folds completely in half. I'm not talking about just a set of handlebars folding either. The WalkingPad P1 is just 32.5 inches by 5 inches when the deck itself is folded hamburger-style. This makes it an excellent option for people who need to be able to store this machine when it isn't being used.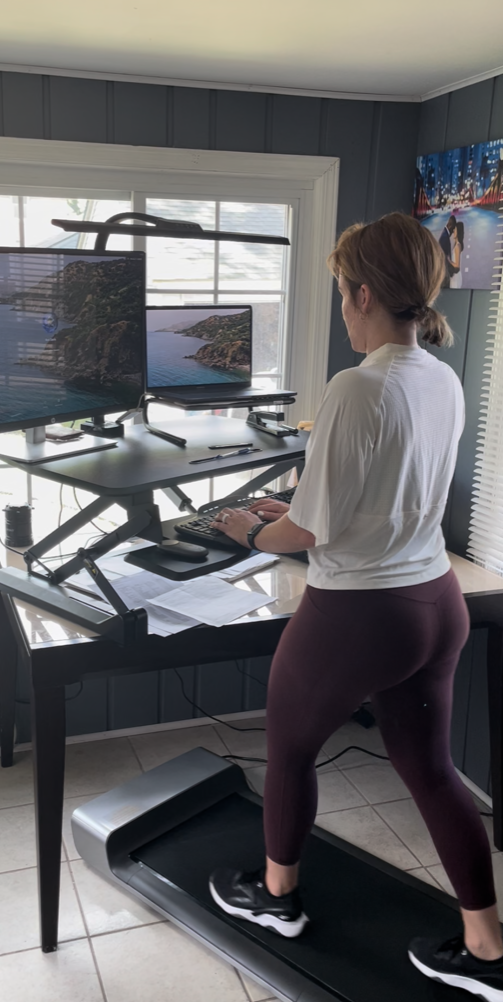 GGR editor and certified personal trainer Nicole Davis tested the WalkingPad P1 (along with her husband) and found that it works well for people of various heights.
"It feels pretty sizable, although a bit slimmer than a regular treadmill," Nicole explains. "It's comfortable for me, but my husband has also used it comfortably and he's 6 foot, 2 inches."
The WalkingPad P1 has foot-sensing controls, although Nicole found it easier to stay in manual mode. I'm personally intrigued by the idea of the foot controls. According to the WalkingPad's product page, the machine will go faster if you step towards the front of the deck, slower if you step in the back, and stay at a consistent speed if you're walking in the middle.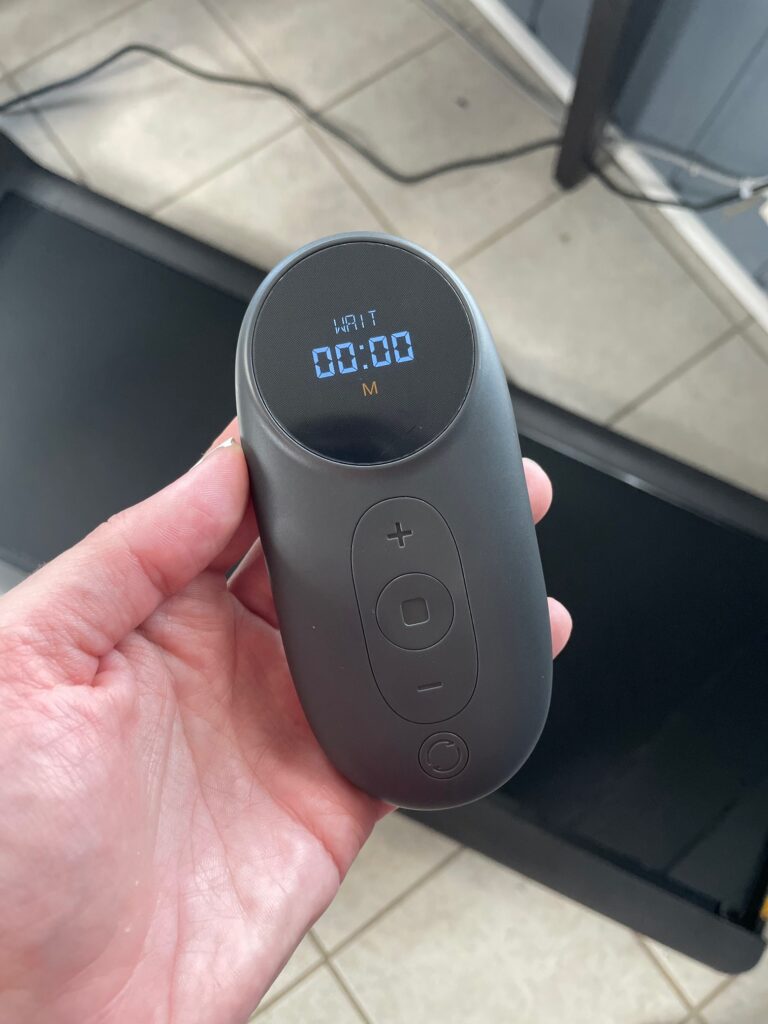 Nicole did note that the machine's motor seemed to lag slightly when her 200-pound husband used the machine versus herself. This isn't particularly surprising considering the motor only has one horsepower. For reference, on a typical treadmill, we'd expect to see anywhere between a 2.5 to 3.0 horsepower motor.
| | |
| --- | --- |
| Price | Around $450 |
| Weight | 66 lbs |
| Weight capacity | 220 lbs |
| Deck size | 47.24" L x 16.5" W |
Other Under-Desk Treadmills We Researched
Lifespan TR1200-DT3: If you're willing to fork over almost $1,600 for a treadmill desk, you might enjoy this machine. The TR1200-DT3 combines a slow-moving treadmill deck with an adjustable standing desk.
Unsit Treadmill: Reviewers seem to love the Unsit Treadmill for its expansive desk space and overall build quality. However, this sturdiness and durability comes with a hefty price––expect to pay close to $2,500 for this treadmill desk.
GOYOUTH 2 in 1 Under Desk Electric Treadmill: The GOYOUTH is only $400, and has a similar look to other under-desk treadmills we've actually tested. However, the deck is extra short, which may not suit taller folks.
How We Picked and Tested
Curious about our selection process? Check out the main questions our expert product testers and reviewers asked themselves when trying these machines:
Price: How expensive is the machine? How does it compare to other treadmills in the same price range?
Portability: How portable is the under-desk treadmill? Can the piece of equipment be easily moved? Does it have transport wheels attached?
Compactness: Is it compact? What is the footprint and overall dimensions? Will it fit well in most workspaces? Is it space-saving?
Features: Does the machine have any safety features like a safety key? Does the treadmill have a shock-absorbing deck? Does the machine have Bluetooth connectivity? Does it have a phone holder? What is the noise level like on the treadmill?
Display: Does the treadmill have an LCD display? What about an LED screen?
Speed: What is the maximum speed? What is the general speed range? Does the treadmill have speed control?
Motor: Does the treadmill have a quiet motor? What is the maximum horsepower of the motor?
Assembly: Does it require assembly or is it ready right out of the box? Can one person do it by themselves?
Deck size: What is the deck size? How does this compare to other under-desk treadmills? Will the deck size be suitable for both short and tall people alike?
User weight capacity: What is the user weight capacity?
Weight: How heavy is the treadmill? Does it feel heavy-duty?
Foldability: Is it a foldable treadmill?
Benefits of Under-Desk Treadmills
The benefits of under-desk treadmills have been studied by researchers across the world. There are a variety of studies that suggest using a treadmill desk can lead to a variety of benefits. Anthony O'Reilly, GGR staff writer and certified personal trainer, is here to break it all down for us.
Increase Caloric Burn
"Even if you're just walking at 2 MPH, using an under-desk treadmill can increase the amount of calories you burn throughout the day, making it easier to achieve a caloric deficit for weight loss (if that's your goal)," Anthony explains.
Walking on a treadmill can increase your NEAT, or non-exercise activity thermogenesis. This essentially means any activity (that burns calories) that isn't intentional exercise, and this value makes up a majority of your daily caloric burn. Increase NEAT, increase calorie burn.
Keeps You Active
The CDC recommends adults get 150 minutes of moderate-intensity physical activity each week (or 75 minutes of vigorous activity).
"If you're someone who's burning the candles at both ends, an under-desk treadmill can help you reach that goal while still meeting your work deadlines," Anthony reveals.
Increased physical activity can also reduce your risk of cardiovascular diseases, certain cancers, and diabetes. Who doesn't want to reap those benefits?
Buying Guide: What to Look for in Under-Desk Treadmills
If you're still undecided on what under-desk treadmill to take home, check out these critical things to keep in mind before you buy.
Weight Capacity
Under-desk treadmills are usually small and lightweight. Although this can be a plus on its own, these same factors can make the weight capacity lower than on traditional treadmills. Make sure to check that your prospective under-desk treadmill can support your weight.
Portability
If you like to work in different rooms around your home, it is important to note the portability of your possible under-desk treadmill. Some come with attached transport wheels while others don't, so be sure to check on this factor ahead of time. Generally speaking, most under-desk treadmills are under 100 pounds, so most able-bodied individuals should be able to move them solo.
Foldability
If you're tight on space, foldability may be an important factor. Some of the under-desk treadmills I've tested can be folded in half (hamburger-style) and others are flat already with a foldable handlebar. Figure out ahead of time which option works best for you and make sure your prospective new machine has just that
Price
Under-desk treadmills are traditionally less expensive than full-sized treadmills. However, it isn't lost on me that shelling out $500 isn't exactly nothing for most people. If you're concerned about the cost of an under-desk treadmill you really like, check to see if financing options are available. Some companies, like NordicTrack, offer excellent financing options with 0% APR for up to 42 months.
RELATED: History of Treadmills
Under-Desk Treadmill FAQs
What is the best under-desk walking treadmill?
We liked the Sunny Health and Fitness WalkStation Slim best. This under-desk treadmill is an excellent option for those who want a sturdy machine from a trusted brand. Plus, it is under $400, so it won't break the bank.
Is there an under-desk treadmill with incline options?
Yes! The Egofit Walker has a five percent incline and is designed to fit under a desk. GGR writer (and certified personal trainer) Anthony O'Reilly personally tested this machine and said he could feel the burn in his calves pretty quickly. Since there aren't many under-desk treadmills that have incline options, you may really enjoy the Egofit Walker.
Are under-desk treadmills worth it?
If you are looking to support weight loss, get more steps in during the day, or stay more engaged during the workday, they are worth it. However, I don't suggest them for absolutely everyone. If you have issues with balance, struggle to do two things at the same time, or have a very detail-oriented job, you may not do well with an under-desk treadmill.