We test and review fitness products based on an independent, multi-point methodology. If you use our links to purchase something, we may earn a commission. Read our disclosures.
We live in a modern world where the average person sits for extended periods due to driving, working, or winding down from the day on the couch. A 2017 study1 from the Journal of Lifestyle Medicine found that prolonged sedentary time can increase the risk of a premature death. Although that's a tough pill to swallow, the good news is that you don't have to be active all day to reduce the risks of disease and premature death.
A study2 published in 2010 by the Exercise and Sport Sciences Reviews found that just breaking up sedentary time can be beneficial to reducing your risk of heart disease, trimming size around your waist, and normalizing blood glucose levels.
By adding a treadmill under your desk, you'll finally have the ability to walk, work, and reduce your risk of premature death all at once—what a time to be alive.
Having a treadmill under my desk has significantly reduced the aches and pains I was feeling from sitting up to eight hours a day for work. Adding more steps during my workday has also led to better nights of sleep because I've increased my overall energy expenditure. In this LifeSpan TR1000-DT3 GlowUp Under Desk Treadmill review, I'll go over the nitty gritty details of unboxing, powering up, and walking while you work.
Cardio Experts At Your Service
Our product testers are industry experts on everything from treadmills to barbells. Our team includes certified personal trainers, nutrition coaches, CrossFit Level 1 Trainers, and former college athletes. Our collective knowledge helps steer our reviews so that we can provide the most accurate information on the latest and greatest fitness products on the market.
We've tried a handful of under-the-desk treadmills and other under-desk machines, too. I personally tested the TR1000-DT3 GlowUp Under Desk Treadmill in my home office and have been using it daily for two months now.
LifeSpan TR1000-DT3 Under Desk Treadmill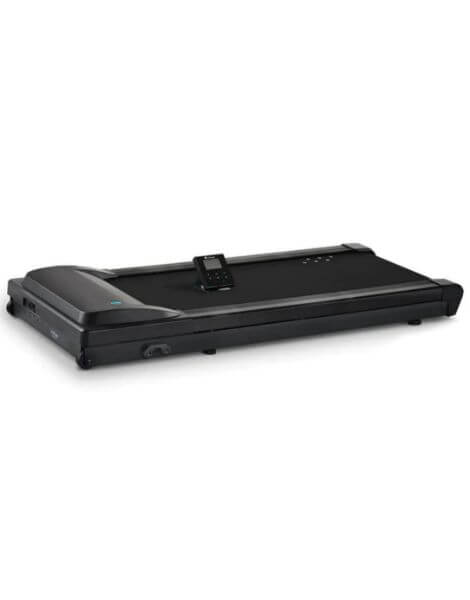 GGR Score: 4.2
Community Score: 2
Product Highlights
Under-desk walking treadmill 

Helps you get more steps throughout the day

Encourages physical activity while working a desk job

Free shipping and upgraded shipping available 

No assembly required

 

Fits in small spaces

2.5 CHP motor
Pros & Cons
Pros
No assembly required
Free shipping + upgraded shipping available
Reviewers shared quiet enough for calls
Automatic step tracking and auto-pause features
Compact enough for small work areas
Noise-dampening shocks
350-lb weight capacity
Cons
Limited reviews
Difficult to move
Expensive
Console is hard to see
Bottom Line
The TR1000-GlowUp Under Desk Treadmill is an upgrade option if you want a dedicated under-desk treadmill quiet enough to use while taking calls.
A Quick Look at the LifeSpan TR1000-DT3 GlowUp Under Desk Treadmill
LifeSpan Fitness manufactures a variety of workplace solutions including under-desk treadmills and bikes, adjustable-height desks, standing mats, and laptop stands. Additionally, the brand also offers traditional home treadmills, elliptical trainers, exercise bikes, and rowing machines.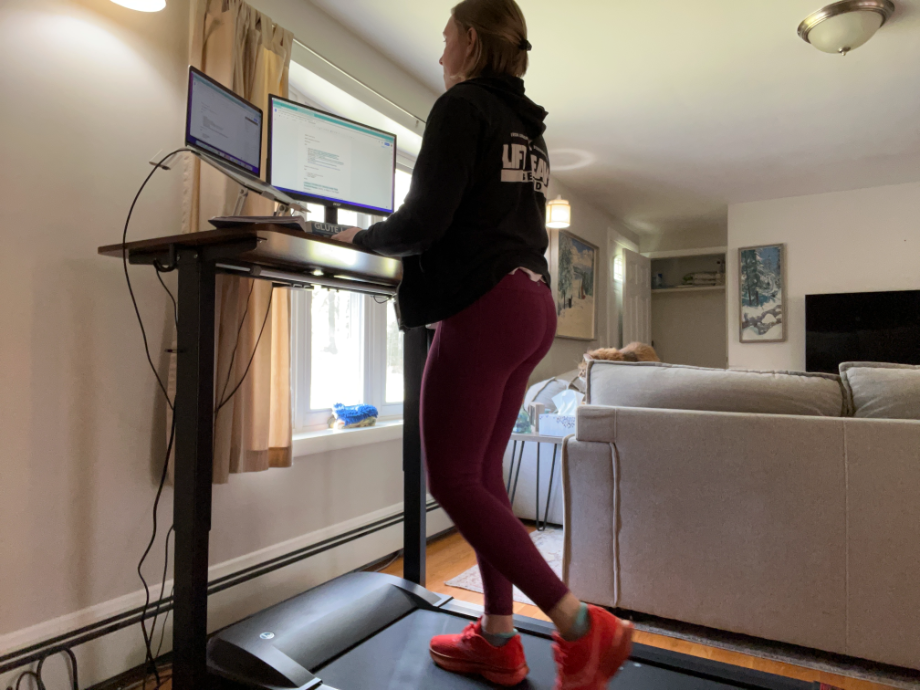 LifeSpan currently has three under-desk treadmills to choose from: TR1000-DT3, TR1200-DT3, and TR5000-DT3. The TR1000-DT3 is the newly revamped base model that took the place of the LifeSpan TR800-DT3.
Although the TR8000-DT3 looks and functions similar to the TR1000-DT3, the TR1000-DT3 GlowUp Under Desk Treadmill features a larger motor, heavier user weight capacity, and two more inches of width on the walking belt—a glow-up indeed.

Before purchasing the TR1000, I set out to find LifeSpan Fitness TR800-DT3 reviews to see how they were holding up. Overall, reviewers had good things to say and there were no complaints about motor power or deck size—the two attributes that have been updated on the TR1000.
Before You Buy
Commit at least one pair of comfortable shoes for walking indoors only on your under-desk treadmill. The amount of dirt and dust that gets on the walking belt from shoes that have been outside is noticeable, trust me.
The step-up height is about 5 inches, so you'll want to make sure your standing desk can adjust several more inches to accommodate the extra height.
Be sure to measure the space between the uprights of your desk—the LifeSpan TR1000 measures 28.5 inches wide. My desk just made the cut with about an inch of clearance on either side.
Is the LifeSpan TR1000-DT3 GlowUp Under Desk Treadmill Worth It?
LifeSpan Fitness under-desk treadmills are a rock-solid investment if you work from. These heavy-duty machines can help you break up sitting time and add steps during your workday for years to come.
When I say investment, I mean it. This treadmill comes with a substantial price tag. However, with a 2.25 CHP motor, 350-pound user weight capacity, and a 10-year warranty, you're looking at a machine that is meant to last. It's unlikely the TR1000-DT3 will give up on you anytime soon.
Great for:
People who work primarily from home
Individuals who spend several hours per week in meeting or on calls
Anyone who feels sore from sitting at their desk for hours on end
Those who don't want to assemble a treadmill
Not recommended for:
Anyone who has a tight or cramped workspace
People who find it difficult to multitask
Individuals who also want to sync step count to a device with a Bluetooth connection
LifeSpan TR1000-DT3 GlowUp Under Desk Treadmill Specs
| | |
| --- | --- |
| Price | $1,599 |
| Footprint | 58″ L x 28.5″ W x 7.25″ H |
| Product Weight | 117 lbs |
| Max user weight | 350 lbs |
| Motor | 2.25 CHP |
| Maximum speed | 4.0 MPH |
| Transport wheels | Yes |
| Belt size | 44" L x 20" W |
| Step-up height | Belt: 4.6" Side Rail: 5.25" |
| Incline | No |
| Warranty | 10-year frame, 2-year parts, 1-year labor |
Two Months With The LifeSpan TR1000-DT3 GlowUp Under Desk Treadmill
I've been using the TR1000-DT3 GlowUp Under Desk Treadmill everyday for two months and I have to say I'm loving it. I feel so relieved to have the ability to take steps and increase my heart rate while I work.
I like the fact that every time I plug it in, the TR1000 is tracking my steps, time, distance, and calories. The console is a separate unit from the treadmill that sits right on my desk. It's a simple display with a start and stop button. There are two arrow keys for speed, and a mode button to switch which metrics you want to see.
To start up the treadmill you have to plug in two cords (one for power and one to connect the console to the treadmill) and flick the start power switch. Then you'll hear the console beep three times (and the readout will count you down) before the belt starts to move. The treadmill starts at 0.4 miles per hour, and you use the arrow key to control your speed—there are no whole integer options.
Although that doesn't sound overly time-consuming, it's worth mentioning that you will need a few minutes to roll the treadmill into place, power up, and get up to speed. I have forgotten to do this in a timely fashion multiple times before a meeting, so I've either just stood on the treadmill or turned my camera off while I kneel down to plug everything in.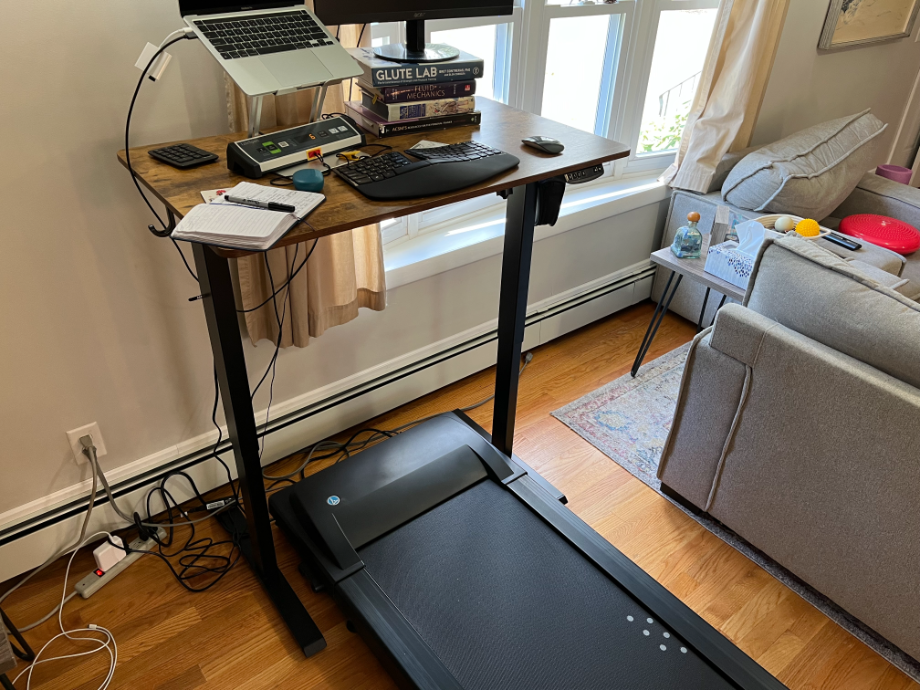 On another note, I like that the TR1000 is super quiet while in use. My husband and I both work in our 900-square-foot home and he has not complained about the noise levels once. We both work on the ground floor, so I can't speak to how loud it would be if you were to use this treadmill with neighbors living below you.
I think the base model from LifeSpan is more than sufficient for an everyday walking treadmill. However, for another $200, you can get the LifeSpan TR1200-DT3, which has a stronger drive motor and a longer walking deck (from 44 inches to 50 inches).
The LifeSpan TR5000-DT3 is $600 more than the base model and offers an even larger motor, and an impressive 400-pound user weight capacity. Both the TR1200 and the TR5000 are Bluetooth-enabled and allow you to connect your phone to the machine and sync your data to the LifeSpan Club App.
The TR1000 does not have Bluetooth connectivity, so I was not able to test this feature. I'm not sure the Bluetooth capabilities would have me spending more money. I would only spend the extra cash if I needed the extra six inches on the walking deck.
Moving is Easier Said Than Done
The LifeSpan TR1000 is not your typical compact under-the-desk treadmill. It's also not a folding treadmill with space-saving solutions. To be honest, it's kind of bulky for an under-the-desk treadmill.
Before the TR1000 arrived at my doorstep, I was under the impression I would roll it away from my desk, down the hall, into my bedroom, and under my bed when not in use. However, the size of the machine did not let that fantasy become a reality.
Although I'm physically capable of moving all 117 pounds of the TR1000 on my own—to roll it down the hall and take a sharp left turn into my bedroom was not feasible with the nearly 29-inch wide machine. It's also not small enough (or light enough) to just pick up and move it. I found that the transport wheels are completely necessary for moving.
That said, I have decided the "stored" position of TR1000 is under my desk. When I sit in my office chair and the treadmill is not in use, all I do is roll the machine a few feet behind me. Because I don't have a real storage solution, the situation has encouraged me to use the treadmill on a daily basis.
An Office Treadmill Built to Last
The TR1000-DT3 looks and feels like a heavy-duty home treadmill without handrails. It has a quiet 2.25 CHP motor, which is a remarkably strong motor for a walking treadmill. It also has six independent compression shocks, which are designed to absorb the impact and lessen the noise from walking.
The 350-pound user weight capacity is impressive for an office treadmill that only weighs 117 pounds. This paired with the motor size will help sustain the life of the TR1000 and keep it running in top shape.
Designed With Safety and Ergonomics In Mind
Firstly, I think it's worth mentioning that none of the LifeSpan under-desk treadmills have incline settings. Although I didn't expect the treadmill to offer incline, the LifeSpan website brought something to my attention: Walking at an incline while working is not recommended because it takes your body away from a neutral position and can put strain on your back, hips, and knees.
In addition to encouraging customers to have proper ergonomics, LifeSpan under-desk treadmills are designed with "Intelli-Guard" safety technology that stops the treadmill belt if you step off the treadmill or put your feet on the side rails. This feature spooked me the first time I put my feet on the side rails and it completely shut down. Now that I've learned it's a safety feature, I appreciate it.
Technology Benefits and Conveniences
In addition to built-in safety features that can sense if you've stepped off the treadmill, the LifeSpan TR1000 can also track your daily steps with "Intelli-Step" technology. To view your step metrics, you can toggle through the settings using the mode button.
The console features a handy USB charging port, which I've found useful for charging both my smartphone and wireless headphones. Although the TR1000 model does not have Bluetooth, the console does have a Bluetooth button, which I found a little confusing. My theory is that LifeSpan sells the same console for all three models, but the base model just lacks the Bluetooth connectivity.
Comparison to Other Under Desk Treadmills
Although the LifeSpan TR1000-DT3 is more expensive than other under-desk treadmill options our product testers have tried, I doubt less expensive options will hold up as well.
I know the TR1000 is going to last me years under my desk, and the 10-year frame warranty seals the deal for me. The 350-pound user weight capacity is much greater than most under-desk equipment and is inclusive for a wide range of users.
Here is a chart to help you decide if you want to fork out the extra cash for the LifeSpan brand:
| | | | |
| --- | --- | --- | --- |
| | TR1000-DT3 | GoPlus 2-in-1 Treadmill | WalkingPad Folding Treadmill |
| Price | About $1,500 | Around $500 | Around $450 |
| Walking deck size | 40" L x 20" W | 40" L x 16" W | 47.2" L x 16.5" W |
| Weight capacity | 350 lbs | 265 lbs | 220 lbs |
| Motor | 2.25 CHP | 2.25 HP | 1 HP |
| Warranty | 10-year frame, 2-year parts, 1-year labor | 3 months | 1 year |
GoPlus 2-in-1 Treadmill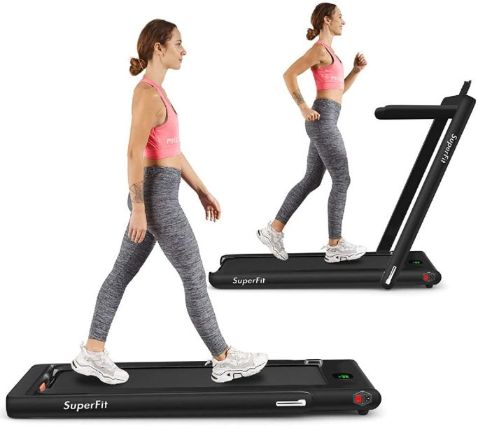 Product Highlights
Fits seamlessly under most standing desks
Quick assembly
Folds extremely flat for storage
Comes with remote to change speed with ease
Pros & Cons
Pros
Lightweight
Easily portable and stored
Emits minimal noise
Very easy assembly
Bluetooth speaker on console
Phone mount
Remote control
Safety key
Ideal for use in small spaces and those who are casual joggers/walkers
Transport wheels
Cons
Not intended for sustained or fast running
Smaller than typical running surface
Does not fold once handrails are installed
Handrails do not adjust and are at a fixed 3.5 feet (not ideal for taller individuals)
Only two modes available
Max speed is 8 miles per hour
No incline/decline
Can not mount a tablet
Bottom Line
The GoPlus 2-in-1 Folding Treadmill is a great value purchase for any walker or casual jogger looking to save space while still getting in a solid cardio session. If you are looking for a treadmill to train for your next marathon on, this is not the one for you.
WalkingPad Folding Treadmill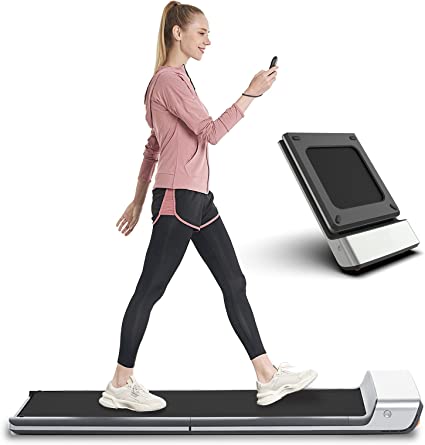 Product Highlights
Folds for easy storage
Comfortable to walk on for tall and short people alike
Comes assembled
Compatible with KS Fit App
Features foot-sensing controls
Pros & Cons
Pros
Under $450
Foldable
Can be controlled by the app or a remote
Has automatic foot control
No assembly required
Cons
Max user weight of 220 lbs
No obvious warranty
Bottom Line
The WalkingPad is another great option for people who want a way to walk while doing another activity.
Customer Experience
Since this treadmill is a legit piece of exercise equipment, I was happy to see that LifeSpan offers a 10-year warranty on the frame, two-year warranty on parts, and one-year warranty on labor. This is similar to warranties we'll see from some of the best treadmills from top brands like NordicTrack and ProForm.
In comparison, some of the other under-desk equipment we've tried has warranties that don't even last a year.
If you need to return your treadmill, you have 30 days after receiving your machine to contact LifeSpan in writing to get approval for a return. According to the website, products need to be in working condition and returned in original packaging to receive a refund. You'll also be on the hook for shipping charges, which LifeSpan estimates are about $250 to $350.
While reading through customer reviews, I noticed that there were multiple complaints about customer service. Although I haven't had any issues to warrant reaching out to LifeSpan, they only offer email support—no phone numbers are published on the website for you to call.
Just Add to Cart, No Assembly Required
This has to be the easiest piece of (large) fitness equipment I've ever ordered. The website is easy to navigate and LifeSpan offers direct 0% financing options for as low as $42 per month for up to 36 months. I also noticed LifeSpan had two other financing options through third-party services: Katapult and Splitit.
After ordering, the TR1000 arrived within a few days. LifeSpan gave me the option to have the treadmill delivered inside my garage for an additional $100 or placed inside a room of choice for $200. I opted for free delivery, which meant the treadmill was left leaning up against the side of my garage.
I will say it was a hefty box and it took me a lot of effort to get it into my garage on my own. After I got the box open, I needed help getting the treadmill inside and hoisting the bulky deck over two sets of stairs.
Once I got the treadmill inside, it was easy to use the transport wheels to roll it right under my desk. From there it was just a matter of plugging in the power cords and getting the console placed on my desk and plugged into the treadmill. There is literally no assembly, which means you can use the treadmill straight out of the box.
To get started for the first time, make sure the safety key is fully inserted in the console. This had me scratching my head for a few minutes before I realized the key was pushed slightly out of the magnetic notch.
Customer Reviews
Between the LifeSpan website and Amazon, I found a mix of both positive and negative feedback. On Amazon, there were over 400 reviews and the average rating was 4.2 out of 5 stars.
Most people seemed to like the treadmill and heavy-duty construction. Most negative comments focused on the high price tag and sheer size of the TR1000-DT3.
Final Verdict of Our LifeSpan TR1000-DT3 GlowUp Under Desk Treadmill Review
The LifeSpan TR1000-DT3 GlowUp Under Desk Treadmill is a relief to aching legs. Although the price range for LifeSpan under-desk treadmills is sort of shocking, it does seem to be a machine that will keep up with your mileage.
If you're looking to add more movement during your workday, but you can't fathom spending over $1,000 there are certainly cheaper options for under-desk exercise equipment. However, it's unlikely you'll find a similar long-lasting warranty or the solid construction found in the LifeSpan TR1000. I think it's pricey for a reason—in my experience this machine seems like it will last for the next decade or so.
The benefits of investing in the TR1000 is that you'll have a really decent 2.25 HP continuous duty motor, which is perfect for walking for long periods of time–even hours at a time. You'll also benefit from the following:
Motor can run up to 6 hours per day
350-pound maximum user weight
Speeds up to 4.0 MPH
Ability to track your steps
No assembly required
10-year frame warranty
LifeSpan TR1000-DT3 GlowUp Under Desk Treadmill Rating
LifeSpan TR1000-DT3 GlowUp Under Desk Treadmill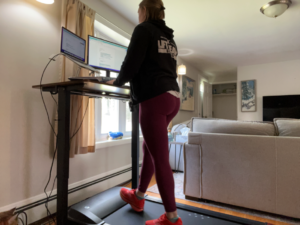 This LifeSpan TR1000-DT3 GlowUp Under Desk Treadmill review will help you determine if this under-desk treadmill is going to be the latest addition to your home office.
Product Brand: LifeSpan
Product Currency: USD
Product Price: 1599.00
Product In-Stock: InStock
LifeSpan TR1000-DT3 GlowUp Under Desk Treadmill FAQs
Are LifeSpan treadmills quiet?
LifeSpan under-the-desk treadmills are relatively quiet and feature compression shocks and deck cushioning to dampen the sound of walking. The motor also has a slight noise while running, but overall, it provides a fairly quiet experience.
How much does a LifeSpan treadmill weigh?
The LifeSpan under desk treadmills range from 117 pounds to 119 pounds depending on the model you purchase.
How long do LifeSpan treadmills last?
LifeSpan under-desk treadmills are likely to last a long time with powerful motors, heavy-duty frames, and high user weight capacity. In addition to those attributes that lend themselves to longevity, LifeSpan also offers a 10-year warranty on the frame. 
References
Daneshmandi H, Choobineh A, Ghaem H, Karimi M. Adverse Effects of Prolonged Sitting Behavior on the General Health of Office Workers. J Lifestyle Med. 2017;7(2):69-75. doi:10.15280/jlm.2017.7.2.69
Owen N, Healy GN, Matthews CE, Dunstan DW. Too much sitting: the population health science of sedentary behavior. Exerc Sport Sci Rev. 2010;38(3):105-113. doi:10.1097/JES.0b013e3181e373a2