We test and review fitness products based on an independent, multi-point methodology. If you use our links to purchase something, we may earn a commission. Read our disclosures.
There are probably times in your life when you had some less-than-kind thoughts about someone being exceptionally loud. I'll be the first to admit to silently cursing out my neighbor as they had a rager that lasted well into the wee hours of the morning. The same thing goes for treadmills––who wants a loud cardio machine that'll annoy both you and anyone in your general vicinity? Not me!
If you're looking for the best quiet treadmill, I'm here to help with five of my favorite options. I've done all the hard work so you're not stuck with a loud treadmill you're not happy with.
Never Fear––Your Expert Treadmill Reviewer is Here!
As a former college soccer player and current running enthusiast, I've used a treadmill or two in my day. Plus, I regularly try the newest options on the market and fully evaluate each treadmill based on industry standards. My co-workers know I'm the resident cardio expert at Garage Gym Reviews, and I'm here to share my breadth of experience and knowledge with you.
5 Best Quiet Treadmills
Best Quiet Treadmill Overall: NordicTrack Commercial 1750
Good for: People who love dynamic programming and technology features
Best Quiet Treadmill Overall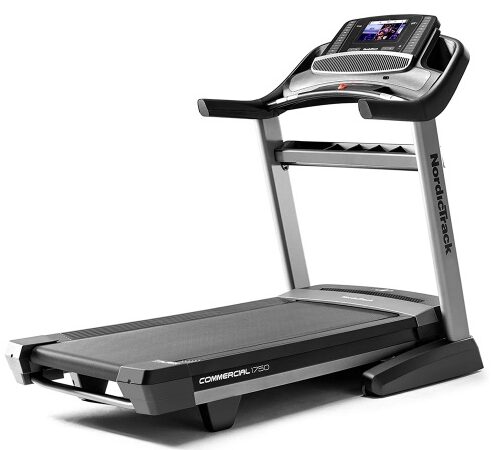 NordicTrack Commercial 1750
The NordicTrack 1750 treadmill features a 14-inch HD adjustable touchscreen with which you can stream iFIT programming on (sold separately). The under $2,000 machine can be financed through the NordicTrack website where you can get deals as low as $49 per month with 0% for 39 months.Models from 2013-2021 of the 1750 had adjustable cushioning, but the 2023 model no longer has this feature.iFIT workouts incorporate Automatic Trainer Control, which allows your trainer to digitally adjust your incline, decline, and speed. This is a nice feature to have because all you have to do is focus on the workout at hand versus frantically switching the controls.
Pros:
"Quiet drive" technology
3.5 CHP motor
14-inch touchscreen
Both incline and decline settings
Excellent financing options
Cons:
Warranty is voided if you store this machine in the garage
Heavy machine
Frame warranty could be better for the price
If you're looking for a treadmill that is quiet and has lots of technology extras, the NordicTrack Commercial 1750 might be your best bet. This cardio machine has a well-cushioned deck, which can help damper the sounds of your feet making contact with the belt. Plus, it even has specialty "quiet drive" technology, which allows you to change the incline and decline without unnecessary noise.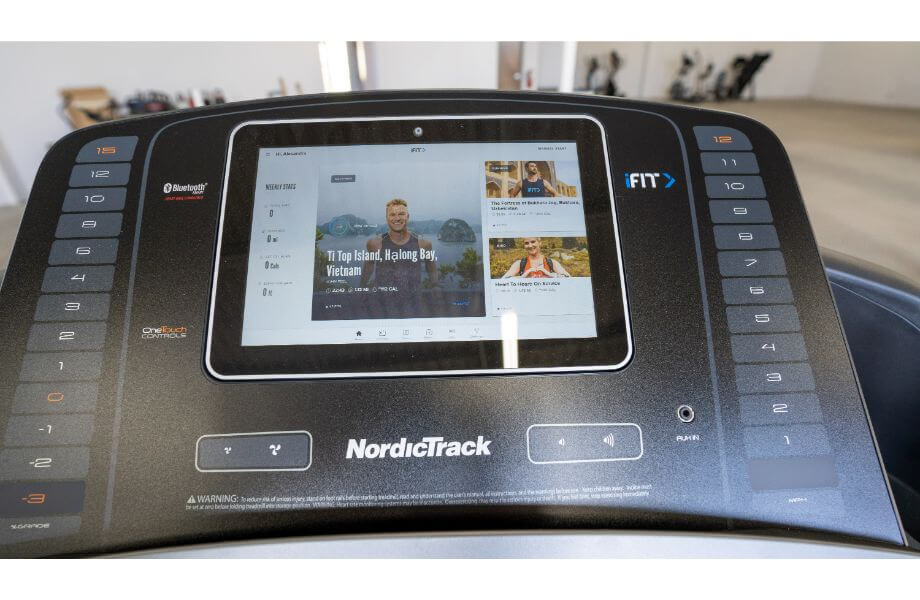 There is a lot to love about the 1750––with a 14-inch touchscreen and iFIT programming capabilities (membership sold separately), you'll be able to have an immersive workout experience in the comfort of your own home. Although the 1750 has high-quality speakers, you can also utilize the Bluetooth feature to connect your headphones to the treadmill. You'll be able to enjoy all iFIT has to offer without disturbing others due to the noise of the programming.
I'm a big fan of the folding capabilities of the 1750. When it's time to unfold the machine, the gas shock on the back of the deck makes for a quiet and simple process. Gone are the days of your treadmill's deck slamming to the floor, disturbing everyone in the home. With the EasyLift Assist, you'll be able to release the gas shock with your foot and have the machine unfold slowly and gently.
The industry standard for a treadmill warranty is 15 years to life on the frame, but the 1750 only offers 10. For the almost $1,900 price, I would expect the frame warranty to match the industry standard.
It is also worth noting that the warranty of the 1750 (and any other NordicTrack products) will be voided if you keep this machine in your garage.
Read our full NordicTrack Commercial 1750 Treadmill Review.
| | |
| --- | --- |
| Price | Around $1,900 |
| Footprint | 81.25" L x 39.25" W x 62.75" H |
| Warranty | 10-year frame, 2-year parts, 1-year labor |
| Deck | 22" W x 60" L |
| User weight capacity | 300 lbs |
Best Budget Quiet Treadmill: Sunny Health & Fitness SF-T4400
Good for: Casual exercisers who want an inexpensive treadmill
Best Budget Quiet Treadmill
Sunny Health and Fitness Treadmill SF-T4400
The Sunny Health & Fitness Treadmill is a space-saving and affordable treadmill perfect for general trainees who may not have specific athletic goals, such as becoming better runners. It's foldable and comes with a soft drop feature, a top speed of 9 miles-per-hour, and 9 preset workout programs.We think this is perfect for the person who may just want to get more steps in during their day, or just wants a low-impact way to improve their cardiovascular fitness. While the tread is a little shorter than most, it does feature shock absorption technology for those who can find their stride on it.
Pros:
About $450
Shock-absorption deck
Folds easily
Convenient buttons on the handrail
9 preset workout programs
Cons:
Small device holder
Lots of plastic components
Weight capacity is under the industry standard
At around $450, the Sunny Health & Fitness SF-T4400 is an excellent budget treadmill that casual exercisers will likely enjoy. Outfitted with a shock-absorbing deck, the SF-T4400 is able to reduce the impact your steps will have on the deck, resulting in a quieter experience.
Plus, expert product tester and Garage Gym Reviews Staff Writer Anthony O'Reilly gives the SF-T4400 his stamp of approval.
"I was able to easily unfold this machine with a quick kick to the gas shock," Anthony explains. "The treadmill lightly dropped to the floor without so much as a squeak."
If you're new to working out, you'll appreciate the nine preset programs offered on the SF-T4400. The display is simple and user friendly––you'll be able to view traditional metrics like distance traveled, current speed, time elapsed, and calories burned.
Although the deck is quite a bit shorter than what is typically expected, Anthony explained it didn't really affect his walking experience. Anthony is over 6 feet tall, so if he does just fine walking on the deck, you'll likely be okay, too.
My only real concern with the SF-T4400 is the weight capacity. At just 220 pounds, this budget machine is not a particularly inclusive option. I understand that compromises have to be made in order to keep costs low, but I don't love that it alienates a part of the population due to such a low weight capacity.
Check out our Sunny Health & Fitness SF-T4400 review.
| | |
| --- | --- |
| Price | Around $450 |
| Footprint | 62" L x 25.5" W x 50" H |
| Warranty | 3-year frame, 180-day parts and components |
| Deck | 49" L x 15.5" W |
| User weight capacity | 220 lbs |
Best Quiet Folding Treadmill: Horizon 7.0 AT
Good for: People who need a treadmill that can fold for storage
Best Quiet Folding Treadmill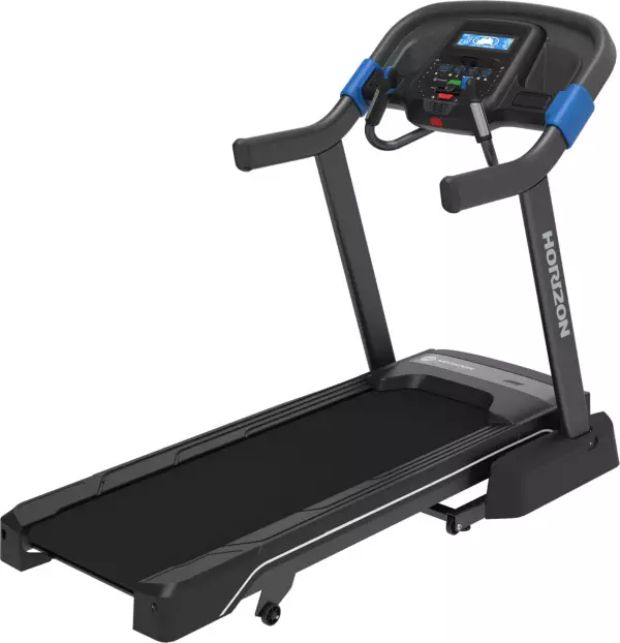 Horizon 7.0 AT Treadmill
Tired of searching for a budget treadmill that'll support your running habits? Look no further than the Horizon 7.0 AT Treadmill. This machine has a well-cushioned deck to aid in a more comfortable indoor run as well as a 60-inch deck (which is what we'd recommend most for running). I also enjoy the QuickDial adjustment feature, which allows users to change their speeds and incline up to "33% faster than other treadmills." This is useful if you love doing HIIT or sprints where you may need to quickly adjust the speed or incline.I would recommend shelling out the extra cash to get professional assembly. The 7.0 AT is a weighty cardio machine, and would best be completed with another helper (or a professional).
Pros:
Easily folds
20″ W x 60″ L deck
Lifetime frame warranty
325-lb weight capacity
7 preset workout programs
Cons:
253-lb machine
Lots of plastic pieces
Belt is on the thinner side
The majority of us don't have oodles of extra space, which is why the folding capabilities of the Horizon 7.0 AT are so appreciated. The gas shock on the back of the 7.0 AT makes folding and unfolding this machine a breeze––and super quiet.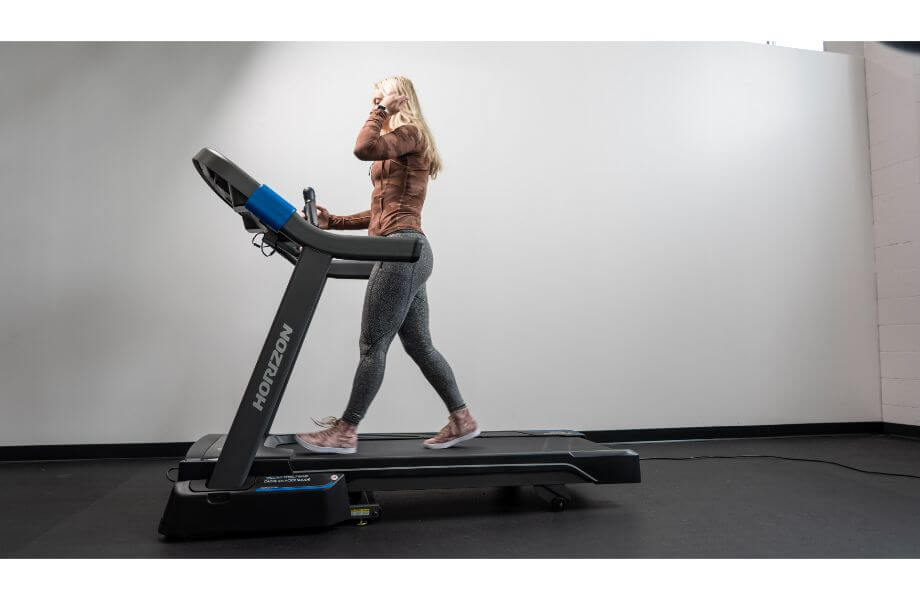 When I previously reviewed this machine, I saw customers raving about how quiet their 7.0 AT was, so I know it wasn't just me who thought this treadmill was fairly noiseless.
For a treadmill that only costs around $1,000, the Horizon 7.0 AT impresses with a large deck and lifetime frame warranty. If you're a tall person or enjoy running, you'll be able to take comfortable strides on the 7.0 AT.
Although this treadmill doesn't have a built-in touchscreen for interactive programming, you'll be able to pair the 7.0 AT with a variety of training apps thanks to the Bluetooth connectivity. Of course, this means you'll have to utilize your own device, but as long as you don't mind, it isn't a big barrier.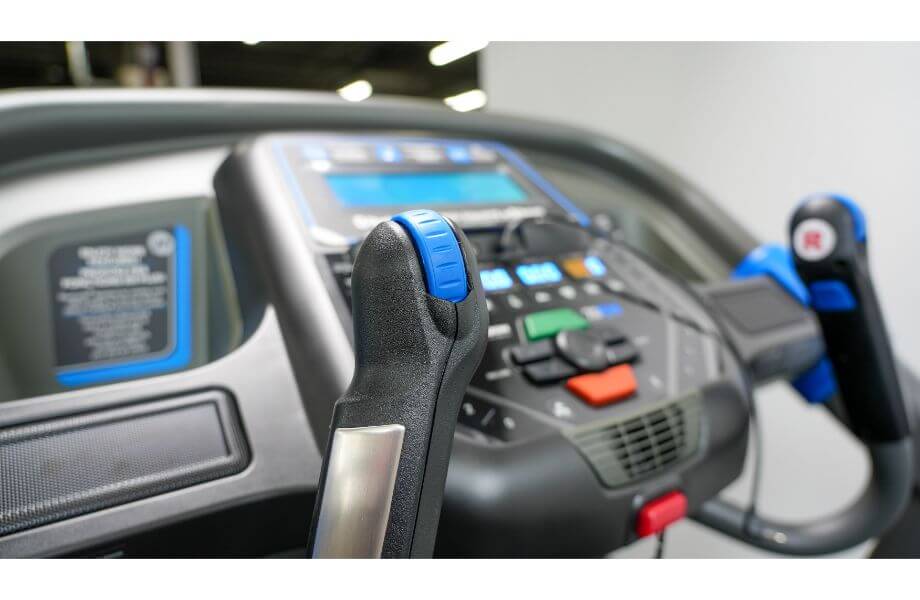 It is worth mentioning that the machine is heavy. At 253 pounds, the 7.0 AT will require extra assistance if you want to move it up or down the stairs. Don't be concerned if you are just looking to move the treadmill around the same room––after the machine is folded, it is simple to move it solo thanks to the transport wheels.
Learn more by reading our Horizon 7.0 AT review.
| | |
| --- | --- |
| Price | Around $1,000 |
| Footprint | 76.5″ L x 36″ W x 59″ H |
| Warranty | Lifetime frame and motor, 3-year parts, 1-year labor |
| Deck | 20″ W x 60″ L |
| User weight capacity | 325 lbs |
Best Quiet Treadmill for Home Use: ProForm Carbon T10
Good for: Folks who want to enjoy interactive programming at home
Best Quiet Treadmill for Home Use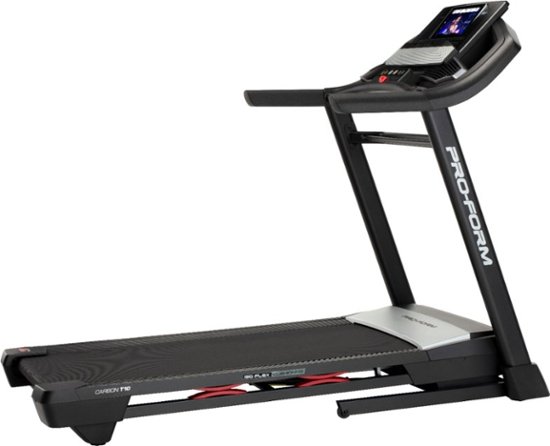 Pros:
Comfortable deck cushioning
10-inch touchscreen
300-lb weight capacity
Incline options
Compatible with iFIT programming
Folds easily
Cons:
Frame warranty is subpar
Shakes slightly while in use
223-lb machine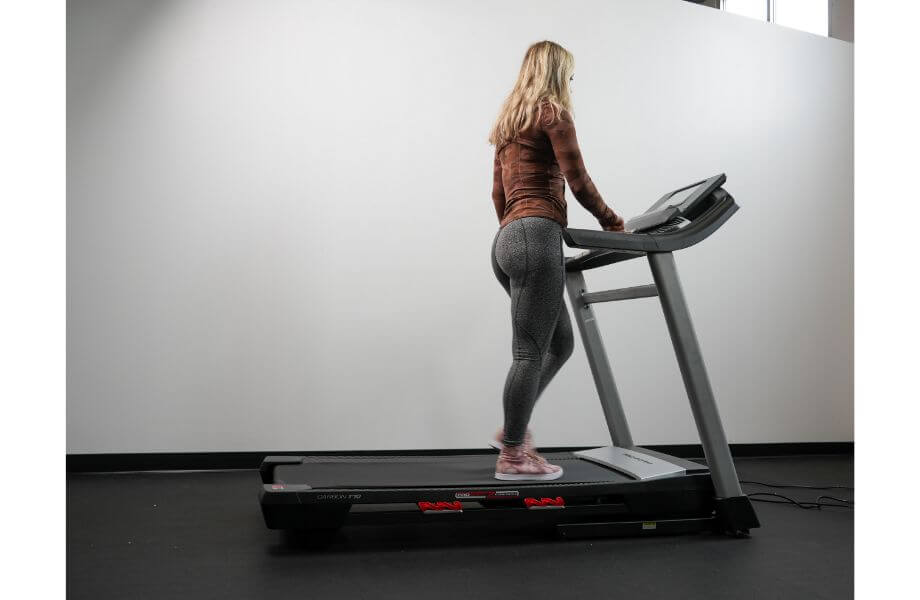 Want to enjoy your quiet treadmill workout in the solace of your own home? Not to worry! The quiet ProForm Carbon T10 treadmill is here to impress. Featuring a 10-inch touchscreen with compatible iFIT programming, the T10 turns a boring walk or run into an enjoyable experience. The flexible but plush cushioning allows for light steps that won't sound like a herd of cattle going over a cliff.
The T10 has a lot of the extras you would hope for in a great home treadmill. I'm a big fan of the cooling fan, dual cup holders, and the 12 incline options. Plus, if you need to store the T10 when you're done using it, it folds up easily.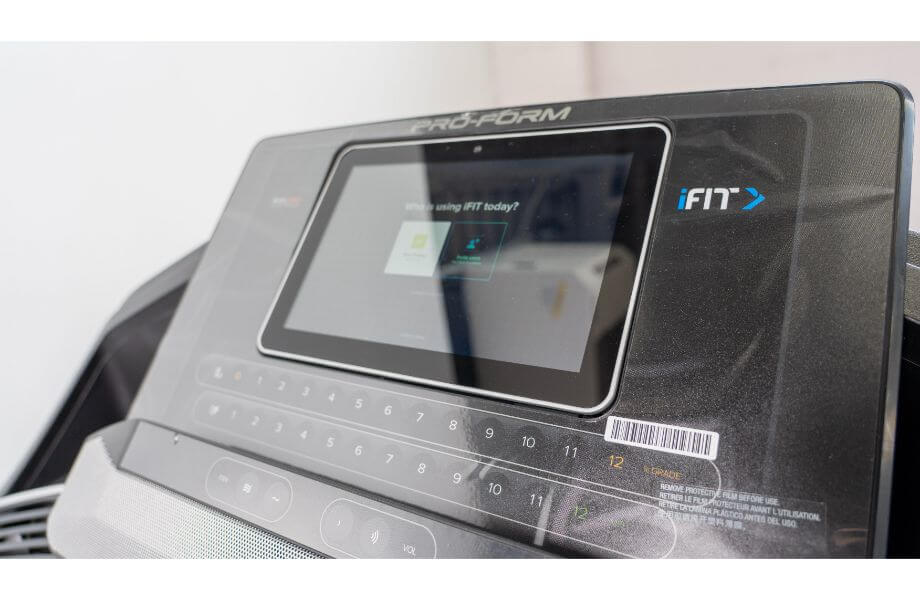 I do wish the frame warranty was a little bit longer. For the price, I would expect to see the industry standard of 15 years to life. The machine is also pretty heavy. At 223 pounds, the T10 requires an extra set of hands to safely move the machine between floors. This isn't a huge deal (it is a large cardio machine, and is to be expected) but it is still worth noting.
Read our full ProForm Carbon T10 review.
| | |
| --- | --- |
| Price | Around $1,400 |
| Footprint | 35.24" W x 74.62" D x 64.39" H |
| Warranty | 10-year frame, 2-year parts, 1-year labor |
| Deck | 20" W x 55" L |
| User weight capacity | 300 lbs |
Best Quiet Treadmill for Running: AssaultRunner Pro
Good for: A fitness enthusiast with deep pockets who wants a non-motorized treadmill
Best Quiet Treadmill for Running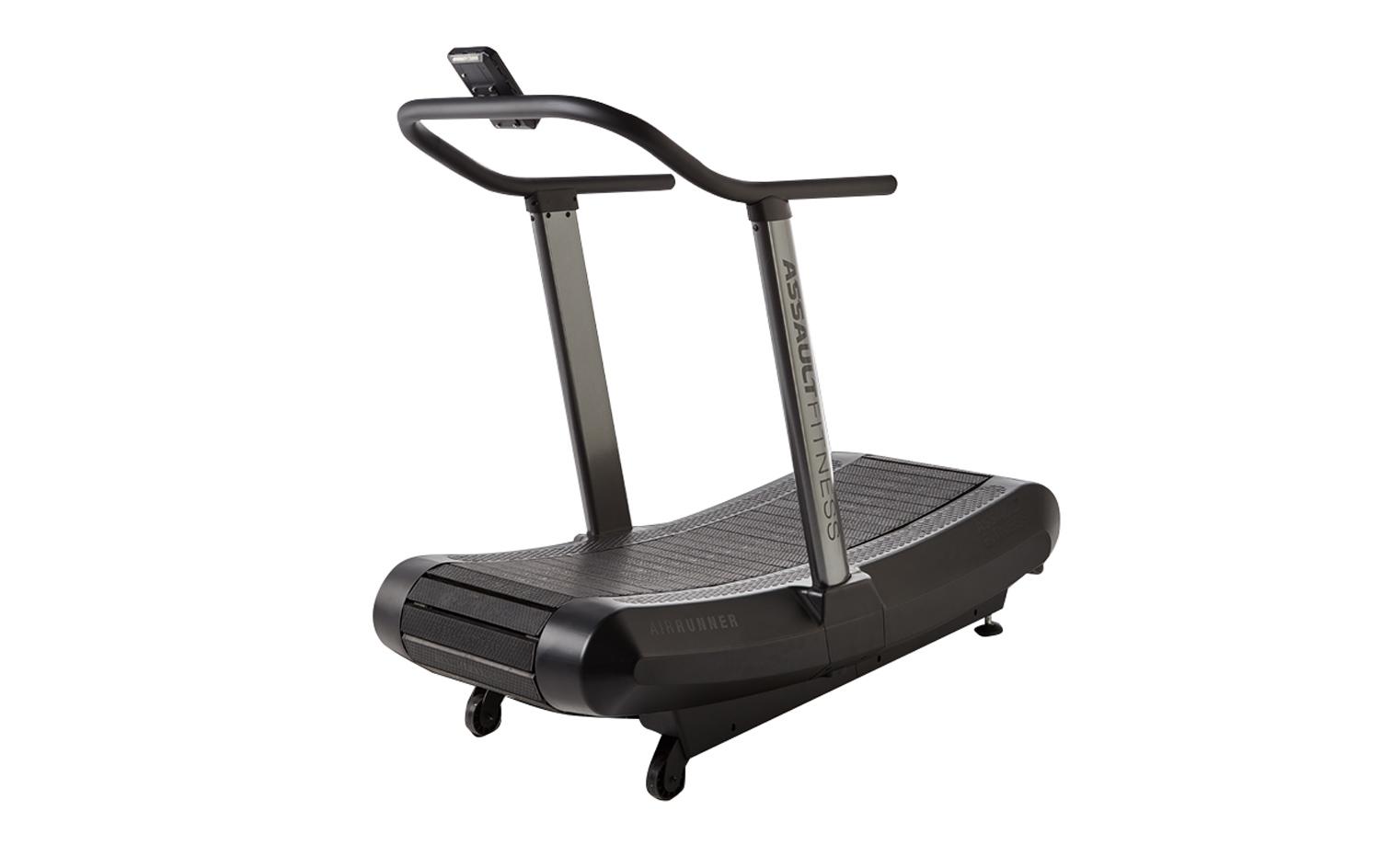 Pros:
Self-propelled, which means less noise
350-lb max weight capacity
Easy assembly
Cons:
Almost $3,000
280-lb machine unboxed
No incline or decline options
The AssaultRunner Pro gets a lot of recognition in the fitness industry, and for good reason. This tank of a treadmill is durable, built for running, and surprisingly quiet. Due to the way the slats of this non-motorized treadmill are positioned, the belt doesn't make a lot of noise like you may expect. Oh, and did I mention the belt is actually backed by a lifetime warranty?
Since the Pro is user-powered, you won't find a noisy motor or loud incline and decline changes. Plus, the leveling feet on the bottom of the treadmill allow the machine to be stable (and not shake) on various surfaces.
I love the 350-pound user weight capacity of the Pro, which crushes the industry standard of 300 pounds like a little ant. I'm all for any exercise equipment that makes fitness more accessible for a variety of people and body types.
However, with such a durable treadmill comes a hefty weight––and price. This $3,000 treadmill isn't a cheap purchase, but luckily, there are financing options available to help you break down the cost. The Pro is also a behemoth of a machine, at 280 pounds when assembled. You will absolutely need assistance (think professional movers) to get this up or down a set of stairs.
For more, check out our AssaultRunner Pro review.
| | |
| --- | --- |
| Price | Around $3,000 |
| Footprint | 69.9" L x 31.7" W x 64.4" H |
| Warranty | 150,000 miles belt,5-year frame, 3-year moving parts |
| Deck | 17" W x 65" L |
| User weight capacity | 350 lbs |
Other Treadmills We Researched
Schwinn 810: Although the Schwinn 810 is a good foldable treadmill, it isn't very quiet. This is likely due to the minimal treadmill belt cushioning, which gives a very small barrier between the impact of your feet and the frame of the machine. 
Sole F80: The 10 preset training programs available on the Sole F80 are impressive, but it didn't quite make the list as it can be rather loud.
Still looking for something else? Check out our best-in-class roundups:
How We Picked and Tested
We take our treadmill testing process very seriously. Here are the main questions we asked ourselves before we picked the quietest treadmills for your home gym:
Workout experience: How quiet was our workout experience? Was the treadmill noise obnoxious, average, or quiet? Did it come with a treadmill mat?
Deck cushioning: Was the deck cushioning exceptional? Were there shock absorbers in place?
Motor: Is there a motor or is this a manual treadmill? What is the horsepower of the treadmill's motor? Is this conducive to running, jogging, or walking?
Incline/decline: What is the incline range? What about decline options?
Price: How expensive is the treadmill? How does it compare to others in the same price range?
Display: What does the display look like? Is it a touchscreen, LCD screen, or LED screen? How large is the display?
Technology: Are there any technology extras? Can the treadmill be used in tandem with interactive programming? Are there Bluetooth speakers?
Footprint: What is the footprint of the machine? How does it compare to other treadmills? Is it suitable for smaller spaces?
Portability: Can the machine be folded easily? Are there transport wheels attached to the treadmill? How heavy is the machine? Will this treadmill likely fit in a small space?
Warranty: What is the warranty for the frame, motor, parts, and labor? How does this compare to the industry standard?
Handlebars: Are there two separate sets of handlebars? Does one of the sets have the ability to do heart rate monitoring?
Speed levels: What is the speed range available on this treadmill?
Deck size: How large is the running deck? How does this compare to other treadmills? Will it be a good option for taller folks or those who like to run?
Assembly: How challenging is the assembly process? Do you need an additional person? Can you pay for expert delivery from the brand?
Benefits of Quiet Treadmills
Trying to decide why you should add one of these machines to your home? Check out the top three reasons I'd recommend checking out the best quiet treadmills:
Better for Shared Spaces
If you share an apartment or home with friends, family, or even roommates, chances are you don't want to be obnoxiously loud when working out. It can definitely be an issue if you're constantly irritating housemates (or your partner) with your thumping treadmill. Solve this issue by purchasing a quiet treadmill.
Easier to Hear Streaming
For those who love interactive programming or watching the latest episode of their favorite show while jogging, having a quiet treadmill can be an advantage. Instead of maxing out your television's audio capacity to compete with the loudness of your treadmill, choose a quiet option.
Ability to Hear Your Surroundings
"Having a treadmill that's quiet is such a bonus-add, and actually almost a necessity for me and my household," Garage Gym Reviews Editor and certified personal trainer Nicole Davis explains.
"As a mom of two young kids, it's nice to be able to walk or run after they go to bed or before they wake up without fear of the machine disturbing anybody. Plus, if they are awake, I can hear what's going on—a must for a parent!"
Buying Guide: What to Look for in Quiet Treadmills
Everyone has different wants and needs when it comes to buying their ideal treadmill. In this case, here are a few things I'd consider before settling on a quiet treadmill to purchase:
Motor or No Motor?
Deciding whether you want a motorized or non-motorized treadmill is your first step. There are plenty of motorized treadmill options that aren't aggressively loud, but there are also some that sound like you're purposefully jumping up and down. Motorless treadmills have the benefit of being user-powered, but they can still be loud depending on the spacing of the slats on the belt and how fast you're running.
Cushioned Deck
A well-cushioned deck will not only make your run more comfortable, but it will also contribute to the loudness (or quietness) of your machine. A thin belt will have less padding between your steps and the frame of the machine, which can result in a louder sound.
Sturdy Base and Stabilizers
If your treadmill has a steel frame, it will likely be more sturdy than a machine with lots of plastic components. The materials used in the base and frame will play a role in any rattling or shaking you hear as you stride.
I also would check to see if your potential new treadmill has floor stabilizers. These small feet on the bottom of your treadmill can make your machine move less while you're using it.
Bluetooth Connectivity
Although I love a good set of speakers on a treadmill, having the ability to connect your headphones to your machine can cut down on excessive noise. You'll still be able to hear your interactive programming or music, without disturbing others.
Quiet Treadmill FAQs
Which treadmill makes less noise?
While there isn't a treadmill that makes zero noise, I've rounded up my favorite quiet machines. I recommend the NordicTrack Commercial 1750 as the best overall quiet treadmill.
Do electric treadmills make more noise than non-motorized treadmills?
There isn't a set answer for this question. Certain factors like the cushioning of the running surface, or hitting the top speed on the machine can all factor into how your treadmill sounds. Some electric treadmills are way louder than non-motorized treadmills, and vice versa. I recommend having someone (like me) try a bunch of machines and give you their opinion, or have you try them yourself.
What can I do to make my treadmill quieter?
Lubricating your treadmill is a great way to make a squeaky machine a little more quiet. I also suggest putting your machine on carpet or a rubber mat to dampen the noise your treadmill may produce. Although it may be a lot more stable on hardwood floor, you would have to compromise with the reverberating sound you'd hear while using the treadmill.