We test and review fitness products based on an independent, multi-point methodology. If you use our links to purchase something, we may earn a commission. Read our disclosures.
Gone are the days of single-use fitness equipment. Okay, okay, that's not true, but the people are demanding multi-functional home gym equipment due to space and financial concerns. We don't all have a few extra thousand dollars (or a few hundred square feet), which is why fitness equipment is getting smaller (and smarter).
In this Zeno Gym Bench Pro review, you'll see a solid example of a multi-use piece of equipment that combines things the fitness world knows and loves (a bench and resistance bands) into an innovative all-in-one workout solution.
Zeno Gym has given Garage Gym Reviews readers an exclusive discount code. Enter code "GGR" at checkout to save 15% off your entire order!
Zeno Gym Bench Pro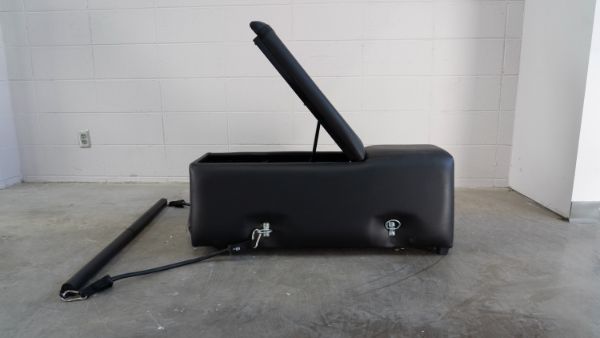 Zeno Gym Bench Pro
If you're looking for a portable all-in-one solution for working out at home, consider picking up the Zeno Gym Bench Pro. You'll be able to do a wide variety of exercises that target your upper body, lower body, and core. Plus, with a weight capacity of 800 lbs, this bench is able to handle you and dumbbells (if you want to incorporate them into your workout). Another great thing about this bench is its ability to be moved. If you're tight on space, it can be picked up and quickly moved into storage.Take a look at our full Zeno Gym Bench Pro review.
Why You Should Trust Us
The team at Garage Gym Reviews has tested some of the best weight benches on the market today, including the REP Fitness FB-5000 Competition Flat Bench, Rogue Monster Utility Bench 2.0, and the Titan Flat Weight Bench.
However, the Zeno Gym Bench Pro is slightly different from a traditional weight bench, as it includes bands and other straps to provide what some would consider a complete workout. Never fear! We've also tested heaps of the best resistance bands and competitors to the Zeno Gym Bench Pro, like the FitBench One.
A Quick Look at the Zeno Gym Bench Pro
When you think of a bench, you're likely picturing either a flat weight bench or an adjustable weight bench. However, brands like Zeno Gym have recently added all-in-one workout benches to the picture. These benches, like the Zeno Bench Pro I tested, come with a variety of bands, handles, and straps to help you accomplish your fitness goals.
The Zeno Bench Pro is one of three benches created by the brand. Wondering where the differences lie? I've detailed them out in this specs chart to help you get a complete picture of the options.
| | | | |
| --- | --- | --- | --- |
| | Zeno Bench Pro | Zeno Bench One | Zeno Bench Home |
| Price | Under $800 | Under $400 | Under $600 |
| Warranty | 12 months | 12 months | 12 months |
| Exercises able to be performed | 160+ | 125+ | 125+ |
| Adjustable incline levels | Yes | No | No |
| Storage space | 1.0 cubic ft | .6 cubic ft | 2.5 cubic ft |
| Wheels for mobility | Yes | No | Yes |
Coop's Tips:
There are a variety of extra accessories you can purchase separately on the Zeno Gym website if you'd like to add to your repertoire, including things like a squat board.
Since the Zeno Gym Bench Pro has a weight limit of 800 lbs, you can incorporate your favorite dumbbells (since none come with the bench) into your workout while still utilizing the bench.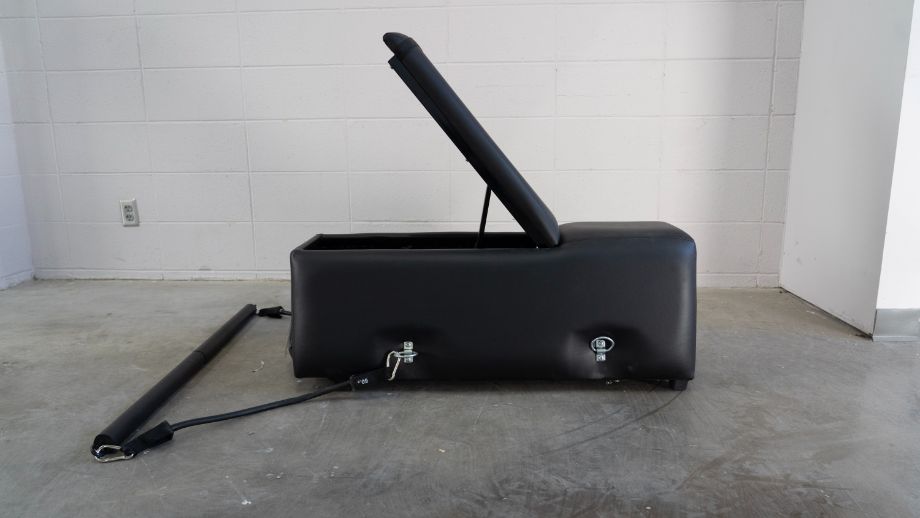 My Favorite Things:
Held together/manufactured well
Super easy setup; ready to go almost immediately
Padding around the entire bench makes it versatile for variety of exercises
High quality vinyl and padding
My Callouts:
Included bands should be sleeved for increased safety
Seat pad isn't adjustable
Vinyl feels a bit slick
Is the Zeno Gym Bench Pro Worth It?
The Zeno Gym Bench would be a great investment for some home gym owners, but it isn't my top choice for absolutely everyone. Check out who I think would love this, and who should stick to something else.
Great For:
People who need compact equipment
Those looking for a durable all-in-one workout solution
Individuals who like to follow along with programming
Not Recommended For:
People who need adjustability
Serious weightlifters who would rather use a barbell
Those who prefer a standard 17" bench height
Trying the Zeno Gym Bench Pro
If you're attempting to picture what the Zeno Gym Bench Pro looks like, think back to when you (or possibly your child, I don't know your life like that) was in gymnastics. This bench reminds me a lot of a child-sized version of a tumbling aid used when practicing the vault. It's a small bench, so if you're someone who is on the larger or taller side, you might find this to be less comfortable. However, this bench is built to hold a pretty good amount of weight at about 800 pounds.
For certain people, the size might be a deterrent. However, I think for most people, the size works because it is meant to be a portable piece of equipment that doesn't take up a ton of space. If it was larger or longer, it would likely be harder to move.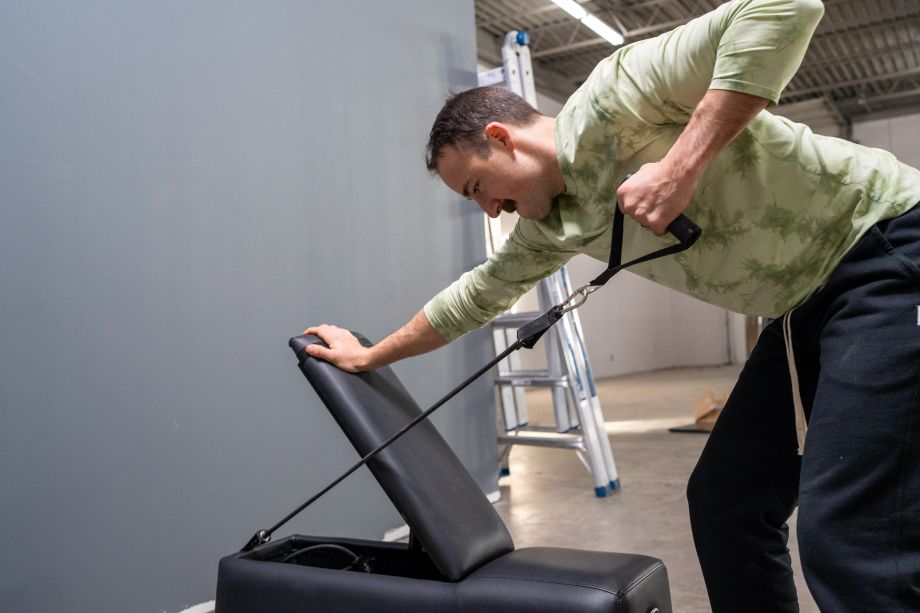 Something I really like about the Zeno Gym Bench Pro is the padding that is around the entire bench. This is a well-thought out detail because it allows you to train on any side of the bench. You're not bound to only being on one side, which makes this a versatile piece of equipment.
For reference, the bench height is shorter than the standard 17-inch bench at 15 inches. This doesn't bother me, and I actually prefer it, but I know that will not be the case for everyone.
Online, it says the Zeno Gym Bench Pro can help you do over 100 exercises. After trying the Pro, I think this is accurate, although I don't know if the amount of tension provided by the bands is enough for everyone. Here are a few of the exercises I did while testing the Zeno Gym Bench Pro:
Overhead press
Seated row
Glute kickback
Step ups
Shoulder shrugs
Tricep extension
Preacher curl
Shoulder raises
Bench press
Hip thrusts
Glute raises
Something that makes the Pro edition of the Zeno Gym Bench different (and better in my opinion) is the adjustability. You are able to adjust the incline of the bench/back pad on the Pro, whereas you cannot with the Zeno Gym Bench Home or One. Although you are able to adjust the back pad to three different levels, you have no way to tell what the actual degree to which the bench is set up at; you'll merely be guessing (which I'm not crazy about).
Keep in mind that the seat pad is not adjustable on any of the editions, which is in-line with competitor options like the FitBench One that is more than double the cost.
I did find certain movements to be difficult due to the resistance bands having to be a particular length since the bench is on the shorter side compared to a typical bench.
Aesthetics
If you're someone who lacks space and wants to make sure your home gym equipment doesn't seem like it's taking over your life, you'll like how minimalist the outside of the Zeno Gym Bench Pro looks. You can go for a sleek black or a rich cognac color.
I do personally like the look of the Home edition best (it has a wood finish), but the Pro provides more options in terms of adjustability of the incline. The inner part of any three of the Zeno Gym Benches allows for storage so the equipment can be stowed away easily and look good anywhere.
What's Included
Wondering what comes with the Zeno Gym Bench Pro? Not a lot, surprisingly. Obviously the bench (shocker), three different tension bands, an accessories bag, an ankle strap, and two handles. The standard bands that come with the bench are 15, 30, and 50 pounds.
You are able to purchase additional bands separately on the Zeno Gym website if this doesn't seem like enough resistance for you for close to $80. The resistance bands are able to be attached through any of the 6-D rings situated around the outside of the Zeno Gym Bench Pro. Also available for purchase separately are the tricep rope and bench bar attachment.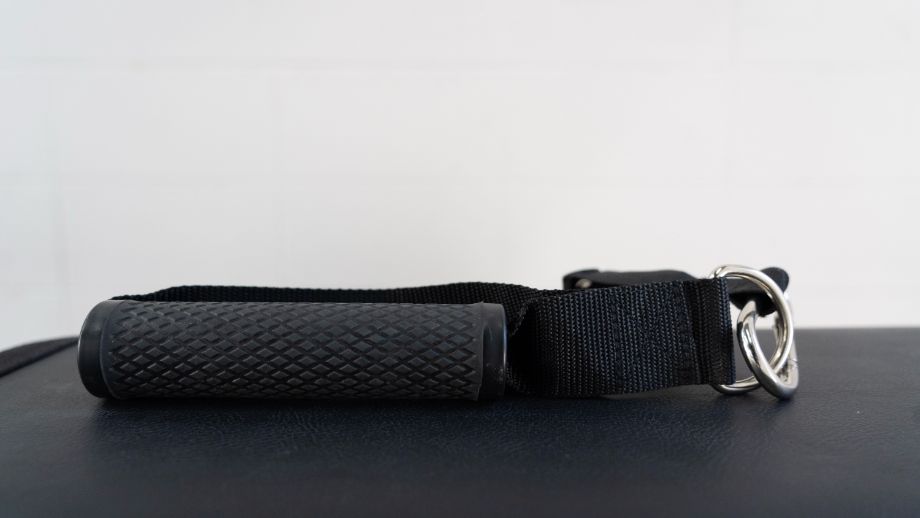 Zeno Gym App
If you're someone who thrives off of the community aspect of working out with Peloton-esque programming, you're in luck. The Zeno Gym App is available for $12.99 per month or $50 bi-annually. You also get a 30-day free trial of the app before you have to commit to paying for it, which is always nice.
Another cool thing Zeno Gym offers is if you purchase a two-year subscription to the Zeno Gym App, you'll get a free Zeno Bench One! This is a great option for those who love getting a good deal.
Curious what kind of workouts you'll find on the Zeno Gym App? Here's what you can expect:
Strength training
Yoga
HIIT
Mobility
I like that the app offers both live and on-demand workouts, because both options can be useful for different people. However, the library of on-demand workouts that are available for access at any time is small compared to a programming service like iFit. Currently, Zeno Gym only offers 80+ on-demand workouts compared to iFIT's over 16,000. This is just something to consider if you're someone who craves variety and never doing the same class twice.
Construction of the Zeno Gym Bench Pro
The Zeno Gym Bench Pro has a warranty of one year, which I don't think is bad. Thus far, I have not had any issues with the quality of the bench or any of the accessories. The bench was clearly carefully designed by people who have experience in high-quality furniture manufacturing. Everything is held together really well, and not a stitch on my bench looked out of place. Plus, hardly any seams were present, which will definitely cut down on premature wear and tear.
The Zeno Gym Bench Pro has a foundation constructed of 11-layer plywood. The metal hinges and frame are used to make the adjustable back pad. The band mounts are bolted to the plywood, which should hold up well over time and didn't show me any indication during testing that it would have durability issues long term.
Honestly, I was super impressed with the construction of the bench. It was clearly carefully designed and executed to create a lightweight, portable, but structurally sound bench.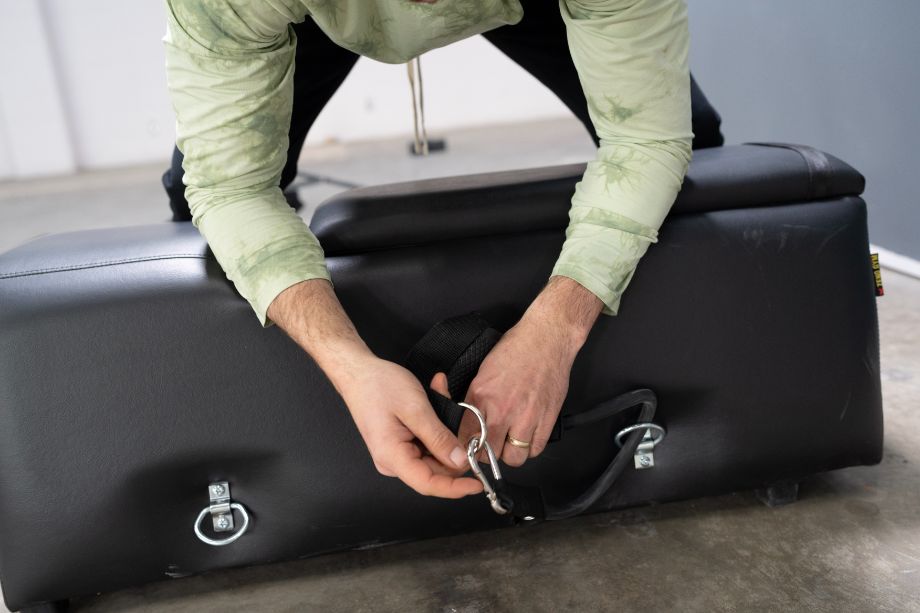 Ordering and Assembling the Zeno Gym Bench Pro
Ordering the Zeno Gym Bench Pro couldn't be easier. Simply add the product to your cart, and add code "GGR" to the discount code box to get 15% off your order. The bench is shipped within a week and generally arrives at your doorstep within two weeks of ordering.
Another thing to love about the Zeno Gym Bench Pro? The lack of assembly. I've had my fair share of assembling pieces of equipment that take hours with heaps of complicated instructions. This isn't one of those things. You can basically unbox, hook up the resistance bands, and get started right away.
It is also worth noting that you can finance any of the Zeno Gym Benches through Affirm.
Customer Reviews
With over 80 reviews on the Zeno Gym website, the Bench Pro has an overall rating of 4.5 stars out of a possible 5. Customers we're raving about the design, storage inside the bench, and quick shipping.

On the other hand, there were a few complaints about the Bench Pro being difficult to figure out for beginners, which I can understand. If you don't have at least a basic knowledge of exercises, you might struggle to get started.
Final Verdict of Our Zeno Gym Bench Pro Review
If you're looking for an entire gym in a tiny package that'll hit a variety of muscle groups, the Zeno Gym Bench Pro could be a big hit for you. Do I think this is a perfect fit for everyone? No, but I think it can be a really versatile piece of equipment for people who don't have room for a ton of home gym equipment and don't mind using bands instead of free weights for resistance. Plus, the construction of the bench is high-quality and built to last, which makes the price tag more bearable, in my opinion.
Zeno Gym Bench Pro Rating
Zeno Gym Bench Pro
The Zeno Gym Bench Pro is under $800 and is a portable all-in-one home gym solution for those tight on space. Each bench comes with resistance bands, handles, an accessories bag, and an ankle strap.
Product Brand: Zeno Gym
Product Currency: USD
Product Price: 795
Product In-Stock: InStock
Zeno Gym Bench Pro FAQs
How much is the Zeno Gym app?
The Zeno Gym app is $12.99 per month or $50 bi-annually. However, the first 30 days are a free trial, and you can cancel your subscription at any time.
How much does the Zeno Gym Bench Pro weigh?
The Zeno Gym Bench Pro weighs 55 pounds, compared to the Zeno Bench One, which weighs 35 pounds. The weight capacity for any of the three benches is 800 pounds.
Will I be able to get a full-body workout with the Zeno Gym Bench Pro?
Yes! There is a wide variety of different exercises you can do that will target your entire body. The resistance band attachments and three pairs of bands that come standard with the Zeno Gym Workout Bench Pro can provide an excellent home workout in almost any small space.
Is the Zeno Gym Bench Pro like a typical incline bench?
As far as workout equipment goes, I would not say the Bench Pro is like a typical incline bench. It is shorter, and only has three incline settings.