We test and review fitness products based on an independent, multi-point methodology. If you use our links to purchase something, we may earn a commission. Read our disclosures.
Thanks to technology and sheer innovation, many good things now come in small packages: We wear tiny computers on our wrists (love my Apple Watch), and we geek out over things like portable, foldable, reusable straws (it comes with a case!). The same concepts apply to the best home gym equipment. There is a need to accommodate people who live in small spaces. The best compact exercise equipment spans a range of workout styles, from HIIT cardio machines to adjustable kettlebells.
Just because you live in a small space doesn't mean you can't have a home gym. Trust me, I know: I have lived and exercised in a studio apartment, and before I built my home gym, I had to store my bumper plates in my fireplace (no, really).
Someone–and in many cases, more than one person–at Garage Gym Reviews has had their hands on every piece of equipment listed here. We tested and analyzed important space-saving factors, like:
Footprint: Is it small enough to really be called "compact"?
Portability: Can you move it around your space easily?
Value: Is the price accurate?
Our Picks for the Best Compact Exercise Equipment
Best Compact Home Gym: Tonal
For more, check out our in-depth Tonal Smart Home Gym review.
| | |
| --- | --- |
| Key Feature | AI-driven, wall-mounted home gym |
| Good For | Full-body cable workouts |
| Footprint | 21.50″ W x 50.9″ H x 5.25" D |
| Weight | 150 pounds (wall-mounted) |
Best Compact Treadmill: Echelon Stride
Good for: People who want a treadmill they can stow away
There are plenty of folding treadmills on the market, but the Echelon Stride is one of the most compact running machines out there. It collapses down to just 10.25 inches. You can store it horizontally–like under a bed–or flip it up on the front wheels to store it vertically against a wall or behind a door.
I have had this treadmill on my screened in porch for months, using it multiple times a week for morning walks. Its unfolded footprint is still fairly big, but when I'm not using it, I fold it up and store it against the wall. When I had it in my house, I could slide it under my bed.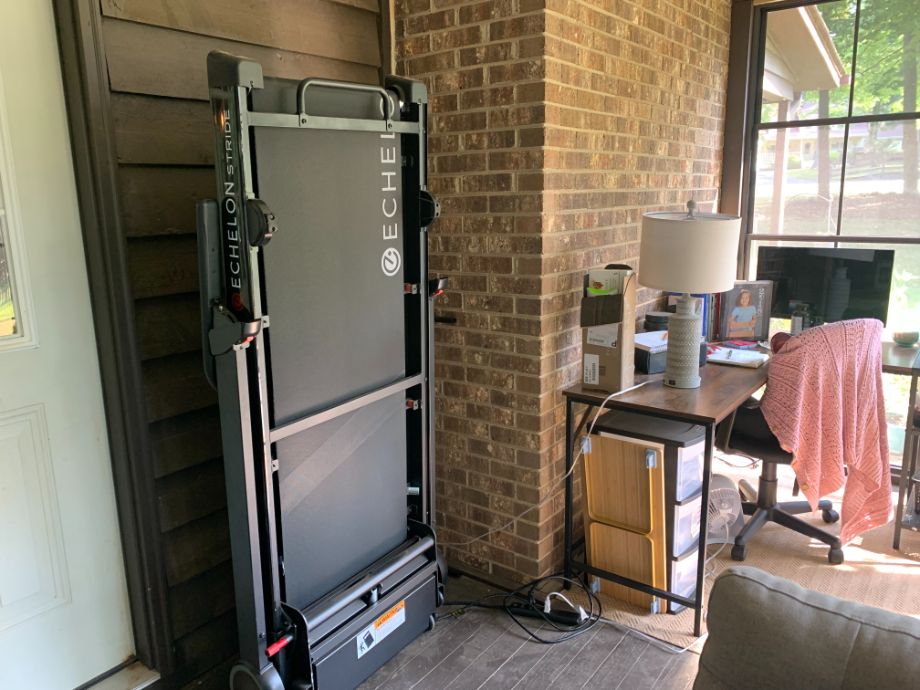 Weighing in at 156 pounds, the Stride fairly light for a durable treadmill, especially one that has auto-fold technology and a handle on the back to help you flip up the machine. However, this still isn't light. There is a step from my porch to my house, and moving it over that step requires quite a bit of strength.
Still, I believe that the Stride is one of the best treadmills. Let's start with the assembly process. Larger machines take a long time to put together, and actually require significant parts as you move through the assembly steps. The Stride arrives almost completely put together. All you have to do is flip up the arms and connect the emergency stop. I think it took me all of 10 minutes from unboxing to walking.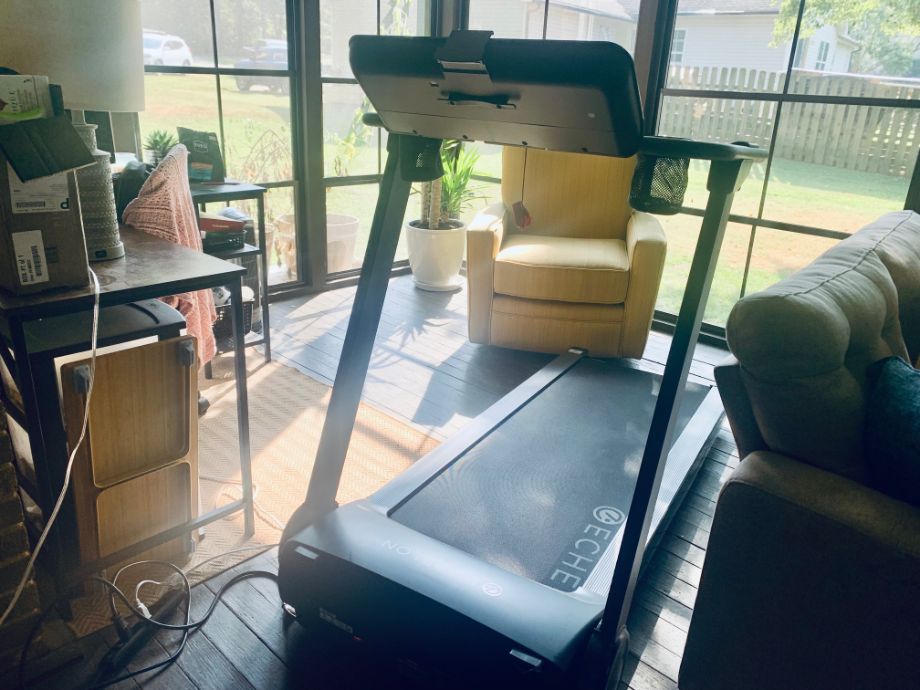 In terms of workouts, the Stride comes with eight preprogrammed options. This is also a "smart" machine that can connect via Bluetooth to a tablet or phone. Echelon has paid subscription memberships that unlock access to live and on-demand classes. Personally, I just put it in manual mode and adjust the speed or incline using the buttons on the handles, which are super convenient.
Where the Stride falls a few steps short is with the motor, which has 1.75 continuous horsepower. What that essentially means is that this isn't a treadmill that's going to withstand heavy duty use or hard sprints. I have run on it before, but it doesn't feel very stable. That's why it only gets a 3 out of 5 for durability.
Also, the Stride's compact size translates to a shorter running deck at 55 inches. We typically like to see 60-inch decks to accommodate people over 6 feet tall, because taller people have a longer stride. If you're just planning on walking on this, however, the deck size shouldn't be an issue.
Even more details are over at our in-depth Echelon Stride treadmill review.
| | |
| --- | --- |
| Key Feature | Folds completely flat |
| Good For | Walking and light jogging |
| Footprint | 69.3″ L × 31″ W × 49.2″ in H (69.3″ L × 31″ W × 10.25″ W in folded) |
| Weight | 156 lbs |
Best Compact Exercise Bike: NordicTrack S22i
Good for: An all-in-one cardio machine with interactive programming
Exercise bikes are, in general, among the most compact cardio exercise equipment you can find. By nature, they are smaller than ellipticals and treadmills. So when determining which was the best exercise bike, our team looked at more than just the footprint and factored in how much value you're getting out of the equipment. Based on that, it really doesn't get better than the NordicTrack Commercial Studio Cycle line.
Right off the bat, the Commercial S22i (and its sister, the S15i), are more than just exercise bikes. They use iFIT programming (you get a 30-day trial free with purchase), which gives you access not only to cycle workouts but also strength training, yoga and a host of other fitness classes. Both bikes have screens that swivel so you can rotate the display to do HIIT off to the side.
So essentially, this is almost like an inclusive home gym. It got perfect 5 out of 5 scores from our testers in customizations, tech capabilities, and the programming.
I fell in love with this bike the minute I put my feet on the pedals and started moving. The Commercial S22i is like one of the best Peloton alternatives because it's very similar to a Peloton: 22-inch touchscreen, interactive programming that includes live and on-demand classes, pair of dumbbells included.
RELATED: Peloton Bike Review
Where the S22i stands out is that it has incline and decline capabilities, a feature you don't often see on exercise bikes. When the bike first went into decline (which happens automatically during workouts thanks to iFIT's auto-adjust feature), I was almost thrown off balance. It does feel like pedaling downhill, minus the wind in your hair.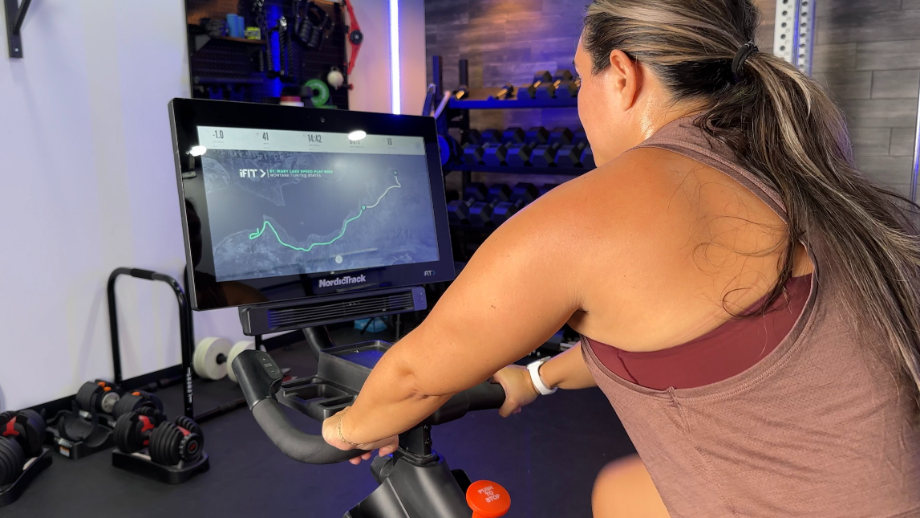 This compact exercise bike packs in a lot of extras: Cooling fan, Bluetooth connectivity to headphones, dual water bottle holders, and a device holder.
But, it isn't perfect. First of all, I put together this bike myself, which I don't recommend. It took me well over an hour because nothing comes preassembled, you have to run wires to the monitor, and attaching the large console really should be done with a buddy, because it's large and awkward. If you can afford it, opt for the $200 professional assembly.
While there are transportation wheels on the front of the bike, the S22i weighs 200-plus pounds and isn't exactly easy to move around, especially on carpet. Lastly, if you store any NordicTrack equipment in a non-temperature controlled environment, the warranty may be voided.
For more on this bike, check out our in-depth NordicTrack S22i review.
| | |
| --- | --- |
| Key Feature | Interactive programming on a high-quality bike |
| Good For | Cycling workouts; can use iFIT for strength, cardio, yoga, and more |
| Footprint | 63" L x 22" W x 60" H |
| Weight | 203 lbs |
Best Dumbbell Set for Small Spaces: Snode AD80 Adjustable Dumbbells
Good for: Those who want a durable set of adjustable dumbbells
If you live in a small space, you can't have 10 pairs of dumbbells. Getting a pair of the best adjustable dumbbells means having multiple pairs of weights in just two items.
The Snode AD80 Adjustable Dumbbells are only slightly bigger than a shoe box and provide the same amount of weight options as an entire rack of traditional fixed dumbbells. You get eight weights from 10 to 80 pounds. That's a win-win in our book, and that's before you add in the fact that they're nearly all-cast iron (they get a 5 out of 5 on our durability test), can be dropped from up to 32 inches in height (which can't be said for any other adjustable dumbbell), and feel like a traditional dumbbell.
In our testing, we found it very easy to adjust the weights. There is an adjustment knob on the side of the dumbbell handle. All it takes is a quick turn of the knob to select your weight plates.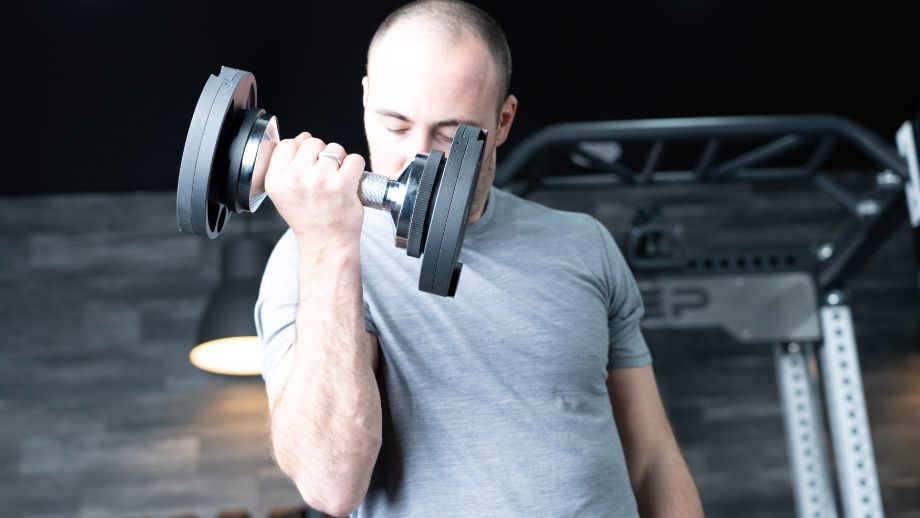 There is one major downside to these dumbbells: the 10-pound weight increments. This might not be a problem for experienced lifters, though it might be for people who are trying to get stronger through progressive overload. Snode sells magnetic plates to add weight to their dumbbells, and products like Platemates would also work.
Get even more details on our Snode adjustable dumbbells review.
| | |
| --- | --- |
| Key Feature | Replaces 8 dumbbell pairs from 10 to 80 lbs |
| Good For | Strength movements |
| Footprint | 18.11" L x 6.68" W x 6.68" H |
| Weight | Up to 80 lbs |
Best Kettlebell Set for Small Spaces: REP Fitness Adjustable Kettlebell
Good for: People who don't lift heavy but want multiple kettlebell options
One of the most challenging aspects of building out a complete home gym is finding the room for ALL THE WEIGHTS. You need a heavy kettlebell for farmers' carries, a light kettlebell for overhead stability work, and one that's juuuuuust right for swings. Put those side-by-side, and you just lost about 3 square feet of precious space.
Then the REP Fitness Adjustable Kettlebell swoops in like a hero with a space-efficient cape. We have tested quite a few of the best adjustable kettlebells, and this one if one of our favorites.
"If you're looking for an adjustable kettlebell that feels like a regular kettlebell — meaning you can do two-hand swings and snatches and more — than this is the one to get," says Coop Mitchell, GGR's founder who has used the REP adjustable bell. "It's the best value for most people."
It comes in three options (two in kilograms and one in pounds) and each one quickly adjusts among five different weights.
Your options include:
8, 10, 12, 14, and 16 kg
16, 18, 20, 22, and 24 kg
20, 25, 30, 35, and 40 lbs
Each one features a cast-iron shell with a matte powdercoat, which we found in our testing provides a secure grip that mimics a standard kettlebell. There is also a rubber bottom, which is great if you're concerned about your home gym flooring.
"Plus, these are incredibly easy to adjust," Coop says. "It has a plastic button, which I don't love because it's plastic, but all you do is turn the knob to the weight you want and pull the bell off the weight stack." Coop says the changing mechanism has no friction, and the process is incredibly smooth.
At around $170, this isn't the cheapest kettlebell out there. However, it ships free, and this is a product that will last.
| | |
| --- | --- |
| Key Feature | 5 kettlebells in one unit |
| Good For | Strength training |
| Footprint | 10″ H |
| Weight | 8 to 16 kg, 16 to 24 kg, 20 to 40 lbs |
Best Compact Weight Bench: Ironmaster Super Bench Pro V2
Good for: People who want a compact weight bench that has incline and decline adjustments
All the best weight benches are going to take up a fair amount of space (they do, after all, have to support a whole human), but the Ironmaster Super Bench Pro V2 makes the most out of the space it takes up by offering incline and decline adjustments, a commercial-grade back pad, and 11 lockout angles.
For those in small spaces who need something easy to move, this earned a perfect 5 out of 5 on portability, thanks to vertical storage, a handle, and front transport wheels. That last piece is key because it allows you to safely stand the bench up when it's not in use without the fear that it's going to fall over and injure someone or cause damage.
Coop Mitchell, founder of Garage Gym Reviews, has this bench in his own home gym and uses it often. He loves the changes Ironmaster made between the first and second iterations: a handle for portability, laser-etched numbers for seat and pad adjustments, and a tapered pad.
The biggest reason we love this bench besides its attachments, which we'll get to in a second, is just how sturdy it is. You can lift some serious weight on this thing and not feel it wobble at all—it has a 1,000-pound weight capacity when flat and a 600-pound limit when used as an incline bench, so unless you're Tom Stoltman or Larry Wheels that should be more than enough for your lifting needs.
"The frame mixes 11- and 12-gauage steel," Coop says. "I'd prefer 11-gauge throughout, but the mix does lighten the overall weight of the bench."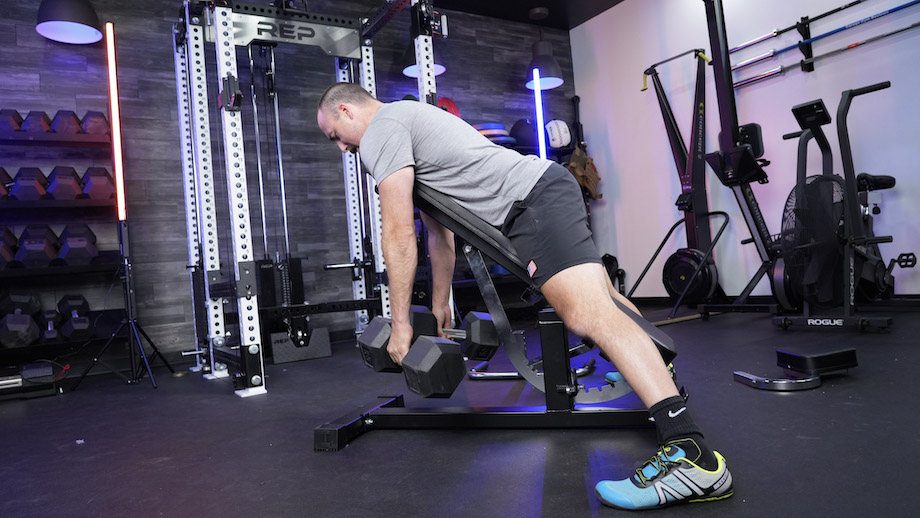 Our one big beef with this weight bench is that the seat is at a 90-degree angle at all times and can't be adjusted. The back pad is also 10.5 inches in width, when the industry standard is closer to 11.5 to 12 inches, so it may not be the best pick for bigger lifters.
If your workout space permits it, this bench can also be equipped with a number of different attachments:
Crunch sit-up attachment
Bar dip handle
Seated press pad
Chin-up bar
Leg attachment
Preacher curl attachment
Hyper core attachment
Cable tower attachment
Dumbbell spotting stand
Head extension
For more, check out our full Ironmaster Super Bench Pro V2 review.
| | |
| --- | --- |
| Key Feature | Stores upright and offers 11 adjustments |
| Good For | Strength exercises |
| Footprint | 47″ L x 22.5″ W x 17.2″ H |
| Weight | 65 lbs (69 lbs with seat pad) |
Best Compact Rowing Machine: Concept2 RowErg
Good for: People looking for a budget-friendly rower that folds in half
Generally speaking, the best rowing machines aren't really compact. They are around 6 to 7 feet long at minimum. However, you can find foldable rowing machines and those that store upright. We chose the Concept2 RowErg for this list because, while it doesn't fold, it does easily store upright and it's incredibly lightweight, so moving it around is easy.
I have owned a Concept2 for more than 5 years, and it still works as well as it did on Day One. Since I bought it, I have lived in a small apartment and then moved into a small house, where I kept it in my living room until I built a garage gym.
This scores a perfect 5 out of 5 on our portability rating because at just 57 pounds, it is so wildly easy to move. I have rolled it over carpet, hardwood, grass (gotta love rowing outside), and rubber flooring with zero issues. To store it, you just tilt it upright on the front wheels and flywheel. That's it.
Having logged literally thousands of miles on the Concept2, I can tell you that this is a machine that is built to last. I've never had any maintenance issues with mine. However, I have also been a CrossFitter for close to 10 years, and in that time, I have seen those heavily-used rowers require deep cleans as well as new monitors on occasion.
RELATED: Hydrow Review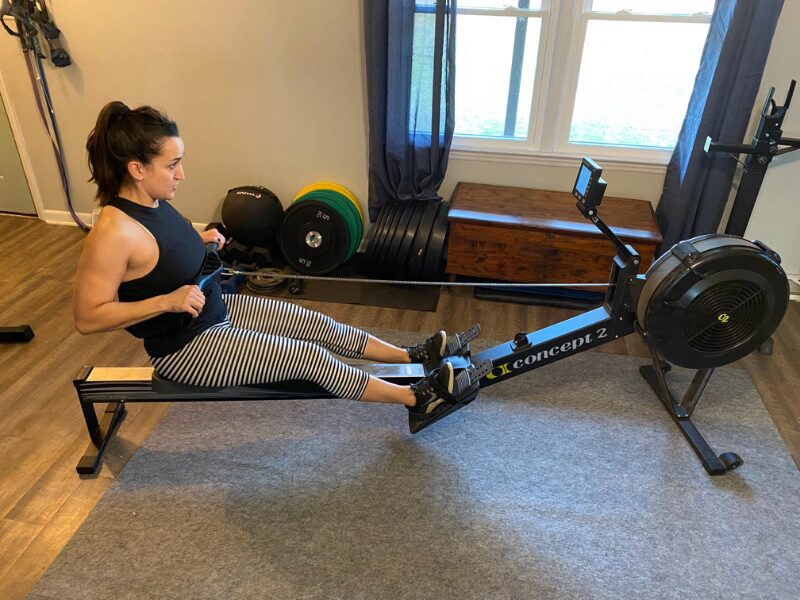 The monitor on the Concept2 RowErg is incredibly easy to use, spitting out all the metrics you need (and some you might even care much about unless you're really data-driven). You can rotate through different screen views, like making the time the largest feature and the other metrics, like distance, splits, and stroke rate, smaller. I love that you can choose a preset program or even customize a program to count down calories, meters, or time (watching the meters tick off a 5K row is so satisfying).
This machine uses air resistance, so it isn't quiet. There is a constant whooshing of air through the flywheel. I wouldn't call it a disruptive noise if you have neighbors, but it isn't as quiet as magnetic rowers.
Ergonomically speaking, the seat is hard plastic. It's curved to take pressure off your back, but it isn't cushioned. The longest row I've ever done is a 10K on it, and I had no issues. But if you remember the 2018 CrossFit Games, Event 4: Marathon Row, many of those athletes sat on towels to ease the literal pain in the a@@.
For more, check out our in-depth Concept2 RowErg review.
| | |
| --- | --- |
| Key Feature | Rowing machine that easily stores vertically |
| Good For | Cardio workouts |
| Footprint | 96″ L x 24″ W x 33″ H |
| Weight | 57 lbs (68 with tall legs) |
Best Foldable Exercise Bike: Marcy Foldable Upright Exercise Bike
Good for: People who want to log miles on a no-frills, stowable bike
When it comes to the best folding exercise bikes, there's one thing you should know: These aren't going to be high-tech, full-of-frills machines. Their value proposition is how small they are. If you go into it knowing that, then you have accurately calibrated your expectations and won't set yourself up for disappointment.
That's the lens we had to take when testing multiple foldable bikes. Our staff writer, Amanda Capritto, says the Marcy Foldable Upright Exercise Bike tops the list and has even found a permanent spot in her home gym. Yes, it's small and light and easy to move, like any other folding bike, but the quality construction sets it apart. Amanda gave this a 5 out of 5 for durability, noting the thick, 14-gauge steel makes the Marcy bike feel incredibly sturdy during workouts, even during hard pedaling.
She also says that the LCD display on the Marcy bike is larger than most of the other screens you find on these compact bikes. True, it only displays time, calories, and distance, but that's pretty standard for these machines.
Amanda points out that while there aren't many levels of resistance (just eight), this is great for beginners or can be used effectively in warm-ups and cool-downs.
Get even more details from our in-depth Marcy Foldable Exercise Bike review.
| | |
| --- | --- |
| Key Feature | Portable bike that folds |
| Good For | Cardio exercise |
| Footprint | 34" L x 19" W x 44" H |
| Weight | 37 lbs |
Best Compact Elliptical: ProForm Pro HIIT 14
Good for: Cardio fanatics who enjoy HIIT training
I've always been a fan of elliptical training for its low-impact, high-output style. It's running without running, which is my favorite kind of running.
The ProForm Pro HIIT 14 is one of the most compact ellipticals out there. Whereas most home elliptical machines are around 7 to 8 feet long, this is just over 4 feet in length because it's tall, not long. Its design is more of a stair stepper, which saves you substantial space.
RELATED: Best Compact Elliptical
Our product testers got a chance to test this out at the iFIT headquarters, and one of the first things they did was tray to move it. It weighs more than 200 pounds, but there are front transport wheels on it to make moving it a little easier.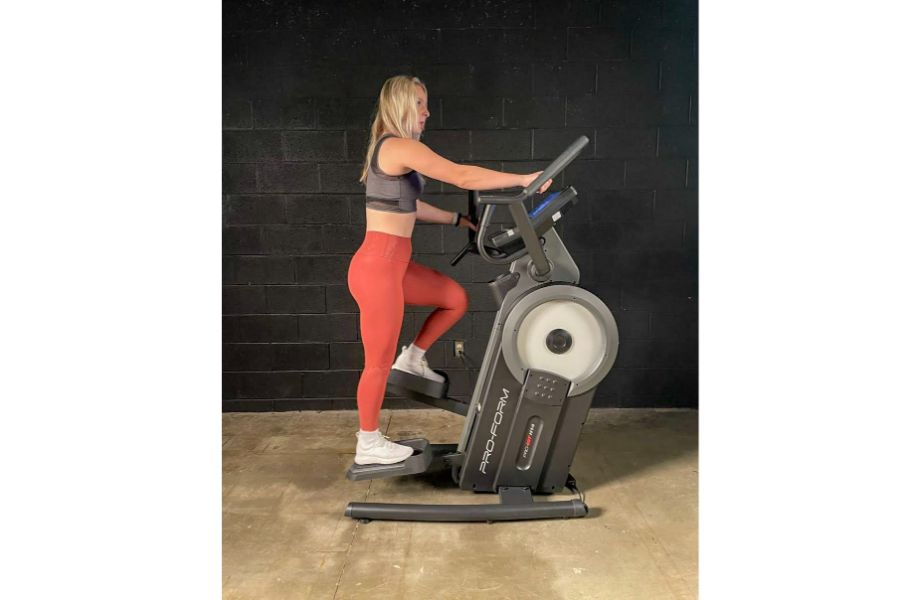 "You can move this around a room using the transport wheels for just an average person, but you'd definitely need another set of hands for moving this up or down the stairs," says GGR product tester Caroline Lubinsky.
Due to its compact nature, this resembles more of a vertical climber rather than an elliptical. Instead of long, running-like strides, the pedals glide in much more of an up-and-down motion. This gives you a swift kick in the glutes!
As far as workouts go, the Pro HIIT 14 is compatible with iFIT programming, which streams on the machine's 14-inch touchscreen. You get a 30-day free trial with your purchase, unlocking access to literally thousands of live and on-demand workouts. iFIT auto-adjusts the speed on the machine so all you have to do is think about surviving your workout.
Like many high-end machines, this has a high price tag of around $1,700, though financing is available. Also, the assembly is complicated. We gave it a very low 2 out of 5 because you can expect the process to take a few hours. Keep that in mind you may want to tack on an extra $200 for in-home assembly.
Read more in our ProForm Pro HIIT 14 review.
| | |
| --- | --- |
| Key Feature | Vertically-designed elliptical |
| Good For | HIIT and low-impact cardio |
| Footprint | 52″ L x 29″ W x 66″ H |
| Weight | 225 lbs |
Best Home Exercise App: Future
Good for: Anyone at any fitness level with any amount of home gym equipment
It really doesn't get more compact than having a personal training program on your wrist. Future is one of the most integrated virtual workout apps I have ever seen. It syncs with Android and Apple devices–including the Apple Watch and Android watches–so your workout streams from your phone or wrist.
Also, you technically don't need to have any equipment. When you subscribe to Future, you are paired with a certified coach (you can choose your coach yourself or have Future match you with someone). During an initial FaceTime meeting with your coach, you share your fitness goals, the equipment you have, any injuries or concerns, and how much time you can devote to training. The coach then develops a personalized program just for you based on all those factors.
I (and several other people here at Garage Gym Reviews) have used Future for years. I have logged more than 200 workouts with the program, and Coop, the founder of GGR, has logged more than 300.
One of the best features is that your coach can adapts workouts as you acquire new equipment or if you go out of town. We gave the app a 4 out of 5 for interactive features because it's almost as good as in-person training. During your workout, a video on your phone displays someone doing the movements, and a voice gives you cues to remind you of things like squeezing your core or finishing with locked out arms. You can also video your form during the workout from the app to send to your coach for feedback.
Because Future streams from your phone, you can take your workout anywhere (provided your equipment travels well). Initially, we rated Future lower because it was only compatible with iOS devices. However, in 2023, Future became available on Android devices.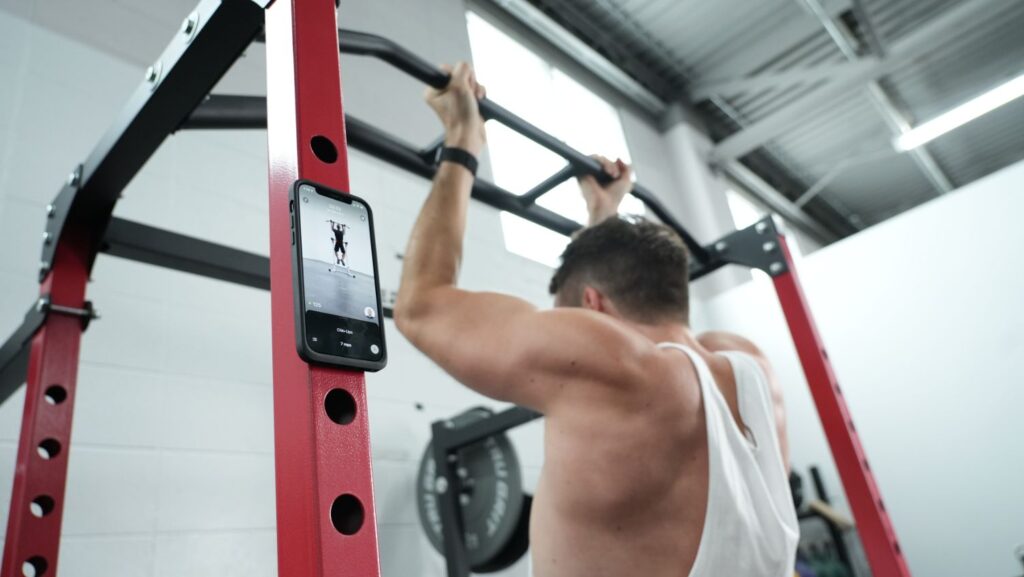 Also, the technology isn't perfect; sometimes the app on the watch lags, and if you don't keep the app updated, you'll have syncing issues. I have had to re-download the app on my watch several times due to forgetting to update it in time.
The biggest callout is that Future costs $199 a month. That's a lot of money for a workout program. However, I'm a certified personal trainer, and I can tell you that personalized programming paired with movement instruction and guidance is typically much more than that. Still, it's a sizable investment.
For more on what this program is all about, check out our full Future review.
| | |
| --- | --- |
| Key Feature | Personalized programming from your wrist |
| Good For | Strength, cardio, HIIT, yoga, and other fitness modalities |
| Footprint | An app on your phone or watch |
| Cost | $200/month |
Best Resistance Bands: Living.Fit Resistance Bands
Good for: People who want versatility in their resistance bands
Quality space-saving exercise equipment is often gear you can use in multiple ways. We have tested a number of resistance bands from Living.Fit, and from the large-loop options to the smaller "booty" bands, they check all our boxes.
"I feel safe using these," says Lindsay Scheele, GGR lead video reviewer. "I did a variety of stretches and workouts with them, and at no point did I feel like they would snap on me. That being said I do feel like the lightest resistance one will be prone to stretching overtime, but that is just from using many resistance bands in the past that have done that and this feels similar.
Let's talk about space. Bands are compact, lightweight, and portable. They weigh just ounces each and are easily tossed into a drawer or basket, or hung on hooks in your garage.
When it comes to practical use, large-loop tube resistance bands can do a lot:
Warm-up exercises like pull-aparts
Strength movements like good mornings, presses and squats
Assistance for pull-ups and dips
Mobility work like banded stretches
Let's face it: Resistance bands are very much alike across different brands. What we like about the Living.Fit bands is that they are affordable — close to half the price of other bands if you buy the bundle.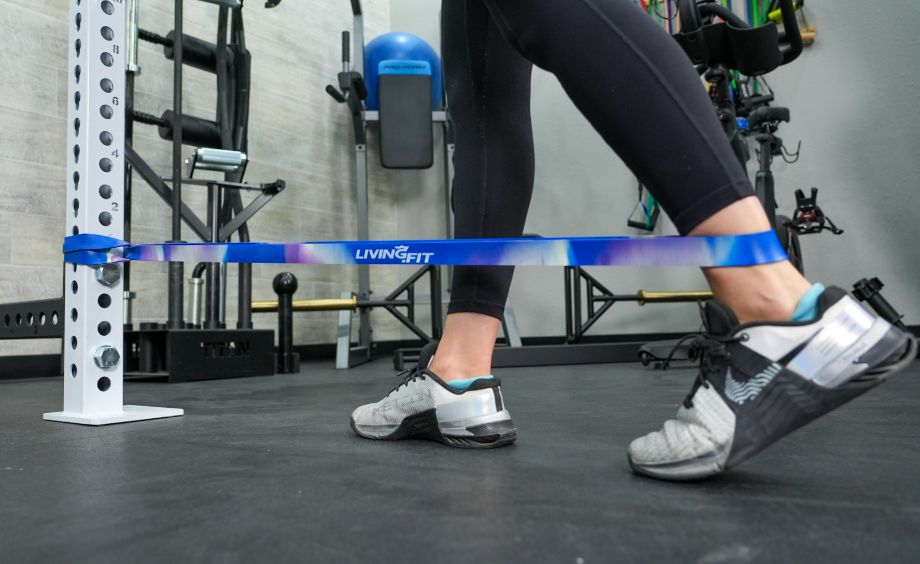 Like many of the best resistance bands, these are made with natural latex, so they aren't suitable for those with an allergy to that material.
All resistance bands have a lifespan that only lasts through so many stretches. We do trust these bands, though they may not be as high-quality compared to Rogue Monster Bands.
"When I compared the feel of the Living.Fit to the Rogue bands, Rogue feels more durable," Lindsay says.
RELATED: Rogue Resistance Bands Review
| | |
| --- | --- |
| Key Feature | Affordable resistance bands |
| Good For | Strength exercises, stretches |
| Portability | Come with carrying case |
| Weight | 5 to 125 lbs of resistance |
Best Pull-Up Bar: Perfect Fitness Multi-Gym Pull-Up Bar
Good for: People who want to do pull-ups in their doorway
One of the best bodyweight and best back exercises is the pull-up, but it's also one of the most challenging to do in your home. Most of us don't want to bolt a bar into our living room wall. The Perfect Fitness Multi-Gym Pull-Up Bar is one you can use in any standard-sized door frame. It isn't a permanent fixture; you slide it into place when you're ready to use it, and take it down when you're done.
When it comes to the best pull-up bar for a small space, we really like this because it's so easy to stow away. It can fit under your bed or easily in a closet. It weighs less than 7 pounds, so moving it around is incredibly easy. For such a small, lightweight bar, it shockingly holds as much as 300 pounds.
The way it works is that there is a bar on the unit that rests on the top of the door frame. Another bar spans across the other side of the door frame, which essentially locks it into place. You'll have to do a bit of angling in order to secure it, and double- and triple-check it before you start going.
At around $30, this is a highly versatile piece of equipment that gives you options. In terms of grip, you can really only do pronated and supinated pull-ups because it's just a straight bar. However, there are options for wide and traditional grips. Also, you can place it on the floor and use it for elevated push-ups, dips and planks.
A word of warning: You shouldn't do any kind of kipping or swinging pull-ups on it. That could jar the bar loose and result in injury. Also, some people report that this leaves scuffs on their door frames.
| | |
| --- | --- |
| Key Feature | Doorway pull-up bar that can double for core work |
| Good For | Pull-ups and hanging exercises, core work |
| Footprint | 38″ L x 15″ W x 14″ H |
| Weight | 6.2 lbs |
Best Workout Mirror for Small Spaces: lululemon Studio Mirror
Good for: Affordable in-home personal training and cardio workouts
When it comes to interactive virtual training, the lululemon Studio Mirror does it better than just about any other product we have tested. Taking up around 8 square feet of your wall space, the Mirror requires you to have just enough room to move your body comfortably through exercises (that's about 6 feet by 6 feet for most of us, but you could potentially get away with less).
You can also use Mirror on a stand mount, though this is still secured to a wall. Whichever option you choose, professional installation is included in the price. Trust us, you want the pros to do this.
The Mirror is on our best workout mirrors roundup in part due to its exceptional high-energy classes and extensive library. You have options that include on-demand or live workouts for Pilates, yoga, cardio, boot camp, strength training and even pre-/post-natal exercise.
One of our staff writers, Amanda Capritto, says that one of the Mirror' best features is the personalized training, giving it a 4 out of 5 when rating it.
"I went into this experience fully understanding that I may not like the workout content on the Mirror—but also knowing that my preferences aren't the same as everyone else's," says Amanda, a certified personal trainer who loves the barbell. "I'm so glad I gave it a shot, because it was actually pretty fun."
Using a two-way camera, Mirror connects you to a certified trainer who customizes your workouts and guides you through them. This is an additional cost (around $40 for a 30-minute session) on top of the $40-ish a month subscription.
The types of workouts you can do with Mirror include:
Barre
Boxing
Chair
Competitive
Dance
Family
Kickboxing
Meditation
Pilates
Pre- and postnatal
Strength training
Stretching
Tai chi
Toning
Yoga
There are few downsides to purchasing a Mirror. One is that you only get the Mirror, so if you want to do strength training, you'll have to BYO equipment. The other is that you control Mirror via an app, not on the actual product itself (it's not a touchscreen). It's not overly cumbersome, but it is one area we think Mirror could be improved.
To learn more about our take, read Amanda's full lululemon Studio Mirror review.
| | |
| --- | --- |
| Key Feature | Free-standing workout mirror you can move around |
| Good For | Cardio and strength training |
| Footprint | 52.6″ H x 21.1″ W x 1.7″ D |
| Weight | 70 lbs |
Best Bodyweight System: TRX Suspension Trainer
Good for: Anyone looking for a portable bodyweight resistance training system
If you've ever done a TRX class, you know how challenging the work is. A former Navy Seal, Randy Hetrick, is credited with developing the patented method and equipment in the 1990s, though we saw Total Resistance eXercise really explode in the early 2000s when commercial gyms started offering classes.
Fortunately, you don't have to step into a gym to do TRX anymore. These lightweight, highly portable straps can be mounted to your ceiling or secured in a doorway for a workout that targets all your major muscle groups. The entire kit–straps, door anchor and suspension anchor–can be tossed into the accompanying mesh bag for easy storage just about anywhere in your home.
Anyone at any fitness level can benefit from working out with the Suspension Trainer. I have used it for years, both in my own workouts as well as in training clients. It excels in areas like core stabilization, supported leg movements, and challenging upper body work. I had been doing CrossFit for years before I took my first TRX class. At the time, I thought I was incredibly fit, but that class proved to me that I had gaps in my fitness.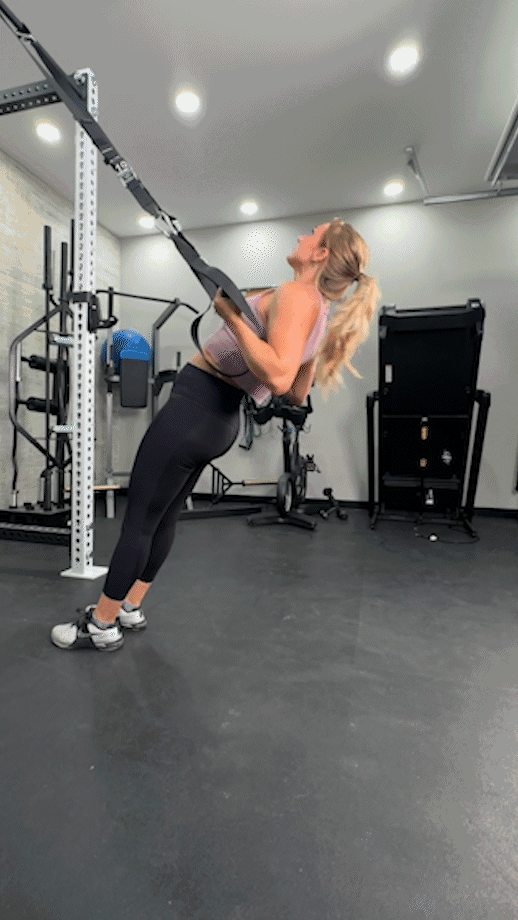 Using the straps does require either knowledge of the exercises or some kind of guidance, so I wouldn't exactly call these beginner-friendly. However, when you purchase the TRX Suspension Trainer, you get access to a seven-day trial of the TRX Training Club, which offers live and on-demand classes. After that, your options for subscription are as little as $4/month.
| | |
| --- | --- |
| Key Feature | Straps that can be anchored anywhere |
| Good For | Strength and core exercise |
| Footprint | Portable straps |
| Weight | Ounces |
Best Portable Home Gym: MaxPRO SmartConnect Portable Cable Machine
Good for: People who travel or want to be able to take total body fitness on the go
For heavy resistance training you can take with you, it doesn't get too much tinier than the MaxPRO SmartConnect Home Gym, which earned a perfect 5 out of 5 on our portability rating. Its folded footprint is essentially the size of a shoebox, and it unfolds to be almost flat to the ground in use. Also, this machine weighs just 9 pounds, so moving it around is wildly easy.
Coop tested the MaxPRO and found it to be way more fun than he had initially expected. He even took it with him on a family vacation because of how easy it is to use and how well it travels.
The real magic of the MaxPRO is that it packs up to 300 pounds of resistance into the cables you can use to perform upper body and lower body work. You can use it as a standalone functional trainer with just the cables, or, if you purchase the Elite package, you can mount it under a bench or onto a wall to maximize the number of exercises you can perform.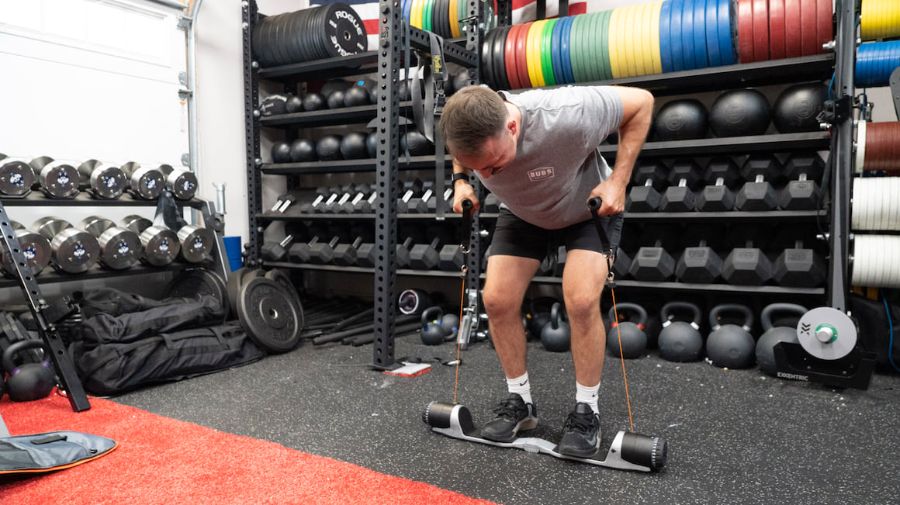 The "Smart" part of the MaxPRO SmartConnect is in its connectivity to an app that features personal trainers who guide you through workouts that include high intensity interval training and strength training. Coop found the app to be a little clunky, and we are hoping MaxPRO continues to improve on the technology.
Some things to consider when purchasing: First, the MaxPRO only does concentric, not eccentric training. Also, the machine uses battery power. Make sure you keep it charged if you plan on using it frequently.
For more information, read our in-depth MaxPRO SmartConnect Home Gym review.
| | |
| --- | --- |
| Key Feature | Small, lightweight cable machine |
| Good For | Cable machine workouts |
| Footprint | 10″L x 16″H x 4″W |
| Weight | 9 lbs |
Best Vertical Climber for Small Spaces: CLMBR
Good for: Those who have a bit more ceiling space and want a unique cardio machine
We have to say right off the bat that the CLMBR is a compact piece of exercise equipment, but only if you have taller ceilings (you're going to need at least 8 feet of ceiling space). So it might not work for those living in an apartment or whose home gym is in a basement. For everyone else, allow us to tell you why we love this and think it's one of the best vertical climbers.
Firstly, there's a wide variety of workouts for you to pick from based on your music preference, how much time you have, or your fitness goals. Secondly, the workouts are low-impact, so while you're working just about every muscle group in your body and getting a high-quality cardio workout, your knees won't be angry at you the next day (which is always a plus in our book).
Several people on our team have used CLMBR. "If you've ever been rock climbing before, you might be familiar with the similar body positioning–– one leg hiked higher than the other, with both arms mimicking this same placement," says GGR product tester Caroline Lubinsky.
The CLMBR is expensive, but the construction is solid so it should last you quite some time. We wish the standard warranty was longer than one year (you can purchase extended protection plans), but honestly, we haven't seen many reviews of people having to take advantage of it.
We wish we could recommend the CLMBR to everyone, but taller people may find it a bit too cramped for their liking. "I really wanted to like the CLMBR, but at the end of the day, I just found it to be too inconvenient," GGR writer Anthony O'Reilly, who stands over 6 feet tall, explained. "The workouts themselves were challenging and the instructors were entertaining and thorough, I just would've liked to see them make it easier for taller people."
This machine weighs 180 pounds, so it isn't easy to move, scoring just a 3 out of 5 for portability. And to be frank, the assembly process isn't great. Actually, it was easily one of the worst pieces of equipment our expert product assembler, Sam (who we call "asSAMbly") has ever put together. He said the instructions were messy, and you really need two people to put it together.
Want to learn more? Take a look at our full CLMBR review.
| | |
| --- | --- |
| Key Feature | Cardio machine that has a small footprint |
| Good For | Cardio exercise |
| Footprint | 35″ L x 34″ W x 88″ H |
| Weight | 180 lbs |
Other Compact Exercise Equipment We Researched
There are a lot of great pieces of equipment that didn't make our list but that we still feel are worth mentioning: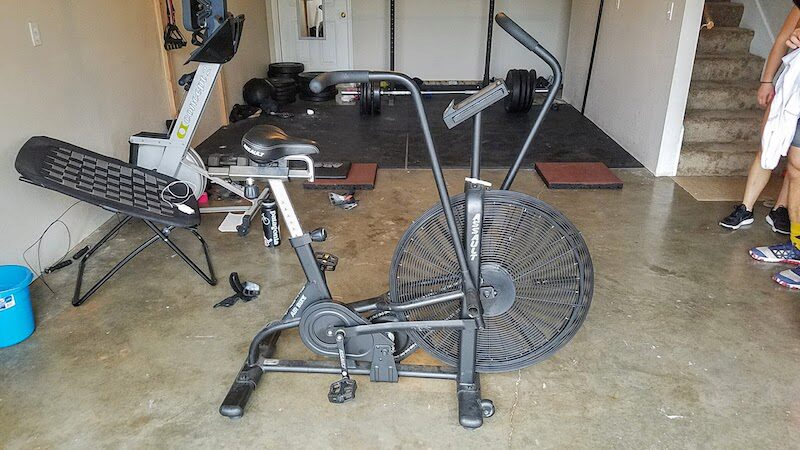 Cardio Machines
Sunny Health & Fitness Magnetic Elliptical: I actually really like this elliptical for people on a budget who also don't have a lot of space. It's around $500, has preset workouts and a short stride, which means it won't take up much room. At this price point, it's hard to find quality machines. While this isn't an elliptical that would withstand heavy use, it would be just fine for home workouts.
Sunny Health & Fitness Synergy Magnetic Bike: For a durable, sturdy stationary bike with a small footprint that costs around $500, this is my favorite. Magnetic resistance means it's quieter than fan bikes, and there is no chain that would require maintenance. There's also no fancy touchscreen, but there is a device holder you can use if you want to follow an app.
Assault Air Bike: I have one of these at home. While CrossFit has replaced Assault with the Rogue Echo Bike, I still like the OG air bike. It's incredibly easy to wheel around, and it isn't much larger than other stationary bikes. Also, nothing destroys your soul quite like sprints on the Assault Air Bike. There are a few pre-programmed workouts, but nothing interactive. The chain definitely needs love from time to time, which is why this didn't quite make our best-of list.
Home Gyms
Tempo Studio: Massive touchscreen, weights included, 3D sensors that give you feedback on your form: Tempo Studio is the complete package. You don't need much room for this standalone virtual trainer, either. However, it doesn't include the heavy weights that something like Tonal can provide. Also, Tempo Studio is one of the most expensive home gyms on the market. (Pssst: Get the best Tempo discount codes.)
Tempo Move: Tempo announced in late 2021 the addition of "Move," which costs under $500 and gives you a lot of the benefits of the Studio: virtual training, weights included. You do need to have an iPhone XR or later and a TV to use it, however. We haven't gotten to try it (yet) but are looking forward to it.
NordicTrack Vault: The Vault made our list of the best workout mirrors thanks in part to its slim and sleek design, ideal for people who want to do full body exercises in a small space. It even comes with kettlebells, dumbbells and a mat. This didn't make the cut on our list simply because we found that the workout equipment doesn't store quite as nicely as it's supposed to.
Strength Equipment
Bowflex SelectTech 552 Adjustable Dumbbells: We actually recommend the Bowflex as one of our top picks for adjustable dumbbells. They are shaped like traditional dumbbells, and the weight changes extremely easily. Plus, they are affordable compared to many other similar products. The biggest drawback we see is that they max out at 40 pounds, which might not be heavy enough for many.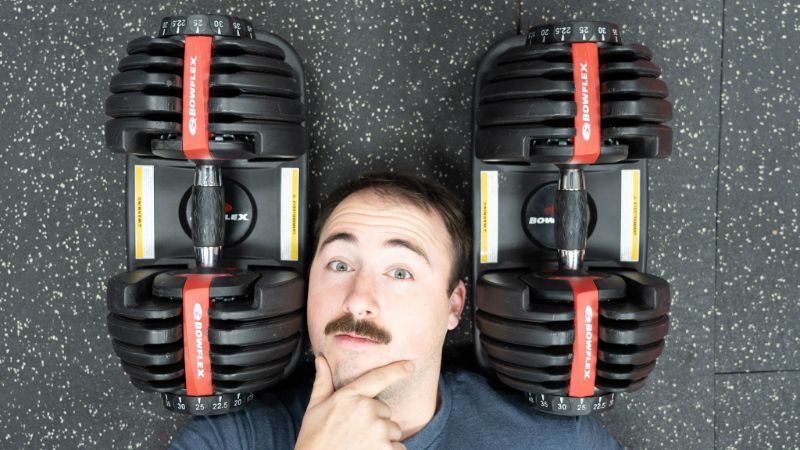 NÜOBELL Adjustable Dumbbells: The NÜOBELLs are some of our favorites: They sport a great knurled handle, traditional dumbbell shape, and they adjust weight faster than possibly any other adjustable dumbbell out there. However, they are expensive, and for the price, we think they use too much plastic.
How We Picked and Tested
We have a team of people who use, test, and review equipment. When it comes specifically to evaluating the best compact workout equipment, we had a discussion around what pieces we had used that make sense in small spaces based on a number of factors, such as:
Footprint: We looked for items that could be used in a space no larger than a living room
Portability: Products that stood out to us were those that could be moved around with ease
Stowability: Bonus points to fitness equipment that could be put away easily
Versatility: Could the product be used in multiple ways for multiple exercises
Many of the items on this list actually live in our own homes and garage gyms. We know what it's like to interact with them daily. Someone on our team has used each piece of equipment for multiple workouts to assess factors like durability, performance, ease of use and ergonomics.
Benefits of Compact Exercise Equipment
If you have ever lived in a small apartment, shared a small home with multiple people, or simply tried to do a workout in your living room, you know how valuable it is to have space. For many at-home workouts, you don't need much more than a 7-foot-by-7-foot space (enough room to lie down and move around).
Owning compact exercise equipment enables you to:
Work out just about anywhere in your home: garage, family room, bedroom, yard, heck, even in the kitchen
Move equipment to other rooms/spaces for flexibility
Take your equipment with you when you travel
Stow gear away when it isn't in use
What to Look for in Compact Exercise Equipment
If you don't have a ton of space, then finding fitness equipment with a minimal footprint is key. Here are some key considerations: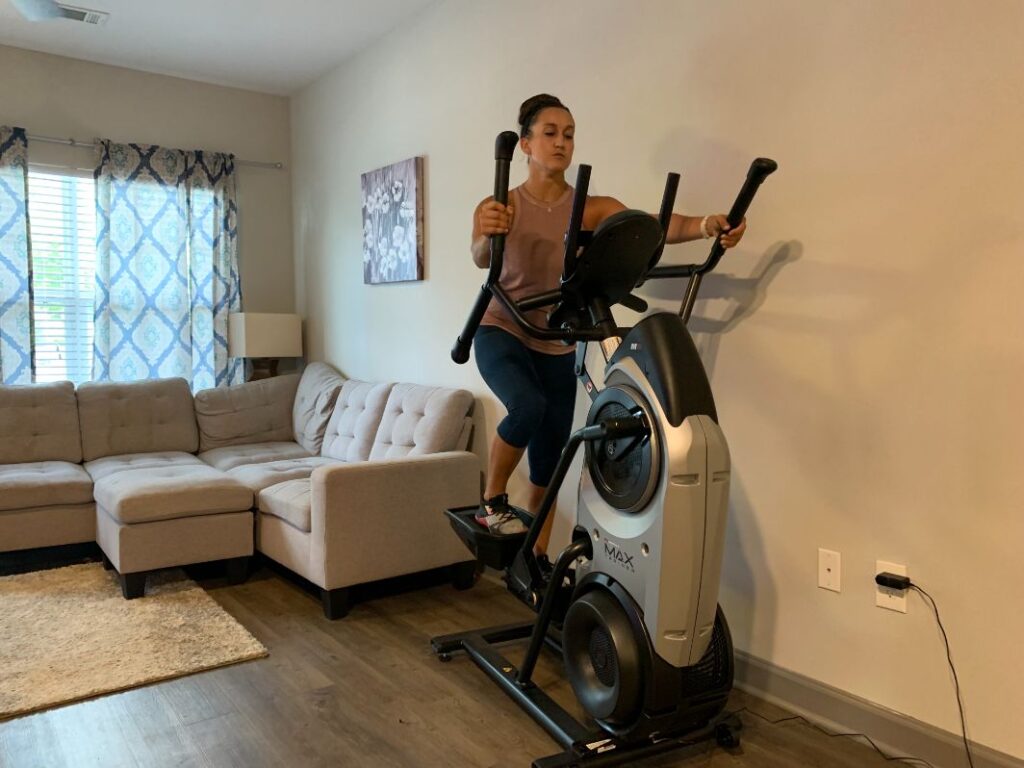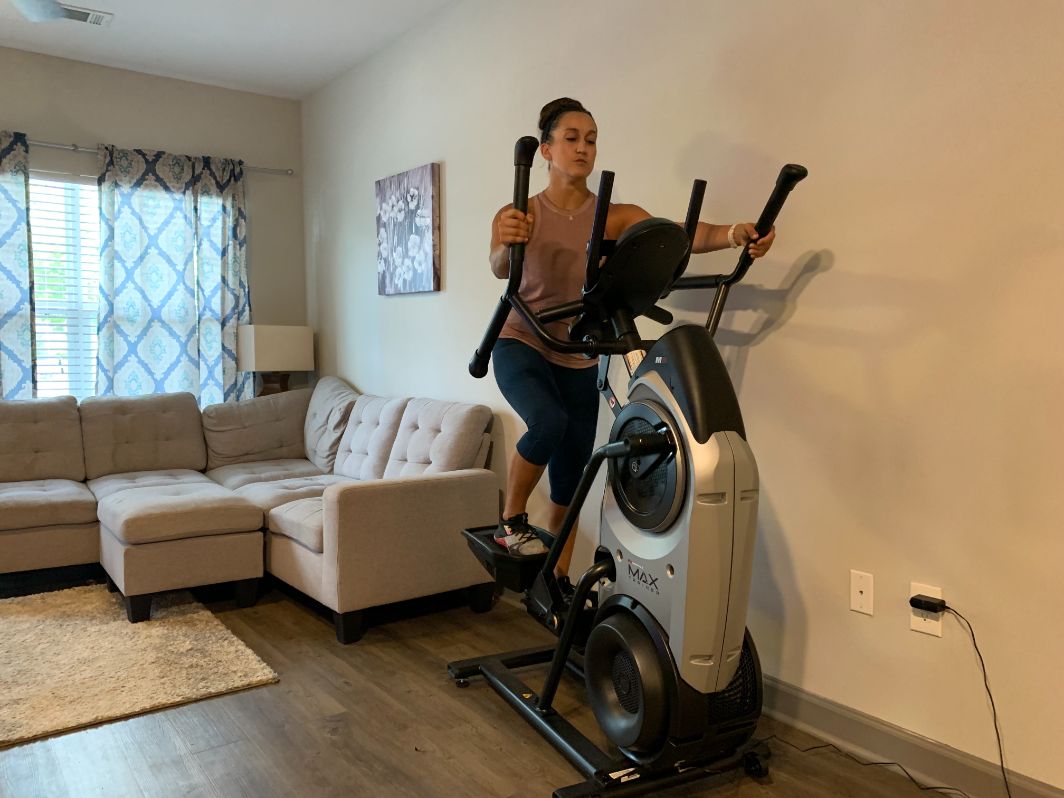 Footprint
Most people looking for space-saving exercise equipment have one main concern: size. A squat rack, barbell, and bumper plates can take up quite a bit of floor space. And cardio machines? Well, they tend to be big, heavy, and overwhelming.
So, measure your space, and compare it with the measurement of the equipment. Also, just because something is big doesn't necessarily mean it's a dealbreaker; there are products like folding treadmills and foldable bikes that actually transform the footprint of the workout machine.
Portability
If you're like me, you transform any space in your home into a gym. I've even moved my squat rack into the kitchen on occasion, because sometimes a lady likes to snack while she squats.
Before I invest in equipment, I'm often checking to see how easily I can move it around. Some important factors there include:
Transportation wheels
Product weight
Product size
Also, if you travel a lot, find portable gym pieces that can go with you. Maintaining your fitness routine on the road is important. Resistance bands and yoga mats travel well; bumper plates, not so much.
Versatility
I'm a sucker for equipment that takes up a little space and can be used for a lot of things. I think adjustable dumbbells have got to be one of the most fantastic products out there. You can go heavy for dumbbell deadlifts and squats, or keep it light for accessory and mobility work. All in one product!
Not every piece of equipment will have more than one use, but many on our list do: Cardio equipment that comes with interactive programming often has yoga and strength training classes, and you can get whole-body workouts with home gyms.
RELATED: Best Dumbbell Workouts
Policies
It's always wise to read the fine print. Check out the following for any piece of exercise equipment you are considering:
Warranty
Return policy
Initial trial period
Cost/Value
You'll obviously want to keep your budget in mind when looking for the best compact exercise equipment but you should also consider what's going to give you the most bang for your buck. For example, it might be worth it to go a little over your budget if you find a piece of equipment that can be used for multiple training methods instead of buying multiple items.
FAQs About Compact Exercise Equipment