We test and review fitness products based on an independent, multi-point methodology. If you use our links to purchase something, we may earn a commission. Read our disclosures.
Pull-ups are arguably one of the best exercises for upper-body strength and overall functional fitness. Although they're sometimes seen as an advanced-only exercise, even beginners can benefit from them—the best pull-up bars support a range of pull-up variations and modifications that anyone can do.
Pull Up and Let the Experts Do the Work
You're welcome: A team of certified fitness professionals and long-time exercisers have sifted through the bottomless pit of pull-up bar listings on the internet; ordered and personally tested more than a dozen of them, and brought you this guide to the best pull-up bars so you can easily order the one that best fits your home gym setup and get to work.
Best Pull-Up Bars in 2023
Video Review
Best Overall Pull-Up Bar: Titan Wall-Mounted Pull-Up Bar
Good for: Anyone who wants a sturdy, well-priced, wall-mounted pull-up bar
The Titan Fitness Wall-Mounted Pull-Up Bar earned a spot as our top overall pick because it checks all the boxes for a low price: For less than $100, this bar boasts a 500-pound weight capacity, 34-inch bar-to-mount depth, a 1.2-inch bar diameter, and multiple mounting options.
You can secure this 11-gauge steel behemoth to a wall or ceiling, provided you purchase the correct mounting hardware (it's not included in your purchase, unfortunately) and properly locate studs.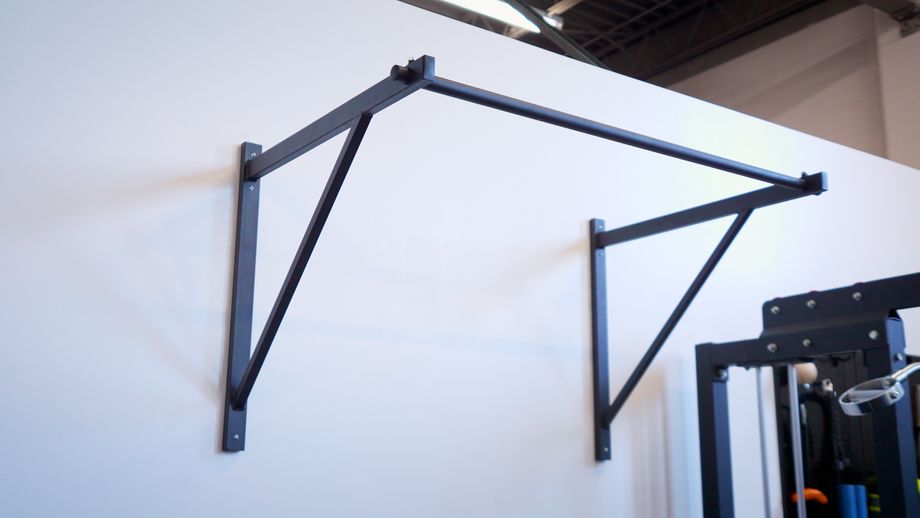 This bar is Coop's favorite because of its versatility. He loves that you can mount it on wood studs that are 16, 32, or 52 inches apart; or on any concrete wall at any width up to 52 inches apart. What this means for you is that more types of home gyms can accommodate this pull-up bar.
The Titan pull-up bar comes with a black powder coat finish, which is not the best for grip, but it's pretty standard among different manufacturers.
The sturdy construction and versatile mounting options on this bar make it a great choice for people who want to do more than just pull-ups: When installed correctly, it can support you for kipping exercises, resistance band movements, and more.
Best Wall-Mounted Pull-Up Bar: PRx Wall-Mounted Pull-Up Bar
Good for: People who want an ultra-stable pull-up bar
Want to avoid going viral by falling on your you-know-what while trying to hit a pull-up? The PRx Wall-Mounted Pull-Up Bar isn't going anywhere, and according to customer reviews it's one of the grippiest pull-up bars on the market. In other words, you don't have to worry about a hidden camera catching your blunder and making you internet famous.
While this bar doesn't specify its weight capacity, we're sure it can withstand most people if properly installed. It must be placed in studs spaced either 16 or 24 inches apart. Some people have even installed it on their ceiling joists.
The depth is adjustable, starting at 21 inches and going up to 36, so it can be used for a variety of movements and by many people. Some people have noted the width might be a bit too big for some home gyms, so be sure it can fit in your space before hitting purchase.
Best Multi-Grip Pull-Up Bar: REP Fitness Wall-Mounted Multi-Grip Pull-Up Bar
Good for: People who want to practice advanced calisthenics and multiple pull-up variations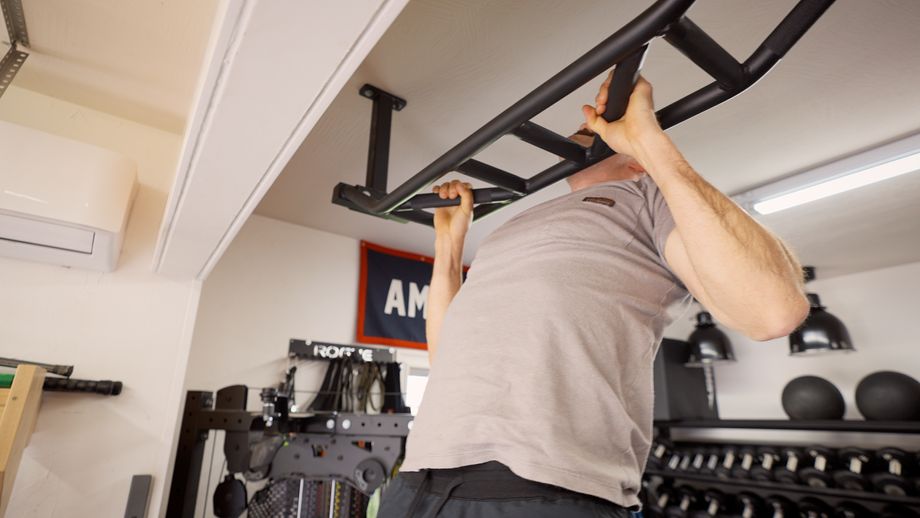 More grip options equal more workout variety. That's what you'll get with the REP Fitness Wall-Mounted Multi-Grip Pull-Up Bar, which features close-grip, neutral-grip, and wide-grip options, as well as a 2-inch thick rear bar for grip strength training.
This item has two external bars and six internal short bars, creating a virtually unlimited number of ways you can alter your grip. A multi-grip pull-up bar is a great way to challenge your pulling strength and increase functional fitness.
Thanks to the multiple grip options, you can also use this pull-up bar for a variety of suspension training or gymnastics rings setups.
The REP Fitness Wall-Mounted Pull-Up Bar is constructed of 11-gauge steel and boasts a weight capacity of up to 700 pounds (if installed properly, as noted by REP). There is also a version of this pull-up bar that's compatible with REP PR-4000 racks and REP PR-5000 racks.
Best Ceiling-Mounted Pull-Up Bar: Stud Bar
Good for: People with limited wall space or those who want to prioritize kipping/CrossFit exercises
Simple and straightforward, yet versatile and durable: This sentiment perfectly describes the Stud Bar, which is offered through Fringe Sport among other retailers.
This ceiling-mounted pull-up bar is constructed of 14-gauge steel tubing and features an impressive 600-pound weight capacity, so all of your weighted pull-up dreams can come true.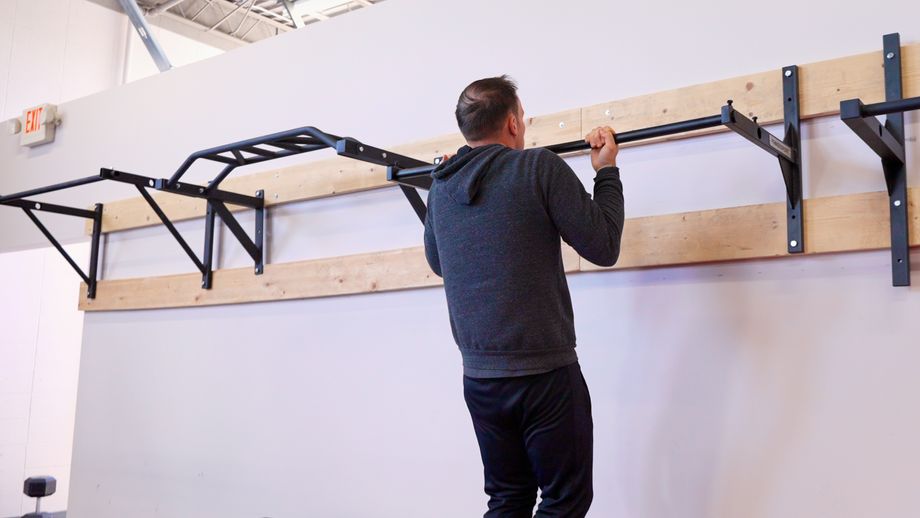 Aside from the Stud Bar's sturdy construction, one thing our product testing team really loved about this bar is that it comes in three different sizes to accommodate different ceiling heights. Pull-up bars aren't something that generally come in multiple sizes, so our team was happy to learn that the Stud Bar is available in a small size for 8-foot ceilings; a medium size for 8-to-10-foot ceilings; and a large size for ceilings 10 feet or higher.
Depending on the size you get, the Stud Bar hangs 10 to 39 inches below the ceiling, leaving plenty of room for chest-to-bar pull-ups and muscle-ups at the higher end.
Although installation is straightforward—drill the bar into ceiling studs—it does require multiple tools, including a stud finder, drill set, screwdriver, and ratchet set. You'll probably also need a ladder. But once the Stud Bar is in place, you'll have a permanent place for pull-ups and much more.
Best Doorway Pull-Up Bar: Rogue Fitness Jammer Pull-Up Bar
Good for: People who want the sturdiest doorway pull-up bar available
The Rogue Fitness Jammer Pull-Up Bar is not your average doorway pull-up bar. Most doorway bars simply slip over your doorframe, which leaves a lot of room for mishaps.
The Jammer may be more accurately described as another wall-mounted pull-up bar, but it is designed to mount specifically into wooden studs above a door frame. Rogue Fitness encourages buyers to hire a contractor for alternate mounting plans, and mounting the Jammer somewhere other than above a door may void your warranty.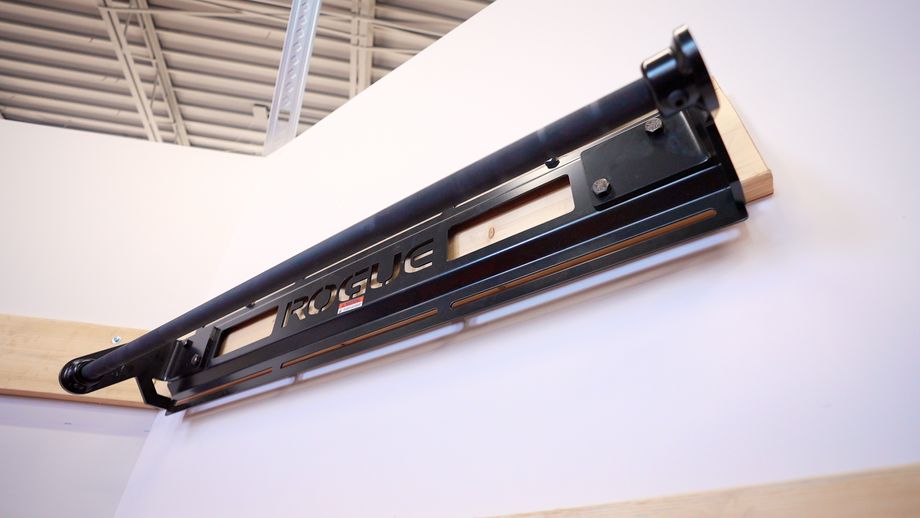 All that said, the Jammer is the last door-mounted pull-up bar you'll ever need. When installed correctly, it has a 500-pound weight capacity, which is much higher than the average doorway pull-up bar. This is due to two things: that the bar is installed into wooden studs, and that it's made of steel that's nearly half an inch thick.
One of our favorite things about the Rogue Jammer pull-up bar is its customization options. It's available in several colors and finishes, from a standard black powder coat to full knurling to colorful Cerakote.
The big downfall, according to our product testers, is that this bar has a depth of just 7 inches, which means it's basically impossible to do anything but strict pull-ups and chin-ups. (But, that goes for all doorway bars, not just the Jammer.) I also want to point out that it's generally unsafe to do kipping movements on doorway pull-up bars—while the Jammer bar is probably sturdy enough due to its installment style, it's still rather close to the wall and could cause an accident.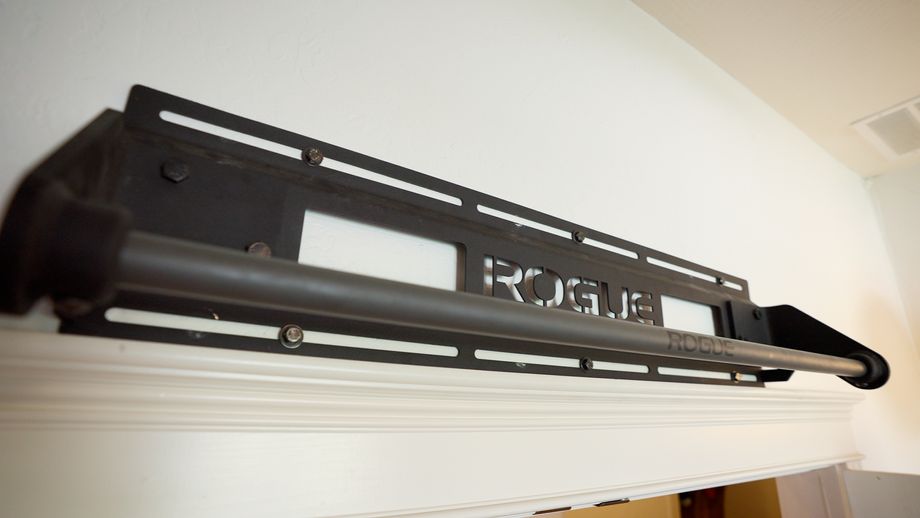 Best Budget Pull-Up Bar: Perfect Fitness Multi-Gym Pull-Up Bar
Good for: Trainees looking for an inexpensive, simple product to get some upper body work in
For a no-frills pull-up bar that won't dent your savings account, check out the Perfect Fitness Multi-Gym Pull-Up Bar, which costs less than $40 and, at the time of writing, has a 4.4 out of 5 rating on Amazon with lots of gushing reviews.
This doorway pull-up bar simply mounts to your door frame via a tension rod, securely attaching to doors 27 to 35 inches in length.
I did see some customer reviews complaining about a misfit, but it seems this is due to there being multiple product listings that are slightly different. (There's a Perfect Fitness Multi-Gym Original and Pro—be sure to double-check the product description. Our team tested the original version.)
One thing about pull-up bars that use tension mounting: They're known to slip and cause a fall. I'm happy to report that our product testers didn't experience any incidents using the Perfect Fitness Multi-Gym, which says a lot for an inexpensive doorway pull-up bar.
Because this bar requires no drilling or hardware, you can take it off of your doorframe at any time and use it for floor exercises, such as elevated push-ups. It's also nice that you can simply store it away if you want.
All in all, our product testers were thrilled with the quality of this product for the price. It's not often you can score a piece of gym equipment for less than $40 and feel safe and secure while using it.
Best Power Tower: Weider Power Tower
Good for: Home gym owners who don't want to mount anything and prefer multi-purpose gym equipment
Weider Health and Fitness is one of the most recognizable brand names in the fitness industry—as it should be, having been founded by Joe Weider, one of the fathers of bodybuilding.
Weider fitness equipment is now nestled under iFIT (previously ICON Health & Fitness), which is why the Weider Power Tower comes with a 30-day free membership to iFIT programming. That's great news for beginners who may need assistance learning how to perform exercises on this piece of equipment.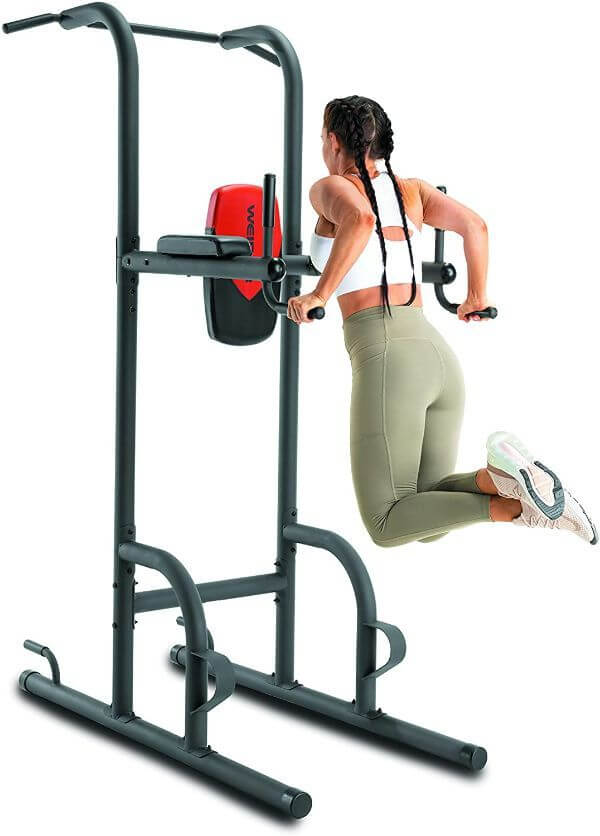 The Weider Power Tower features steel construction and ergonomic padding to support your forearms, elbows, back, and knees during exercises that aren't pull-ups—'cause you can do much more than pull-ups on this power tower.
Thanks to its multi-functional design, the Weider Power Tower supports many movements, including different pull-up variations, elevated push-ups, triceps dips, leg raises, knees-to-chest, and more. It also has anchors for battle ropes and resistance bands.
There's only one big downside to this product, and it's that the tower weighs only 86 pounds. This means it could feel wobbly during certain exercises, especially any kipping movements. However, the low weight also means it's relatively easy to move around, despite the lack of transport wheels.
One thing to note is that this tower has a lower weight capacity than the other pull-up bars on our list. With a max user weight of 300 pounds, some people may not be able to incorporate weighted pull-ups or dips.
Best Freestanding Pull-Up Bar: Fringe Sport Garage Series Squat Rack With Pull-Up Bar
Good for: People who want a squat stand with a pull-up bar
A basic squat stand with a pull-up bar attached can get you a long way. Our team of product testers loves the Fringe Sport Garage Series Squat Rack With Pull-Up Bar because it's simple, sturdy, and versatile.
The pull-up bar itself is a standard straight bar with a 1.25-inch diameter and smooth finish (no knurling). It fits into an adjustable mount on the squat rack uprights, so you can move it up or down by 2 inches. This is helpful for accommodating trainees of different heights—no more standing on plyo boxes if you're short! You can set the pull-up bar anywhere from 82.25 inches to 70.25 inches from the ground.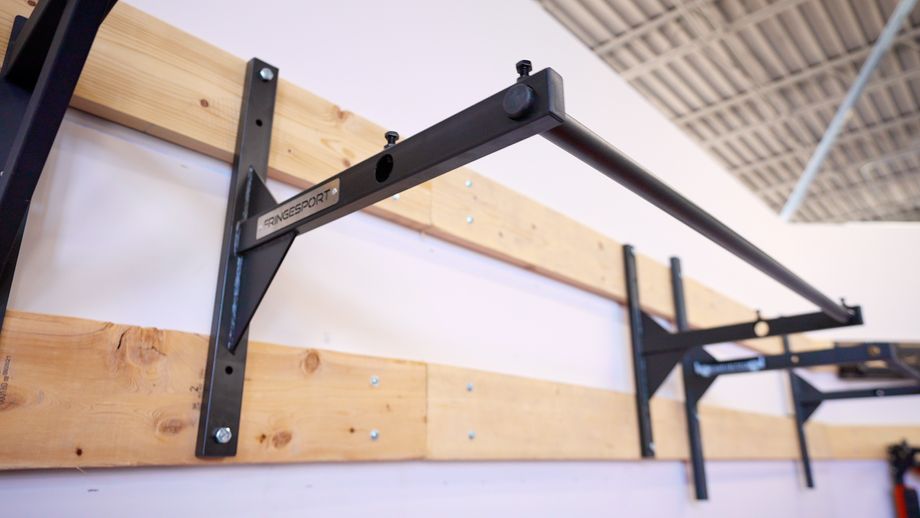 Although the squat stand is made of 2-by-3-inch 12-gauge steel, Fringe Sport recommends avoiding kipping movements unless you bolt the rack into the ground. You can certainly try, but with the rack weighing just 80 pounds, it will likely wobble some, especially if your floor is uneven.
This squat stand includes J-cups, weight horns, and battle rope anchors, too, making it an extremely versatile piece of equipment that allows you to do more than just pull-ups.
Other Pull-Up Bars We Researched and Tested
Iron Gym Total Upper Body Workout Bar: We ordered this popular doorway pull-up bar but found it to be clunky during testing and not as comfortable to use as our budget pick, the Perfect Fitness Multi-Gym bar.
Stamina Doorway Trainer Plus: This is yet another budget-friendly door-mounted pull-up bar with foam grips. In our testing, we determined it wasn't bad, but nothing special.
Ultimate Body Press Ceiling Mounted Pull-Up Bar: A unique ceiling-mounted pull-up bar, the Ultimate Body Press features patented reversible risers and both 16-inch and 24-inch joists. It's an interesting design concept, but ultimately didn't impress our testers enough to make the top list.
OneTwoFit Wall-Mounted Pull-Up Bar: This is a cool quasi-power tower product that takes up no floor space, but a regular power tower is better for most people since it's portable and likely more durable over time.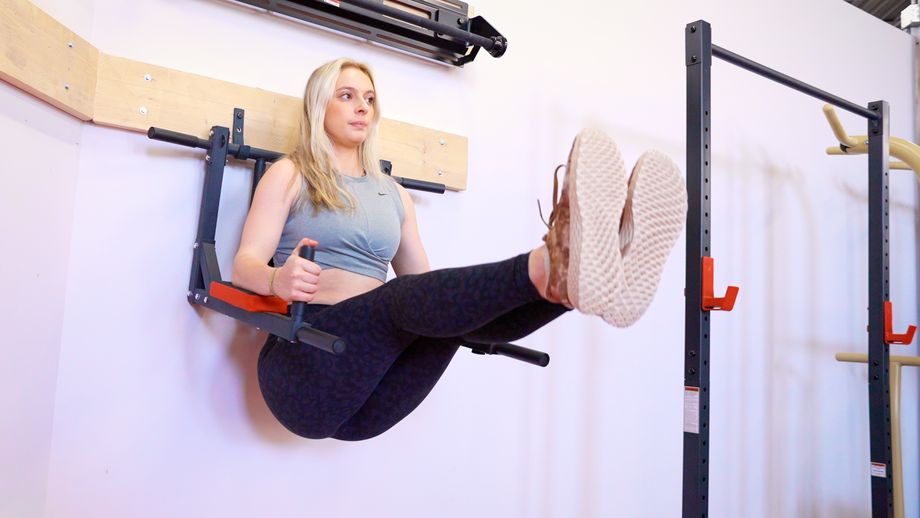 ProsourceFit Multi-Use Doorway Chin-Up Bar: This simple tension pull-up bar didn't feel sturdy during use, and we wouldn't recommend it for anyone planning to do a high volume of pull-ups or weighted pull-ups.
Rogue Fitness P-4 Pull-Up System: The Rogue P-4 pull-up bar is much like the Titan Fitness Wall-Mounted Pull-Up Bar, but it's much more expensive, and we think the Titan one is a better value.
Rogue Fitness P-3 Pull-Up System: The P-3 is a slightly smaller version of the P-4.
Titan Fitness Adjustable-Depth Pull-Up Bar: This is similar to our top pick, the Titan Fitness Wall-Mounted Pull-Up Bar, but we don't think most people need the adjustable depth, since the fixed version has a 34-inch depth to support multiple exercises.
How We Picked and Tested the Best Pull-Up Bars
Our guide to the best pull-up bars started with in-depth research on dozens of pull-up bars available from major equipment manufacturers, as well as Amazon and other retailers.
What we noticed straight away is that many pull-up bars are pretty much the same. (This is just like dumbbells: Most rubber hex and cast iron dumbbells are made in the same factories, but branded differently for varying companies.)
RELATED: Best Adjustable Dumbbells
After sifting through tons of product listings, our team of product testers created a list of pull-up bars to order and test. The pull-up bars were delivered to our product testing facility in Springfield, Missouri, where our facility manager assembled and installed them all.
Our experts then spent several weeks using the different pull-up bars in the testing facility, both in workouts and in isolation. Here are some of the criteria we judge pull-up bars against:
Assembly process and mounting
Grip options
Stability and durability
Weight capacity
Workout experience/variety
Construction
Value
Why You Should Have a Pull-Up Bar in Your Home Gym
Pull-ups are truly one of the best (and hardest) bodyweight exercises out there. A pull-up bar will provide one of the best returns on investment as far as exercise equipment goes: Here's a look at how they can up the ante on your home workouts.
Develop Upper Body Strength
"Pull-ups are one of the most challenging bodyweight exercises you can perform, and, I'd argue, one of the most effective, too," says Nicole Davis, ACE-certified personal trainer and Garage Gym Reviews editor.
"They require significant upper body strength, core strength, and grip strength, and will take your functional fitness to the next level. If you integrate pull-ups into your training program you'll strengthen not only your back muscles—namely the lats—but muscles in your chest, shoulders, arms, and core, too," she explains.
RELATED: Best CrossFit Grips
Increase Functional Fitness
Pulling strength is one of the most crucial skills for developing overall functional fitness, which refers to any type of physical activity or skill that supports you in daily life activities.
Although pull-ups primarily train the upper body, you can use a pull-up bar as part of full-body workouts. Try incorporating pull-up variations into workouts with other functional movements, such as squats, lunges, sit-ups, or push-ups, to increase functional strength and stamina.
Save Space in Your Home
If you're creating your home gym in a small space, a pull-up bar is a great way to incorporate strength training equipment. You can do many exercises on a pull-up bar to build strength, and they don't take up much space (especially if they're on the ceiling).
Easy Access to Exercise
Compared to other types of home gym equipment, pull-up bars aren't as cost-prohibitive or space-prohibitive. Most of our top picks cost less than $150 and are relatively easy to assemble and install.
This makes pull-up bars much more accessible to most people than larger, more expensive equipment such as power cages or cardio equipment. Plus, once a pull-up bar is assembled, it's ready to go at all times—you don't need to do any setup or even press a button to turn it on. No excuses!
How to Choose the Best Pull-Up Bar for You
Consider these factors as you search for a pull-up bar for your home gym.
Mount Type
There are four main types of pull-up bars: ceiling-mounted, wall-mounted, door frame-mounted, and freestanding. The best mount type for you depends largely on your home gym setup and what kind of workouts you intend to do with your pull-up bar.
Wall- and ceiling-mounted bars tend to be the sturdiest, while doorway bars tend to be less expensive but less durable. Freestanding bars are great if you want a multi-purpose piece of equipment that allows you to train multiple muscle groups.
Grip Options
Choosing a pull-up bar with multiple grip positions provides more opportunities for targeting different muscles. For example, wide-grip pull-ups primarily engage the latissimus dorsi (lats), while neutral-grip pull-ups put the rhomboids and rear deltoids under more duress.
Construction and Stability
Not everyone needs a super heavy-duty pull-up bar, but those who intend to do weighted pull-ups, kipping pull-ups, or other intense exercises on their bar should pay close attention to the construction of products they're interested in. The sturdiest pull-up bars will feature steel tubing, minimal bolt-together parts, and hefty mounting brackets.
Weight Capacity
Be sure to check the weight capacity of a pull-up bar before purchasing one, especially if you intend to perform weighted pull-ups. The last thing you want is your pull-up bar to tear through the wall mid-set.
Workout Versatility
There are two factors that create versatility in pull-up bars: grip options and dimensions. With more than one grip option, you can do more than one type of pull-up exercise. And with larger dimensions—particularly greater depth between the bar and the mounting site—it's safer to do kipping pull-ups, toes-to-bars, muscle-ups, and other movements.
Power towers offer even more versatility, with dip stations for working out the triceps and pectorals, plus supports for leg raises and other core exercises. Freestanding pull-up bars double as squat racks, so you can use them for barbell work, too.
Cost
Do you plan on using this pull-up bar on a regular basis or are you only going to use it once or twice a week (if that)? If you're in the first group then spend a bit more on your pull-up bar, but if you're in the second consider decreasing your budget and using the money for things you'll use more often.
How to Use a Pull-Up Bar
The first step to using a pull-up bar is following all manufacturer's directions on properly installing your pull-up bar. That means drilling into studs if required and any other steps to ensure the equipment won't come out of the wall or doorway.
Then, follow these steps:
Stand beneath a pull-up bar, using a platform if you can't reach on your own. Use a box or stool if you can't reach.
Grab the bar with an overhand grip, keeping your hands slightly wider than shoulder-width apart. Wrap your hands all the way around the bar.
Draw your elbows toward your obliques and pull yourself up to the bar by squeezing your shoulder blades back and down while contracting your lats. Pull until your chin passes the bar and avoid rounding your shoulders.
Control your descent and remain on the bar until your elbows and shoulders are fully extended.
Go for another rep or drop yourself down (safely).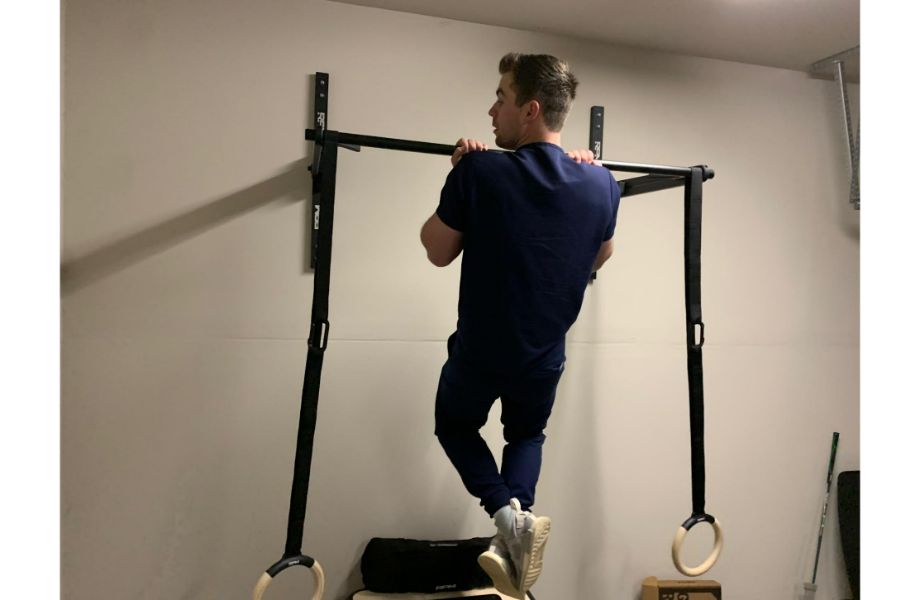 Pull-Up Bars FAQs
Do at-home pull-up bars work?
At-home pull-up bars do work, but it's important to choose the correct type for your home gym setup in order to get the most out of it. For example, if you buy a doorframe pull-up bar but you don't have a standard-width door, it won't do you much good.
What are at-home pull-up bars good for?
Pull-up bars are a great piece of equipment to add to any home gym. They require minimal space and provide great strength training opportunities. Having a pull-up bar at home is a good way to increase your pulling strength and overall functional fitness.
Can you kip on a doorway pull-up bar?
Our team of fitness professionals and product experts does not recommend kipping on a doorway pull-up bar. Door frame-mounted pull-up bars typically aren't stable enough to withstand kipping motions, and you risk damaging your door frame and gym equipment, not to mention injuring yourself. 
Additionally, doorway pull-up bars typically don't leave enough depth between the bar and the doorframe to kip, so it's best to perform this CrossFit movement on a different type of pull-up bar (ideally a freestanding one or a ceiling- or wall-mounted bar with ample depth).
Can you use resistance bands on a wall-mounted pull-up bar?
Yes, you can use resistance bands on a wall-mounted pull-up bar, whether you're using them for pull-up assistance or other accessory exercises. The important thing is to avoid exceeding the weight capacity stated in the product's user manual. 
Can beginners use pull-up bars?
Beginners can certainly use and benefit from a pull-up bar. There are many pull-up variations beginners can do until they gain enough strength to do a full, unassisted pull-up. Some great ways to practice include: using pull-up assist bands, doing pull-up negatives, and performing dead hangs. 
Are doorway pull-ups safe?
So long as the pull-up bar is securely installed and you're not disrupting any foot traffic, doorway pull-ups are perfectly safe.