We test and review fitness products based on an independent, multi-point methodology. If you use our links to purchase something, we may earn a commission. Read our disclosures.
Ripped hands.
Anyone who has done CrossFit for a considerable amount of time has the scars and stories of bloodied palms. It's almost like a rite of passage for some. "Oh, you ripped your hands on those pull-ups? Now you're a real CrossFitter!"
Basic hand care and right-hand protection can prevent you from losing days of training (and painful showers). In fact, I think grips are one of the best CrossFit equipment pieces you can own. That's why I dove into researching the best CrossFit grips and compiled the list below.
Why You Should Trust Us
I have been doing CrossFit for years, and we have two other people on the Garage Gym Reviews team – Kate Meier and Amanda Capritto – who are both avid CrossFitters as well as certified CrossFit L1 Trainers.
We researched around 25 gymnastic grips and legitimately tested almost a dozen of them over the course of 35 workouts. We performed kip pull-ups and other rig work and checked out their ease of use in making transitions between the bar and other movements. Also, we reached out to companies to talk to them about how they made their grips.
Best CrossFit Grips
Best CrossFit Grips Overall: Bear Komplex Carbon Fiber Gymnastics Grips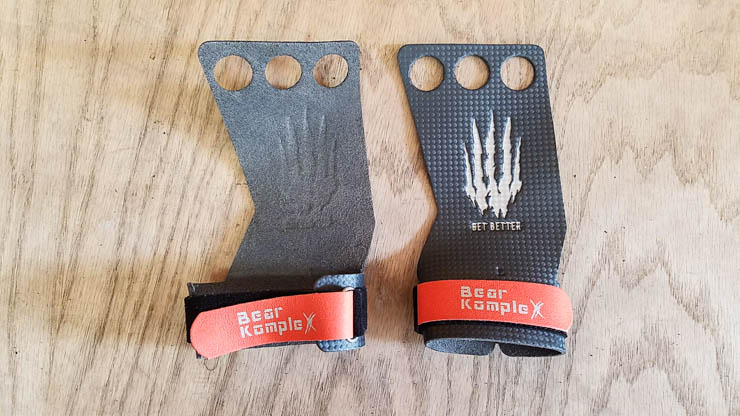 Good for: People looking for a very sticky pair of gymnastics grips
If you're on social media, you've likely seen many CrossFit Games athletes repping the Bear Komplex Carbons. Sure, Bear Komplex sponsors a lot of athletes, but many of them use them because they also like them. The Bear Komplex Carbon Fiber Grips are a clear front-runner when it comes to gymnastic grips. We like the three-hole finger design (though there is also a two-finger option) and highly recommend them over the two-hole style.
However, the best part about the Bear Komplex Grips is the carbon fiber that is both lightweight and sticky. These are the first and only gymnastic grips we've seen using this material, and although we were skeptical at first, the carbon fiber sticks to the pull-up bar better than any material we've used. The Bear Komplex Carbon Fiber Grips are also well built and will last longer than many of the cheaper options on the market.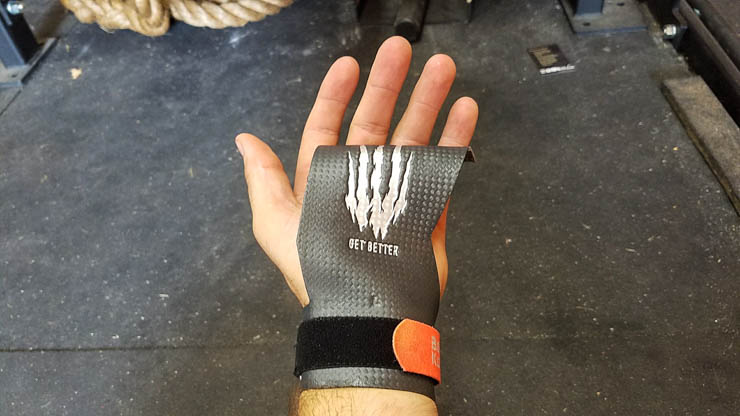 The last benefit of the carbon fiber material Bear Komplex uses is its durability. We used the Carbon Grips quite a bit, and they showed very little wear at the end of testing. That said, the downside to the carbon fiber material was how it felt while using a barbell. Although we enjoyed them during all bar work, when it came to things off the bar or rings, they fell short in comparison to leather.
One improvement we'd like to see with the Carbon Grips is making the finger holes more of a rectangle shape. The circular cutouts dug into our fingers until they began stretching out during the break-in period.
Although we didn't like the cutout holes, we did like the wrist strap. Most of the cheaper gymnastic grips are very uncomfortable around the wrist. However, the Bear Komplex Grips wrap the carbon fiber material around the wrist which keeps the velcro from digging in.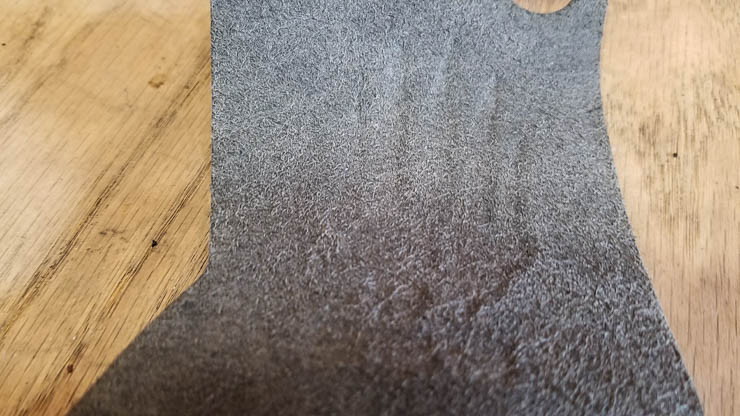 The aggressive angled design of the grips kept the material on the calluses, however, rather than the holes corresponding to the pinky, ring, and middle fingers, they are meant to be on the index, middle, and ring fingers. We've experienced very little wear under our index finger over the years and were a bit confused why they were designed in this way. You can adjust, but it is a bit awkward.
Best CrossFit Grips for More Reps: Victory Grips Tactical
Good for: CrossFitters who want a comfortable, reliable pair of grips that doesn't mess with their grip pattern or style
The 3-Finger Victory Grips Tactical Grips are a newer offering from the brand (previously, we had the Leather Victory Grips in this spot). There is typically one or more Victory Grips products at or near the top of popular gymnastic grips in the world of CrossFit today. The founder, Victor Pellegrino, has spent more time than anyone else in the world refining and creating the best possible gymnastic grips available. He is a gymnast who competed in his sport as well as in CrossFit and Grid League.
We had a chance to speak with Victor on why he perceived his grips to be better than others (we also spoke with other companies), and the passion Victor has for gymnastic grips is likely what caused him to produce some of the best that are currently on the market.
Looking at the brand's products, specifically the three-hole versions, they are a great illustration of how excellent a piece of home gym equipment can be when someone disregards preconceived notions and concentrates on making the best product possible.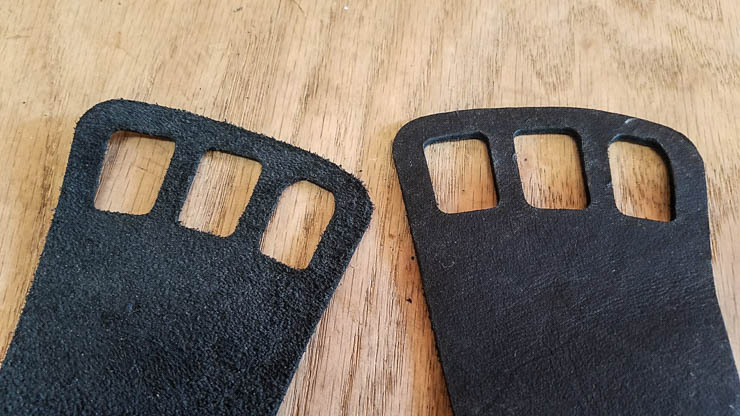 The first thing you'll notice about the Tactical Grips is how thin–yet grippy–the material is. A common problem among gymnastics grips in CrossFit is that the material is too thick and unnecessarily alters the athlete's grip. These also feature a different material than what you'll find in most grips. The outer (the part that goes on the bar) is constructed of a rubber polymer, while the inside (the part that touches your hand) is constructed of a woven Kevlar. Kevlar is a military-grade fabric that resists abrasion and friction.
While these won't grip the bar quite as well as the carbon material found in the Bear Komplex grips, the benefit on the flip side of that coin is the improved grip pattern on the bar and lack of friction between the inside of the product and your hand. Additionally, the fit on these is far and away one of the most comfortable we've tried: Victory Grips' 3-hole pattern with rounded rectangle finger holes is supreme.
The Leather Victory Grips (which we previously rated as our runner up) were one of the first pairs of 3-hole gymnastic grips to come to market. The advantage of the three-finger holes versus two is the design does a better job of covering the hand where calluses typically form as well as keeping the grips from sliding off the hand. Another benefit of leaving the index finger free is it allows for more dexterity for the hook grip during Olympic lifts.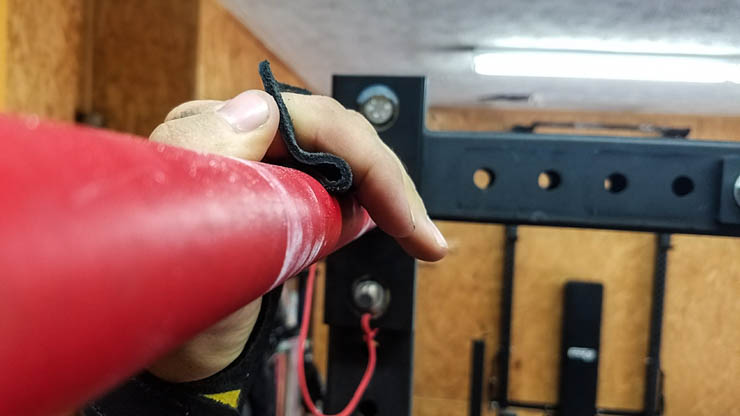 The holes are intelligently designed as well. Rather than the typical circular finger holes, the Victory Grips have rectangular holes with rounded corners to feel comfortable when you hold the barbell in the front rack or during handstand pushups that keep the pressure off the fingers. The design of the grips uses a curvilinear shape on the palm that allows for natural articulation and provides protection during false grip movements (something no other grips we tested had).
These Tactical Grips are available in a fingerless design, too, if that's your jam.
There's an additional thumb protectant on the Tactical Grips, which means you can keep these on during barbell cycling without blistering on your thumb. This is ideal for people who don't want to bother with taking the grips on and off during a WOD that includes both rig work and bar work.
Finally, the Victory Grips Tactical Grips are available in several sizes: M, L, XL, and 2XL for men; and M, L, and XL for women.
Best Budget Crossfit Grips: Rogue V2 Gymnastics Grips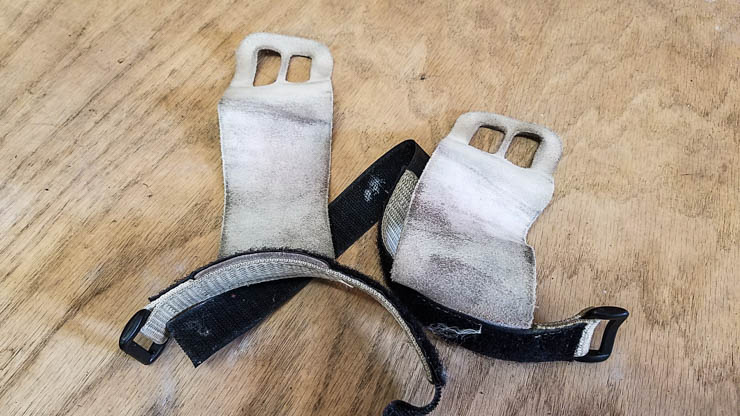 Good for: The budget-conscious shopper who needs hand protection
If you want a decent pair of gymnastic grips that are less comfortable, durable, and grippy, but also less expensive, the Rogue v2 Gymnastic Grips will more than get the job done. I'm a fan of budget-friendly equipment when the product doesn't sacrifice too much for the price. I'd say these grips fall into that category.
Before we set out to test the best gymnastic grips available, these are the only grips I had ever really used. I started with a short pair and then realized after watching videos of Rich Froning and Annie Thorisdottir that a majority of the top CrossFit Games athletes use extra-long grips so they can put a fold over the bar. Once you use a longer pair of gymnastic grips, it's hard to go back to a shorter pair, which is one reason Jaw Grips and Natural Grips didn't rank higher on our list.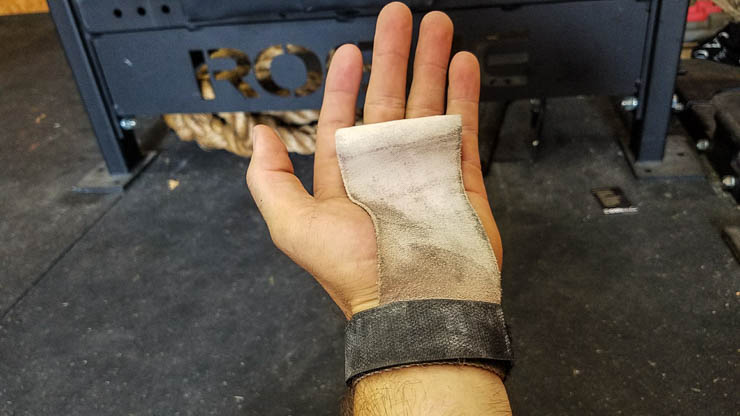 The Rogue V2 Grips feature a 2.5″ wide piece of leather that has suede texture on both sides for hand comfort, as well as extra grip on the pull-up bar. In our testing, the Rogue V2 Grips proved to be a durable pair of gymnastic grips, however, after a while and lots of chalk, the grips did begin to get slippery.
The way the grips fasten to your wrist is through a velcro strap that keeps them in place but is also very uncomfortable on the wrist and can dig in rather easily. The plastic buckle also tends to dig into the skin and is on the same side of both grips.
What this means is, Rogue is not making grips that correspond to your hand, but rather the same design that causes the buckle to sit on different sides of the wrist due to them being the same. Although this is probably great for Rogue in regards to their cost, it's a less than ideal design and should be addressed.
Best CrossFit Grips With Wrist Wraps: JerkFit WODies
Good for: People who need wrist support as well as hand protection
JerkFit claims the WODies to be the first neoprene grips, as well as the first on the market to feature three finger holes. I can't confirm or deny it, but I'm thankful someone introduced it because that's definitely the way to go. The WODies combine wristbands with gymnastic grips. In all reality, they do a pretty good job of protecting the hand while also providing support for the wrist.
The palm covering on the WODies is slightly padded, which creates a kind of a love-or-hate situation. Some people prefer a thinner grip because it potentially creates a better hold on the bar. Others like the padding because the hand feels more protected. That's a personal preference that you really only discover through experimentation.
The material on the grip is a hypoallergenic latex-free elastic. One upside to the construction of the WODies is that you can throw them in the washing machine. However, these come in four different sizes, and you have to cut the finger holes into the size you need. So you'll have to view the brand's sizing chart to get the right fit.

Although we are fans of the JerkFit WODies, we didn't like the fact that you had to use the wrist wraps to be able to use the gymnastic grips. Most people, in our opinion, would be better served to build up the muscles in the wrist to support the hand rather than having excess material do that job.
All in all, the JerkFit WODies are comfortable and do a good job of preventing hand tears in a package that combines wrist wraps with gymnastic grips at a pretty great price.
Best Single-Use Grips: WOD N DONE
Good for: People who just want to try grips or don't use them often
Single-use grips are a great option for those who have a tear and need some last-minute protection, or just want to see what it's like to use grips.
Let's get one thing straight, though: I'm not a fan of single-use grips for people who need grips on a regular basis. That isn't environmentally friendly, it's chaos on your budget, and it's flat-out impractical.
The WOD N Done Grips are basically kinesiology tape in pre-cut packs. They come with three finger holes, which is nice because as we have covered exhaustively, we prefer three holes to two. Also, they are long enough to fit just about any hand; we have seen them on young athletes and on athletes with very big hands.
The bottom of WOD N Dones splits in half to wrap around your wrist to secure the tape in place. To prevent ripping, these actually hold up pretty well. They stay in place and definitely cover the parts of your hand susceptible to ripping.
However, these are pretty expensive for being single-use. Also, we have found them to be a little slick on the pull-up bar but perform better on wood rings.
Best Minimalist Grips: RawGear BAREHAND Gloves
Good for: People who want workout gloves without wearing bulky hand gear
As of this publishing, we haven't personally gotten to try out the Barehand Gloves. However, we see them in gyms all the time and have trusted friends who swear by them.
The people we know who have used Barehand Gloves say they are comfortable and highly effective. They are thin. Like, super thin at just 1.3mm. This is why the people we know who love these say they get a great grip on both the bar and the barbell. In fact, we are told it feels like they almost have direct contact with the bar.
Unlike other CrossFit gloves, one drawback to these is that they don't cover the palm. Most people rip right under the fingers, which is where the Barehand Gloves cover. However, these are really like half-gloves and the palm isn't covered. People who use a full grip on the bar and expose their palms may not get as much from these.
Also, one user reported to us that she experienced rips when the glove slid up on her hand during a workout. One good part of the gloves is that they can fold over to give you a better grip. However, this can also happen during high-rep workouts, which is what this user experienced and reported back to us.
How We Picked and Tested
To compile our list of gymnastic grips, we researched all of the major manufacturers within the industry as well as reached out to industry experts and various forums. In addition to this, we went to Garage Gym Reviews HQ to rank and test all of the gymnastic grips we've used over the years. After researching around 25 different gymnastic grips that were worth your time and money, we narrowed it down to our top picks, all of which we acquired from companies to test out in-house.
There is an overwhelmingly large amount of gymnastic grips available for purchase today. Due to the growth of CrossFit training as well as gymnastics training for adults, the amount of people using gymnastic grips is likely more today than it ever has been.
Price
In our search for gymnastic grips, we found options at varying price points, although it seems that anything above $50 really isn't worth your time as are most of the grips below $20. When it comes to grips, like with other training equipment such as Olympic barbells or squat racks, you typically get what you paid for.
One thing we found with all gymnastic grips was that the lifespan and effectiveness of the grips are increased through the use of sweatbands underneath the grips during use. We highly suggest that no matter what gymnastic grips you purchase, you also get a pair of terry cloth sweatbands to absorb sweat and go under the gymnastic grips.
The gymnastic grips we picked to test could all be considered worth purchasing. Even the ones that didn't make our list have various features that we found to be excellent.
Durability and Construction
We evaluated the overall construction, materials used, durability, warranty, and pricepoint of the best CrossFit grips.
During testing, we performed many different movements in and out of CrossFit workouts, including high rep kipping pull-ups on various pull-up bars, kipping muscle-ups on wooden and plastic rings, strict muscle-ups using a false grip, kipping toes to bar and skin the cats.
In addition to traditional gymnastic-type movements found in CrossFit, we did movements featured in metcons such as handstand pushups, burpees, and dumbbell snatches.
Finally, we asked the opinion of others on which grips they preferred.
Benefits of CrossFit Grips
While CrossFit recently may have popularized the use of gymnastics grips, the truth is that they have been around for decades. Competitive male and female gymnasts use dowel grips all the time, in training and in competitions. This protects a gymnast's hands against blisters as they flip and turn around bars.
We all want to move like Simone Biles, right? So if she is using gymnastics hand grips, you might also want to consider it if you are doing cross-training that involves bar work.
Injury Prevention
By and large, we wear grips to keep our hands from suffering an injury. Simply hanging from a gymnastics bar or rings can give you calluses, but spinning around them when performing kipping movements and muscle-ups can actually cause the skin to tear. Grips shield your hands against that friction. Though be warned – you can still tear even when wearing grips. However, they do minimize those odds.
Better Grip Strength
If you have ever used a slippery pull-up bar, you know how frustrating it is to hang on for a few more reps. Many high-quality gymnastics grips are constructed to actually give you a better hold on the bar. Maybe the grip provides some stickiness that your hands and chalk can't create.
In some cases, grips help with how long you can hold onto a bar by helping to prevent grip fatigue. The strap around your wrist that holds the grip in place should take some of the pressure off your hand muscles, thus, conceivably, lengthening the amount of time you can hang onto a bar.
Cleanliness
Lastly, some people feel a little safer with a grip in between their hands and a pull-up bar or set of rings where other people, possibly strangers, have been sweating or possibly ripping or bleeding. A grip is by no means intended to be a guardian against germs and shouldn't replace sanitizing and hand washing. However, if it gives you a little bit of comfort, then rock on.
What To Look For in CrossFit Grips
There are a few key components of grips you should consider when looking at gymnastics equipment grips:
Construction and Finger Holes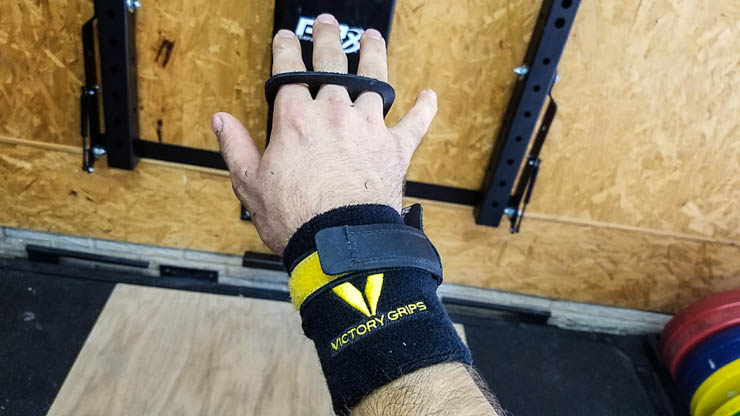 Although the gymnastic grips we recommend aren't the absolute most expensive available, they need to be constructed well to provide a reliable experience over the product's suggested lifetime. The quality of materials and workmanship of the company plays a large part not only in the performance of the grips but also in how long they will last.
One of the key things to look at is how many finger holes there are. We recommend you go with a three-finger pair of grips as opposed to grips with two-finger holes. Three-finger gymnastic grips protect the areas of the hand in which calluses are most likely to form and, therefore, rip; after using the three-finger design, you'll have a hard time going back to the older style.
Materials
Although we found that we preferred durable leather, there were other materials that worked great with varying abilities to withstand high-volume workouts. Our runner-up pick features a carbon fiber material. Victory Grips Stealth Grips – which we also love – use synthetic microfiber that was ultra-light and thin. Genuine leather tends to be extremely comfortable but has its drawbacks, like how to keep it clean. There are products that use silicone and other materials, but we prefer the materials in the products above.
Durability
Gymnastic grips are not designed to last a long time; in fact, a majority of the experts we consulted recommended people who use them often, to replace their grips at a minimum of once a year and most people would be best off replacing them every 6 months. So while we wouldn't say that there are many heavy-duty grips, there are grips that can last that long.
There are many "disposable" gymnastic grips available, and although they are effective during use, their life is much too short, and we don't see a reason to produce so much waste for a product that is inferior to our top picks if you're going to use grips long-term.
Warranty
Although gymnastic grips have a short lifespan, they should at least live up to 6 months' worth of use, and if they don't, the company should have procedures in place to rectify the situation.
Price
The price of the gymnastic grips should be in alignment with the quality and features offered in the gymnastic grips. Value is important, but in seeking the absolute best gymnastic grips for CrossFit, it was of less importance than our other specifications. We found that the ones we liked best fell between $20 to $50 for the pair.
Other CrossFit Grips We Tried and Researched
JAW Pullup Grips: Although JAW Pullup Grips are a popular option, there's a reason you see very few CrossFit Games Athletes use them and that's because they simply don't perform as well as more traditional style gymnastic grips. The JAW Pullup Grips are comfortable, in fact, they're one of the most comfortable pairs of grips we tested, but due to their use of stretchy clots, they don't wrap around the bar like we like to see grips used. The JAW Grips did not require any break-in time as advertised and they will help prevent your hands from ripping if that's a large concern. The JAW Grips were also comfortable during barbell work due to their short and stretchy nature. For these reasons, we like the JAW Grips to avoid ripping but prefer the traditional style for most bar and ring work.
WOD Nation Leather Palm Grips: Priced at just $15 a pair, we don't have much faith that these will be durable or comfortable. In truth, we haven't worn them, as we have found with other grips that when the price dips below $20, quality suffers. These are two-hole grips, which we already don't love. And while WOD Nation promotes that they are great for pull-ups, kettlebell work, and deadlifts, we can't verify that.
Natural Grips: Natural Grips have been a popular option since their appearance on Shark Tank. Although the Natural Grips provide an incredible grip on the pull-up bar and rings, they rip very quickly. Although we got by with a couple of sessions using the Natural Grips, they didn't last nearly as long as they were stated to last, and they're pretty expensive for how quickly you'll have to replace them. If you don't mind spending a ton of money on grips, then the Natural Grips are a decent option, otherwise, simply make your own out of tape.
HumanX Palm Grips: This design will protect your hands, but simply isn't as effective as the more traditional style of gymnastic grips. The wrist is somewhat comfortable, but the big leather pad simply doesn't work very well.
RooGrips: We didn't get a chance to test these ones out, however, based on their design and price we have a good feeling that they aren't to the level of our picks, although we can't say for certain without using them. They feature a thin piece of Kangaroo Leather, but for what they are, they seem to be overpriced at $50.
Fit Four F4G Gymnastic Grips: For the same reasons we don't recommend WODies, these, which are available on Amazon, did not make our top picks.
Victory Grips Stealth Grips: The Stealth Victory Grips take all of the things we really liked about the leather versions and instead uses a very lightweight microfiber material. The Stealth's are an awesome pair of gymnastic grips and give an almost barehanded type of feel. We preferred the leather grips in use, but have talked to many who prefer these. You can't go wrong with either.
Crossfit Grips FAQs
What are the best gymnastics grips?
In our opinion, the Victory Grips 3-Hold Leather Grips are the way to go. The material used on these leather hand grips is among the best we have ever seen, and they perform exceptionally well in-home workouts, CrossFit workouts, and even as a replacement for weight lifting gloves.
What grips do CrossFit athletes use?
CrossFit athletes are a little all over the place when it comes to their preference for grips. In 2018, CrossFit announced a three-year deal with Bear Komplex to be the official grip of the Games, and athletes like Mat Fraser, Tia Clair-Toomey, and Samuel Kwant have worn them.
Katrin Davidsdottir has worn the Rogue V2 grips that made our list, and Kari Pearce has sported the Victory Grips.
It doesn't surprise us that these top athletes are using the grips we found to be among the best.
Are two- or three-hole grips better?
As with anything else, there is generally personal preference here. However, we prefer the three-hole leather hand grips because they tend to better protect your hand where it is most likely to rip.
How big should my CrossFit grips be?
Your CrossFit grips should fit like a glove—not too tight that they cut off circulation or make your hands hurt, but not so loose that they're falling off your hands.