We test and review fitness products based on an independent, multi-point methodology. If you use our links to purchase something, we may earn a commission. Read our disclosures.
CrossFit requires constantly varied movements performed at a high intensity. Therefore, a home gym designed for CrossFit will require varied pieces of the best home gym equipment (due to the intensity and work required) or even CrossFit-style workout programs. These are the pieces of equipment and our suggestions for each to build the ultimate CrossFit home gym.
CrossFit is an awesome training program to increase all aspects of fitness. Although it has exploded in popularity and largely been commercialized, CrossFit started out in home gyms. Many choose to go to a CrossFit Box to train, while others decide to train at home (some do both.)
If you want an ultimate home gym guide to start a home gym and have the ability to perform pretty much all of the movements required for CrossFit, this is the equipment you will need along with our suggestions for where to purchase it based upon your budget.
In order to have a CrossFit home gym, you're going to need quite a bit of equipment IF you want to be able to perform every workout you would at a CrossFit Affiliate. However, if you really wanted to (and who does) you could get away with a barbell, plates, and squat rack. Whatever you choose, here is the best CrossFit equipment for home gyms based upon what we've used and liked, what others we've polled use (including some unsponsored CrossFit Games competitors,) and what we often suggest.
Best CrossFit Equipment for Home Gyms in 2023
Strength Equipment
Bodyweight Equipment
Conditioning Equipment
Miscellaneous
Strength Equipment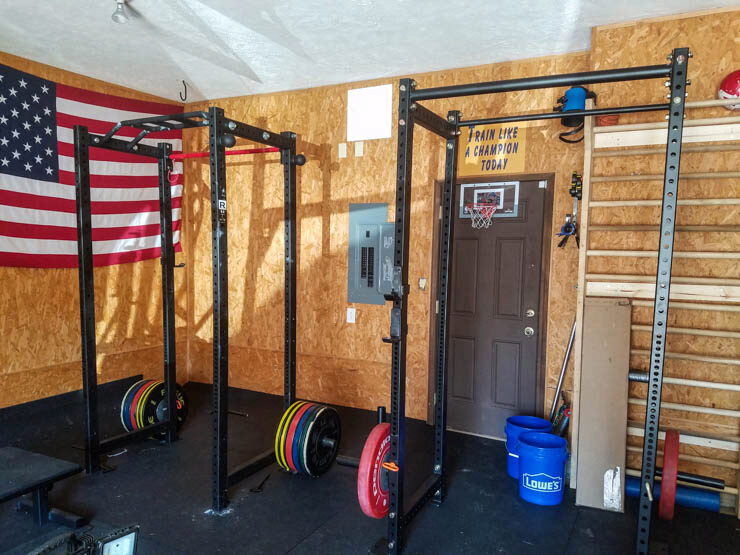 If you're going to have a CrossFit home gym, one thing that is paramount is the inclusion of strength equipment. There's a myriad of different pieces of equipment that will build strength through CrossFit programming, but not all of it will last through the hard workouts day after day.
We chose to include items that are most seen in CrossFit-style programming and are essential to have if you're doing the CrossFit Open.
Best Squat Rack: REP Fitness PR-4000
Good for: CrossFitters looking for a behemoth of a power cage for a reasonable (and customizable) price
Truth be told, CrossFitters really don't need a full power cage with all the bells and whistles. A simple squat stand with a pull-up bar will get it done for the average CrossFit enthusiast. But, that doesn't mean some of 'em don't want one! If you happen to be an avid CrossFit participant and also want a fully decked-out, four-upright power cage, the REP PR-4000 is the choice for you.
This fully customizable, modular power rack is designed to grow with you, meaning you don't have to buy all of the attachments at once. (In fact, there are so many available attachments that you probably won't ever buy them all.) But as your skillset expands and strength increases, you can purchase accessories a la carte to accommodate your growing needs.
Notably, the PR-4000 is constructed of thick 11-gauge steel, which should be music to any CrossFitter's ears. In practice, this means that the PR-4000 won't shake, sway, or wobble even as you re-rack your back squat PR.
Read our full REP Fitness PR-4000 Power Rack review.
Best Budget Squat Rack: Titan Fitness T-3 Power Rack
Good for: Athletes who need a strong, sturdy power rack and who are on a budget.
Okay, let's say you want a power cage with four uprights but you don't need (or don't have the space or money for) something like the REP PR-4000. Well, our next recommendation would be the Titan Fitness T-3 Series Squat Rack, which is a full cage with 11-gauge steel construction, but without all the fancy-schmancy attachments on a higher-end rack.
Still, thanks to the basic 2-inch-by-3-inch frame, most rack attachments (from any brand) will fit on the Titan T-3.
Aside from its simplicity yet sturdiness, we especially love the T-3 for its budget-friendly value proposition. Point blank: You probably won't find a better product with a starting price of about $520.
Finally, we'd be remiss not to call out the customizability of the T-3. You can choose from two height options (82 or 92 inches), two depth options (24 inches or 36 inches), and three colors (blue, red, or black).
If you're looking for the best budget home equipment and are on a strict budget, the Titan T-3 is the power rack to get.
Best Squat Stand: REP Fitness SR-4000
Good for: CrossFit athletes who don't want a full power cage and instead prefer a simple stand
A squat stand, as opposed to a squat rack, is an apparatus with two uprights instead of four. Squat stands typically have a lower weight capacity than a full power cage, and they don't always have a pull-up bar.
For CrossFitters, we love the REP Fitness SR-4000 squat rack because it has a higher weight capacity of 1,000 pounds and it includes a pull-up bar across the top.
Constructed of 11-gauge steel with 3-inch-by-3-inch uprights, this squat stand won't let you down in terms of durability and stability. Our main complaint with the SR-4000 is its behemoth size—for a squat stand, the 71.4-inch depth is wild—but the bigger size does lend itself to improved stability, which CrossFitters will be thankful for during kipping WODs.
Read our full REP Fitness SR-4000 Squat Rack review.
Best Barbell: Rogue Bar 2.0
Good for: Those who want a versatile barbell
The Rogue Bar 2.0 is one of the most popular barbells in the world. Combining Rogue Fitness' attention to detail, outstanding customer service, and large manufacturing power, the Rogue Bar 2.0 can perform for nearly every movement or training style imaginable.
Not too long ago a barbell featuring 190k PSI tensile strength steel, a bushing rotation system, and a high-quality knurl with a lifetime warranty would have cost you nearly $1,000. Thankfully, due to the growth of home gym owners and the popularity of CrossFit, there are now a seemingly endless amount of high-quality CrossFit barbells for under $300.
Best Budget Barbell: Fringe Sport Wonder Bar Olympic Barbell
If you'd rather not spend more than $200, although we'd suggest you do, the Fringe Sport Wonder Bar Olympic Barbell is a more than capable quality barbell from a company with an excellent reputation in the CrossFit training space. The Fringe Sport Wonder Bar features 205k PSI tensile strength steel, a 28mm shaft, and a black zinc coating on both the shaft and sleeves.
The Rogue Bar 2.0 ranks above the Wonder Bar and others, the smaller 28mm shaft and black zinc coating on the sleeves are less than optimal for the majority of trainees. The Wonder Bar does feature a lifetime warranty and although we don't believe Fringe Sport is as capable of servicing warranties as Rogue Fitness, they are a company we trust. Put simply, for $200, the Wonder Bar from Fringe Sport is a good barbell at a great price.
Best Luxury Barbell: Rogue Ohio Bar
The Ohio Bar and Rogue Bar 2.0 from Rogue Fitness are very similar bars. For this reason, we recommend the Rogue Bar 2.0 due to its lower price point for what is essentially the same bar. However, if money is not a worry and you want a bar that will best withstand corrosion, we recommend the stainless steel version of the Ohio Bar from Rogue Fitness as a step above our top pick.
The majority of people do not need to spend $350 on a barbell for CrossFit training and the benefits of stainless steel are not vastly superior to traditional barbell steel. This said the corrosion resistance of stainless steel along with the superior knurling (due to no coating) are great to have if you're looking for a general-purpose barbell and the increased cost is not an issue for you.
Check out my Rogue Fitness Barbell review for more details.
Best Dumbbells for CrossFit: Living.Fit Dumbbells
Good for: People who want to train with high-quality fixed dumbbells
Dumbbells are one of the most versatile training tools for CrossFitters, or any athlete for that matter and the Living.Fit dumbbells are one of the best-value strength training equipment on the market. Yes, they're more expensive than an adjustable dumbbell but we recommend fixed dumbbells for CrossFit because they're more durable and don't require adjustments in the middle of a set.
"I have a set of 50s, which I have used dozens of times for dumbbell deadlifts, push presses, and step-ups," says Kate Meier, Garage Gym Reviews head of content and USA Weightlifting Level 1 Trainer. "They are like most rubber hex dumbbells in terms of grip, shape, and quality."
One thing that separates the Living.Fit dumbbell from others is the sloped handle that allows for a more comfortable grip. The rubber heads not only protect your weights but will also ensure no cracks show up on your floors after multiple clean and jerks.
Best Cheap Barbell: Cap Barbell OB-86B
The Cap Barbell OB-86B is generally regarded as one of the best Olympic barbells for under $200. Although the OB-86Blacks many of the features of our other picks such as a high-quality knurl, minimum 190K PSI tensile strength steel, and lifetime warranties, for around $150 (it can often be had for less during sales), it's a pretty decent bar for CrossFit training.
The Cap Barbell OB-86B features polished steel sleeves with a black oxide finished shaft. The knurling is a bit aggressive and the spin is mediocre, but it's what you'd expect for the price. Featuring nearly 500 Amazon Reviews with an overall rating of 4.5/5 stars, the OB-86B is a decent bar for personal use. We consider the OB-86B to be more in the beater bar category and if you don't want to damage your more expensive bars, this may be the perfect dedicated rack and landmine bar to supplement your barbell arsenal.
Best Flat Bench: REP Fitness FB-5000
Good for: CrossFitters who want the best value bench for a CrossFit home gym.
Not that benching is a CrossFitter's forte… But we still thought we should include a best weight bench pick for then they have to do suitcase step-ups and such…
All jokes aside, the REP Fitness FB-5000 flat weight bench is a solid pick and it is our top pick for CrossFitters because of its second-to-none value proposition. As implied, CrossFit athletes don't need to invest in an ultra-high-end weight bench like a powerlifter might. A CrossFitter simply does not need to bench press at the volume and load that a powerlifter does.
We chose the REP Fitness FB-5000 as the best flat bench for CrossFit because it's more than sturdy enough to support bench pressing CrossFit-style, but also other movements a CrossFit athlete might do with a bench—like barbell hip thrusts, step-ups, and decline push-ups, to name a few.
This bench features a single-post design and is available in both a 12-inch or 14-inch width to accommodate differently sized athletes. The vinyl cover could be grippier, but none of our testers have had issues with slipping around.
Read our full REP Fitness FB-5000 review.
Best Budget Flat Bench: Titan Fitness Flat Weight Bench
Good for: CrossFitters who don't plan on benching very heavy and just need a basic (but good) bench for a solid price.
This one is for the CrossFitters who fully succumb to the "CrossFitters don't bench" ideal. This bench will get you through your (maybe) once-a-month bench sessions, plus all of the other CrossFit-y things you might use a bench for.
The Titan Fitness Flat Weight Bench features a high weight capacity of 1,000 pounds for a very palatable price point of just $150. As we mention in our guide to the best weight benches, the Titan flat bench could definitely stand a bit of zhuzhing up, but you probably won't find better for the price, if we're being frank.
In addition to the great weight capacity, this bench features a thick bench pad, grippy vinyl, and a four-foot design for supreme stability.
Read our full Titan Fitness Flat Weight Bench review.
Best Bumper Plater: Fringe Sport Bumper Plates
There are many options available for CrossFit training, but in our experience, the Fringesport Bumper Plates are the best bumper plates for most people. Featuring a unique construction, high-quality virgin rubber, and easy-to-see weight identification, the Bumper Plates from Fringe Sport are the best value available.
Fringe Sport has made it their mission to make the best bumper plates available and they do by creating a center collar that is molded into the rubber rather than added after the molding process (how most companies create bumpers) that leads to fewer broken plates. In fact, you can even drop the ten-pound plates from overhead without much of an issue. For the value, these are the best available and are used by many CrossFit Affiliates around the world.
Best Budget Bumper Plates: Titan Fitness Bumper Plates
If you simply want a cheap pair of bumper plates to either figure out if you're going to stay with working out at home or don't have the money, the Titan Bumper Plates are what we suggest. They're a no-frills plate that will provide decently accurate weight measurements and should hold up to most workouts. This said, due to bumper plates getting so much use in CrossFit workouts, we would suggest spending more money here, on a good barbell, on a good rack, and then sacrificing in other areas.
Although these bumper plates should provide years of use, Titan Fitness suggests that they are not intended to withstand being dropped or thrown to the floor. Also, the warranty for Titan products is limited to one year and is at the discretion of Titan Fitness.
Best Kettlebells: REP Fitness KG Kettlebells
Good for: People who need a reliable set of kettlebells that won't slip from sweaty hands
You might think: A kettlebell is a kettlebell. Well, you'd be wrong (as evidenced by our guide to the best kettlebells). A good kettlebell, like the REP Fitness KG Kettlebells we recommend, will have a strong powder coat to prevent the inner cast iron from corroding, plus have clearly marked weight indicators and a handle with ample room for two fists.
These REP Fitness KG Kettlebells come in 18 different weight options ranging from 4 kilograms (9 pounds) to 48 kilograms (106 pounds), so one set will allow you to do everything from Turkish get-ups to heavy farmer's carries.
My favorite thing about these kettlebells is the completely flat base: No matter how you set these down mid-WOD, they won't roll away or topple over onto your toes.
Best Budget Kettlebells: Fringe Sport Premium Kettlebells
Fringe Sport ranks as one of the cheaper options, however, much of their equipment is top-notch. Their kettlebells are a prime example of this. For instance, the texture on the kettlebell is specially designed and exclusive to Fringe Sport that works great with or without chalk. The weight of their kettlebells is also guaranteed to be within their ranges and nearly all of their equipment includes free shipping, including their kettlebells.
Fringe Sport also has a reputation similar to Rogue for their great customer service and willingness to work with customers during any warranty or return issues. Most people will want at least one 53 lb kettlebell and Fringe Sport sells theirs for $79 shipped. That's hard to beat no matter where you shop.
Best Medicine Ball: REP V2 Medicine Balls
Good for: Anyone who wants durable, long-lasting medicine balls for CrossFit WODs
Similarly to kettlebells, one might think that any medicine ball is a good medicine ball. This is even more egregious than thinking any kettlebell is a good kettlebell! (Look, we know we are equipment snobs, so at least let us help you with our arguably excessive knowledge set).
For realsies, though, a poorly made medicine ball could burst at the seams, sprinkling you with sand, fluff, or plastic beads mid-wall ball set. The REP Fitness Medicine Balls won't do you like that, though (cue Tom Petty's "Don't Do Me Like That").
Featuring double-reinforced seams and a double-lined shell, these med balls are hand-stuffed and stitched with thick threading. They retain their shape, unlike many other wall balls, after long periods of use. Additionally, they come in vibrant colors so it's easy to identify the weight you want to use for a given WOD.
Best Budget Medicine Ball: Fringe Sport Medicine Ball
Fringe Sport has gone through four different iterations of their medicine balls and their current offering is the best one yet. It has a PVC exterior and double stitch lacing to keep all of the contents inside. The weight is packed solidly and evenly distributed to prevent lumps from forming within the ball. Fringe Sport also offers a one-year warranty on the ball that is pretty standard.
The graphics on the Fringe Sport Med Balls are a digital camo that allows it to stand out from the competition yet still look clean. These medicine balls will not be as durable as our top pick, but for home use, they should have no problem providing years of use, although we would suggest avoiding using them as slam balls as they can get lumpy rather quickly.
Best Weighted Vest: TacTec Plate Carrier
The TacTec Plate Carrier from 5.11 Tactical is such a great piece of training equipment that it was one of the few pieces of equipment not made by Rogue Fitness that was used in the 2016 and 2017 CrossFit Games. There are many great weighted vests available, but what separates the 5.11 Tactical Vest from others is the back yoke shoulder pads and secure fit during workouts.
The 5.11 Tactical TacTec Plate Carrier is our pick for the best-weighted vest for CrossFit for many reasons, but to sum it up best, this is the vest that feels the least cumbersome. No matter what, if you're wearing twenty extra pounds, you're going to feel it. However, after using multiple weight vests, it becomes pretty apparent that most vests tend to ride up and even can hit you in the face during sprints as well as kipping pull-ups. The 5.11 Vest does a great job of providing breathability, comfort, and a secure lockdown for the vest we believe is the best available.
If it matters to you, the 5.11 Vest can also be doubled as armor for tactical use and it looks pretty cool whether you're using it for workouts or to protect your life.
Best Budget Weight Vest: WODmaster Weight Vest
Pretty much all CrossFit workouts involving a vest call for a weight of 2o pounds. Murph, Clovis, you name it, the RX weight is going to be 20 lbs. WODmaster took that into consideration when creating their weight vest because it's 20 pounds, no less and no more. The advantage of this is everything is secure and the vest has a much closer fit. It's also a lot less expensive than others on the market, especially during sales periods like Labor Day or Black Friday. For less than $100 shipped, the WODmaster could be on your doorstep ready for pain. Sure, it's not as glamorous or adjustable as our top pick, but it will get the job done and should be able to do so for many years.
The biggest benefit besides the price of the WODmaster is its ability to hug the body closely. It only takes one workout with a loose-fitting weight vest to realize the importance of fit during training. Your mind should be focused on the workout, not your equipment. For these reasons, the WODmaster Weight Vest is our budget pick.
Bodyweight Equipment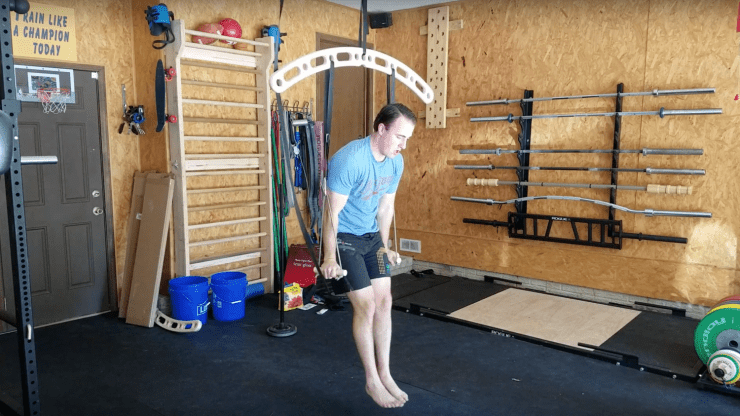 Although weights are used often in CrossFit, there's no denying that many times there is nothing needed but your body weight. Box jumps, pull-ups, GHD Sit-Ups, and Muscle-Ups all require equipment to be performed despite your body being the only weight that' used.
Although there are an insane amount of machines that could be used, we went ahead and picked the ones most used and chose our favorites based upon those. Don't let them fool you though, just because it says a bodyweight workout does not mean it won't be difficult.
Best Plyo-Box for CrossFit: REP Fitness 3-in-1 Soft Plyo Box
The REP Fitness 3-in-1 Soft Plyo Box is the best plyo-box we've used yet. It features a wooden frame with a firm foam outer shell that provides both stability and increased safety during failed box jumps.
The Rep 3-in-1 Soft Plyo-Box is by far the best plyo-box on the market. It's inexpensive in comparison to full foam boxes, easy to move, has a nice grippy outer shell that still performs well with lots of sweat on the surface, and looks great. Whether you plan to do high rep box jumps or stepovers, this box is perfect for CrossFit. The more expensive, all foam boxes are fine, but they're heavy and end up sagging over time. This box should prove to last much longer and we've loved having it in the gym.
If you'd like to see more of our thoughts on this plyo-box, REP Fitness 3-in-1 Soft Plyo Box review here.
Best Budget Plyo Box for CrossFit: REP Fitness 3-in-1 Wood Plyo Box
If you're looking for the traditional style wooden plyo-box that is found all across the world in CrossFit Affiliates, we'd suggest you make your own. However, if you'd rather purchase one knowing it will last, we suggest the Plyo Box from REP Fitness.
The REP Fitness Plyo-Box features the standard Games-Style dimensions of 20/24/30 inches and is easy to put together. It's also a pretty cheap option considering the price includes Prime Shipping from Amazon. Although the box is made of wood, it will be very sturdy, fit precisely during assembly (they're CNC machined,) and not too difficult to maneuver thanks to the included cutout handles.
The box also features internal bracing that keeps the sides from warping during jumps and the burned-in logos not only look professional but provide easy identification for the height of the box you're using. All in all, the Rep Fitness Plyo-Box is a great wooden box for the budget-minded.
Best Glute Ham Developer for CrossFit: Rogue Fitness Abram GHD 2.0
The Rogue Abram GHD 2.0 is the best GHD on the market today. After using it for all sorts of workouts including the ever-popular CrossFit movement, GHD Situps, we are confident in saying that this is the best value GHD available.
Rogue has taken their usual attention to detail and made the Abram GHD 2.0 an absolute beast. In our testing, we found that there was very little that could shake the Abram, regardless of the user's weight. One feature of a higher-end GHD that is very important is the padding that's used on the top as well as the rollers. Cheaper GHD's padding will deflate and deform easily over time. This creates difficulty during use and will eventually lead to having to find replacement pads.
The roller assembly is not only easy to adjust, but also provides accurate distances and heights. If you'd like to use accommodating resistance, band pegs can be inserted in the legs similar to Rogue Racks. All in all, there is not a better GHD on the market.
See our full Rogue Abram GHD 2.0 review here.
Best Budget Glute Ham Developer for CrossFit: Titan Fitness GHD
The Titan Fitness Glute & Hamstring Developers is our budget pick for those wanting a GHD, but not wanting to spend a lot of money. In typical Titan Fitness fashion, they have taken a Rogue design, removed many of the frills, and created an equally effective GHD.
The Titan Fitness GHD has the same functionality as the Rogue Abram 2.0. This includes the same foot roller adjustment system, pad height, and even the same look. The pads and rollers on the Titan GHD will not be as firm or resistant to warping and the overall unit may be less stable, however, for most home gyms this is all you would ever need.
Titan Fitness has included wheels on the back for easy mobility and although the unit is powder-coated, it could use some improvements. One thing we like about the Titan Fitness GHD over the Rogue Abram 2.0 is the ability to purchase a wider footplate that can be nice for people who like to set up with a wider stance.
The Titan Fitness GHD may be cheap in price in comparison to Rogue, but it's just as capable of building a strong core and posterior chain.
RELATED: How to Build a Budget Home Gym with Titan Fitness Equipment
Best Pull-Up Bar: Rogue Fitness P-4 Pull-Up System
If you're going to be doing CrossFit-type workouts, one thing you're going to definitely need is a pull-up bar. Whether you're going to be doing kipping pull-ups, muscle-ups, ring dips, or just want a place to hang for stretch purposes, the pull-up bar you purchase needs to be able to withstand a lot of use.
The Rogue P-4 Pull-Up System is the best pull-up bar on the market today. It's strong, farther away from the wall than most pull-up bars which allow more space for kipping pull-ups and it's expandable.
If you choose one of our suggested squat racks, you don't need a separate pull-up bar. However, if you want a separate bar for other people working out or just more workout versatility, the Rogue P-4 Pull-Up System is our suggestion.
Best Budget Pull-Up Bar: Titan Fitness Pull-up Bar
Our budget pick is the Titan Fitness Pull-up Bar. Feature very similar construction and features as our top pick, there's really not much reason to purchase the Rogue P-4 unless you need the ability to expand the pull-up system or prefer shopping with Rogue.
The Titan Pull-Up bar features a nice powder-coat finish that grips well with chalk and has a 30″ distance from the wall that is perfect for any type of kipping movement you would like to perform. At under $80, this pull-up bar is hard to beat, but don't let its price fool you. It's a capable pull-up bar with great reviews that is able to take just about any type of workout you can throw at it.
One thing we would suggest is making sure the pull-up bar is mounted into studs. If not, you could not only damage the wall but could easily hurt yourself, especially during kipping movements.
Best Gymnastics Rings: Fringe Sport Competition Gymnastic Rings
One reason we recommend the Fringe Sport Competition Gymnastics Rings despite them being some of the least expensive available is due to the strap buckles, wood finish, and diameter options. The last thing you want when using gymnastic rings is for the buckle to fail and send you to the ground.
The buckle on the Fringe Sport Gymnastics Rings is heavy-duty, while the wood finish is smooth, unlike many competitors. Finally, the FID ring standard (the one used in the Olympics) is a 28MM or 32MM Diameter. Most of the cheaper gymnastic rings have a thick diameter which may seem small, but regarding a set of rings, it's definitely noticeable.
The wider gymnastics rings are available to purchase for a couple of bucks more if that suits your fancy, but we'd suggest for everyone but those with monster mitts to purchase the 28MM diameter variety. There isn't much separating various types of gymnastics rings, so we'd suggest going with the ones that are priced well, and these are.
Best Budget Gymnastic Rings: Titan Fitness Gymnastic Rings
If you have no interest in wooden rings or would like something more durable and able to weather the elements, I'd suggest the Titan Fitness Gymnastics Rings.
We have tested the Titan Gymnastics Rings in all sorts of workouts and situations including things like leaving outside and taking on trips. I much prefer wood for its ability to take chalk, but we've had no qualms with the Titan's and to make up for the lack of grip, you can easily wrap them in hockey tape.
The straps on the Titan Gymnastics Rings are somewhat short and thin compared to competitors, but for the price, they're hard to beat. Not to mention they should last forever.
Conditioning Equipment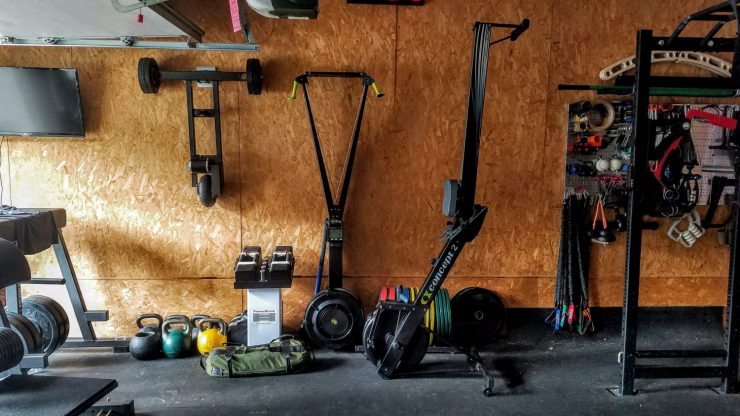 One part of CrossFit that you can avoid no matter how much you'd like is conditioning. Whether it's interval training or simply throwing in some conditioning during metcons, you're going to want conditioning equipment that is not only effective but is going to take the abuse you can throw at it.
Go into any CrossFit Affiliate and the equipment you'll see will be rower machines, exercise bikes, and sleds. If you want to compete in the CrossFit Open you'll need to have specific pieces of equipment and those are the ones we recommend here.
Best Rower: Concept 2 RowErg Rower
Without a doubt, the Concept 2 Rower is the best rowing machine available today. Whether you are wanting to use it for CrossFit or any other training, there is not a better rower at any price.
After using Concept 2 over the course of 5 years, we are confident that not only is the Concept 2 Rower effective, but it's also extremely durable and reliable. Requiring very little maintenance or care is one reason it's become the standard for CrossFit Affiliates as well as the CrossFit Games. The simple design of the flywheel with a damper setting, an easy read-out screen, and wheels for easy portability is just a portion of the reasons we recommend the Concept 2 Rower.
One reason the Concept 2 Rower is so effective is that rowing is a total body workout. Whether you want to go long, short, do intervals, or mix it in with metcons, the Concept 2 Rower will provide an effective workout and improve the conditioning of anyone using it.
RELATED: Rowing Machine Workouts
If you want one of the best conditioning equipment pieces available that will not only last but also have incredible resale value, we recommend you purchase the Concept 2 RowErg Rower.
Best Budget Rower for CrossFit: Xebex Air Rower
The Xebex Air Rower is our budget pick for those looking for a good rower at a great price. The Xebex Rower is not as polished or durable as the Concept 2 Rower, but it is an effective piece of conditioning equipment and gets the job done at a lower price than the Concept 2 Rower.
We've reviewed the Xebex Rower in-depth, over 3,500 words to be exact, and after using it over the past two years, we still stand by our review that the Xebex Rower is a worthy contender to the Concept 2 Rower at the right price. The Xebex Rower sits higher than the Model D which many like and folds up in a different way that we found to be a bit more compact than the Concept 2. The calories are also counted similarly to the Concept 2 so it can be used in different competitions or alongside the Concept 2 rowers.
One thing we would like to see improved on the Xebex Rower is the monitor. The monitor does a good job of tracking things, however, it can be difficult to use and just simply isn't as user-friendly as the Performance Monitors on the Concept 2 Rowers.
If you're on a budget and need a rower, we suggest the Xebex Rower.
See my full Xebex Air Rower review here.
Best Air Bike: Rogue Echo Bike
If you haven't heard yet from the thousands who've bought one, the Rogue Echo Bike is the best air bike currently available. Featuring a belt-driven system that is prone to fewer problems than chain-driven systems as well as an easy-to-read monitor and premium materials used throughout, there is not a better air bike currently being made.
We've reviewed the Rogue Echo Bike in-depth in the past, and after using it over the course of nearly two years, we are just as impressed with it as we were on the day we received it for review. Despite having to do constant maintenance on every air bike we've used with a chain-driven system, we have had zero issues with the Echo Bike and believe it's in large part due to the use of a rubber belt (seen in cars and on higher-end bicycles.)
The monitor on the Echo Bike features every type of metric you'd like to track and does so in an easy-to-read and navigate the menu. The handles of the Echo Bike feature a rubber sleeve for gripping, the footpegs are durable, and the wheels allow the air bike to be easily maneuvered.
The Rogue Echo Bike is not like the Airdyne's of the past. It's made for high-intensity work and should be more reliable than any other air bike.
If you'd like to see our full Rogue Echo Bike review click here.
Best Budget Air Bike: Assault Air Bike
Our budget pick for the best air bike for CrossFit is the Assault Air Bike. Although we've reviewed a very similar bike in the past and usually recommend it, we believe that due to the Assault Bike being used in CrossFit more often and the bikes being the same price currently that the Assault Air Bike is the best budget option for most reading this.
The Assault Air Bike was the first air bike to take the original Schwinn Airdyne design and make it more durable for the CrossFit market. However, even though Assault updated the looks and materials, they kept the same chain-driven system which is the cause of so much frustration by original Schwinn Airdyne owners.
Despite the Assault Air Bike using a chain drive, we are fans of the monitor that is easy to use and navigate as well as the overall build of the machine. If you plan on competing in the CrossFit Games, this is the bike you should probably train on due to its constant use in the Games.
If you want a good air bike at a lower price than our top pick and plan on using it for CrossFit, we suggest the Assault Air Bike.
Check out my in-depth Xebex Air Bike review and also see my comparison of the Rogue Echo Bike vs. Assault Air Bike.
Best Sled for CrossFit: Rogue Echo Dog Sled 1.2
The Rogue Echo Dog Sled 1.2 is our pick for the best sled for CrossFit. After using the Rogue Dog Sled for various workouts such as sprints, drags, pulls, and pushes over the course of a year, we are confident in recommending the Rogue Dog Sled 1.2 for those wanting a versatile sled for CrossFit Training.
The Rogue Dog Sled is the standard by which all other sleds are measured. It's compact, heavy-duty, and highly versatile for any sort of workouts you can throw at it. Although we've reviewed many different sleds and prefer ones that are on wheels due to how quiet they are, such as the Armored Fitness XPO Trainer Sled, for someone training for CrossFit, when the Rogue Dog Sled 1.2 released it was the most versatile option.
Featuring two removable posts, signature Rogue black powder-coating, many different attachments, and heavy-gauge steel runners, the Rogue Dog Sled is the best available. There are nearly ten different additional attachments available for customizing the Dog Sled for a seemingly endless amount of use, all sure to put you in the hurt locker.
Best Budget Sled for CrossFit: Rogue Slice Sled
The Rogue Side Sled is a very versatile, highly compact sled at a great price; for these reasons, it's our budget pick.
Our top pick is a large sled. Although you can drag it, it will be less than optimal as the starting weight is high and it's fairly large. The Slice Sled was Rogue's answer to a sled that can be used both for drags and sprints. The Slice Sled features the signature Rogue powder coat with two removable handles (the same ones as our top pick) as well as an included sled strap and carabiner.
Whether you want to do sled drags, rope pulls, or traditional prowler sprints, these can all be accomplished with the Slice Sled despite its compact form. For you home gym owners, storing the Slice Sled is one of its best benefits as it utilizes the same foldable post as seen on the Rogue E Sled.
If you're looking for a smaller profile sled and are on a budget, the Rogue Slice Sled is our suggestion.
Best Jump Rope for CrossFit: Rogue SR-2S 2.0 Speed Rope
The Rogue SR-2S 2.0 Speed Rope is the best jump rope/speed rope for CrossFit currently being made. We have reviewed all of the top options for speed ropes and although we love the variety of ropes available, we always go back to the SR-2.
The SR-2S 2.0 features knurled, aluminum handles that provide excellent grip in a thin and comfortable form factor. Although there are many ropes using grips, we prefer the feeling of knurling similar to what you find on barbells and love the small amount of maintenance the SR-2S requires compared to others. They also come in many different colors and with the option for a coated cable or bare steel. If you want increased speed, we suggest choosing the bare cable, although be aware that misses will sting.
If you don't plan on doing double-unders, then we suggest staying away from a speed rope, however, we haven't found a better feeling and performing speed rope than the Rogue SR-2S 2.0 Speed Rope.
Best Budget Jump Rope for CrossFit: Rogue SR-1 Speed Rope
If you don't want to drop a lot of change, but want a quality speed rope for double-unders, we suggest the Rogue SR-1 Speed Rope.
The SR-1 features durable nylon-resin handles that are unlikely to break, four Hi-Precision Cartridge Ball Bearings per rope that spin smooth and consistent, and a red-coated speed cable that whips around as fast as someone would ever want.
The handles on the SR-1 are a bit longer than most available which some have found to help in teaching the wrists to turn the rope rather than the shoulders. The SR-1 is a more than capable speed rope that should last through many workouts and when the cable does end up fraying, they're easily interchangeable.
Miscellaneous
There's a never-ending amount of gym equipment that can be purchased for use in training. Although we've tried to include as much as possible, there are still things that get left out.
Here are some miscellaneous things you'll want for your home gym.
Best Barbell Collars: Rogue Fitness OSO Collars
Rogue has taken the best barbell collars of all time, OSO Collars, bought the company and retooled the design to make these, the Rogue USA Aluminum Collars. We have yet to find a pair of collars that hold weight as well or are as easy to use as these collars from Rogue/OSO.
The USA Aluminum Collars are Rogue's updated invention and feature a rubberized interior that grips the bar and prevents it from slipping, a longer handle that provides more leverage for tightening while on the barbell, as well as a frame made of 6061 Billet Aluminum that is tougher than any collars we've used. These collars also happen to look pretty great with a wide range of colors available, including a new Cerakote option (it seems everything is getting Cerakoted these days.
Barbell collars are not an area that you should skimp on. If you buy a good pair of collars, they should outlast you and keep you from getting hurt from plates flying off the bar. The Rogue USA Aluminum Collars are our pick for the best barbell collars for most people.
Best Budget Barbell Collars: Rogue HG 2.0 Collars
The Rogue HG 2.0 Collars are our budget pick for the best barbell collars for CrossFit. The Rogue HG 2.0 Collars are made by LockJaw and are an updated version of the original and very popular HG 1.0 Collars.
The updated version features a spring tag for a quicker release and firmer grip, rubber padding for a better stick on the barbell, and stainless steel hardware to prevent any corrosion hurting the appearance and function of the collars.
The HG2.0 Collars are made of a nylon-resin that is very hard-wearing and after using the collars for all sorts of workouts including testing their gripping abilities, we can easily recommend them. Despite their lower price than our top pick, they hold extremely well and should be as durable as any collar currently available.
Best Home Gym Flooring: Tractor Supply 3/4″ Rubber Stall Mats
There are many different flooring options for a CrossFit Gym, but the best home gym flooring option for most people is horse stall mats. They're cheap (typically around $40) and thick enough to protect your foundation.
If you don't have a Tractor Supply near you, look for some other sort of Animal Feed store. Although you can buy matting online, it's not worth the cost.
FAQs
What equipment do you need for a CrossFit home gym?
To start your home gym you will need to invest in a few pieces of equipment. Above I have listed some of the most important ones, which include, the best squat rack, best barbell, best bumper plates, best kettlebells, medicine ball, weighted vest, flat bench, pull-up bar, and more! However, before you run out and pick up some equipment from a cheap store at random, make sure you read through the above points to ensure that your home gym does not become a safety issue.
What brand of equipment does CrossFit use?
Rogue Fitness. Rogue Fitness is known for creating strength and conditioning equipment for CrossFit boxes, home gyms, military, collegiate, and professional sports teams, including weightlifting barbells, plates and racks, kettlebells, and a variety of fitness-related equipment.