We review free products that we receive and participate in affiliate programs, where we may be compensated for items purchased through links from our site.
See our disclosures page for more information.
The REP Fitness PR-4000 Power Rackis a modular squat rack designed to compete with the best squat racksin the industry, but, at a more affordable price. We've tested and reviewed the REP PR-4000 and compared it to the PR-5000 as well as competitors' racks like the Rogue Monster Lite Series. If you're in the market for a full-featured home gym power rack and don't want to pay the additional cost of made in the USA racks, then the PR-4000 is an incredible value and one we'd recommend.
REP's Best Value Rack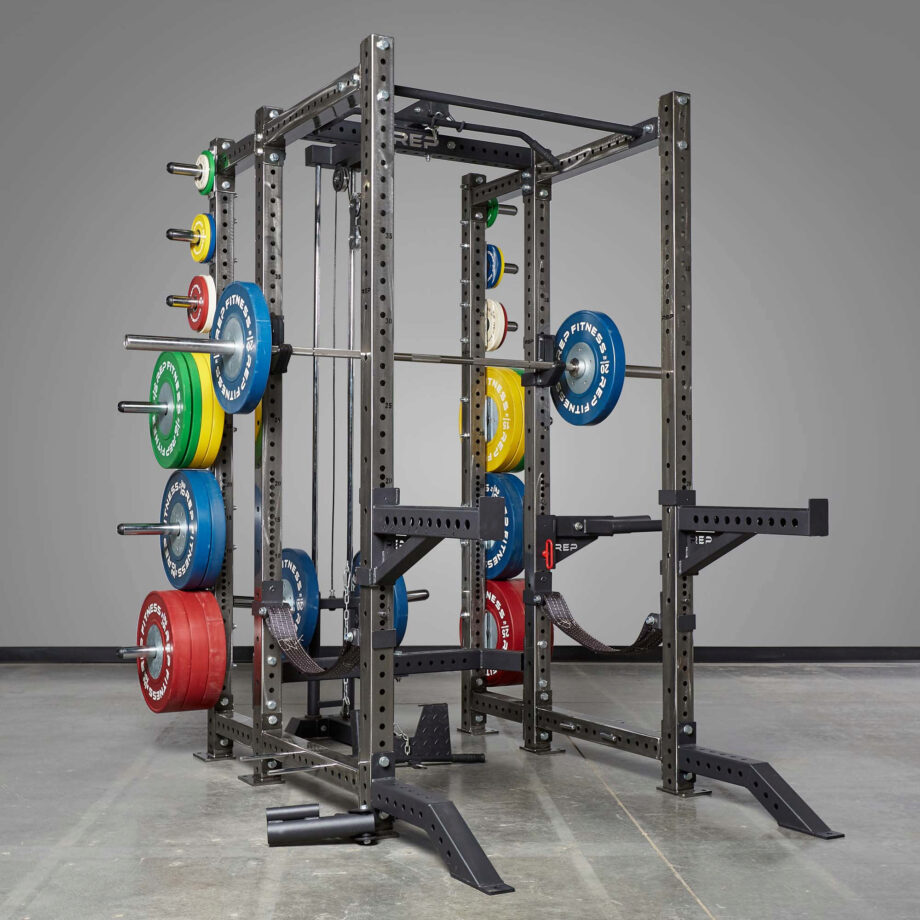 Rep PR-4000 Power Rack
The PR-4000 is a heavy-duty, 1,000 lb rated commercial-grade power rack featuring 3x3" 11 gauge steel with 1" hole spacing through the bench zone and 5/8" pin holes. If you're looking for a "never need to upgrade" home gym power rack, or a centerpiece for your commercial facility weight room, this is it. The PR-4000 re-defines customizability: You're no longer stuck with a pre-configured power rack and overpaying for options. Choose the components you want from our large selection of stock inventory, and have them delivered to your door in about a week or less! Multiple color, height, and depth options combine with an ever-expanding list of accessories and attachments to create the only power rack system you'll ever need. Every rack comes with our top rear logo cross-member which serves as a convenient anchor point for future attachments you may want to add, and from there the rest of the rack is up to you. Our new painting process specially prepares your rack with the most high-end surface prep and care possible, including sandblasting to ensure superior paint adhesion, and a baked on powder coating that will last for years. 47" outside-to-outside width allows plenty of room to rack the bar without plates hitting the sides of the uprights, which is a common problem on competitors' 3x3" racks. This color is achieved by using a specially prepared steel combined with a metal grinder and a clear powder coat to give it a raw brushed steel look, while maintaining the rust-resistance of a powdercoat. In addition, the rack shows less wear over time due to the finish and clearcoat making it difficult to notice any imperfections. Standard 3x3" uprights with 5/8" holes ensures compatibility with REP attachments as well as most others on the market. 1" hole spacing through bench zone, and 2" spacing everywhere else. Front Foot extension for working outside the rack without bolting down. Allows you to add spotter arms off the front of the rack and have dedicated setups for benching and squatting without changing j-cup or safety height. Uniquely shaped base stabilizer removes the need to bolt down a 48" depth rack, and also serves as an anchor point for the pulley system and low row foot plate.
What is the REP PR-4000 Power Rack?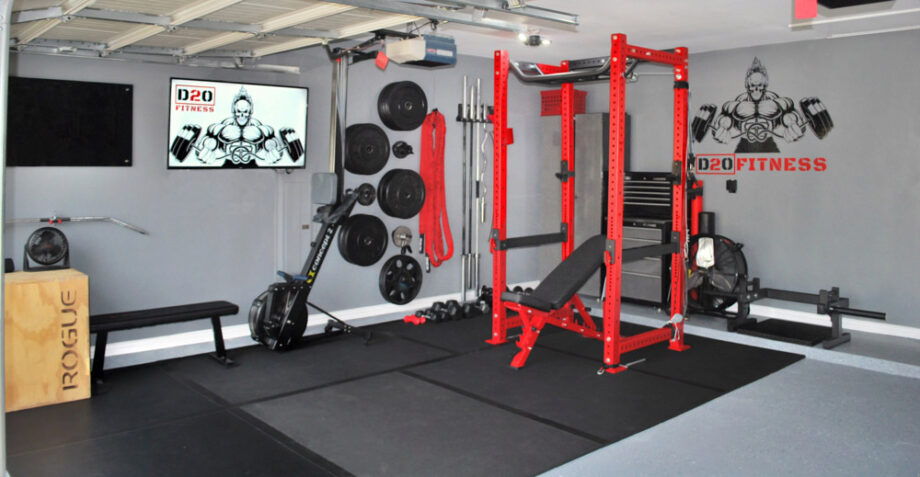 The REP Fitness PR-4000 is a budget-friendly squat rack targeted to those lifters who want something sturdier than a budget 2"x2" or 2"x3" rack, but might not want to spend the extra money to go with a rack like theREP Fitness PR-5000 or theRogue Monster Series Racks. The PR-4000 provides a cheaper option yet is also rated at a 1,000-pound capacity, offers plenty of accessories, multiple color choices, and customizable configurations.
If you order the 4-post and don't store your plates on it, you're likely going to want to bolt it to the floor or a platform to prevent it from moving or potentially tipping when the barbell is racked. When lifting outside the rack, there is a possibility that it can flip on you if you have heavyweight on the bar or drop it on the spotter arms. This isn't specific to the PR-4000, but it's something to keep in mind if deciding between this style or a flat-foot rack.
Adding the front feet can help and is recommended by REP on the 4-post configuration. Still, the rack has a tendency to move a little when re-racking a heavy bench press or squat so you have to move it back into place when you're done, even if you have it on rubber flooring or stall mats. If you bolt it down or have the 6-post version with your extra plates on the back section, you should be good.
What's the Difference between the PR-4000 and PR-5000 Racks?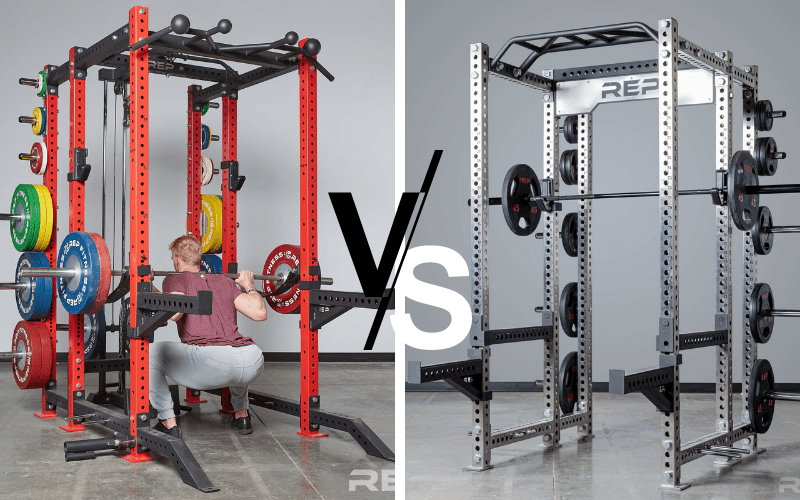 REP's Best Rack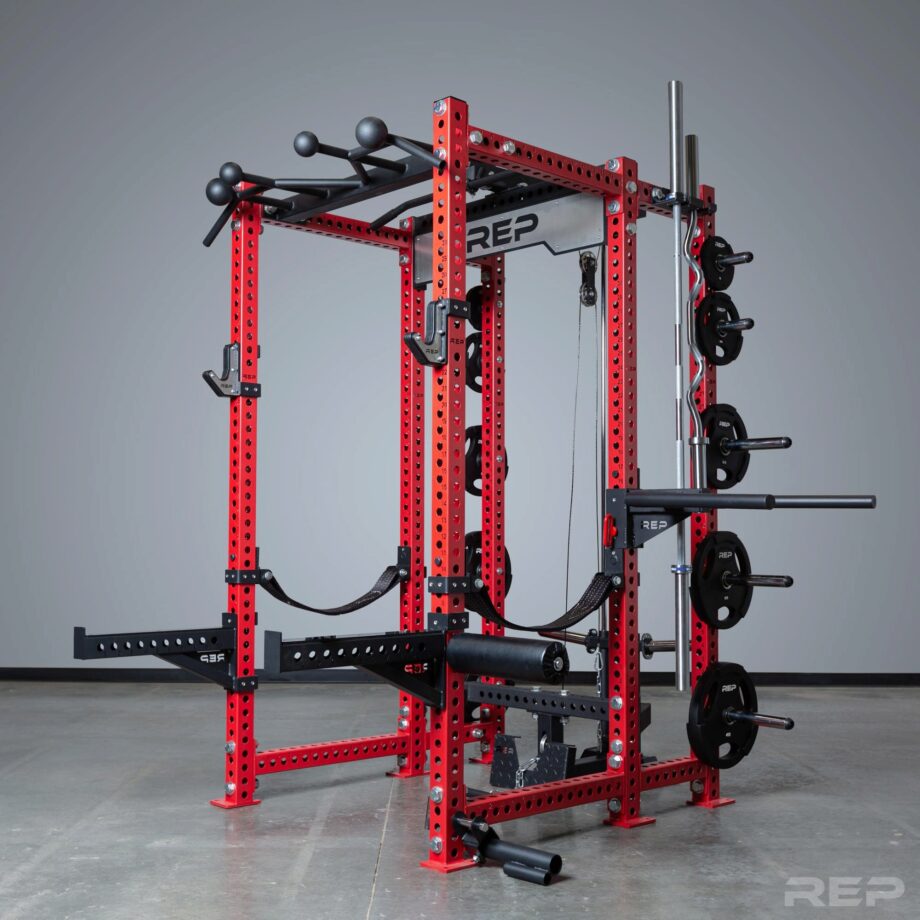 Rep PR-5000 Power Rack V2
The Rep PR-5000 Power Rack V2 is our top of the line power rack system and allows for virtually limitless configurations and attachment setups. Featuring 3x3" 11-gauge steel with oversize 1" diameter hardware, this is the type of rack found in universities, professional athletic facilities, and commercial gyms that are serious about strength training. In a home gym, it's all you'll ever need. The 4-way laser-cut hole design gives you limitless possibilities in configuring your attachments to suit your space. Features Include: Laser-cut numbering on the front and back of uprights and each side of crossmembers for ease of lining up j-cups, safeties, and other attachments. 1" diameter hardware for the ultimate in peace-of-mind under heavy load. 2" hole spacing throughout entire rack. Large logo brace with stainless steel faceplate for additional rigidity and side-to-side stability. Stainless steel accents on j-cups and other attachments for a high-end classic look. Exclusive attachments taking advantage of the 1" diameter holes. All attachments include UHMW liners to protect bar knurl and/or paint on your uprights where appropriate. Optional Upgrades: Uniquely shaped base stabilizer for removing the need to bolt down 48" depth, and also serves as an anchor point for the pulley system and low row foot plate. *REQUIRED FOR LAT/LOW ROW PULLEY SYSTEM. Improved lat pulldown/low-row with foot brace to help brace legs during low row. Optional leg-roller pad to keep you seated during lat pulldown. Dip Attachment with bolt-together design for less shipping cost on our most popular attachment. Band pegs - Set of 4 for adding band resistance to your barbell workouts. Landmine attachment for multiple uses including many core movements. Weight horns with new urethane coating that makes them longer-lasting and better able to protect your plates. 12" size is great for larger iron plates and bumper plates, while 6" is ideal for 10 lb and less iron or change plates. Front Foot extension for working outside the rack without bolting down. Allows you to add spotter arms off the front of the rack and have dedicated setups for benching and squatting without changing j-cup or safety height. 24" Spotter arms with UHMW liners. Lowered J-cup option effectively allows 1" hole spacing on the uprights by holding your bar 1" lower than our standard or flat-sandwich j-cups. You must have a pair of standard or flat-sandwich in combination with a lowered j-cup pair to achieve this effect. In Development: Adjustable Monolift with detent pin for added security - $349 (ETA: Jan/Feb 2019) Iso Lever Arms - $399 (ETA: Jan/Feb 2020) Belt Squat Attachment - $279 (ETA: Jan/Feb 2020) 80" upright Lat/Low Row Attachment - $349 (ETA: January 2020)
The PR-4000 and PR-5000 Power Racks are some of the most popular squat racks currently on the market, and for good reason. They combine all of the features that make modular, erector-set style of racks with a myriad of accessories at a lower price point than most of the competition.
The PR-4000 has 3"x3" uprights with laser cut holes and 5/8" hardware while the PR-5000 has 1" holes and hardware with the same 3"x3" steel. The PR-4000 uprights are numbered every 5th, while the PR-5000 is individually numbered at every hole. Both use laser cuts for all holes, numbers, and nameplates.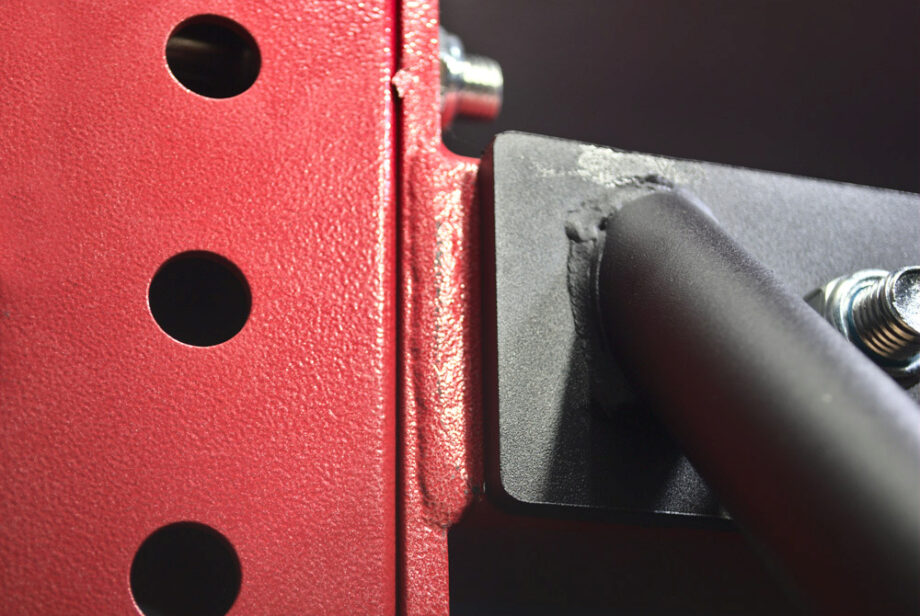 Each version's footplate is pre-drilled so the rack can be anchored to the ground, either into concrete or a platform for greater stability. Both come with a package of concrete expansion anchors, though you're probably better off using concrete anchors that can easily be removed later should you decide to move the rack or sell your house.
The holes on the front and back of the PR-4000 uprights are spaced every 2" except through the bench area where you'll find 1" hole spacing, a.k.a. Westside spacing. The idea is that you can have more precise placement of the j-cups for benching, but I've found the top hole is lower than where I place my j-cups so it's been less of a factor in choosing a rack.
The PR-4000 holes on the sides of the upright are spaced 4" on center through the bottom two-thirds and 2" on center at the top section. The PR-5000 has 1" holes spaced two inches on center along the entirety of the upright. Those extra holes allow more ability to add future attachments so I think I'd call it more future proof than the PR-4000.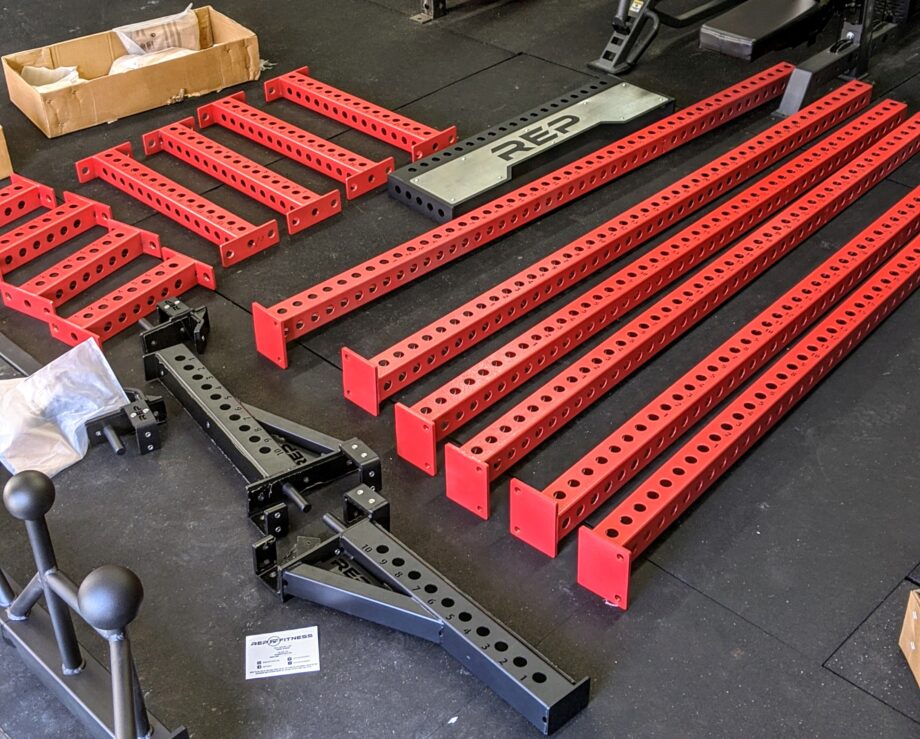 Looking at the differences in the PR-4000 and PR-5000, it seems as if REP created a top-of-the-line rack in the PR-5000, then tried to figure out how to scale it down/create a competitor to the Monster Lite Racks from Rogue Fitness for a cheaper option. The differences appear geared toward giving an experienced lifter reason to fork over extra cash to get the PR-5000. This includes larger holes and hardware, more holes for attachments, a larger nameplate, and laser-cut numbers on every hole. The PR-4000 is meant for those wanting something that will last longer and have more attachment compatibility than a cheaper 2"x2" rack while saving some money while still having access to attachments that smaller racks don't have.
What We Like About the REP PR-4000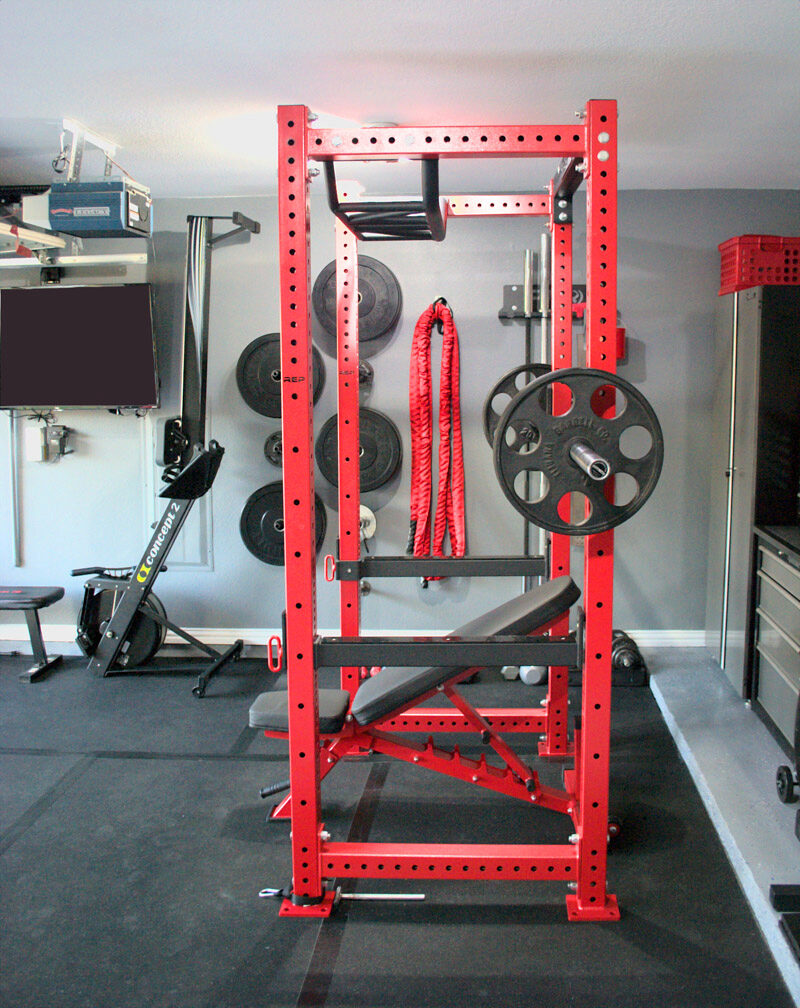 The thing we like most about the PR-4000 is the value it offers. You can easily get the same rack from other companies for hundreds of dollars more.
Something else we like is how REP recently added the ability to order uprights and crossmembers separately which means you can truly customize the look and functionality of your rack. There are multiple pull-up grip options, three types of safeties, several j-cup options, and eight different colors. The best thing about this is you don't pay for stuff you don't want or need.
We also like how this is a truly feature-filled rack. The uprights are numbered and laser cut as are the holes throughout the rack. The PR-4000 has one-inch Westside hole spacing through the bench area and quite a few holes on the sides of the uprights for accessories and attachments, though not as many as the PR-5000.
Something else that sets the PR-4000 apart from competitors such as the Titan Fitness X-3 Squat Rack and the GetRxd Titan Power Cage is the color options including the recent addition of Raw Clear Coat, White, Orange, and Green. Other colors include Matte Black, Metallic Black, Blue, and Red. REP has also stepped up their game in developing attachments for the PR-4000 and PR-5000.
The Belt Squat and ISO Arms are now available with more attachments promised and both are compatible with the PR-4000.Because this rack has 5/8" holes and 3"x3" uprights it can take attachments from nearly any company such as Rogue, Titan Fitness, and others.
Something unusual and unique for this style and level of rack is the lat pulldown attachment. The lat pulldown includes a stabilizer bar which increases the stability of the bottom of the rack providing more rigidity. The lat pulldown system is required if you wish to use the belt squat.
The included top cross member increases rigidity and they added a nice stainless steel nameplate for branding. The nameplate can easily be removed if you don't want it, or wanted to have a fabricator custom make one for you.
If you're on a budget, order the 4-post rack. When ready, you can add two more uprights and cross members to convert it to a 6-pose rack in a matter of a few minutes (outside of backorder and shipping times).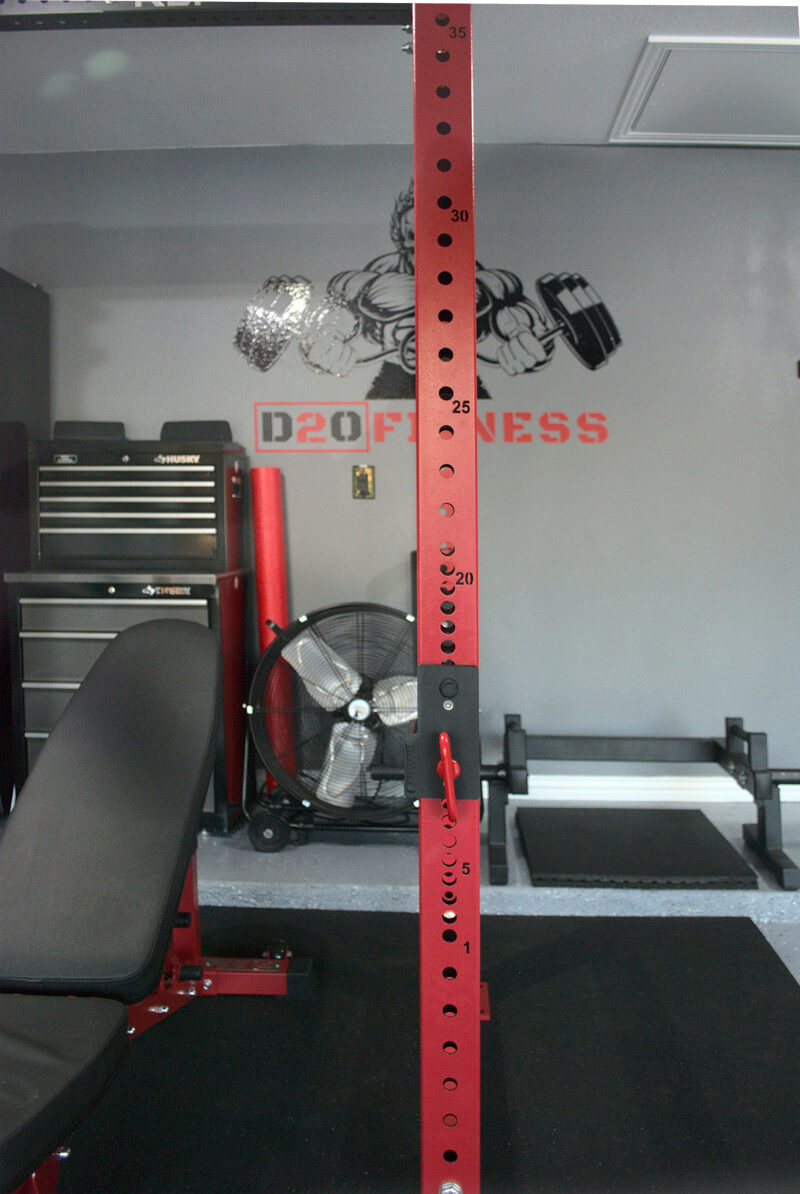 The PR-4000 is 47" from outside to outside of the uprights. This is similar to Sorinex and is one of the downsides of buying a Rogue Fitness rack. The 47-inch overall width allows you to have plenty of room to rack your barbell without the plates hitting the sides of the uprights.
Depending on the height of your space and your needs, you have the option to order the uprights in 80" (great for basement gyms) or 93" if you have a taller ceiling.
Most importantly…they don't use stickers! The REP name is laser cut on the uprights and nameplate on the cross member.
All in all, this is an amazing rack at an amazing price and has probably put companies like Rogue Fitness and others on their toes due to the value provided.
What We Don't Like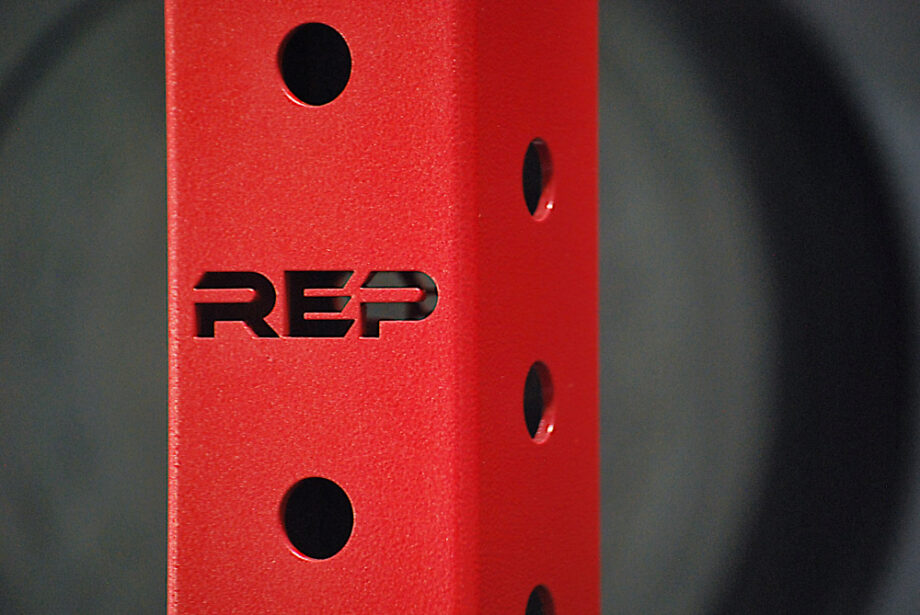 Something that we're not incredibly concerned with, but some people may be, is this rack is made in China instead of the USA.
The accessories are not at the level of Rogue Fitness in terms of fit and finish though they have improved greatly over the years and are leaps and bounds ahead of some of their competitors.
The powder coat isn't completely smooth. It's more of a hammertone type of finish which could be because they're not doing as even of a spray or could be on purpose. Regardless, I prefer a smoother finish.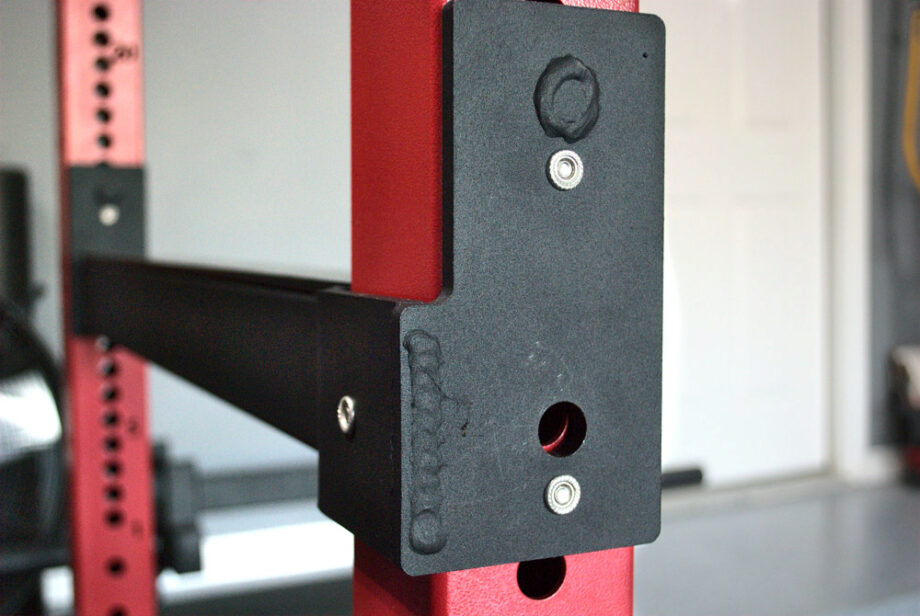 After a few customer complaints, REP has changed the photos on their website of the swing-in safeties. The previous photo actually showed the safeties for the PR-5000. The big difference is the 5000 version has numbered holes down the sides for band pegs. The 4000 version is a solid piece with UHMW on top and looks considerably cheaper than their big brother counterpart. Again…this is one of those small features you're going to pay a little more for on the PR-5000.
The uprights are only numbered on one side. This is inconvenient if you lift both inside and outside of the rack as you have to look around one side to see the numbers. It's especially a pain when trying to mount the swing-in safety arms. Being numbered on both sides would make this a LOT easier. It's also possible to put it together backward. The first time I assembled it I had to take off two uprights, spin them 180 degrees, and swap them for the numbering to be consistent, even though all four footplates were facing out.
REP PR-4000 vs. Rogue Monster Lite Racks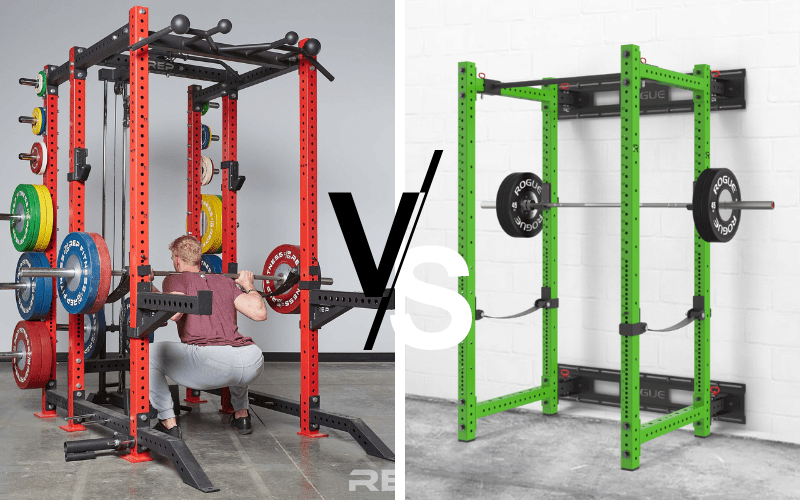 REP Fitness vs Rogue Fitness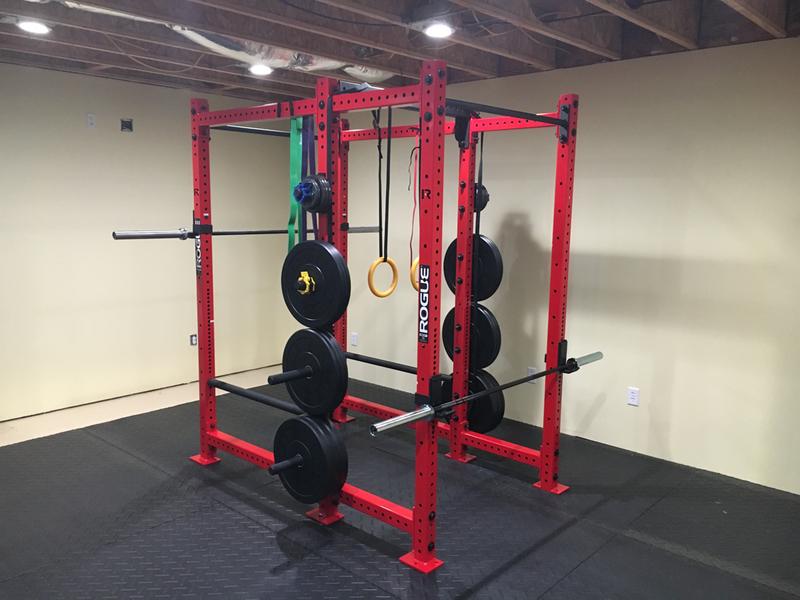 Rogue RML-690C Power Rack
A unique hybrid of the Rogue R-6 Power Rack and RM-6 Monster Rack, the RML-690C is built for the serious, nose-to-the-grindstone strength training facility–be it at the high school, college, or pro level.We've designed the RML-690C with full compatibility across the Rogue Monster Lite line, making it among the most durable and customizable power racks on the market. The unit's 3x3" 11 gauge steel, Westside Hole Spacing uprights in your choice of 10 custom Rogue semi gloss powdercoats feature Westside hole spacing, with the same 0.625" bolts and fasteners as our Infinity Series. A pair of Monster Lite J-Cups, pin/pipe safeties, and a four-pack of band pegs are included standard, as are eight convenient bumper plate storage posts. The RML-690C set-up also comes with both the 43" Single Skinny Pull-Up Bar
Overall the REP PR-4000 is a less expensive rack in terms of price however, it doesn't feel cheap. Both the PR-4000 and Rogue Monster Lite racks use similar style 3"x3" uprights made of 11-gauge steel.
All of Rogue's racks are made in the USA in Columbus, Ohio at their factory. REP Fitness is making theirs in China and importing them.
Most of the accessories made for the PR-4000 will work on the Monster Lite series and vice versa.
The powder coat on the Rogue Monster Lite rigs, as well as the welding, is higher quality; however, most people probably won't recognize or realize it unless they have both in hand at the same time.
Both Rogue and REP offer a "Limited Lifetime Warranty" on their racks, including the PR-4000. It seems both companies mean their stuff is under warranty against normal defects or breakage unless you do something stupid…which is standard speak in warranty terms. So don't throw it off a parking garage, maybe?
Full Rating