We test and review fitness products based on an independent, multi-point methodology. If you use our links to purchase something, we may earn a commission. Read our disclosures.
You know the saying "you get what you pay for," right? I'm not saying it's always true (there are definitely some pieces of budget equipment I stand behind), but throwing more money at problems does tend to provide solutions. If you're a heavier person looking for a good treadmill that can support your weight, you might want to stay tuned for this FreeMotion t8.9b treadmill review.
Although I haven't personally been on the t8.9b, I've run on the FreeMotion i11.9 and have a good idea of how it would perform. Plus, I'll analyze the t8.9b's specs compared to the industry standards to see how it stacks up.
Now I'm Free, FreeMotion
No, I'm not Tom Petty (although I am admittedly sometimes petty), but I am a free resource to help put your buying process in motion. And I'm not the only one. Our team of expert product testers and reviewers at GGR are certified personal trainers, nutrition coaches, and former college athletes. We're subject matter experts with years of experience in the fitness industry, and we want to share our knowledge with you.
FreeMotion t8.9b Treadmill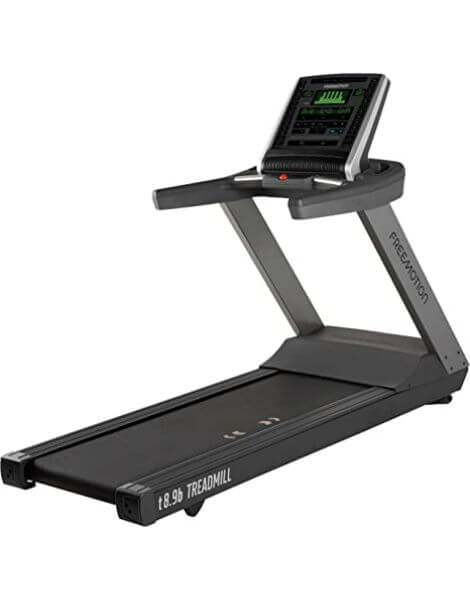 FreeMotion t8.9b Treadmill
The FreeMotion t8.9b Treadmill is a versatile interval training treadmill that includes preset programs to help with weight loss, race training, fitness tests, and more. With incline and speed control, you can tailor your workout to your specific needs. While there isn't a video display, you can still see your speed, time, incline, distance, vertical feet, pace, calories burned, and calories burned per hour on the LCD console. There are also dual-grip pulse sensors and a polar wireless receiver so you can track your heart rate.There are also dual water bottle holders and a built-in fan you can use while you're working out. This is a commercial-grade treadmill with a powerful 4.0 HP AC motor and a weight capacity of 400 pounds, so it's suitable for high-volume runners who intend to use the machine daily.
A Quick Look at the FreeMotion t8.9b Treadmill
FreeMotion is the commercialized line of fitness equipment underneath the iFIT Health & Fitness umbrella. For context, iFIT Health & Fitness also owns well-known brands like NordicTrack and ProForm (and of course, iFIT programming).
FreeMotion currently produces four different treadmills––the t22.9 Reflex, the t10.9b Reflex, the t10.9 Interval Reflex, and the t8.9b. All four of these machines are pricey, but the t8.9b is the least expensive option at $6,000.
My Tips:
Pros:
400-lb user weight capacity
Powerful 4.0 CHP motor
Large deck
26 preset programs
Can connect with iFIT programming
Incline controls up to 15%
Financing options are available for both commercial and home-use purchases
Cons:
High-usage and low-usage warranties are subpar
Heavy at 358.7 lbs
$6,000 isn't cheap
Doesn't fold
Lacks a touchscreen
Is the FreeMotion t8.9b Treadmill Worth It?
Deciding if a piece of fitness equipment is right for you is like finding a partner––you need to examine what they bring to the table and how that aligns with your goals. Let's see if the FreeMotion t8.9b treadmill will get your heart racing or if it'll just be another fish in the sea.
Great for:
Heavier people
Runners
Those who don't mind using their own smart device
Not recommended for:
Those on a budget
Small spaces
Someone who wants a touchscreen
FreeMotion t8.9b Treadmill Specs
| | |
| --- | --- |
| Price | Around $6,000 |
| Footprint | 81" L x 36" W x 60" H |
| Weight | 358.7 lbs |
| Maximum user weight | 400 lbs |
| Warranty | 7-year frame and motor, 2-year parts and console, 1-year labor |
| Running surface | 21.5" W x 60" L |
| Elevation system | 0-15% |
| Google Maps | No; only on the Reflex line of FreeMotion treadmills |
| Motor horsepower | 4.0 HP AC commercial drive motor |
| Speed | 0-12 MPH |
| Number of programs | 26 |
| Emergency stop button | Yes; safety key included |
| Deck cushioning | Cushioned 2-Sided Deck |
| Programming | Can sync with iFIT membership |
| Workout fan | Yes; CrossFlow fan |
| Accessories holders | No; but there are two water bottle holders |
| Heart rate monitoring | Dual grip pulse sensors and EKG monitor |
| Transport wheels | Yes |
| Controls | 1-step speed control and incline control |
| Rollers | 3" |
Workout Experience on the FreeMotion t8.9b Treadmill
Although I have not personally used the FreeMotion t8.9b treadmill, I have taken one of their incline trainers for a spin. I'll be able to use my experience on this comparable machine to speak intelligently about the t8.9b.
The first thing that initially caught my attention on the t8.9b treadmill was the stellar weight capacity. For context, the industry standard is 300 pounds, and the t8.9b can support folks up to 400 pounds. This is awesome, especially considering I can only think of one other treadmill off of the top of my head that can support this amount of weight (the Sole TT8).
If that isn't enough to wow you, the 4.0 CHP motor probably will. This is a full leg up from the 3.0 horsepower we've come to expect on a treadmill built for running. If you're someone who enjoys frequently running and wants a treadmill motor that can keep up, you'll enjoy the t8.9b.
Plus, if you're a tall person like myself, you'll appreciate the appropriately sized 60-inch deck. This isn't above what we'd expect, but it is right on target for those with lengthier strides and serious runners.
When I previously used the FreeMotion i11.9 incline trainer, I found the machine to be extremely stable. There was zero play in the display or machine as I ran and sprinted. If this edition is any indication, the t8.9b is likely also just as durable.
Footprint and Portability
Let's set the record straight––this treadmill is thicker than a bowl of oatmeal. I'm talking about almost 360 pounds of thickness. Plus, it has a large footprint. Although this machine does have transport wheels, it isn't foldable.
If you live in an apartment or another small space, this machine probably won't work for you. You'll need to have a planned, dedicated space mapped out before purchasing this treadmill, especially since it will have to be out all the time.
Technology Benefits and Conveniences
The standard t8.9b doesn't come with a touchscreen, but you can purchase a version that has a 15.6-inch screen for additional money. If you're interested in this feature, you have to contact the brand for details since it is considered a special order.
The regular console is a simplified user interface where you can view a variety of metrics like time elapsed, current speed, incline level, calories, distance traveled, vertical feet, and heart rate. You'll also be able to select one of 26 preset programs, which include different options like intervals, weight loss, fitness tests, race training, and much more.
I actually like that there are free preset programs on the t8.9b. A lot of high-end treadmills force you to purchase interactive programming in order to get the most out of your machine. While you can actually connect iFIT via Bluetooth on the t8.9b, it isn't a necessity to enjoy the treadmill.
However, I don't see an integrated device holder. Since you are able to connect to programming via Bluetooth, it would be a little tough to actually watch any classes on your phone or tablet. You can probably jury-rig something, but I am surprised they didn't think of this concern when designing this machine.
Hydration-obsessed folks can rejoice––the t8.9b has dual water bottle holders. I think the angels just dropped down from heaven and started singing when they heard that news. Anyway, I guess the t8.9b was trying to make up for the lack of accessories and device holders with that feature.
If you'd like to monitor your heart rate while on the t8.9b, you have two options: You can connect your own heart rate monitor to the machine, or you can utilize the pulse sensors near the display. I'd personally suggest using your own heart rate monitor since pulse sensors are notoriously inaccurate, but do whatever floats your respective boat.
Comparison to NordicTrack Commercial X22i Treadmill
I've extensively used the NordicTrack Commercial X22i treadmill and definitely see some similarities within the specs. Check them out for yourself:
Want to learn more? Read our full NordicTrack Commercial X22i treadmill review.
NordicTrack Commercial X22i Treadmill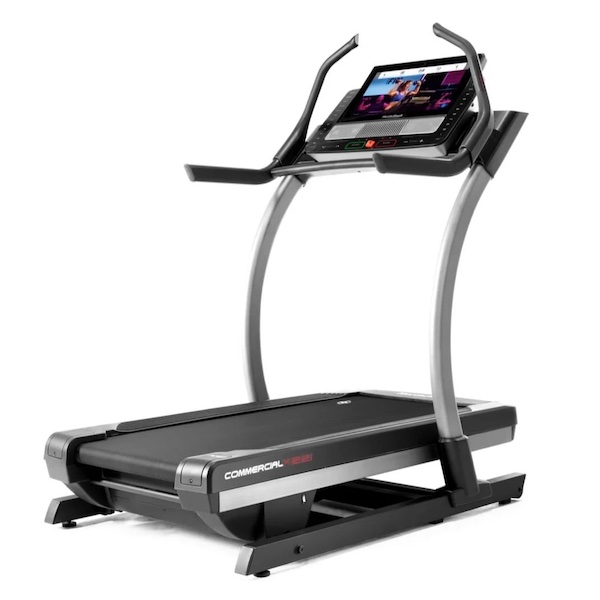 NordicTrack Commercial X22i Treadmill
If you're looking for an immersive training experience on a club-quality treadmill, the NordicTrack X22i may be a good fit for you. With a fully rotating and tilting 22-inch touchscreen and access to iFIT, you're able to choose from thousands of live and on-demand workouts that will meet the fitness needs of beginners and advanced athletes alike. The integration of Google Maps enables you to choose a location anywhere in the world to train. With an impressive incline range of -6% to a whopping 40% incline, you can mimic the terrain of any outdoor location you choose.The X22i features auto-adjust technology, which allows iFIT trainers to automatically adjust your speed and incline for a hands-free workout. Or, use your heart rate to guide your workout with the ActivePulse technology. With this, you can connect a Bluetooth heart rate monitor, which will automatically adjust incline or speed to keep you in your designated training zone. A heart rate monitor is not included. There are no pre-programmed workouts on the X22i and a membership to iFIT is required to access workouts.With this treadmill, rest assured that you are getting a high-quality and durable cardio machine. Equipped with a 4.0 CHP, the X22i supports speeds from 0 to 12 miles per hour on a fully cushioned, roomy 22-inch-wide by 60-inch-long running surface. Featuring an AutoBreeze fan, integrated console tray, upgraded Bluetooth technology, premium 30-watt speakers, one-touch controls, and a lower step-up height, the X22i is a solid choice for anyone with the space. It is large and heavy so requires a dedicated spot. Consider ceiling height as well if you plan on using the maximum incline. 
| | | |
| --- | --- | --- |
| | NordicTrack Commercial X22i | FreeMotion t8.9b Treadmill |
| Price | Around $3,000 | Around $6,000 |
| Footprint | 70" L x 39" W x 72.5" H | 81" L x 36" W x 60" H |
| Warranty | 10-year frame, 2-year parts, 1-year labor | 7-year frame and motor, 2-year parts (3-year parts, labor, and console warranty for low-usage) and console, 1-year labor |
| Deck size | 22" W x 60" L | 21.5" W x 60" L |
| Motor | 4.0 CHP | 4.0 CHP |
| Incline options | -6-40% incline and decline | 0-15% incline, no decline options |
| Weight capacity | 300 lbs | 400 lbs |
Customer Experience
Since this machine can be used in both commercial and home settings, the warranties do vary slightly (but not much) on the same machine depending on where you use it. FreeMotion offers seven years of warranty protection on the frame and motor for both high and low usage. For high usage, the t8.9b gets two years on the parts plus console and one year for labor. Low-usage wise, you'll get an additional year of protection on the parts and console plus an additional two years for labor.
However, the industry standard is still 15 years to life on the frame of a treadmill, so FreeMotion does fall short. I'm not entirely surprised––after all, both NordicTrack and ProForm fail to hit industry standards when it comes to their warranties as well.
Before you order this machine, I'd think long and hard about it––especially considering the return policy. Although you can return this machine within 30 days, you'll be charged an expensive 20% restocking fee and $250 for shipping. That 20% restocking fee would come out to $1,200, which is not cheap whatsoever.
Ordering and Assembling the FreeMotion t8.9b Treadmill
Ordering the FreeMotion t8.9b treadmill appears to be surprisingly simple. After adding the machine to your cart, you'll see that both shipping and professional installation are included with your purchase. This is a big-time win, especially considering the heaviness of the t8.9b. I guess if you're paying $6,000, they better come and install it in your house.
Just like NordicTrack and ProForm, FreeMotion offers financing options through TD Bank. If you qualify after a credit check, you may only have to pay $154 per month for 39 months at 0% APR. If you don't qualify but still want to finance the machine, you'll have a whopping 29.99% APR interest rate to contend with.
Final Verdict of Our FreeMotion t8.9b Treadmill Review
The FreeMotion t8.9b treadmill is one of the most expensive treadmills we've ever reviewed at GGR. Check out our final thoughts:
The 400-pound weight capacity on the t8.9b is really impressive and makes this an inclusive option for heavy people.
Make sure you'll love this $6,000 treadmill before purchasing it––the restocking and shipping fees will leave you out almost $1,500 total if you return it.
If you're a serious runner, the lengthy belt and powerful 4.0 CHP motor may make this a good option for you.
Don't plan on folding this machine up––the t8.9 doesn't compact and is close to 360 pounds, so it won't be easy to move.
FreeMotion t8.9b Treadmill Rating
FreeMotion t8.9b Treadmill
Check out our FreeMotion t8.9b treadmill review to see what we really think about this super-expensive cardio machine.
Product Brand: FreeMotion
Product Currency: USD
Product Price: 4499.00
Product In-Stock: InStock
FreeMotion t8.9b Treadmill FAQs
What brand of treadmill does Orangetheory use?
Orangetheory uses the Freemotion Reflex treadmills within their studios.
How much does a FreeMotion treadmill weigh?
The FreeMotion t8.9b treadmill weighs 358.7 pounds. Other FreeMotion treadmills may weigh slightly more or less depending on the model you choose.
Does the FreeMotion t8.9b treadmill fold up?
The FreeMotion t8.9b treadmill does not fold up. You'll need to account for the large footprint when deciding where this commercial treadmill will live in your home.