We test and review fitness products based on an independent, multi-point methodology. If you use our links to purchase something, we may earn a commission. Read our disclosures.
Every serious runner has stepped out the door into the rain, sleet, or snow. It's harsh, tough, and sometimes unsafe. Treadmills keep your training moving forward without the need to use crampons or enough layers for the Arctic. If you'd rather step on a treadmill than face the elements, the Sole TT8 could be the treadmill for you, especially if you take your running seriously.
This Sole TT8 review takes a detailed look at a heavy-duty, commercial-grade treadmill with a powerful motor and an impressive set of incline/decline settings. The TT8 definitely caters to serious runners in training, but it could also work for a family of runners of all different levels. The only caution we'd put out is for the casual runner or walker. This is a pricey, powerful machine that's overkill if you're not running fast, hard, and often. That aside, it's got great features that go beyond power, speed, and incline, which we'll go into in this full treadmill review.
We're Treading the Mills
Our team of expert product testers put cardio machines through the works from top to bottom. Certified personal trainers, nutrition experts, CrossFit Level 1 Trainers, competitive weightlifters, and former D1 athletes fill our roster.
As a former college athlete and now personal trainer, I've personally spent countless hours on treadmills at the gym and in my home gym. While we, as a team, haven't tested the TT8 in person, we've run on our fair share of treadmills, including a close relative to the Sole TT8, the Sole F63. That experience translates well when looking at models within a single brand.
Years of experience have shown us the features and specs that make a difference when it comes to treadmill performance. Sole, as a brand, produces quality treadmills in almost every price range. The TT8 is one of their top models, bringing the quality and power you'd expect from a commercial treadmill.
Sole TT8
Sole TT8 Treadmill
The Sole TT8 is one of the luxury treadmills available from Sole Fitness. This high-end tread sports a 60-inch by 20-inch running surface to accommodate runners of most heights, and the 2-ply cushioned deck alleviates pressure and impact from the joints.Although there is no touchscreen display on the Sole TT8, it does have a sturdy smart device holder where you can place your smartphone or tablet. You can then stream fitness classes from a third-party app to keep you motivated and entertained.One of our favorite things about the Sole TT8 is its impressive incline and decline range. To simulate the natural terrain you'd encounter while running outdoors, you can push the grade down to -6% or bump it up to 15%.
A Quick Look at the Sole TT8
Sole is no newbie to the fitness industry. The brand focuses on quality and durability, making some powerful fitness equipment in several categories, including rowers, ellipticals, exercise bikes, and, of course, treadmills. Their treadmills aren't tech-heavy, though they do include some Bluetooth technology and the occasional touchscreen.
The TT8 is one of their top-tier treadmills with only the ST90 surpassing it in price. The motor and features outpace their less expensive Sole F80 and Sole F85 models, which are both treadmills for the casual or average runner. The TT8 is truly a model for runners who take running seriously. With a maximum user weight limit of 400 pounds, it's also a model for larger runners who need a machine that can handle the heat.
However, you need a dedicated space for this non-folding treadmill. And, if you're casual about your running, there are other machines, like the F63, that are durable and functional and cost far less.
My Tips
Set aside at least three hours to assemble the TT8 and bring a friend.
This treadmill doesn't fold and has a large footprint, so it needs a dedicated workout space.
Don't forget to check out the preset workout programs. There's everything from hills and intervals to HIIT and two options to create your own custom workouts.
Pros:
4.0 horsepower motor
400-lb maximum weight limit
Low step height and gentle decline are good options for users with limited mobility
Extremely quiet motor and belt
Lifetime warranty on frame, motor, deck
15 levels of incline with 6 levels of decline
Upload stats to phone or fitness app via Bluetooth
Long, wide belt
Diverse built-in workout programs, including intervals, speedwork, walking, and HIIT
Cons:
High motor hood can interfere with your stride
No individual buttons for incline or decline levels
Pricey
Related: Calories burned walking a mile
Is the Sole TT8 Worth It?
There's no one treadmill that's perfect for everyone, but the TT8 comes pretty close for some runners. The ones who'll appreciate it the most, and therefore will get the most bang for their buck, are the heavy trainers. We're talking both heavyweight runners, and those with a heavy training schedule.
Great for:
Those with a heavy (half marathon/marathon) training schedule
Heavier weight runners
Serious runners who regularly do speed and interval training
Families with multiple runners at different levels
Those with a dedicated gym space
Walkers and runners with limited mobility
Not recommended for:
Casual runners and walkers
Those with limited space
Those on a budget
Sole TT8 Specs
| | |
| --- | --- |
| Price | $2,399.99 |
| Footprint | 82" L x 36" W x 58" H |
| Weight | 322 lbs |
| Weight capacity | 400 lbs |
| Motor | 4.0 HP, DC Type |
| Tread belt | 2 ply, 22" W x 60" L |
| Display | 10.1" TFT Touch Panel |
| Incline/decline | 0-15 incline, 0-6 decline |
| Speed | .5 – 12 MPH |
| Programs | 6 standard, 1 custom, 2 heart |
| Warranty | Lifetime warranty on frame, motor, and deck; 5 years electronics; 2 years labor |
Customer Reviews
Customers have good things to say about this machine. On Sole's website, it has 5 out of 5 stars (after only 5 reviews though), and on Amazon it has an average rating of 3.7 out of 5 stars after 30 reviews.
"This is our 3rd Sole TT8 treadmill for our department and we couldn't be happier. The guys like them and they offer several workout options. We will be buying another when the next Precor goes down…" – spersell, Soletreadmills.com
When it comes to the negative, there are definitely some patterns from those treadmill reviews of the TT8. For example, there are no individual buttons on the control console, only buttons for increments of two or three. From there, you have to use the manual buttons to get on an incline/decline or speed that you want. It's just not the most efficient way to make those adjustments.
The other less desirable feature that came up more than once was the height of the motor hood. It's large and tall enough that if you have a long forward stride, you might hit it with your foot. Of course, you can run further back on the belt. But it's an issue of which you should be aware before spending a significant amount on a treadmill.
Workout Experience on the Sole TT8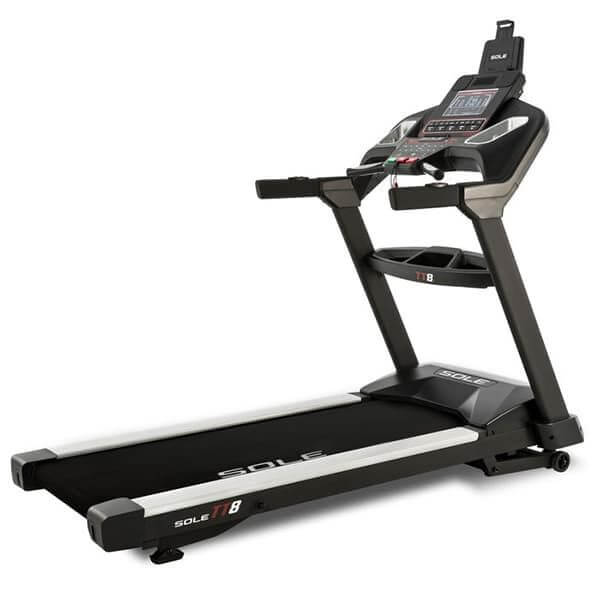 Sole's line of treadmills is all slightly different from one another, but there's a big emphasis on the word slight. They apply the same construction methods, design aesthetic, and basic features like incline levels in each machine. Having tried the T63 for ourselves and keeping on top of Sole's upgrades and design changes, we've been able to get a good picture of what this brand is about from machine to machine, specifically the TT8.
Footprint, Portability, Durability, Construction
The Sole TT8 has a big footprint at 58 inches tall by 82 inches long by 36 inches wide. However, that's no bigger than many of Sole's other treadmills. It's one inch wider and eight inches shorter than the much less expensive T63. However, the TT8 can feel like it takes up more space because it's not foldable. It has transport wheels, so you can move it around within a given space if needed.
As far as durability, you'd be hard-pressed to find a treadmill that's more durable at this price point, from the 4.0 HP DC type motor to the running surface and deck. Durability is what Sole's treadmills are all about. Sole skips some of the more techy smart features that connect the treadmill to an interactive fitness app for motors and belts that run and run and run.
That, in part, comes down to the quality of the construction. The TT8 does have a moderately sized 10.1-inch touchscreen on which you adjust the display. But the majority of the controls are manual buttons on the console, giving it more reliable construction than models that rely solely on a touchscreen.
The Ergonomics
One of the TT8's strengths is the low 8-inch step-up height. For folks with limited mobility, that makes getting on and off the treadmill easy and safe. Additionally, incline and, particularly, decline adjustments are slow and gentle, also making them a good fit for someone with limited mobility.
The Sole TT8 has a 60-inch-by-22-inch belt. That length and width let you run comfortably without running into the handrails, nor do you need to worry about shortening your stride to stay on the machine.
Another ergonomic factor to consider is the Cushion Flex Whisper Deck, which is designed to offer extra cushioning. On other Sole treadmills, it's lived up to that promise. However, with the TT8, it tends to feel firmer, almost like running outside. That's great for runners who want a treadmill to complement their outdoor training. However, it's something to think about if you need a treadmill to provide a softer surface to prevent injury.
Technology Benefits and Conveniences
Sole's treadmills aren't big on technology like some of the NordicTrack and ProForm treadmills that connect directly with fitness apps. However, the TT8 is not completely devoid of technology or connectivity. It has a 10.1-inch touchscreen that runs with an Android system. It can't connect to apps like iFIT or Peloton, but it can upload and sync your workout stats to a Bluetooth-compatible device.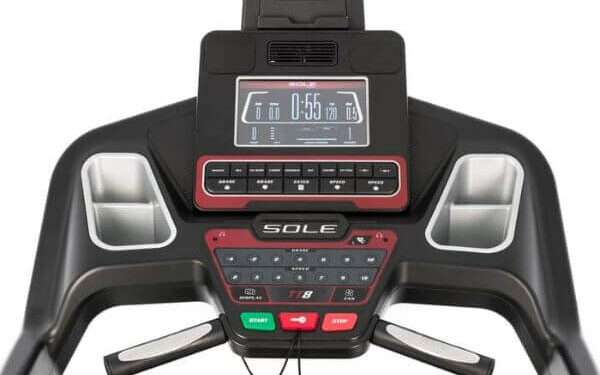 The TT8 is also compatible with many chest straps for heart rate monitoring, though you have to purchase them separately. There are also pulse grips built into the handlebars under the console, too.
For example, you can upload your runs to Apple Health to keep it up to date on your distance, speed, and heart rate information. The TT8 can also connect via Bluetooth to stream sound directly to the two Bluetooth speakers. While the built-in speakers aren't going to blow you away with their sound, they're louder than a phone or tablet.
Additionally, there's a USB port built into the console so you can keep your devices charged while you run. A built-in tablet holder will let you watch your favorite streaming services and keep you entertained while working out. You can also use your device to follow a workout, though the workout itself cannot connect directly with the machine as with some iFIT-compatible treadmills offered by another brand.
Sole has their own fitness app called STUDIO, but it's pretty far behind other apps out there in terms of the number of classes that are offered. Additionally, it cannot connect directly to Sole machines to provide integrated classes.
Comparison to NordicTrack Commercial X22i
NordicTrack X22i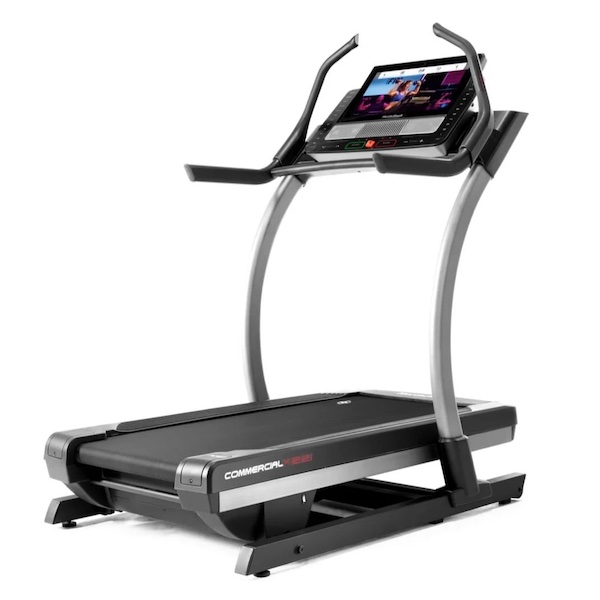 NordicTrack Commercial X22i Treadmill
If you're looking for an immersive training experience on a club-quality treadmill, the NordicTrack X22i may be a good fit for you. With a fully rotating and tilting 22-inch touchscreen and access to iFIT, you're able to choose from thousands of live and on-demand workouts that will meet the fitness needs of beginners and advanced athletes alike. The integration of Google Maps enables you to choose a location anywhere in the world to train. With an impressive incline range of -6% to a whopping 40% incline, you can mimic the terrain of any outdoor location you choose.The X22i features auto-adjust technology, which allows iFIT trainers to automatically adjust your speed and incline for a hands-free workout. Or, use your heart rate to guide your workout with the ActivePulse technology. With this, you can connect a Bluetooth heart rate monitor, which will automatically adjust incline or speed to keep you in your designated training zone. A heart rate monitor is not included. There are no pre-programmed workouts on the X22i and a membership to iFIT is required to access workouts.With this treadmill, rest assured that you are getting a high-quality and durable cardio machine. Equipped with a 4.0 CHP, the X22i supports speeds from 0 to 12 miles per hour on a fully cushioned, roomy 22-inch-wide by 60-inch-long running surface. Featuring an AutoBreeze fan, integrated console tray, upgraded Bluetooth technology, premium 30-watt speakers, one-touch controls, and a lower step-up height, the X22i is a solid choice for anyone with the space. It is large and heavy so requires a dedicated spot. Consider ceiling height as well if you plan on using the maximum incline. 
The NordicTrack Commercial X22i is one of the more similar high-end models to the Sole TT8 currently on the market. Their similarities include:
4.0 HP motor
Same belt width and length
Both decline and incline, though the X22i has a higher incline level
Both have manual modes
Both have cooling fans
Both have touchscreens
Both have two Bluetooth speakers
Neither model folds
However, their differences are more extreme.
The X22i has a 22" smart HD touchscreen
The X22i requires iFIT to run
The X22i has a much higher incline range
The X22i has Google Maps integration
iFIT personal trainers can make speed and incline changes on the X22i
The X22i is much taller than the TT8
The X22i's warranty is voided if it's stored in the garage
The X22i has sled handles
The NordicTrack X22i is a good comparison because it highlights how the Sole TT8 differs from more tech-centered treadmills. Side by side, these two machines have similar speeds, incline, and power. Their belts are the same size, and they're also best for more serious runners. Neither of these models folds, so you'll need a dedicated workout space in which to use them. That space can't be the garage if you go with the X22i, however, because garage use voids the warranty.
The biggest differences surround the X22i's iFIT-integration and 22-inch touchscreen. You have to have iFIT for this treadmill to work. Once connected, you can do workouts from all over the globe with trainers who can directly make adjustments on the machine. It also integrates with Google Maps to take you on runs all over the world. The runners who use this machine are just as serious as those who would use the TT8, but they use iFiT for their training. If you don't use iFIT, skip this machine altogether.
The Sole TT8 offers many identical features minus the iFIT-integration. Yes, the X22i has more incline adjustments and handles to hang onto when you're at the maximum incline. But your running experience on these two machines is going to be nearly the same. If you rely on iFIT, the X22i makes more sense. If you don't, you can save a few dollars and get a similar machine with an excellent warranty with the TT8.
Customer Experience
Let's see how Sole's company policies stack up.
Warranty
Sole doesn't skimp on the warranty with the TT8. For home use, it comes with a lifetime warranty on the frame, motor, and deck, and a five-year electronics and two-year labor warranty. However, if you use it for light commercial use, which it can do, the commercial warranty for the frame, motor, and deck is five years, with three years on electronics and one year on labor.
Returns
You have 30 days from the time you receive the treadmill to return it. Outside of the 30-day return window, any issues will fall under the warranty. If you return the treadmill, it gets picked up in the same place it was delivered. So if you paid for assembly and room of choice delivery, that's the same service you'd get on pick up.
Delivery
Curbside delivery comes free with purchase. You can do room of choice delivery for $199 or room of choice delivery, assembly, and box removal for $299.
Customer Service
Sole is a mixed bag on customer service. Some customers get a quick response, and others have a hard time communicating, as in getting a hold of a human at all. Generally, their customer service is average at best.
Ordering and Assembling the Sole TT8
Ordering the Sole TT8 through the Sole Fitness website is fairly straightforward. They offer a lot of upgrades. For example, at the time of publishing, the order process included the option of adding a Garmin watch or STUDIO subscription, Sole Fitness's version of iFIT. You also get the option of adding a treadmill mat to go under the treadmill. However, while there are quite a few decisions to make, you do it all on a single screen before placing your order.
Assembly is straightforward with decent directions that don't seem to stump anyone in one particular place. But this is a large, complicated machine. It takes, on average, two to three hours to assemble. A helper can reduce the time it takes but set aside a good chunk of time to put the TT8 together.
Final Verdict of Our Sole TT8 Review
The Sole TT8 is a high-quality, durable treadmill that's sturdy enough for light-commercial use. A powerful motor can support runners up to 400 pounds, which is durability that's rare. The warranty is excellent, but this treadmill is best for:
Serious runners who need a treadmill for indoor training
Long distance, as in marathon or half-marathon, runners
Families with several runners of different levels
Those with a dedicated gym space
Possibly those with limited mobility but only if they use a treadmill regularly
Sole TT8 Rating
Sole TT8 Treadmill
Check out our Sole TT8 review to see if this workhorse of a treadmill is right for your home gym.
Product Brand: Sole
Product Currency: USD
Product Price: 4799.00
Product In-Stock: InStock
Sole TT8 FAQs
Is the Sole TT8 treadmill foldable?
The Sole TT8 treadmill is not foldable. It does have transport wheels that work well if you need to shift it around the room.
Is Sole a good treadmill company?
Sole makes excellent treadmills. They focus on quality and durability rather than the latest integrated technology. Their treadmills have powerful motors, wide, long belts, and plenty of incline features. They may only have a 7- to 10-inch touchscreen, if they have a touchscreen at all, compared to their competitors' 22- to 30-inch touchscreens and fitness app integration. But Sole goes for power and longevity over tech and usually includes a good warranty.
How much does the Sole TT8 weigh?
The Sole TT8 weighs 322 pounds, which is a lot. It's not foldable, though it has transport wheels if you need to move it. This is the kind of machine that you put in your home gym and leave it there for its lifespan.