We test and review fitness products based on an independent, multi-point methodology. If you use our links to purchase something, we may earn a commission. Read our disclosures.
Creating a home gym is an incredibly convenient way to exercise. When you put a treadmill in your house, you reap benefits like getting up your heart rate, burning calories, and just feeling great in general.
One of the things we all do when considering buying something is to look at the bottom line, AKA the cost. The good news is that there are many budget-friendly treadmills on the market. But what does "budget-friendly" mean? And how much does a treadmill cost on average? We take a look at all that and more below.
The Average Cost of a Treadmill
A treadmill can cost anywhere from a couple hundred dollars to upwards of $3,000. Heck, I've seen machines that run north of $5,000. There are a lot of factors that determine the price of a treadmill.
Generally speaking, we can break down treadmill pricing into a few groups and associate some key features with them:
| Budget Treadmills | Mid-range Treadmills | High-end Treadmills |
| --- | --- | --- |
| Cost between $500-$1,000 | Cost around $1,000-$1,500 | Cost $2,000 or more |
| Fewer speed and incline options | Offer incline and speed ranges up to 12-15 MPH | Some have incline and decline options |
| Tend to be very compact | Offer foldability | Tend to be big and heavy |
| Low horsepower motor | Offer up to 3.0 chp | Strong motors |
| Some built-in programming | Have some tech capabilities | Offer interactive programming |
This is just a glimpse of how many treadmills may be categorized, though there are always exceptions to the rule. For example, there are machines like the NordicTrack T 6.5S, which is under $1,000 but offers high-end capabilities like interactive programming.
Also, if you're really looking to save money, there are ultra-budget treadmills under $500, though you may be sacrificing a bit on features if you go below that price range.
Lastly, remember to look at shipping and costs. Some treadmill brands offer free shipping, or you may score Amazon Prime shipping by shopping the online retailer. More often than not, however, getting a treadmill to your home and getting it assembled will add a few hundred dollars to the price.
Factors That Affect Treadmill Price
Just like any other fitness equipment, there are many factors that play a role in determining the price of a treadmill. Some of the main points to consider are motor, speed, incline, interactive programming, and added conveniences.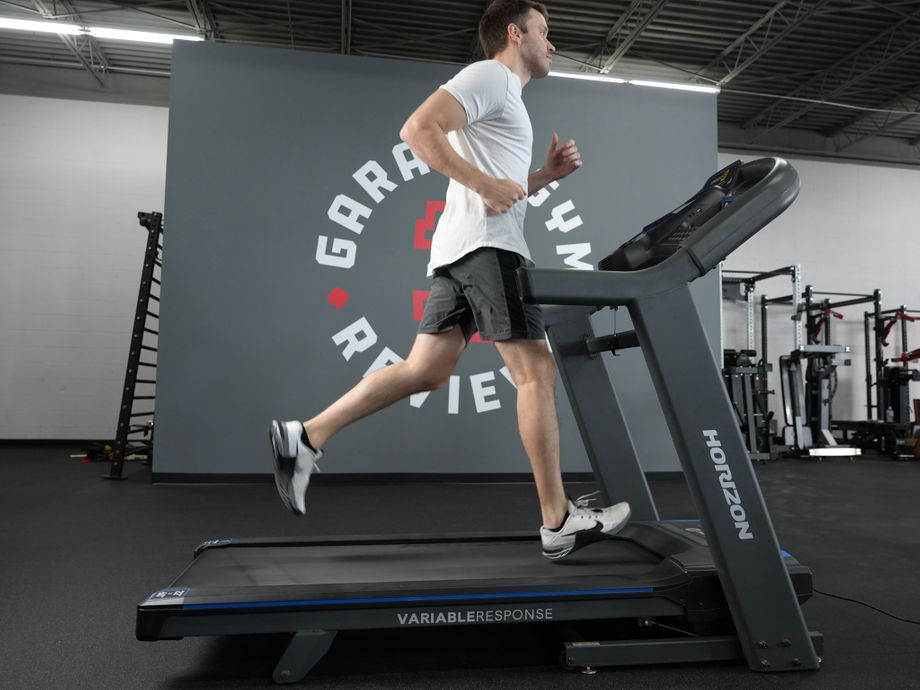 Motor
Horsepower is important to consider when purchasing a new treadmill for your workouts. Simply put, horsepower is a measure of how much power an engine can produce. For a treadmill, it's important to consider continuous horsepower (CPH), or the machine's ability to put out consistent power for an extended period.
More horsepower means larger, more sophisticated engines, which can increase cost. Less horsepower means fewer speed options, but the cost is less.
In addition to price, consider your personal goals. Are you walking or running for maintenance? You might be able to get by with a more inexpensive option with a CPH of 2.0. Do you need a treadmill for running often? If so, you'll want a treadmill with a CPH of 2.5 or above, because those motors are designed to sustain frequent and higher-speed running.
Also, consider that if you cut out the motor completely and get a manual treadmill, odds are you'll be saving money.
Incline and Speed Options
Incline is great for toning your glutes, hamstrings, and calves. Adding incline to your walk or run increases calorie burning, fat burning, and muscle building. Inexpensive treadmills may not offer incline options, because powering the deck to move requires more mechanics (and more money to build). Higher-end treadmills might have high max incline levels as well as decline training, like the ProForm Pro 2000.
Speed adjustment is a common feature among even the most inexpensive treadmills. Having various speed options can take your workout from a leisurely walk to a full sprint (as well as add variety). You might find on cheaper treadmills that the speed only goes up to 8 or 10 MPH, which is totally fine if you don't need to go any faster than that. More expensive treadmills have top speeds up to 15 MPH or higher.
Workout Programs
Having onboard programming is a great feature that many modern treadmills offer. If you're new to treadmill workouts or simply like not having to think about what you're doing, built-in programming means that with just a few touches of a button, you're on your way to a great workout.
RELATED: HIIT Treadmill Workout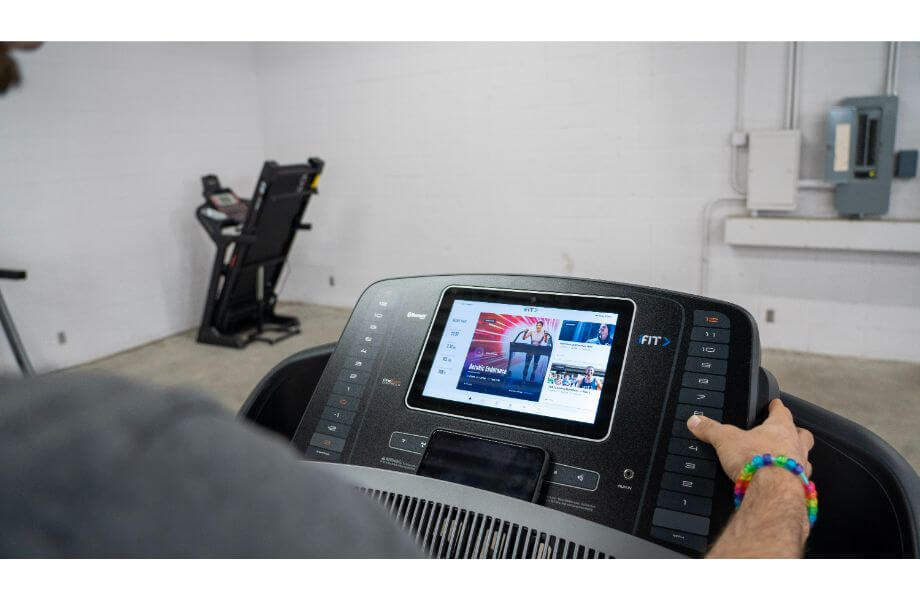 Some treadmills and cardio machines include interactive training programs. These streaming apps, such as iFIT or Peloton, can provide real-time training, on-demand classes, and even create workouts geared towards your personal goals. For many people, these provide increased motivation and even connect you with online trainers.
Pricing around workout programming is a little all over the place. Budget treadmills may offer only a few preset workouts but have Bluetooth-compatibility so you can subscribe to something like iFIT for NordicTrack or JRNY for Bowflex. In that way, you might get the best of both worlds. Some expensive treadmills might not have any pre-programmed workouts and instead require you to subscribe to a streaming service.
Size and Durability
When it comes to price, size matters. Many low-cost treadmills are compact, because fewer materials means less cost. Bigger treadmills often come with a steeper price, but they might offer a longer running deck.
The deck on a treadmill is what holds and rotates the belt. If your main goal is simply walking, you may only need a treadmill with a 50-inch deck. If you are a runner or a taller individual, you may need a larger running surface to match your stride. We recommend a 60-inch deck for anyone over 6 feet tall.
Weight capacity is important as well. The standard treadmill priced around $1,500-$3,000 can hold an average 300 pounds. Smaller, low-cost treadmills that offer more portability tend to have a less sturdy structure and may not hold as much weight.
Conveniences
Consider some of the leisure amenities you might want during your workout. These can be something as small as a water bottle holder or a built-in fan to cool off. The higher end treadmills may offer more conveniences such as:
Bluetooth connectivity
Heart rate monitor
Tablet holders
Touchscreen or LCD display
TV with cable
Multiple handles
Easy-reach buttons to increase or decrease speed and incline
Keep in mind that the more features a treadmill has, the more expensive it is likely to be.
Warranty
Another factor that could affect the price of a treadmill is the warranty. Some companies will offer a lifetime warranty, while others may only offer warranties on certain parts or for a few years. Typically, cheaper treadmills come with shorter warranties.
The industry standard warranty for a treadmill frame is 10-15 years. Check to see if the treadmill belt and motor are covered in the warranty as well. If you are using your treadmill often, it may wear faster and require more maintenance or replacement parts. If the treadmill you are looking at doesn't come with a good warranty you may want to consider the quality and the durability before making that purchase.
Types of Treadmills
There are many different types of machines on the market. It's important to know what to look for in a treadmill so you find the one that fits your space and your goals.
Motorized Treadmills
Motorized treadmills are just like they sound. They come equipped with a motor that, when turned on, starts turning the belt. These are great for challenging any user because the pace can be selected and the motor keeps the belt moving while the runner or walker must keep up.
This can help increase cardiovascular endurance by pushing you past your natural pace. Motorized treadmills are great, however they can be costly compared to non-motorized treadmills because of the necessity for a motor.
Non-motorized Treadmills
A non-motorized or manual treadmill is powered using your legs. This type of treadmill responds to the effort applied by the runner or walker. If you speed up the belt will move faster and if you slow your stride the belt slows down too. Manual treadmills tend to be more cost-effective however, they may have poor shock absorption due to less cushioning, and put more strain on your joints.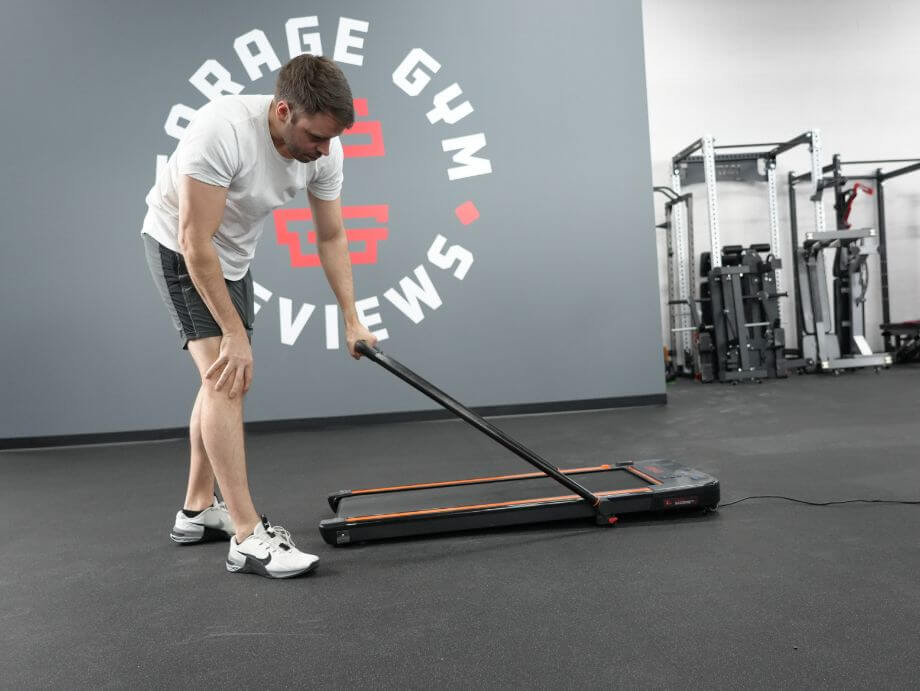 Under-desk Treadmills
An under-desk treadmill is a great option for any multitasker. These walking treadmills are designed to slide under a standing desk so you can walk while you work. They operate as low as 0.5 MPH to a max speed of 4 MPH in most models for safety purposes so you can maintain balance while doing other tasks.
The average under-desk treadmill costs around $350-$500. This is a cost-effective way to get your exercise in during work hours. However, if you're looking for anything more than a leisurely walk this may not be best suited for you.
Foldable Treadmills
A foldable treadmill is a great addition for any at home workout space. These compact treadmills feature a deck that lifts and folds, and some even store flat, making great space-savers if you're trying to get in a quick workout in your office, garage, or spare room.
When looking into foldable treadmills, be sure to check the safety rating and reviews. You can find a foldable treadmill for almost every price range starting as low as $300 and going up to $2,000 or more.
Final Thoughts on How Much Does a Treadmill Cost
There are many factors to consider before buying a new treadmill for home use. You want to make sure you pick what is right for you and your budget by considering the price. The price will depend on a number of things, including your overall fitness goals, workout programs, conveniences, storage space, warranties, and more. Lastly, check out treadmill reviews on sites like ours to get a good idea of what to expect before you buy.
How Much Does a Treadmill Cost FAQ
Is a home treadmill worth it?
An at-home treadmill can be a great time- and money-saver. If you want to fit a workout into your daily routine without the monthly cost of a gym membership, then an at-home treadmill may be what you're looking for. Also, there are many treadmill options on the market that can fit any budget or routine.
How much does a decent treadmill cost?
A quality treadmill should be durable and meet basic industry standards such as a weight capacity of 275 pounds, a 60-inch deck size for runners, speeds up to 10 MPH, and a good warranty. The average cost for a decent treadmill is around $1,000. However, there are many treadmills under $1,000 we recommend for those looking to save money.
Is a cheap treadmill worth it?
A cheap treadmill may be worth it if you are trying to figure out your workout needs. If you want to focus more on cardio, then you may want to invest in a treadmill with more features, but if you're looking to get in more steps throughout the day or need a more compact design to fit your space, a cheap treadmill will allow you to get your workout in on a budget.