We test and review fitness products based on an independent, multi-point methodology. If you use our links to purchase something, we may earn a commission. Read our disclosures.
Outfitting a home gym on a budget is a lot like moving into your first place: you probably have an entire empty room (or rooms) to fill and about $10 to your name. Been there, done that, and bought a t-shirt, so I feel you. Although I can't really be helpful on the filling-your-home front (except maybe check Facebook Marketplace for free couches), I can make the treadmill buying process easier.
I've researched, tested, and sweated on many machines in my quest to find the best treadmill under $1,000. This was no easy feat, but I managed to find something for almost everyone.
Dozens of Treadmills Tested
Our expert product testers have had their hands (and well, feet) on over two dozen treadmills. With multiple certified personal trainers, CrossFit-L1 coaches, and former college athletes, you can rest easy knowing we really have a grip on the fitness industry. Giving our honest opinion on fitness equipment, like the best treadmills under $1,000, is our priority. Let's get started.
7 Best Treadmills Under $1,000
Best Overall Treadmill Under $1,000: Sole F63
Good for: Most people looking for a well-rounded cardio machine on a budget
Best Overall Treadmill Under $1,000
Sole F63
Named "Best in its Price Range" by Fit Rated, Run Reviews, Treadmill Reviews, and many others. Easy Assist Folding Deck Design makes storing your treadmill easy and convenient. High-end rollers create a static free motion leading to a long lifespan. Smoothest treadmill when making adjustments mid-workout. LCD screen provides real-time statistics to monitor progress towards goals.Plus, Sole has recently released its own version of Peloton-esque programming: STUDIO. You can access a variety of on-demand classes for just $19.99 per month.
Pros:
325-lb max weight capacity
3.0 CHP motor
Generously sized deck at 20″ W X 60″ L
Foldable
Large storage tray
Cons:
Weighs 254 pounds
Second person/professional assembly may be needed for assembly/unboxing process
Wobbles slightly as speeds increase
Editor's Note: This treadmill now costs $1,099, but we've seen the price fluctuate above and below $1,000 over the past year.
Budget-friendly cardio machines that are actually great, like the Sole F63, bring me joy. Not only is this treadmill foldable for easy storage, but it boasts a lifetime frame warranty to likely make your purchase usable for years to come.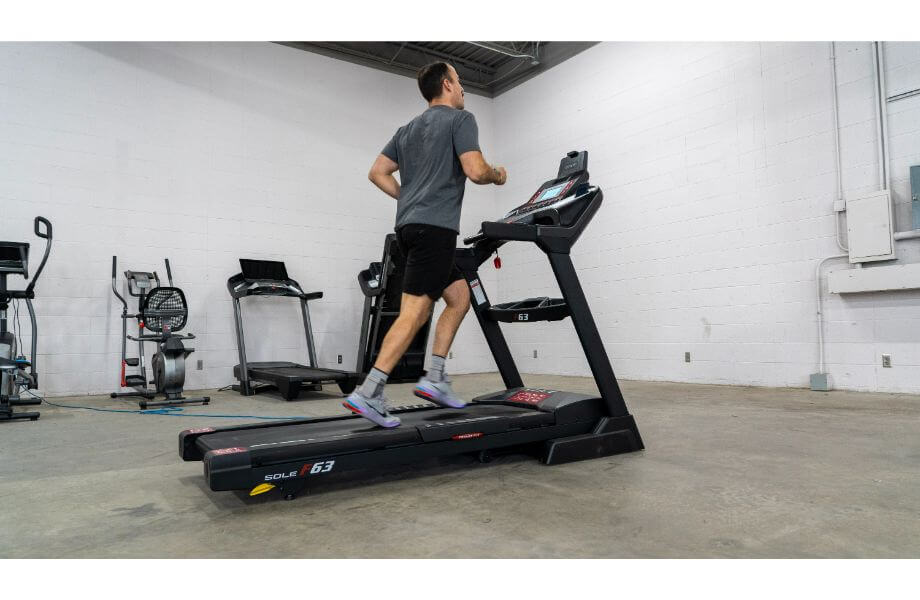 Whether you're into jogging, walking, or even doing sprinting intervals, the Sole F63 will support your habits. The deck is a lengthy 60 inches, which is exactly what a taller runner would want for a comfortable stride (you're welcome, fellow tall folks). It also has a 3.0 CHP motor, suitable for walkers and runners alike.
Another nice feature? The Sole F63 comes with an included heart rate monitoring strap so you can keep an eye on your exertion. This is a nice extra for someone who doesn't have a fitness tracker already.
On the downside, this machine is heavy. Like 254 pounds heavy. If you're moving and need to take this treadmill up or downstairs, please hire a professional. It isn't worth throwing your back out over. The same applies to the assembly process. I would recommend ponying up for the expert assembly, but if you can't, grab a friend or two to aid in the unboxing process, bare minimum.
Read our full Sole F63 treadmill review.
Price:
Programming:
Warranty:


Incline:
Speed:
Display:
Step-up height:
$1,099.99
STUDIO on-demand programming (Membership sold separately; no attached touchscreen to stream on)
Lifetime frame and motor, 3 years on parts, deck, electronics, 1 year on labor
0-15
.5-12 MPH
LCD display
8 inches
Best Treadmill Under $1,000 for Walking: LifePro Pacer
Good for: People who appreciate simple and uncomplicated cardio machines
Best Treadmill Under $1,000 for Walking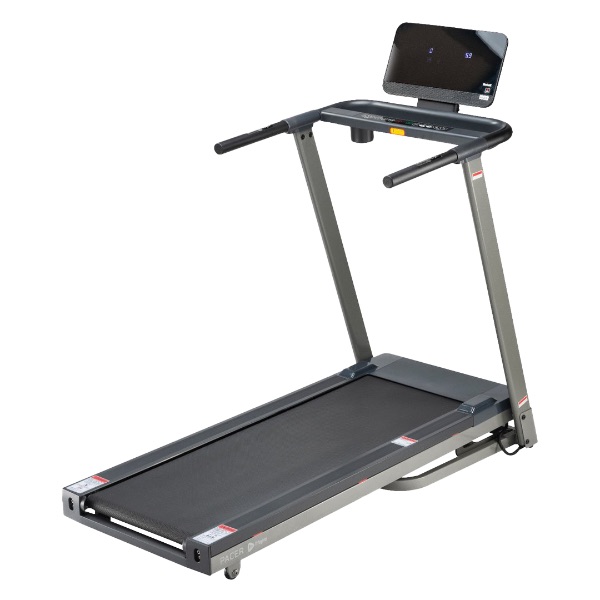 Lifepro Pacer Folding Treadmill
The Lifepro Folding Treadmill has a lot going for it, but it won't be the best option for everyone. If you're tight on space, but want a reasonably priced treadmill you can fold to store away, you'll love the Lifepro. However, if you're a serious runner or someone with a particularly long stride, you likely won't be thrilled with this treadmill. The running deck is small at just 49.2" L x 16.5" W. Plus, with a motor HP of just 1.75, this treadmill is hitting below the industry standard for a motor that can handle serious amounts of running. It is also worth noting that the Lifepro is only 115 lbs, which can be both a blessing and a curse. Since it is so lightweight compared to comparable treadmills, it can more easily be moved from room to room, which can be a big plus for those tight on space. However, with the light weight of the treadmill comes a low weight capacity at just 220 pounds. This makes the Lifepro not a particularly inclusive option.Something that really stands out to me on this treadmill is the lifetime warranty. Even if this more budget-friendly option has issues down the road, it is clear that Lifepro stands behind their products. 
Pros:
Can change incline and speed on handles
Compact and lightweight
Simple assembly
Lifetime frame warranty
Foldable
Financing options available
Cons:
1.75 CHP motor
Simple display
220-lb user weight capacity
Trying to hit that 10,000 daily Apple Watch step goal without having to leave the comfort of your own abode? The LifePro Pacer is here to help! This inexpensive treadmill is ideal for people who want to casually walk indoors while working, watching TV, or even listening to a podcast.
The assembly process is extremely uncomplicated and generally takes under 20 minutes, so you can get those feet moving almost right away. Plus, you'll be able to easily adjust both the incline and speed via the handles while you're walking (which means you don't have to take your hands off the handles if you don't want to).
Unfortunately, if you are a tall individual or enjoy running, this isn't the machine for you. The 1.75 CHP motor isn't ideal for long-term jogging or sprinting, and the deck isn't large enough for long legs. This isn't to say you can't use this machine at all if you're tall, but you will definitely want to stick with just walking if you choose to purchase the LifePro Pacer.
Read our entire LifePro Pacer treadmill review.
| | |
| --- | --- |
| Price: | $749.99 |
| Programming: | N/A |
| Treadmill weight: | 115 pounds |
| Incline: | 0-12 |
| Speed: | Max 9.9 MPH |
| Running deck: | 16.5" W x 49.2" L |
| Machine programs: | 36+ |
Best Treadmill Under $1,000 for Running: Horizon 7.0 AT
Good for: Running enthusiasts or tall people with long strides
Best Treadmill Under $1,000 for Running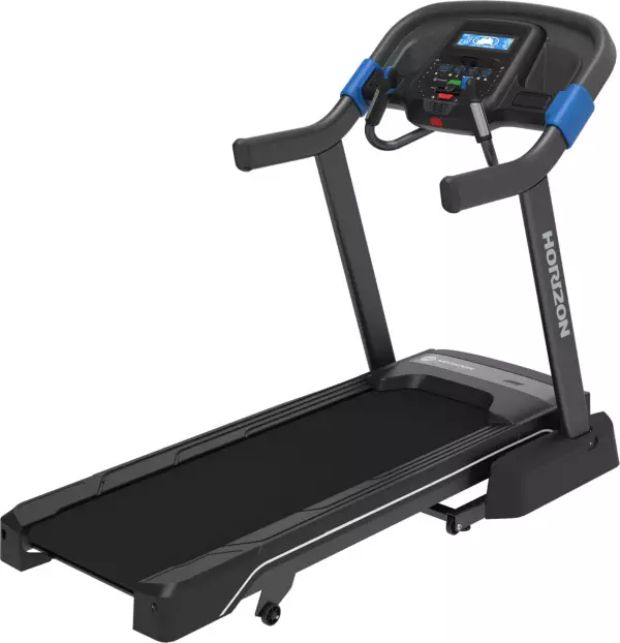 Horizon 7.0 AT Treadmill
Tired of searching for a budget treadmill that'll support your running habits? Look no further than the Horizon 7.0 AT Treadmill. This machine has a well-cushioned deck to aid in a more comfortable indoor run as well as a 60-inch deck (which is what we'd recommend most for running). I also enjoy the QuickDial adjustment feature, which allows users to change their speeds and incline up to "33% faster than other treadmills." This is useful if you love doing HIIT or sprints where you may need to quickly adjust the speed or incline.I would recommend shelling out the extra cash to get professional assembly. The 7.0 AT is a weighty cardio machine, and would best be completed with another helper (or a professional).
Pros:
Large running area at 20″ W x 60″ L
325-lb user weight capacity
Does not shake while in use
Foldable
Lifetime frame and motor warranty
Financing is available
Cons:
253-lb machine
A second person is needed for assembly
Belt feels thin
The easiest way to tell a good budget treadmill from a not-so-great one is the shake factor. Luckily, the Horizon 7.0 AT passes this test with nary a quiver in sight. Plus, the 20-inch-by-60-inch deck is ideal for serious runners looking for a top treadmill with great speed range.
I love the 325-pound max user weight capacity, which is well over the 300-pound industry standard. Even better? The 7.0 AT has a lifetime frame and motor warranty so you can feel secure in your new machine's durability.
Unfortunately, with such durability and stability comes weight. This treadmill clocks in at 253 pounds, which is not light by any means. I'd recommend having multiple people help you with unboxing, moving, and assembling this machine. Better yet, hire professionals to help you with the job if you can spare extra cash.
Check out our full Horizon 7.0 AT treadmill review.
Price:
Programming:
Display:
Footprint:
Speed:
Incline:
Step-up height:
$999
Compatible with apps like Zwift, Peloton, and STUDIO (Each sold separately); no included touchscreen to view these on
LCD screen
76.5″ x 36″ x 59″
0-12 MPH
0-15
8 ⅝ inches
Best Folding Treadmill Under $1,000: Schwinn 810
Good for: Small spaces or people who want to store their machine in-between usage
Best Folding Treadmill Under $1,000
Schwinn 810 Treadmill
If you're looking for a basic, user-friendly treadmill for walking or jogging, the Schwinn 810 is a good choice. Powered by a 2.6 horsepower motor, the 810 supports speeds up to 10 miles per hour and, notably, offers 10 levels of power incline. While the 1.9 horsepower motor certainly will not support any sustained or intense running, the 810 provides enough variability in speed and incline to get in a good sweat.The 810 comes with some impressive features such as the 16 preset workout options, Bluetooth connectivity to the Explore the World App (for a fee), integrated console speakers and a media shelf. The shock-absorbing, cushioned running deck measures 55 inches by 20 inches, which should be suitable for most runners. That said, those with particularly long strides may find it constricting.The soft drop folding system is incredibly easy to use and it makes folding and unfolding the machine a breeze. With two transport wheels and a weight of 155 pounds, the Schwinn 810 is easily transported and stored; an attractive feature to those with small spaces.
Pros:
Folds easily and safely
Solid frame and motor warranty (10 years)
16 preset workout programs available
Large cup holders
Cons:
Thin belt isn't well-cushioned
275-lb user weight capacity
Tech features are lacking
Don't have a ton of space to work with but still want a treadmill for your home gym? Fear not! The Schwinn 810 is here to save the day. This budget-friendly machine is simple to fold and features a handy gas shock to lower the deck slowly and safely.
Although there isn't a fancy touchscreen, the 810 does have an LCD screen and 16 preset programs available to use for workouts. I like the wide range of choices available (think intervals or calorie burn), and it is a useful option for someone who doesn't want to pay for interactive programming.
In terms of the cushioning system, I wasn't thrilled. Although the Schwinn 810 supposedly has specialized cushioning, the belt felt particularly thin to me. This is worth noting if you're someone looking for an especially cushioned treadmill or you suffer from joint pain.
Read our full Schwinn 810 treadmill review.
| | |
| --- | --- |
| Price: | $899 |
| Programming: | N/A |
| Running belt: | 20″ W x 55″ L |
| Product weight: | 155 pounds |
| USB Port: | Yes |
| Display: | Backlit LCD |
| Speeds: | 0-10 MPH |
Best Treadmill for Seniors Under $1,000: ProForm Carbon T7
Good for: Older adults who want a budget-friendly treadmill to suit their needs
Best Treadmill for Seniors Under $1,000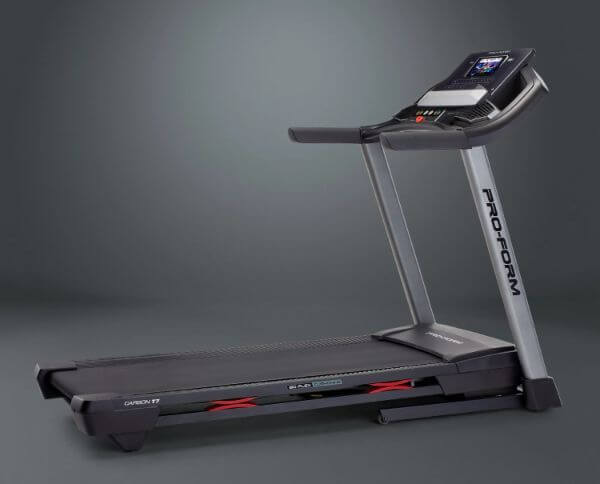 ProForm Carbon T7 Folding Treadmill
If you're someone who thrives off external motivation or training with a tribe, the ProForm Carbon T7 may be for you. Included in your purchase is a 30-day iFIT family membership, which provides exclusive access to thousands of on-demand and live-streaming classes led by world-class trainers. Users can also join various training programs or use the leaderboard as a source of motivation to hit their fitness goals.Alternatively, use the 7-inch touchscreen to gaze at vivid scenery from around the world as you run and listen to your favorite music via the built-in speakers. Unfortunately, the T7 does not come with any pre-programmed workouts so if you do not plan on continuing the iFIT membership past the 30-day trial, this treadmill may not be for you. The T7 is, however, an affordable, compact treadmill designed to save space. Its easy folding design allows users to conveniently store it out of the way when not in use. Featuring a patented flex cushioning, the running deck on the T7 is designed to reduce impact on joints decreasing the bodily wear and tear often associated with treadmill running. While the T7 boasts an impressive 300-pound user weight capacity, its 20-inch by 55-inch running deck may feel constricting for those above average height and weight.Powered by a 2.6 CHP motor, the ProForm Carbon T7 supports speeds up to 10 miles per hour, which can be controlled with a quick speed button, and incline grades up to 10 percent. These specs make this treadmill best suited for walking or light running but probably not sustained or intense running.  Check out our full ProForm Carbon T7 review.
Pros:
Well-cushioned deck
Supportive handlebars
Soft Drop folding for storage
HD touchscreen
Cons:
Assembly may be difficult for seniors
Heavy in-box weight at 223 pounds
Loud machine
Step up height of 7.43 inches is high
The ProForm Carbon T7 treadmill is a home run for seniors. With a well-cushioned tread belt and cooling fan, most older adults will find their walk or jog is a comfortable experience on the T7.
The deck length of 55 inches is slightly above average. Most seniors could walk, jog, and run on this comfortably (stride length-wise). Plus, for those who need a little extra support, the attached handlebars offer a sturdy place to hold on to.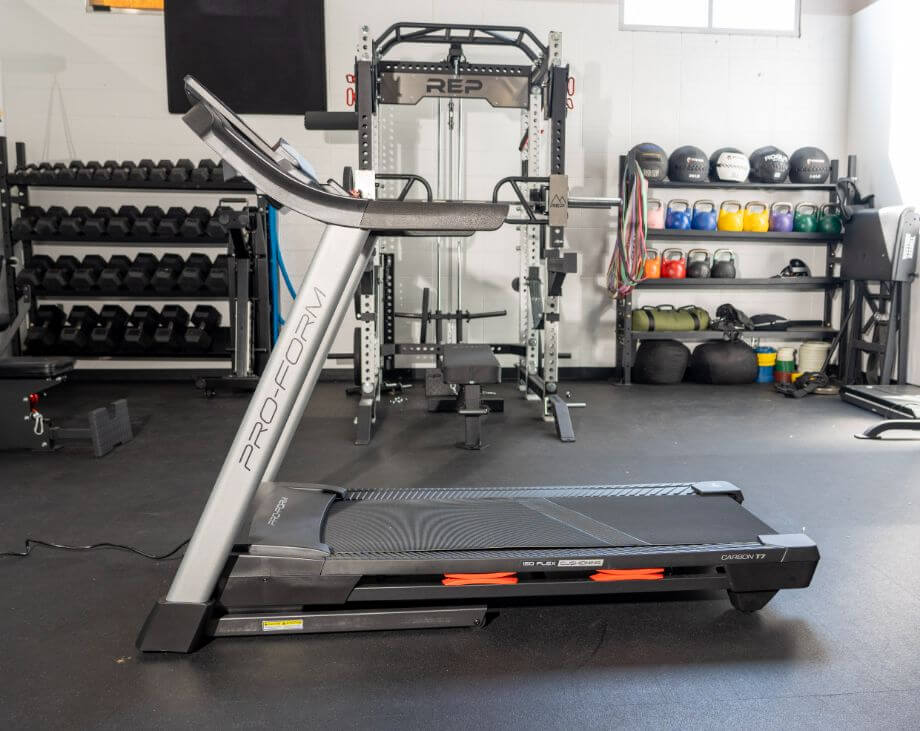 Instead of a device holder, the Carbon T7 has a small touchscreen, which connects to iFIT programming (subscription sold separately). iFIT offers high-quality, interactive programming to help people reach their fitness goals. This is a great option for a senior who needs a little guidance on specific workouts to do on their new treadmill.
Unfortunately, this also means there aren't really preset workouts available on the T7 since the focus is on iFIT. If you're unwilling to pay for programming, you might want to consider something else.
Want to learn more? Check out our full ProForm Carbon T7 treadmill review.
Price:
Programming:
Speed:
Deck length:
Incline:
Warranty:
Footprint:
$999
On-demand iFIT (Sold separately) Included touchscreen
0-10 MPH
20" W x 55" L
0 – 10%
10-Year Frame, 1-Year Parts & Labor
35.2" x 73.5" x 57.5"
Best Space-Saving Treadmill Under $1,000: Sunny Health and Fitness SF-T7603
Good for: Individuals with small homes, condos, and apartments
Best Space-Saving Treadmill Under $1,000
Sunny Health & Fitness SF - T7603 Treadmill
Product SummaryWhen you're short on space, finding a treadmill that can meet your fitness goals and fit into your home can be a challenge. But, the Sunny Health & Fitness SF-T7603 offers users a compact, sturdy, basic yet efficient and effective treadmill all for less than $400.00. The SF-T7603 motorized treadmill is powered by a 2.2 horsepower motor, which supports speeds up to 9 miles per hour and three levels of adjustable incline. While this motor is a bit weak for hardcore runners, it's a great option for walkers, joggers or even light runners.The SF-T7603 comes equipped with nine pre-programmed workout options, which could be useful for those looking for guidance as they work towards their fitness goals. Although the console is a far cry from the high-definition ones seen on pricier treadmills, the easy-to-read LCD monitor displays all the workout stats you need to get a killer workout; distance, time, speed, pulse and calories. Conveniently change speeds with the quick-adjust buttons located on the handrails, which also function as a pulse grip to monitor your heart rateConstructed with a solid steel frame, the SF-T7603 has a maximum user weight of 220 pounds, which certainly falls below industry standard but, given the low price point, that number is not surprising. The shock-absorbing running deck measures 49 inches by 16 inches—this may feel constricting for those with particularly long strides. The SF-T7603 features a folding mechanism and a soft drop system to easily and safely fold and unfold. With two transport wheels, the SF-T7603 is easily moved and stored, a feature that can't be underestimated if you live in a smaller dwelling.
Pros:
Very small footprint
Folds easily
Lightweight at around 103 pounds
Easy to build
Cons:
2.2 CHP motor isn't powerful
Manual incline
9 MPH max speed
The Sunny Health and Fitness SF-T7603 is a machine I'd recommend for people who need a space-saving treadmill. Not only does this machine fold (and it has a gas shock for easy lowering, hallelujah!), but it weighs just 103 pounds. This is ideal if you live in an apartment or condo and need to move it up or down the stairs sans elevator.
Plus, you likely won't have issues with building it. The SF-T7603 is a quick build, and it isn't worth purchasing professional assembly for the average person.
For such a budget-friendly price tag, I'm surprised by the above-average deck cushioning. Although I wouldn't say it is akin to walking on a cloud, it's much better than other cheaper treadmills I've tried in the past.
The SF-T7603 is certainly compact and lightweight, but this unfortunately comes with a diminished deck size at 49 inches long by 16 inches wide. Unless you just plan to walk or occasionally jog, this isn't an ideal pick for taller people over 5 feet,10 inches tall. Plus, with only a 220-pound weight capacity, this is not a good option for heavier people.
Take a look at our entire Sunny Health & Fitness SF-T7603 treadmill review.
Price:
Programming:
Maximum User Weight:
Dimensions:
Running Deck:
Warranty:
Display Metrics:
$320
Free on-demand classes with the SunnyFit App (No included touchscreen)
220 lbs
62" L x 27" W x 47" H
49" L x 16" W
3-year frame, 180 days for other components
Time, Speed, Distance, Pulse, Calorie
Best Durable Treadmill Under $1,000: XTERRA TR150
Good for: People that need a super budget option with a lifetime frame warranty
Best Durable Treadmill Under $1,000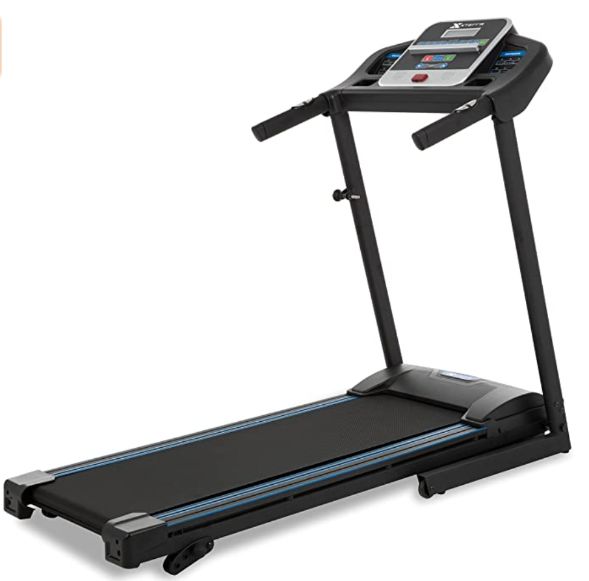 XTERRA Fitness TR150 Folding Treadmill
The XTERRA TR150 is a space-worthy investment best suited for beginner walkers to speed walkers. Featuring 12 preset programs, speeds ranging from .5 to 10 miles per hour, three manual incline settings, and an easy pull knob release for convenient storage, the XTERRA TR150 was developed with performance, comfort, and safety in mind. The 16-inch-by-50 inch walking surface is on the smaller size but is big enough to accommodate most users when walking or light jogging. The 5-inch LED display provides simple yet important stats during your workout including time, speed, distance and calories. The XTERRA TR150 is designed for convenience with an integrated bookrack and accessory holder to keep things like a remote control or phone close by. The hand grip pulse sensors are mounted on the side handlebars but users report that the heart rate readings are often inaccurate (as is often the case with grip sensors). The XTERRA also provides a soft cushioned deck intended to absorb impact and keep joints safe during workouts. If you are an avid runner looking to train hard, this is not the treadmill for you. With a 2.25 horsepower motor, the XTERRA TR150 is not intended for fast or sustained running.  Additionally, users report that the incline is almost unnoticeable. So, before you buy, be sure to know how you intend to use it!
Pros:
Lifetime frame warranty
Easy to build
Lightweight at just 108 pounds
Built-in heart rate monitor
Cons:
Folding mechanism lacks a gas shock
Little to no tech features
Deck cushioning is subpar
For a treadmill under $1,000 like the XTERRA TR150, it's impressive to see a lifetime frame warranty. This speaks to the durability of the machine, and that the company stands behind it (even though it is one of the cheapest options on this list!).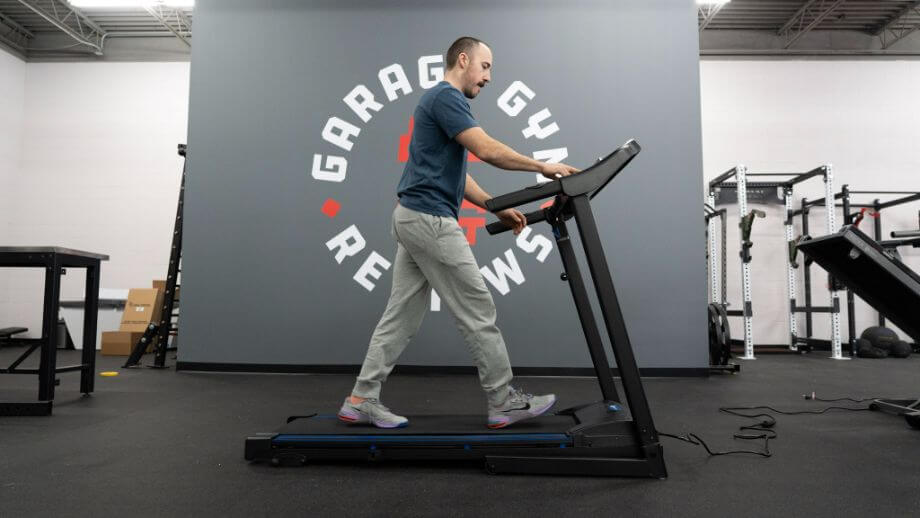 If you're looking for a cardio machine that won't have you cursing angrily during assembly, the TR150 is a great pick. I found that this machine was extremely easy to build and move from room to room.
What you won't find on this machine? Really any tech features, sans a nice built-in heart rate monitor on the handle grips.
Although the TR150 does fold, I wouldn't recommend actually using this feature due to the lack of gas shock. Typically, a folding treadmill will have a gas shock to prevent the deck from slamming the ground with force. In this case, if you were to drop the deck during the unfolding process, it will come crashing down and could injure people and pets.
Check out our full XTERRA Fitness TR150 treadmill review.
Price:
Programming:
Treadmill weight:
Warranty:
Weight limit:
Belt Size:
Motor horsepower:
Just over $350
N/A
108 lbs
Lifetime frame, 1-year motor, 90-days deck and labor
250 lbs
16″ W x 50″ L
2.25 CHP
Other Treadmills We Researched
We try (and research) a lot of treadmills in our quest to find the best treadmills for you. Here are three that didn't quite make the cut on this list:
Goplus 2-in-1 Folding Treadmill: Although this budget-friendly and lightweight treadmill will be a good option for those tight on space, it won't win any awards for deck length.
UREVO Folding Treadmill: The UREVO is a good option for someone who wants to slowly walk while working or in a meeting, but it isn't good for runners or taller folks.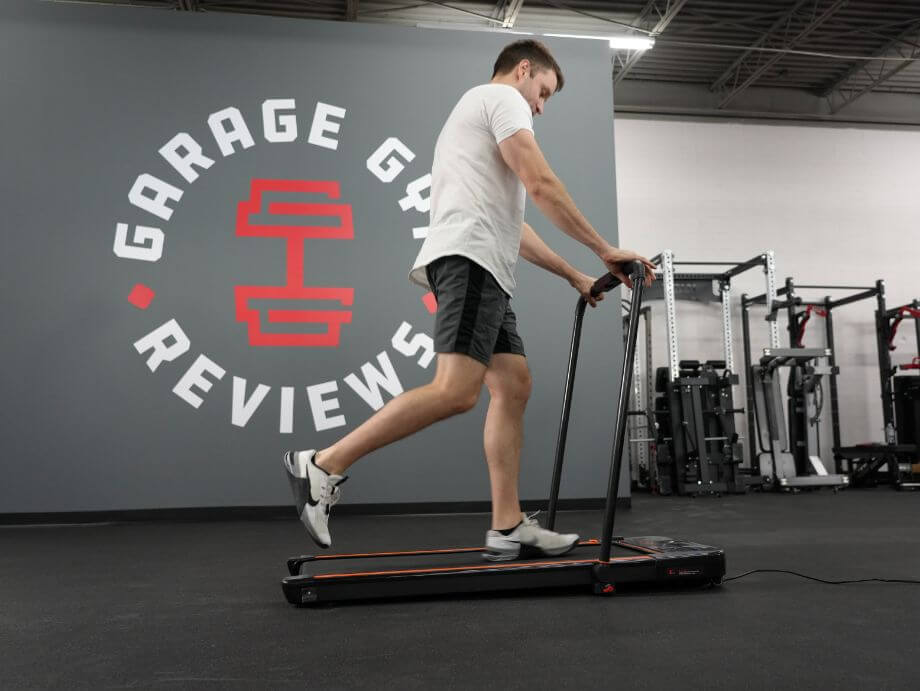 Horizon Fitness T101: Although this treadmill is just $649, we prefer the Horizon 7.0 for its more expansive deck and increased speed options.
How We Picked and Tested
When looking at possible treadmills to put on this list, we took a look at these key things:
Price
Popular options on the market
Workout experience
Motor horsepower
Max user weight capacity
Foldability
Warranty
Overall durability
Deck length
Benefits of Treadmills
Treadmills can be a beneficial tool to add to your home gym repertoire, but don't just take it from me—take it from a certified personal trainer (CPT)!
"There are a lot of reasons treadmills have been around for so long," GGR staff writer and CPT Anthony O'Reilly explained. "Most importantly, they're an easy-to-use tool for increasing your heart rate to help improve your cardiovascular health and conditioning and can be used to hit a caloric deficit."
"They're also much easier on the joints than road running, and this can help you remain active for many years to come," O'Reilly adds.
RELATED: Benefits of a Treadmill
Buying Guide: What to Look For in Treadmills Under $1,000
It can be hard to know what to look for when buying fitness equipment. With so many different buying decisions to make, sometimes it's overwhelming knowing what to look at first. Don't sweat it––as a CrossFit-L1 trainer and self-proclaimed cardio queen, I know what's most important when you're looking for the best treadmill for home under $1,000. Take a look:
Price
If you're reading this roundup, it's likely you're looking for a treadmill under $1,000. Yay! One thing is already accomplished––you know your budget. To get the most out of your price range, be on the lookout for special discount codes and holiday sales for different cardio brands like NordicTrack, ProForm, Sole, and Bowflex.
Warranty
In an ideal world, every treadmill would adhere to the industry standards of 15 years to a lifetime warranty on the frame. Unfortunately, with budget options that is rarely the case. You can hope for something like that, but realistically, you'll find cheaper treadmills have a frame warranty of around five to 10 years.
Deck Size
If you're over 5 feet, 9 inches tall or enjoy running, congratulations! You need a longer treadmill deck. Make sure your new cardio machine has at least a 50-inch deck (preferably 55 to 60 inches) to support your long strides. If you really only plan to walk or lightly jog, the length of your treadmill deck is less important.
User Weight Capacity
Depending on your weight, you'll want to make sure your new cardio machine will support you. Some of the more budget-friendly options can have sneakily low weight capacities (looking at you, Sunny Health and Fitness), so be sure to check before purchase.
Motor
If you like running, I'd suggest getting a treadmill that has at least a 3.0 continuous horsepower motor. If you're into taking it a bit slower, the motor's horsepower can vary and likely still support you.
Foldability
Tight on space? Make sure your treadmill is foldable so you can stow it away when it isn't in use. These days, most treadmills do fold, but it is still worth checking out before you purchase anything.
Treadmills Under $1,000 FAQs
What time of year do treadmills go on sale?
How much does a good quality treadmill cost?
It truly depends what features you're looking for in your new machine–do you need your treadmill to fold, have technology features, or a steep incline? Depending on your answers, your price point may vary. If you're just looking for a good walking treadmill without bells and whistles, $500 to $1,000 will almost certainly get the job done.
Are treadmills good for weight loss?
Treadmills can be a useful tool to assist a person with weight loss, provided it is combined with good nutrition and done appropriately. For more information and help with losing weight, please contact your doctor or a licensed medical professional.
What should I expect on a more expensive treadmill?
On an expensive treadmill, I recommend looking for various incline options, a powerful motor of at least 3.0 CHP, a tablet holder, fitness app compatibility, water bottle holder, a running surface of at least 55 inches or longer, and Bluetooth connectivity. These are the ideals of course, but only you can decide what makes a great treadmill for you personally.