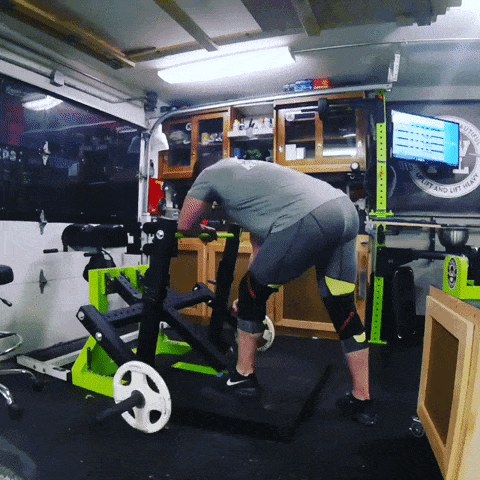 First of all, this unit will not be identical to mine as I tried to simplify some steps and improve upon others. 
I countersunk all lags and screws and filled all screw, lag, and pocket holes with wood filler. I then sanded the entire thing and painted it. This is a worthwhile step if you want it to look clean and professional. I also rabbited the 4x4s on the outside of my base and cut my plywood to sit inside the rabbited boards. This makes it look cleaner and hides all the plywood edges. I did not include this step because not everyone has these tools and it likely decreases the strength of the platform. 
Other things you can do is add 3x3 plastic end caps to make it look finished. Also take 3 in1 oil, sandpaper, and then steel wool to your iron pipe before painting, otherwise, the rust will bleed through your paint. For those interested, I used parakeet green paint from Valspar which matched my green Rogue RML-490C exactly. 
I also used a Kreg Jig for my pocket hole joints, and, if you are a DIYer, it will come in handy over and over again. 
I am quite certain someone can come up with a better idea for the stoppers. If you do, please let us know in the comments.
Finally, I have squatted up to 500 pounds on this unit so far. After the 500-pound squat, I decided to add some L brackets from Lowes where the base meets and goes up. Obviously, 4x4 construction is not as strong as steel. If you want to go another step in strengthening the unit, I have an idea. Add eye bolts to the base and outside bearings, and tension them with wire rope. This would pretty much guarantee that your belt squat will handle anything you throw at it.