We test and review fitness products based on an independent, multi-point methodology. If you use our links to purchase something, we may earn a commission. Read our disclosures.
There is nothing better than listening to your favorite pump-up playlist during a tough workout. Whether you are a total metal head or pop music diva, you deserve a speaker that delivers the highest quality audio. That's why we've curated a list of the best speakers for home gyms.
Our expert product testers here at Garage Gym Reviews test everything related to your home gym from the best treadmills to the best lighting for garage gyms.
We're also a group of fitness professionals ranging from marathon runners and professional athletes to nutrition coaches and certified personal trainers. We think our collective experience in the strength and conditioning industry provides you with the most honest take on all things gym-related.
You'll also notice some of the speakers on this list have testimonials from our GGR Home Gym Community members on Facebook. We polled the group to help with our initial research.
6 Best Speakers for Home Gyms
Best Home Gym Speakers Overall: Sonos One
Good for: Folks who don't need a portable option for quality sound and WiFi connectivity
Sonos One makes it to the top of our list for best home gym speakers for a few reasons: Powerful sound, voice control, and it can pair with other Sonos speakers. Plus GGR founder and OG product tester, Coop Mitchell swears by his Sonos.
Coop uses his Sonos One speakers on wall mounts and enjoys the quality of sound as well as the wireless internet connectivity. He notes that these speakers are a fairly expensive option but notes, "these are what I prefer and many in the [home gym] community do, too," says Coop. In our Facebook community poll, Sonos was the overall top pick.
RELATED: Best Garage Shelving
You can control your Sonos with your voice via Amazon Alexa or turn your smart device into a remote control with the Sonos app or Apple AirPlay2.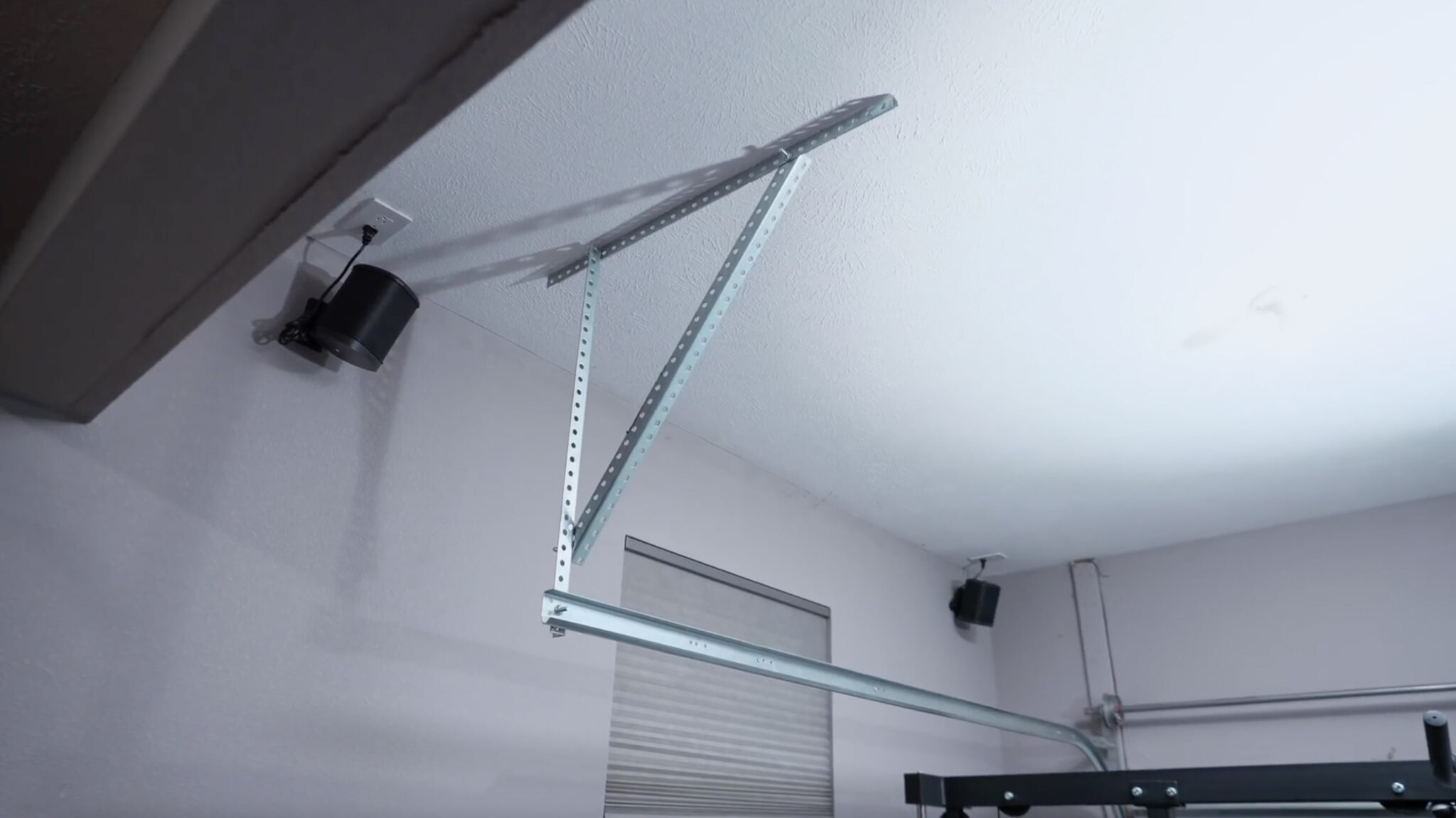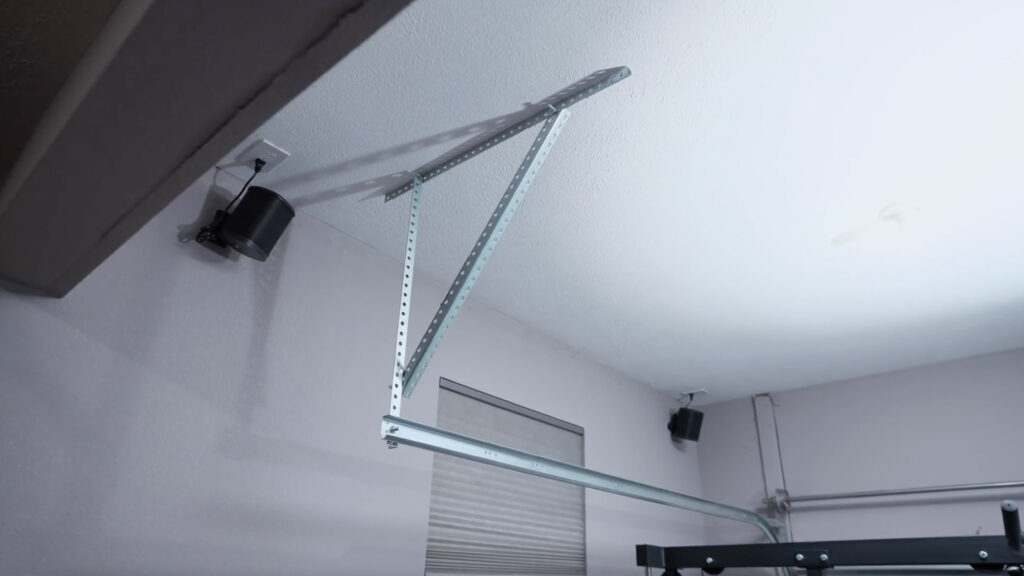 Home Gym Community member Tyler comments that he uses Sonos throughout his entire house. "It's awesome. I can turn the TV sounds on in the garage, upstairs, everywhere," he says. We especially like this idea for listening to live sports while you lift.
And because the Sonos One uses wireless internet connection versus wireless Bluetooth, you can stream higher fidelity sounds over greater distances. The WiFi also makes it easy to link together multiple Sonos speakers simultaneously for home theater-like systems.
It is worth mentioning that you will need to plug this into a regular outlet to use. It's not a speaker that you can charge and play wirelessly.
| | |
| --- | --- |
| Price | $219 on Amazon |
| Water-resistant | No, humidity resistant |
| Battery | No, AC plug |
| Connectivity | WiFi |
Best Budget Home Gym Speakers: JBL Flip 6
Good for: Anyone who wants excellent sound quality that is portable and affordable
The JBL Flip 6 is an affordable, portable, and waterproof speaker that is an excellent choice for home gyms. In fact, I'm going to start by saying that the JBL Flip might be one of the most durable items in my entire household. I bought the first generation JBL Flip over 10 years ago as a gift for my husband when we were still in college. We still use it to this day for our home gym, backyard parties, and car camping.
One thing that JBL has been improved upon since the first generation of the Flip is the water- and dust-resistant ratings. The JBL Flip 6 features an IP67 rating, which means it can withstand dust, dirt, and temporary immersion in water up to 1 meter for 30 minutes. Cue the pool parties!
According to JBL, the speaker system is engineered with a racetrack-shaped woofer that delivers low- and midrange-frequency plus a separate tweeter speaker to produce clear high-frequency sound.
Honestly, for under about $99 on Amazon, I'm not sure you can beat the great sound or the durability of this speaker. Additionally, you can pair two JBL PartyBoost-compatible speakers together for an enhanced stereo sound.
RELATED: Best Budget Gym Equipment on Amazon
| | |
| --- | --- |
| Price | $99 on Amazon |
| Water-resistant | Yes; IP67 waterproof and dustproof |
| Battery | 12-hour playback time; USB-C quick charge |
| Connectivity | Bluetooth 5.1 |
Best Portable Bluetooth Speaker for Home Gyms: Bose SoundLink Revolve
Good for: Home gym owners looking for Bose-quality sound in a small, portable package
The Bose SoundLink delivers the same sound quality in this small and portable speaker as you'd expect from the brand's noise-canceling headphones and soundbars. Not only does it have excellent sound, the SoundLink looks sleek with the seamless aluminum frame and petite cylindrical shape.
RELATED: Best Workout Headphones
The upright design of this wireless speaker casts a powerful 360-degree sound to fill up your entire gym. One of our Home Gym Community Facebook members comments that the SoundLink "is small but works well and gets pretty loud."
Another group member uses the Bose Mini SoundLink and reports he's "still going strong after six years of use." Now that is what we like to hear (even about the mini version).
Not only will you be able to hear the SoundLink over your lifting routine, you'll also have 13 hours of playtime from the rechargeable lithium-ion battery. It also has a IP55 rating, which gives you protection against dust and jetting streams of water—so technically you could rinse this off if you need to.
Plus, there are cool high-tech Bluetooth features you'll want to take advantage of like a built-in microphone for taking calls and accessing your smartphone's voice assistant (like Siri for iPhone users). The voice commands will allow you to send text messages without your phone being present. You'll also be able to connect with Amazon Alexa for other voice-enabled controls.
| | |
| --- | --- |
| Price | $219 |
| Water-resistant | Yes, water- and dust-resistant IP55 |
| Battery | 13-hours playback; Micro-B USB; rechargeable lithium-ion |
| Connectivity | Bluetooth, Auxiliary, USB |
Best Versatile Home Gym Speaker: ION Block Rocker 100W
Good for: Anyone who wants options for Bluetooth, radio, auxiliary ports, and a microphone
The ION Block Rocker is a hefty speaker that sits about 14 inches tall and weighs about 20 pounds. While this might not be the most portable and lightweight option on this list, it offers versatility that small wireless speakers can't offer.
But that doesn't mean the ION is lacking tech features—the Block Rocker has Bluetooth connectivity for playback and volume controls in addition to an auxiliary input for non-Bluetooth devices. That means anyone over the age of 30 (myself included) can break out mp3 players from days gone by to play nostalgic tracks. Plus, you can listen to AM/FM radio if that's your thing.
One Facebook group member prefaces his high regard for the sound quality of the Ion Block Rocker by saying, "I own the Ion, Bose Soundlink, and a JBL Charge 3." He then goes on to write, "my Ion holds its own [but] what I'm looking for while booming workout jams is not the same sound or nuances I might want while enjoying some bourbon and jazz."
That said, the Block Rocker features an 8-inch woofer and wide tweeter speaker that can amplify powerful 100-watt audio. Not only that, a microphone is included in your Block Rocker purchase for post-workout karaoke (or perhaps facilitating family workouts?).
Another member writes, "I have the Block Rocker. [It's] been good this far [and] it's been about 2.5 years."
We also like the fact that it has a 50-hour battery life, a retractable handle and wheels for transporting, and USB ports to charge your smartphone or tablet.
| | |
| --- | --- |
| Price | $159.99 |
| Water-resistant | No |
| Battery | 50-hour playback; lead acid battery |
| Connectivity | Bluetooth, Auxiliary, USB |
Best Durable Home Gym Speakers: EcoXGear EcoBoulder
Good for: Folks looking for a rugged speaker to stand up to the your gym, kids, and pets
The EcoXGear EcoBoulder is one of the most rugged and durable speakers you can buy—it even has the highest international waterproof and dustproof rating you can receive on a product at IP67. According to the website, the EcoBoulder even floats, which could be an excellent option for folks with pools.
You can source your music through local radio, auxiliary cord, or through a 100-foot Bluetooth range. Using your Bluetooth connection, you can even have voice control through Siri or OK Google.
You might also like knowing that the rechargeable battery has 10 hours of playback time at full volume (and up to 50 hours at lower levels) or you can plug it into a wall outlet for continuous playback. There is a large LED light display to make this easy to use at night, as well.
Plus, the EcoBoulder is not only durable, it's powerful, too. The 8-inch woofer and 3-inch tweeter speaker provide 120 watts of maximum sound. It also has an 8-inch rear-facing subwoofer for additional power and amplifying low-frequency pitches.
| | |
| --- | --- |
| Price | About $200 on Amazon |
| Water-resistant | Yes, water and dust resistant IP67 |
| Battery | 10-hour playback at full volume; AC plug |
| Connectivity | Bluetooth 5.0 and aux port |
Best High-End Home Gym Speakers: Sony SRS XP700
Good for: Folks looking for a durable, water-resistant speaker with ultra powerful sound
The Sony SRS XP700 is one of the more expensive choices on this list—but several of our Facebook group members swear by the Sony product. We think if you're looking for something with a lot of power and ultimate durability, this is the speaker for you.
The Sony SRS XP700 has a splash-resistant design, which means you don't have to worry about accidentally spilling a little water during or dripping sweat on this speaker after a kettlebell cardio workout. You'll also like knowing that you can play music in a variety of different ways including Bluetooth connectivity, auxiliary jack, USB port, mic input, and guitar input.
Plus, if you decide to jam out with your guitar after workouts, you'll be able to use the XP700 as a guitar amp (which can give you an idea of what kind of sound this thing makes).
Facebook group member Jake writes, "I have the Sony SRS XP700 and I never go above half way on the volume. This thing it's great, coming up to one year of owning it and not one issue."
Another member Damon says, "I love it. My neighbors probably not so much," referring to the powerful and high-quality sound of SRS XP700.
The XP700 also features a high-end quick-charge, meaning that with 10 minutes of charge time you can get 3 hours of playback time. We also appreciate the "battery care" feature, which stops the charging process just before the battery reaches 100% to increase the health and life span of the battery. When fully charged, the XP700 has 25 hours of battery life.
RELATED: Best Home Gym Storage
| | |
| --- | --- |
| Price | About $450 on Amazon |
| Water resistant | Yes, water resistant IPX4 |
| Battery | 25-hour playback, USB port charge |
| Connectivity | Bluetooth |
Other Speakers for Home Gyms We Researched
Soundboks: Although we had several Home Gym Community members tell us this sound system is effective, it was currently unavailable on Amazon. That said, one community member comments that he enjoys it so much that he "went ahead and bought the smaller version of Soundboks as well."
How We Picked and Tested Home Gym Speakers
Our expert product testers always start with initial internet search. For this list of best home gym speakers we first wanted to see what speakers are available on the market and also have a reasonable price point.
From that initial research, we turned to our GGR Home Gym Community group on Facebook for recommendations and found out what our community is actually using. From there, we dive in deeper to customer reviews, company policies, and price points to curate a list of speakers that will work for the most home gym owners.
Benefits of Speakers for Home Gyms
Whether you're jamming out on a classic boombox, an old set of bookshelf speakers, or a brand new wireless speaker here are some of the benefits we see to having a speaker system in your home gym:
Workout Motivation
If you're like most home gym folks, the music goes on before the warm-up even starts. Music is synonymous with workouts of all types, everything from lifting with barbells to bodyweight HIIT training. Music can be a powerful tool to help you stay in the zone and push through workouts.
General Entertainment
Speakers are not just limited to the best workout playlist on Spotify, you can enjoy podcasts, audiobooks, or even watch videos while you workout. Having a speaker with good sound can help you listen to the audio over your heavy breathing the sound of 45-pound plates clicking together.
Buying Guide Speakers for Home Gyms
These are the top three considerations to keep in mind when buying a gym speaker system for your home gym:
Sound Quality
Let it be known that it's hard to shop for speakers online. You can't listen to them and try it out! However, you'll want to look for speakers that offer a balanced frequency response. How will you know if your speakers are balanced? Although not all speakers will have this included in the specifications, sometimes you can find out how many tweeter speakers and woofer speakers are housed within the sound system.
Tweeter speakers deliver high-frequency sounds (which makes high-pitch noises come through crystal clear) and woofers bring out the low-frequency sounds (which amplifies the bass). Having balance between the two types of speakers is important for quality sound.
Connectivity
You'll want to buy a sound system that connects easily with your smartphone or tablet. For that reason, you'll want to find speakers that offer either Bluetooth or WiFi connectivity. Bonus points if the speakers give you auxiliary and USB options as well.
Waterproof IP Ratings
If a waterproof rating is important to you, then let's cover the IP rating basics so you know what you're buying. IP ratings are basically a measurement of how well a device stands up to solid and liquids (like chalk, dust, sweat, and water).
When something has this rating, it starts with the letters "IP" followed by two numbers: The first number represents the rating against solids (0 to 6) and the second for liquids (0 to 9). The higher the number, the better it's rated to withstand the elements.
Sometimes a speaker is only water-resistant but not dust-resistant. In that case the rating will show an "X" instead of a numerical rating like this: IPX7.
If you're interested in reading more about IP ratings, we actually have more details in this roundup of the best waterproof headphones.
Speakers for Home Gyms FAQs
Which speaker is best for home gyms?
The best speaker for your home gym will depend on your budget and your personal preferences. Here are our top picks for the best gym speakers:
Best Home Gym Speakers Overall: Sonos One
Best Budget Home Gym Speakers: JBL Flip 6
Best Small Home Gym Speakers: Bose SoundLink Revolve
Best Versatile Home Gym Speaker: ION Block Rocker
Best Portable Home Gym Speakers: EcoXGear EcoBoulder
Best High-End Home Gym Speakers: Sony SRS XP700
What is the best Bluetooth speaker for a gym?
There are many options on the market for Bluetooth speakers that offer clear sound and long battery life. If you're looking for something small and portable the JBL Flip 6 and the Bose SoundLink Revolve are two fantastic options that will make it sound like you've installed a surround-sound system in your garage gym.
Should I turn off speakers when not in use?
Although playing music at loud volumes is what drains the battery the most, it's not a bad idea to press the power button or power down with your remote control when you're not actively listening to music or audiobooks.