We test and review fitness products based on an independent, multi-point methodology. If you use our links to purchase something, we may earn a commission. Read our disclosures.
Ralph and his dad have created something truly special. A modern barn designed specifically to be a home gym that is connected and matches the rest of their house. Not only is the gym great, but the people are even better. Ralph is Garage Gym Built.
Ralph and his dad Curt have built a home gym that would make even the nicest setups envious. Not only is the surrounding structure epic, but the equipment inside is essentially a Rogue Fitness showroom with their latest and greatest creations.
Recently, during our 2019 Garage Gym Tour we were able to visit Ralph and Curt, talk about their training which is focused on CrossFit (Curt is a CrossFit Games Masters Athlete, NBD) and learn more about why they have a home gym and what makes it special. The bond this father and son have is special and they were a joy to be around.
You can follow Ralph on Instagram @ralphie.thebulldog
Here is the equipment that makes up Ralph's Barn Gym.
Ralph's Barn Gym Video Walkthrough
Squat Racks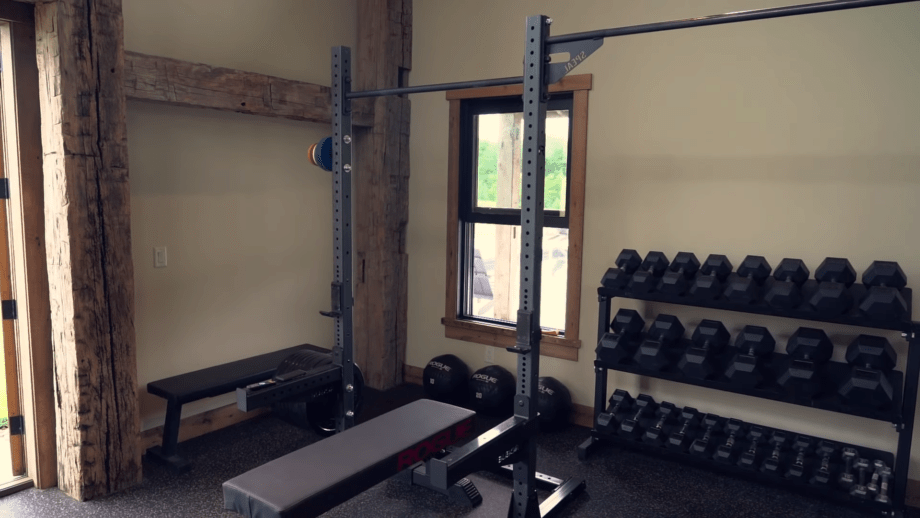 Two Squat Stands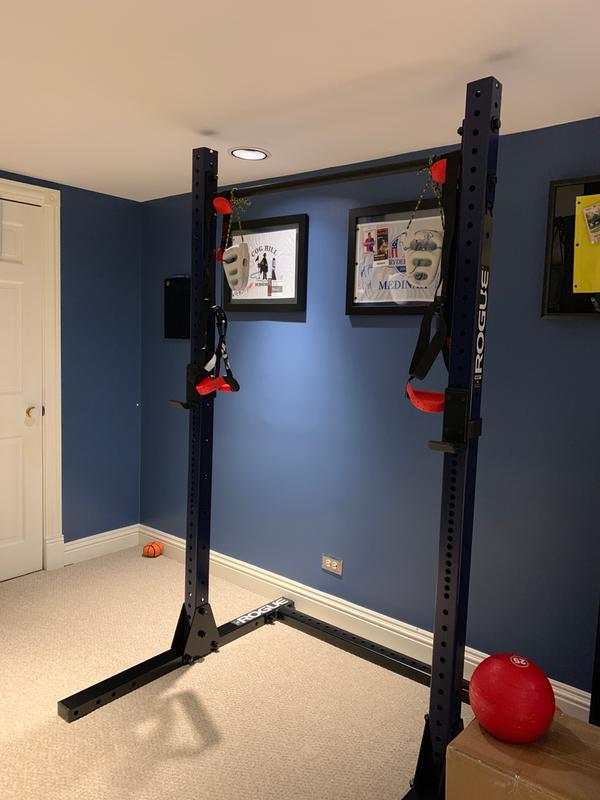 Rogue SML-2 Squat Stand
The SML-2 Monster Lite Squat Stand delivers strength and versatility all while remaining compact and efficient. It has 3x3 foot 11-gauge steel uprights, a fat/skinny pull-up bar that is adjustable, and ⅝-inch holes in Westside spacing pattern. It is often referred to as the affordable hybrid of Rogue's S-2 and Monster SM-2 Squat Stands. The options are limitless as you can use it for squats, bench, pull-ups, clean pulls, floor press, and more. Its footprint is only 49 x 48 inches, making it perfect for garage training or a gym facility. American manufacturers use two heavy-duty 11-gauge 3x3 foot square laser cut steel uprights and three 2x3 foot 11-gauge steel base tubes to provide the rack with stability. The unit also comes with laser-cut 5/8 inch diameter holes and SAE grade 5 bolt hardware. The SML-2 Monster Lite Squat Stand features Rogue's signature black powder coat finish. It may be referred to as a squat stand, but it can also be used like a full-scale power rack. It has a weight capacity of 1,000 pounds, but only takes up 49 x 48 inches, making it functional and efficient. This product is made in Columbus, Ohio. Each part of the process is monitored and inspected by Rogue workers. This means each weld and laser-cut is monitored to keep up with the rack's integrity and appearance. Furthermore, Rogue individually inspects the final parts after the final coating process as well. The final package will also receive one last final comprehensive check before it gets shipped. Once in use, the SML-2 Monster Lite Squat Stand is guaranteed by Rogue for life. With your SML-2 Monster Lite Squat Stand also comes any hardware and basic accessories necessary to build and use your stand. This even includes all ⅝-inch bolts and fasteners you  need, a pair of Monster Lite J-Cups (with protective UHMW plastic inserts), and your choice of the Fat/Skinny or Single Pull-Up Bar. 
The Dunns have two squat racks in their gym that are daisy chained together via a single pull-up bar.
Their racks of choice are the Rogue SML-2C Squat Stands with a Satin Clear powder coat color. We've reviewed these in-depth in the past and they were also chosen as our top pick for the best squat racks for most people.
Although they said that they'd prefer power racks that were bolted down, one of their issues is that they have heating throughout the floor and if they drilled into the ground, they could damage it. Definitely a nice "problem" to have.
Although the stands do shake a bit when used for kipping pull-ups and the like, they're sturdy enough for just about anything else you want to do and chaining them together definitely makes them more stable.
Barbells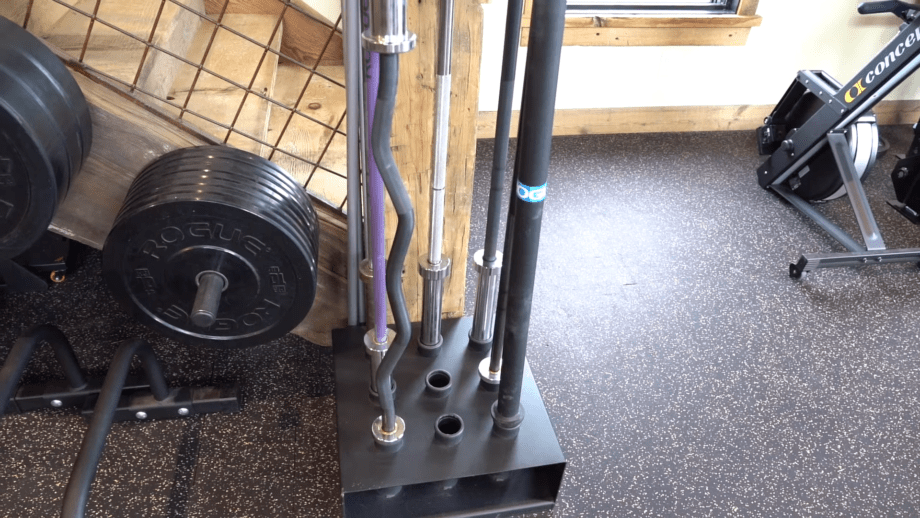 Main Barbell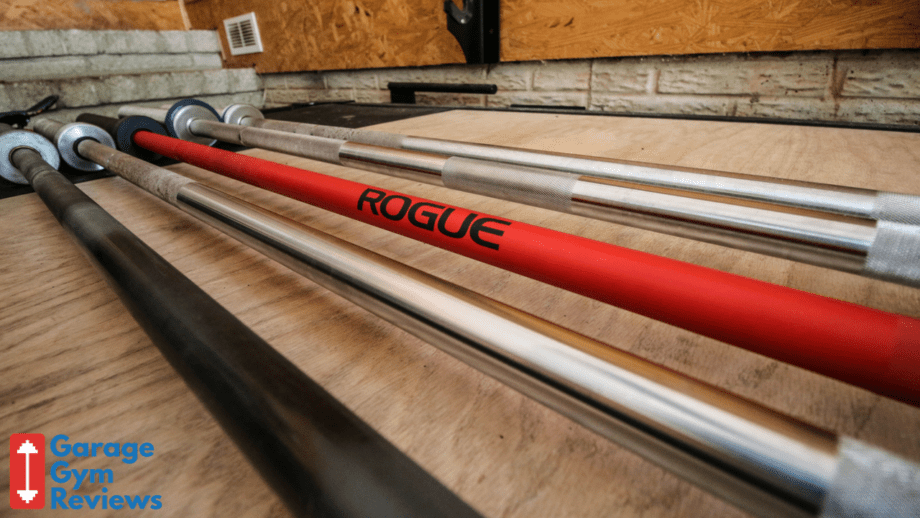 Rogue Ohio Bar - Cerakote
This new variation on our flagship 20KG Rogue Ohio Bar introduces a unique polymer-ceramic composite coating—popularized in the gun industry for its durability in thin applications. Available in a range of custom-color finish options with exclusive Rogue branding, this model is a genuine game-changer.Fully machined and assembled in Columbus, OH, the Ohio Bar continues to represent the highest level of precision engineering. The Cerakote Finish version maintains all the key features of the standard Ohio Bar, including a 190,000 PSI tensile strength shaft, dual knurl marks, quality composite bushings, and a lifetime warranty against bending.* A barbell that has always delivered multi-purpose versatility and dependable performance now also offers the ability to match it with the colors of your gym / school / team etc.This version of the Ohio Bar is distinct for its use of an advanced ceramic-based coating, originally established in the gun industry for its remarkable durability in thin applications. This unique finish can deliver superb abrasion/wear/corrosion resistance over time—100X that of standard black zinc—and it's available to order in a range of exclusive colors, with the Rogue logo branded on the center of the shaft. See the menu for current color combination options.This steel is manufactured in the US and has proven to be one of the best steel variants for a multi-purpose barbell.Each barbell shaft is ground and polished prior to machining which allows the bar to have a very smooth finish.Every bar shaft is machined in Columbus, Ohio, with painstaking attention to detail. The knurling has been carefully refined over the years, as well, for a firm but non-abrasive grip (there is no center knurl). We assemble the Ohio Bar with a snap ring design and quality composite bushings, which act as bearing surfaces between the bar sleeve and bar shaft, producing normal "whip" during Oly weightlifting but enough stiffness to hold for heavy powerlifting.Specifications:Manufactured in Columbus, OH Diameter: 28.5MM Weight: 20KG Dual Knurl Marks for Oly and Power lifts No Center Knurl 190,000 PSI Tensile Strength Steel Composite Bushings NEW Polymer-Ceramic Composite Finish option in Custom Colors w/ Rogue branding Sleeve Finish Options: Cerakote or Chrome Lifetime Warranty Against Bending*
As with any home gym where people actually train, there are a variety of barbells.
Ralph and Curt, due to their main focus being CrossFit, focus on general training bars.
The bar that likely gets the most use is the Rogue Castro Bar. The Castro Bar is very comparable to the Rogue Ohio Bar or Rogue 2.0 Bar and features the same 190K tensile strength steel, bronze bushings, dual knurl marks, and a lifetime warranty. The big difference is it has a bare steel shaft and bare steel sleeves that do develop a patina over time pretty much regardless of whether you take great care of it or not.
Other than the Castro Bar, the Rogue Ohio Bar – Cerakote gets the most use. The cerakote finish is feels great on the hands, looks great, and is extremely long lasting.
In addition to the Castro Bar, they have a Rogue Bella Bar coated in purple Cerakote for the ladies that come over to workout, a training bar for technique and younger kids, an Eleiko WL Bar (my personal favorite), a Rogue Stubby Axle Bar, and an XMark Chisel Curl Bar that we've reviewed due to it's unique attribute of bearings in the sleeves.
All of these bars are placed in the only Titan Fitness piece of equipment in their gym, the Titan 9 Bar Barbell Holder.
Weight Plates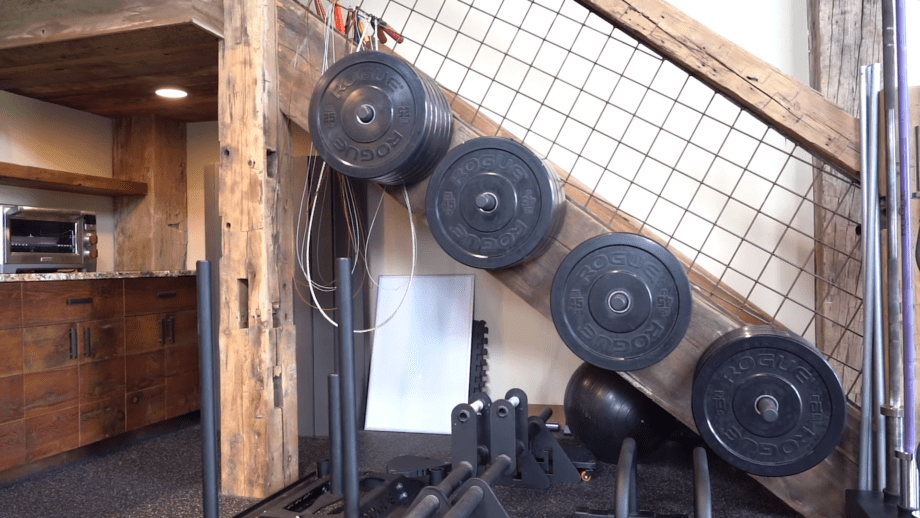 Bumper Plates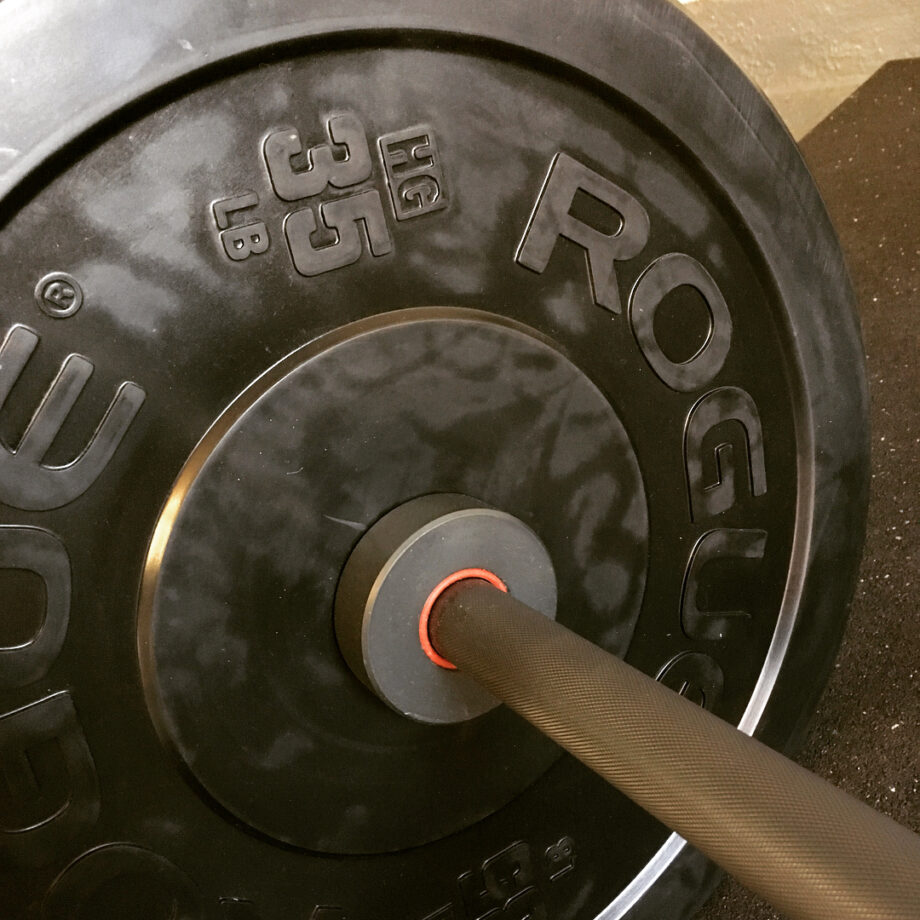 Rogue HG 2.0 Bumper Plates
Same quality plates, revamped design. Rogue HG 2.0 Bumpers feature new artwork (still black, still old school), with the consistent dead bounce, durability, and distinctive smooth finish athletes have come to expect from the HG line. These quality, budget-priced plates are the IWF standard 450mm in diameter, but are cut thinner than a lot of comparable bumpers to allow for more weight to be loaded on the bar. HG 2.0's also score an average of 88 on the Shore A Durometer scale, giving them a dead blow on par with a lot of the pricier comp plates in the industry.Battle-tested at the CrossFit Games and Regionals, HG Bumper Plates are both a high-performance and smart economical choice for any training facility. Check out the wide range of plate sets or simple pairs available to order on the right column, or read the reviews below to see what current HG Bumper owners have to say about the product.Specifications:Diameter: 450MM / 17.72" (IWF Standard) Collar Opening: 50.40MM / 1.98" Stainless Steel Inserts Weight Tolerance: +/- 1% of claimed weight Minimal Bounce Updated artwork with Rogue logo in black on black Imported from China
Unsurprisingly, the plates of choice for this gym are bumper plates.
For most people working out at home, bumper plates are the best option. They're more pricey, but they last a long time, protect your equipment, your flooring, and make a lot less noise than iron plates.
Ralph and Curtis decided to go with a large set of Rogue HG 2.0 Bumper Plates. These are actually the first set of plates I ever bought for my garage gym and they still perform like new.
All of these plates are stored on plate posts that have been bolted to a large beam that runs along their staircase. The way they're organized looks great and makes them easily accessible. I really like this idea.
Conditioning Equipment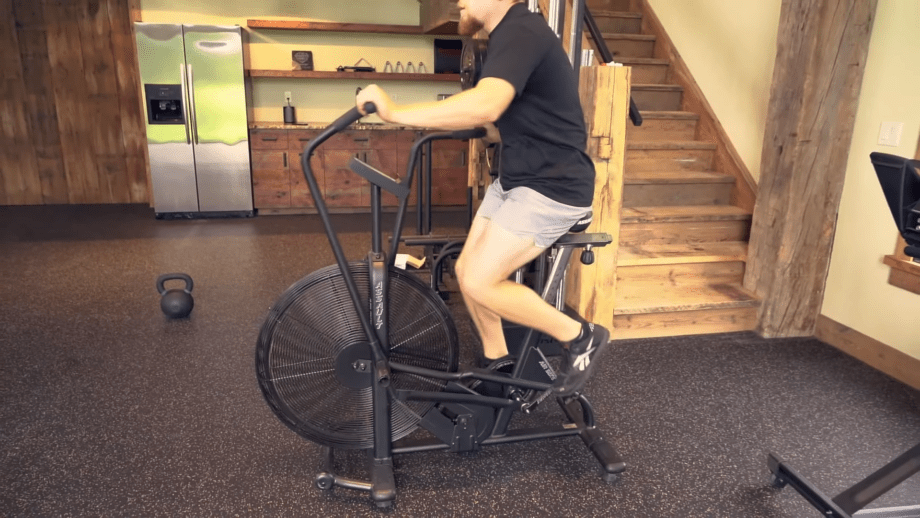 Air Bike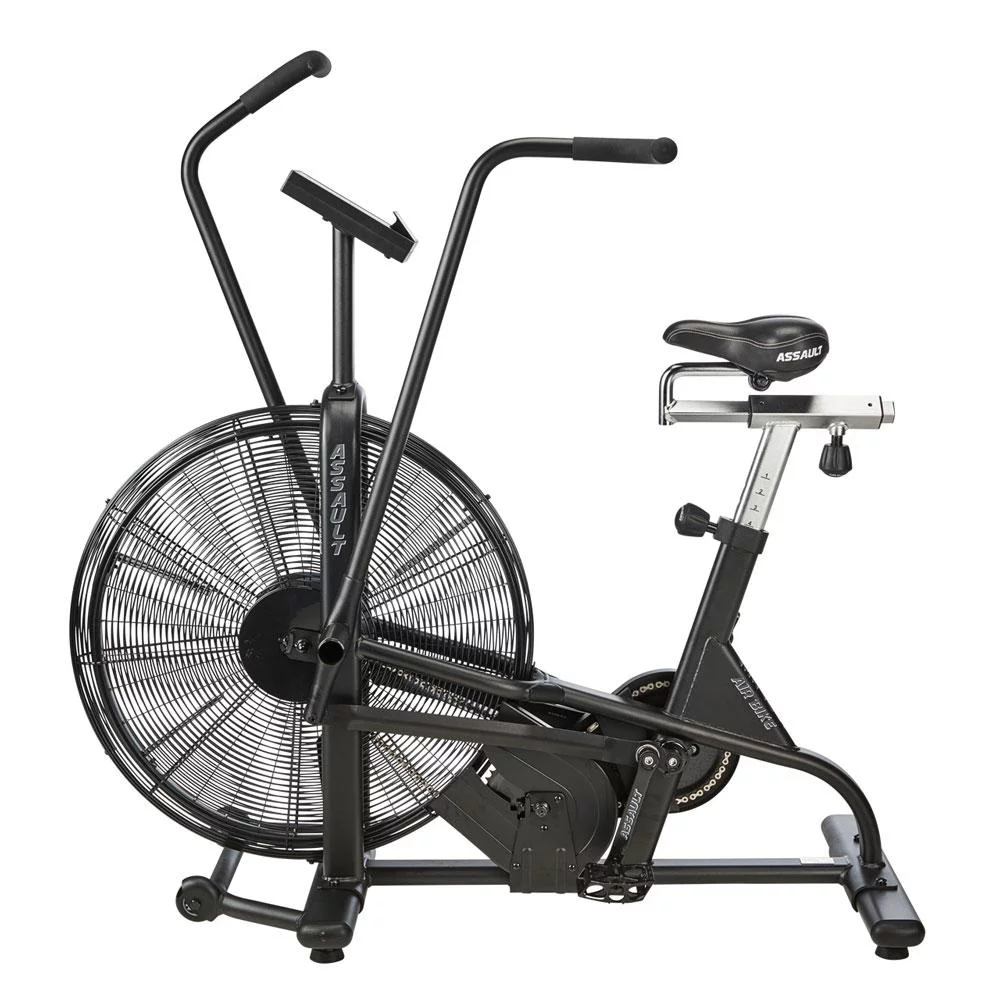 A CrossFit gym isn't a CrossFit gym without a whole lot of conditioning equipment that no one actually likes using, but uses it anyways.
Ralph and Curt happen to have the holy trinity of conditioning equipment, the Assault AirBike, Concept 2 Model D Rower, and Assault Air Runner.
The Assault Air Bike, also dubbed the devil's tricycle has to be one of the most effective conditioning tools on the market. It's brutally effective. Ralph was kind enough to display it's difficulty through a 10 min AMRAP that featured burpees, air bike cals, and kettlebell swings.
The Concept 2 Rower is likely the piece that gets used most considering it's so popular in CrossFit gyms and is great for both short and long duration training. We're big fans of the Concept 2 Rower both for it's usefulness as well as it's bomb-proof nature.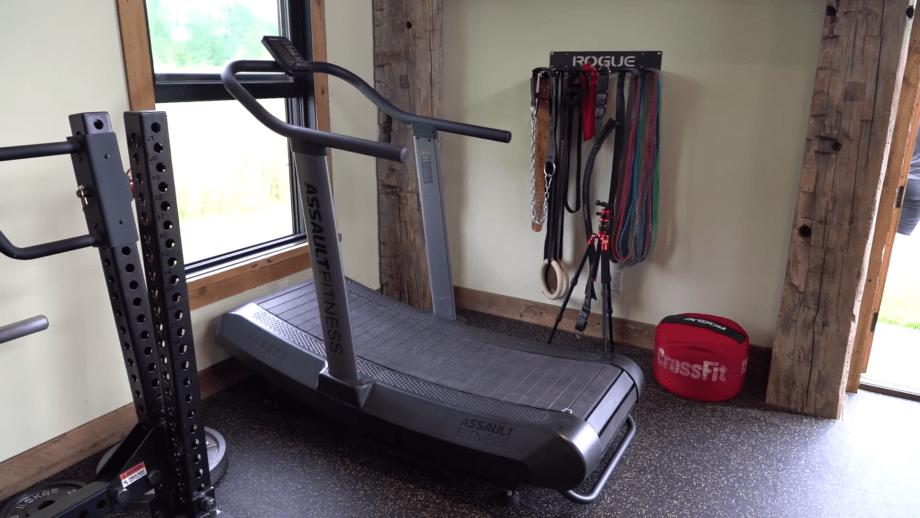 Treadmill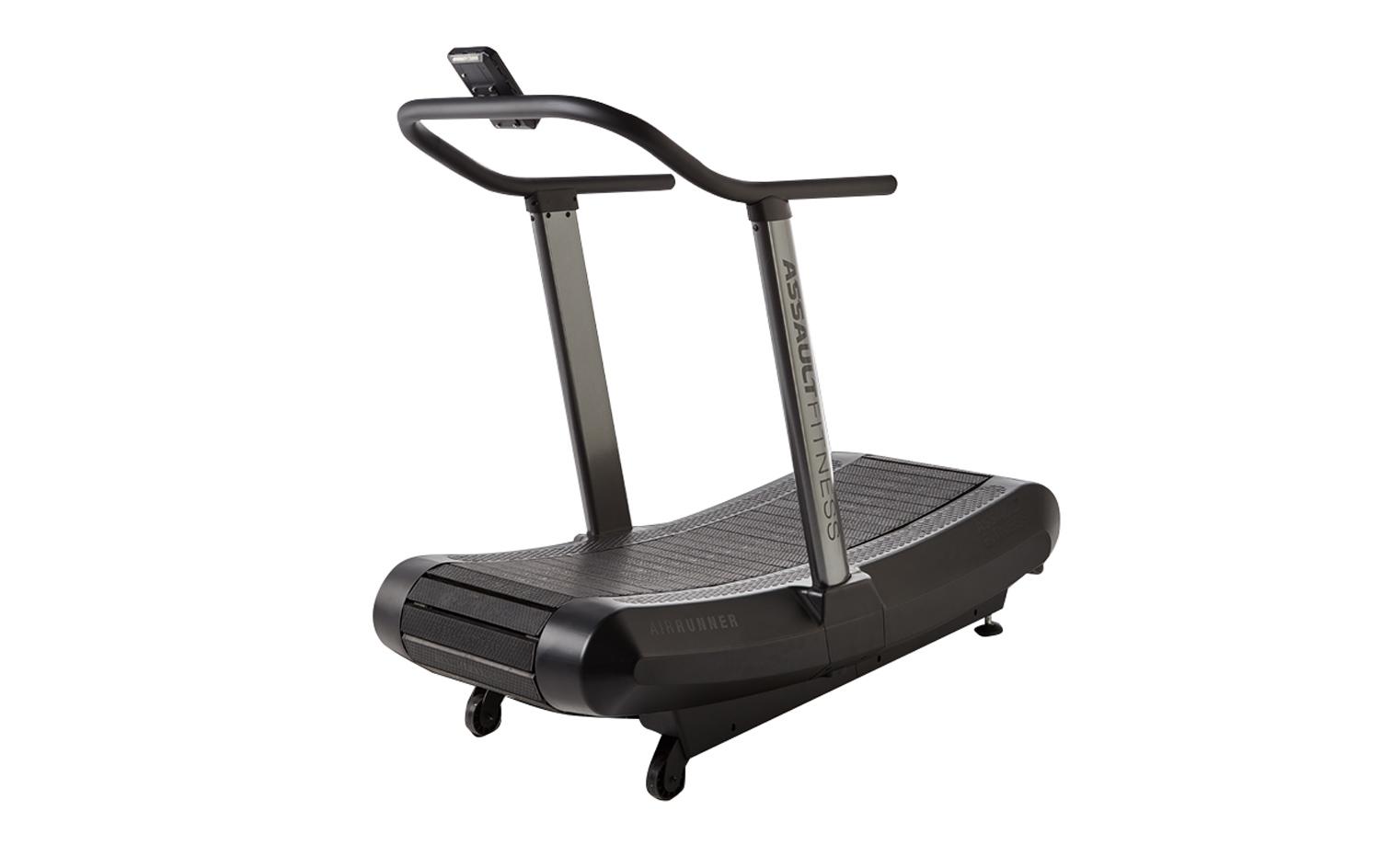 One piece of equipment that you rarely see in garage gyms is the Assault AirRunner.
The AirRunner is a curved, non-motorized treadmill that has been used at the CrossFit Games and many other competitions. It's not our favorite motorized treadmill (we prefer the TrueForm Runner,) but it is the best value.
Miscellaneous Equipment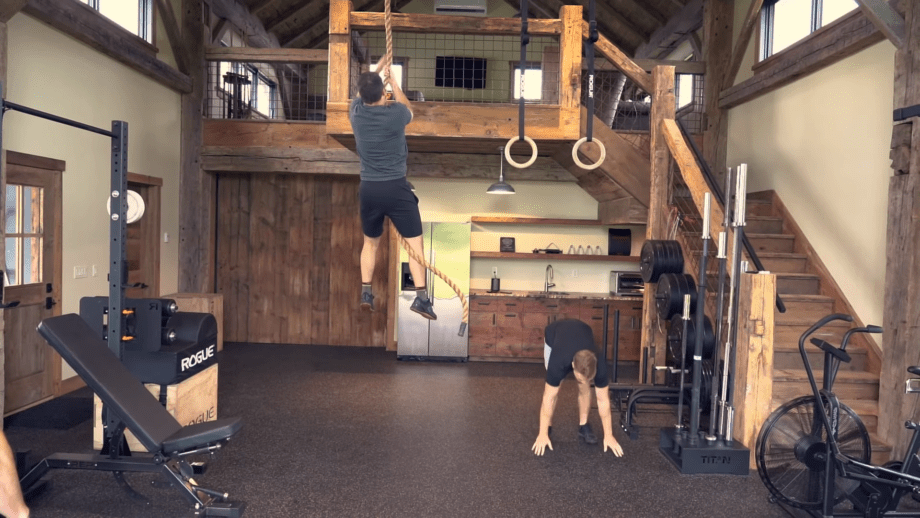 The rest of the gym is filled with all kinds of goodies that we've reviewed.
One that really stood out was the Rogue Rhino Belt Squat.
Belt Squat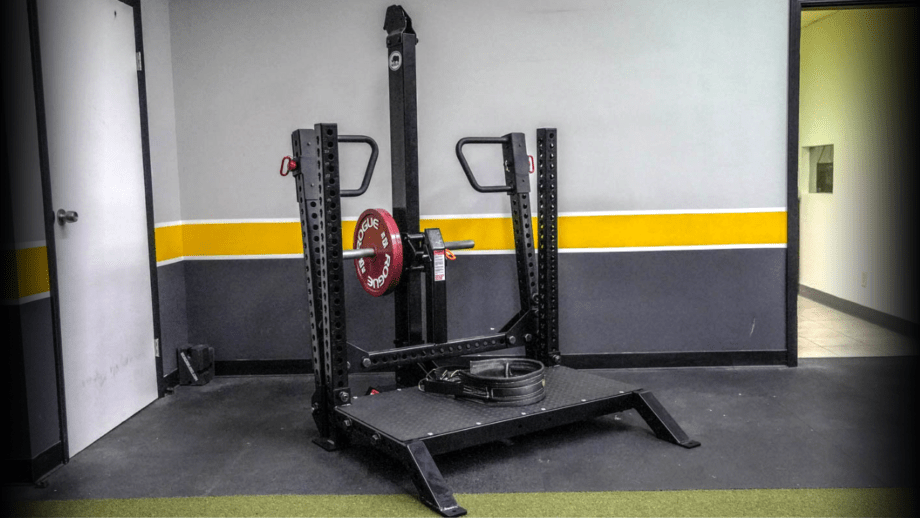 Rogue Monster Rhino Belt Squat
The freestanding version of the Rogue Monster Rhino Belt Squat (patent pending) requires no separate rack/rig for set-up, as the system includes a pair of 53.925" steel legs for mounting and two angled 3x3" front feet for platform stability. This compact unit can be set up in garage gyms, low-ceiling home gyms, or full-scale facilities, offering athletes the ability to get many of the lower body training benefits of squats and other workouts without putting unnecessary stress on the shoulders or lower back. See Also: The Rack-Mounted Drop-In Rhino and Rhino + RM-3 Rack packageManufactured in Columbus, Ohio, the stand-alone Monster Rhino Belt Squat comes with 3x3" arms and crossmembers, a 3x6" weight trolley tower, and a 0.25" braided cable for raising/lowering the weight trolley. When not in use, the trolley is stored on a 1" thick UHMW plastic hook, or "Rhino Horn." A diamond-tread plate platform provides steady footing, adjustable handles offer overhand and neutral grip options, and a Spud Inc Belt Squat Belt (exclusive to Rogue) accommodates most heights and waist sizes. The entire unit (aside from the platform, handles and weight posts) is finished in our Medium Gloss Black powdercoat.Our innovative weight trolley design (patent pending) features two stainless steel, horizontal weight posts with 15.75" of loading capacity on each side. A set of (4) machined Acetal rollers, each containing (2) bearings, ensure the trolley moves smoothly up and down the rail. Laser-cut Rogue branding is featured on each side, and the tower includes a Rhino sticker on each side, as well.The platform of the Monster Rhino Belt Squat is made from 0.125" thick diamond tread plate and is finished in our Signature Texture Black powdercoat to provide advanced durability and a non-slip surface. The tread plate sits on top of a 1" x 3" steel frame and attaches to 3x3" front feet for additional stability and rigidity. The platform dimensions are 26" deep x 48.5" wide. When the unit is installed, the top of the platform sits 7" above the ground.This is a 1" thick UHMW plastic horn, sandwiched between steel plates, that holds the trolley when not in use. The Rhino Horn is adjustable up and down so that the "racked" or resting height of the trolley can be accommodated to specific users heights.Each Rhino unit includes a custom designed Spud Inc Squat Belt that is only available through Rogue Fitness. This belt features 3 heavy duty triangle D rings on each end, so it will accommodate a variety of user waist sizes and heights. A black carabiner is included for connecting the belt to the cable that comes up through the platform.Additional Specifications:Made in the USA Patent Pending Freestanding Version (does not require existing rack/rig) Ships Freight, Some Assembly Required Height of Tower (from floor): 78.5" Height of Platform (from floor) 7" Footprint: 53" x 60.5" (2) Weight Posts with 15.75" loading capacity on each Unloaded Trolley Weight: 27.5LB (+/- 1LB) 3x3" Arms and Crossmembers (2) Welded-On Band Pegs for resistance work
We've tested and reviewed the Rhino and have said it many times, it's one of our favorite pieces of equipment that Rogue has come out with to date.
Ralph said he uses the belt squat mainly for squats as well as marches. The motivation to buy it came from having an injury and wanting to work around it.
We love the belt squat and would like to see more people add them to their gyms. They're just that good.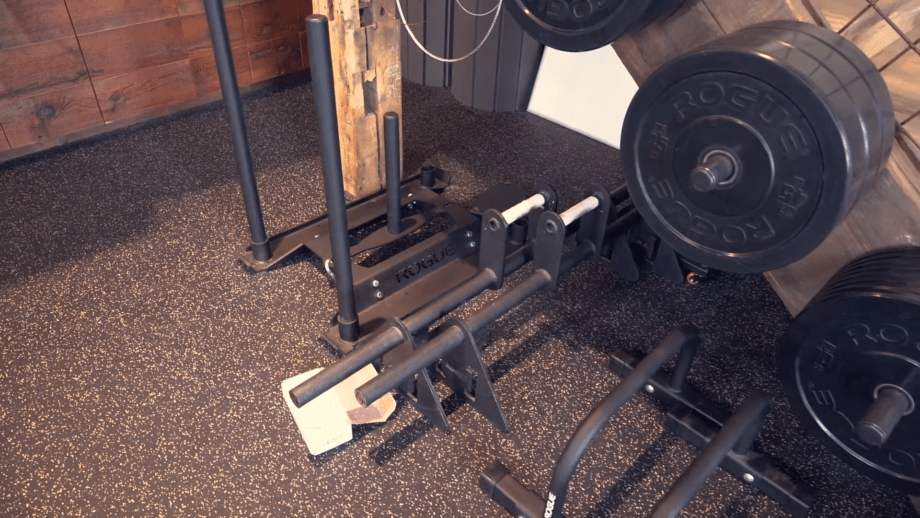 A variety of tools are stored under the stairs including the ever-popular Rogue Echo Sled.
We really like this sled for the value you offered. It's very durable and just works at a lower price than the heavier Rogue Dog Sled 1.2.
Next to the sled are some farmers carry handles from the now defunct company, Pure Strength (RIP), and some Rogue Parallettes.
One thing we were surprised to see due to their focus being CrossFit was a Rogue Monster Bench with a Thompson Fat Pad attached.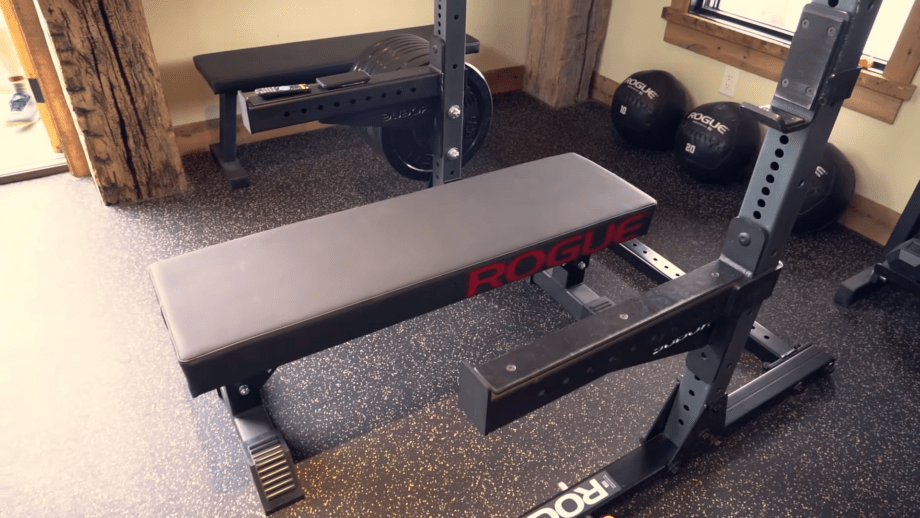 Bench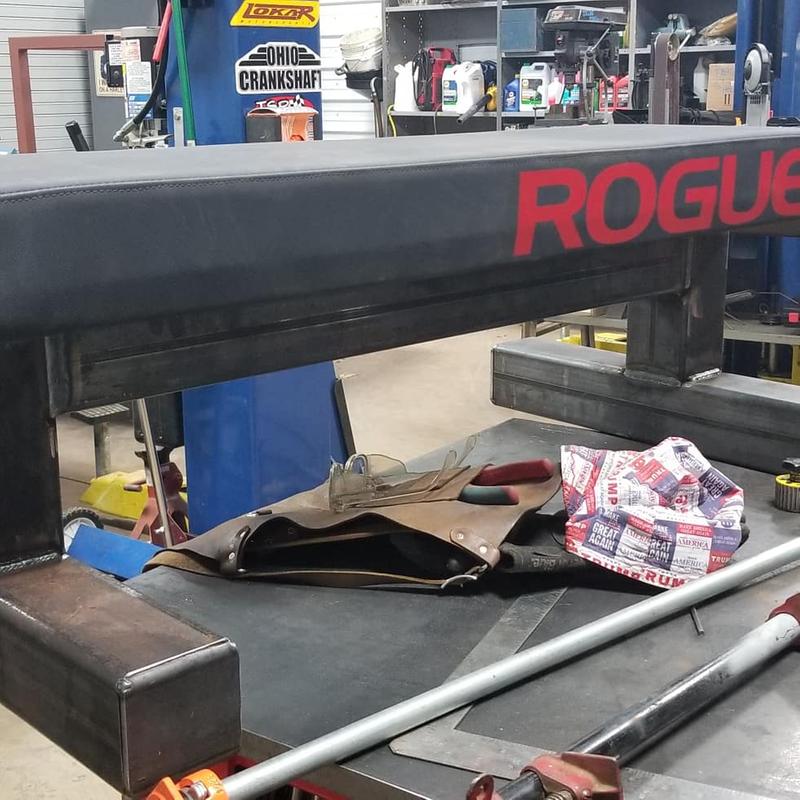 Rogue Thompson Fat Pad
The Thompson Fat Pad by Rogue is the proper bench pad to maximize power and minimize injury.Benefits:Promote Scapular movementEliminate Shoulder HangoverOptimizes Back and Upper body PositioningIncreases mechanic leveragesBenefits of the additional thickness and width:Scapular movement is uninhibited and eliminates AC tearsVery little to NO Translational loadingCommon Pec Tweaks are a thing of the past!Angry Humeral wear on the bicep tendon and soft tissue GONE!
Although the Thompson Fat Pad was initially made for someone much larger, we've gotten great use out of the pad. It's helped with shoulder stiffness and just overall shoulder health.
Ralph got it due to some shoulder issues and he said it's definitely helped.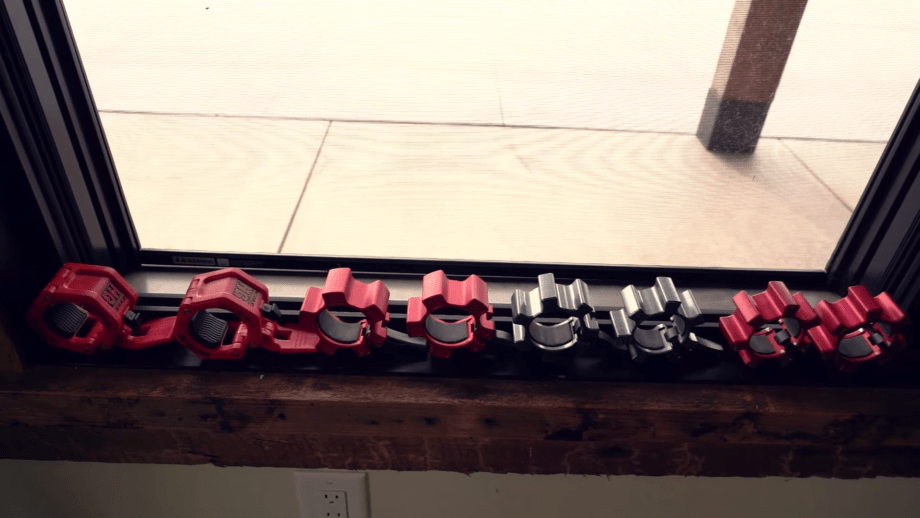 To close it off, they have a variety of Rogue OSO Collars that look and perform great.
There's a Strongman Sandbag, change plates, gymnastic rings, a climbing rope, and an Echo GHD from Rogue that's quite popular among those in the garage gym community.