We test and review fitness products based on an independent, multi-point methodology. If you use our links to purchase something, we may earn a commission. Read our disclosures.
What if your gym equipment could teach you how to properly use it and improve your workout skills? Don't worry, this isn't the start of another Terminator movie –– it's the concept of the TrueForm Runner, a non-motorized treadmill designed to teach proper running form.
I've had mine for more than five years, and it's helped improve my running and even changed my foot strike to make me a more effective runner. It's so good, I've actually picked up a second one for my personal training studio. Trust me, it's one of the best manual treadmills available.
In my TrueForm Runner review, I'll break down why, despite a hefty price tag, this machine is the best pick for anyone who's serious about becoming a better runner, or just wants a high-intensity cardio or treadmill workouts on days when road running isn't an option.
Why You Should Trust Us
Call me crazy, but I'm actually a fan of cardio workouts. Because of that, I've tested and reviewed some of the most high-end motorless and traditional treadmills out there including the AssaultRunner Elite, Woodway Curve, and the Tru Grit Runner, just to name a few. I have firsthand knowledge on what the best treadmills should feel like when you run on them.

I've also tested and reviewed the TrueForm Trainer, so I have plenty of familiarity with the TrueForm product line. I'll give you my honest assessment of each product and who I think would benefit from it the most, and who should try something else.
TrueForm Running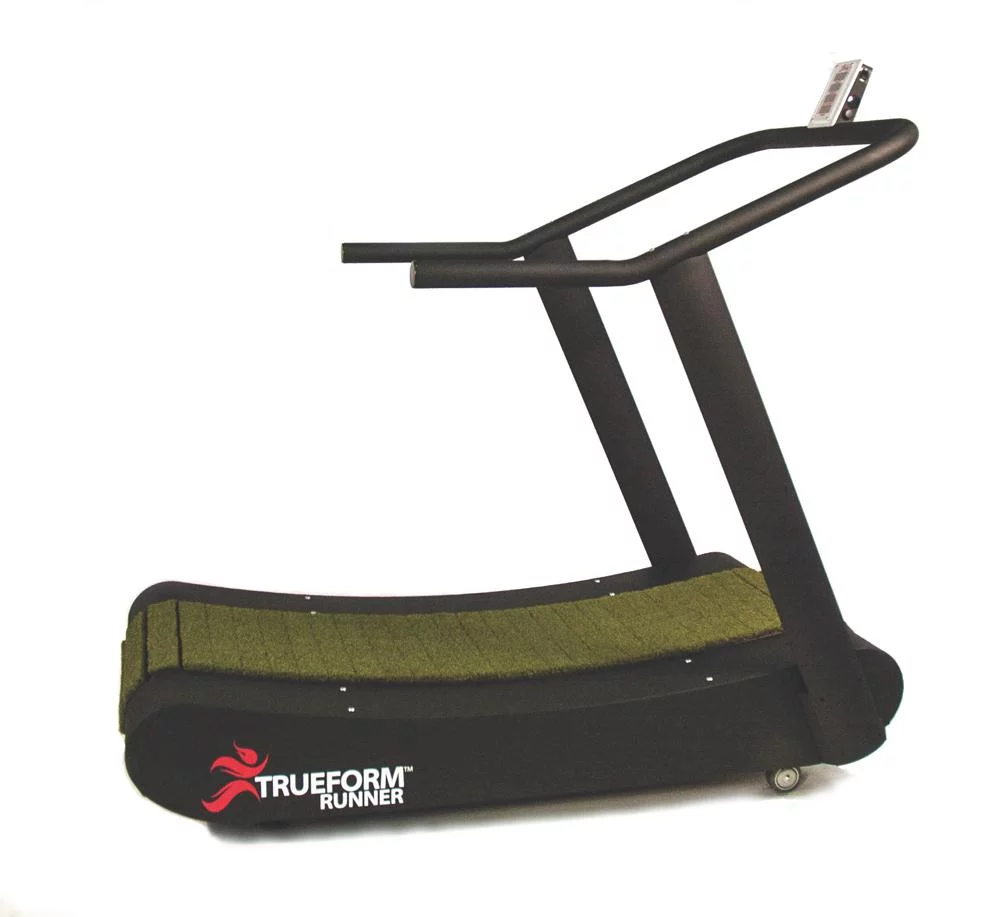 TrueForm Runner
TRUEFORM is the industry leading curved non-motorized treadmill. It's the least steep curve on the market, which promotes good walking, running, and sprinting form. The shallow curve also allows you to easily and safely control your speed. TRUEFORM is the most natural treadmill running surface when compared to running outdoors.The proprietary Responsive Belt Technology (RBT), reacts to every subtly in your movement; balance, posture, hip position, foot strike and more. The TRUEFORM requires no power. The TRUEFORM belt responds to your pace, allowing you to go from a walk to a jog, to a sprint, to a stop. Instantly. You will feel when your body is not in the optimal position for running or walking. Long term use of the TRUEFORM will promote better movement patterns improving overall health and wellness. TRUEFORM is proven to reduce impact stress which reduces the risk of running injury.TRUEFORM offers three models all with steel frame construction, a heavy-duty, impact absorbing slatted running surface, easy to move built in guide wheels and the best part, TRUEFORM requires NO MAINTENANCE!TRUEFORM Runner is overbuilt for a super smooth superior ride and engineered for a lifetime with solid steel construction inside and out. Each Runner is custom made and hand welded in the USA for unsurpassed elite quality. With the most subtle cure on the market TRUEFORM Runner is the most responsive treadmill available. Proven to Burn 44% more calories and reduce running injury and impact stress factors. Custom colors and tread surfaces are an available option for the TRUEFORM Runner. The standard display is bright LED which indicates pace, speed, distance, time. An optional Bluetooth display is also available.
A Quick Look at the TrueForm Runner
There is an incredible amount of different treadmills on the market. Seriously, if you're ever bored, do a Google search for treadmills, and you'll be inundated by products from companies you've never heard of. Unfortunately, though treadmills can be an effective piece of fitness equipment, they often end up as clothes hangers.
As many new treadmills are sold each year, I would assume that just as many, if not more, are resold at garage sales. They're a piece of equipment that sound like a great idea to most people, and then, due to various factors (mostly dependent upon discipline), they end up never being used.
The TrueForm Runner, however, is unlike any other treadmill.
The TrueForm Runner is the best treadmill I've personally used. I'd love to say that the TrueForm Runner is definitively the best-built treadmill in the world, but due to the number of treadmills being manufactured and marketed, that statement would be completely disingenuous for anyone to say.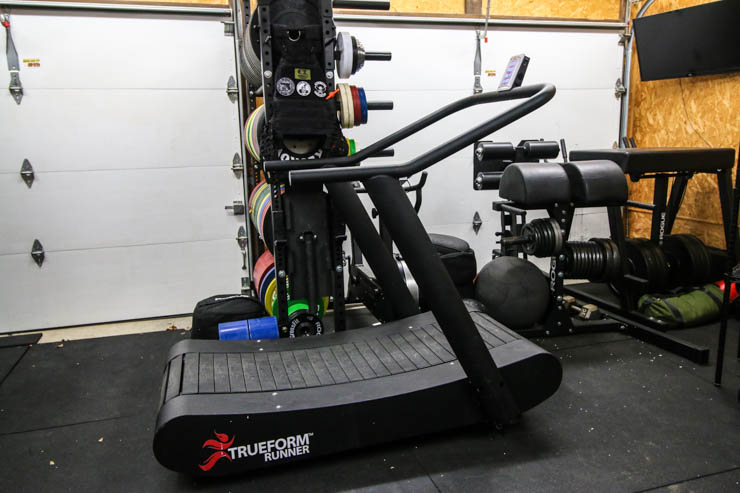 Coop's Tips:
You can bring the total cost down by delaying shipping for a few weeks
If you haven't heard of it, look into the POSE Method of running. It's the running style best suited for this treadmill
Pros:
Forces you to become a better runner
Can pick your own custom color and desired tread surface (I have the black turf belt on one of mind)
Unlimited speed! It goes as fast as you can
Cons:
Doesn't offer a cup or phone holder, so don't expect to multitask on this thing
It's super heavy, so it's difficult to move around unless you're really strong
No real tech capabilities and it uses a weird battery system
Video Review
Is the TrueForm Runner Worth It?
Let's address the curved elephant in the room: $6,995 is A LOT of money to spend on a treadmill, or any other singular piece of equipment for that matter. For the cost of a TrueForm Runner, you could furnish a small home gym with Rogue Fitness products (including shipping and handling) and still have some money leftover.
It's true the TrueForm Runner is one of the best curved manual treadmills money can buy. It's also true its sibling, the TrueForm Trainer, accomplishes the same goal of teaching proper running form and is $2,000 cheaper.
For most home gym owners, I'd recommend the TrueForm Trainer and stress they take good care of it. If you're someone who really loves running or wants to get better at it, and you don't mind 3-plus years of $140 monthly payments, then go for the Runner. Nothing comes close to it in terms of quality and durability.
Five years since I first got it, and mine looks and feels like it did on Day One. When I say it'll last a lifetime, I really mean it––heck, I'm pretty sure my grandchildren will learn to run on this thing.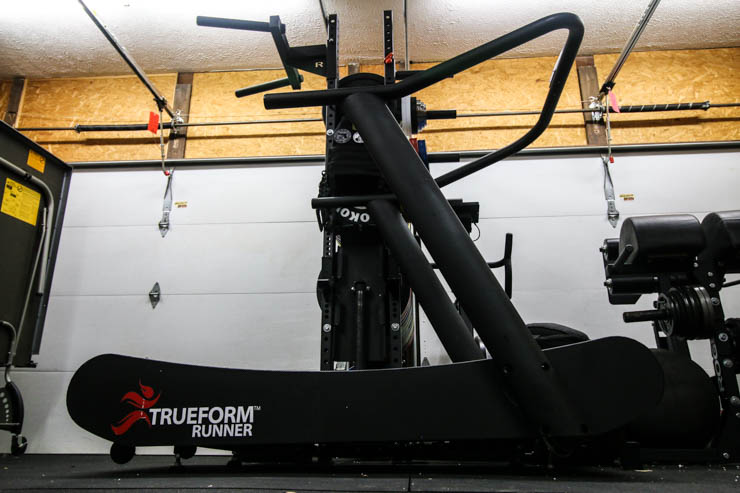 Great for:
Hardcore runners who are looking for the best-of-the-best
Anyone interested in improving their running form
People looking for a durable, heavy-duty treadmill that will last decades
Not recommended for:
People looking for a budget treadmill
Anyone who wants dynamic programming options
Anyone interested in tracking calories burned or their heart rate
Running on the TrueForm Runner
If you're simply looking to supplement your training with walking, running, or sprinting, the TrueForm Runner does an amazing job when used in conjunction with other training implements.
Want to do an EMOM with sprints and pull-ups? The TrueForm Runner can do that.
Want to run long distances? The TrueForm Runner can do that.
Want to do overhead carries? Yep, the TrueForm Runner can do that.
When you think about anything training related or life in general, when something is hard, that typically means it produces a greater result than if it were easy. When I'm training, I'm not just trying to get stronger or more fit, I want to do it efficiently and effectively. I have little interest in being able to squat 500 pounds if it means that due to my lack of good form, I'll only be able to do so for a short period of time due to injury.
The TrueForm Runner is designed to help those with inefficient running form, improve that form.
The unique curve of the TrueForm Runner is designed to both propel the treads, and force the user into the proper gait and body position. Due to the speed of the Runner's belt, you can go from sprinting to walking at a normal pace, and not have the fear of being flung off the back of the treadmill (something that often happens with other non-motorized treadmills.)
Tech
My one big issue with the TrueForm Runner is its lack of tech. Right off the bat, there's no heart rate monitor and the monitor it has is bad. It only displays your pace, speed, distance, and time. I would've liked to see a few more metrics provided, especially for the price.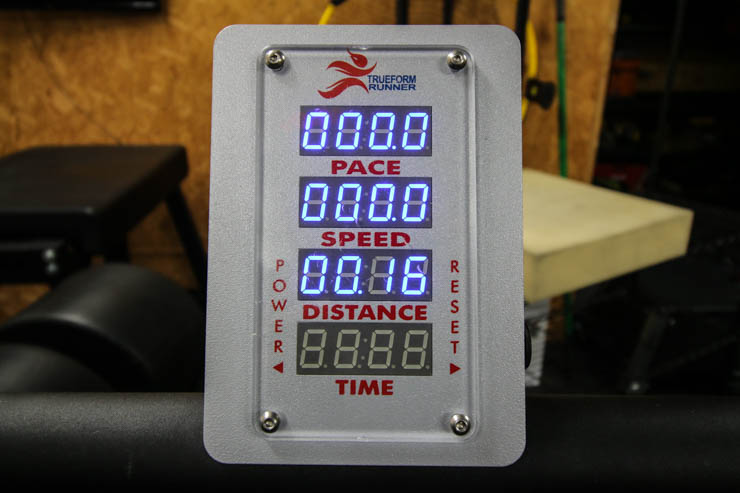 On top of that, the monitor is powered by a rechargeable battery that's weird and clunky to use instead of AA batteries, which is what the TrueForm Trainer uses. It'd be nice if TrueForm updates this on one of their future models.
And while it's not technically tech, there's also no phone or cup holder. So if you're someone who likes to shuffle songs in the middle of a run I'd suggest making a no-skip playlist before hopping on this thing. It only comes with handrails, and I actually took mine off.
Ordering and Assembling the TrueForm Runner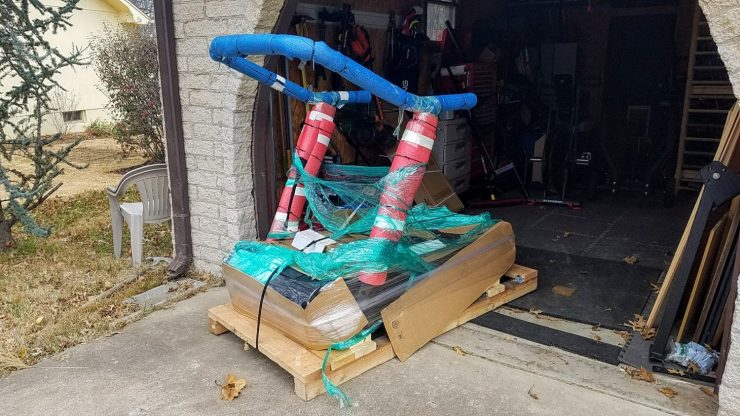 Ordering the TrueForm Runner from TrueForm's website is a breeze, and they even give you the option of delaying your order to save up to $1,500 (so you're only spending $5,500, instead of 7 grand).
The TrueForm Treadmill showed up on an extra large pallet. The UPS driver was trying to come up with all different ideas for what he thought it was, but we agreed to disagree when I said it was a stretching machine for my wife.
TrueForm makes sure everything is padded, protected, and secure. With more pool noodles than I've ever seen accompanied by many, and I mean many, zip ties, this bad boy wasn't going anywhere.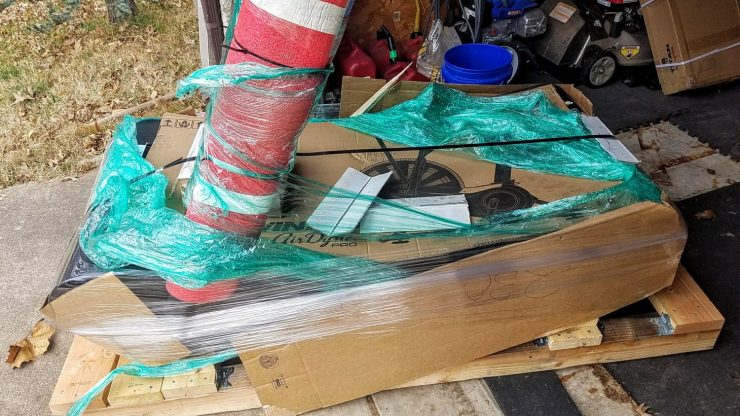 The only part of the treadmill that ended up getting scratched was the logo on the back right side. Other than that, it arrived completely unscathed.
There's also very little assembly involved. You'll get it 90 percent put together, and they give you corrosion resistant stainless steel tools and instructions for the other 10 percent, which is easy and shouldn't take much time at all.
FedEx is only obligated to bring it to the curb, or your driveway. If you want them to bring it into your home gym for you, that'll cost extra.
Construction and Durability
In my opinion, and that of many others, Concept 2 reigns supreme in the land of cardio machines. They make equipment that works well and lasts a long time. The TrueForm Runner is basically what, I feel, Concept 2 would release if they came out with a treadmill. It's a treadmill for runners.
It's not designed for CrossFit, HIIT treadmill workouts, Bootcamps, or anything else. It's designed for running in the same way the Concept 2 RowErg Rower is designed for rowing, SkiErg is designed for Nordic Skiing, and Concept 2 BikeErg is designed for cycling.
The shell of the TrueForm Runner is welded steel that's made in the USA. The steel is then painted using a granite textured paint that looks great and is quite durable.
The TrueForm Runner comes with handles that attach to the base of the Runner. These are designed to provide security when running and I typically only find myself using them when getting started on the treadmill.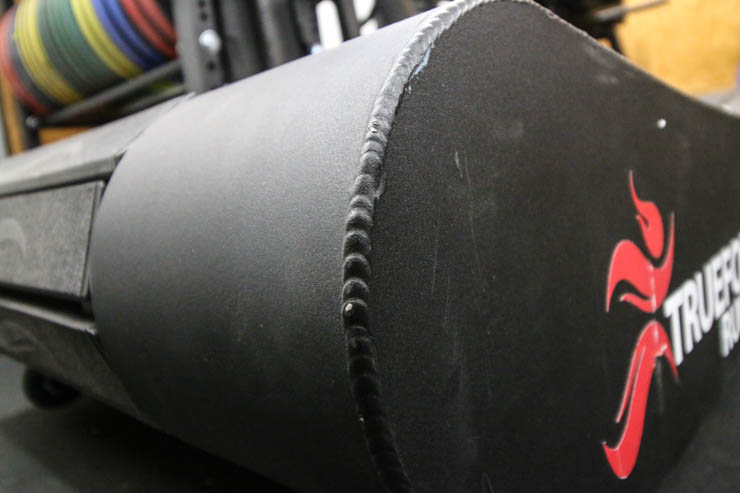 The belt tread runs on a series of precise bearings that keep the belt rotating, but not overly so. There are a few non-motorized treadmills that utilize bearings to whirl the belt, but most will overturn due to the angle of the slant, or speed of the bearing. This causes unrealistic speeds and is the reason you sometimes see viral videos of people hitting 25+ miles per hour speeds on treadmills.
The steel bearings are seriously some of the best I've ever come across. I have not once had to oil them up as it's not needed, and really I don't see them going anywhere.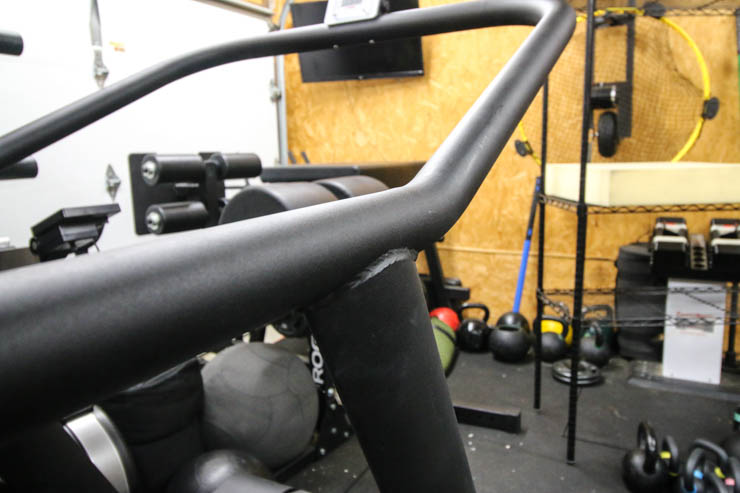 Customizable Frame and Tread Options
The standard curved belt that's used and the one I received for review is a black rubber tread that provides minimal cushion, but enough to be more comfortable than pavement. It's grippy and works equally well while running with shoes on or without (I prefer running barefoot.)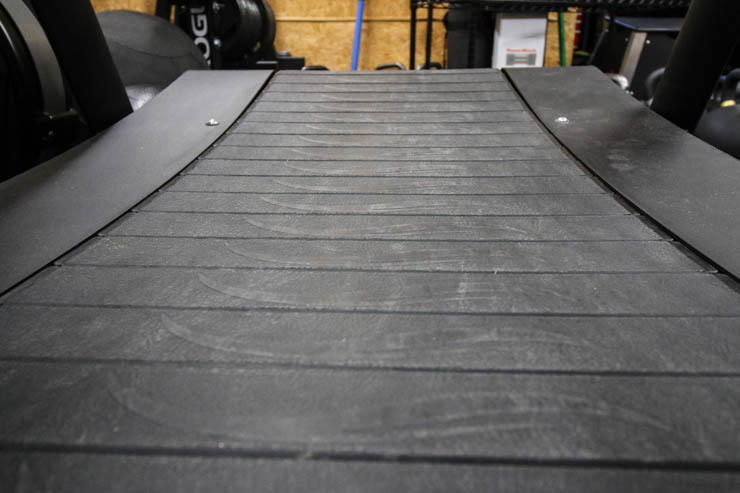 If you'd like a different running surface, there are artificial turf and running track treads available that can be used with cleats on. I believe in the not too distant future, we'll see TrueForm Runners on NFL sidelines for players to warm-up with instead of quad dominant bikes. Why not allow players to warm-up using equipment that mimics the motion they'll be using on the field instead of cycling?
And there's no need to remove cleats; sounds like a good idea to me.
There's also a running track finish, as well as a Naboso surface (a special type of technology meant to stimulate your body and brain).
Thanks to the TrueForm Runner being painted, they come up with all sorts of designs for gyms and training facilities that go along with their brand or image. Although the unit I'm reviewing is their standard color options, I'm sure the others are quite cool in person.
Footprint and Portability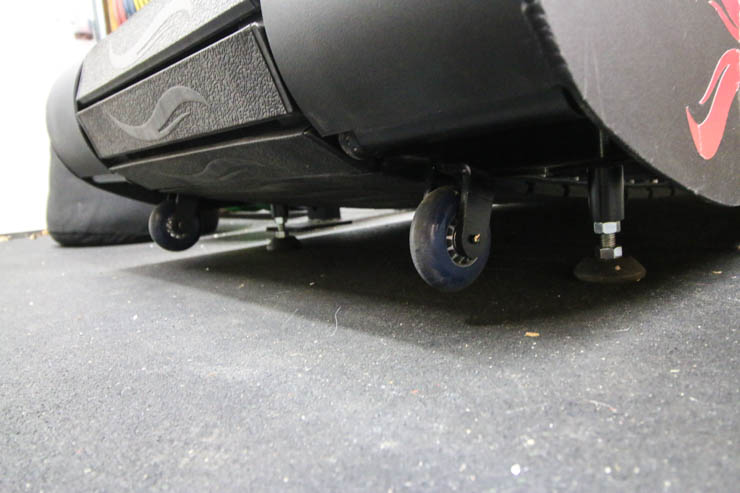 Due to the steel frame, the TrueForm Runner is slightly more compact than many other non-motorized treadmills at 64″ L x 36″ W x 63″ H. However, also due to the frame, it's very heavy and can be difficult to move around if you're not very strong. There are handles and high end rubber casters that make moving it pretty easy, but at 300 pounds it's still very heavy.
RELATED: How to move a treadmill
Now, the TrueForm is certainly not the lightest piece of equipment in the gym, weighing in at over 300 pounds, but for its heft, the wheels and handles make moving it pretty seamless. The extra weight of the TrueForm allows it to be solid and four adjustable platforms at each corner of the unit allow it to be flat and stable while on uneven surfaces.
I would've loved to see a foldable option so it could be kept out of the way while not in use.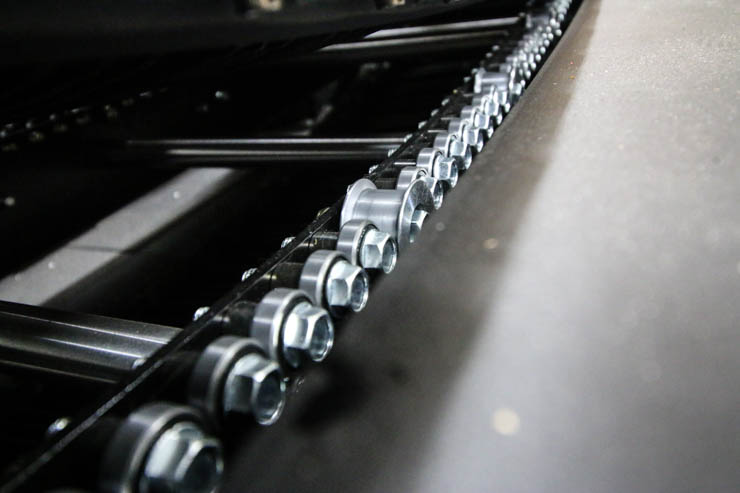 The Ergonomics
The TrueForm Runner can be worn with any type of footwear, or none at all (I prefer to run barefoot in my garage gym). If you also prefer that route, TrueForm recommends the turf finish because it feels like you're running on grass.
It has a user weight limit of 400 pounds while running, and 700 pounds while walking.
TrueForm Runner Specs
| | |
| --- | --- |
| Footprint | 64″ L x 36″ W x 63″ H |
| Weight | 360 lbs. |
| Weight capacity | 400 pounds while running, and 700 pounds while walking |
| Materials | 7 gauge Steel Formed & Welded frame with aluminum cover |
| Bearings | 106 Sealed Steel Ball Bearings |
| Pulleys | Tooled Solid Aluminum |
| Warranty | Frame, lifetime. Tread, 10 years. Monitor, 2 years. |
| Made in USA? | Yes |
| | |
| | |
| | |
Customer Experience
TrueForm can be contacted via an online form, phone, or email.
Warranty
The TrueForm Runner's frame is covered by a lifetime warranty, the tread a 10-year, monitor a 2-year, and labor 1-year.
Return Policy
You have 30 days from the delivery date to return the TrueForm Runner for a full refund, minus shipping and handling and any return shipping fees. It must be returned on the original pallet and in new condition. Failure to follow these rules will result in a 20% restocking fee.
Customer Reviews
Customers on TrueForm's website gave the machine 5 stars, with the exception of one 4-star from someone who had some difficulty with shipping, but that was quickly resolved. People raved about how either themselves, or the person they bought it for, have become better runners within a matter of months. There were also no complaints about assembly and reviewers said it was one of the most solid pieces of equipment they've ever bought.
Final Verdict of Our TrueForm Runner Review
If running is your life, and I mean if it's all you do or can think about for most of the day, then you'll probably love the TrueForm Runner for its high-quality construction, durability, and effectiveness. But if you're someone who just occasionally runs, then there are more economical options on the market for you.
If this was more affordable, then I'd recommend it to just about anyone but for most gym owners you'd be better off going with the TrueForm Trainer.
Full Rating
TrueForm Runner
The TrueForm Runner is a non-motorized treadmill designed to teach proper running form. Although recently, there have been more companies marketing non-motorized treadmills, in our research and testing, the TrueForm Runner is the best non-motorized treadmill available.
Product Brand: Trueform
Product Currency: $
Product Price: 6995
Product In-Stock: InStock
TrueForm Runner FAQs
Here are some of the questions people on the internet are asking about the TrueForm Runner:
What's the difference between the TrueForm Runner and a Trainer?
The TrueForm Runner is made in the United States and with high-quality materials like 7-gauge steel and steel ball bearings. The TrueForm Trainer is made with cheaper materials and is imported, and while it's still a quality product it's not as heavy duty as the runner, but that's what makes it more affordable.
What is Running TrueForm?
TrueForm believes in the POSE Method of running, which involves a midfoot strike and pulling your heel up toward your butt. This is in contrast to a heel strike style of running.
How does the TrueForm Runner work?
The TrueForm Runner is a non-motorized treadmill that requires you to run with proper form to continually propel the belt.
RELATED: How to Fix a Treadmill
Can you walk on the TrueForm Runner?
Yes! You can walk, jog, or sprint on the TrueForm Runner and because it's non-motorized you Here are some of the questions people on the internet are asking about the TrueForm Runner can do all three in just a few steps, the same way you would with road running.