We test and review fitness products based on an independent, multi-point methodology. If you use our links to purchase something, we may earn a commission. Read our disclosures.
Most gym goers struggling to put on mass too often make the mistake of turning to high-calorie foods that contain minimal nutritional value, junk ingredients, added sugars, and other compounds that can harm athletic performance and cause the wrong type of weight gain.
In these situations, a mass gainer supplement can be a great help. I'm sorry to report, though, that most of them on the market are full of cheap fillers and artificial ingredients that aren't much better than the aforementioned junk food.
Transparent Labs Mass Gainer, however, contains third-party tested compounds that have been carefully selected and clinically backed to help you gain mass quickly and healthily. In our Transparent Labs Mass Gainer review, we'll provide a comprehensive look at this quality product.
Medical disclaimer: This article is intended for educational and informational purposes only. It is not intended as a substitute for medical advice. For health advice, contact a licensed healthcare provider. GGR also recommends choosing a product that has been third-party tested for quality.
Making Gains is Our Expertise
Our team of fitness professionals and supplements experts has tested handfuls of products, from creatine supplements and pre-workout, to protein powder galore. We evaluate these products not only for taste and solubility, but also on effectiveness, dosages, and transparency among other factors.
RELATED: Creatine vs Pre-Workout
I normally try to steer clear of mass gainers as a sports dietitian, as dietitians' unspoken philosophy should always be "food first." However, when it comes to hard gainers or athletes recovering from injury with a reduced appetite, maintaining a calorie surplus from food alone just isn't going to happen. I've researched my fair share of mass gainers, and I'm excited to share my expertise with you.
Transparent Labs Mass Gainer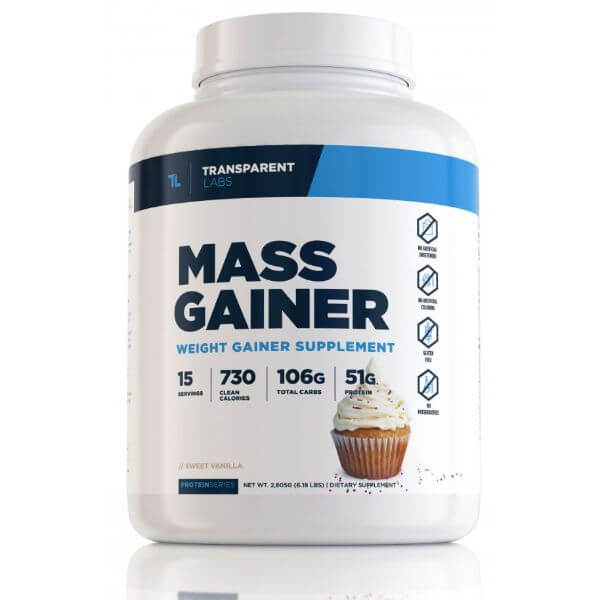 Product Highlights
760 calories per serving

Each serving provides 53 grams of protein, 13 grams of fat, and 109 grams of carbs

Formulated to support lean muscle mass 

Carbohydrates are derived from tapioca, oat, and sweet potato sources

Available in Sweet Vanilla and Chocolate Donut flavors

Sweetened with Stevia and monk fruit
Pros & Cons
Pros
Contains creatine monohydrate
Free from artificial ingredients
Derived from nature-based sources
No added sugar
Gluten-free and non-GMO
Completely transparent list of ingredients
Taste
Cons
High saturated fat count
Expensive
Shipping takes a long time
1:2 ratio of protein to carb may not be enough for some
Bottom Line
Transparent Labs Mass Gainer is one of the more expensive mass gainer supplements, but it offers high-quality, naturally occurring, and clean ingredients that taste good.
A Quick Look at Transparent Labs Mass Gainer
There's a good chance that you already know Transparent Labs general whey protein supplement by now, as we have crowned the product as the best overall protein powder on a list of many other amazing products in a comprehensive review.
That's because this company is one of the best in the business. Transparent Labs prides itself on offering only quality sports nutrition products with transparent labels. In every scoop, you'll find high-quality ingredients in clinically effective doses without proprietary blends, artificial sweeteners, GMO, colors, or flavors.
As a sports dietitian, I spend more time than I would like wagging my finger at athletes who bring me bogus supplements full of junk they were talked into buying by a supplement store salesman. After taking a comprehensive look at the products from Transparent Labs, I would be more than comfortable recommending them to my elite and professional athletes.
It's not just because they claim to have clinically effective ingredients, but also because every one of their products has been voluntarily third-party tested. This means the ingredients on the label have been verified as accurate, safe, and free of banned substances.
Before You Buy
Each tub of Mass Gainer has only 15 servings, so order accordingly.
It's only available in chocolate and vanilla flavors.
Research your specific shipping estimate if you're on a tight deadline as locations determine delivery times.
Subscribe and save 10% off your order.
Is Transparent Labs Mass Gainer Worth It?
This weight gainer supplement is just what the doctor ordered if you're someone who values a clean diet, but needs a supplement that aligns with those values. Hard gainers that are struggling to build muscle and anyone who may need to ingest a large amount of calories quickly would find this to be an indulgent meal replacement.
It should be noted, however, that this mass gainer contains a slightly high amount of saturated fat, which isn't terrible for active individuals with an otherwise healthy diet. However, it wouldn't be ideal to consume this product in large quantities if you have heart issues.
It also derives most of its calories from, albeit clean, sources of carbohydrates. So, if you have conditions like insulin resistance or diabetes, you might want to steer clear.
Great for:
Hard gainers struggling to put on lean muscle mass
Individuals with low appetite that could benefit from weight gain
Those who appreciate a supplement free of banned substances, artificial sweeteners, fillers, GMO, or additives
Not recommended for:
People with existing concerns with heart health
Those who need a variety of flavors in a supplement to stay interested and consistent
Individuals with conditions that prevent them from metabolizing carbohydrates normally
Transparent Labs Mass Gainer Specs
| | |
| --- | --- |
| Price per serving | $5.13 |
| Serving size | 2 scoops |
| Flavor | Chocolate Glaze Donut, Sweet Vanilla |
| Protein | 53 grams |
| Carbs | 114 grams |
| Fat | 14 grams |
| Third-party tested? | Yes |
| Notable ingredients | Organic tapioca maltodextrin, whey concentrate, coconut milk powder, natural chocolate flavor, cocoa, medium chain triglycerides, vitafiber, creatine monohydrate, sodium chloride, oat flour, sweet potato flour, stevia, monk fruit |
| Company policies | Free shipping and 10% discount with subscription |
Experience Using Transparent Labs Mass Gainer
At $5.13 per serving, this mass gainer is a little pricier than most other mass gainers on the market. However, the price likely reflects the quality of ingredients and cost of third-party testing. Also, keep in mind that a meal containing around 800 calories would be similarly priced, but slower to digest and probably more difficult to consume.
While we can't speak to the muscle-building effects of Mass Gainer personally, the studies cited above suggest products like Mass Gainer are ideal for bodybuilding goals. Our team also loved how easy this protein was to consume, making it great for pre-workout as well as a post-workout treat.
Price Per Serving
Each serving of Mass Gainer requires 2 scoops and there are about 30 scoops in a standard tub. Given that a tub is $76.99 without any discounts, the most you'll pay is $5.13 per serving.
This is very much on the high end for a protein powder. However, taking multiple scoops in a serving is typical for most mass gainers, given the nature of the product. Also, given Transparent Labs' commitment to evidence-based, nature-based ingredients that are third-party tested, you could say you get what you pay for—and that's a top tier supplement with zero junk.
Formulation
It's lucky for us that Transparent Labs isn't just the name of the company, but also a commitment to being transparent about its formulation. According to the report from Elite Manufacturing and Packaging, a third party, below is the breakdown of the formulation of Mass Gainer:
Organic Tapioca Maltodextrin: 50.8%
Grass-Fed Whey Protein Concentrate: 31.8%
Flavor: 7.1%
Coconut Milk Powder: 3.4%
MCT Powder: 2.9%
Creatine Monohydrate: 1.5%
VitaFiber: 1.5%
Oat Powder: 0.5%
Sweet Potato Powder: 0.5%
In addition to offering 790 calories and 53 grams of protein, each serving is made with grass-fed whey, quality amino acids, and natural carbohydrates, making it the perfect supplement to increase calorie intake for those who cannot achieve a surplus through food alone.
I mean let's be honest about it, the caloric needs of active individuals can be ridiculously high, and who is really going to have the budget (or stomach space) to eat all that food in one day when it comes to those situations?
Multiple studies, including one published in The Journal of Sports Medicine and Physical Fitness1, have shown that high-calorie supplements like Transparent LabsMass Gainer have a significant impact on muscle gain when taken during a resistance training program.
The study also notes that if protein needs are met, the biggest factor of muscle growth is a surplus of calorie intake, and Mass Gainer can make that piece easy for any gym goer.
Sports dietitians are also constantly reminding even the most elite athletes to focus on consuming both protein and carbohydrates post-workout for maximum recovery.
Not only does ingestion of carbs replace the glycogen stores lost during exercise, but studies show2 that supplementing with carbohydrates and protein after exercise can indirectly assist with protein synthesis. Protein does its thing with muscle repair, but by also consuming 100 grams of carbs after a lift, protein degradation rates are lowered.
Luckily for us, Transparent Labs Mass Gainer has 114 grams of carbs per serving, so you can truly get the most out of this product by taking it post-workout. That's because what Mass Gainer has to offer for those looking to put on mass is:
14 grams of fat from medium chain triglycerides
53 grams of high-quality protein for muscle growth
114 grams of natural carbs to prevent muscle breakdown
790 calories to put you in a surplus
Macros like these make it the total package in just one supplement. Although post-exercise is one of the best ways to utilize Mass Gainer, it's a handy product for anyone looking to gain weight. That's right: This supplement is not just for people looking for hypertrophy, but also for the elderly with a lack of appetite or weight loss, the sick, the injured, or anyone looking to maintain or gain weight in a healthy way.
Taste and Solubility
One of the most standout qualities of Transparent Labs' Mass Gainer our team quickly discovered was its taste and solubility. Nicole Davis, GGR senior editor, CPT and CNC through Precision Nutrition says, "I tried the Chocolate Glaze Donut flavor, and it indeed tastes like a donut! It dissolves well and had a nice consistency, which is always important."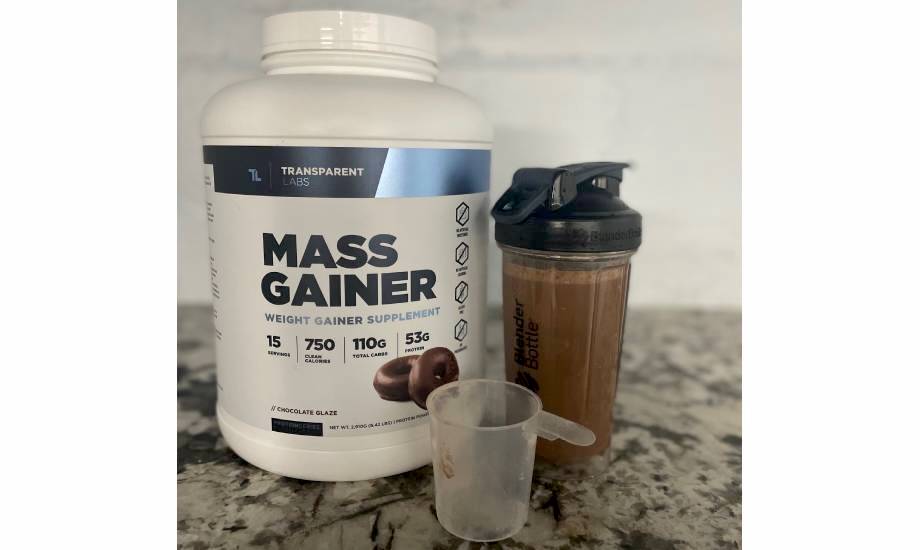 A solid taste and good solubility make Mass Gainer a more versatile product to assist with your fitness goals, given that it can be consumed as a little treat on its own, or mixed with other powders, smoothies, or protein shakes without the unpleasant textures.
Side Effects
To date, there have been no reports of serious side effects of this product when taken as directed. Everyone is different, however, and you should note that the product contains a large load of carbohydrates, calories and fiber. Thus, if you are just starting out on using it, you may experience some initial bloating.
Third-Party Testing
All Transparent Labs supplements are third-party tested by Analytical Resource Laboratories, which is why they are such a trusted brand. They also have COAs (certificates of analysis) available for their products, which allows the consumer to see the third-party testing results for themselves.
Comparison to BSN True Mass
BSN True Mass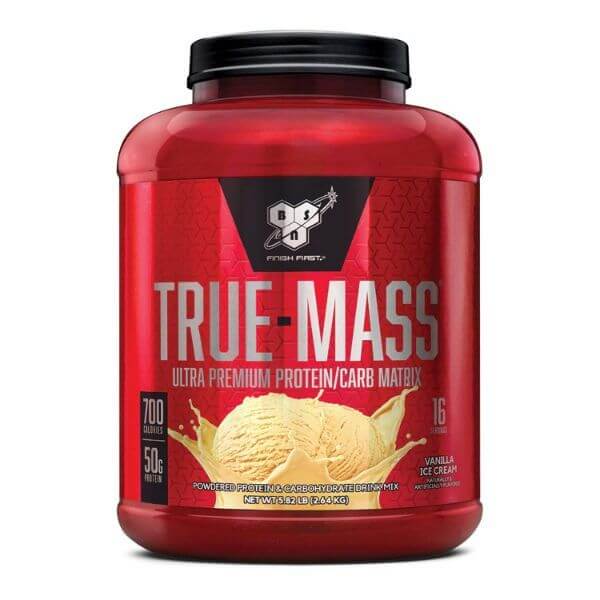 GGR Score: 3
Product Highlights
Lower calorie weight gainer with a 2:1 ratio of carbohydrates to protein formulated to enhance lean muscle growth

Each serving provides 700 to 710 calories

Each serving has 85 to 90 grams of carbohydrates, 45-50 grams of protein, and 18-19 grams of fat

Blend of high-quality protein including pure isolate and hydrolyzed wheys with 10 grams of BCAAs

Available in Chocolate Milkshake, Vanilla Ice Cream, Strawberry, and Cookies and Cream flavors
Pros & Cons
Pros
Mixes well
Milkshake-like texture
Lower calorie count but solid protein count
Best suited for lean gains
High-quality protein blend
Cons
Higher fat content
Uses artificial ingredients and sweeteners
Bottom Line
BSN True Mass may be a great option for those seeking lean gains and do not mind artificial ingredients. True Mass is one of the better-tasting supplements that you will find.
BSN True Mass is one very similar product, but doesn't quite stack up to Transparent Labs Mass Gainer. It has a few too many artificial ingredients that may cause stomach upset and are just generally not ideal additions to a protein supplement.
It is also worth noting that BSN True Mass does not possess the third-party testing status, so one can't be totally certain that it contains the amount of protein listed on the label, nor can one be 100% certain that all of its ingredients are safe.
Our testers have also reported that the taste and consistency of the product is…well, not the best out there.
Nicole reports, "I tried the Chocolate Milkshake flavor and it was just OK…nothing to write home about. What really deterred me was the consistency—three scoops is needed for a serving, and the scooper is HUGE, so it's almost impossible for it not to be clumpy and thick when mixed."
Customer Experience
If you need support from Transparent Labs while using their products, you can contact customer service by either sending an email to support@transparentlabs.com or calling their service line at 1-866-324-9557.
If you feel you need a refund after purchase, you must email support@transparentlabs.com with your intent to make a return within 30 days from the delivery date of your product. The product must be unopened in order to receive a full refund. If the product has been opened or used, you may be offered an exchange or online store credit.
On their support page, you can find an extensive guide to get answers to any questions you may have, whether you are international or domestic, about shipping, tracking, or delivery.
There are also some great blog articles on Transparent Labs' website covering a wide range of topics ranging from nutrition to training and all of them are written by experts in the field with extensive credentials.
Ordering Transparent Labs Mass Gainer
To purchase a Transparent Labs product, you do not need an account. However, signing up for their email list will award you a 10% discount on your first order. In addition, you'll receive fitness and nutrition information straight to your inbox, as well as news and updates on their new products and deals.
You can place an order with Transparent Labs in a similar manner to most retail websites: simply add your items to your virtual cart, fill in your shipping information, choose your payment method, and you're all set.
United States shipping for Mass Gainer starts at $13.99 due to it being classified as a heavy goods product. However, orders over $149 will award you free shipping if you are a U.S. resident. If you're ordering internationally, delivery timelines depend on your location, but you can get an estimate by entering your shipping information at checkout.
Transparent Labs ships worldwide, with the exception of the following countries, due to a high level of fraudulent activity: Albania, Algeria, Brazil, India, Italy, Lithuania, Macedonia, Republic of Morocco, Nepal, Norway, Romania, Russia, Tunisia, and Ukraine.
Subscriptions are available through Transparent Labs for your chosen supplements. It's a pretty neat feature because it keeps you from running out of your supplements, so you won't have to worry about ever missing a dose. You can cancel or pause your subscription at any time.
Even better, when you use the subscribe & save option, you save 10% off what you would have paid if you purchased the same product one time plus free shipping! Don't think you need a monthly supply? No problem. If you choose a 45-day or 60-day delivery schedule, you'll still get the same discount.
Customer Reviews
Mass Gainer has 542 Reviews reviews on the Transparent Labs website at the time of this writing, with an average 4.7-star rating.

Most of the reviews note how quickly the protein supplement has delivered results as well as how well it mixes and tastes. In some reviews, reviewers compare the mass gainer to other similar products they've tried, stating how much more effective it is at improving recovery and performance.
Final Verdict of Our Transparent Labs Mass Gainer Review
If you're in need of a nature-based, thoroughly tested protein supplement that can help you recover while putting on some serious mass, Transparent Labs is the weight gainer for you.
There are only 15 servings per container, but Transparent Labs' subscribe & save option offers you discounts and can help ensure your protein supply doesn't run dry
Contains tasty, grass-fed whey protein that, unlike casein protein, digests and absorbs quickly3.
Naturally sweetened with stevia and monk fruit, and carbs obtained from clean sources like maltodextrin, oat flour, and sweet potato flour.
This supplement may not be appropriate for those with diabetes and heart disease.
Transparent Labs Mass Gainer Rating
Transparent Labs Mass Gainer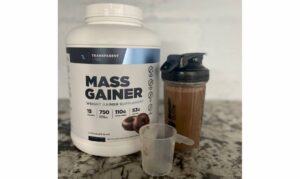 Discover our sports performance expert's evaluation of this mass gainer and its effectiveness for weight and muscle gain in this Transparent Labs Mass Gainer review.
Product Brand: Transparent Labs
Product Currency: USD
Product Price: 77
Product In-Stock: InStock
Transparent Labs Mass Gainer FAQs
Which mass gainer is best?
What are the negative effects of mass gainer?
To date, there have been no serious adverse effects reported when taking mass gainer as directed in healthy individuals. In some cases, you may experience a brief period of bloating as a response to the sudden increase in calories and carbohydrates.
Which mass gainer is best for skinny guys?
Transparent Labs Mass Gainer would be among the best high-protein supplements to illicit weight gain in skinny men. It contains natural ingredients and nearly 800 calories to easily put those looking for weight gain in a surplus.
Does mass gainer actually work?
Even though we cannot guarantee the effectiveness of mass gainer, we can confirm it contains nutrients like iron and calcium as well as whey protein packed with BCAAs, which can help you reach your fitness goals safely and healthily.
These statements have not been evaluated by the Food and Drug Administration. This product is not intended to diagnose, treat, cure, or prevent any diseases.
References
Rozenek R, Ward P, Long S, Garhammer J. Effects of high-calorie supplements on body composition and muscular strength following resistance training. J Sports Med Phys Fitness. 2002;42(3):340-347.
Figueiredo VC, Cameron-Smith D. Is carbohydrate needed to further stimulate muscle protein synthesis/hypertrophy following resistance exercise?. J Int Soc Sports Nutr. 2013;10(1):42. Published 2013 Sep 25. doi:10.1186/1550-2783-10-42
Tang JE, Moore DR, Kujbida GW, Tarnopolsky MA, Phillips SM. Ingestion of whey hydrolysate, casein, or soy protein isolate: effects on mixed muscle protein synthesis at rest and following resistance exercise in young men. J Appl Physiol (1985). 2009;107(3):987-992. doi:10.1152/japplphysiol.00076.2009