We test and review fitness products based on an independent, multi-point methodology. If you use our links to purchase something, we may earn a commission. Read our disclosures.
The Crossover Symmetry shoulder system is a rotator cuff/scapular activation and strength program designed to improve overhead performance, range of motion, and increase strength and mobility.
To write our Crossover Symmetry review, I personally tested the program and bands for more than a year, and one of our fitness writers also got a chance to get his hands on it. Both of us can confidently say the program and bands exceeded our expectations.
We recommend it to everyone who desires healthier shoulders and better performance, which should be just about anyone who trains on a regular basis.
Why You Should Trust Us
While I like to talk about some of the best workout equipment on the market, I'm also a big fan of recovery tools like Crossover Symmetry. After all, lifting barbells and swinging kettlebells take their toll on the body, and it's important to do everything you can to keep your muscles and joints in tip-top shape.
I've tried out some of the best massage guns, best resistance bands, and even those high-tech recovery boots all to keep my muscles nice and limber. Muscle soreness may be an unavoidable part of training but that doesn't mean you should have to put up with it for long.
I'm willing to test any recovery tool out there that can keep me working out for longer, and allow me to spend some pain-free time with my family (have you ever tried lifting a toddler with a sore shoulder? I don't recommend it).
Crossover Symmetry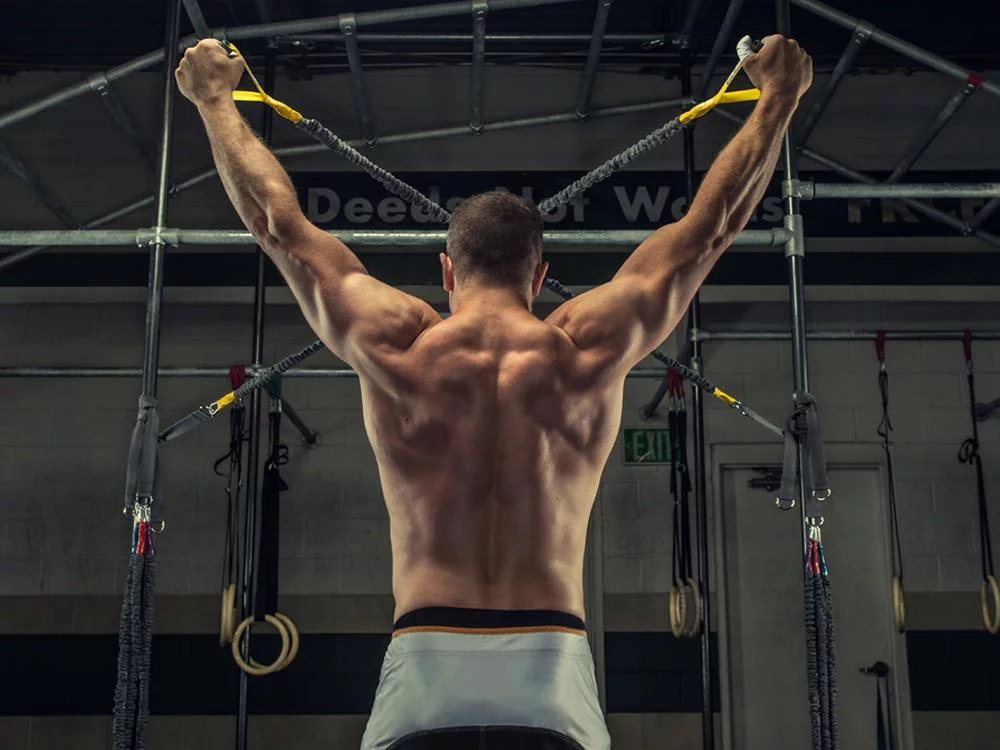 Crossover Symmetry Shoulder System
The Crossover Symmetry System is an advanced, fully customizable shoulder health and performance system that's unlike anything else in the industry. Developed by leading physical therapists, coaches and athletes, this dynamic training and recovery method can help bulletproof the shoulders against future injury, eliminate post-workout aches and pains, and maximize performance in a wide range of athletic pursuits. There is no training kit better equipped for developing the mechanics needed to quickly eliminate shoulder pain and develop strength and mobility overhead.
A Quick Look at Crossover Symmetry
Do you have pain in your shoulders? Do you desire to prevent injury to your shoulder girdle? Do you want to perform better? Do you own a pair of shoulders?
If you answered yes to any of these questions, then you should be strengthening your rotator cuff. Many people complain of shoulder ache and pain, yet continue to jump on the bench press and expect different results.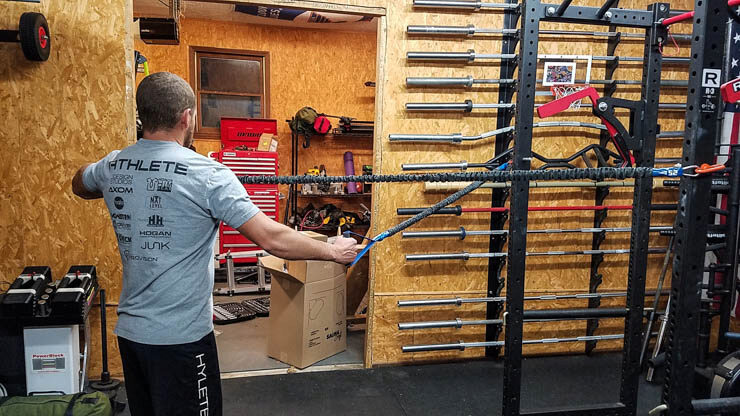 Crossover Symmetry is a great way to warm up these muscles before you jump into any training session or game, or to just ensure you have good overall shoulder health. If you want to increase your performance then you not only need to be attempting to activate the musculature that will be used in your sport, but you need to be strengthening those parts of the body.
And this isn't just for athletes. We live in a society of hunchbacks. Everywhere you turn you see people with hunched shoulders over their computer or their phone.
If you expect to hold an unnatural position for hours at a time during the day, then expect to need some maintenance. Strengthening the shoulder girdle and activating the scapula before activity will help you perform better and longer. Who doesn't want that?
Coop's Tips:
While it's marketed toward athletes, this is a system everyone could benefit from (especially those who may be in physical therapy).
You can buy the bands and anchors separate from the programming, but not vice versa.
For those who already own a set of resistance bands, you can create your own DIY system.
Although the programming is expensive, it is the best way to ensure you're using the bands in the most efficient manner.
My Favorite Things:
Multiple anchors that allow you to attach your system to a wall mount, door, or squat rack
Durable, well-built bands that are protected by a dark grey sleeve to protect user in case of breakage
Training program teaches you how to effectively use the bands to eliminate shoulder/rotator cuff pain
Convenient carrying bag
My Callouts:
The only way to purchase the program is to buy the bands as well (it would be great if Crossover sold the program separately)
If you go for the door anchor, you need at least 4 feet of space so it might not be the best in small spaces
The door anchor is also not the most intuitive and may cause your door not to close all the way
Is Crossover Symmetry Worth It?
First off, something that I feel must be said is Crossover Symmetry is not the only way to strengthen the shoulder girdle. You could go grab some bands that you use for benching and squatting, and start pulling and pushing against those.
However, Crossover Symmetry is one of the only programs designed specifically for athletes who play baseball, basketball, football, and compete in CrossFit or weightlifting. Crossover Symmetry also features some excellent heavy-duty pieces of equipment to go along with the program.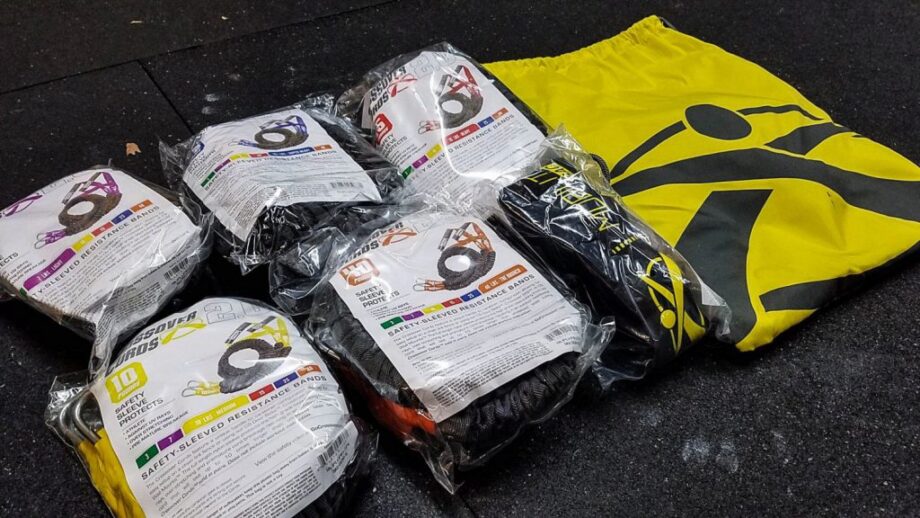 I think too many people look at the price of Crossover Symmetry and believe they are paying a premium price for some really lovely bands. Although bands are certainly included, what's more important is the program you receive with the bands. Many companies make bands, few make detailed programs on how to use the bands in an effective manner.
Great for:
Everyone from office workers to professional athletes who want to strengthen their shoulders
Lifters who need to work on their pressing power
Anyone recovering from a shoulder or rotator cuff injury and needs a portable rehab tool
Not recommended for:
Anyone looking for a versatile set of resistance bands–these are mostly for your shoulders and can't be used for pull-ups or resistance training
Anyone who's on a budget
Crossover Symmetry Specs
| | |
| --- | --- |
| Footprint | 8" L x 4" W x 2" H |
| Cord material | Dipped latex protected by nylon sleeve |
| Handle material | Plastic |
| Resistance levels | 3-25 lbs (depending on which package you purchase) |
| Anchor weight capacity | 500 lbs |
| Made in the USA? | No |
Using Crossover Symmetry
Now, it must be said that I have a lot of experience with some of the best resistance bands. In fact, we at Garage Gym Reviews were able to test nearly all of the top companies with the resistance tubes and wrote on our findings. There are a lot of options for bands, but what must be understood is that many companies are using the same factories and merely rebranding them.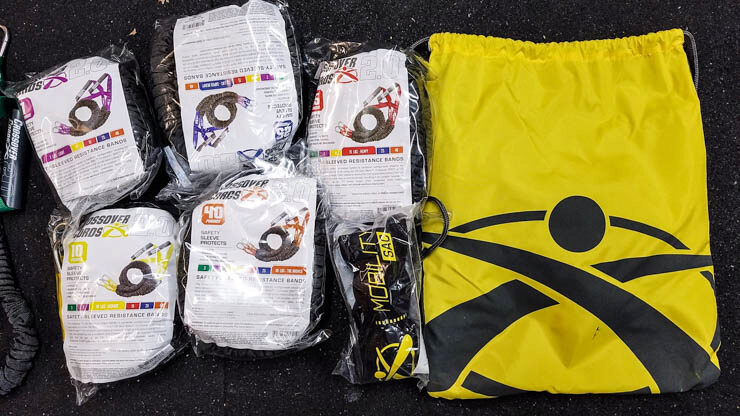 With that in mind, I believe Crossover Symmetry is using some of the better bands in the industry. The first thing you notice about Crossover Symmetry crossover cords if you've never seen them is the dark grey sleeves that wrap the bands to protect the user in case of breakage.
Contrary to popular belief, every resistance band out there will break–it's just a matter of when, not if. Regardless of the quality of rubber used in a band, they will snap after enough time and use and you definitely don't want them to break in your face (there have actually been people who have lost eyesight because of this).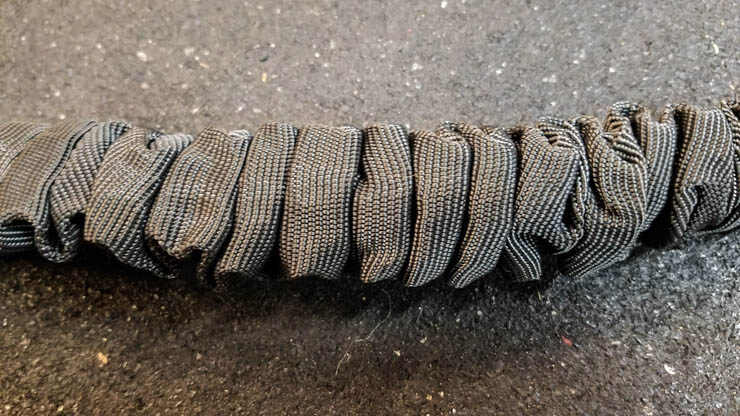 In addition to the sleeve protecting the user from breakage, the jacket also protects the bands from UV light, which is known to degrade rubber, so keeping the bands shielded is a great thing.
There are also a few different ways to attach the bands for use. I prefer using hitch pins (sold separately) and placing them on my power rack uprights. However, the options that come with the bands are good as well and they sell squat rack straps for those who want it.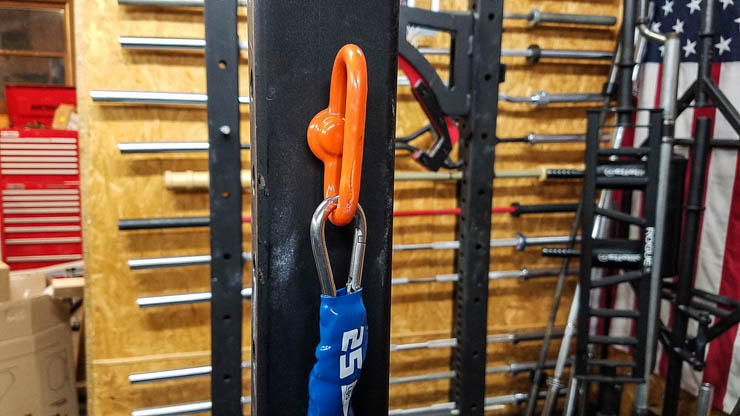 There is a door belt that wraps around a standard door, or some straps to wrap around a post. Anthony O'Reilly, one of our fitness writers here at GGR, tried it out with the door belt and found that it was a bit troublesome to get it secured (it involves wrapping it around the door and buckling it in like a seatbelt). "If you're going to go this route I'd recommend attaching it to a door you don't use often and don't mind leaving the anchors there for a long time," he says.
The bands also have carabiners attached to them so you can secure them to a chain link fence (popular among baseball players).
Programming
So, the bands are pretty great, but you in addition to the bands you also get the Crossover Symmetry program. Now, unfortunately, I can't just post the program and talk about how great it is (you have to buy it, bummer, I know). But, what I can say is that after using the program for over a year, I have no pain in my shoulders, and overall feel much more stable in all overhead lifts.
Anthony says he also liked the program (he's been using it for about three weeks, as of this writing), but wishes it was sold separately. "I have tons of resistance bands already and it feels like a waste to buy more just to get access to this programming," he says.
One of the newer additions to the Crossover Symmetry package is the online Training Zone. If you purchase a package, you get access to the Training Zone, which has videos and individual programs. For instance, if you play golf, there is a specific program for golfers. This is a pretty cool feature as they continue to add more programs and content.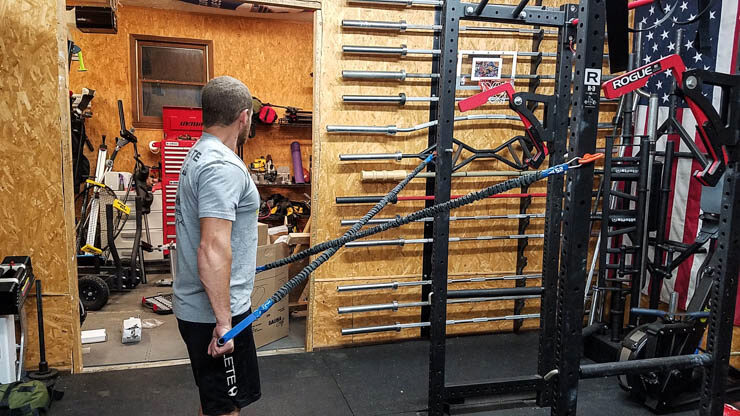 Overall, Crossover Symmetry features great bands with an even better program. Honestly, if you have any pain in your shoulders or just want to strengthen them (and who wouldn't want to do that), then you just need to buy this program. Yes, I'd like to see it a bit cheaper, but I haven't found anything that compares.
Suggested Improvements
The Crossover Symmetry Program is great, but there's two main things we'd like to see improved.
The first thing is the price. While you can buy cords or anchors separate from the program, which decreases the price, the same isn't true vice-versa and I'd like there to be a way to just purchase the program for people who already have bands, or want to use different bands. This could lower the cost and make it more accessible for people. I truly believe in the program, and because of that, I'd like to see it in more people's hands.
The other improvement I'd like to see is more of a fun idea: knurled handles. It wouldn't make a big performance difference, but it would be a cool option for CrossFit gyms. Crossover Symmetry markets to the CrossFit community pretty heavily and not only would this feel great, but it could be pretty popular. Just imagine, mini-barbells in your hands!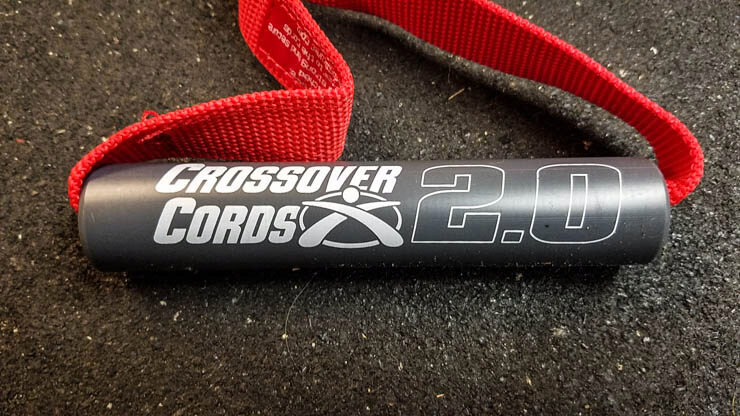 Footprint and Construction
The Crossover Symmetry system doesn't take up much space itself, but to use it effectively, you'll need at least 4 feet of space, which might make it a problem for people in tight spaces. Luckily for people in that situation it can be attached to a standard chain link fence or a squat rack.
Now, onto the band themselves. There are three types of rubber that companies use for resistance bands: thermoplastic rubber, extruded rubber, or dipped latex. Dipped latex is often the best option due to its ability to retain its shape and for its durability, and this is the type Crossover Symmetry Cords uses, and it's one reason they can ask the price they do.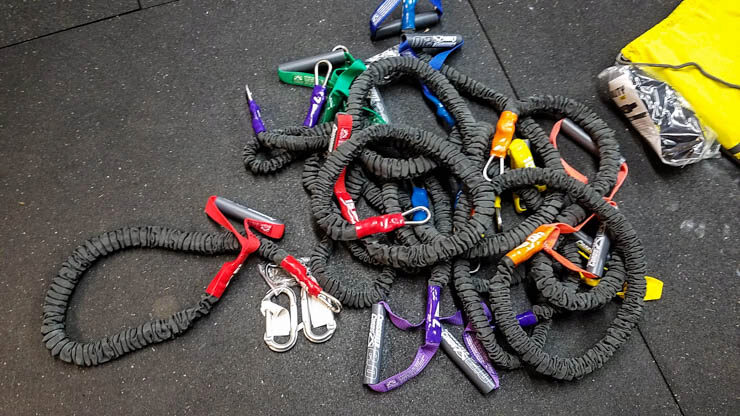 The Crossover Symmetry Cords 2.0 also feature something else that's unusual, and that is plastic handles instead of the traditional foam handles. In all honesty, I actually like the plastic handles. At first, I thought the handle change was just another way to shave costs, but after using them, I actually prefer them. In our research, these are some of the only bands using a plastic handle.
Crossover Symmetry vs. FitCord X-Over Bands
The bands that most resemble Crossover Symmetry are the FitCord X-Over Bands, and there's a very good reason for that: FitCord was once a band supplier for Crossover. That partnership has since ended, and Crossover's bands are now made overseas instead of at FitCord's Alabama factory.
FitCord X-Over Bands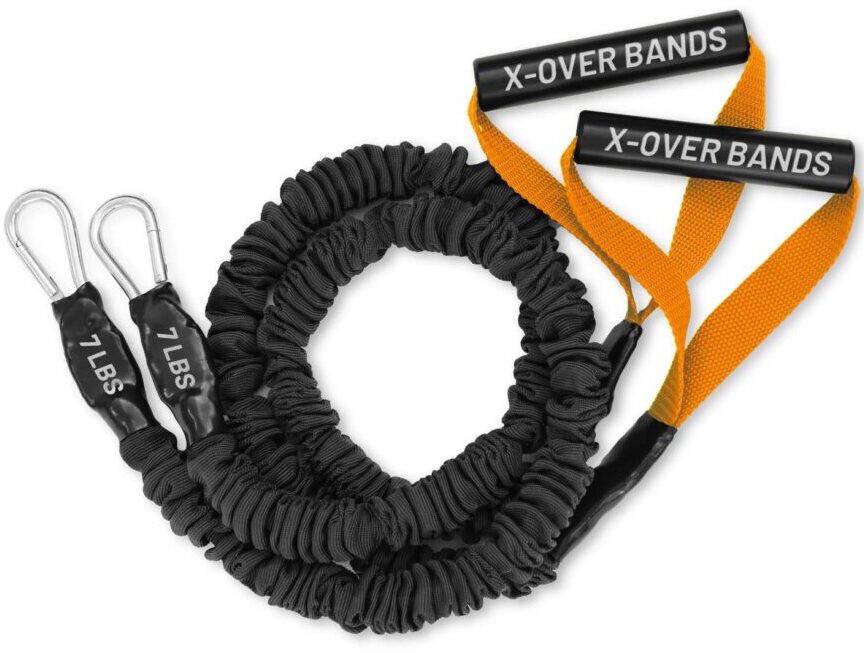 FitCord X-Over Resistance Bands
X-Over Resistance Bands are made in America and great for developing shoulder strength for any type of throwing motion associated with Baseball, Softball, Tennis, Volleyball, Swimming, Golf and other activities requiring shoulder stability. You will be able to perform all internal and external rotator cuff exercises often used to strengthen shoulder and back stability needed to increase arm velocity or to prevent injury often associated with rigorous Fitness Programs.
FitCord's bands are made from dipped latex, the same material as Crossover's, and also have a protective sleeve to protect people in case of breakage. That said, FitCord's bands have been proven to last more than 150,000 reps, so it will be a while before that happens.
They also feature a carabiner, so they can be attached to a door anchor, squat rack, or chain link fence just like Crossover.
There's really two main differences between the two. For one, FitCord's bands go up to 55 pounds (Crossover's only go up to 25 pounds), so it's the better pick for people who are looking for heavier resistance.
Secondly, FitCord doesn't have the extensive programming that Crossover does. They do feature free workout guides on their website, but nothing like what Crossover offers. We're big fans of Crossover's program (again, we wish it was a little cheaper and sold separately from the bands themselves) but if you just need a set of bands we'd recommend going for FitCord.
Customer Experience
Crossover Symmetry's customer service team can be reached by phone, email, or live chat on their website and they're generally very responsive to any questions or concerns you may have.
Warranty and Returns
Another great thing about Crossover Symmetry is you can exchange a cord if you find the resistance is too low for your liking. For example, let's say you get the 3- and 10-pound cords but find you need a little more of a challenge. All you have to do is email the company, explain you want to exchange your cord and you're set.
You'll have to pay to ship your cord back to them and for them to send one to you, but it ends up being less expensive than paying for a whole new cord.
If you don't like the system there's also a 30-day return policy, but it's 30 days from the date of the invoice and not the delivery date.
There is a two-year limited warranty, which basically means the company will reimburse you for any manufacturing defects found in the bands or anchors.
Ordering Crossover Symmetry
The Crossover Symmetry retails for $195 and comes with two sets of bands, and your preferred attachment system. You'll also get access to the online Training Zone, a 45-page training guide, and aluminum exercise chart. There's no financing options available.
Customer Reviews
The reviews on Crossover's website are mostly positive, with 708 of the 807 total reviews being 5 stars.
"Great product for improving my slumped posture!" reviewer Monica Deza wrote. "I've noticed a huge difference after two consecutive weeks of using it each day."
The few negative reviews mostly concern the price of the system, and some point out the door anchor system is quite difficult to set up.
"The product works great but the door straps pretty much make it impossible to close the door," Matthew Horsman wrote.
Final Verdict of Our Crossover Symmetry Review
The Crossover Symmetry program is one of the best on the market, and if it was sold on its own without having to purchase the bands and anchors I'd be more willing to recommend it to just about everyone. But $195 isn't chump change and many of the moves the program takes you through can be done with resistance bands you may have around your home gym right now.
That said, if you're someone who's suffered any shoulder injury or you just want to improve your rotator cuff strength this is an excellent program and if it's in your budget you should look into purchasing it.
Crossover Symmetry FAQs
Is Crossover Symmetry worth the money? 
If you're someone who experiences regular shoulder pain, or wants to improve their pressing power, Crossover Symmetry is one of the best rehab programs out there. That said, many of the moves can be done with regular resistance bands but they don't come with the same level of programming. 
How often should you do Crossover Symmetry? 
That's going to depend on the extent of any injuries, and your fitness level. According to Crossover Symmtery's FAQ page "the activation phase should be performed daily prior to any sport activity." You should always consult a physical therapist before beginning any new training or recovery program. 
What are Crossover Symmetry bands for? 
Crossover Symmetry bands are meant for improving shoulder/rotator cuff strength and stability. 
Full Rating
Crossover Symmetry Shoulder System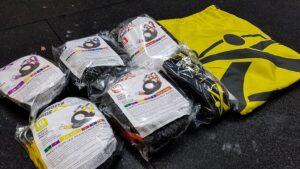 Crossover Symmetry is a rotator cuff/scapular activation and strength program designed to improve overhead performance and increase strength and mobility. Through testing of the program over the course of a year, we can confidently say that Crossover Symmetry met and exceeded our expectations and we recommend it to everyone who desires healthier shoulders and better performance.
Product Brand: Crossover Symmetry
Product Currency: $
Product Price: 194.99
Product In-Stock: InStock
Where to Purchase
Crossover Symmetry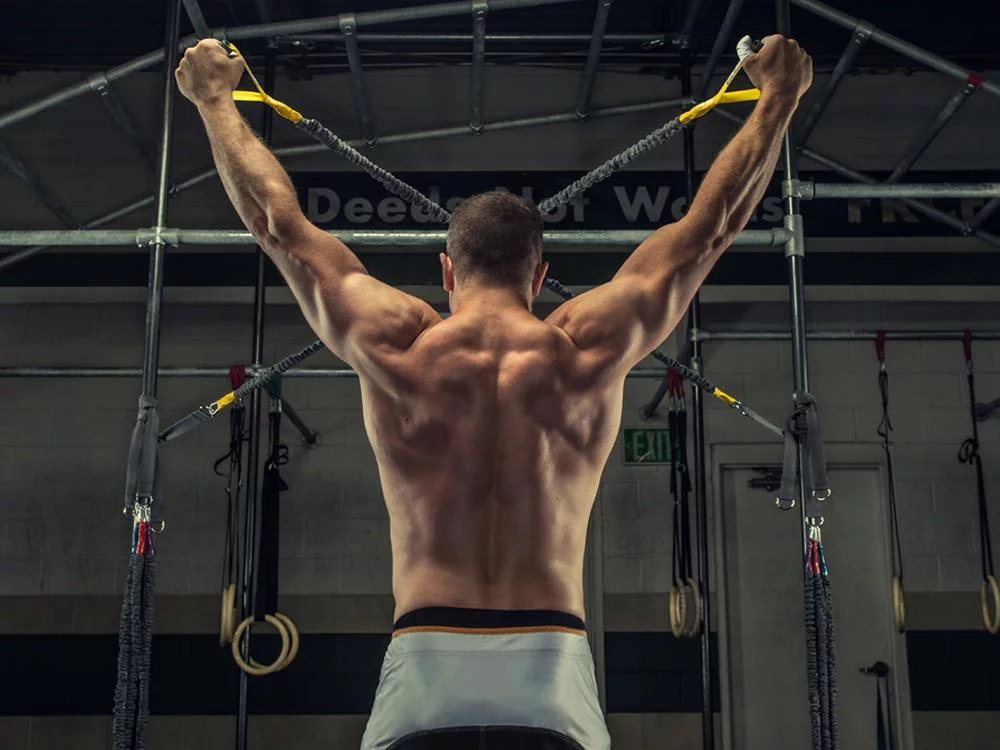 Crossover Symmetry Shoulder System
The Crossover Symmetry System is an advanced, fully customizable shoulder health and performance system that's unlike anything else in the industry. Developed by leading physical therapists, coaches and athletes, this dynamic training and recovery method can help bulletproof the shoulders against future injury, eliminate post-workout aches and pains, and maximize performance in a wide range of athletic pursuits. There is no training kit better equipped for developing the mechanics needed to quickly eliminate shoulder pain and develop strength and mobility overhead.