We test and review fitness products based on an independent, multi-point methodology. If you use our links to purchase something, we may earn a commission. Read our disclosures.
Dymatize ISO 100 is the flagship protein powder from one of the most established, respected brands in the biz. But the world of supplements is very different than it was when Dymatize launched all the way back in 1994, and this protein powder has had to change with the times.
Don't worry: it's still a whey protein isolate, which means it's a low-carb protein powder that's also gluten-free, mostly free of lactose and cholesterol, and easy digesting. Today's ISO 100 doubles down on those appeals with the inclusion of hydrolyzed whey, stevia, and other in-demand ingredients.
With hundreds of new choices available, is it still one of the best protein powders to have in your post-workout shake? Our in-depth Dymatize ISO 100 review gives you the easy-digesting truth.
Medical disclaimer: This article is intended for educational and informational purposes only. It is not intended as a substitute for medical advice. For health advice, contact a licensed healthcare provider. GGR also recommends choosing a product that has been third-party tested for quality.
We Taste-Test, Mix-Test, and Gym-Test
Our tester, GGR senior staff writer Amanda Cappritto, knows firsthand what makes a protein supplement truly stand out, both for herself and her clients. She's a certified personal trainer, CrossFit-L1 trainer, corrective exercise coach, and nutrition coach. Like every member of our team of testers, she has slammed more scoops than you can shake a Shakeweight at, and gave her well-informed protein review informed by a career of helping people crush their goals.
Dymatize ISO 100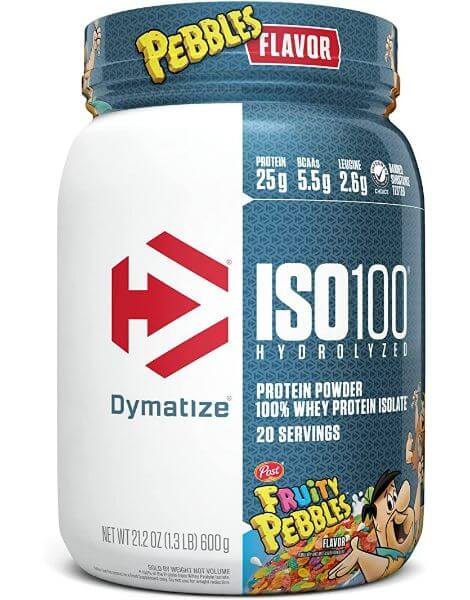 GGR Score: 4.09
Product Highlights
Each serving contains 25 g of

whey protein isolate

 

Pre-hydrolyzed protein to speed up absorption

Available in 11 flavors, including Dunkin' coffee flavors

Low in both fat and carbohydrates
Pros & Cons
Pros
11 flavor options
Includes 5.5 grams of BCAAs
Fast absorption
Flavors are highly rated
Cons
Complaints of quantity in container
Contains sucralose and stevia
Bottom Line
Available in 11 different flavors, Dymatize ISO100 is stacked with 25 grams of protein, including 5.5 grams of BCAAs and 4.4 grams of glutamine designed to enhance muscular growth and recovery.
A Quick Look at Dymatize ISO 100 Protein Powder
Alongside the likes of Optimum Nutrition 100% Whey Gold Standard, Dymatize ISO 100 whey protein is pretty much the definition of an OG whey protein powder. It was a longtime bodybuilding forum favorite that has evolved over time into a high-quality mainstream supplement you can buy pretty much anywhere, including your favorite wholesale store.
A huge part of ISO 100's reputation comes from its clean, simple macros and lean ingredient list. This has made it an immensely popular supplement for cutting physique competitors and other athletes who need to control their calories and carbohydrates while boosting their daily grams of protein.
Heck, the whole idea of a "weight loss protein" has been deeply influenced by the popularity of Dymatize ISO 100 whey protein. Although it can also definitely be a muscle-gain protein if you pair it with enough overall calories to push you into a surplus.
Before You Buy
Great for boosting protein intake without impacting your other macros.
Tons of flavors available, including time-tested classics like chocolate peanut butter and fudge brownie.
Some versions of ISO 100 have sucralose, artificial sweeteners, and artificial flavors. Others have Stevia and natural flavors. Check your label.
Is Dymatize ISO 100 Worth It?
If you're looking for a protein source that is pretty much just protein, plus a few of the usual thickeners and textural agents like soy lecithin and potassium chloride, ISO 100 should be on your shortlist. A major reason athletes love it is the simple formulation that makes macro math a breeze.
Great for:
Weight-loss seekers looking to boost protein intake while limiting calories
Macro-counters who want a shake with seriously simple numbers
Muscle-building lifters who are getting fats, carbs, and calories elsewhere
Anyone who sees the fast-digesting appeal of whey, but doesn't like how other whey protein powders sit in their stomach
Not recommended for:
Vegans. This is still an animal-based protein!
Anyone looking to avoid sucralose (unless you get the stevia version)
Anyone who doesn't like very sweet proteins
Dymatize ISO 100 Specs
| | |
| --- | --- |
| Price per serving | As low as $1.00 per serving (depends on size and flavor) |
| Serving size | 1 scoop |
| Flavors | Gourmet vanilla, gourmet chocolate, Fruity Pebbles, Cocoa Pebbles, Fudge Brownie, birthday cake, Dunkin' Cappuccino |
| Protein | 25 g |
| Carbs | 2 g |
| Fats | 1 g |
| Third-party tested? | Informed Choice |
Experience Using Dymatize ISO 100
Dymatize products have had the same bright, futuristic labeling and color scheme since a major rebrand in 2017, and keep things just as simple and clean as the ingredient lists. Texturally, ISO 100 is incredibly fine, even for protein powder, and easily mixes into a slightly frothy liquid in a shaker bottle.
Hydrolyzed proteins are naturally very bitter in their unflavored state, so companies have to lay on the sweetness pretty heavily to cover it up. If you're not a fan of very sweet proteins, consider yourself warned.
Price Per Serving
At around $1.00 per serving, ISO 100 is fairly inexpensive for a protein supplement in general, but the value is much clearer when you consider that it's a 100% hydrolyzed isolate protein. You'll have to look hard to find anything cheaper with a simple, low-carb formula.
Formulation
ISO 100's formula is built all around fast-digesting protein sources. Not only is it a whey protein isolate, it's 100 percent hydrolyzed whey isolate. This type of protein supplement, which is partially broken down or "pre-digested" by enzymes, was shown in a 2008 review in Journal of AOAC International to digest more quickly than other protein sources1.
The big question, of course, is if that actually makes an impact on your results. A 2019 meta-analysis in Nutrients found no meaningful difference between whey concentrate, isolate, and hydrolysate on muscle-gain in healthy athletes2. However, a 2017 study in the Journal of the American College of Nutrition found that in resistance-trained male subjects, hydrolyzed protein offered the same muscle-gain benefits as whey concentrate, but far more weight loss3.
While it doesn't have any added amino acids, ISO 100 (like all whey proteins) is rich in amino acids such as the BCAAs of leucine, isoleucine, and valine, as well as glutamine.
Taste and Solubility
GGR senior staff writer Amanda Capritto tested ISO 100 Cocoa Pebbles, which is based on the nostalgic Post-brand breakfast cereal. She tried it two ways: mixed with water and with unsweetened vanilla almond milk. The water blend earned a half-hearted approval: "I like it, but I wouldn't say it's largely better than other chocolate protein powders," she says. "It dissolves into a pretty thin solution which can be a little off-putting for chocolate flavors.
RELATED: Best-Tasting Protein Powders
However, she found the great taste she was looking for when she changed to a different fluid. "It's definitely rich enough when mixed with milk, either regular or plant-based," she said. "And the mixability was great. With a regular shaker bottle and shaker ball, I didn't get any chunks or floaties."
Side Effects
Many athletes turn to ISO 100 because of the side effects they experience from other protein supplements, such as bloating and digestive distress. Protein reviews almost never mention any negative side effects from this supplement.
Third-Party Testing
Dymantize ISO 100 is tested for purity and label accuracy by LG Informed Choice.
Comparison to Optimum Nutrition Gold Standard 100% Whey Protein
Optimum Nutrition 100% Gold Standard Whey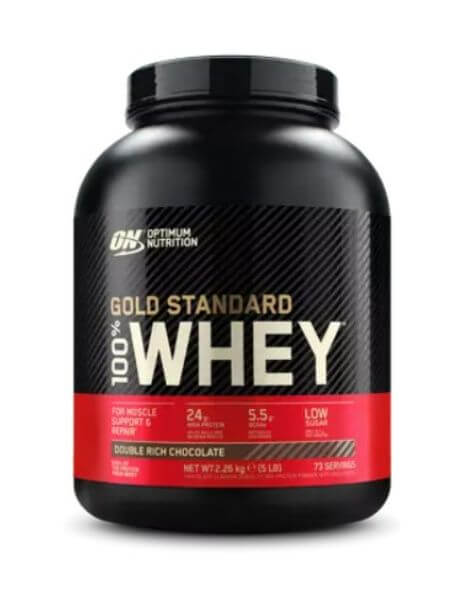 GGR Score: 4.2
Product Highlights
Contains 3 different kinds of whey protein

Tested for banned substances

Over 5 g of BCAAs per serving

Instantized to help prevent clumping
Pros & Cons
Pros
High in protein
Plenty of flavor options
Low in carbs
Cons
Some users say it's overly sweet
Contains artificial flavors
Most flavors contain sucralose
Bottom Line
With plenty of flavor and size options to choose from, Optimum Nutrition Gold Standard 100% Whey is a great basic choice in protein powder.
Optimum Nutrition 100% Gold Standard Whey is a common comparison point for Dymatize ISO 100, since they have a similar price point and macros. Both are also easily available through both brick-and-mortar and online retailers.
Here's a quick comparison of the two. The big difference is that the Dymatize does not contain any whey protein concentrate, only hydrolyzed isolate. This impacts both the overall calories and the amount of carbohydrates and fats.
| | | |
| --- | --- | --- |
| Brand | Dymatize | Optimum Nutrition |
| Price per serving | As low as $1.00 per serving (depends on size and flavor) | As low as $1.10 per serving (depends on size bought) |
| Protein source | Hydrolyzed isolate and isolate | Isolate, concentrate, and hydrolyzed |
| Calories per serving | Less than 120 | 120-130 (depends on flavor) |
| Protein per serving | 25 g | 24 g |
| Fat per serving | 0.5 g | 0-1.5 g (depends on flavor) |
| Carbs per serving | Less than 1 g | 3-4 g (depends on flavor) |
| BCAAs | 5.5 g per serving | 5.5 g per serving |
| Sweeteners | Sucralose, stevia | Acesulfame K, sucralose |
Customer Experience
The Dymatize website has plenty of information and contact points if you have any questions or issues with your protein. However, because you can only buy ISO 100 from retailers, rather than from the company itself, your best choice is to deal with the place where you bought it.
Ordering Dymatize ISO 100
In recent years, ISO 100 has become a common sight on the shelves at Costco and Walmart, and can be purchased online through those retailers as well as many others. Suffice it to say, if you want a jug, you can have it in your hands in a matter of hours.
Customer Reviews
ISO 100 has a 4.4 average rating among over 17,500 reviews on Amazon, at the time of this writing, with reviewers loving the range of flavors and the lean formulation.
Some beginning reviewers came to ISO 100 "on a lark" because they were curious about the Fruity Pebbles flavor, while others were drawn in by the flavored coffee versions.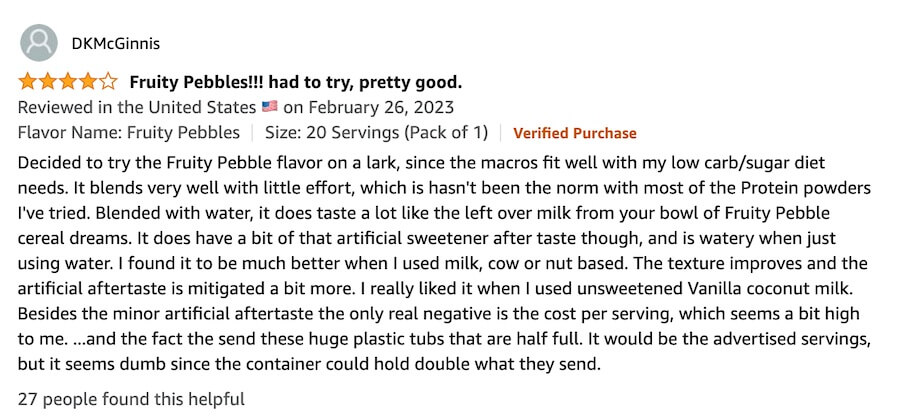 More experienced reviewers said they had tried dozens or hundreds of powders over many years, but kept coming back to ISO 100 for its clean taste and simplicity. Many reviewers noted that the powder is a lot better with liquids other than water.

Final Verdict of Our Dymatize ISO 100 Review
"This is one of the cheaper isolates and hydrolyzed powders out there, and it tastes fine and mixes well," says Amanda. "I'd recommend it to people on a budget, but also to anyone who's really prioritizing protein that doesn't have much in the way of carbohydrates or fats."
Dymatize ISO 100 Rating
Dymatize ISO 100
Does this revered weight loss protein powder stand the test of time? Our Dymatize ISO 100 review digs behind the nutrition facts to find out.
Product Currency: $
Product In-Stock: InStock
Dymatize ISO 100 FAQs
Is Dymatize ISO 100 good for muscle?
If you're looking for a protein to help you gain muscle, ISO 100 definitely can help you reach the recommended daily protein benchmark for gains. But because it's almost entirely free of carbs and is very low calorie, you'll need to make sure you're getting adequate calories from elsewhere in your diet.
What is Dymatize ISO 100 good for?
This lean-and-mean formula is great for injecting protein into your diet with as little as possible of anything else. It's great in smoothies, but because it is so high-digesting, is also ideal as a post-workout protein.
Is ISO 100 good for weight loss?
ISO 100 has a long history of being a favorite weight-loss protein of competitive athletes and physique athletes. If you're counting your macros and limiting calories while keeping protein intake high, it's a solid choice.
Is Dymatize ISO 100 good for beginners?
Because it's so easy-digesting, this high quality protein is great for beginning lifters or anyone afraid that boosting protein intake might upset their stomach.
These statements have not been evaluated by the Food and Drug Administration. This product is not intended to diagnose, treat, cure, or prevent any diseases.
References
Potier M, Tomé D. Comparison of digestibility and quality of intact proteins with their respective hydrolysates. J AOAC Int. 2008;91(4):1002-1005.
A Castro LH, S de Araújo FH, M Olimpio MY, et al. Comparative Meta-Analysis of the Effect of Concentrated, Hydrolyzed, and Isolated Whey Protein Supplementation on Body Composition of Physical Activity Practitioners. Nutrients. 2019;11(9):2047. Published 2019 Sep 2. doi:10.3390/nu11092047
Lockwood CM, Roberts MD, Dalbo VJ, et al. Effects of Hydrolyzed Whey versus Other Whey Protein Supplements on the Physiological Response to 8 Weeks of Resistance Exercise in College-Aged Males. J Am Coll Nutr. 2017;36(1):16-27. doi:10.1080/07315724.2016.1140094