We test and review fitness products based on an independent, multi-point methodology. If you use our links to purchase something, we may earn a commission. Read our disclosures.
Adding a treadmill to your home gym is a solid move. But if you're picking a high-end model, it can cost a couple grand. For example, our best treadmill pick, the NordicTrack 1750, retails for $2,000 (plus shipping and tax) brand new. 
While we think it's absolutely worth the price, sometimes shelling out that kind of cash just isn't in the budget, especially if you want to add additional cardio fitness equipment, like an elliptical or an exercise bike, to the mix.
Buying a used treadmill can help solve this problem, but it comes with some drawbacks too. In this guide, we'll break down all the pros and cons of buying a used vs new treadmill. We'll also go over all the things to look for, should you decide to purchase a used model.
Used Treadmill Pros
The biggest benefit of buying a used treadmill is the money you'll save, but there are plenty of other advantages, too.
You'll Save Money
When you buy a used treadmill, you'll get a significant discount off the retail price. You can probably save at least a few hundred dollars by going this route, and sometimes even more.
It's Already Assembled
Depending on where you buy it, many used treadmills are already put together.
"This may make it a little more cumbersome to get inside your home, but it does save you time since you don't have to put it together yourself," says Amanda Capritto, certified personal trainer and health coach.
It may also save you money if you typically hire a professional to put exercise equipment together for you.
You Might Be Able To Get It That Day
Depending on where you buy it, you might be able to bring your used treadmill home with you that day, rather than waiting weeks for it to ship like you would have to with a new model. 
Used Treadmill Cons
While getting a used machine has its advantages, there are some downsides, too.
There may not be a Warranty
"Most companies won't transfer warranties to secondhand buyers, so even if you buy a used treadmill that's technically still under its warranty period, the company may not honor it," says Amanda.
If you buy a used treadmill from a store, it may offer a third-party warranty that covers the purchase, but if you buy it from Facebook Marketplace, Craigslist, or someone you know, you probably won't get any warranty benefits.
Its History is Unclear
Another consideration when buying a used treadmill is that you don't really know its usage history. That means you have to rely on the seller to be honest with you.
"Some used treadmills are barely used and properly maintained, while others may have seen better days, but some sellers won't disclose this information," says Amanda. "It's important to go to the seller prepared with a list of questions to help you decide if the machine is worth the price."
Check out our treadmill buying guide to learn everything you should know about a treadmill before forking over the cash.
You'll Have to Figure out Delivery on Your Own
If you're buying a used treadmill from a store, you may be able to arrange delivery. However, if you're purchasing from a friend or someone online, you'll likely have to pick it up yourself and bring it to your own home. This may mean renting a truck if you don't have one and/or begging some strong friends to come with you to carry it.
New Treadmill Pros
Now that you know the pros and cons of buying a used treadmill, here are the biggest benefits of getting a new machine.
You can get the new Model
When buying a used treadmill, you're limited to models people have already used and decided to sell. But when you buy a new treadmill, you can get the latest and greatest model without waiting for someone to decide to sell theirs.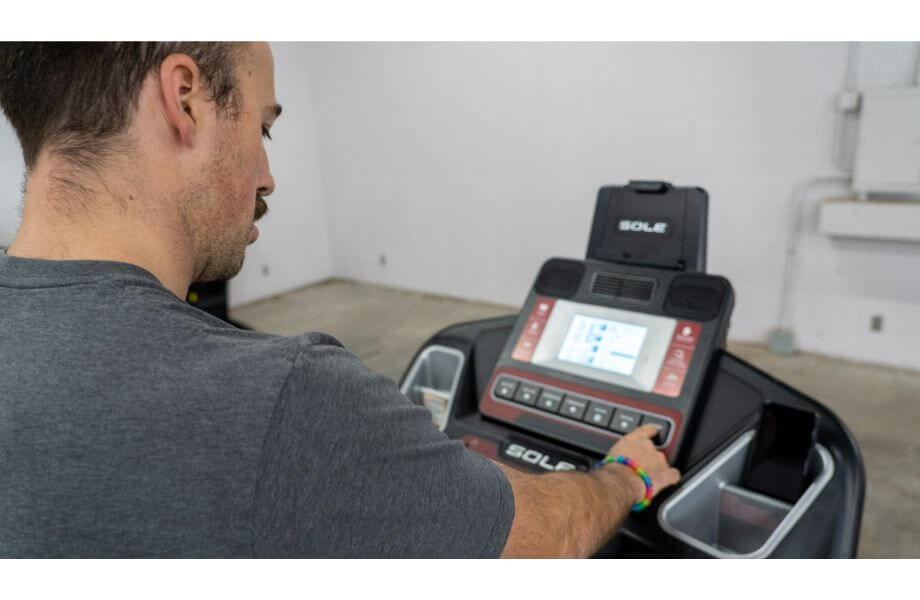 You'll be Covered by Warranties and Return Policies
Peace of mind is one of the major reasons people prefer to buy new.
"When you buy a treadmill directly from a store, you're usually covered by manufacturer warranties and decent return periods that cover your purchase for a set period of time," says Amanda. "This gives you time to see if you like it and to make sure it actually works."
New Purchases Often Include Other Perks
Depending on the treadmill, a new purchase may also include other perks like free trial subscriptions. For example, NordicTrack often includes a year of iFIT with purchases made directly from its site. Even if you buy a used treadmill within the first year of its release, these free perks don't transfer from the previous owner.
You Can Arrange Delivery
While you may have to pay extra for delivery and setup, new treadmills come with the option, whereas used ones do not. This means that you can order your treadmill and have it shipped to your house so you don't have to go pick it up yourself. If you want to upgrade to white-glove delivery, you can also have someone put it together for you.
New Treadmill Cons
Aside from having to shell out more cash for a used treadmill, there are some other drawbacks, too.
It's More Expensive
New treadmills are more expensive than their used counterparts. You'll also have to pay taxes and any shipping or delivery fees, which can add up to a lot of money.
You Have to Assemble it (or Pay Someone to do it)
Unless you're buying a floor model from a store, new treadmills usually arrive in several pieces that you have to put together. And because the belt is so large and it can be difficult to properly attach the touchscreen alone, the manufacturer recommends having someone else there to help you.
"In most cases, you can request an expert assembly, but this typically costs a couple hundred dollars extra," says Amanda.
You may Have to Wait for Delivery
Treadmill stock issues have settled quite a bit since the 2020 home gym boom, but shipping times can still be pretty lengthy for popular models. If the treadmill you want isn't in stock, you might have to wait several weeks to a couple months before it ships.
How To Buy A Used Treadmill
If you do go the used treadmill route, there are some ways you can safeguard your purchase, or at least give yourself the best chance of scoring a good quality machine at a great price.
Choose a Newer Model
When buying a used treadmill, you want to get one that still has a lot of life left in it. Try to find a newish model that's been released in the last one or two years. This will give you a better chance of being able to use it for years to come.
Stick With a Manufacturer You Know
Buying a treadmill from a reputable brand will give you the best chance of getting a quality machine. NordicTrack, ProForm, Sole, Precor, and Echelon are some of the GGR team's favorite brands.
Use It Before You Buy It
"Go beyond just turning it on—ask the seller if you can walk or run on it for five to 10 minutes before you buy it," says Amanda. "This will give you more of a feel for how the belt is running and how the motor sounds."
If the belt is struggling, it may need to be replaced. If the motor is making any loud noises or whirring sounds, it might be on its way out.
Try it at different speeds, if possible. Don't forget to check the display and use all the controls, including any controls on the handlebars, to make sure they're working properly.
Check the Belt
Unfortunately, you won't be able to see the underside of the belt, but do your best to perform a visual inspection.
"Look closely for any rips, tears, or fraying at the belt's edges and make sure it's centered on the machine when stationary and at different speeds," says Amanda.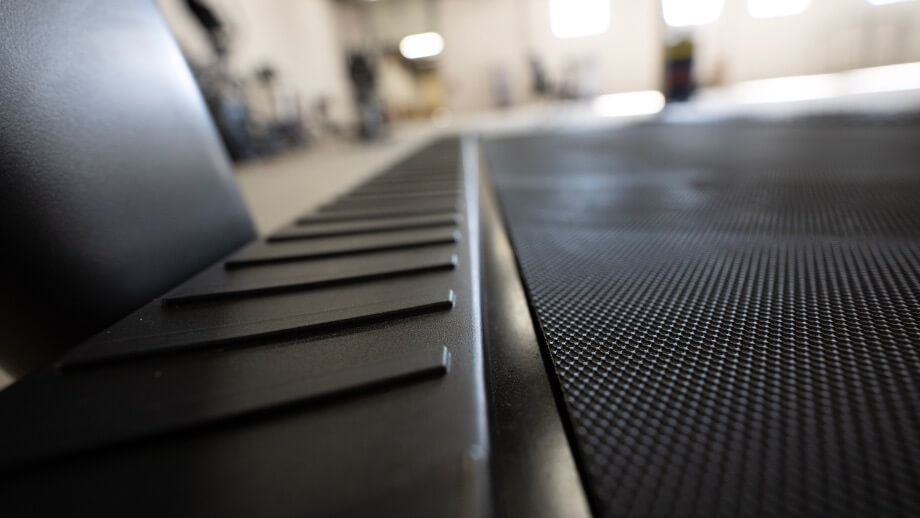 Ask for a Service Record
This may be a shot in the dark, but some people keep service records for exercise equipment, just like they do with cars. Ask your seller if they can provide you with any proof of service and/or receipts that indicate any repairs that have been made.
Ask for an Original Receipt
An original receipt serves two purposes. It shows that the seller is the first owner and that the machine hasn't been passed through a bunch of people before getting to you. It also proves the date purchased so you can gauge how old the treadmill is and how much life it may have left in it.
"If the seller can't provide an original receipt, don't be afraid to ask questions," says Amanda. "You want to know if the seller was the original owner, if the machine has ever been used in a health club or fitness center, and how many people regularly used it."
Final Thoughts
"There's no right choice here; both used and new treadmills will help you reach your fitness goals," says Amanda.
The biggest benefit of getting a used treadmill is the lower price, but you have to make sure you're getting a machine that still has a lot of life in it or you'll just end up paying twice, or paying for repairs.
A new treadmill is more expensive, but you can pick the latest model and you'll get the peace of mind of the warranty and return policy.
FAQs
What is the average lifespan of a treadmill?
A good treadmill can last 7 to 12 years, with about 10 years being the average lifespan. Some treadmills can last longer when properly serviced, but by that time, they may have outdated technology.
Are used treadmills a good buy?
Second hand treadmills can definitely be a good buy, but you want to make sure you're making an educated choice. Stick to high-quality treadmill brands, like NordicTrack, Sole, ProForm, that have a proven track record for durability and longevity and make sure you visually inspect and test the machine.
How do you inspect a used treadmill?
The best way to inspect a used treadmill is to actually use it. Try it at different speeds to get a feel for the treadmill belt and make sure it's not shaky or skipping. Pay attention to how the motor sounds, too. You don't want to hear any weird grinding or screeching noises, especially as you reach higher speeds. Make sure you're doing a visual inspection too. Check the belt for signs of wear or fraying, as belt replacement can be costly.