We test and review fitness products based on an independent, multi-point methodology. If you use our links to purchase something, we may earn a commission. Read our disclosures.
After doing research on all of the best treadmills for home and even the benefits of a treadmill, you decided to undergo the process of purchasing your very own! You took the time to move your treadmill to the perfect place in your home or gym, but now, what comes next? How do you take care of it to make sure that it lasts its full lifespan and how to maintain your new treadmill? We know that these questions can be daunting, so we came up with six tips to help you with treadmill maintenance.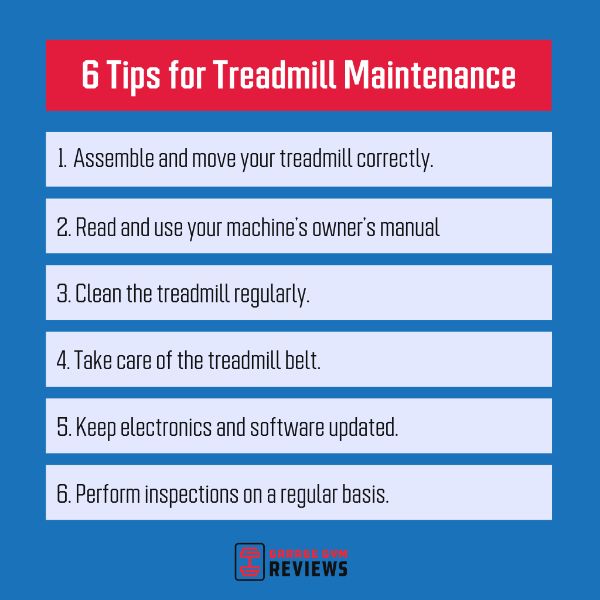 1. Proper Assembly and Movement
This one is simple. If you don't install or move your treadmill correctly, you are setting yourself up for faster wear and tear on your machine. To find the right place for your treadmill, make sure that it is on a flat surface. This prevents the machine from being imbalanced and therefore susceptible to damage.
You may also want to consider putting down a treadmill mat. These are often available for purchase through the same company where you bought the treadmill itself (you can also always find affordable options on Amazon). Not only does a treadmill mat help with creating a longer lifespan for your treadmill, it can also help reduce noise and protect your original surface where you placed the machine.
2. Read the User's Manual
Above, we talked about how proper installation of your treadmill is important. In order to make sure that you are setting up the machine correctly, you have to make sure to read the user's manual. Not only will this help you with set-up, but the owner's manual will tell you tips and tricks specific to their product that you may be surprised by.
I know there are people who are reading this suggestion and rolling their eyes because the user's manual won't teach you anything, but trust me on this one. Even budget-friendly treadmills are a substantial investment, so make sure you are informed to get the most out of your purchase.
3. Regular Maintenance Cleaning
There are two types of cleaning that you should consider when maintaining your treadmill: daily cleaning and longer periodic cleaning. When I talk about daily cleaning, I am referring to what you would do in a commercial gym after you finish working on any piece of exercise equipment. This includes wiping down the treadmill to make sure that you aren't leaving sweat all over the running belt and screen. Doing so helps reduce a build-up, which can lead to corrosion and potentially damage the machine.
You should also make sure you are doing more in-depth periodic cleaning as preventative maintenance on parts of the machine that include around the belt, on the treadmill deck, or around the motor. All you need to clean is a damp cloth and a vacuum. Ideally, you should be doing this more detailed cleaning monthly. Both of these cleanings will help reduce signs of wear and tear and aid in avoiding costly repairs on your fitness equipment.
4. Take Care of the Treadmill Belt
This is an important one because without the treadmill belt, you don't really have much of a treadmill. When you are doing your monthly deep cleaning, you need to make sure you are properly cleaning the belt. What you need to do to your belt will depend on your treadmill (which is why it is important to read your user's manual).
Almost all treadmills will require that you clean under the belt periodically. You can do this with a damp cloth and vacuum. Some of the lower budget treadmills suggest that you should lubricate your belt every month. Before you do this, check your manual to see what kind of lubricant you need, but most will require 100% silicone lubricant. Higher end treadmills will likely be self-lubricating, you may not need that tube of lube.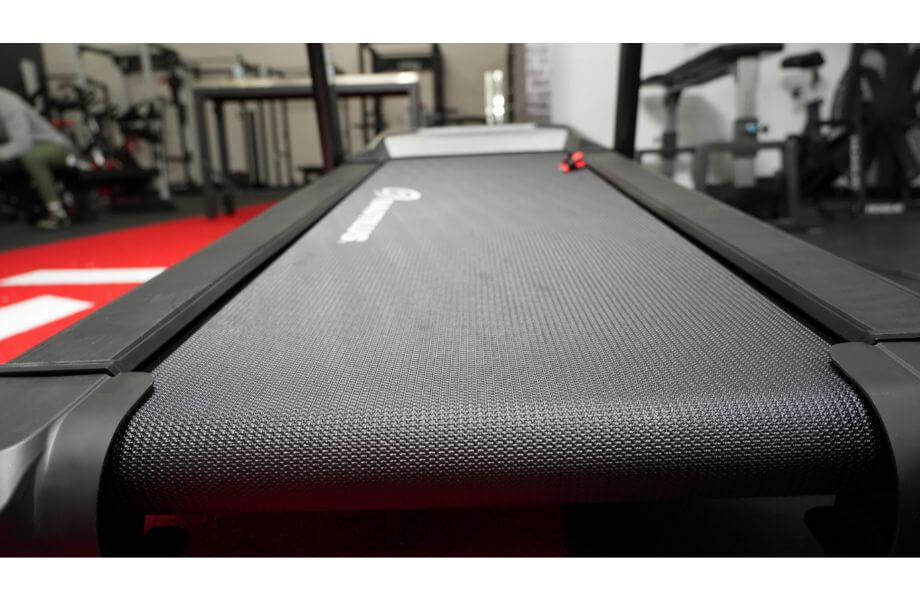 Also, while you use your machine, pay attention to how your treadmill belt feels. Chances are, if it feels off, it is because it needs to be fixed. Sometimes you need to adjust or tighten the belt. You can normally tell what you need to do through some troubleshooting (and reading the owner's manual to understand the appropriate belt tension).
If you feel like you are slipping, it is likely because your treadmill belt stretches with use over time. All you should need to do is tighten the belt. Normally, there are two bolts you can tighten at the end of the treadmill deck, but your user manual will be able to tell you exactly how to tighten it.
If you feel like your treadmill belt is leaning a bit left or right and is no longer in the middle of the treadmill deck, you just need to move it back to the middle. Again, your user manual will be able to tell you exactly how to fix the treadmill, but typically, you could use the same bolts you use to tighten your treadmill belt. If your belt is too far left then tighten your right bolt a little more. If it is too far right, tighten your left bolt some more.
5. Maintain Electronics
Another important part of your treadmill is the electronics. A lot of what you have to do here is regular maintenance like you would for your smartphone or video game console. For example, if your treadmill has a program like iFIT, you will have to be on the lookout for software updates as they come out.
On some machines, you may also have to replace the batteries from time to time. Your user manual will be able to tell you how to do this and what batteries you need. I also suggest that you use a surge protector to help with unexpected power surges. The only case where this isn't suggested is if you have a manual treadmill that doesn't need electricity.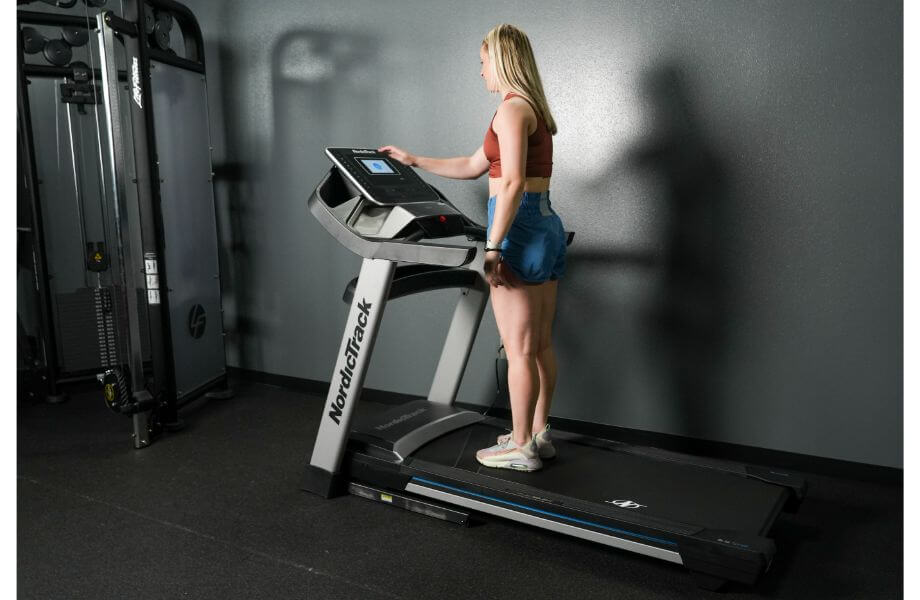 6. Perform Inspections Regularly
As you do for your car, make sure that you are performing inspections on your treadmill. Once a month or so, take a quick lap around your machine to check parts like the side of the belt, the treadmill motor, the motor cover, and even your electronics. If you notice something minor is off, consult your user's manual and you should be able to diagnose the problem and fix it yourself.
Signs You Should Seek Professional Assistance
Sometimes an Allen wrench won't be able to fix your problems with your treadmill. Here are some instances in which you should seek professional assistance with your machine.
If there is a burning smell when you use your treadmill
If you are not comfortable with fixing electronics
If you feel you are in over your head
Sometimes, a professional will be able to spot a problem that you may have missed (that is their job!). If you have tried to fix an issue yourself, but the problem has not resolved, it could be a good idea to call in an expert
Wrapping Up
Your treadmill is a machine, and performing routine maintenance will ensure your machine is running effectively and safely. After you set up your treadmill properly and read your user manual, here are some steps to take:.
Wipe down your treadmill after each use
Engage in a deeper, more thorough cleaning monthly
Take note of your treadmill belt, if something feels off, chances are that something needs to be fixed
Treadmill Maintenance FAQs
Does a treadmill require maintenance?
Yes, your treadmill does require maintenance. This piece of equipment is a machine with a motor, moving parts, and technology. All of these require some maintenance after usage and more periodic and thorough maintenance.
How often should I service my treadmill?
Most of the time, it is suggested that you service your treadmill yearly. However, if you are using it every day or multiple times a day, you may want to consider servicing your treadmill every six months.
How do I know if my treadmill needs lubricant?
You will know if your treadmill needs lubricant by consulting your user manual. Some of the lower budget treadmill suggest that you should lubricate your belt every month. Most will require 100% silicone lubricant. Higher end treadmills may be self-lubricating, so it is less likely that you will need to lubricate as regular maintenance.