We test and review fitness products based on an independent, multi-point methodology. If you use our links to purchase something, we may earn a commission. Read our disclosures.
The Bowflex BXT116 was recently discontinued by the well-known fitness brand. Before its demise, the BXT116 was the entry-level treadmill offered by Bowflex; its more expensive counterpart, the BXT216, was also discontinued.
This Bowflex BXT116 Treadmill review obviously had to be done without access to the machine. We'll use our knowledge to look at specs and online customer reviews to give you an idea about how this machine performed. Most importantly, we'll suggest some alternatives to this machine so you can find the best one for you, even if you had your heart set on the BXT116.
We Know Treadmills
Our team at Garage Gym Reviews loves exercising and loves helping you find the best equipment for your home gym. In our pursuit of helping you build your best home gym, we've reviewed numerous treadmills and determined the best treadmills for most people. We've also created a buying guide; our expert CrossFit L1 coaches, certified personal trainers, and athletes, share their expertise so you can become a more informed consumer.
Looking for an Alternative to Bowflex BXT116?
Best Alternative to Bowflex BXT116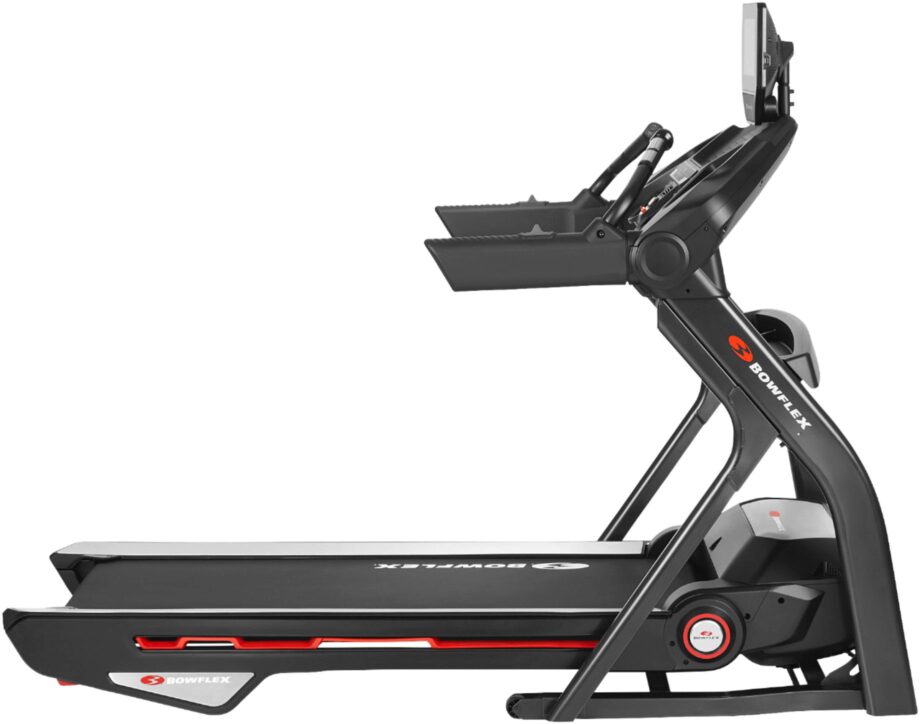 Bowflex Treadmill 10
If you're looking for an interactive treadmill with a solid and sturdy build, the Bowflex Treadmill 10 is a great option for any runner. The Treadmill 10 supports speeds up to 12 miles per hour and, quite impressively, has both motorized incline and decline options ranging from -5%-15%, which makes it possible to train for any terrain. That said, it is odd that Bowflex shares no information on the motor's power. In fact, they stated that they do not have that information on their website when questioned by a potential buyer. Other sites have reported a whopping 4.0 CHP motor, but we couldn't confirm that. Still, users do report a powerful feel to the motor with little to no lag time. Use the interactive, high-definition, adjustable touchscreen to access a myriad of training content that comes with your one-year free JRNY membership. Bound to keep you motivated and on track with your fitness goals, the JRNY membership provides virtual coaching, trainer-led workouts and adaptive workouts that progressively get harder as your fitness improves. The Bowflex Treadmill 10 comes with some awesome conveniences, too. It's Bluetooth-enabled for smart devices, has an included Bluetooth heart rate armband, a console fan and boasts speed and incline knobs for ease of use. The cushioned running deck will feel roomy, too, as it measures 22 inches by 60 inches, which is larger than most folding treadmills. To that end, the Bowflex Treadmill 10 uses a soft drop folding system to easily fold and unfold. However, weighing 323 pounds assembled, this tank of a machine is not easily moved around, so plan on dedicating a space in your home gym for its use. 
The BXT home treadmills were large, heavy-duty machines that also folded up to save space after your workout. Bowflex has moved on from this line of machines, which did not have integrated screens for streaming workouts, to exclusively produce treadmills with screens. It's always a bummer when your favorite things are discontinued, but we're confident we can help you find something new.
If you're looking for something to replace the Bowflex BXT116 the easiest place to look is Bowflex's new entry-level treadmill, the Bowflex Treadmill 10. The Treadmill 10 is more expensive and has an integrated screen for streaming workouts and entertainment. Here's a closer look at their differences.
| | | |
| --- | --- | --- |
| | BXT116 | Treadmill 10 |
| Price | $1,499 | $1,999 |
| Dimensions | 84.6" x 36.3" x 55.2" | 85" x 39.6" x 65.3" |
| Weight Capacity | 375 lbs | 400 lbs |
| Speed | 0-12 MPH | 0-12 MPH |
| Incline | 0-15% | -5-15% |
| Belt | 20" x 60" | 22" x 60" |
| Motor | 3.75 CHP | 4.0 CHP |
| Display | 7.5 backlit LCD | 10" HD touchscreen |
| Folding | Yes | Yes |
If the Treadmill 10 is outside of your price range or you'd prefer a treadmill without a screen don't worry there are still options.
The Sole F63 is one of our favorite home use treadmills at the BXT116's price point, under $1,500. We've also got you covered if you're interested in the BXT116 because it is a folding treadmill. If you're looking for something that can rival or exceed the 15% incline ability of the BXT116 here are our favorite incline treadmills.
A Quick Look at the Bowflex BXT116
The BXT116 was the entry-level offering for Bowflex's high-quality treadmills. When it was available, it sold for around $1,500. As the entry-level machine, the BXT116 has a lot of high-end features but is missing some of the bells and whistles of the top-of-the-line machine, the Bowflex BXT 216.
The BXT116 is a large machine with a spacious 20-inch-by-60-inch tread belt and foldable design. There is a 7.5-inch full-color LCD display and a media shelf with a USB charging port. Using the media shelf with your tablet or phone you can access exercise apps Bowflex JRNY and Explore the World. There are also nine "Push & Go" programs included on the console of the treadmill.
Pros:
Foldable design with Soft Drop technology
Media shelf with USB charging
15% incline
0-12 MPH speed range
Spacious running deck
Cons:
Bluetooth does not work for speakers
Very large footprint
Must use with tablet to get full benefits of JRNY
Bowflex BXT116 Specs
| | |
| --- | --- |
| Dimensions | 84.6" L x 36.3" W x 55.2" H |
| Folding | Yes, Soft Drop System |
| Folded Dimensions | 52.5" L x 36.3" W x 67" H |
| Minimum Ceiling Height | User Height + 16" |
| Weight | 280 lbs |
| Weight Capacity | 375 lbs |
| Motor | 3.75 CHP |
| Running Belt | 20" W x 60" L |
| Display | 7.5" full color backlit LCD |
| Incline | 15% |
| Speed | 0-12 MPH |
| Workout Programs | 9 "Push & Go" + JRNY |
| Warranty | 15-year frame and drive motor, 5-year mechanical parts and electronics, 2-year labor |
Key Features of the Bowflex BXT116
The Bowflex BXT116 has a lot of great features that made it a good option for many home gym users. Bowflex did not share the motor specs for the BXT116, but other sources state that it has a 3.75 continuous horsepower (CHP) motor, which will be more than enough for most workouts. This motor can achieve a top speed of 12 MPH and 15% incline.
RELATED: NordicTrack Commercial 1750 Review
Footprint, Portability, and Durability
The BXT116 is a very large machine, with a footprint of about 3 feet wide and 7 feet long. Fortunately, the BXT116 does fold up using a Soft Drop mechanism, so when you aren't working out, the length can decrease to a little over 4 feet long.
The treadmill is very heavy at 208 lbs, so ideally you wouldn't have to move the treadmill between workouts, but there are transport wheels if you find yourself needing to move it.
Thanks to its solid construction, the BXT116 has a user weight capacity of 375 pounds. When looking at cardio machines, we usually look for a minimum capacity of at least 300 pounds. The durability is likely fairly good, as the machine comes with a solid 15-year frame and drive motor warranty, 5-year mechanical parts and electronics and 2-year labor warranty.
RELATED: ProForm Pro 2000 Review
Ergonomics
The benefit of this large treadmill is that you have a large running surface of 60 inches by 20 inches. The 60-inch long belt is large enough for even the tallest runners. The tread belt is reportedly a generous 3-ply and also uses Comfort Tech cushioning. Bowflex claims that this technology creates a softer and broader sweet spot for your run.
The Soft Drop technology uses gas shocks to help the user fold and unfold the treadmill belt before and after their workouts without straining themselves or having the running surface crash.
Technology Benefits and Conveniences
The BXT116 has a lot of technological benefits for a machine without a built-in screen. For example, there is a media shelf with a USB charger so you can stream workouts and entertainment without your device dying.
This treadmill is compatible with both Bowflex subscription apps, JRNY and Explore the World. The JRNY app will provide daily individualized workouts which will adjust as you improve. There is also in-workout coaching to keep you motivated. The Explore the World app lets you virtually run around the world and the scenery will adjust to your speed.
RELATED: Bowflex Treadmill 22 Review
If you don't want to sync the machine to an app, there are nine pre-programmed workouts, including calorie burn, distance, and manual mode.
BXT116 also has Bluetooth connectivity for heart rate monitoring with the included chest strap. Bluetooth also connects the machine to fitness apps, like My Fitness Pal, runsocial, Zwift, Google Fit, and Apple Health. Sadly, you cannot connect to the speakers via Bluetooth. There are also two water bottle holders and a shelf under the console to keep track of your belongings.
Customer Reviews
The BXT116 has mostly positive reviews. Users felt like the treadmill was safe and sturdy and provided a comfortable running surface. They also thought that assembly was straightforward but was easier with two people, the treadmill is very heavy. They also really liked that there was an included chest strap heart rate monitor.
Negative reviews were frustrated that distance was only displayed to the tenth decimal points, so 1.3 instead 1.35. Reviewers also wished that the machine had Bluetooth speakers. Some users had issues with the machine and had to utilize the warranty multiple times to get control units and the console replaced. A few users found the treadmill to be even bigger than they expected.
Final Verdict of Our Bowflex BXT116 Review
The Bowflex BXT116 was a very large treadmill with all the benefits and drawbacks of that. If you had room for the BXT116, you would get a machine with a spacious running surface and a powerful enough motor to meet your exercise needs.
Unfortunately, Bowflex has discontinued the BXT line to focus on treadmills with screens. The Bowflex Treadmill 10 would be a good alternative if you can spend more and want something with a screen. If you want to stay in the same price range as the BXT116 try the Sole F63, one of our favorite treadmills under $1,500.
Bowflex BXT116 Rating
Bowflex BXT116
In our Bowflex BXT116 Treadmill review, we take a look at the specs of this now-discontinued treadmill.
Product Currency: $
Product Price: 1999
Product In-Stock: InStock
Bowflex BXT116 FAQs
Does the Bowflex BXT116 fold up?
The Bowflex BXT116 folds up using a Soft Drop system which uses the gas shocks to help the user fold and unfold the treadmill.
Why was the Bowflex BXT116 discontinued?
Bowflex has not shared why they discontinued the BXT116. After discontinuing the BXT116, Bowflex began offering new treadmills with screens for streaming workouts.
Can I stream workouts on the Bowflex BXT116?
Yes, but you'll need your own device to do it. Unfortunately, the BXT116 does not have a built-in screen. The BXT116 is compatible with both of Bowflex's workout services JRNY and Explore the World.