We test and review fitness products based on an independent, multi-point methodology. If you use our links to purchase something, we may earn a commission. Read our disclosures.
It's always sad to see a piece of fitness equipment be discontinued, but that is what happened with the Bowflex BXT216 treadmill. It is no longer available to purchase on the Bowflex website.
If you want to replace this treadmill or if you're looking for a treadmill that is similar, then this review will help you so you know what to look for in your new treadmill. Perhaps you bought this treadmill from a seller who didn't want it anymore and you need to learn more about how it performs. Then, this can benefit you as well. Either way, keep reading.
We'll share the details in our Bowflex BXT216 review, look over the pros and cons, share the specs that matter, examine key features as well as how it will perform for you as a cardio option, and even answer a few questions that will help you determine if this is a treadmill you should own.
We Know Treadmills
Garage Gym Reviews knows treadmills because we study them, review them, and most importantly, we use them. We share our thoughts about the best treadmills as well as those that may not serve you as well.
The experts who review equipment include certified personal trainers, CrossFit L1 trainers, nutritionists, and more. Our testers know a lot, and they aren't stingy. They want to share their knowledge so you know a lot as well. Rest assured that the treadmills that are reviewed on GGR have been put through the wringer. We will tell you if the treadmills we review are safe and effective for home use.
Looking for an Alternative to the Bowflex BXT216?
Since the BXT216 is discontinued, we suggest checking out the Bowflex Treadmill 10. This is a high-powered machine with incline and decline training, a 10-inch interactive console, and a spacious 22 inches wide, 60 inches long running deck.
Best Alternative to Bowflex BXT216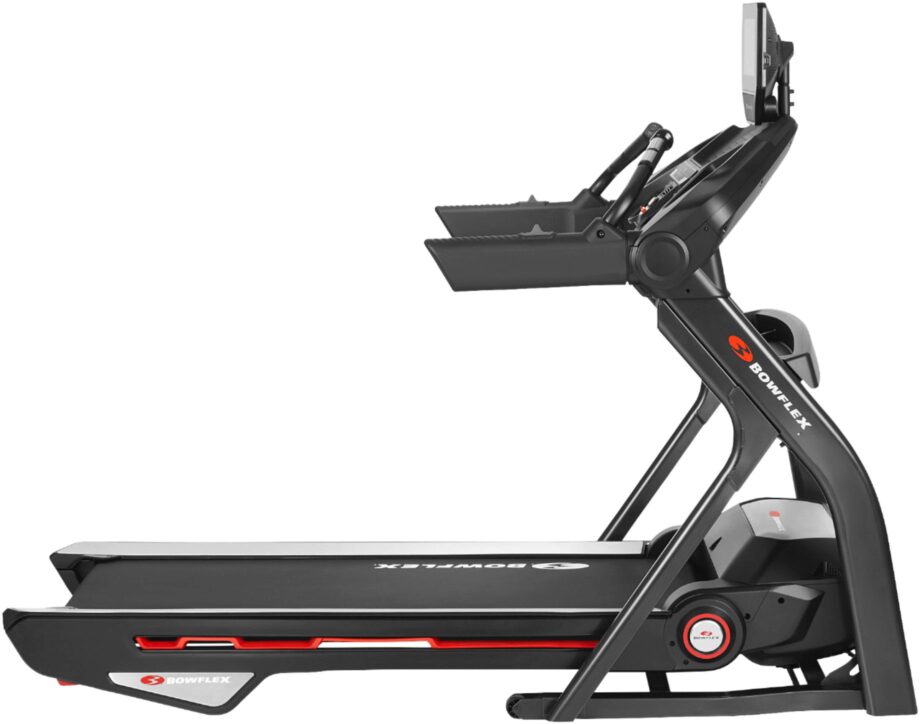 Bowflex Treadmill 10
If you're looking for an interactive treadmill with a solid and sturdy build, the Bowflex Treadmill 10 is a great option for any runner. The Treadmill 10 supports speeds up to 12 miles per hour and, quite impressively, has both motorized incline and decline options ranging from -5%-15%, which makes it possible to train for any terrain. That said, it is odd that Bowflex shares no information on the motor's power. In fact, they stated that they do not have that information on their website when questioned by a potential buyer. Other sites have reported a whopping 4.0 CHP motor, but we couldn't confirm that. Still, users do report a powerful feel to the motor with little to no lag time. Use the interactive, high-definition, adjustable touchscreen to access a myriad of training content that comes with your one-year free JRNY membership. Bound to keep you motivated and on track with your fitness goals, the JRNY membership provides virtual coaching, trainer-led workouts and adaptive workouts that progressively get harder as your fitness improves. The Bowflex Treadmill 10 comes with some awesome conveniences, too. It's Bluetooth-enabled for smart devices, has an included Bluetooth heart rate armband, a console fan and boasts speed and incline knobs for ease of use. The cushioned running deck will feel roomy, too, as it measures 22 inches by 60 inches, which is larger than most folding treadmills. To that end, the Bowflex Treadmill 10 uses a soft drop folding system to easily fold and unfold. However, weighing 323 pounds assembled, this tank of a machine is not easily moved around, so plan on dedicating a space in your home gym for its use. 
A Quick Look at the BXT216 Treadmill
The BXT216 is a high-end treadmill in the price range of about $2,700. With that amount of money comes some great high-quality features, like a spacious running surface at 22 inches wide and 60 inches long. This folding treadmill doesn't have to take up as much space in a home gym when it isn't being used, which makes it even more appealing. However, it is still a rather large treadmill for a home gym, in that it won't slide under the couch or fit in a closet.
One major disappointment for a machine at this price is the lack of a touchscreen. However, you'll find a USB charging port, full-color LCD display, and a three-speed fan to keep you cool while training. It also has Bluetooth connectivity, which can allow you even more options to have a better personal workout experience. Here are some other pros as well as the cons for the BXT216.
Pros:
Soft Drop Folding System
22" wide and 60" long deck
Heart rate monitoring chest strap included
Cons:
JRNY App has mixed reviews
Assembly required
Large and heavy machine to move
Bowflex BXT216 Specs
| | |
| --- | --- |
| Footprint | 84.5" L x 38.5" W x 54.7" H |
| Weight | 304 lbs (assembled) |
| Weight Capacity | 400 lbs |
| Motor | 4.0 CHP motor |
| Walking Belt | 3-ply 2.5 mm |
| Running Area | 22" W x 60" L |
| Display | 9" full-color backlit LCD display |
| Incline | 15% |
| Speed | 12 MPH |
| Programs | 11 preloaded workout programs |
| Warranty | 15-year frame, 5-year drive motor, 5-year mechanical parts, 2-year labor |
Key Features of the BXT216
This Bowflex treadmill has several noteworthy features that entices home gym users to add it to their workout spaces.
It has a top speed of 12 MPH, and the incline will go up to as high as 15%. This means you can work on speed as well as uphill challenges. The preloaded courses include adjustments on speed and incline to make the session more interesting.
Bowflex didn't disclose anything about the motor, but other online sources have reported that it provides 4.0 horsepower, which will be plenty for those using it recreationally or for serious training.
There is a media shelf where you can keep your tablet or smartphone on should you want to watch videos or listen to a podcast or music while you're working out. There are places on the deck to keep your water bottle and smartphone without risk of them falling off onto the belt or to the side.
The controls on this home treadmill are simple enough to use, and you can track your heart rate thanks to their chest strap that is included. Heart rate sensors are also on the center handles below the display.
Durability and Portability
This treadmill has a user weight capacity up to 400 pounds, which is a testament to its durability.
Users report that the frame is solid and won't move while you're running on it, even at a fast pace for extended periods of time. You can have peace of mind as you're in the second half of that long run or walk. It's also slightly elevated so it's easier to move.
The BXT216 weighs north of 300 pounds, so it wouldn't be easy to move. However, it is foldable, which is helpful for those looking to save some space.
Ergonomics
The machine may take up space when it is in use, but it's safe and will support your cardio efforts for a long time to come.
The deck is 22 inches wide, 60 inches long, which is a fantastic size for even tall runners. The hand rails on the sides can benefit beginners, but they won't be in the way for intermediate or advanced runners. You will have enough room to move without fear of bumping the handlebars of the treadmill.
The tray sits above the deck so it doesn't impact your performance while walking or running. There are controls on the handrails and a quick-stop button on the bottom of the display that will end the session should you need it.
Users report that the Comfort Tech deck cushioning system provides extra comfort for running, which can be beneficial for racers or people with weight loss goals.
Technology Benefits and Conveniences
The BXT216 can also be synced to the Bowflex JRNY app, which offers several courses and ways to track sessions. If you don't want to go that route, the machine also has 11 preloaded programs that you can use. If you still need something different, you can perform individualized workouts to keep the sessions interesting.
Part of the Bowflex fitness app is Explore the World, which offers you virtual courses that you can use to make workouts more interesting. You can also track real-time results including the time of the workout, calories burned, and other relevant information on the backlit LCD display.
Other conveniences include:
Media shelf
Three-speed fan
Quick-button controls
USB charging port
Final Verdict of Our Bowflex BXT216 Treadmill Review
The BXT216 is a commercial-grade treadmill that could meet the needs for a lot of home gym owners. It could benefit fitness rookies as well as those who have lived the lifestyle for a while. It's easy to use as well thanks to the technology options and easy-to-read display.
For the price, we aren't sure this treadmill would be worth it. Also, Bowflex has discontinued it, so you can't find it on sites like Amazon or Best Buy.
There are other great alternatives you could consider, like the Treadmill 10. Other machines to check out include the NordicTrack Commercial 1750 or the ProForm Pro 9000.
Bowflex BXT216 Rating
Bowflex BXT216
In our Bowflex BXT216 review, we go over this now-discontinued treadmill and help you find one that will suit your needs.
Product Currency: $
Product In-Stock: InStock
Bowflex BXT2216 FAQs
How much does a Bowflex BXT216 weigh?
The BXT216 weighs 304 pounds once it's fully assembled. It has a weight capacity of up to 400 pounds.
How long do Bowflex treadmills last?
The frame and drive motor have a warranty of 15 years, which is a good indicator that will last the owner a long time. The parts and electronics components have five-year warranties.
Is the Bowflex treadmill 22 good?
Can I use a Bowflex treadmill without a subscription?
Yes, there are some treadmills that have built-in workout programs. To fully access all the features of a Bowflex treadmill, you may want a subscription to JRNY for $19.99 a month.