We test and review fitness products based on an independent, multi-point methodology. If you use our links to purchase something, we may earn a commission. Read our disclosures.
Ah, Bowflex. The brand that brought us the hallowed SelectTech 552 Adjustable Dumbbells that had an absolute chokehold on the meathead community. We bow down to thee.
Okay, that's probably a little extreme, but I know Bowflex is capable of creating fitness equipment that's both well-made and a good value, making their products ones that people want to purchase.
That's probably why I was excited for this Bowflex Treadmill 10 review. This behemoth of a machine has been on my list to try for a while now, and I finally got my little paws on it. While I overall liked the treadmill, you'll see I had some concerns with the programming and massive footprint. Let's dive into my in-depth thoughts after I walked, ran, and sweated like nobody's business on the Bowflex Treadmill 10. 
I am an absolute treadmill enthusiast. The Garage Gym Reviews team and I have personally used close to three dozen machines and have researched dozens more. I know the industry standards on the best treadmill (in every category) and what you should expect based on the price you hope to spend.
I'm also not shy about telling you my honest opinion, whether it's super favorable or not the best. It's important to me and the GGR squad to give you the most in-depth reviews we can on some of the hottest fitness equipment on the market.
Bowflex Treadmill 10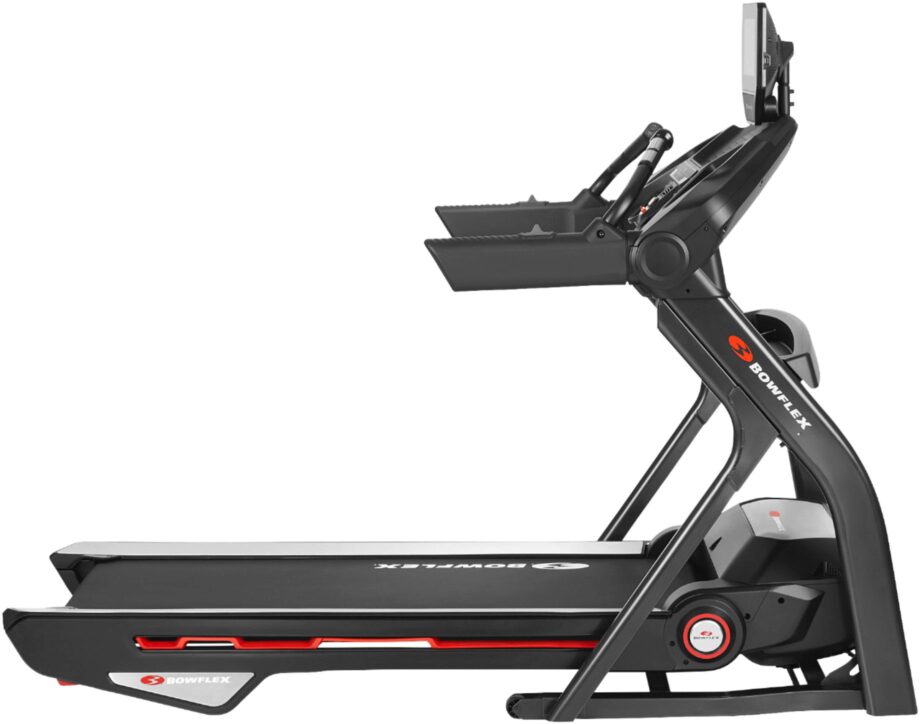 Bowflex Treadmill 10
If you're looking for an interactive treadmill with a solid and sturdy build, the Bowflex Treadmill 10 is a great option for any runner. The Treadmill 10 supports speeds up to 12 miles per hour and, quite impressively, has both motorized incline and decline options ranging from -5%-15%, which makes it possible to train for any terrain. That said, it is odd that Bowflex shares no information on the motor's power. In fact, they stated that they do not have that information on their website when questioned by a potential buyer. Other sites have reported a whopping 4.0 CHP motor, but we couldn't confirm that. Still, users do report a powerful feel to the motor with little to no lag time. Use the interactive, high-definition, adjustable touchscreen to access a myriad of training content that comes with your one-year free JRNY membership. Bound to keep you motivated and on track with your fitness goals, the JRNY membership provides virtual coaching, trainer-led workouts and adaptive workouts that progressively get harder as your fitness improves. The Bowflex Treadmill 10 comes with some awesome conveniences, too. It's Bluetooth-enabled for smart devices, has an included Bluetooth heart rate armband, a console fan and boasts speed and incline knobs for ease of use. The cushioned running deck will feel roomy, too, as it measures 22 inches by 60 inches, which is larger than most folding treadmills. To that end, the Bowflex Treadmill 10 uses a soft drop folding system to easily fold and unfold. However, weighing 323 pounds assembled, this tank of a machine is not easily moved around, so plan on dedicating a space in your home gym for its use. 
A Quick Look at the Bowflex Treadmill 10
Whether you're still researching the benefits of using a treadmill, or you're putting together your personal qualifications for a new cardio machine, it can be helpful to take a close look at different options on the market. One of many solid choices? The Bowflex Treadmill 10. This cardio machine provides plenty of the features people are looking for: sturdy construction, integrated technology, and useful extras.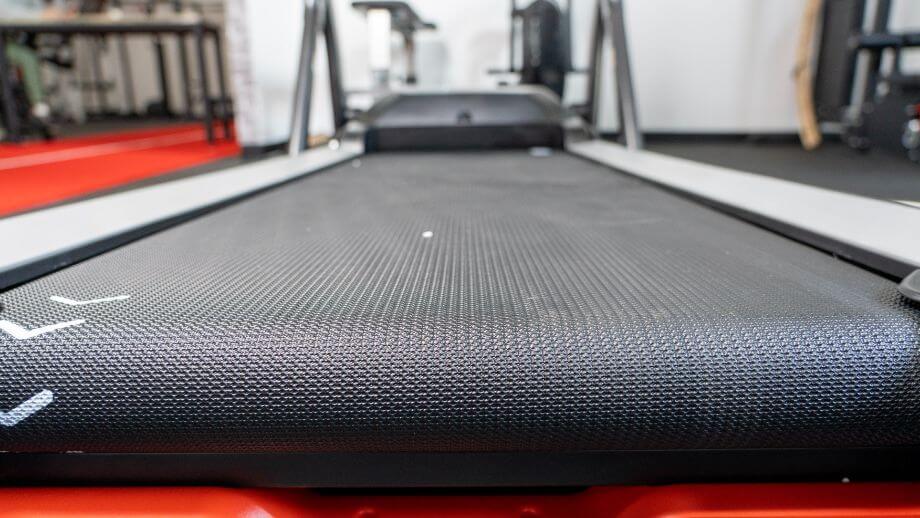 My Tips:
If you can afford it, I'd recommend springing for the professional assembly; it's difficult to put together on your own.
Don't bank on easily folding and storing this treadmill–even though it is foldable, it's very bulky.
RELATED: Best Folding Treadmill
My Favorite Things:
Comfortably cushioned belt with a large 60" deck
Decline and incline options (-5%- 15%)
Intuitive controls
Soft-drop folding system
My Callouts:
10" HD screen feels small
Weighs 323 lbs and not easy to move
Difficult to assemble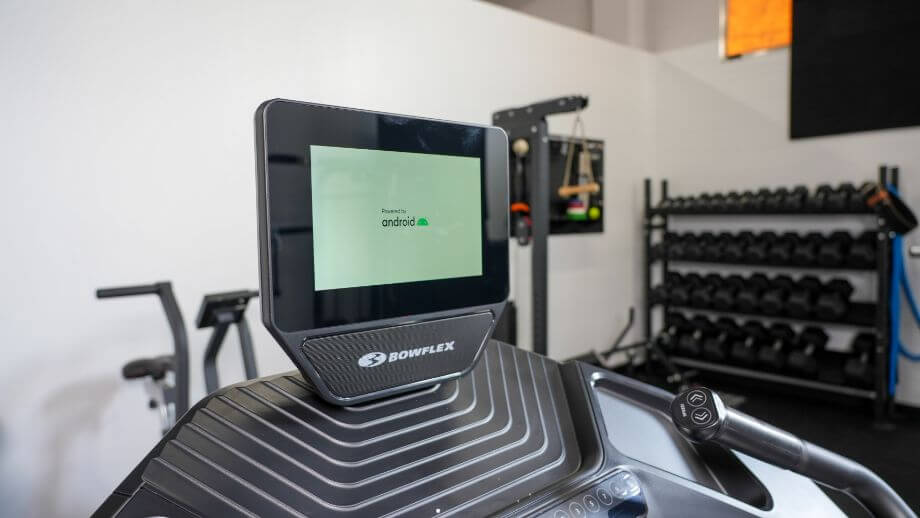 Is the Bowflex Treadmill 10 Worth It?
The Bowflex Treadmill 10 has a lot of cool features that are in-demand for cardio machines. However, not everyone is looking for the same things. Here's who I think should possibly purchase this machine, and who should look into something else.
Great for:
People looking for a durable and sturdy home treadmill
Those who want a touchscreen display
Incline and decline training
Running, jogging, or sprinting
Not recommended for:
Those who need a very portable machine
People who need a budget option
RELATED: Best Home Treadmill for Running
Bowflex Treadmill 10 Specs
| | |
| --- | --- |
| Running Deck | 22″ W x 60″ L |
| Incline | -5% – 15% |
| Speed | 0 – 12 mph |
| Display | 10" HD touchscreen |
| Wi-fi Connection Required | Yes |
| Bluetooth Connectivity | Yes |
| Zwift Compatible | Yes |
| Warranty | 15 years frame, 5 years on mechanical parts, 1 year electronics, 2 years labor |
| Footprint | 85″ L x 39.6″ W x 65.3″ H |
| Heart Rate Monitor | Yes; hand grips plus an included armband |
| User Weight Capacity | 400 lbs |
| Treadmill Weight | 323 lbs |
| Foldable | Yes |
Using the Bowflex Treadmill 10
Once you have this super-sized treadmill in your spot of choice, simply plug it into a compatible three-prong outlet. Although you can fold this treadmill up to reduce the footprint while not in use, it certainly doesn't fold flat by any means. This is something to keep in mind if you're tight on space, because the Treadmill 10 is not simple to move, even while folded.
However, with a large footprint comes a large running path at 22 inches wide by 60 inches long. The Treadmill 10 is a good choice for people who want to comfortably run or sprint with frequency because the machine can handle speeds up to 12 miles per hour. Not only do I like the generous max speed, but I also appreciate a treadmill with a healthy deck size because I don't have to worry about the length of my stride.
The motor power on this machine hasn't been disclosed by Bowflex, but other online sources have noted it as a 4.0 continuous horsepower (CHP) motor. That's well above the 2.5 CHP minimum I'd recommend using for faster-paced workouts, but we weren't able to confirm this statistic.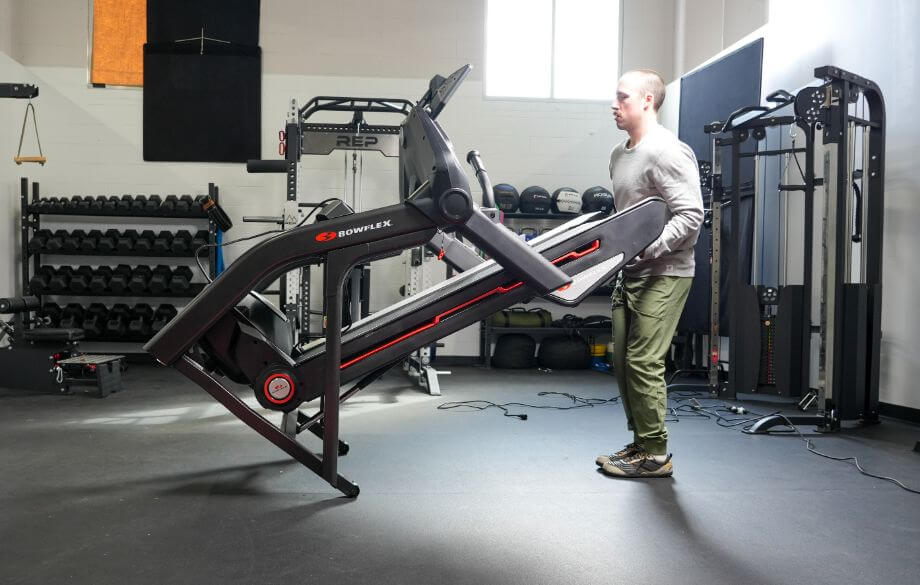 Another cool thing the Treadmill 10 features? Both incline and decline training! Plenty of treadmills over $1,000 have automatic incline, but decline options are still a bit more rare. This makes this machine a good choice for someone who is training for a trail run or wants to simulate running outdoors, since you can go from -5% to 15% quickly.
The deck itself feels stable, and I haven't had to worry about any shaking from the machine. I guess that's what you get when the machine is close to 350 pounds with a 400-pound-max weight capacity, but I digress.
Overall, the controls on the Treadmill 10 are pretty user-friendly. You can measure your heart rate with the pulse grips attached to the handles. Plus, the end caps of the handles have easy-to-access buttons that allow you to change both your incline and speed with a quick tap.
The display also has jump buttons for the speed and incline if you're looking to do a quick increase without rapid fire taps to the handlebars.
Extras
Unlike a lot of the inexpensive treadmills I've tried that have no extra space (cough, cough, XTERRA), I was impressed with the spaciousness of the Bowflex 10. There are two generously sized cup holders to fit traditional water bottles, and a convenient media shelf for your phone. I also like the additional tray down below that can be used to hold other things, like sweat towels, or a wallet and keys. The large amount of storage is super appealing to me.
Another cool extra? You also get a free heart-rate armband with the purchase of your T10 treadmill.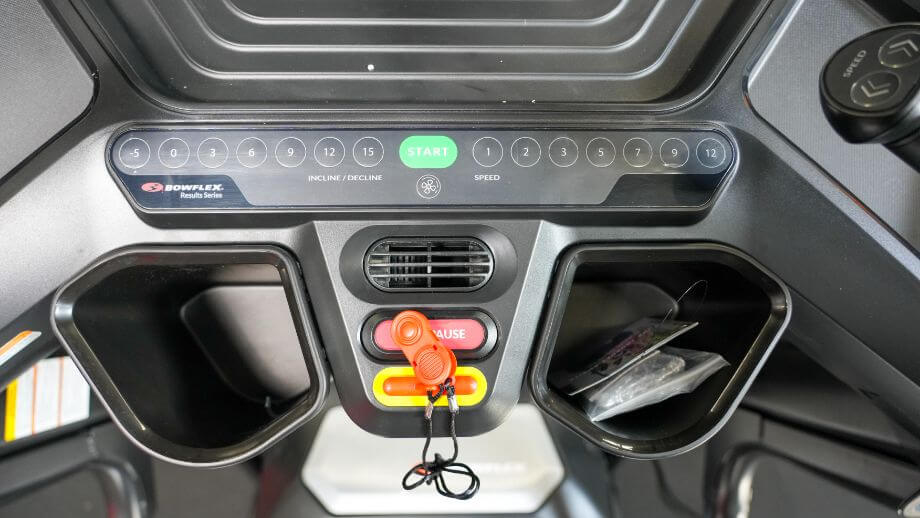 Technology Benefits
The Treadmill 10 features a 10-inch touchscreen with a clear picture. I don't like how tiny the screen is, but Bowflex does offer treadmills with larger options that are more expensive, so I suppose you get what you pay for. Although the picture quality is nice for how small the monitor is, I'm not a fan of how you cannot tilt the screen to make viewing easier. I felt like I was constantly craning my neck while running, which you can imagine didn't feel wonderful.
There are a ton of apps you can use while on the Treadmill 10 including Netflix, Hulu, Prime, Disney+, and HBO Max. However, if you don't want to pay for the monthly JRNY subscription, you will not be able to access these apps, which I think is a big miss.
In the future, I hope Bowflex will allow T10 users to access these apps without having to pay for JRNY, because the touch screen obviously has Bluetooth and Wi-Fi capabilities.
Basically, if you're unwilling to pay for this subscription service, the additional technology becomes useless for you. In that case, I'd recommend purchasing a different, cheaper machine since you'd be paying for features you won't get to use.
Metrics Shown Onscreen
Curious as to what metrics you'll see while using the Bowflex 10 Treadmill? Well, wonder no more my friend! Here they are:
Speed
Incline
Time elapsed
Interval number
Calories burned
Burn rate
Heart rate
Distance traveled
JRNY Subscription
JRNY is the subscription-based interactive programming platform that Bowflex uses with their machines. While the price is cheaper than iFIT from NordicTrack ($396 per year), I don't enjoy the classes as much. At $149 per year or $19.99 per month, it's fairly inexpensive as far as interactive programming services are concerned, but it isn't very fleshed out.
I found the instructors to be a bit boring and the quality of the classes to be average. I think JRNY can definitely be improved upon, but I think some people will enjoy it as is. However, if you're a bit of a program snob like me, you'll definitely notice some differences in the quality you're used to with other services.
Workout Programs Within JRNY
Within the JRNY app, there are a variety of classes and ways to workout; you won't be stuck doing only treadmill workouts. Here's what you can expect to see:
Strength sessions
Cardio (Using treadmills, spin bikes, and ellipticals)
Yoga
Pilates
RELATED: Stationary Bike vs. Treadmill
Footprint and Portability
If you're looking for a compact treadmill that doesn't have a huge footprint, this simply is not it. This treadmill is HUGE. The amount of space it takes up is sizable and needs to be carefully planned for before purchase. However, I do think the 85″ L x 39.6″ W x 65.3″ H footprint of the Treadmill 10 makes the machine quite stable, so there is a tradeoff.
Although the Bowflex T10 does fold, it doesn't fold very flat, and it's still insanely heavy at over 320 pounds. Plus, the included wheels used to move this machine are really small, and don't make the process much easier, especially if you're moving the treadmill on carpet.
The Treadmill 10 does feel like it will have durability and longevity over time, especially if well taken care of. I do worry slightly about the technology becoming obsolete, but that's a concern for any fitness equipment with smart components.
RELATED: How to move a treadmill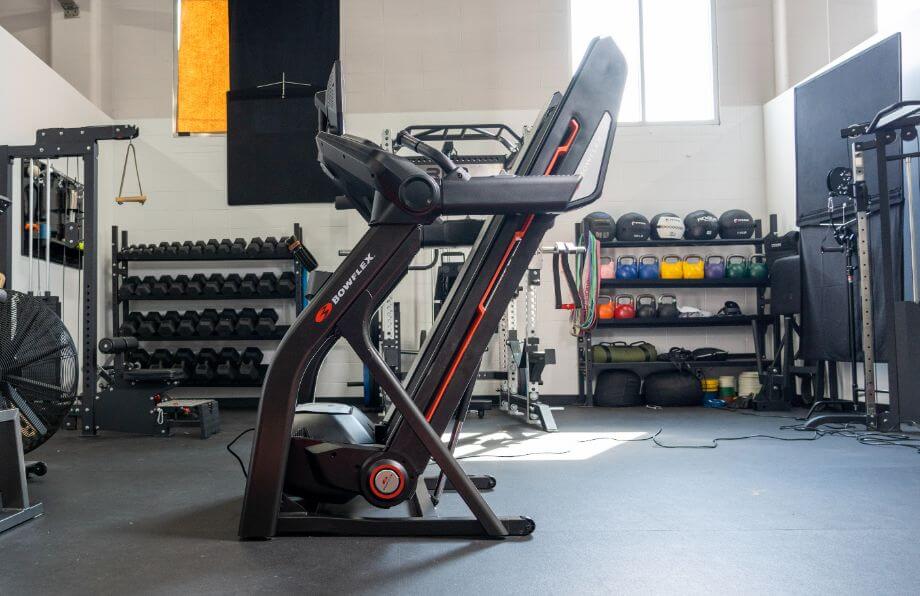 Comparison to Bowflex Treadmill 22
The Bowflex 10 Treadmill is the less expensive version of the Bowflex 22. Neither machine is exactly what I'd call a budget buy, but the 22 retails for close to $2,700. Here's a quick comparison chart to see the key differences between these two treadmills:
| | | |
| --- | --- | --- |
| Treadmill: | Bowflex Treadmill 10 | Bowflex Treadmill 22 |
| Price: | $1,700 | $2,700 |
| Deck: | 22″ W x 60″ L | 22″ W x 60″ L |
| Warranty: | 15 years on frame, 5 years on mechanical parts, 1 year electronics, 2 years labor | 15 years on frame and motor, 5 years parts, 1 year electronics, 2 years labor |
| Display: | 10" HD Touchscreen | 22″ HD Touchscreen |
| Speed: | 0 –12 mph | 0 –12 mph |
| Incline and Decline: | -5% –15% | -5% – 20% |
| Dimensions: | 85″ L x 39.6″ W x 65.3″ H | 85″ L x 39.6″ W x 70″ H |
The Bowflex Treadmill 10 is a good-value cardio machine. I'm impressed with both the warranty and the general stability of the machine while in use. If you have a spot for this large and in charge treadmill, you'll likely enjoy it. I do wish the screen was larger, as 10 inches isn't very big. I can see people wanting the Treadmill 22 for this reason since it has a 22-inch monitor, but I think the 10 is overall a better value.
Customer Experience
The warranties on the Treadmill 10 are on par with what I would expect for a cardio machine in this price range. The frame and motor have a 15-year warranty, parts have five years, electronics have one year, and labor has two years.
If you purchase via Amazon, you'll be able to return the treadmill within 90 days of receipt for a full refund (as long as it's in new condition).
Ordering and Assembling the Bowflex Treadmill 10
You can easily purchase the Bowflex Treadmill 10 off of Amazon with included free delivery for just under $1,700. The Treadmill 10 was delivered quickly within two weeks. If you're nervous about assembling the machine yourself, you can pay an additional $89 for expert assembly, which I'd recommend for most people.
Unfortunately, there isn't any obvious way to finance the Treadmill 10 via Amazon. Although you can finance this machine through the Bowflex website, you'll be paying over $100 more for the same model, which is worth noting.
I seriously can't stress this enough: Either pay the $89 for expert assembly, or grab a friend (or two) to help you move and put together this mammoth of a treadmill. This machine weighs over 300 pounds, which means unless you're really confident in your deadlifting abilities, I'd suggest getting someone's assistance.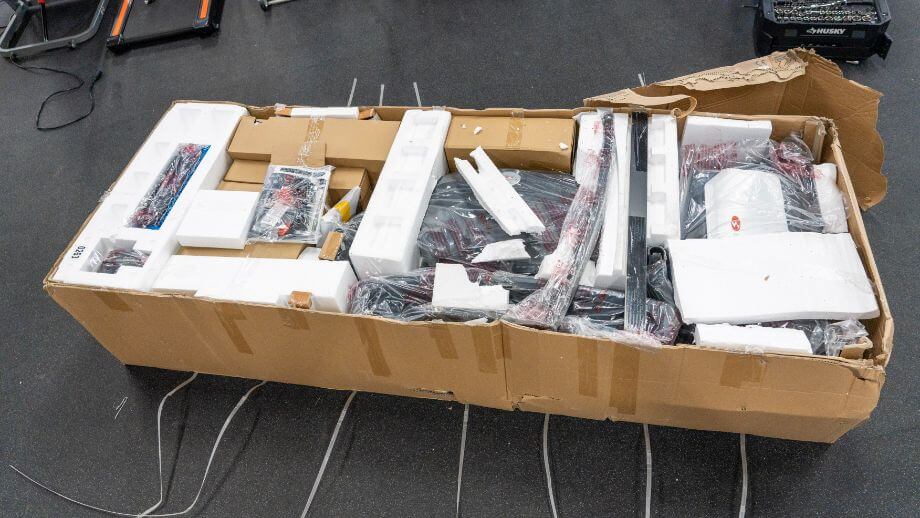 Treadmill weight aside, the actual machine is a real pain to build, especially without help. The wires are not pre-installed to run up the arm supports, so you're forced to painstakingly do it yourself. I also wonder if we received the wrong bag of hardware or if everyone had issues with the screws not being long enough. There were several times during assembly where we had to skip the lock washer because there was simply not enough screw thread to make a connection and tighten everything down.
RELATED: How to fix a treadmill
Plus, some of the larger parts (like the touchscreen) are just plain heavy. You really need one person to hold them up while another attaches the pieces. This process is giving me flashbacks to when I assembled the Horizon 7.0 AE Elliptical. It's heavy as heck and might make you cry a little because you'll be super frustrated with the process (oops, did I just admit I cried over an elliptical?…)
Customer Reviews
On Amazon, the Bowflex 10 Treadmill has 160 reviews with an average score of 3.8 out of 5. Customers like the well-cushioned belt, solid warranty, plus the automatic adjustments of incline and speed while taking some JRNY classes.
On the other hand, other reviewers were less than enchanted with having to purchase JRNY in order to use streaming services and the copious amount of plastic used on the outer shell of the treadmill.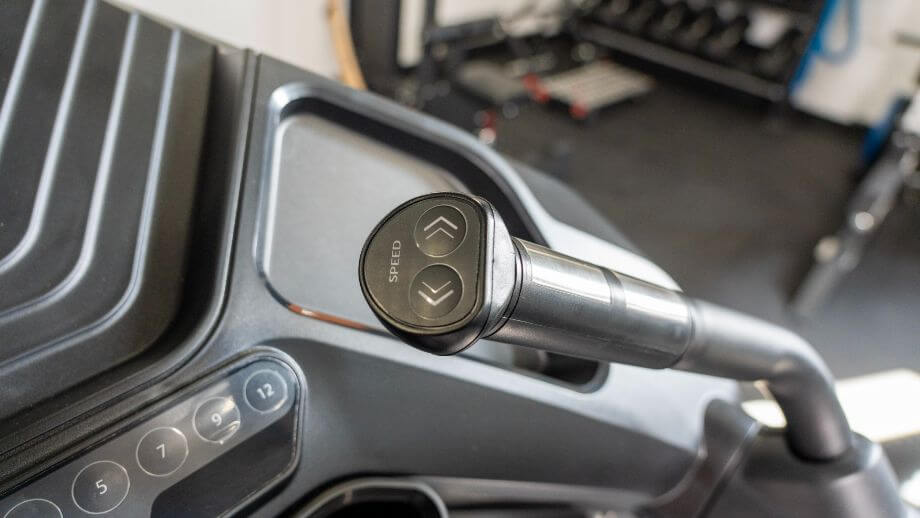 Final Verdict of Our Bowflex Treadmill 10 Review
Provided you're not tight on space, the Bowflex 10 is a solid mid-range option. At $1,699, it isn't a budget treadmill, but it also isn't comparable to the price of a high-end machine, like a Peloton Tread or AssaultRunner. I like the stability this machine provides, and the technology features are solid. However, be prepared to pay for JRNY programming if you want to be able to really utilize all the apps and extras that are available.
Bowflex Treadmill 10 Rating
Bowflex Treadmill 10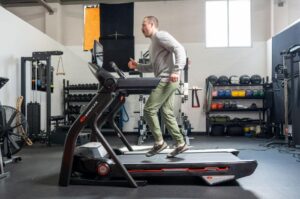 In this Bowflex Treadmill 10 review, our team will give you an in-depth look at this large-and-in-charge cardio machine.
Product Brand: Bowflex
Product Currency: $
Product Price: 1499.99
Product In-Stock: InStock
Bowflex Treadmill 10 FAQs
Are Bowflex treadmills any good?
Yes, Bowflex treadmills are good. Obviously everyone is looking for something different in a cardio machine, so it may be the best option for you and it may not be. You'll need to keep in mind exactly what you're looking for and compare the specs of the Bowflex machines to your qualifications. 
Can you use the Bowflex Treadmill 10 without a subscription?
Yes, you can use the Bowflex Treadmill 10 without a subscription, but the 10-inch HD touchscreen will be rendered mostly useless. If you don't plan to pay for the monthly subscription of a JRNY membership, I'd suggest a different treadmill because you'll essentially be paying extra for something you have no intention of using.
How much does the Bowflex Treadmill 10 weigh?
The Bowflex Treadmill 10 is a really heavy machine at 323 pounds. Luckily, it's a folding treadmill, so it can be somewhat put away within your home gym.