Rogue Fitness has been providing sneak peaks on this system for some time now.
Rogue Fitness is known for making some of the best and most popular gym equipment currently on the market. Their equipment is known for being overbuilt and made to withstand years of abuse whether in garage gym or commercial facility.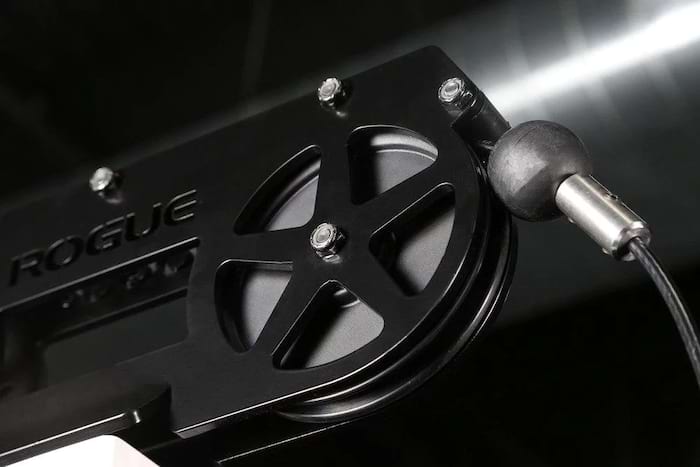 This rack-mounted contraption will allow lifters to utilize traditional Lat Pulldown Machine style exercises. Many garage gyms don't have the luxury or room to host several pieces of accessory equipment beyond a platform and a Monster 2.0 Power Rack, so its nice of Rogue to give these gyms a sharp-looking option. 
 As stated above, the rack-mounted Slinger is made exclusively for the Monster 2.0 Power Racks and the racked version of the Monster Rig 2.0.
One of the great features about the slinger is the state-of-the-art design. They made sure that it would look like a great add-on to your power rack (not gimmicky). But best of all, the band/cable set-up yields a fluid motion so that no parts will be swinging.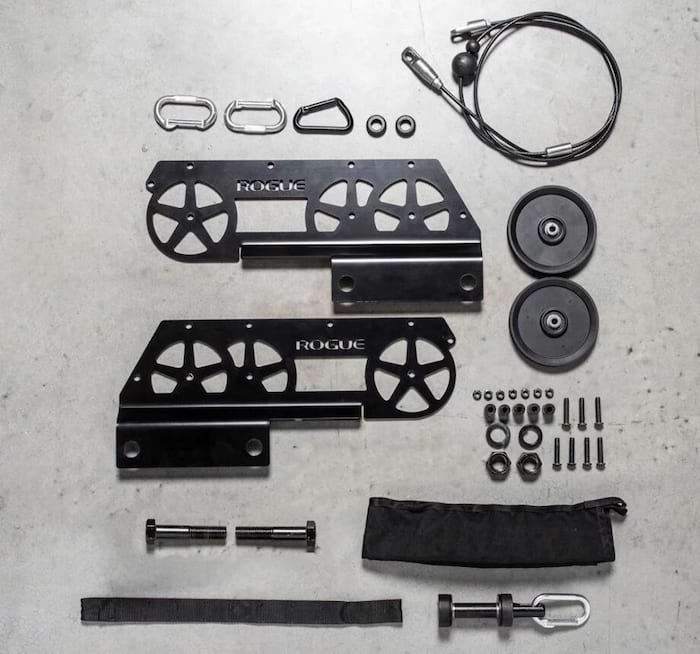 Here are the specs:
·         Patent Pending Design
·         Made in the USA
·         Rack-Mounted Cable Pulley / Lat Pulldown System
·         Compatible ONLY with Rogue Monster Rack 2.0 and racked Monster Rig 2.0 units
·         Extends 7" out from and above upright to which it is mounted
·         Attachment straps and resistance bands sold separately from standard package
·         User Assembly Required
·         Color is Black
·         Length is 22.4" (Extends 7" beyond the face of mounting upright)
·         Height is 9.75" (Extends 7" above to of upright)
·         Cables are MIL Spec 0.25" Steel Cable
·         Optional Grip Strap & Carabiner Pair
·         Optional Rogue Stainless Steel Lat Bar Attachment
·         Optional Tricep Strap and Resistance Band Kit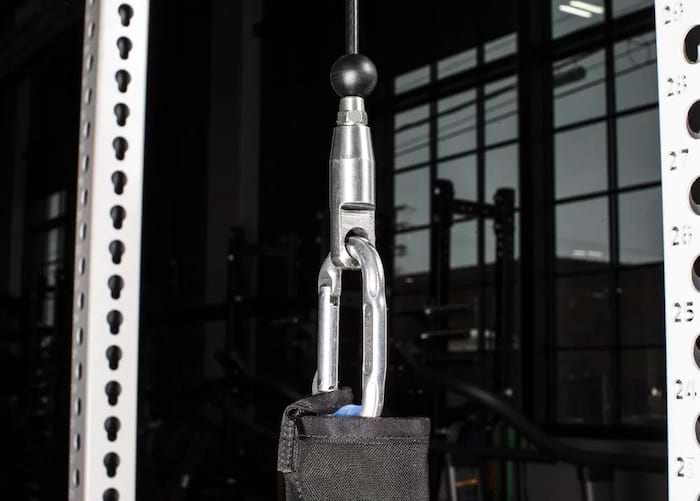 The Slinger works by doubling up a Monster Band and attaching it to a carabiner at one end of the rack-mounted extension strap (at the base of the rack) and to the other carabiner that goes to the cable.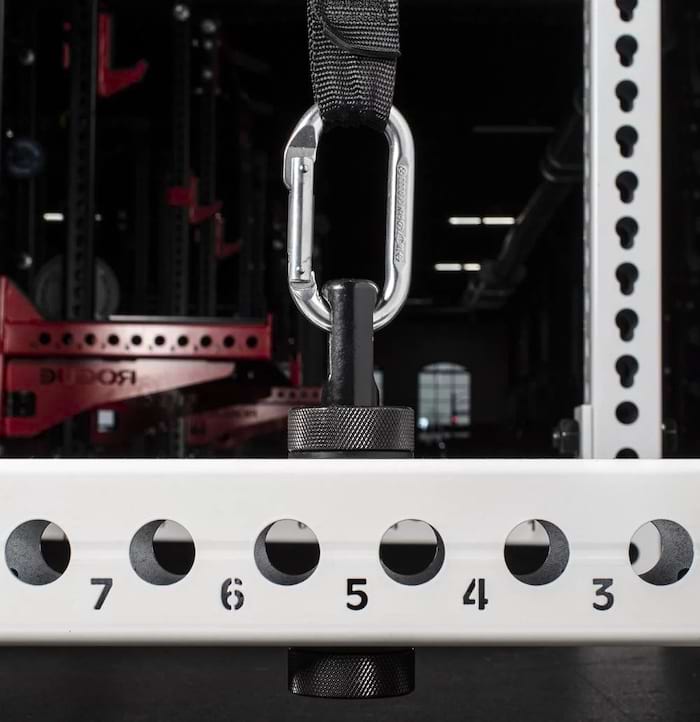 The band design prevents swinging as the band pull creates a linear line of resistance between the points of attachment.
Overall, due to the price and build, the Rogue Slinger is sure to be a popular option or add on for those who currently or will purchase a Rogue Monster Rack. It is very clean attachment and will be useful for nearly anyone who wants to go beyond the traditional exercises that you would experience inside of a power rack.
As far as Garage Gym's go, although this would be nice to have, if you have the room for a separate cable system then this may not be your best choice. Band resistance can be an awesome option for some exercises, but the resistance profile is opposite of what you would want to happen for most single joint and pulling movements (as the band gets "heavier" where mechanically you are weakest). However, if you're training for the big lifts, it is nice to have a quick option on hand that allows you to do some quick pumping or fun single joint movements.
I'm sure we will see additional accessories or add-ons to be made with the Slinger. An attachable seat with thigh restraints to go onto the power rack would be a great add-on to see!