We test and review fitness products based on an independent, multi-point methodology. If you use our links to purchase something, we may earn a commission. Read our disclosures.
I have a confession to make: I love running on the treadmill. Turning up the music and jacking up the speed for some interval training is what I live for on cardio days. Plus, my reconstructed ankle appreciates the extra cushioning of a treadmill versus the pain-inducing concrete or pavement. Don't @ me. I said what I said.
After testing a dizzying amount of these machines, my ankle and I have compiled our six best home treadmills for running. This list has something for almost everyone: whether you're looking for an option with interactive programming, a folding treadmill, or are on a budget, we have you covered.
Why You Should Trust Us
Ready to finally take the plunge and purchase a home treadmill for running? You've come to the right place! The team at Garage Gym Reviews has run (and sweated) on some of the best treadmills on the market.
We have certified personal trainers, marathon runners, and product experts who evaluate things like warranty, horsepower, top speed, workout programs, and the running deck to decide if a treadmill makes the cut. We're familiar with the industry standards in every category and are sure to point out the positives and negatives on each machine we recommend.
6 Best Treadmills for Runners
Best Overall: NordicTrack Commercial 1750
Good for: People who want programming, decline, cushioning options and solid construction.
NordicTrack Commercial 1750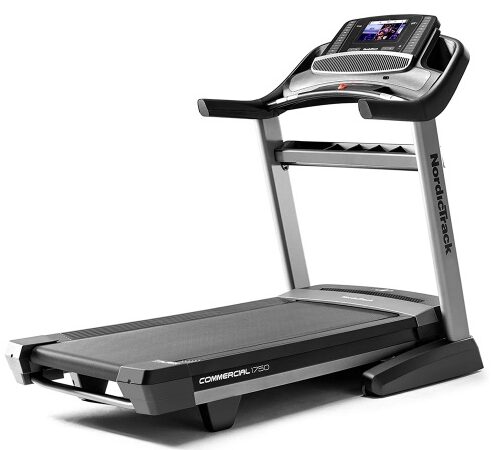 NordicTrack Commercial 1750
The NordicTrack 1750 treadmill features a 14-inch HD adjustable touchscreen with which you can stream iFIT programming on (sold separately). The under $2,000 machine can be financed through the NordicTrack website where you can get deals as low as $49 per month with 0% for 39 months.Models from 2013-2021 of the 1750 had adjustable cushioning, but the 2023 model no longer has this feature.iFIT workouts incorporate Automatic Trainer Control, which allows your trainer to digitally adjust your incline, decline, and speed. This is a nice feature to have because all you have to do is focus on the workout at hand versus frantically switching the controls.
Pros:
Incline and decline options
Financing options available
3.5 CHP motor
Touchscreen can move different directions
Cons:
Expensive at almost $1,900
Heavy machine at 339 lbs
Need a second person to help with assembly
NordicTrack voids warranties if you store your machine in the garage.
I won't lie, the NordicTrack Commercial 1750 has my heart. It's one of the best overall treadmills I've ever tried. Naturally, it's unsurprising that it's a dream to run on. With a hefty 3.5 CHP motor and 60-inch belt, the 1750 is well equipped to handle everything from a light jog to an all-out sprint.
The belt itself is unique in that you can switch the cushioning on and off to simulate running outdoors, which can be super helpful if you're training for a race. Plus, the 1750 has both incline and decline options to further challenge you during your workout. I also like that the max speed is 12 MPH, which is above the industry average of 10 MPH.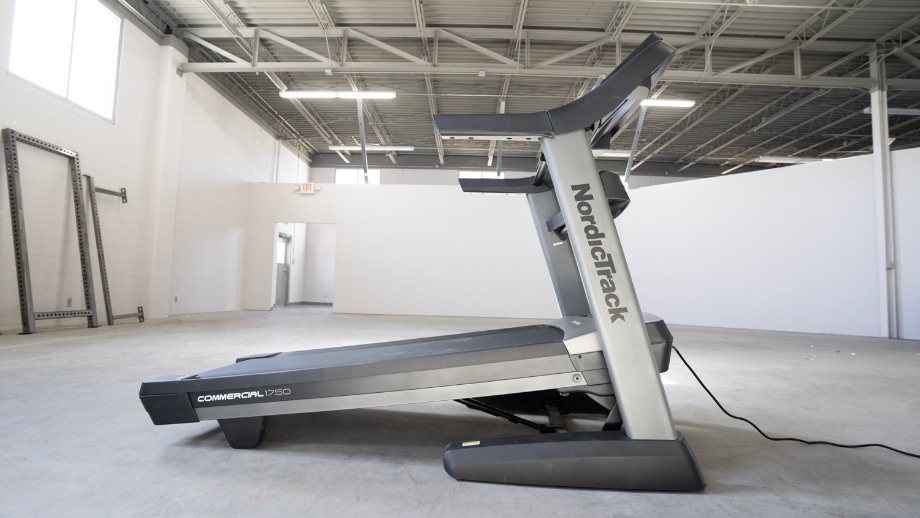 If you're someone who loves interactive programming, the 1750 has you covered with a 14-inch touchscreen and iFIT compatibility (subscription sold separately). I do wish the screen was slightly bigger, but that's more of a personal preference. For comparison, the NordicTrack Commercial 2950 has a 22-inch screen. You will have to pay an additional $600 for the 2950 if a bigger screen is important to you.
The price tag is expensive on the 1750; expect to pay close to $1,900 for your new treadmill. However, I do like that NordicTrack has financing options. You can break your payment up into more manageable, monthly increments for around $49 per month.
Now for something I'm not nuts about: the assembly. Geez Louise, please don't try to assemble this on your own. Seriously. Grab a friend, your mom, or your neighbor that you bribe with cookies to help. The 1750 is really heavy at 339 pounds, and the individual pieces are tough to unbox on your own. If you can afford it, the extra $199 for professional assembly from NordicTrack may be worth it. It'll certainly save you (and whatever individual you could rope into helping you) a sweaty Saturday.
Read all our thoughts in the NordicTrack Commercial 1750 review treadmill.
Best Budget Treadmill for Running: Sole F63
Good for: People who want a reliable treadmill that's under $1,000.
Sole F63
Sole F63
Named "Best in its Price Range" by Fit Rated, Run Reviews, Treadmill Reviews, and many others. Easy Assist Folding Deck Design makes storing your treadmill easy and convenient. High-end rollers create a static free motion leading to a long lifespan. Smoothest treadmill when making adjustments mid-workout. LCD screen provides real-time statistics to monitor progress towards goals.Plus, Sole has recently released its own version of Peloton-esque programming: STUDIO. You can access a variety of on-demand classes for just $19.99 per month.
Pros:
Just under $1,000
15 incline levels
Foldable for storage
60" deck
Cons:
Slight shake when sprinting
Primitive LCD display
Unboxing and assembly requires two people
The Sole F63 is a great running treadmill for just under $1,000. I know, I know; $1,000 is still a lot of cheddar, I agree. However, if you want a treadmill used for running, going too cheap will mean sacrificing elements that are crucial to supporting your exercise. For example, the running surface. The F63 has a 60-inch deck, which can accommodate a variety of stride lengths comfortably.
A lot of budget treadmills have a super short deck or weak motor, which can make more intense cardio difficult to do. The Sole F63 also has a strong 3.0 CHP motor, 15 levels of incline, and a lifetime warranty on the frame and motor. I like that this machine folds for easier storage. However, it's a heavy treadmill at over 250 pounds, so you might need help to move it.
RELATED: How to move a treadmill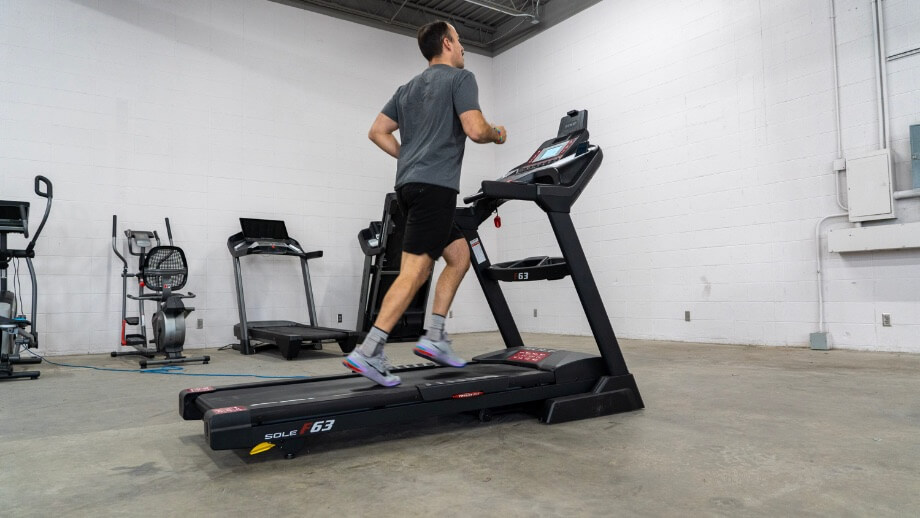 If you don't have a workout tracker, the Sole F63 comes with a strap heart rate monitor, which I think is a nice extra for the price. It's Bluetooth-compatible, so you'll be able to keep track of your heart rate while you run.
The LCD display isn't my favorite, but for the price of this machine, it's unsurprising that there is not a touchscreen. It's not that the display is necessarily bad or unusable, but it doesn't look caught up with today's technologies. It reminds me quite a bit of an early 2000's LCD monitor on a treadmill you'd see in a gym. You can still use the device holder to watch your own programming if you choose since there isn't a touchscreen.
Want to learn more? Take a look at my full Sole F63 Treadmill review.
Best Treadmill for Running with Programming: ProForm Pro 9000
Good for: People who want a touchscreen on their treadmill to view interactive programming.
ProForm Pro 9000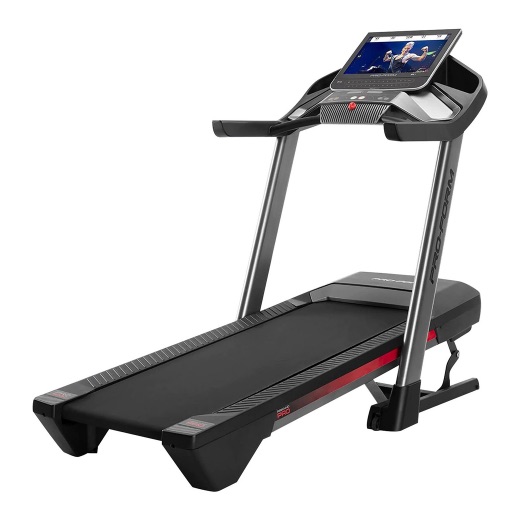 ProForm Pro 9000
Take your training to the next level with an iFit Family membership on the Pro 9000 treadmill. Engage in a whole new workout experience as streamed live and on-demand personal trainers lead you in studio classes and take you all around the world, automatically controlling your treadmill's speed, incline, and decline to give you a unique, hands-free workout.
Pros:
Expansive 22" HD touchscreen
Has both incline and decline options
30-day free iFIT trial with purchase
Foldable
Cons:
ProForm voids warranties if machines are stored in garages
Wi-Fi connectivity is spotty
Heavy and not the easiest to move
If you're looking for solid interactive programming on a durable treadmill, the ProForm Pro 9000 passes the test with flying colors. The 22-inch touchscreen is user-friendly and connects to iFIT (which you get a free 30-day trial of with purchase). The classes you can take aren't limited to a studio; I enjoyed running with the instructors in a variety of settings outdoors, which kept my interest and honestly made the treadmill workouts more bearable.
I am also a fan of the easy-to-read metrics displayed at the top of the screen. You can view your incline, calories burned, time elapsed, speed, and distance running. Plus, the quick change for the incline, decline, and speed makes it easier to focus on the workout at hand versus fumbling with the controls.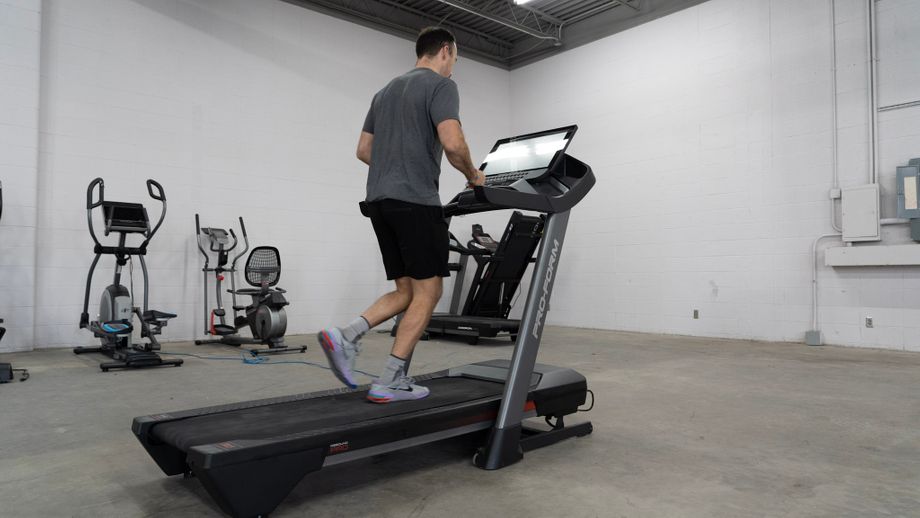 I did have some difficulty getting the Wi-Fi of the Pro 9000 to connect, and based on customer reviews, I wasn't alone in that struggle. It is also worth noting that if you don't want your warranty voided, then you CANNOT store this machine in your garage.
The Pro 9000 can be folded and stored off to the side, but it's a heavy machine. I struggled to move the 263-pound treadmill by myself. I'd grab a friend if you need to move it for any reason.
Check out my full ProForm Pro 9000 treadmill review.
Best Manual Treadmill for Running: TrueForm Trainer
Good for: People looking to improve their running form.
TrueForm Trainer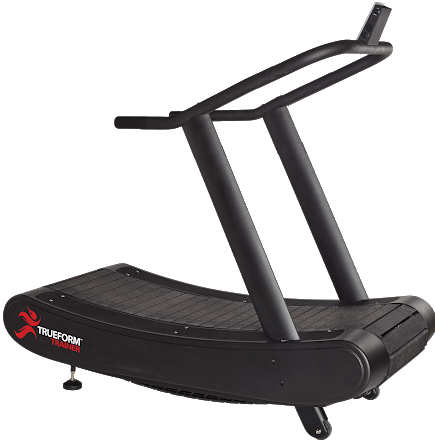 TrueForm Trainer
TRUEFORM Trainer is lighter weight and easier to use. The Trainer is an affordable, rugged, quality built solution for any commercial training facility or home gym. The included display keeps you informed on your pace, speed, distance, time. The display is compatible with Polar heart rate monitors. An optional Bluetooth display is available.TRUEFORM is the industry leading curved non-motorized treadmill. It's the least steep curve on the market, which promotes good form and allows you to easily control your speed. TRUEFORM is the most natural running surface when compared to running outdoors.The proprietary Responsive Belt Technology (RBT), reacts to every subtly in your movement; balance, posture, hip position, foot strike and more. The TRUEFORM requires no power. All the power comes from you, responding to your pace allowing you to go from a walk to a jog, to a sprint, to a stop. Instantly. You will feel when your body is not in the optimal position for running or walking. Long term use of the TRUEFORM will promote better movement patters improving overall health and wellness. TRUEFORM is proven to reduce impact stress which reduces the risk of injury.The simple design of this unique, non-motorized treadmill is also what makes it one of the most effective devices for developing proper running technique. Unlike standard electric treadmills, the TrueForm Runner from features an innovative curved deck that is controlled 100% by the movements and force of the user. There are no on/off switches or complex buttons and settings to worry about. It's a manually operated treadmill that helps train and reward technically-sound posture, balance, and cadence. Set your own limits or push right past them.
Pros:
Self-propelled so you can go as fast or slow as you want
Curve of the treadmill forces you to run with proper form
400 lbs max user capacity
Cons:
Almost $4,000
Heavy (270 lbs) and difficult to move around
LCD display is basic for the price
I'll be the first to admit: in college, I frequently had shin splints because I ran with terrible form. How I played a college sport sometimes baffles me (with such garbage running form), but that's not the point. If I had access to the TrueForm Trainer at the time, my running form could have been improved and the shin splints may have been more minimal. The shallow curve of this manual treadmill forces you to strike midfoot, which is the proper way to run to best steer clear of injuries. Check out the POSE method of running for a better idea of how to improve your form.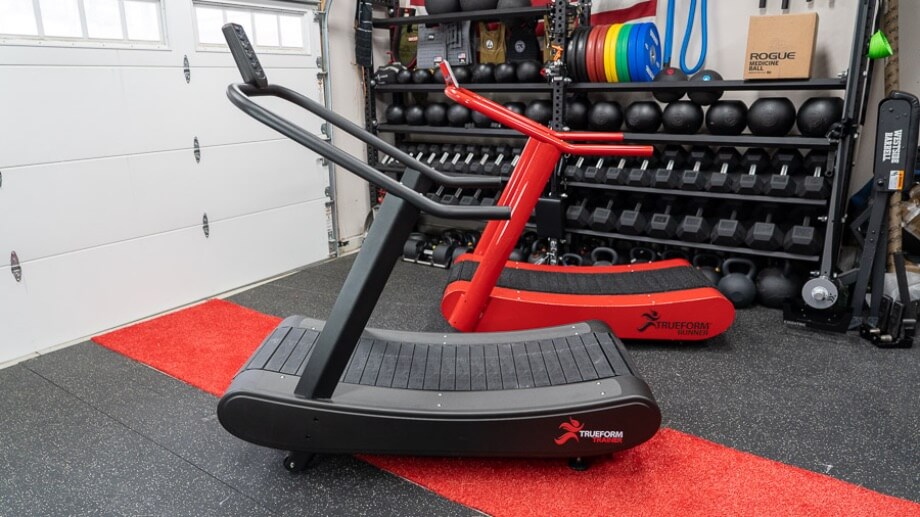 I love manual treadmills because you are in full control of how quickly you go. You can do an all-out sprint and then immediately bring it down to a light jog in seconds. The TrueForm Trainer is also special in that it has a high maximum weight capacity of 400 pounds, which makes it possible to do weighted farmers carries safely.
The additional functionality of the Trainer makes it an awesome manual treadmill, but it comes with a steep price tag of almost $4,000. Not only is it expensive, but it's also really bulky. It cannot be folded for easy storage, so you'll need to make sure you have a proper place for the Trainer to stay all the time.
The LCD display is also basic for the price. I'm not expecting Netflix and an iFIT membership on every running treadmill, but the monitor of the Trainer is as bare bones as one you'd see on a $300 machine.

Check out my full TrueForm Trainer Treadmill review.
Best Peloton Tread Alternative: Horizon 7.4 AT
Good for: People looking for the bells and whistles of the Peloton tread at a lesser price.
Horizon 7.4 AT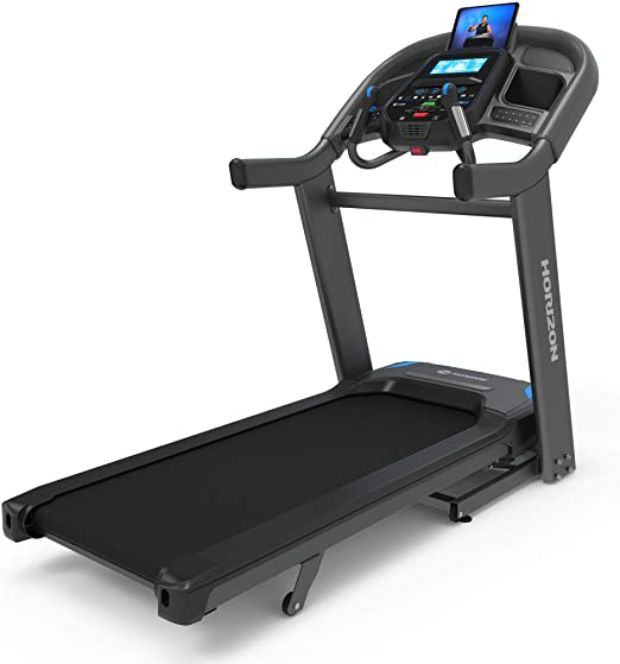 Horizon 7.4 AT Treadmill
The Horizon 7.4 AT treadmill is a workhorse. It isn't a Peloton Tread, nor does it claim to have all the bells and whistles that a technology based treadmill might offer. However, with a 3.5 CHP motor, you'll be able to do pretty much any type of cardio your heart desires. If you're in the mood for some all out sprints, the 7.4 can accommodate you with maximum speeds up to 12 mph. Want to feel like you're climbing a mountain? The 7.4 can help you there too with a 15% incline. Plus, if you're into regular steady state cardio, the 7.4 has a XL running deck of 60 inches, so you can stride without the fear of falling off.Plus, the warranty on this treadmill is stellar. You get a lifetime warranty on the frame and the motor, plus two years on parts and one year on labor. What more could you ask for?
Pros:
Bluetooth connectivity with apps like Peloton and Zwift
Lifetime warranty on frame and motor
60" deck is ideal for variety of heights to run comfortably
Quick to switch between speeds and incline
Cons:
Large footprint
Lots of plastic used
No touchscreen; you have to use your own device
For a treadmill that can support interactive programming like Peloton without the Tread's price tag, the Horizon 7.4 AT is a solid option. This $1,600 running treadmill– which is $900 less than the Tread– can connect with a variety of fitness apps like Peloton, Zwift, Studio, CardioCast, and more. You can also watch Netflix, Hulu, or Disney + on your tablet and play the audio via Bluetooth over the speakers.
I like that you can actually use almost any program you want and have it sync to the 7.4 AT for things like metrics, heart rate, speed, and sound. This makes the 7.4 AT an even more versatile option than purchasing something like a high-end Peloton, even though you have to use your own device.
The actual treadmill has a lot going for it besides connectivity to popular apps. The 60-inch deck allows a variety of heights to comfortably use this machine for any type of running. Plus, the quick selector dial allows you to change the incline and speed in a flash. This is a big plus because waiting for the treadmill to catch up speed wise on intervals and missing a few seconds of a sprint is a definite pet peeve for me.
I do need to warn you: this treadmill is MASSIVE. I'm talking 350 pounds unboxed and close to 400 pounds when it arrives at your doorstep (or inside). Please, for the love of fitness, do not try to assemble or lift this machine by yourself. I'm so serious. You will regret it. This absolutely needs one or two additional people to make transporting and assembling the 7.4 AT a smooth process.
To read more, check out my Horizon 7.4 Treadmill review.
Best Compact Treadmill for Running: Sunny Health and Fitness (SF-T4400)
Good for: People who need a smaller treadmill for a home gym that can be stored with ease.
Sunny Health and Fitness (SF-T4400)
Sunny Health and Fitness Treadmill SF-T4400
The Sunny Health & Fitness Treadmill is a space-saving and affordable treadmill perfect for general trainees who may not have specific athletic goals, such as becoming better runners. It's foldable and comes with a soft drop feature, a top speed of 9 miles-per-hour, and 9 preset workout programs.We think this is perfect for the person who may just want to get more steps in during their day, or just wants a low-impact way to improve their cardiovascular fitness. While the tread is a little shorter than most, it does feature shock absorption technology for those who can find their stride on it.
Pros:
Easy to both fold and store
Around $450
User friendly with easy-to-use controls
Financing options with Affirm
Cons:
220 lb weight capacity is sub-par
Lots of plastic in the shell
Max speed of 9 MPH
Tight on space and don't know how to fit a treadmill into your home gym? The Sunny Health and Fitness SF-T4400 is here to help! This compact option folds and only weighs 103 pounds. Plus, it unfolds with a simple tap to the supporting pole underneath the machine. I really like that you don't have to worry about straining yourself to unfold the SF-T4400; the soft drop mechanism takes care of all the work for you.
RELATED: Sunny Health & Fitness (SF-T4400) review
The $450 price tag is very appealing, especially when the option to finance through Affirm is thrown in there as well. However, a cheap price tag does usually mean compromising on a few things when it comes to a running treadmill. The deck of this compact machine is 50-inches, which isn't bad (compared to other budget friendly treadmills with shorter decks) but it won't accommodate taller people as easily for running.
The controls on the SF-T4400 are very user-friendly. The handles give you the option to conveniently change your speed, plus stop and start the treadmill at your command. I think this makes it a solid option for a beginner because it's really easy to get started on without any complicated programming or technology.
With a max speed of 9 MPH, this treadmill can definitely be used for jogging and running, but I wouldn't recommend sprinting on it. If you're just getting started with your fitness journey and want to work on slow and steady running, this is a great option for you without going overboard on cost. If you're a more serious runner or a taller individual, I'd recommend selecting something else.

Check out our entire Sunny Health and Fitness SF-T4400 treadmill review.
Best Folding Treadmill for Running: Echelon Stride-s Auto Fold Smart Treadmill
Good for: People who are tight on space but want a treadmill that is good for running.
Echelon Stride-s Auto Fold Smart Treadmill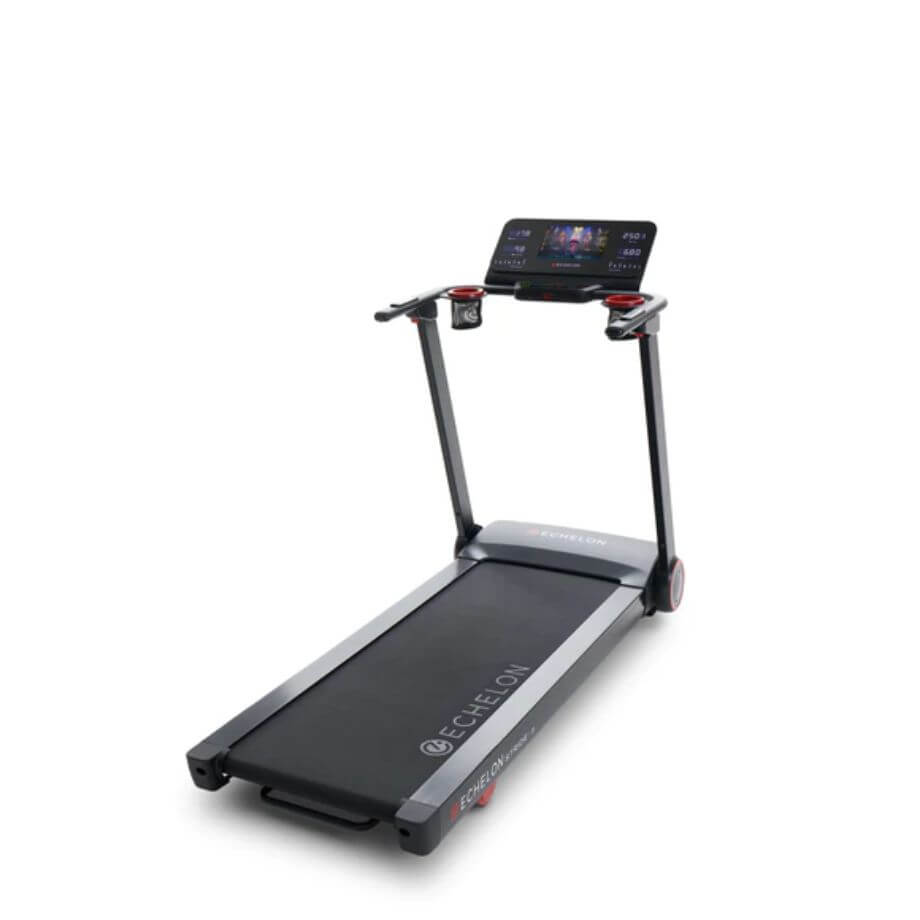 Echelon Stride-s Auto-Fold Smart Treadmill
The Echelon Stride-s Auto-Fold Smart Treadmill is the latest iteration in the Echelon line of treadmills. This foldable treadmill features a 10" touchscreen, which can be used for interactive programming. It also has the capability to fold to 10 inches tall when you're ready to store it away. I like that they have increased the deck size to 59", which makes this a better choice for running than the original Echelon Stride. Plus, the 3.5 CHP motor can support prolonged periods of running.
Pros:
Folds compactly to 10" tall
Longer deck than the Stride at 59"
3.5 CHP motor
HD touchscreen
Cons:
Echelon almost "requires" you to purchase a monthly membership at checkout.
Only 5-year motor warranty and 1 year on parts and labor
As of the publication of this writing, it is currently on pre-order only for the general public.
As someone who's used the original Echelon Stride treadmill, I was intrigued to find out a new edition was being released with updated features: the Echelon Stride-s Auto Fold Smart Treadmill. I'll detail some of the key differences between the two.
It's worth noting that the Stride-s is currently only available for pre-order at the time of this publication (March 2023). There is another in the Stride line, the 5s, which is about $1,000 more, which is comparable in price to the Peloton Tread. We do like that the 5s has a 24-inch HD touchscreen, 3.0 CHP, and speeds up to 12.5 MPH.
The main reason we're smitten with Echelon's line of treadmills? They all fold to 10 inches flat, making them a great option for almost anyone with a small space.
The reason we don't recommend the original Stride for runners is because it only has a 1.75 CHP motor, which wouldn't sustain serious running.
The Stride-s is a better option for running versus the original Stride due to its sizable increase in horsepower (1.75 CHP to 3.5 CHP). The Stride-s also has a longer deck at 59-inches for easier jogging, running, or sprinting. Additionally, the Stride-s has a 10-inch touchscreen, whereas the Stride does not.
In terms of price, the actual machines are only $200 apart from each other. However, I noticed while checking out that you are almost forced to purchase an Echelon Premier Membership with the Stride-s. They have you choose between monthly, annually, or every two years, which can range from $34.99 per month to $29.16 per month. I did not see a way to opt out of this "add on," which is something to keep in mind when factoring cost into your decision.
Curious about the original Stride? Check out our full, in-depth Stride Treadmill review.
Other Treadmills We Researched
The treadmills mentioned above aren't the only ones we looked into. Here are a few others that we researched but didn't make our list:
Bowflex Treadmill 10: This treadmill can definitely be used for running; with a 3.0 CHP motor and incline and decline options, it's not a bad option. At $1,600, we expect a little more from the touchscreen (it's only 10-inches). Plus, it's 325 pounds with an 85 x 40 x 65.5 inches footprint, so it isn't a good option for people with small spaces. (Check out our full and in-depth Bowflex Treadmill 10 review here.)
AssaultRunner Elite: CrossFit fans may be familiar with this almost $4,000 manual treadmill. After all, it's beloved by many athletes and for good reason: it's a solid piece of equipment (albeit an expensive treadmill). However, if you're looking to purchase a manual treadmill for the same price, I prefer the TrueForm Trainer because it helps you run with better form.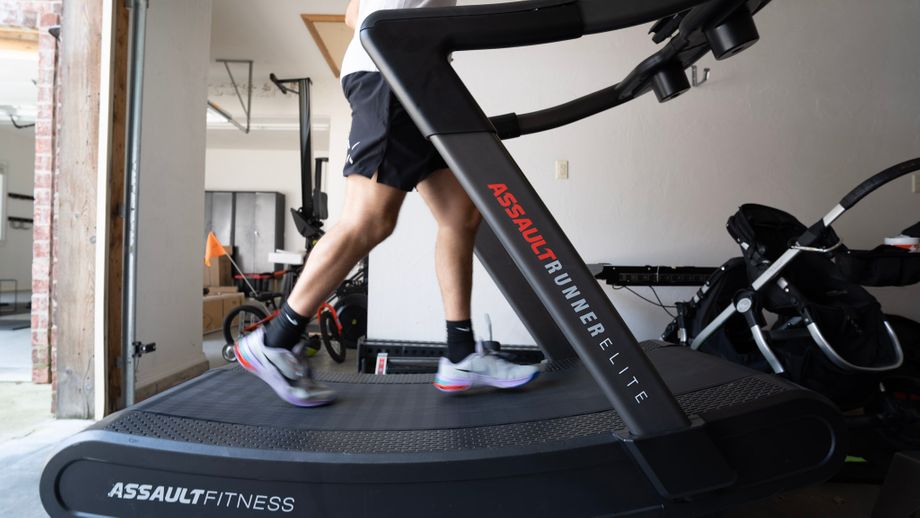 Nautilus T618 Treadmill: Let's start with the most important factor—the T618 was recalled on June 9, 2023, after users reported issues of the treadmill self-starting. It requires a software update from the company to be safe to use again. But, after taking care of the safety concerns, the T618 does have some green flags when it comes to things I look for in a running treadmill: It has a 60-inch deck, 350-pound weight capacity, and a great frame and motor warranty. I do wish for the $1,500 price tag there was a touchscreen included, because the backlit display feels basic. (Full Nautilus T618 Treadmill review here.)
Goplus 2 in 1 Folding Treadmill: As a super budget option for home use, I was pretty impressed with the Goplus. At under $400, this foldable treadmill boasts a 2.25 CHP motor, is lightweight, and easy to move on your own. However, I personally wouldn't be comfortable running on the Goplus, as the 40-inch deck and 8 MPH max speed don't really work for me. This isn't to say you couldn't run on it, but if you're taller, you might have a rough time.
RELATED: Goplus Treadmill review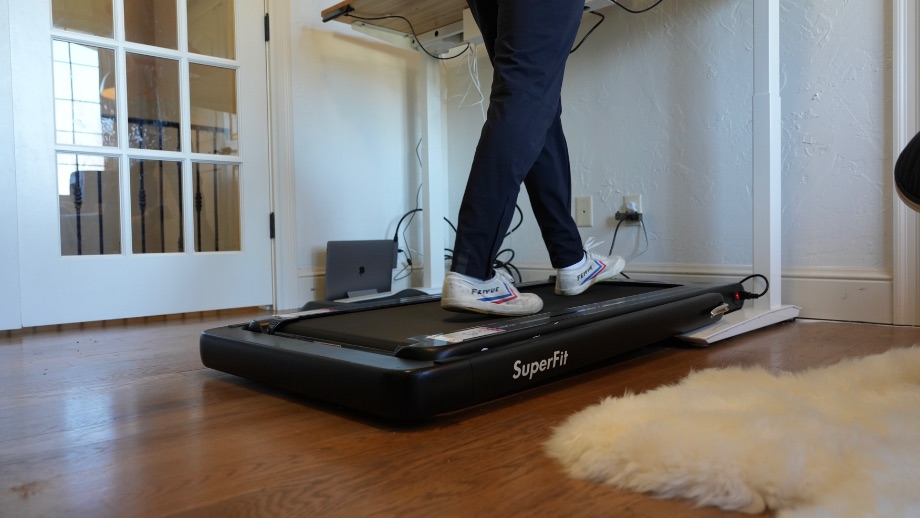 UREVO 2-in-1 Treadmill: For a budget-friendly treadmill you can easily pick up on Amazon, the UREVO hits the mark at under $500. Plus, it's a compact treadmill I'd recommend for beginners. I wouldn't necessarily recommend it for running, especially if you're 5'9" or taller because the deck is very short at 42 inches.
RELATED: UREVO Treadmill Review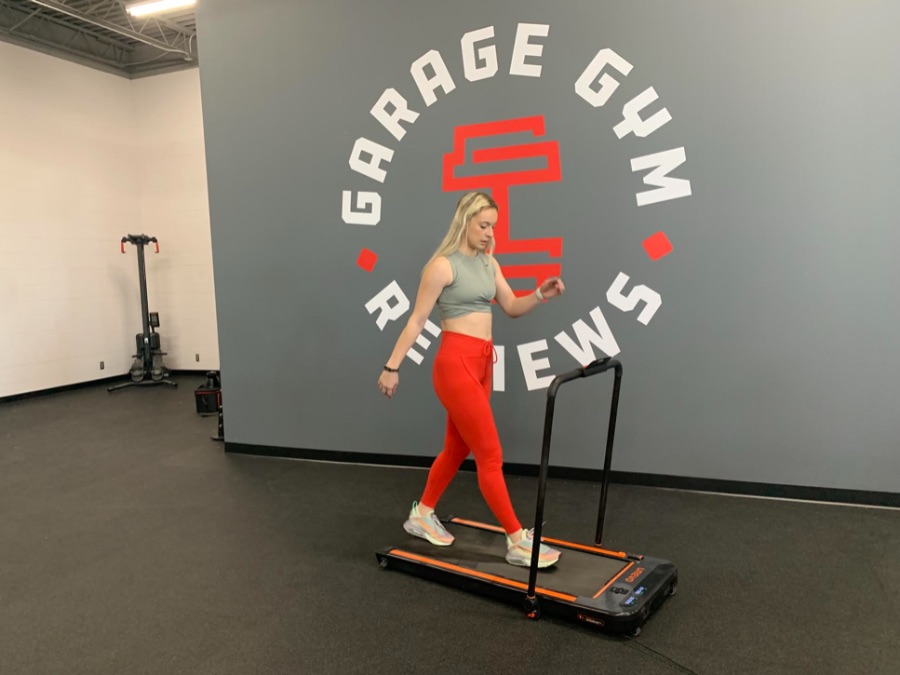 How We Picked and Tested
Since this is a list of the best treadmills for running, it shouldn't come as a surprise that these treadmills received the full gamut. I jogged, ran, and sprinted on a variety of machines (as did Coop and my fellow GGR writers) to first see how our workout experiences were. Don't get it twisted; that was the first of many things we evaluated to see if a treadmill would make the cut. Here are some of the other considerations we took into account:
Price range
Compactness
User weight capacity
Warranty
Specs (Like footprint)
2.5 horsepower motor or greater
Preset programs
Display (LCD screen or touchscreen display)
Portability
Assembly
Delivery
Available adjustments
Extras (Cupholders, Bluetooth speakers, tablet holder)
Benefits of Running Treadmills
Still trying to decide if spending the extra cash on a running treadmill is worth it? Check out some of the treadmill benefits you could reap with adding one to your home gym:
Improved Cardiovascular Function
Running not only improves endurance but also can give you better heart health. Studies have shown regular running can reduce your risk of cardiovascular diseases.
Losing Weight
Running on a treadmill is an efficient way to burn calories. This means it can be an additional tool used to help you possibly lose weight. Please remember that losing weight consists of both exercising and a nutritious diet, so consult a medical professional with any questions you may have if you're trying to lose weight.
You're in Control
Calling all control freaks (yes, I'm calling myself out here too): you can control pretty much every aspect of your run with a treadmill. Switch the speed, incline, programming, and music at your own leisure. You don't need to stress about being stuck in traffic on the way to the gym, or the impending thunderstorm that could derail an outdoor run. With a running treadmill in your home, you run the show.
Speed Training
Trying to get faster and beat a personal record? You can do interval training and sprints with ease. Speed training can even be ramped up with incline settings to mimic an outdoor or trail run.
Running Outside vs. on a Treadmill
Trying to decide if you should buy a treadmill to run on or just hit the pavement outside? Here are some of the pros and cons of treadmill running versus outdoor running.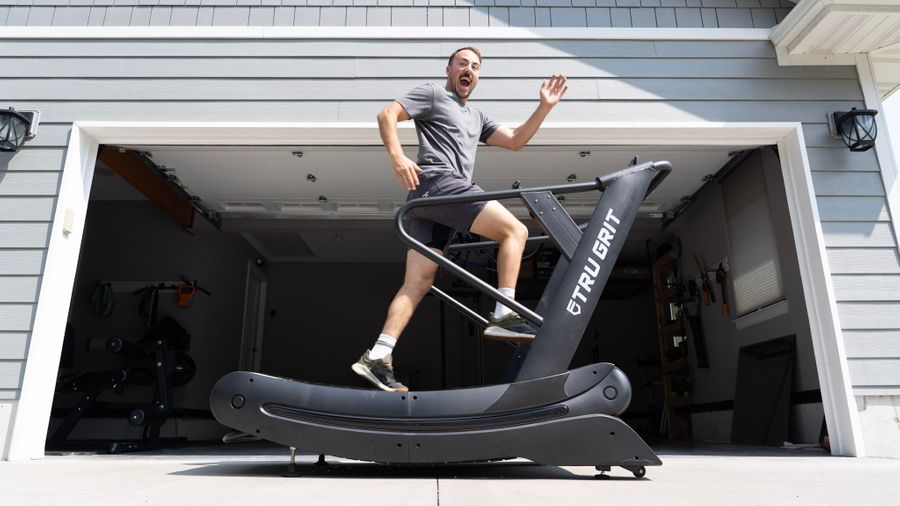 Pros of Treadmill Running
Controlled environment (You are in charge of the incline, decline, and speed)
You don't have to deal with the elements
The cushioning provided by many treadmills can be easier on joints than running outside.
Safer than running alone outdoors
Interactive programming options are easier to use on a treadmill
Pros of Running Outside
Fresh air
Practical for training for outdoor races
Free and doesn't require equipment
Change of environment
Cons of Treadmill Running
Can be expensive to buy a treadmill
Space concerns
Staying in one spot for a run can get boring
Doesn't always accurate simulate something accurately like a marathon/other race
Cons of Running Outside
Higher impact than treadmill running
Unknown dangers (Other people, environment)
Contingent on the weather
Easier to get hurt because of a changing environment
RELATED: Treadmill vs Outside Running
Buying Guide: How to Choose the Best Home Treadmill for Runners
If you're a runner (or an aspiring runner), choosing the right treadmill for your home gym can be an exciting and stressful choice. Here are some things to consider when picking out your ideal fit:
Budget
Generally speaking, you can get away with a lower quality treadmill if you only plan to walk on it. Most treadmills I'd recommend for running are close to $1,000 and over. If you really want to get a treadmill with a large enough deck, high enough powered motor, and a solid warranty, I'd suggest spending a little extra upfront.
Deck Size
If you plan to run on your treadmill, getting a machine with at least a 55 inch deck is important. I'd personally recommend a 60 inch deck if you're taller, but that's personal preference. You want your deck to be long enough to support longer strides so you can focus on the workout at hand (and not falling off the treadmill).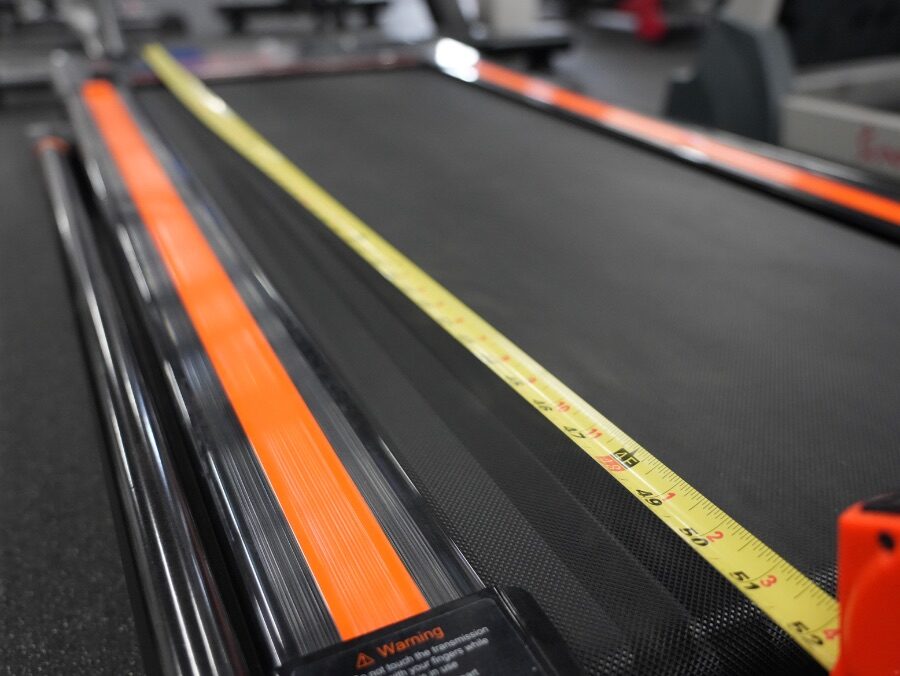 Programming
Some of the treadmills I mentioned above have a built-in touchscreen with which to view interactive programming on. However, others have a device holder you can use to hold your own phone or tablet in and watch your own workout classes. Some treadmills have Bluetooth connectivity where you can sync your device to the machine to accurately track your incline, speed, and calories burned.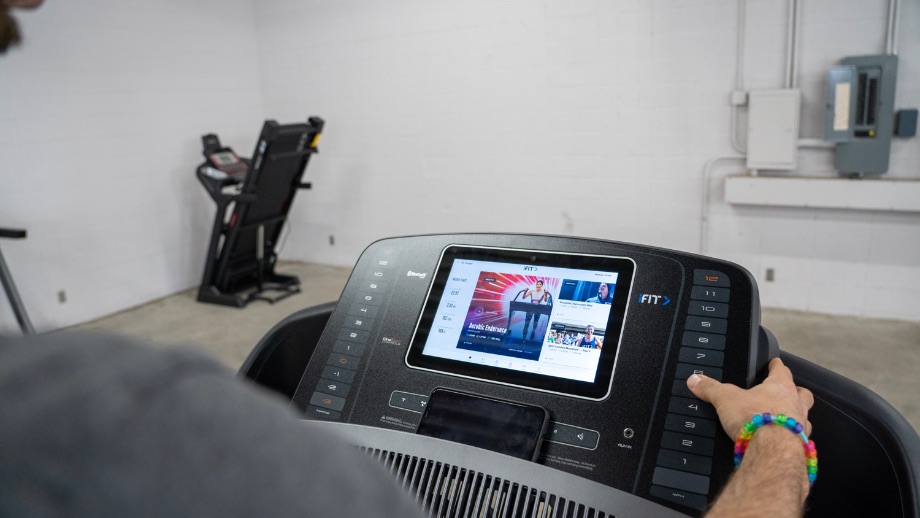 Incline and Decline Options
Incline options are fairly common on running treadmills. Decline options are slightly more rare, and usually come on higher-priced machines. Having the ability to do both on a treadmill can be useful for people training for a race and need to simulate running up and down hills.
Speed
A good running treadmill has at least a max speed of 10 MPH. More advanced runners will want to look for a max of at least 12 MPH to support all out sprinting efforts.
RELATED: HIIT Treadmill Workout
Motor
For a treadmill that can support running, having a powerful motor of over 2.5 CHP is critical. A treadmill that has less than that will struggle to last with repeated running.
Display
There are usually only a few options when it comes to treadmill displays: HD touch screens or LCD displays. If you really want to have the option to watch built-in interactive programming, purchasing a treadmill with a touch screen makes more sense for you.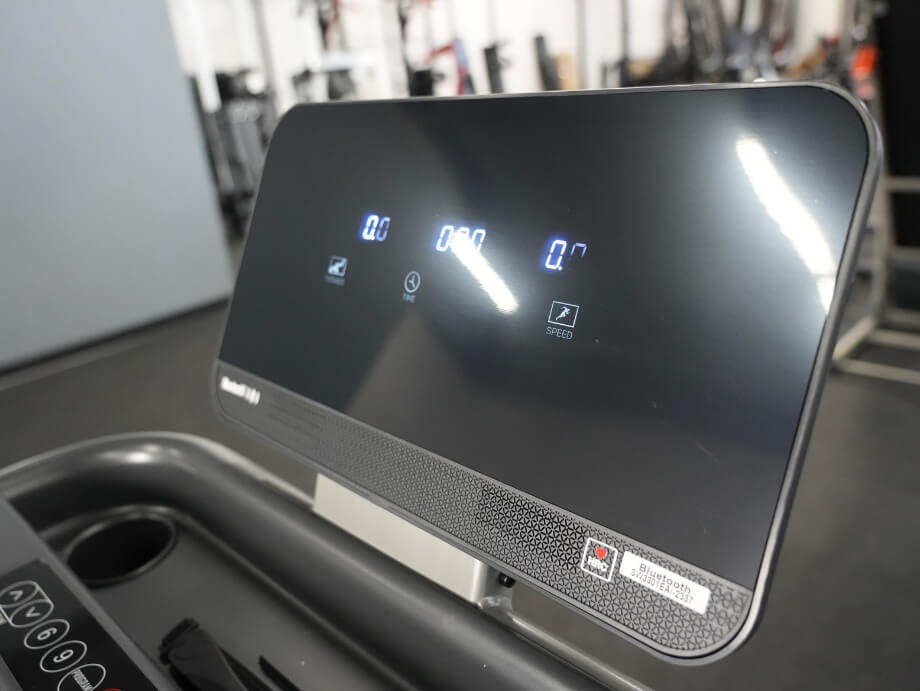 Weight Capacity
I would recommend getting a treadmill that has at least a 275-pound weight capacity. More would ideally be nice (in case you want to do weighted farmers carries) but that's the industry standard for a running treadmill.
Warranty
The best treadmills have a lifetime warranty on the frame and motor. Depending on your personal price point, you may have to make some compromises on the warranty your treadmill has.
Have more questions on what you should look for in your new treadmill? Check out our comprehensive treadmill buying guide.
Best Treadmills for Runners FAQs
What size treadmill do I need for running?
I'd suggest getting a 55+ inch long deck to run on. Getting anything smaller will make your strides shorter and you slower while running.
Is 2.5 CHP good for a running treadmill?
I would say 2.5 CHP is the bare minimum I'd recommend for a running treadmill. Anything less will have difficulties powering serious running or sprinting.
Do I need programs like iFIT or JRNY to get a good running workout on the treadmill?
Nope! Interactive programming is a fun extra to have, but it isn't needed to have a high-quality, motivating running workout. 
What are some of the brands of treadmills that are popular?
Horizon Fitness, Sole Fitness, ProForm, and Nordictrack treadmills have some of the best treadmills for home use.