We test and review fitness products based on an independent, multi-point methodology. If you use our links to purchase something, we may earn a commission. Read our disclosures.
Not everyone is looking for a commercial-grade treadmill and to spend more than $4,000 for a high-end machine. In fact, I'd bet a lot of you looking for a treadmill would like something that's a tenth of that price. Well, you've come to the right place! This Goplus Treadmill review will cover an under-$400 cardio machine that's both foldable and ideal for underneath a desk.
If you're willing to forgo the extras, and just want a machine you can consistently walk on throughout the day, the Goplus might be the best treadmill for you.
We Know Treadmills
Since 2014, Garage Gym Reviews has been a trusted source for in-depth analyses on some of the hottest home gym equipment on the market. This includes things like barbells, dumbbells, racks, and yes, a TON of cardio equipment. We've tried and reviewed everything from super expensive manual treadmills to crowd favorites like the NordicTrack Commercial 1750 treadmill.
No matter what treadmill we test, our process stays the same: we want to know how the machine performs, its durability, programs, warranty, foldability, weight capacity, and how it compares to the industry standard.
Goplus Treadmill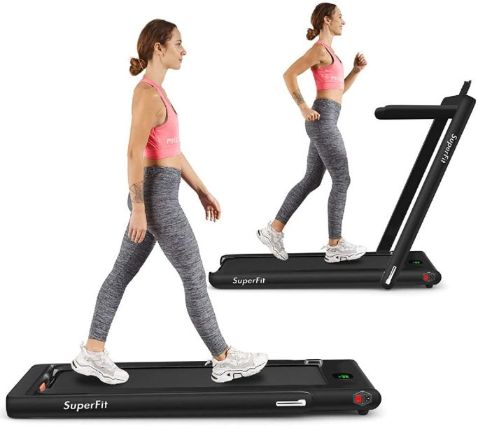 Product Highlights
Fits seamlessly under most standing desks
Quick assembly
Folds extremely flat for storage
Comes with remote to change speed with ease
Pros & Cons
Pros
Lightweight
Easily portable and stored
Emits minimal noise
Very easy assembly
Bluetooth speaker on console
Phone mount
Remote control
Safety key
Ideal for use in small spaces and those who are casual joggers/walkers
Transport wheels
Cons
Not intended for sustained or fast running
Smaller than typical running surface
Does not fold once handrails are installed
Handrails do not adjust and are at a fixed 3.5 feet (not ideal for taller individuals)
Only two modes available
Max speed is 8 miles per hour
No incline/decline
Can not mount a tablet
Bottom Line
The GoPlus 2-in-1 Folding Treadmill is a great value purchase for any walker or casual jogger looking to save space while still getting in a solid cardio session. If you are looking for a treadmill to train for your next marathon on, this is not the one for you.
GoPlus 2-in-1 Treadmill Video Review
A Quick Look at the Goplus Treadmill
Goplus isn't a brand we typically review products from. They aren't exactly the Rogue, NordicTrack, or ProForm of the world. They are one of those brands that make a lot of different things beyond fitness equipment (including patio furniture, tools, and home improvement products). However, this treadmill from Goplus could be a great budget option for you, especially if you're looking for one very specific thing: something to go under your desk.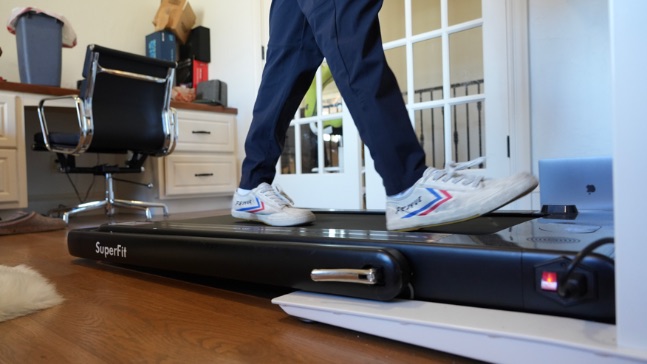 My Tips:
Make sure to start the treadmill before you stand on it. The motor seems to struggle if you stand on the deck before pressing start.
Don't stake your life on the stats shown on the Goplus. They don't always seem to be the most accurate (looking at you, calories burned).
Pros:
Under $500
Foldable
Small and compact
Very easy assembly
Cons:
Extremely short deck at 40″ x16″
Motor bogs down if you stand on it before starting the treadmill
No incline options
RELATED: Best Folding Treadmill
Is the Goplus Treadmill Worth It?
Depending on what you're looking for, the Goplus may hit the mark for you. However, it definitely isn't a great pick for everyone. Check out who I think should look into this and who should buy something else.
Great For:
People who want a treadmill under their desk.
A budget-friendly pick.
Walkers
Not Recommended For:
Serious runners
People taller than 6 feet
Those who want a technology heavy treadmill.
Goplus Treadmill Specs
| | |
| --- | --- |
| Footprint | 49"x 27"x 42" |
| Speed | 1-8 mph |
| Weight capacity | 265 lbs |
| Folding dimension | 52"x 27"x 5" |
| Running deck | 40″ x16″ |
| Motor | 2.25 Horsepower ultra-quiet motor |
| Weight | 69.5 lbs |
| Screen Display | Time, Speed, Distance, Calories burned |
| Display | LED Display |
| Bluetooth Speakers | Yes |
| Foldable | Yes |
Using the Goplus Treadmill
I know people think it's weird that we enjoy cardio (I'm assuming you do if you're reading this), but hey, it's fun! Since I know quite a bit of information about treadmills, friends and family have been asking me about the best treadmill for using under desks, since a lot of us spend time typing away without much movement from 9 to 5. I decided to test out the Goplus, because I've heard it can be a good option for those looking to get some steps in while working from home.
RELATED: Best Treadmill Workouts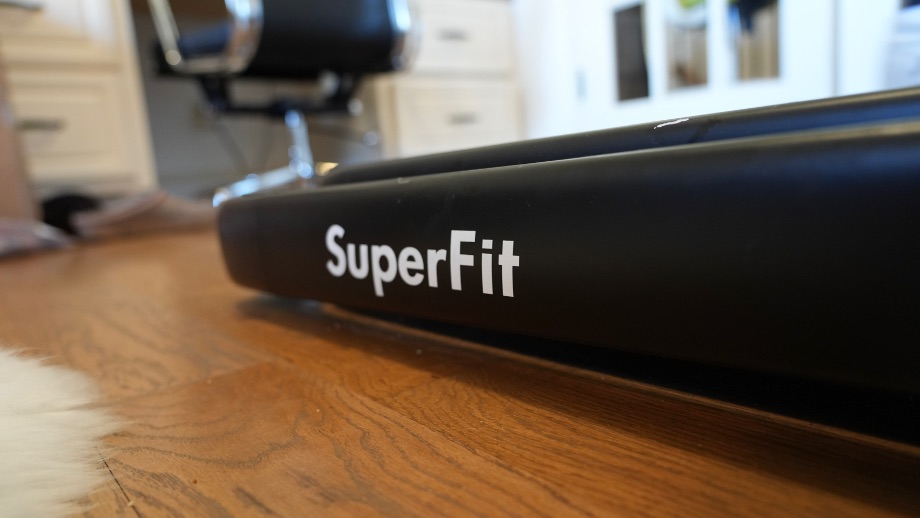 Right Off the Bat
My first impressions: it's a really simply designed treadmill. Out of the box, you get the treadmill, a power cord (consider grabbing an extension cord while you're at it because this thing is short), two bottles of lubricant for the belt, phone holder, two optional handrails, and the magnetic safety key.
Handrails
The optional handrails and the phone holder are the only two things you actually have to attach to the Goplus. The phone holder is genuinely handy, but I didn't call it a device holder for a reason. You definitely won't be watching Netflix on your iPad while walking on this machine because the holder isn't big enough.
RELATED: Best Treadmill for Walking
Installing the additional handrails for support is a good move if you plan to use the Goplus without a standing desk underneath it. However, it is worth noting that you cannot fully fold the treadmill flat after adding the extra safety handles. If you're purchasing this treadmill because it is able to fold really flat (under 5 inches tall!), I wouldn't recommend adding the extra handrails because you'll just end up irritated that it won't store properly.
I wasn't thrilled that you cannot adjust the main handlebar height wise, because it is on the shorter side. If you're under 5'10", you likely won't be bothered by this.
Easy to Move
Something I love about this machine is how easy it is to move around and store. There are two small transport wheels attached to the front of the Goplus to make it really simple to move. When fully folded, you can store this machine under taller furniture, beds, or in closets, which makes it an ideal choice for people with small spaces.
RELATED: How to move a treadmill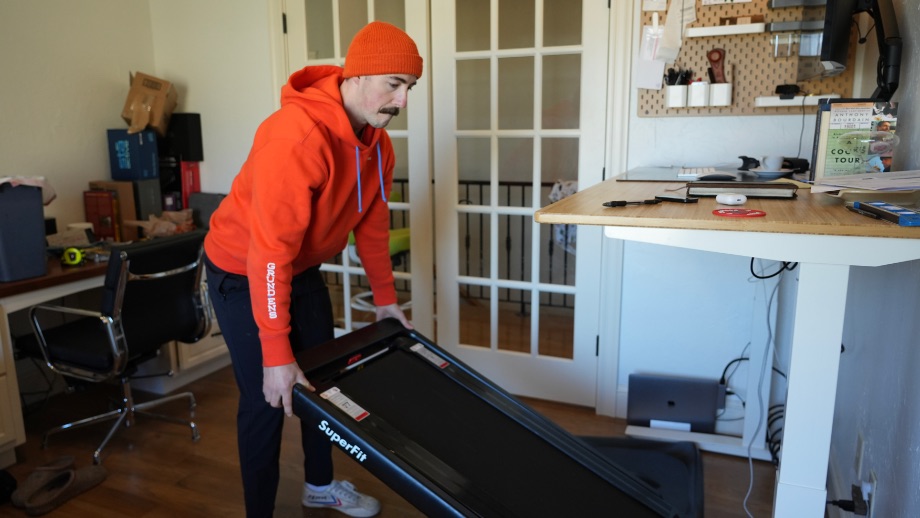 Stats and Controls
When first using the GoPlus, you might be surprised to notice there are no external buttons for you to press. This cardio machine comes with one small remote with three buttons: the power button, a plus key, and a minus key. The power button on the remote is the only way to get the machine started, so I'd really recommend keeping a close watch on your remote control. I know I'd be super frustrated if I lost it and rendered this treadmill useless.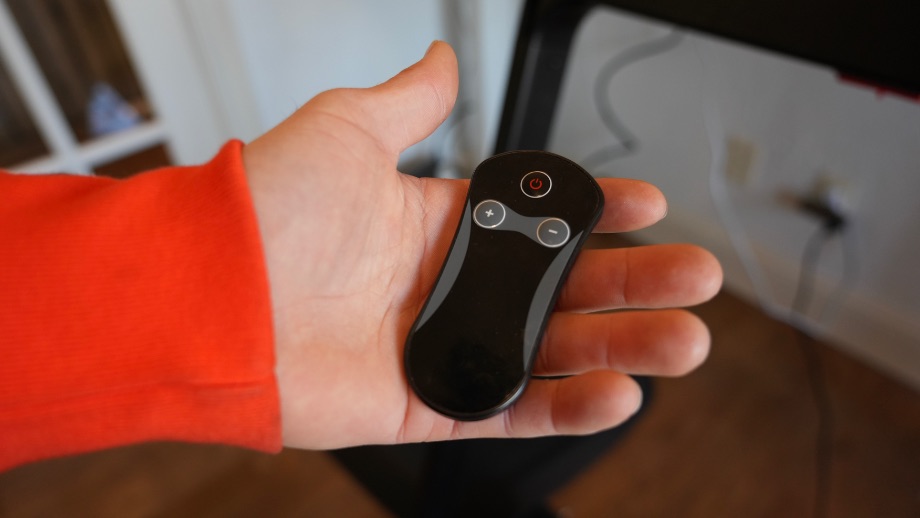 The only thing you can control without the remote is the magnetic stop key. The stop key must be in place for the treadmill to start, otherwise it will show you an error message. To stop the treadmill suddenly, all you have to do is remove the bright red key from underneath the main handlebar.
The plus and minus buttons on the remote are used to increase or decrease the speed. There are no options to change the incline or decline, so what you see out of the box is what you get.
You can cycle through speeds up to 8 miles per hour, but some users have complained that the speeds don't feel quite as fast on the Goplus as they do on a commercial machine. This is definitely up for debate, so you'll have to determine that for yourself.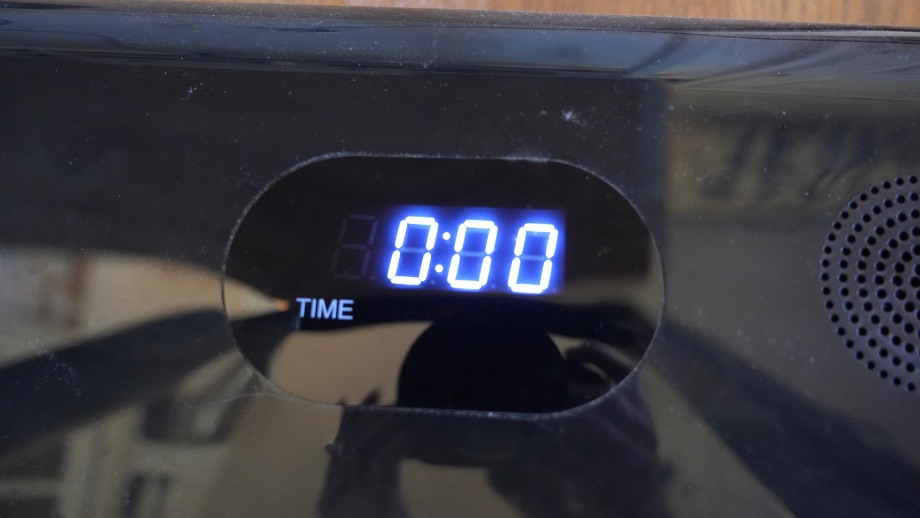 On my end, I only plan to use this treadmill for slow and steady walking while at my desk. I don't plan to run or sprint on this machine, because it really isn't designed for that. With only a 40-inch long deck, I had to take purposefully short strides to avoid falling off the machine. I'm a taller girl (at 5'9") with a long stride, so this isn't my ideal deck length. For reference, a common deck size is at least 50 inches for comfortable walking, and 55+ for running or jogging.
While in use, the treadmill cycles through a variety of typical stats you might see, except they're featured just above the treadmill's belt. You'll be able to view your calories burned, time, distance traveled, and speed. You won't be able to see them all at once and I'm not sure how much I trust their calories burned count either. However, if you have a fitness tracker, you don't really need to be concerned about what the Goplus says in that regard.
Bluetooth
Something that is a surprisingly nice extra is a single Bluetooth speaker embedded in the treadmill. You can connect your phone to the Goplus to hear your music out loud if you prefer. Obviously, don't expect Sonos level quality on an under $400 machine, because it's just not going to happen. However, it is a solid feature for the price of this machine.
Other Goplus Treadmills
After checking out the Goplus site, I found that they have quite a few different options for treadmills. Their most expensive one comes in under $900, and is called the Goplus 3.75HP Folding Treadmill. It has incline options up to 15% and a variety of preset programs. Even better, the running belt is 52", which would make it an acceptable option for running or jogging. The weight capacity across the board with the Goplus treadmills isn't the best: even this more expensive option caps at 265 pounds.
The cheapest treadmill out of the 23 options for sale on the Goplus website is under $300 and is called Electric Folding Treadmill with LCD Display. It isn't made to go under a desk, but it does come with a heart rate sensor, which is a nice plus.
Customer Experience
The warranty on all Goplus treadmills isn't good. You only get a three-month warranty from the day you buy the treadmill. On the plus side, you can also return it within those three months (90 days specifically) but only if it is in new condition.
If you need to contact customer service for any reason, it looks like your best option is to email them at support@goplus.com.
Ordering and Assembling the Goplus Treadmill
The ordering process was seamless. The Goplus Folding Treadmill is available for purchase via Amazon for under $400 with free shipping for everyone (not just Prime members!). The treadmill comes within two weeks in a large cardboard box.
Unlike many treadmills, the Goplus is not difficult to assemble. There are very few things you need to do, but you must lubricate the running belt prior to using. Luckily, the Goplus comes with two small bottles of lubricant that you can use. I have lubricated a treadmill belt before, but there are a variety of resources online to view if you're not sure how to do it.
There are currently no financing options available for this treadmill, likely because it is already a "budget option." However, Amazon does offer an additional two-year protection plan for an extra $25.
RELATED: Best Folding Treadmill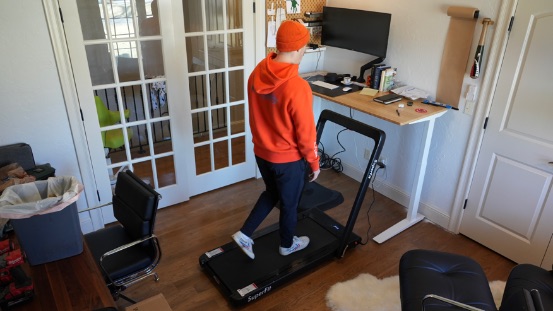 Customer Reviews
On Amazon, the Goplus 2 in 1 Folding Treadmill has over 5,000 written reviews with an average score of 4 out of 5 stars. Not bad, especially considering how large the sample size is. Those that love this machine really love it. People rave about how quiet the treadmill is, the great value, and the compactness.
Other customers mentioned that they think this treadmill is not a good option for runners because the speeds are way off, and the electrical outlet required for this machine has to be much more powerful than a regular plug in (needs the amount of power that a major appliance does).
Final Verdict of Our Goplus Treadmill Review
Here's the deal: this Goplus machine can be a nice under desk treadmill but only if your expectations are realistic. This cardio machine is a super budget option at under $400 so you're not getting anything fancy. Don't expect a multi-year warranty, high user weight capacity, or a long deck. However, if you just need a stowable, compact treadmill to help you reach your fitness goals and you're on a budget, you'll want to check the Goplus out.
Goplus Treadmill Rating
Goplus Treadmill
The Goplus Treadmill is a budget-friendly, foldable treadmill. It is best for use under a standing desk for slow, steady walking.
Product Brand: Goplus
Product Currency: USD
Product Price: 380
Product In-Stock: InStock
Goplus Treadmill FAQs
Is the Goplus 2-in-1 Folding Treadmill a good treadmill?
The Goplus 2-in-1 Folding Treadmill is a good option for people who need a budget treadmill, and plan to only use this machine for walking. I would not recommend this machine for serious runners, because both the speed and deck length aren't designed to support this type of use.
How much does the Goplus 2-in-1 Folding Treadmill weigh?
This treadmill weighs 84 lbs.
What is the deck length of the Goplus 2-in-1 Folding Treadmill?
The deck length is 40 inches.
What can I expect from the Goplus Treadmill?
This electric treadmill is a space-saving option with a foldable design. The 40" belt makes this an ideal choice for a walking treadmill or home office addition (not for running). If you just need something that will get your heart rate up during the day, and you're not keen on an elliptical or exercise bike, I would recommend this budget-friendly treadmill.