We test and review fitness products based on an independent, multi-point methodology. If you use our links to purchase something, we may earn a commission. Read our disclosures.
Although most of us at Garage Gym Reviews are hardcore obsessed with fitness, we still all appreciate walking. Walking is one of the most underrated forms of exercise that's inclusive and accessible to almost everyone. Heck, we even made a walking challenge because we believe everyone should make purposeful walking a part of their daily routine.
That's why I'm excited to share with you our carefully compiled list of the best treadmills for walking. We tested dozens of treadmills in our quest to find the best option – whether you're looking for something you can power walk up an incline on, or take a slow stroll while typing on your computer, we have you covered.
Why You Should Trust Us
The team at Garage Gym Reviews has tested more than 30 of the best treadmills on the market. We value giving unbiased, in-depth looks at fitness equipment so you can make the best decision for you and your home gym. Everyone is looking for something different, which is why we try to give you all the information we can on each product we review.
Top Picks of the Best Treadmills for Walking
Best Overall Walking Treadmill: Sole F63
Good for: People who want an all around solid walking treadmill that will stand the test of time.
The Sole F63 hits a ton of the marks that make this a quality treadmill you'll have for years to come. I'm impressed with the lifetime warranty on both the motor and the frame, especially for a treadmill around $1,000.
The cushioned deck that Sole uses on this treadmill is also a giant win for me. Even though I'm young, having that extra support when walking makes it a much more comfortable experience. Plus, if you're someone who loves a good incline walk, the 15 available incline levels will really appeal to you.
Other extras, like the Bluetooth speakers, USB port, and the F63's ability to fold, make it a home run for people who want to consistently walk on a treadmill that won't let them down.
A durable treadmill usually isn't light – and that is the case with the F63, as it is a heavy 325 pounds. You'll definitely want to enlist a buddy to help you store of move the treadmill.
The LCD screen is what you'd expect from an affordable treadmill. Basic stats like distance, calories, speed, and incline are all present on the display. There is no touchscreen for programming. However, you could utilize the device shelf above the monitor to put your own tablet or phone if you want to watch a show on Netflix, listen to music, or take advantage of S
Check out our full Sole F63 Treadmill review.
Best Walking Treadmill Under $500: Goplus 2 in 1 Folding Treadmill
Good for: People who don't want to spend a lot of money on a compact treadmill for walking.
Understandably, many people are searching for the best budget home gym equipment to outfit their spaces. Finding a walking treadmill that's under $500 and a solid buy can be tough, but the Goplus 2 in 1 Folding Treadmill checks a lot of boxes for our team.
First of all, who the heck doesn't like free shipping for everyone on Amazon? Not only is this treadmill a great budget option, but it also comes straight to your door without you spending the extra cash. Plus, it can be used under a standing desk for steady walking throughout the workday. Sounds like killing two birds with one stone to me!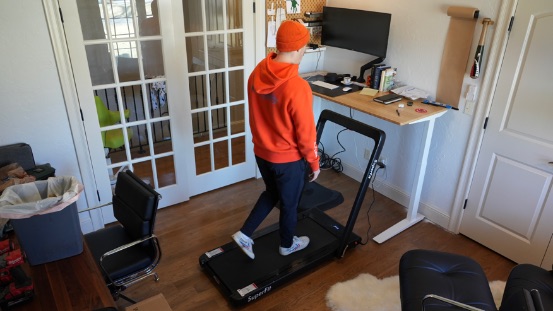 I also really like that this machine is completely foldable. Not everyone has the space for a behemoth of a machine that has no capacity to be stored or folded–not the case with the Goplus! I found it pretty easy to fold and store away on my own. There are even small wheels to help you scoot your treadmill into a different spot.
In terms of downsides, I do wish the Goplus had a better weight capacity. With a max of just 265 pounds, this limits the amount of people that can purchase this machine to walk on. I also would not recommend standing on this treadmill before you actually hit the start button, because the motor seems to struggle slightly if you do.
Read our entire Goplus Folding Treadmill review.
Best Budget Walking Treadmill: Sunny Health & Fitness (SF-T4400)
Good for: People who need an inexpensive home treadmill for walking that is easy to use.
The Sunny Health and Fitness (SF-T4400) is a great budget option for those who want a solid treadmill they can walk on comfortably. At under $500, this machine has a lot going for it: three incline options (albeit manually, meaning you have to adjust the incline by hand before getting on the treadmill), an easy fold mechanism, and user-friendly buttons.
I personally love the soft-drop system that Sunny added to this treadmill. If you're worried about folding and unfolding this machine, don't be. When you're ready to unfold it, the SF-T4400 essentially does the work for you, making this a safer process where hands and feet won't get smashed on the treadmill's way down.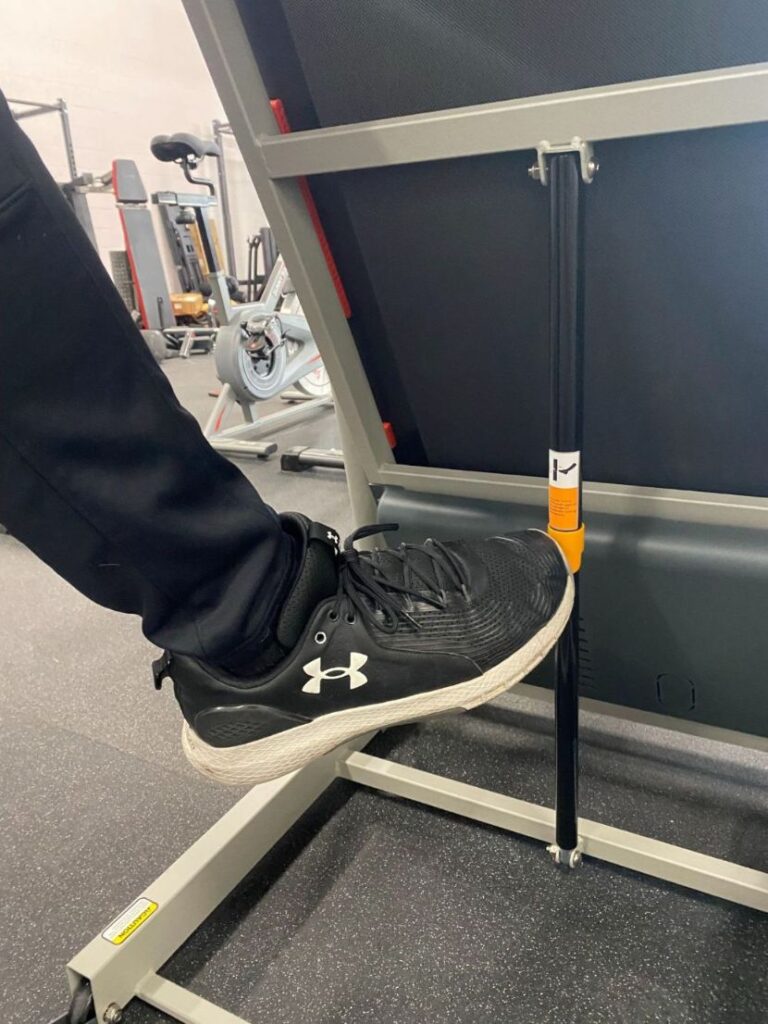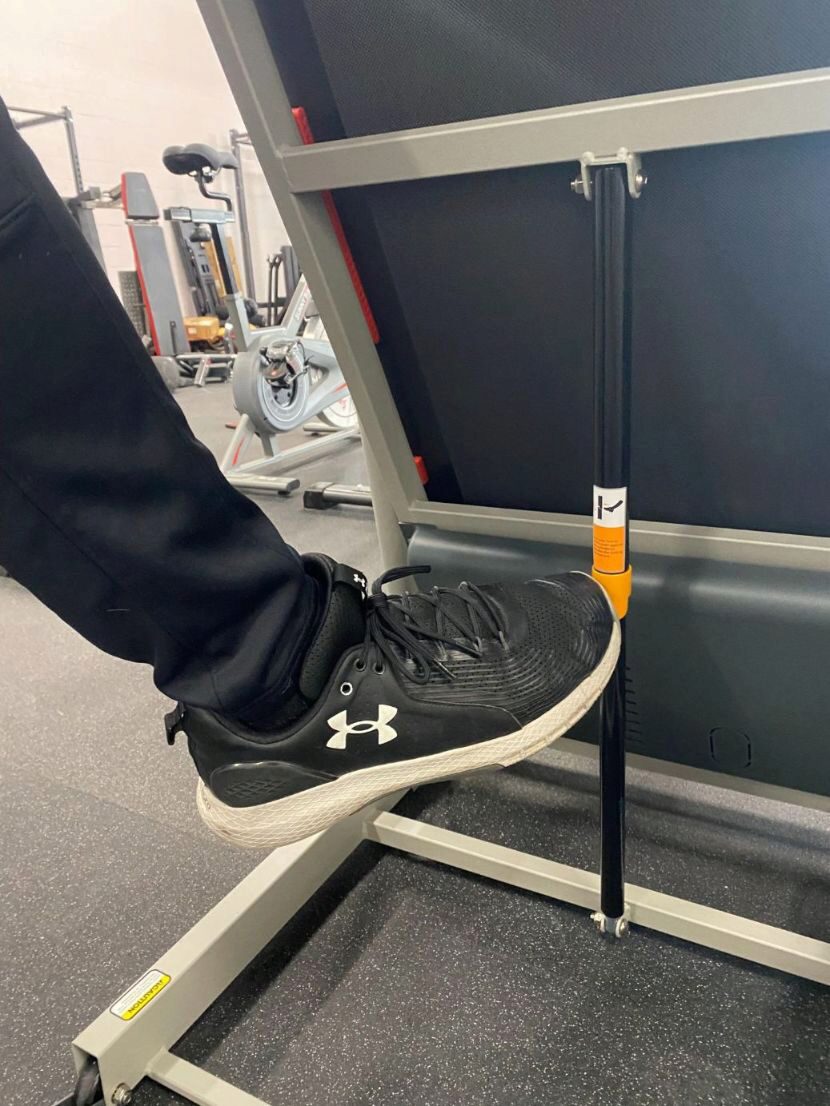 The SF-T4400 is a good choice for beginners, because there are a variety of buttons and stats available that make it easy to use and get started on. You can jump between speeds with the press of a button, or view things like time elapsed, calories burned, and speed.
The weight capacity of this treadmill does leave something to be desired. The max capacity of 220 pounds is not very high at all, and isn't even close to the industry standard of close to 300 pounds. This is definitely something to keep in mind, because 220 pounds is quite low and isn't inclusive to much of the general population.
This machine is made with a lot of plastic on the outer shell, so it may not hold up insanely well over time. I haven't had any issues with it thus far, but it is worth noting that I don't think this treadmill will last for anything like a 15-year lifespan.
RELATED: Sunny Health & Fitness (SF-T4400) review
Best Folding Treadmill for Walking: Echelon Stride
Good for: People who need a walking treadmill that folds easily.
Most folding treadmills on the market tend to have super short decks that make even walking difficult for taller people. The Echelon Stride folds completely flat and features a 55-inch long deck, which is comparable to the industry standard of 55-60 inches on non-folding treadmills. This makes it ideal for most people to walk comfortably on it.
RELATED: Best Folding Treadmill
Even though this treadmill can be completely folded to just over 10 inches deep, it is an extremely sturdy machine that doesn't shake while being used. Plus, there are 12 different incline levels for you to switch between. I found that this was a great walking treadmill for those who like to simulate walking up a steep hill.
To me, it's surprising that the Stride runs so smoothly while in use. The motor isn't very powerful: At just 1.75 CHP I wouldn't recommend this treadmill for anything more than jogging occasionally. It's a great option for people who just want to walk or are tight on space. Even though this machine is 156 pounds, which isn't exactly light, I didn't struggle to fold or store the Stride.
If you're not someone who already owns a fitness tracker, the Echelon Stride comes with an included heart rate monitor, which is a nice way to check on your heart rate throughout your walk. At just $1,300, this treadmill has a ton going for it, except for a touchscreen.
If you're someone who likes interactive programming, Echelon does offer a membership (sold separately) but you'll need to use your own device on the Stride to view it. The device holder on the Stride is not my favorite. I didn't feel like it was comfortably holding my iPhone, let alone a tablet. This is definitely something future iterations of this machine could improve upon.
Read more of our thoughts on this treadmill in our Echelon Stride treadmill review.
Best Manual Treadmill for Walking: TrueForm Trainer
Good for: People looking to walk or jog with better form.
I'm guilty of sitting slumped over my desk typing away day after day with absolutely horrible posture. I'd bet a lot of you reading this are too, and we'd be crazy not to think this doesn't translate into other movements like walking or running with equally poor form and posture.
In my opinion, that's one of the biggest selling points of the TrueForm Trainer. The shape of the shallow deck of this manual treadmill forces you to walk or run striking with your midfoot, which is the ideal way to walk in order to prevent unnecessary injury. Plus, since it's a manual treadmill (AKA self-propelled), you can go as fast or as slow as you want.
Think of it as the human equivalent to a hamster wheel, except much more expensive. At almost $4,000, the TrueForm Trainer isn't exactly a budget option, but it will definitely help you walk with better form. It's also worth noting that it cannot be folded, and isn't easy to move around. If you have plenty of space in your home gym, this is likely less of a concern.
RELATED: Best Budget Treadmill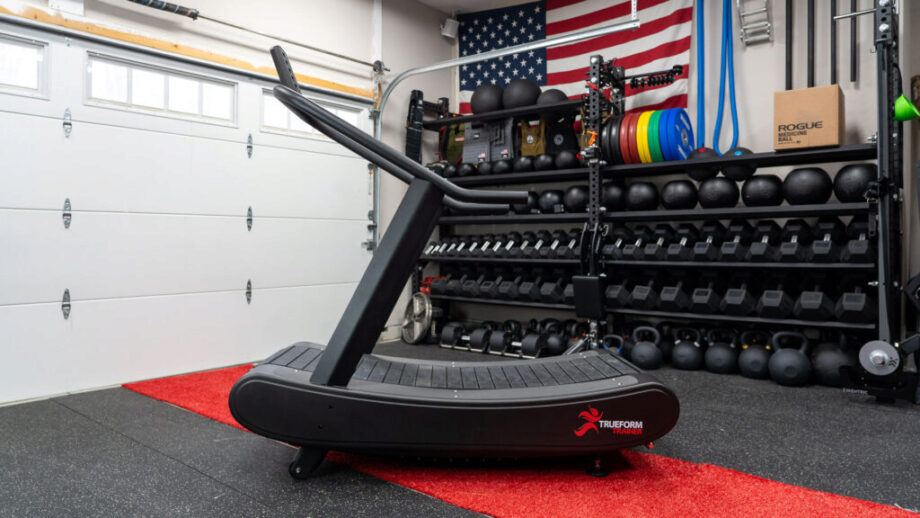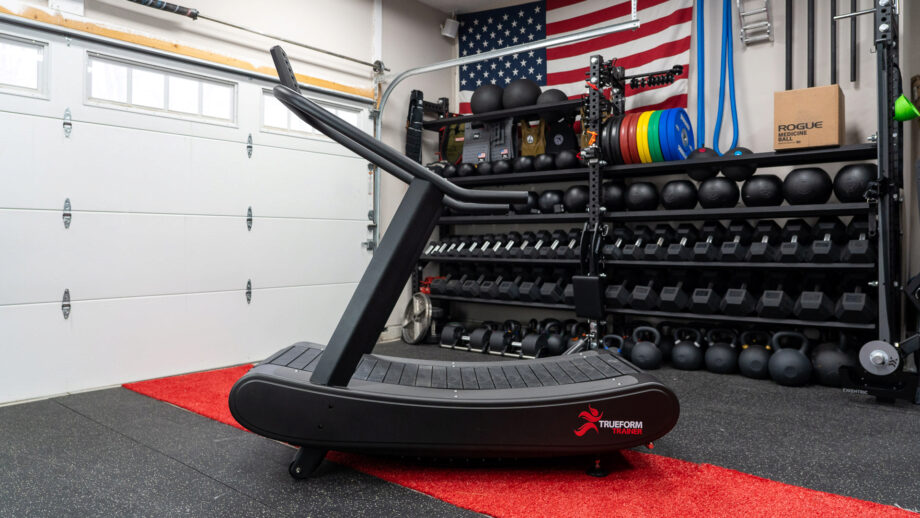 Since this treadmill is an absolute behemoth, it can support a variety of people of different weights, with a user capacity of 500 pounds (now that's impressive). This also means you can do things like weighted farmers carries on this treadmill since it can withstand extra pounds.
The monitor on the TrueForm Trainer isn't anything special – in fact compared to the awesome machine itself, it does seem slightly lacking. You can see basic stats like distance, time, heart rate, and speed, but nothing extra.
Check out our full TrueForm Trainer Treadmill review.
Best Under Desk Treadmill for Walking: UREVO 2-in-1 Under Desk Treadmill
Good for: People who work at a desk all day who want to get more daily movement in.
COVID-19 has changed the way a lot of us workout. With more and more people working from home, it's not surprising that fitness enthusiasts are looking for new ways to stay moving during the day. The UREVO 2-in-1 Under Desk Treadmill is a budget-friendly option that fits well under most standing desks.
At just 59 pounds, you won't need to worry about bugging your partner or roommate to help you move this treadmill. It folds easily to an almost completely flat state to be stored in places like under beds and inside closets. This makes it an ideal choice for people who don't have a ton of space where they're able to leave their treadmill out 24/7.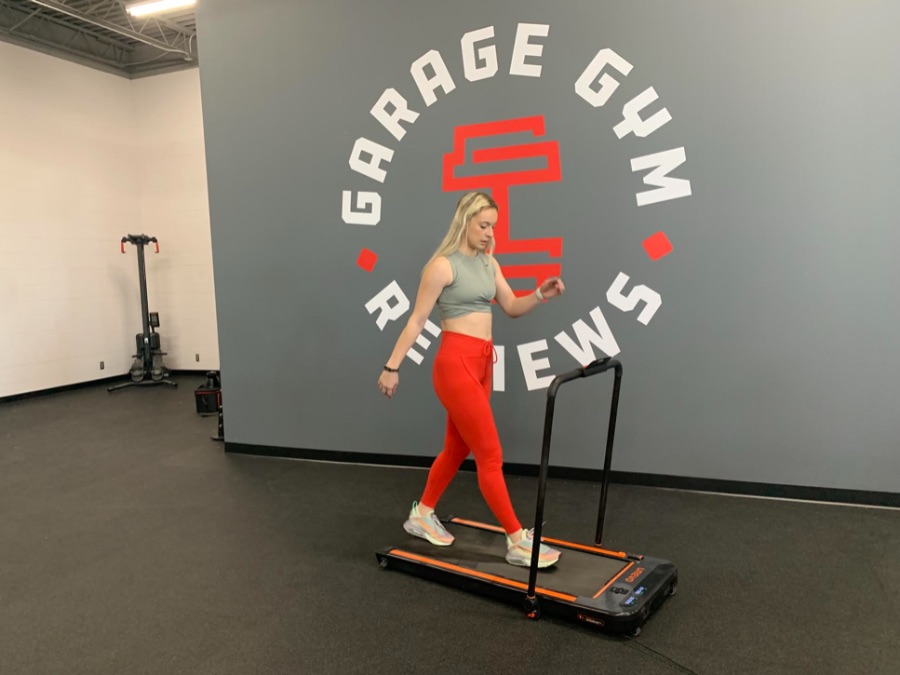 With a surprisingly strong motor for the price tag (2.5 CHP), the UREVO can hit a top speed of 7.6 miles per hour. However, after my 5'9" self used this treadmill, I realized it likely will be a speed you will not hit unless you're particularly short. This is due to the fact that the deck is 42.5 inches long, which is quite a bit shorter than the industry standard of at least 55 inches, so you'd have to have a short stride.
The UREVO is as bare bones as you can get. It costs only $400, which is super cheap for a treadmill, but it does exactly what it's supposed to–allow you to slowly and continuously get steps in while working. I'm honestly not sure how long the machine will last, as there is quite a bit of plastic used, but that's less of a concern when it's a fraction of the cost of many other walking treadmills.
Check out the full UREVO 2-in-1 Under Desk Treadmill review.
Others We Researched
Besides our top walking treadmill picks, we've researched some other competitors you may be interested in learning more about. Check them out below:
Costway Super Fit Treadmill: For another cheap walking treadmill recommendation, the Costway Super Fit Treadmill might fit the bill. This under desk treadmill has a 2.25 CHP motor, and is a good option for those who need a cardio machine under $400.
Horizon Fitness T202: The T202 has a generously sized deck of 60 inches, making it an ideal walking treadmill for taller people. Plus, with incline options up to 12%, doing a serious incline walk is easy with a few presses of a button.
ProForm Carbon T10 Treadmill: If you're looking for a walking treadmill with interactive programming, the T10 has iFIT membership capabilities (purchased separately). However, it is on the pricier side of a walking treadmill at almost $1,500.
XTERRA Fitness TR150 Folding Treadmill: Another affordable walking treadmill is the TR150, which can easily be ordered on Amazon with free delivery for everyone. This machine also has three incline settings and multiple programs at your fingertips.
How We Picked and Tested
After researching some of the most popular walking treadmills, we decided to get our hands on a few ourselves. Before we recommend any product to our readers, you can be sure we have thoroughly tested it and will tell you both the good and bad about each piece of equipment.
In terms of walking treadmills, we look at the following criteria when testing:
Footprint (Is it easy to move around and store?)
Foldability
Weight of the machine
Assembly doesn't take the equivalent of the blood of three baby kittens and a human sacrifice to complete
Weight capacity over 275 lbs
Over 2.5 HP motor for jogging or running
Incline options
50+ inch deck
Max speeds over 10 mph (For running)
Extras like water bottle holders, Bluetooth connectivity, and tablet holders
Available programming or tech capabilities
Warranty
Financing options
Price point
Besides looking at the technical information, we put each treadmill through a variety of tests. We like to see how it performs with people of various heights and weights as well as with workouts that involve walking, running, or sprinting.
In this case, we were simply testing to see if we felt comfortable walking on each machine for an extended period of time. This could include very low speeds (like you might use for an under-desk treadmill) or power walking speeds with a steep incline. This way, we are able to get the most comprehensive picture for our readers to make a solid purchasing decision for the best walking treadmill.
Benefits of Walking Treadmills
It's no secret that exercise of almost any kind has a host of benefits. Check out some of the top reasons you should purchase a walking treadmill and some treadmill benefits:
Improving Cardiovascular Health
Shocker: you don't have to sprint for an hour and a half on the treadmill to reap the cardiovascular benefits. In fact, studies have shown that consistent walking habits can play a key role in increasing your heart health (and disease prevention!).
Reducing Arthritis Pain
Walking on the treadmill can be a surprisingly good way to reduce arthritis pain because it allows you to exercise without doing a high-impact form of exercise like running or jumping.
Weight Loss
There is no magic secret to weight loss – you simply must consume less calories than you burn in a day. However, walking on a treadmill can help you burn more calories than sitting on your couch. So the next time you feel like watching TV but still want to get your sweat on, why not do both at the same time?
Daily Step Goal
If you're trying to hit a certain amount of steps per day, walking on the treadmill while doing other activities is a great way to meet your goal. For example, an under desk treadmill like the UREVO can be a slow but steady way to hit those 10,000 steps per day.
RELATED: Best walking shoes for seniors
Buying Guide: What to Look for in a Walking Treadmill
With so many treadmills on the market, how the heck are you supposed to decide what will be the best option for your personal home gym? We break it all down with some of the top things to consider before making your big purchase.
RELATED: Best Home Gym Equipment
Budget
Generally speaking, cardio equipment isn't exactly cheap. However, walking treadmills can be slightly cheaper than something like the best treadmill for running. Curious why? Usually it has to do with things like a longer deck, a thicker belt, and an increased motor capacity when you're looking for a treadmill for running. Luckily, a treadmill you just plan to use for walking doesn't necessarily need all the extra bells and whistles, so these can be slightly less of a concern.
Size
If you're tight on space, seeing how large the treadmill is when fully unfolded is an important step. Be sure to verify that the space you'd like to use is compatible with a treadmill's unfolded footprint. You can generally view that information for a specific item on the "specs" section of a product's page.
Foldability and Stowability
Many of the best walking treadmills I would recommend are foldable (yay!). If it is important to you that your treadmill can be folded and stowed away when not in use, you won't want to pick a walking treadmill that cannot be folded like the TrueForm Trainer. Be sure to check out if your prospective treadmill has wheels that can make moving it easier.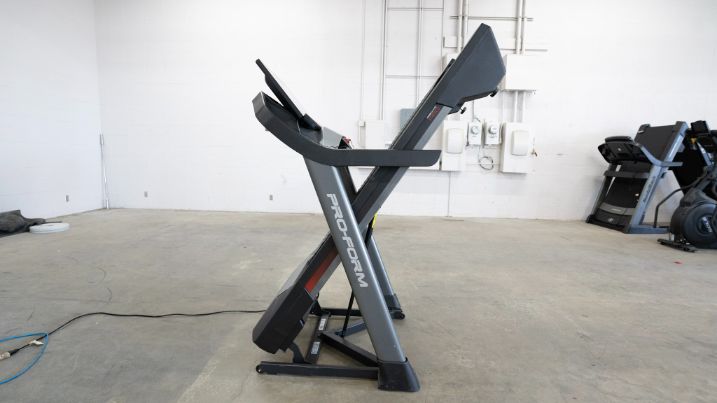 Features
Different features are important to different people. Things to consider include cup holders, Bluetooth speakers, heart rate monitors, programming, and device holders.
Incline
For those who like to walk on an incline, make sure your treadmill has these options available. Some of the more budget-friendly options may not come with the ability to change inclines.
Deck Size
Generally speaking, an ideal deck size to support walking, jogging, and running would be around 55-60 inches. However, if you plan to use your treadmill exclusively for walking, the length of the deck will likely matter less to you (unless you are over 6 feet tall). If you are, getting at least a treadmill with at least a 55-inch deck will best support you, even if you only plan to use your treadmill for walking.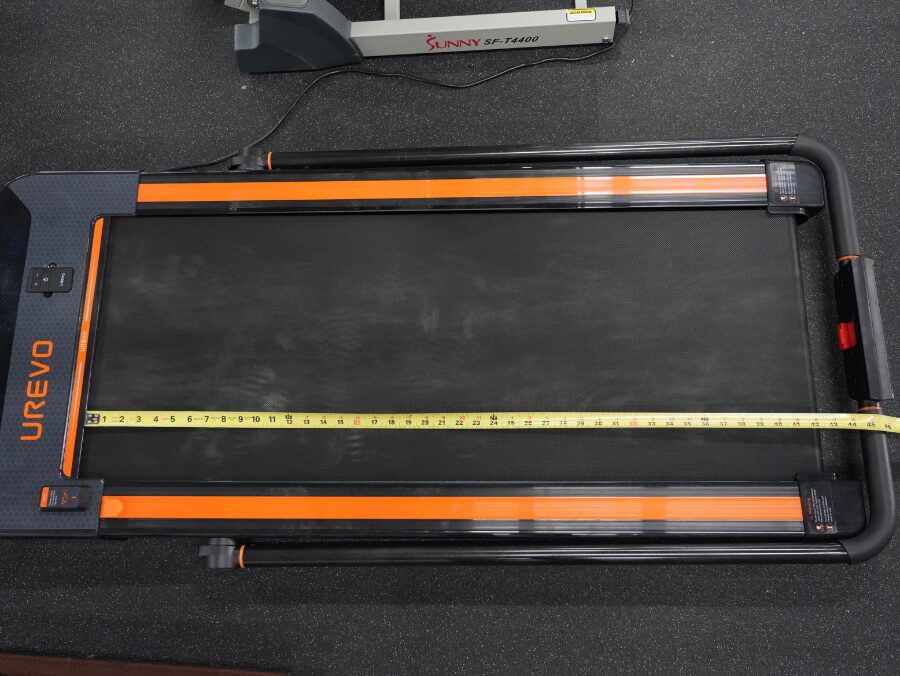 FAQs about Walking Treadmills
What length of treadmill do I need for walking?
Depending on your height (and stride length), you ideally want a treadmill with at least a 50-inch running surface. If you're on the taller side, you may want an even longer treadmill belt between 55 and 60 inches.
Can I get a great walking treadmill on Amazon?
Yes, multiple treadmills mentioned in this roundup are available for purchase on Amazon. Both the UREVO and the Goplus can be bought through the links provided above.
What metrics are important for me to be able to see on a walking treadmill?
This is 100% personal preference. If you're simply looking for a machine to get some steps in, the metrics available to you are less important. However, things like distance traveled, time elapsed, and calories burned are common stats to have on a walking treadmill.
How do I choose a treadmill for walking?
Here are some of the main factors to consider when looking to purchase a treadmill:
-Size
-Foldability
-Features
-Stowability
-Incline
-Deck Size
-Budget
Are treadmills good for beginners?
I would recommend a treadmill to almost anyone. Everyone has to start somewhere. Keep in mind that you don't have to run on a treadmill; you can use it to simply walk and build your movement endurance.
What are some high-end brands that make treadmills for home use?
Some brands that make treadmills include Peloton, NordicTrack, and Bowflex. If you're looking for a machine that has a lot of extras like pre-loaded workout programs, an HD touchscreen, and a higher decline/incline range, these brands will deliver.
RELATED: Best Treadmill Workouts
Is walking on the treadmill as good as walking on the ground?
Walking on a treadmill might be better than walking on the ground because you can increase the speed and, depending on what type of treadmill you have, walk on an incline or a decline.
What is the best speed to use for walking on the treadmill?
The best speed to use for walking on a treadmill is about 3 miles-per-hour, though that can change based on your fitness levels and experience.