We test and review fitness products based on an independent, multi-point methodology. If you use our links to purchase something, we may earn a commission. Read our disclosures.
… And we would walk 500 miles; And we would walk 500 more; Just to be the team that brings you the definitive guide to the best walking shoes!
And that's exactly what we've done.
After months of testing various kicks, we're pleased to bring you our top picks for walking shoes for women, men, seniors, and more.
RELATED: Best Running Shoes
1,000+ Miles Walked In These Shoes
Almost every pair of shoes that appears in this guide to the best walking shoes has actually been on the feet of one of our product testers—and not just for one measly mile-long walk. Our testers have collectively walked, jogged, and ran more than 1,000 miles in the months of January and February 2023 alone (calculated using each tester's daily average and multiplying by 58 days). During each jaunt, we were thinking about how the shoes performed and felt during use.
Related: Calories burned walking a mile
10 Best Walking Shoes in 2023
Best Walking Shoes Overall: HOKA Bondi 8
Good for: Anyone looking for a comfortable walking shoe that can do it all
These are your super typical, giant, ultra-thick HOKAs. During our research, we saw many recommendations for the Bondi 8s as the best walking shoes, and we were straight-away impressed at the volume of customer reviews raving over the cushioning.
GGR Performance Editor Anthony O'Reilly tested the HOKA Bondi 8, and his thoughts are that they feel like walking on air (use your imagination). In fact, Anthony wore the Bondi 8s on a 13-mile walk and says his "feet never once cried out in pain." That is impressive, especially with a new pair of shoes.
Despite the super thick midsole and deep outsole lugs, these shoes remain lightweight at 10.8 ounces per shoe (varies very slightly from smallest size to largest size). Additionally, the mesh upper is extremely breathable, which is great for long walks in warm weather.
However, Anthony does call out that the upper is so thin he feels that he could poke through it with a toe if he tried hard enough. Just keep them away from sharp rocks and rogue tree roots, Anthony says, and you should be fine.
These also feature a nice crash pad to help with the landing of each stride and promote a healthy foot roll. Additionally, Anthony is a fan of the memory foam collar that "cradles" your ankles.
RELATED: Best Cross-Training Shoes
| | |
| --- | --- |
| Weight per shoe | 10.8 oz |
| Heel-to-toe drop | 4 mm |
| Available sizes | M 7-16; W 5-12; regular and wide |
Best Budget Walking Shoes: Saucony Cohesion 13
Good for: People who are looking to spend less than $70 all-in
I tested the Saucony Cohesion 13 and, let me tell you, I was not expecting a lot. In fact, I thought that these shoes would wind up in the back of my closet, taken out only in emergencies (which is unlikely to happen considering how many pairs of shoes I've tested for GGR).
They cost less than $50 on Amazon, depending on the colorway, and your purchase should end up less than $70 all-in including shipping and taxes. With the current average list price of walking shoes hovering above $100, I just wasn't convinced these would impress.
But I was wrong: I've been wearing these for my morning walks almost every day and I've found them to be a fantastic neutral shoe that I think most people could probably walk in them for many miles without problems. My main complaint? I wish the heel tab rose a little higher; that's about it.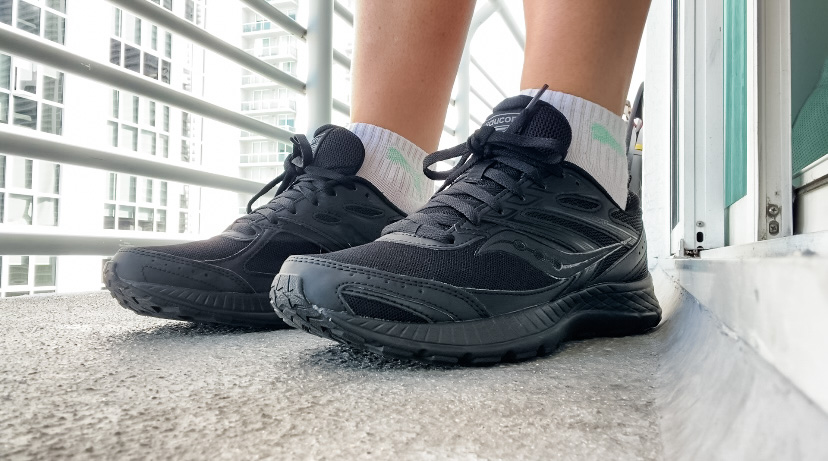 I do think, primarily based on price, that the Saucony Cohesion 13s likely won't prove to be as durable as other options. But for someone who is on a tight budget or isn't sure they'll stick with walking as a primary form of exercise, you just can't beat the value here.
These are firm, but roll well with my stride when walking. They don't propel you forward as much as some other sneakers, which I say is good for walking—you don't want to be lurched forward with each step and you don't need the same momentum you might need for running.
As for aesthetics, I wasn't impressed: I got the all-black because they looked sleek on Amazon, but they kind of look like the non-skid shoes you have to get for your first job at a restaurant. You know what I mean. A different colorway might've been better—doesn't stop me from wearing them though.
RELATED: Best CrossFit Shoes
| | |
| --- | --- |
| Weight per shoe | Men 8.9 oz (252 g) | Women 7.3 oz (207 g) |
| Heel-to-toe drop | 12 mm |
| Available sizes | M 7-14; W 5-12 |
Best Walking Shoes for Wide Feet: New Balance Fresh Foam X 880v12
Good for: Anyone who tends to find that most walking shoes squeeze their toes together
The New Balance Fresh Foam 880v12 shoes are actually running shoes, but our product testers think they're more versatile and can perform great as a walking shoe, too. Plus, New Balance is one of the only brands to offer a range of sizing in both wide and extra-wide options.
If you get a pinchy feeling with other walking shoes or experience symptoms like numbness or ingrown toenails, it could mean that you need shoes with a wider fit, either throughout the toe box or the entire shoe. The New Balance Fresh Foam 880v12s can provide that.
In terms of performance and comfort, "They feel well-cushioned but are a little chunky," our product tester wrote in her notes. "These feel the most durable out of the shoes I'm testing," she continues. "It likely has to do with how thick and substantial these feel. They have a lot of foam, so they're super cushioned. If you're into the more minimalist shoes, you won't like these, but if you need more support, these are excellent."
She's not the only one who feels this way. One customer review reads, "I wear my NB Fresh Foam X 880v12's all day long and they're almost like slippers. My back and knees don't hurt anymore from walking on hard floors at work all day. I would definitely recommend these sneakers."
Additionally, the double-layered knit jacquard mesh upper feels strong, like you can't punch a hole through them if you tried. The blown rubber outsole provides good traction on paved surfaces and some trails, although these may not be the best choice for wet conditions.
| | |
| --- | --- |
| Weight per shoe | Not specified |
| Heel-to-toe drop | 10 mm |
| Available sizes | M 7-16; W 5-13; available in narrow, standard, wide, and extra-wide |
Best Walking Shoes for Seniors: Brooks Addiction Walker 2
Good for: Older adults who need ample support and comfort
While we haven't personally tested these shoes, we're confident in our recommendation based on our experience with more than 50 pairs of tennis shoes and our knowledge of what shoe specs mean. Plus, the Brooks Addiction Walker shoes are often recommended for seniors, and they have many features important to the safety and comfort of senior walkers. 
For one, they provide full-body support thanks to the Extended Progressive Diagonal Rollbar (PDRB), which Brooks claims helps you remain in your natural stride without deviations that can cause joint pain. These shoes are also slip-resistant, featuring a rubber outsole that looks a lot like all-terrain tires.
Brooks classifies these shoes as having "more cushion" and "maximum support" according to the scale by which the brand classifies all of its shoes. They're best for walking on the road and other paved surfaces. The leather upper and strong outsole should keep you safe and dry even in wet weather. 
All of these are a big part of why we named the Brooks Addiction Walker 2 the best walking shoe for seniors.
One huge plus is the large size range in both men's and women's colorways. The Brooks Addiction Walkers are available in sizes 7 to 15 for men and sizes 5 to 12 for women. They're also available in narrow, standard, wide, and extra-wide widths. Although we haven't tested these specific shoes, I can vouch that Brooks sneakers run true-to-size based on the fact that I've been wearing various Brooks models since my high school cross country days.
| | |
| --- | --- |
| Weight per shoe | 12.9 oz / 14.05 oz |
| Heel-to-toe drop | 12 mm |
| Available sizes | M 7-15; W 5-23; available in standard, wide, and extra wide |
Best Zero-Drop Walking Shoes: Altra Rivera 2
Good for: Anyone who wants a barefoot feeling while still getting fantastic traction on all terrain
Upon first glance, you probably won't believe us when we say that the Altra Rivera 2 shoes have a 0-millimeter heel-to-toe drop. They do, indeed, look like normal walking or running shoes that have a relatively thick midsole.
But here's the thing: Altra "stacks" its midsoles to provide cushioning and support without a heel-to-toe drop. The stack height on the Rivera 2s is 26 millimeters, but the drop is zero. It's really the best of both worlds if you want cushion but prefer to keep your feet in the most natural positioning possible.
All Altra shoes also have a "FOOTSHAPE™ FIT." This feature is unique to Altra and it means that their shoes are designed to mimic the natural shape of human feet when allowed to splay—AKA, what human feet would look like if they weren't cramped up into too-tight shoes all of the time.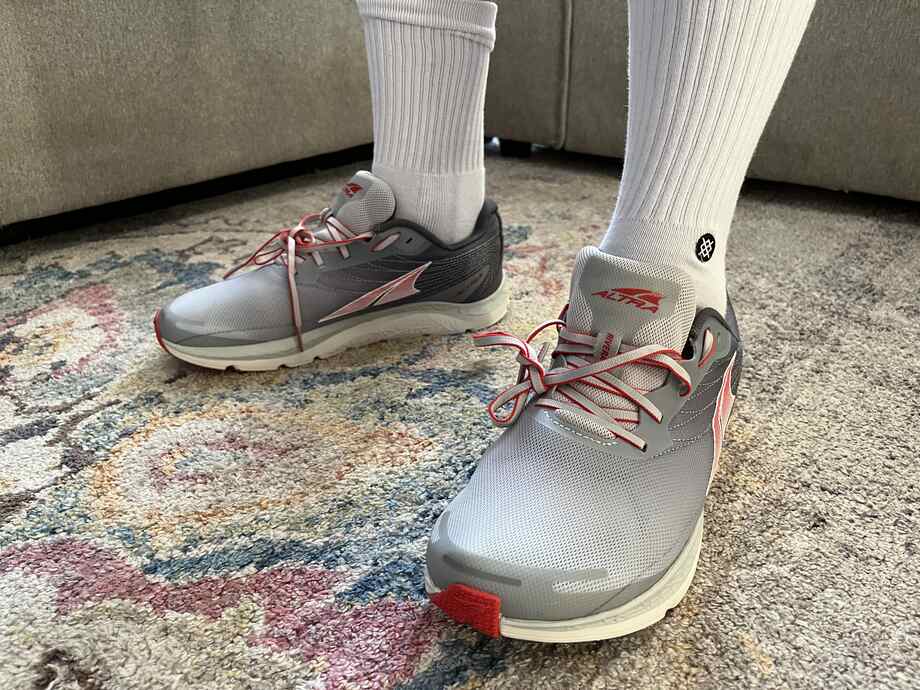 The jury is still out on how helpful this type of shoe design is, and applications differ among different people, but I can say from wearing Altra shoes that they do feel like no other brand I've ever tried. The Riveras specifically feature the "slim FOOTSHAPE™," which is the skinniest option Altra offers.
Our product tester, Matt, husband of GGR Staff Writer Lauren Strong, actually felt that these were a bit too tight in the toe box, only realizing after testing that Altra offers much wider options in other models. Still, he enjoyed the experience with these shoes overall.
"Matt loved the gray color, simple design, and the slim midsole. He also liked the angles of the toe box and overall shape of the shoe," Lauren writes in our master testing doc. "Matt had neutral thoughts on the outsole and bottom of the shoe but liked that there was not an excessive amount of foam that makes you end up rocking forward while walking."
Ultimately, "They're comfortable because they are so light and his pinky toe was the only issue on the fit and ergonomics. We looked at the website after the fact and it turns out these shoes are fairly narrow compared to what the brand normally manufactures," Lauren writes. "Matt thinks the $130 price tag is worth it for anyone who wants a super lightweight and comfortable shoe."
| | |
| --- | --- |
| Weight per shoe | 8.8 oz; 6.9 oz |
| Heel-to-toe drop | 0 mm |
| Available sizes | M 7-15; 5.5-12 W |
Best Walking Shoes for Women: Ryka Devotion Plus 3
Good for: Women looking for a walking shoe designed with women's anatomy in mind
We typically shy away from recommending shoes as "best for women" and "best for men" since the only real difference is typically colorway and sizing availability. But Ryka is a women's-specific shoe brand that designs products with women's anatomy in mind (akin to Lululemon's approach to the Blissfeel and the Chargefeel).
According to the website, the Ryka Devotion Plus 3 is a "high-performance fitness walking" shoe and "designed for a woman's unique foot shape, muscle movement, and build" featuring a "narrower heel, roomier toe, and softer foot cushioning."
GGR Editor Frieda Johnson tested these Ryka shoes and ultimately came to the conclusion that "These are very comfortable both for walking long distances or for everyday wear."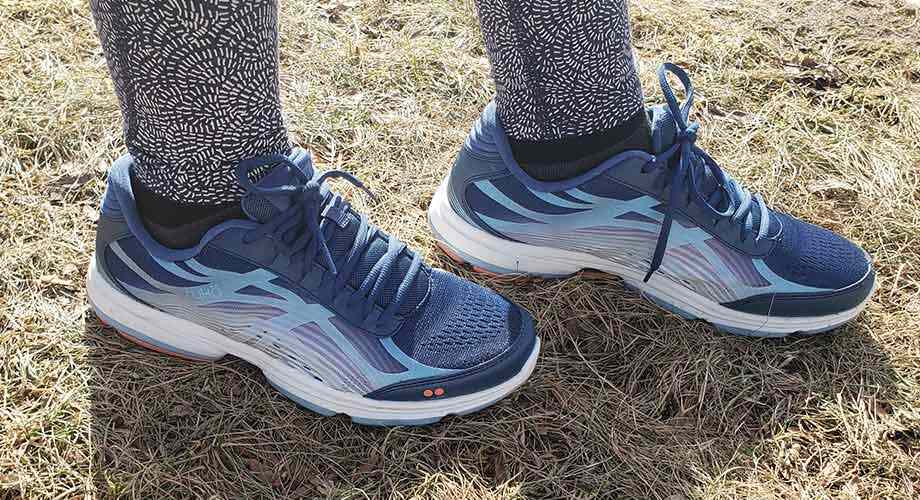 "They did surprisingly well on my dirt road, both when it was snowy and when it was deep mud," Frieda says. "I wouldn't necessarily wear them on a hike…but I would consider it. Around town or at home they are equally as comfortable and stable."
These aren't trail shoes, but Frieda took them on uneven and rocky terrain and says they performed impressively well. "The heel is a bit wider than they look at first glance, and this really helped with the stability. I was really impressed at how good the traction was while still shedding mud easily. I do most of my walking on unpaved roads and trails, so shedding mud easily is a big deal!"
"These are very, very comfortable," Frieda continues. "I have a pretty wide toe spread, so I was a bit worried they would pinch, but they didn't!" Additionally, Frieda says the colorways and design are nice; "the Ryka Devotion Plus 3s have a nice range of options and I think they look good without being overly trendy."
RELATED: Best Workout Leggings
| | |
| --- | --- |
| Weight per shoe | 8.2 oz |
| Heel-to-toe drop | 11 mm |
| Available sizes | W 5-11; available in standard and wide |
Best Walking Shoes for Men: Saucony Triumph 20
Good for: Men who want a do-it-all walking shoe
The Saucony Triumph 20 shoes appear in our guide to the best walking shoes for men, written by GGR Performance Editor Anthony O'Reilly. Matt, our product tester for this pair of shoes, claims they are true to their name.
Matt gave the Triumphs a high rating for construction and durability, calling out the nice thick foam for the midsole and heel. The mesh top feels durable and not super thin like it does on some other walking shoes, he says. The one thing he noticed was that the toe could use a little more protection, as in the outsole reaching up a bit further to provide a reinforced toe cap.
"The heel is super locked in, which can be good; however, the heel is so high that it can feel like it has more height and bounce than normal, which could make some without good balance feel a little unstable," Matt cautions.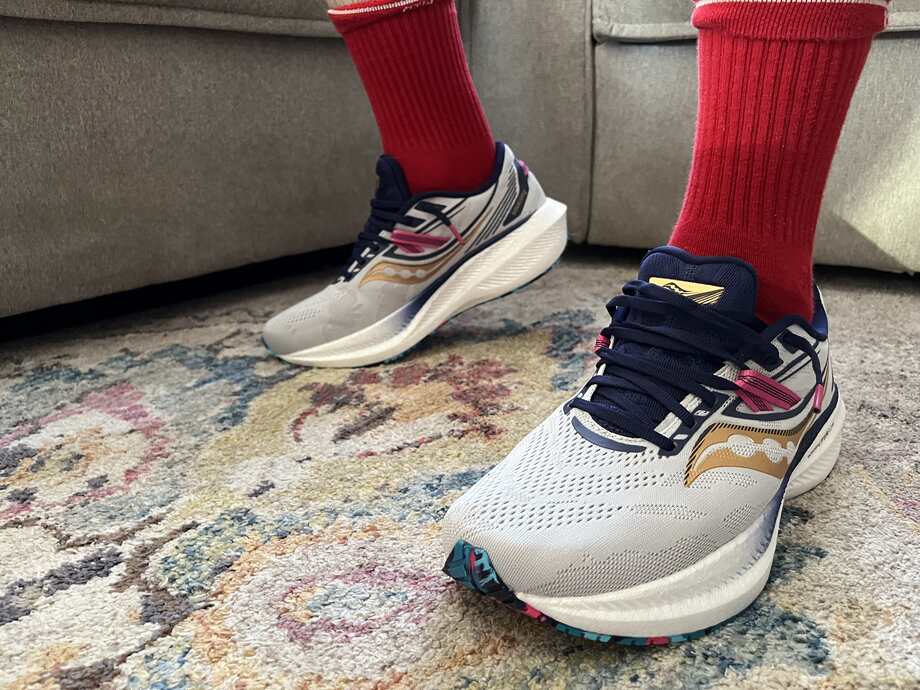 Matt says that there's good support in the arch and plenty of room in the toe box, only wishing that there was a little heel tab for easy pulling on and off.
As a bonus, "Matt liked the look of these shoes more than the other two he tested," Lauren writes of the experience. "We ordered the color 'PROSPECT GLASS' which is gray with very colorful blue/pink/purple accents. Matt loves the way they look with the gray background and super colorful details (even a multi-color outsole). Matt also likes the super puffy look to the midsole."
All-around, our testing team found that the Saucony Triumph 20s provide a great value for the price and are a largely neutral shoe that will work well for most men.
RELATED: Best Workout Shorts for Men
| | |
| --- | --- |
| Weight per shoe | 9.7 oz |
| Heel-to-toe drop | 10 mm |
| Available sizes | M 7-15 |
Best Walking Sandals: Chaco Z1 Classic Sandal
Good for: Walkers who spend a lot of time near water, out in the sun, and want a fully waterproof shoe
While I have used several pairs of walking sandals over the years (Teva Original Universal Sandal, Chaco ZX/2 Sandals, Teva Tirra Sandal), we ordered this pair specifically to test for this guide. The Chaco Z1 sandals feature high arch support, a fully rubber midsole, traction-heavy durable outsole, and adjustable polyester webbing straps.
Our product tester, GGR Editor Frieda Johnson, ultimately decided she'd rather keep piling the miles on her trusty Birkenstocks—for now. Here's why:
"They have a lot of arch support, but since they are made with pretty hard rubber, they hurt my feet to wear for very long. I imagine they will get more comfortable as I get used to them, but I expect a long 'break-in' period," Frieda says.
But the Chacos aren't out for the count!
"On the plus side, I wore them outside and I was really impressed with how good the traction was even on ice and snow," she says. "That's why I think they would be great for water-based activities, or even maybe hiking in an area with slippery rocks like near a stream or something."
In her testing notes, Frieda says she's excited to continue wearing the Chacos outside for fun in the sun as it gets warmer where she lives, and that although they aren't her favorites at this time, she can see how and why so many people like them. Seriously: Check out customer reviews for these shoes. They're glowing!
RELATED: Best Walking Apps
| | |
| --- | --- |
| Weight per shoe | Not specified |
| Heel-to-toe drop | Not specified |
| Available sizes | W 5-12; M 7-15; available in wide |
Best Lightweight Walking Shoes: Allbirds Wool Runners
Good for: Individuals who want a lightweight shoe that comes with the bonus of being sustainably manufactured
The first thing you'll notice about the Allbirds Wool Runners is that they look featherweight compared to most running and walking shoes. According to product tester Rob (husband of GGR Editor Nicole Davis), they feel featherweight, too.
"Rob loves these," Nicole wrote in our spreadsheet where we log all of our testing notes. "They're super comfy and super stylish." Rob got the dark gray with light gray sole and says these are casual enough to wear with gym clothes but you could also easily dress them up a bit more. He says they will be his new "airport shoes" — a cause we can all get behind.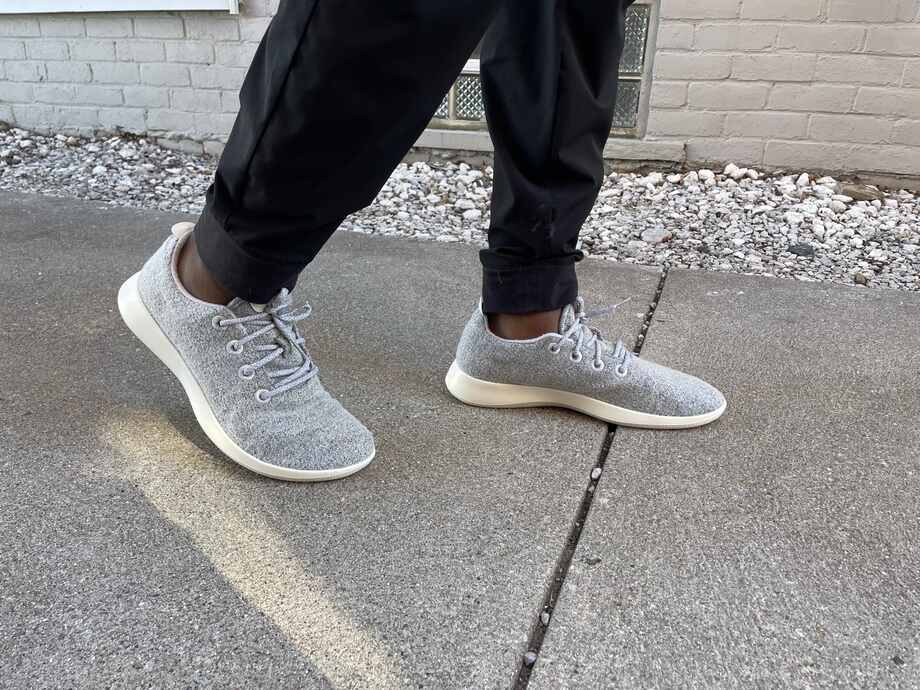 As for construction, the Wool Runners are fairly basic—you won't be running trails with these, Rob points out, but they're more than fine for walking around day to day. And although these are $110, Rob said he'd buy them again…they're really comfy, and can be worn for lots of occasions, making them much more versatile than most walking sneakers.
Featuring a merino wool upper of regeneratively grown plants and a SweetFoam® midsole constructed of sugarcane-based EVA foam (yes, sugarcane), the Wool Runners are uniquely constructed to be soft, comfortable, and breathable—and nice to the planet. They're also machine-washable!
For those who have an interest in sustainability and environmental protection, you'll be pleased to learn that Allbirds abides by strict manufacturing practices and aims to do the least possible harm to our environment while making quality products. Specifically, the merino wool used in these shoes is "grown using regenerative farming practices that aim to help reverse climate change through practices that restore and preserve nature," according to Allbirds. You can learn more about their sustainability practices here.
| | |
| --- | --- |
| Weight per shoe | 8.09 oz |
| Heel-to-toe drop | 15 mm |
| Available sizes | M 8-14; W 5-11 |
Best Leather Walking Shoes: Klaw Footwear Klaw 528
Good for: People looking for a stylish walking shoe with retro vibes and a rainproof upper
There are two camps of people when it comes to Klaw Footwear: those who will snort upon opening the product page, and those who fall head-over-heels for the chunky, retro design.
Myself and GGR Editor Nicole fall into the second camp. "OK, so at first glance, these seem a little geriatric-looking, but the company is actually based in Brooklyn and is apparently super hip," Nicole says. They have a "specific aesthetic" for sure, she quips.
"They're made to be super comfy walking shoes, which is what they look like," Nicole says of the Klaw 528s. "I opted for yellow, and I think they're super cute for spring. They are clunky shoes, and they look bigger than most sneakers on your foot, but they're really great for the purpose."
They're made of a soft leather overall, plus a rainproof upper, although Nicole hasn't worn them in the rain yet so she can't comment on their waterproof quality. The leather is easy to clean, which is a huge plus. "They also feature a very deep heel cup, which you can feel, and anti-slip tread," Nicole says, and "they seem very durable and like they'll last a long time."
The Klaw 528 sneakers are very stable while providing ample cushion, with Nicole noting that overall, these feel very comfy. "I did get some slight rubbing on the right heel the first time I wore these," she cautions. "It didn't break the skin, but I definitely felt it. They've been fine since then, though."
They're expensive at about $150 per pair, but if you really like the design, we think they're worth the dough.
| | |
| --- | --- |
| Weight per shoe | 11 oz |
| Heel-to-toe drop | 7 mm |
| Available sizes | M 8-13; W 6-11; some sizes available in wide |
Other Walking Shoes We Researched
While we've tested many more shoes than what you see in this guide (nearly 50 pairs across our product testers), here are a handful of others we felt were worthy of calling out here:
HOKA One One Clifton 8: The HOKA Clifton 8 has found its way onto many of our guides to shoes, including the best treadmill running shoes and the best running shoes overall. But we love this shoe for more than its running capabilities: It's an all-around great, do-it-all shoe that you can easily take from a long-distance city run to a hard-packed dirt trail. However, we have concerns about durability and longevity due to the ultra-lightweight construction.
HOKA Hopara: The HOKA Hoparas are walking sandals. They look like the lovechild of a pair of sneakers and a pair of Chacos—that is to say, they're not exactly fashionable. We didn't test these because we had prior experience across the team with multiple different walking sandals, but we must say, they look comfortable and functional (at the expense of style).
ASICS Gel-Venture 8: Our tester Rob, husband of GGR Editor Nicole Davis, thought these were a fantastic value. They're one of the only pairs we tested that cost under $100 all-in, and our tester said that they're comfortable although not the most aesthetically pleasing shoes.
Vionic Walker Classic: This is another pair often recommended for seniors. We haven't tested them, although they have many positive reviews. Since we've tested so many pairs of Brooks walking and running shoes, we felt that the Addiction Walkers were the best recommendation for seniors at this time.
How We Picked and Tested the Best Walking Shoes
We take product testing seriously here at GGR. It's not hard to find a website that serves up product recommendations without having a single person on staff touch the product. That's exactly why we do what we do—actually buy shoes and put them on our feet and walk (many, many) miles in them.
The below image is a screenshot of our collection of notes on shoes. This is just a sample: The actual spreadsheet has many more rows.
We chose the best walking shoes by ordering shoes and waiting for them like any other people, and then walking in them for several weeks. Across seven product testers, we walked more than 1,000 miles (an actual calculation) in the months of January and February.
Benefits of Good Walking Shoes
We've all had (at least) one terrible experience with shoes. You get a new pair and you're excited to wear them, only to find yourself limping back home after your walk, run, or night out. The wrong shoes can cause painful blisters, swelling, and worse issues if you continue to wear shoes that aren't right for your anatomy and biomechanics.
Good walking shoes, on the other hand—or rather, the right ones for you specifically—can make you feel like you're walking on clouds. In the right shoes, you should feel like you could stay on your feet all day.
Aside from avoiding pain in your feet, wearing properly fitted shoes is important because it can help you avoid compensations in other areas of your body. When your feet hurt, you may start walking with unusual movement patterns in your ankles, knees, and hips. Ignoring these changes in your gait can lead to a lot of pain and potential musculoskeletal issues over time.
RELATED: Walking Technique—How to Perfect Your Stride
Buying Guide: What to Look for in the Best Walking Shoes
Hold that credit card! Before giving your money to the great wide web, make sure you account for all of these factors. Shoes aren't cheap these days, so it's worth taking your time to ensure you don't have to deal with the hassle of returns.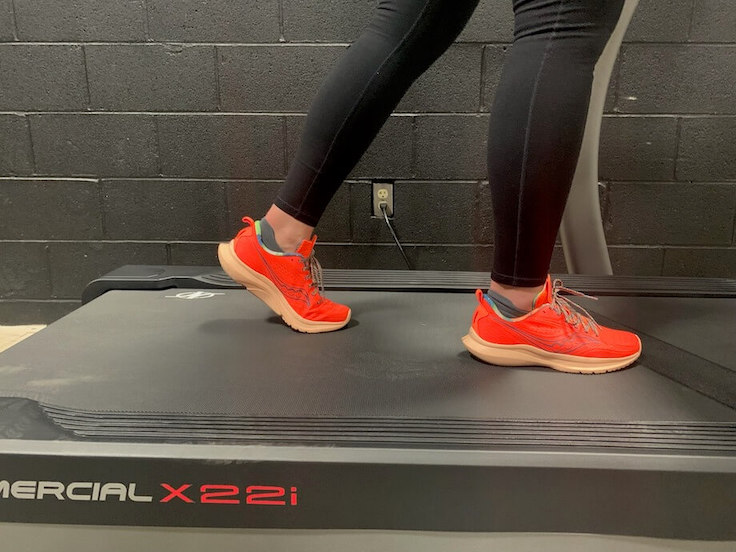 Arch Support (or Not)
Shoes in general are highly subjective, because everyone's foot anatomy and needs are different. Likewise, whether or not someone needs a lot of arch support depends on their foot anatomy and gait tendencies.
RELATED: Best Running Shoes for High Arches
A lot of arch support is best for people who experience overpronation, or turn the arch of their foot downward. If you're unsure about whether you need extra arch support, it's best to get a gait analysis done or talk to a podiatrist. For those with existing conditions like plantar fasciitis or flat feet, specific insoles, custom orthotics, or footbed shapes may be needed.
Midsole Cushioning
Do you prefer a shoe with maximum shock absorption, or do you like something more neutral that provides good energy return? Or, are you a barefoot shoe aficionado looking for a shoe that is both supportive yet lets your feet move and splay naturally?
The midsole cushioning makes all the difference here. Generally, the thicker the midsole, the more cushioned it will be. That's a good rule of thumb, but be sure to read the full product page and look for terms like "neutral," "cushioned," "stability control," and other indicators about how the shoe will feel underfoot.
Most tennis shoes, from walking shoes to trail running shoes have an EVA midsole of some sort.
Heel-to-Toe Drop
Heel-to-toe drop refers to the difference in height between the forefoot and the heel of the shoe. The heel-to-toe drop varies greatly across different brands and even across different models of shoes from the same brand. Like other shoe features, what's good for you here won't be the same for others. In general, a larger heel-to-toe drop will propel you more with each step and promote a stronger foot roll, whereas a lower heel-to-toe drop requires you to produce those effects with less help.
Toe Box Width and Shape
The last thing you want is for your walking shoes to squeeze your toes together! An ill-fitting toe box can cause pinching, numbness, and pain in your toes and forefoot. On the flip side, a properly fitting toe box will allow your toes to spread and breathe, resulting in maximal comfort and foot health. Some shoes, like the Altras, have a wide toe box to allow for more movement of the toes. For some people, such designs can eliminate foot pain and accommodate conditions like bunions.
Outsole and Traction
Depending on where you're walking and the weather conditions in your area, you'll need more traction or less in the rubber sole. Grippy traction is good for trail walking and walking in areas where it is often rainy, snowy, or icy. You can get away with less traction and smaller outsole lugs if you live somewhere it is primarily dry and you primarily walk on paved pathways.
Upper
The upper is the part of the shoe that covers the top of your foot. The best shoes have uppers that are both breathable and durable, but that's not always the case, particularly if you're looking for a specific functionality. For instance, a hiking shoe or hiking boot might be made of Gore-Tex for waterproofness, and they won't have the same breathability as a mesh knit upper. But, a breathable mesh uppers won't be as durable as a Gore-Tex or leather upper. It's all about choosing the right upper for your needs.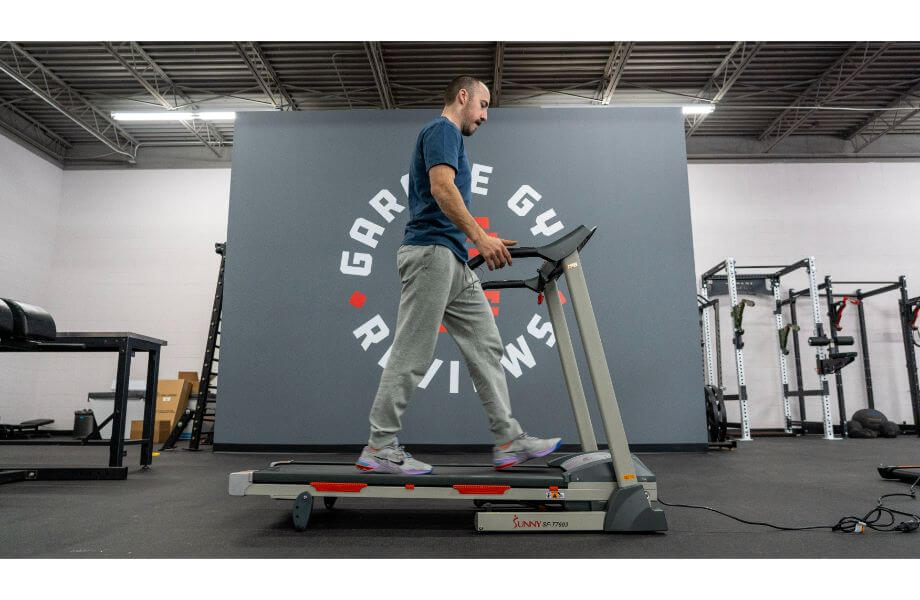 Closure
Looking for laces, slip-ons, velcro, or clasps? I think it's safe to say that most walking shoes have lace-up closures, but there are other options if you're interested in exploring something you don't have to lace each time you wear.
Ankle Support
If you plan on taking very long walks or walking over uneven ground, it's wise to look for a pair of shoes with good ankle support. This doesn't necessarily mean a high-top shoe; some low-top sneakers have great cradles to support the lower ankle.
FAQs About Walking Shoes
How do I know if I need arch support? 
You might need arch support if you have a condition that affects the anatomy of your feet. You can experiment with different walking shoes with different midsole construction to find out which types of shoes feel supportive and which types feel uncomfortable. The best way to find out if you need more arch support is to consult with a podiatrist or get a gait analysis performed. 
Is it okay to wear running shoes for walking? 
Sure. Most people can safely wear running shoes as a pair of walking shoes, too. My personal favorite walking shoes are actually running shoes: the Brooks Ghost 14 or whatever iteration I happen to have at the time. I usually wear my worn-out running shoes for walking to get another few months of life out of them. 
If you have a specific foot condition or pain, however, it's a good idea to consult with a podiatrist to find shoes that are supportive and comfortable for you. Otherwise, you may risk doing more damage to your feet and causing further pain. 
How do you tell if shoes are good for walking? 
It's tough to look at any shoe and say definitively: "This shoe is good for walking." That's because the best walking shoes for one person could be the worst for another person. However, in general, you should consider factors such as arch support, midsole material and width, toe box shape and width, outsole, and heel-to-toe drop and weigh those factors against your needs.