We test and review fitness products based on an independent, multi-point methodology. If you use our links to purchase something, we may earn a commission. Read our disclosures.
As a registered dietitian who loves to stay busy, I'm a big fan of protein powder. Whether you want to build muscle, lose weight, or meet your nutrition needs, protein powder is where convenience meets necessity. But not all protein products are created equal.
Myprotein has earned a prominent reputation in the world of dietary supplements through its quality products and customer service. Myprotein's Impact Whey Isolate has been a popular protein product over the years, but The Whey may be equally as good.
In this Myprotein The Whey review, we'll share our team's experience with the protein powder and highlight important product details so you can decide if you want to try it for yourself. We'll talk about the amount of protein per serving, mixability, flavors, aftertaste, ingredients, and more.
Medical disclaimer: This article is intended for educational and informational purposes only. It is not intended as a substitute for medical advice. For health advice, contact a licensed healthcare provider. GGR also recommends choosing a product that has been third-party tested for quality.
We've Got a One-Whey Ticket to an Honest Review
Our team of testers is made up of certified personal trainers, registered dietitians, coaches, and athletes who all know the role that nutrition can play in an active lifestyle.
The goal of our protein reviews is to help you find the best protein product for your needs. So it's our mission to provide you with unbiased, evidence-based reviews. We've tried Myprotein's The Whey, and our pros looked at the science behind its formula.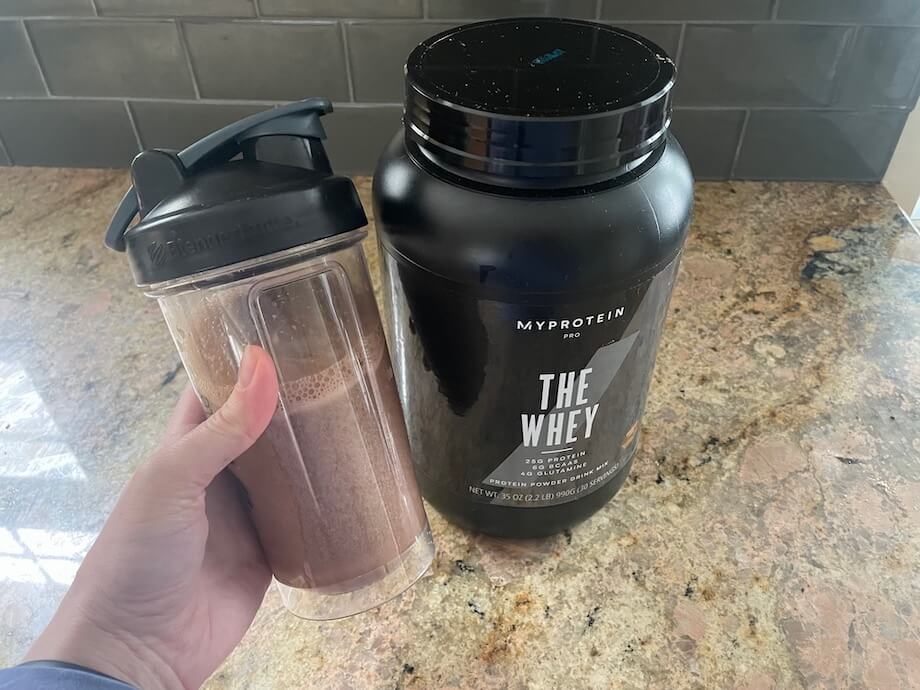 You know your body better than anyone else could, so you're the only one who can decide if The Whey is right for you. But we're happy to share our experiences and give you the tools to make an informed decision.
Myprotein The Whey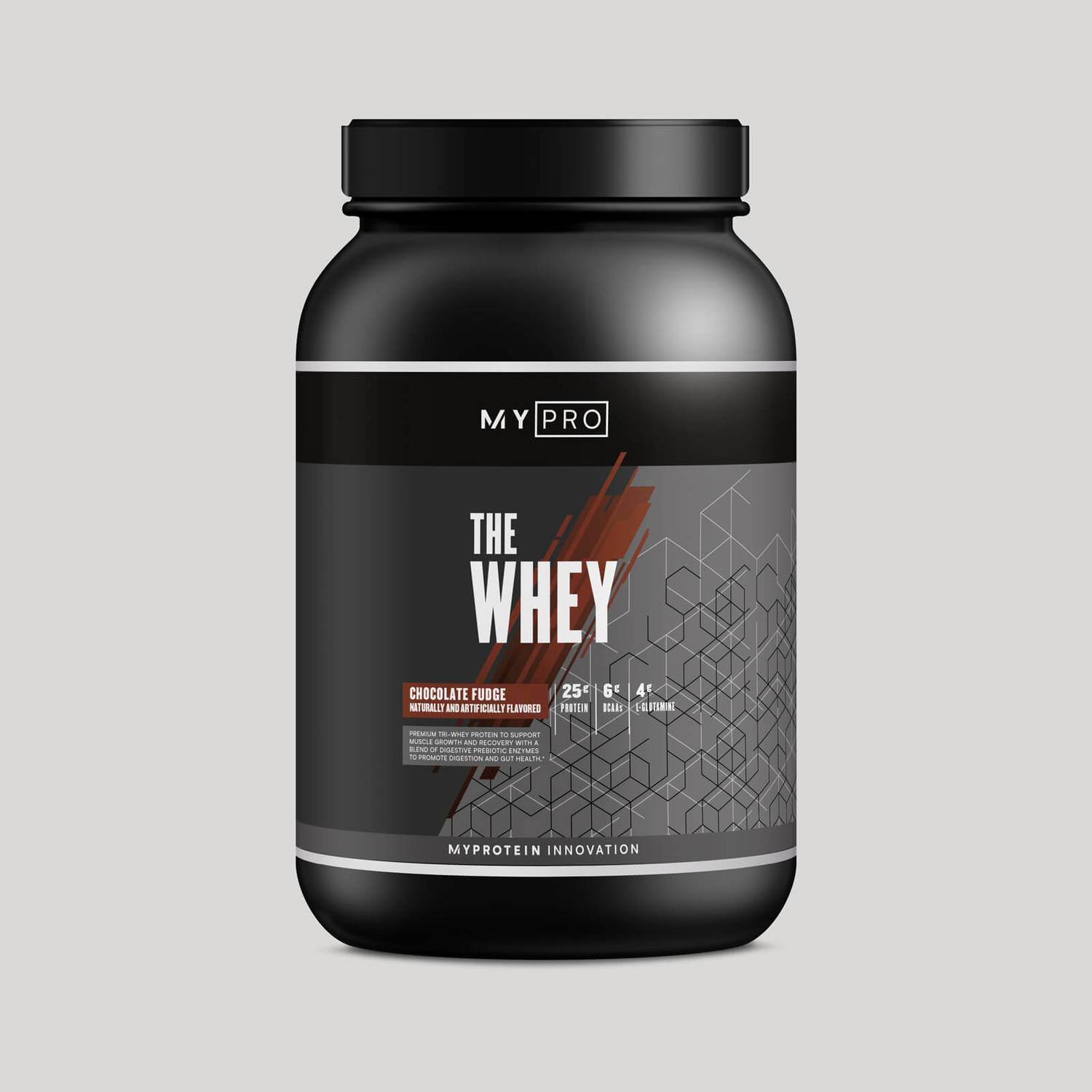 GGR Score: 3.7
Product Highlights
Three flavor options
25g of protein per scoop
Low in fat and carbohydrates
Under $2 per serving
Comes with either 30 or 60 servings per container
Pros & Cons
Pros
Under $2 a serving
25g of protein per scoop
120 calories per scoop
Low in fat and carbohydrates
Cons
Reviewers reported strange aftertaste
Contains glutamine, which may cause digestive issues in some people
Contains artificial ingredients
Bottom Line
A low-calorie, high-protein protein powder that comes in three flavors.
A Quick Look at Myprotein The Whey Protein Powder
Myprotein is a leading sports nutrition company, offering customers a wide range of products, including protein powder, vitamins, high-protein foods and snacks, and even performance clothing. Founded in 2004 and based in New York City, Myprotein now operates in 70 different countries with the support of its dedicated staff, athletes, and brand ambassadors.
Myprotein fuels people all over the world in pursuit of their fitness goals. They pride themselves in their broad selection of products at exceptional value, and they accommodate a range of dietary needs, such as vegan, dairy free, and gluten free.
All products are produced in-house, helping cut third-party costs and pass along savings to their customers. Additionally, Myprotein holds a strong commitment to reducing environmental impact where possible. They aim to produce their products sustainably through their zero-to-landfill policy, which ensures that all of their waste ends up in either recycling facilities or refuse-derived fuel.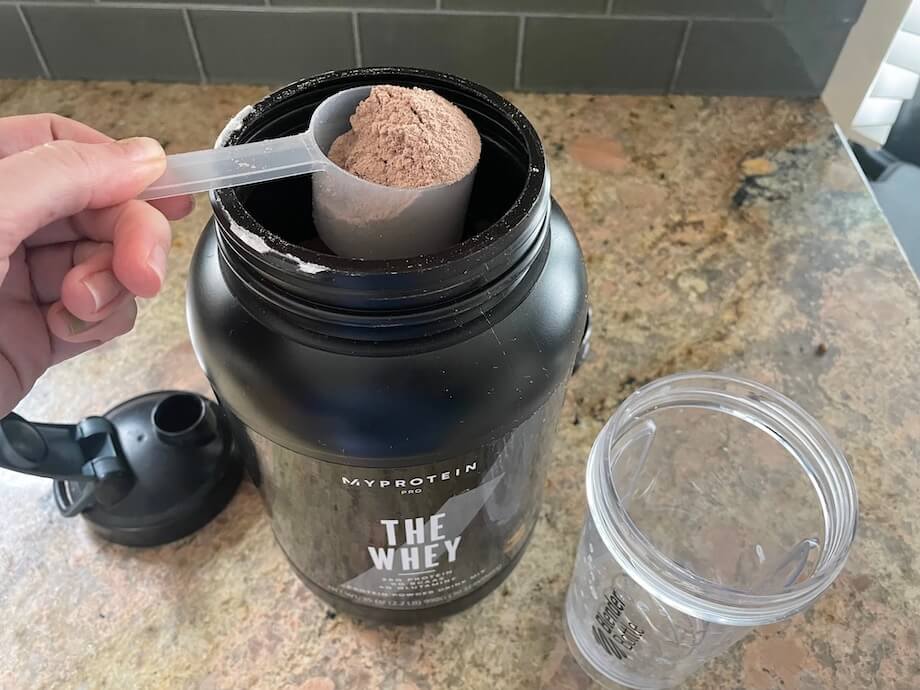 And, of course, quality and safety are of high priority. Myprotein products are sent to Labdoor, a third-party lab, to ensure they meet quality and safety standards and are free from banned substances.
Myprotein's The Whey Protein is no exception. It's a premium protein blend made with high-quality ingredients low in carbohydrates and fat.
Before You Buy
Each serving provides 25 grams of protein; a serving is one scoop.
The whey protein powder is vegetarian-friendly.
Each serving contains just 2 grams of carbs and 1.5 grams of fat.
The protein powder contains Digezyme, an enzyme blend to aid in digestion.
Is Myprotein The Whey Worth It?
It's tough to answer that question with a yes or no. We all need protein, but here are some groups that we think The Whey protein powder would be great for and some that may need to try an alternative:
Great for:
Athletes who need to prioritize protein intake over other macros.
Athletes on a budget.
Those with weight loss goals.
Not recommended for:
Those who follow a vegan diet.
Athletes who rely on protein shakes as their carbohydrate source.
Those sensitive to lactose.
Myprotein The Whey Specs
| | |
| --- | --- |
| Price per serving | $1.33-$1.83, depending on the size |
| Serving size | One scoop (32 g) |
| Flavors | Chocolate Fudge, Chocolate Peanut Butter, Cookies and Cream, Vanilla Ice Cream, Coconut Caramel Fudge, Jelly Doughnut |
| Calories | 130 calories |
| Protein | 25 g |
| Carbs | 2 g |
| Fats | 1.5 g |
| Third-party tested? | Yep! |
Experience Using Myprotein The Whey
Our testers examined every aspect of Myprotein's The Whey. We looked at its formula, cost per serving, third-party testing, and potential side effects. Plus, we actually tried the protein powder, so we have some insight into its taste, solubility, and mixability.
Price Per Serving
This protein powder retails for $79.99 for the largest tub, which is 4.3 lbs. With approximately 60 servings in the container, the price per serving breaks down to $1.33—pretty fair for 25 grams of protein. However, if you go for the smaller tub with about half the servings, the price goes up to $1.83 per serving.
There are also single-serve packets available for those who prefer ready-to-serve packs. But at $3.99 per packet, you're paying a significant upcharge for the added convenience.
Formulation
The Whey is a premium protein blend, combining whey protein isolate, whey protein concentrate, and hydrolyzed protein content. It also features Digezyme, a natural enzyme blend specially created to aid digestion and break down protein into amino acids.
Each serving of the protein supplement contains 25 grams of protein (with 6 grams BCAAs), 2 grams of carbs, 1.5 grams of fat, and zero added sugar. It also has small amounts of vitamin C, iron, and calcium.
Taste and Solubility
GGR senior editor Nicole Davis, CPT and PN1-NC, gave The Whey a try. Here are her thoughts on taste and solubility:
"I tried Chocolate Fudge, and the positive was the solubility—it dissolved completely and was very thin in consistency. I didn't care for the flavor though—it has an artificial aftertaste that I didn't enjoy. I could even detect this when I put the powder into a smoothie with other ingredients as well."
While Nicole didn't think the chocolate fudge flavor was the best tasting protein powder, The Whey is available in many other flavors to try, including coconut caramel fudge, jelly doughnut, chocolate peanut butter, cookies and cream, and vanilla ice cream.
Regarding its aftertaste, all flavors are made with acesulfame potassium, a non-nutritive artificial sweetener that's significantly sweeter than sucralose. Although sweet, it can also have a bitter aftertaste for some people.
Side Effects
Whey protein is considered generally safe for most adults, although high doses may cause side effects, such as:
Increased bowel movements
Nausea
Thirst
Bloating
Reduced appetite
Acne
Headache
Third-Party Testing
Myprotein uses high-quality ingredients from the most-trusted suppliers, and products are formulated according to the latest research. But you don't have to take my word for it. Myprotein ensures they follow strict European and global standards by testing all its products in-house and through third-party lab testing.
Myprotein uses detection techniques like advanced near-infrared testing to ensure their products meet all internal and external quality standards, including approval from the Vegetarian and Vegan Societies and the Soil Association.
Products are then sent to Labdoor, an independent company that tests and grades sports nutrition products. Myprotein also works with Informed-Sport so customers can shop knowing that their products don't contain any banned substances, according to the World Anti-Doping Agency.
Unfortunately, it's not clear what precisely the third-party lab tests are for, and the certificates of analysis aren't available on the website.
Comparison to Optimum Nutrition Gold Standard 100% Whey
Not completely sold on The Whey, but still interested in a low-carb protein blend for post-workout recovery? Optimum Nutrition may have your answer. Its Gold Standard 100% Whey protein powder blends whey peptides, whey concentrate, and whey isolate proteins.
It also has comparable nutrition stats to The Whey. Each serving of Optimum Nutrition Gold Standard 100% Whey contains 24 grams of protein (with 5.5 grams BCAAs), 2 grams of carbs, and 1.5 grams of fat. It also has small amounts of potassium and calcium.
Additionally, the protein powder costs between $1.06 and $1.55, depending on the number of servings in the container, and is available in 18—yep, you read that right—18 flavors. Choose from flavors like chocolate mint, banana cream, rocky road, and more.
Optimum Nutrition Gold Standard 100% Whey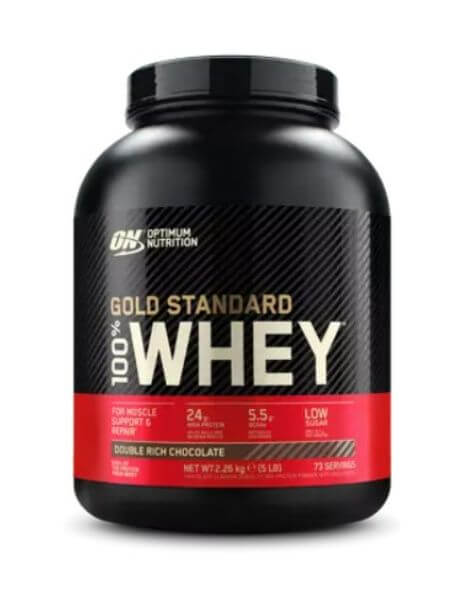 GGR Score: 4.2
Product Highlights
Contains 3 different kinds of whey protein

Tested for banned substances

Over 5 g of BCAAs per serving

Instantized to help prevent clumping
Pros & Cons
Pros
High in protein
Plenty of flavor options
Low in carbs
Cons
Some users say it's overly sweet
Contains artificial flavors
Most flavors contain sucralose
Bottom Line
With plenty of flavor and size options to choose from, Optimum Nutrition Gold Standard 100% Whey is a great basic choice in protein powder.
Customer Experience
If you order The Whey and change your mind, you have 14 days to initiate a return with Myprotein. Then, simply register your return and mail the product back at your expense. Once received, Myprotein will process your refund within 3-5 days.
However, if you love the product so much that you want to recommend it to a friend, you can take advantage of Myprotein's referral program. For every referral that results in a purchase, you get a $20 reward.
Ordering Myprotein The Whey
The Whey is currently only available through Myprotein. You can choose from three sizes: about 30 servings, about 60 servings, and single-serve packets. Of course, the larger container is the most cost-effective option.
First-time customers automatically receive a 5% discount on their purchase, and orders over $60 ship free. And if you're military personnel or a veteran, Myprotein offers a 45% discount with free shipping on all orders.
Customer Reviews
Most of the reviews on the brand's website are positive, with The Whey receiving 4.71 out of 5 stars, with 227 reviews at the time of this writing. Many reviewers love the taste and texture:
"I love the way this protein tastes! Most have that Whey Protein taste but this just tastes like a chocolate shake. I love drinking protein but I love it, even more, when I enjoy it! I will buy this product again!" -Jesse, verified purchase review from Myprotein's website.
"I don't usually like protein powder but I love this one. I haven't been drinking it long so I can't say much on its effectiveness yet but it's very smooth (not thick and chalky, more like chocolate milk) after mixing and tastes great. I also use it to make protein baked oats and they're so good. Just add it after whatever you're mixing it with and shake well and let it dissolve for like 2 minutes at least so that it can mix." – Madison, verified purchase review from Myprotein's website.
"Tastes good and mixes well with my protein oatmeal. I like the powdery texture and how it isn't gritty like others I've tried.'" -Carina, verified purchase review from Myprotein's website.
Final Verdict of Our Myprotein The Whey Review
If you're in the market for a low-carb whey protein powder, Myprotein's The Whey may be a good choice. With minimal carbohydrate and fat content, The Whey prioritizes protein intake to help build muscle and maximize energy intake. Mix it with water or milk in a shaker bottle, or add it to your favorite smoothie recipe. However, it's made with artificial sweeteners, so the taste may not be everyone's cup of tea.
Each serving of The Whey provides 25 grams of protein, and a serving is one scoop.
Each serving provides just 2 grams of carbs.
The Whey is vegetarian-friendly.
It is made with acesulfame potassium, which may give it a bitter aftertaste.
Myprotein sends its products to third-party labs for testing.
Myprotein The Whey Rating
Myprotein The Whey
Is this popular protein powder worth the hype? Find out with our Myprotein The Whey Review.
Product Currency: $
Product In-Stock: InStock
Myprotein The Whey FAQs
Is Myprotein whey high-quality?
Yes, Myprotein's The Whey is a blend of high-quality whey protein isolate, whey protein concentrate, and hydrolyzed proteins.
Is Myprotein protein powder good quality?
Myprotein is known for its quality products. And while The Whey is one of its newer protein powders, customer reviews point to a highly satisfied customer base. 
What are the side effects of Myprotein whey?
The potential side effects of Myprotein's whey products are the same as any whey protein product. Many side effects revolve around digestion upset, such as increased bowel movements, nausea, bloating, and reduced appetite. However, other side effects can include thirst, acne, and headaches.
What is the no. 1 whey protein?
The best whey protein is one that meets your nutritional needs without causing GI distress or other unwanted side effects.
These statements have not been evaluated by the Food and Drug Administration. This product is not intended to diagnose, treat, cure, or prevent any diseases.