We test and review fitness products based on an independent, multi-point methodology. If you use our links to purchase something, we may earn a commission. Read our disclosures.
In a perfect world, you'd know exactly what's in every protein powder on the market today—but we don't live in a perfect world, and many companies use proprietary blends or other tricks to hide what's actually in their supplements.
Our Transparent Labs protein review looks at a product that bucks that trend and goes above and beyond to live up to its name by being transparent with its ingredients and their quantities. With 28 grams of protein, a moderate amount of carbs and fat, and a short ingredient list free of artificial colors, sweeteners, and fillers, Transparent Labs 100% Grass-Fed Whey Protein Isolate seems like a great protein powder regardless of your fitness goal—but is it worth the higher price?
We tested it for a month and consulted with New York City-based registered dietitian Laila Ouldibbat to find out.
Medical disclaimer: This article is intended for educational and informational purposes only. It is not intended as a substitute for medical advice. For health advice, contact a licensed healthcare provider. GGR also recommends choosing a product that has been third-party tested for quality.
We Promise to Always Be Transparent With Our Readers
When it comes to transparency, we talk the talk and walk the walk. Our team of nutrition experts, certified personal trainers, and competitive endurance athletes have and will continue to give you the good, bad, and ugly of every multivitamin, creatine, and pre-workout we review, regardless of our relationship with the company.
That philosophy has allowed Garage Gym Reviews to become the go-to site for honest home gym equipment and supplement reviews.
RELATED: Creatine vs Pre-Workout
Transparent Labs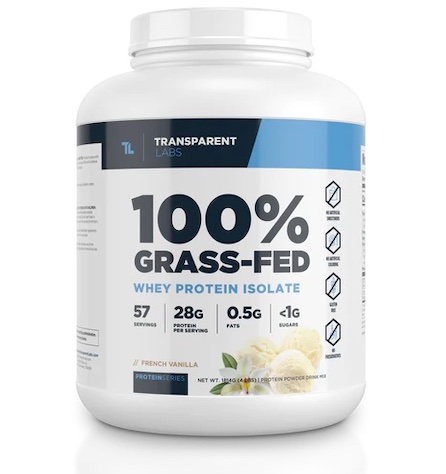 GGR Score: 4
Product Highlights
High-quality whey protein isolate
28 grams of protein per serving
8 flavors to choose from
$1.99 per serving
Pros & Cons
Pros
High-quality protein
No artificial sweeteners, food dyes, or preservatives
Lots of flavors to choose from
Good customer reviews
Whey isolate may be easier to digest for some people
Cons
Price per serving on the high end
Bottom Line
Transparent Labs 100% Grass-Fed Whey Protein Isolate is a clean, high-quality protein powder that contains 28 grams of protein per serving.
A Quick Look at the Transparent Labs Protein
Transparent Labs Grass-Fed Whey Protein contains 28 grams of protein per scoop and has a low-to-moderate amount of carbs and fat—the exact number varies by flavor, but it can be anywhere from 0 to 2 grams of carbs and 0 to 3 grams of fat.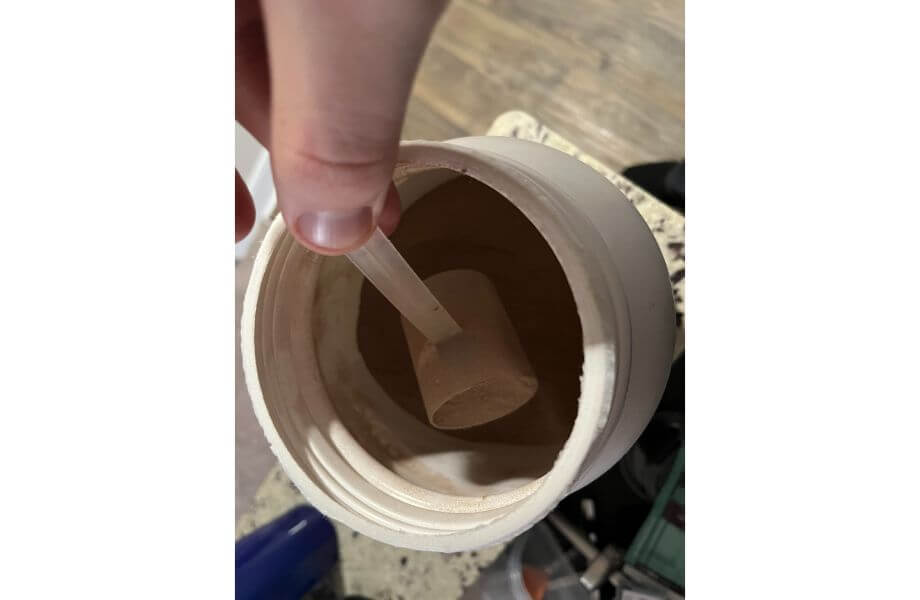 Laila notes that Transparent Labs is a "clean" protein powder free of any artificial preservatives, artificial sweeteners, or dyes, but it should be noted that it also doesn't contain any creatine or other post-workout additives that you see in some protein powders. Some might like this, but others may want something that has a little extra kick.
The only major callout is it's a little higher in sodium and cholesterol than other protein powders due to the addition of Himalayan rock salt.
Before You Buy
You can save 10% per order if you subscribe to monthly delivery
Transparent Labs protein is higher in sodium than other protein powders, which may be a problem for those at risk of heart disease
Is Transparent Labs Protein Worth It?
If you're willing to pay $1.99 per serving, then we think Transparent Labs protein is worth it. That's not the highest cost we've seen in a protein powder, and it's on par for the higher-end products that don't contain artificial ingredients, but there are more budget-friendly options.
Cost isn't the only factor when deciding whether a protein powder is right for you. Here are a few people we think would enjoy Transparent Labs protein powder and who might want to check out some of our other favorite whey protein powders.
Great for:
Bodybuilders, powerlifters, or anyone else looking for a lean protein powder to build muscle
Anyone looking for an easily digestible, high-quality protein powder
People who prefer protein supplements that don't contain artificial ingredients
Not recommended for:
Anyone who's worried about their sodium intake
Those on a budget
People who live a plant-based lifestyle (check our our picks for the best vegan protein powder)
Transparent Labs Protein Specs
| | |
| --- | --- |
| Price per serving | $1.99/$1.79 (with subscription) |
| Flavor(s) | Milk Chocolate, Chocolate Peanut Butter, Cinnamon French Toast, Strawberry, Mocha, Vanilla Peanut Butter, French Vanilla, Oatmeal Chocolate Chip Cookie |
| Protein | 28 g |
| Carbs | 0-2 g (varies by flavor) |
| Fat | 0-3 g (varies by flavor) |
| Artificial ingredients? | No |
Experience Using Transparent Labs Protein
I've been taking Transparent Labs protein for about a month, and overall I have to say I'm a big fan! I haven't experienced any stomach or digestive issues after drinking it as I sometimes do with other whey protein powders—several customer reviewers said the same thing. It mixes incredibly well with milk or water, and I can say that I feel full for quite a while after downing a protein shake.
While Transparent Labs isn't the only company that shows all of its ingredients, it's probably the first and only one I've seen that actually shows the weight of each ingredient. Now that's transparency.
Laila's also a big fan of this protein powder. She notes that the 34-36-gram scoop (the number varies by flavor) is mostly whey protein isolate, so it has a high protein-to-weight ratio. In other words, it's a clean product that's mostly protein with very few additives.
While that means it's free of artificial ingredients that some people may want to steer clear of, it also means it doesn't contain creatine or other ingredients commonly added to protein powders.
It does contain all the essential amino acids needed for muscle gains and muscle protein synthesis (or protein absorption). A November 2021 review1 found that BCAAs support improved muscle growth and recovery in those who engage in resistance training (such as weightlifting). However, the product label doesn't break down the ratios of each amino acid like many brands do, so it's unclear if they're in the preferred muscle-building ratio of 2:1:1.
That said, there are many ways to obtain BCAAs from whole food sources (such as chicken and eggs). We don't think the lack of listed ratios of the BCAAs is a bad thing, but we understand why some people may want a protein powder that includes them on the label.
Formulation
The ingredients in Transparent Labs protein vary by flavor, but there are four that show up in just about every offering: whey protein isolate, natural flavors, Himalayan rock salt, and stevia.
Whey Protein Isolate
Whey protein isolate is one of the three main types of whey protein used in protein powders—the other two being whey protein concentrate and whey protein hydrolysate.
Whey protein isolate goes through a filtration process that removes a lot of the natural carbs, fats, lactose, and sugar found in cow's milk. This not only results in leaner, higher-protein products, but could also make it safe for those with dairy sensitivities, such as lactose intolerance, due to the fact that much of the lactose has been removed.
People with extreme lactose intolerance and other dairy sensitivities should consult a physician or nutritionist before taking whey protein isolate.
Transparent Labs also uses cows that are hormone-free, antibiotic-free, and grass-fed. Grass-fed cows produce milk that contains more phytonutrients than grain-fed cows, according to a February 2021 review2. Phytonutrients may support heart health and have been linked to a reduced disease risk2.
Natural Flavors
Simply put, natural flavors are natural essences or extracts that have been extracted from plant or animal sources and used to flavor food products. Artificial flavors, on the other hand, are flavors created in a laboratory to be used in foods.
Natural flavors contain no nutritional value and have zero calories.
Himalayan Rock Salt
Himalayan rock salt is salt that comes from the Himalayan mountains and is believed to have more nutritional value than most table salts found in grocery stores. It's unclear if Transparent Labs uses it to flavor its protein powders or uses it as a preservative.
In any event, people at risk for high blood pressure or heart disease should know that Transparent Labs has a higher sodium content than most protein powders, although it's still only 12% of the Recommended Daily Value so should be fine for most people. Check with your physician or nutritionist if this is right for you.
Stevia
Stevia is a natural sweetener that comes from stevia leaves and is used as a sugar substitute. People sometimes avoid stevia because it's more bitter than sugar, but I found that Transparent Labs uses just the right amount.
Price Per Serving
Transparent Labs protein comes out to $1.99 per serving if you're ordering it on a one-time basis, or $1.79 if you place it on a monthly subscription. That's about average for higher-end proteins and is more cost-efficient than other protein sources (especially eggs), but there are many protein powders that are more affordable.
Taste and Mixability
Transparent Labs protein comes in the following flavors:
Milk Chocolate
Chocolate Peanut Butter
Cinnamon French Toast
Strawberry
Mocha
Vanilla Peanut Butter
French Vanilla
Oatmeal Chocolate Chip Cookie
So which one did I go for? Well, I grabbed the limited edition Peppermint Hot Chocolate around Christmas time and I recommend you put this in your stocking if they offer it again around the holidays. It tastes as if you dropped a candy cane into a cup of hot chocolate and added protein to it, and makes for a great high-protein holiday treat when topped with whipped cream and marshmallows.
I've read many customer reviews that state the standard flavors are just as tasty.
Related: Check out our recommendations for the best-tasting protein powder
The powder easily mixes into the liquid of your choice and leaves behind no clumps—this is one of the smoothest protein powders I've ever had.
Third-Party Testing
Transparent Labs' website displays laboratory analysis of all of its products to show that it's been tested for harmful substances like lead, arsenic, salmonella, and E. coli.
Transparent Labs Protein vs Optimum Nutrition 100% Gold Standard Whey Protein
Budget Protein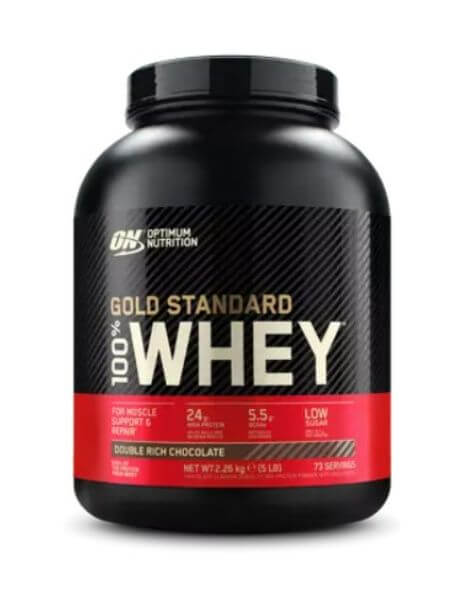 GGR Score: 3.5
Product Highlights
Contains 3 different kinds of whey protein

Tested for banned substances

Over 5 g of BCAAs per serving

Instantized to help prevent clumping
Pros & Cons
Pros
High in protein
Plenty of flavor options
Low in carbs
Cons
Some users say it's overly sweet
Contains artificial flavors
Most flavors contain sucralose
Bottom Line
With plenty of flavor and size options to choose from, Optimum Nutrition Gold Standard 100% Whey is a great basic choice in protein powder.
Optimum Nutrition 100% Gold Standard Whey Protein is a great choice for those who want a more affordable protein powder, and it comes in containers ranging from 22 to 149 servings—the larger the container, the lower the per-serving cost.
Optimum Nutrition contains some artificial ingredients and preservatives, but unlike Transparent Labs, the label specifies that it contains 5 grams of BCAAs.
| | | |
| --- | --- | --- |
| | Transparent Labs Whey Protein Isolate | Optimum Nutrition 100% Gold Standard Whey Protein* |
| Price Per Serving | $1.99 | $1.49 |
| Protein | 28 g | 24 g |
| Carbohydrates | 0-2 g (varies by flavor) | 2-4 g (varies by flavor) |
| Fat | 0-3 g (varies by flavor) | 1.5-3 g (varies by flavor) |
| Notable ingredients | Whey protein isolate, natural flavors, stevia, Himalayan rock salt | Whey protein isolate, whey protein concentrate, hydrolyzed whey protein, salt, cane sugar, sucralose, natural and artificial flavors |
| Flavor(s) | Milk Chocolate, Chocolate Peanut Butter, Cinnamon French Toast, Strawberry, Mocha, Vanilla Peanut Butter, French Vanilla, Oatmeal Chocolate Chip Cookie | 17 |
| Third-party tested? | Yes | Yes |
* Based on 30-serving container
Returns, Shipping, And Subscriptions
Transparent Labs only offers refunds for unopened products, though if you're unsatisfied with a product you've opened the company may offer an exchange or store credit.
Shipping costs vary by location but the company does offer free shipping on orders above $149.
You can get 10% off each Transparent Labs protein by placing it on a monthly subscription, which also guarantees you'll never run out of protein powder.
Customer Reviews
Transparent Labs protein has a 4.7 average rating with more than 2,300 reviews as of this writing.
We usually like to include negative reviews for balance, but it appears that only positive reviews have been posted to Transparent Labs' website. While some Transparent Labs products are available on Amazon, such as Bulk Pre-Workout and Transparent Labs Mass Gainer, its grass-fed whey isolate is not on the third-party website.
Final Verdict of Our Transparent Labs Protein Review
Transparent Labs protein is one of our favorite protein powders for a couple of reasons, but here are just a few:
Short, natural ingredient list
High in protein
Moderate fat and carb content
Tastes great
Mixes well
While they're not the only company to clearly state all of its ingredients, they are one of the cleanest protein powders we've seen, though that might not be a good thing if you're looking for a post-workout recovery protein powder with creatine or other ingredients.
Transparent Labs Protein Rating
Transparent Labs Protein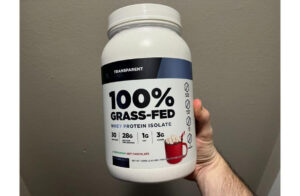 Our Transparent Labs protein review will let you know whether this protein powder is worth the cost and what's really inside each container.
Product Brand: Transparent Labs
Product Currency: USD
Product Price: 59.99
Product In-Stock: InStock
Transparent Labs Protein FAQs
What are the most trusted protein powders?
Is Transparent Labs clean?
Yes, Transparent Labs offers an all-natural and third-party tested product that's been analyzed by an independent laboratory for harmful substances.
Where is Transparent Labs from?
Transparent Labs is based out of Utah, USA. 
These statements have not been evaluated by the Food and Drug Administration. This product is not intended to diagnose, treat, cure, or prevent any diseases.
References
Arroyo-Cerezo A, Cerrillo I, Ortega Á, Fernández-Pachón MS. Intake of branched chain amino acids favors post-exercise muscle recovery and may improve muscle function: optimal dosage regimens and consumption conditions. J Sports Med Phys Fitness. 2021;61(11):1478-1489. doi:10.23736/S0022-4707.21.11843-2
van Vliet, S., Provenza, F. D., & Kronberg, S. L. (2021). Health-Promoting Phytonutrients Are Higher in Grass-Fed Meat and Milk. In Frontiers in Sustainable Food Systems (Vol. 4). Frontiers Media SA. https://doi.org/10.3389/fsufs.2020.555426