We test and review fitness products based on an independent, multi-point methodology. If you use our links to purchase something, we may earn a commission. Read our disclosures.
The Sorinex J*Squat is a belt squat that attaches to Jammer Arms allowing the trainee to squat, march, deadlift, row, and do other movements otherwise not possible with Jammer Arms alone. After using them for over 6 months, Danny Tran of Infamous Strength gives his Sorinex J*Squat Review by saying, "if you already have a set of adjustable jammer arms and are extremely limited on space, this belt squat may be the best option for you." However, it is a lever arm style of belt squat, so there are limiting factors inherent.
Sorinex Belt Squat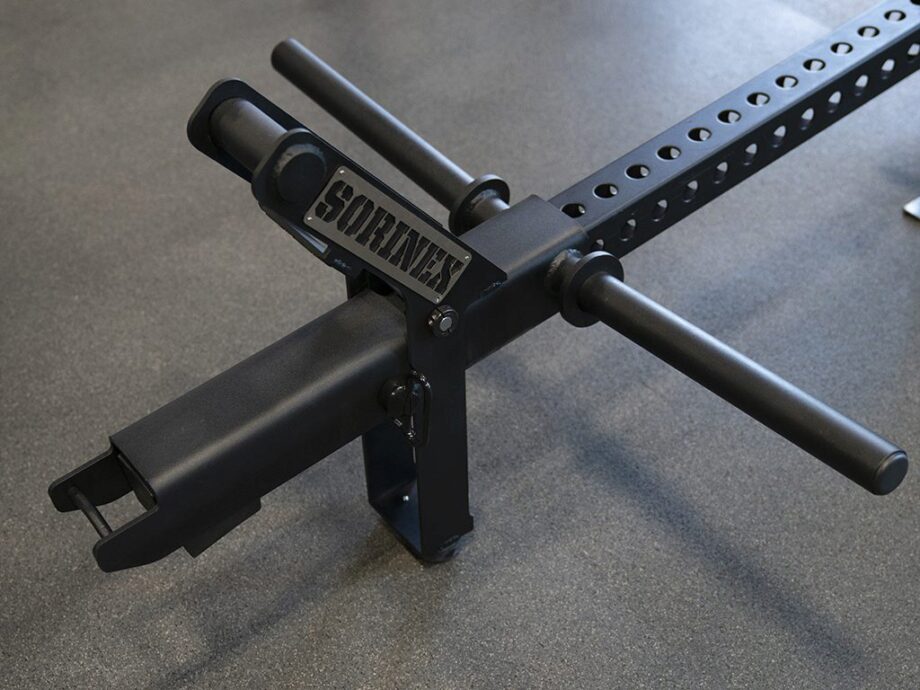 Sorinex J*Squat
The Sorinex Jammer Arms were designed with future innovation in mind. Now, the future is here. Introducing the Sorinex JË£Squatâ"¢ attachment. An industry first. The first rack attached Jammer Arm belt squat. In the late 2000's, Sorinex introduced the first ever rack attached Jammer Arms that then evolved into the Adjustable Jammer Arms. Attach your JË£Squatâ"¢ attachment to fixed or Adjustable Jammer Arms and replace your big clunky belt squat machines with modularity, functional safety, and the most training options per square foot.Length: 25" Width: 40" Sleeve Length: 16" Height: 27" Weight: 50 lbs Material: 11 Gauge American Steel Finish: Black Texture Powder Coat Fits: Sorinex Jammer Arms
The J*Squat is not the first belt squat Sorinex has released. We've tested and reviewed their previous cable-based belt squat and always enjoyed it. The difference between it (along with most belt squats) and the J*Squat is that the J*Squat is designed to take up as little space as possible. Most of what Sorinex does is design equipment for the University Weight Room Setting, however, the same compact and versatile equipment performs well at a D-1 School, will typically work just as well in a home gym.
What is the Sorinex J*Squat?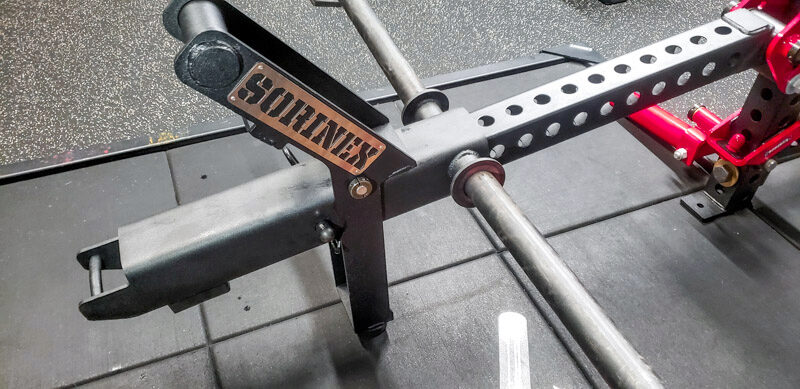 The Sorinex J*Squat was the first of it's kind, a compact rack-mounted lever arm belt squat attachment. It utilizes the Sorinex Adjustable Jammer Arm System or equivalent (such as the Rogue LT-1 .50 Cal Trolley System) and converts into a belt squat, making it one of the most compact belt squats on the market.
The J*Squat is very unique. It's also very functional.
Although there are negatives to the design (mainly that it's a lever and therefore will encourage/force forward knee travel,) there is also a huge benefit. It's extremely compact, easy to set up, and easy to use.
What We Like About the Sorinex J*Squat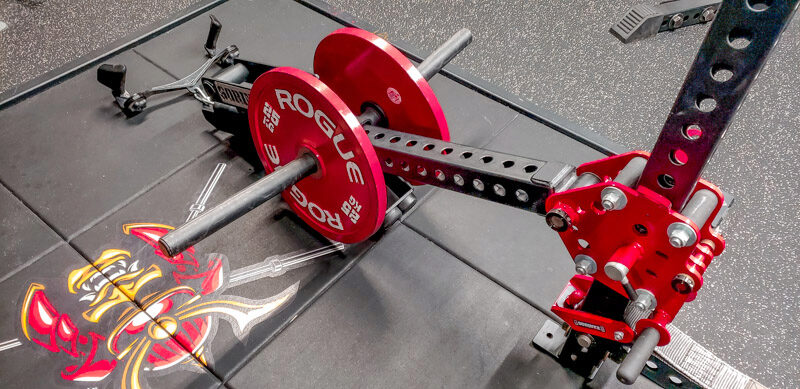 The J*Squat belt squat attachment does exactly what one would want out of a belt squat. Emphasizing load on the quads without putting much strain on your back. This is extremely effective when you want additional volume to your workouts without taxing your back or if you are nursing an injury.
The attachment is extremely versatile. While it is designed to be a belt squat, there are many movements that can be done using the J*Squat attachment. Rows, Deadlifts, and lunges are some of the many movements you can also do with it.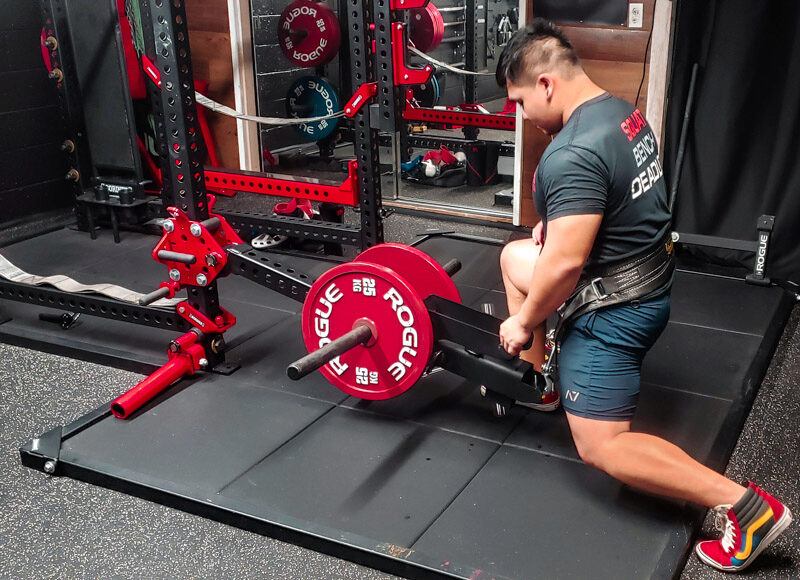 Another great feature with the J*Squat is that no extra platform is needed. You can use it directly off of your floor while mounted to your power racks.
The belt squat attachment is also very compact and stows away easily into any corner of the gym, and sorinex also sells a hook that you can attach to your rack to store the attachment out of the way when not in use. This feature is extremely vital for home gym owners since real estate is not usually in abundance. The fact that it is so compact makes it ideal for optimizing the most training options per sq. ft.
RELATED: Best weightlifting belts
What We Don't Like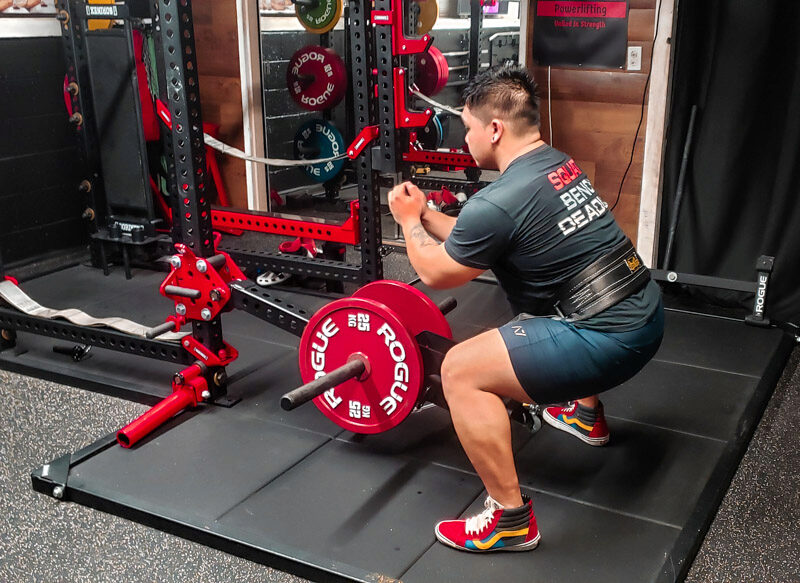 While the design allows it to be compact, it does come with some inherent flaws. Since it is a lever arm style belt squat, the felt load is only about 60% of the loaded weight according to Sorinex's website, which could present a problem when using thicker plates. This is not so much of an issue to me since I use the belt squat as a quad movement accessory, meaning I don't really load up on the weight, but rather I focus on volume and the actual movement.
This product also comes with a prerequisite in the fact that you need to own an Adjustable Jammer Arm or equivalent system in order for you to use it. Without such a system, the attachment is useless. When comparing prices, if you do not already own the adjustable jammer arms, purchasing this with the jammer arms is a fairly high cost.
The last thing is, while the J*Squat is rather compact, it is a little awkward to store and mount if you are alone since the kickstand freely swings about.
How the Sorinex J*Squat Compares to Other Belt Squats
While my experience (Danny Tran's) with other belt squats is rather limited, I have tried the Rogue Rhino Belt Squat, and the Squat Max MD. Personally, when compared to these other two belt squats, the Sorinex surely does not stand a chance.
Sorinex J*Squat Vs. Rogue Rhino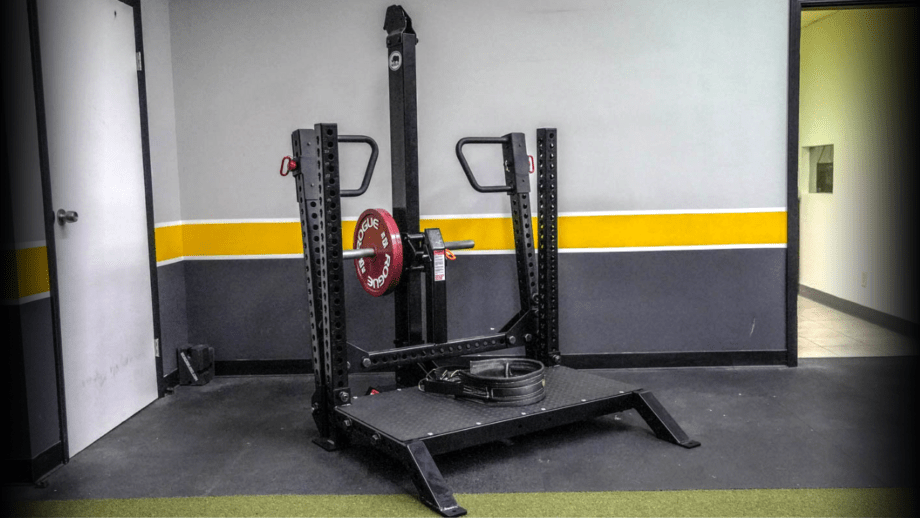 Rogue Monster Rhino Belt Squat
The freestanding version of the Rogue Monster Rhino Belt Squat (patent pending) requires no separate rack/rig for set-up, as the system includes a pair of 53.925" steel legs for mounting and two angled 3x3" front feet for platform stability. This compact unit can be set up in garage gyms, low-ceiling home gyms, or full-scale facilities, offering athletes the ability to get many of the lower body training benefits of squats and other workouts without putting unnecessary stress on the shoulders or lower back. See Also: The Rack-Mounted Drop-In Rhino and Rhino + RM-3 Rack packageManufactured in Columbus, Ohio, the stand-alone Monster Rhino Belt Squat comes with 3x3" arms and crossmembers, a 3x6" weight trolley tower, and a 0.25" braided cable for raising/lowering the weight trolley. When not in use, the trolley is stored on a 1" thick UHMW plastic hook, or "Rhino Horn." A diamond-tread plate platform provides steady footing, adjustable handles offer overhand and neutral grip options, and a Spud Inc Belt Squat Belt (exclusive to Rogue) accommodates most heights and waist sizes. The entire unit (aside from the platform, handles and weight posts) is finished in our Medium Gloss Black powdercoat.Our innovative weight trolley design (patent pending) features two stainless steel, horizontal weight posts with 15.75" of loading capacity on each side. A set of (4) machined Acetal rollers, each containing (2) bearings, ensure the trolley moves smoothly up and down the rail. Laser-cut Rogue branding is featured on each side, and the tower includes a Rhino sticker on each side, as well.The platform of the Monster Rhino Belt Squat is made from 0.125" thick diamond tread plate and is finished in our Signature Texture Black powdercoat to provide advanced durability and a non-slip surface. The tread plate sits on top of a 1" x 3" steel frame and attaches to 3x3" front feet for additional stability and rigidity. The platform dimensions are 26" deep x 48.5" wide. When the unit is installed, the top of the platform sits 7" above the ground.This is a 1" thick UHMW plastic horn, sandwiched between steel plates, that holds the trolley when not in use. The Rhino Horn is adjustable up and down so that the "racked" or resting height of the trolley can be accommodated to specific users heights.Each Rhino unit includes a custom designed Spud Inc Squat Belt that is only available through Rogue Fitness. This belt features 3 heavy duty triangle D rings on each end, so it will accommodate a variety of user waist sizes and heights. A black carabiner is included for connecting the belt to the cable that comes up through the platform.Additional Specifications:Made in the USA Patent Pending Freestanding Version (does not require existing rack/rig) Ships Freight, Some Assembly Required Height of Tower (from floor): 78.5" Height of Platform (from floor) 7" Footprint: 53" x 60.5" (2) Weight Posts with 15.75" loading capacity on each Unloaded Trolley Weight: 27.5LB (+/- 1LB) 3x3" Arms and Crossmembers (2) Welded-On Band Pegs for resistance work
The Rogue Rhino offers much more versatility, and a much better felt load than the J*Squat. The J*Squat does beat the rhino in terms of footprint and utilizes a much smaller space that that of the Rhino.
Sorinex J*Squat Vs. SquatMax-MD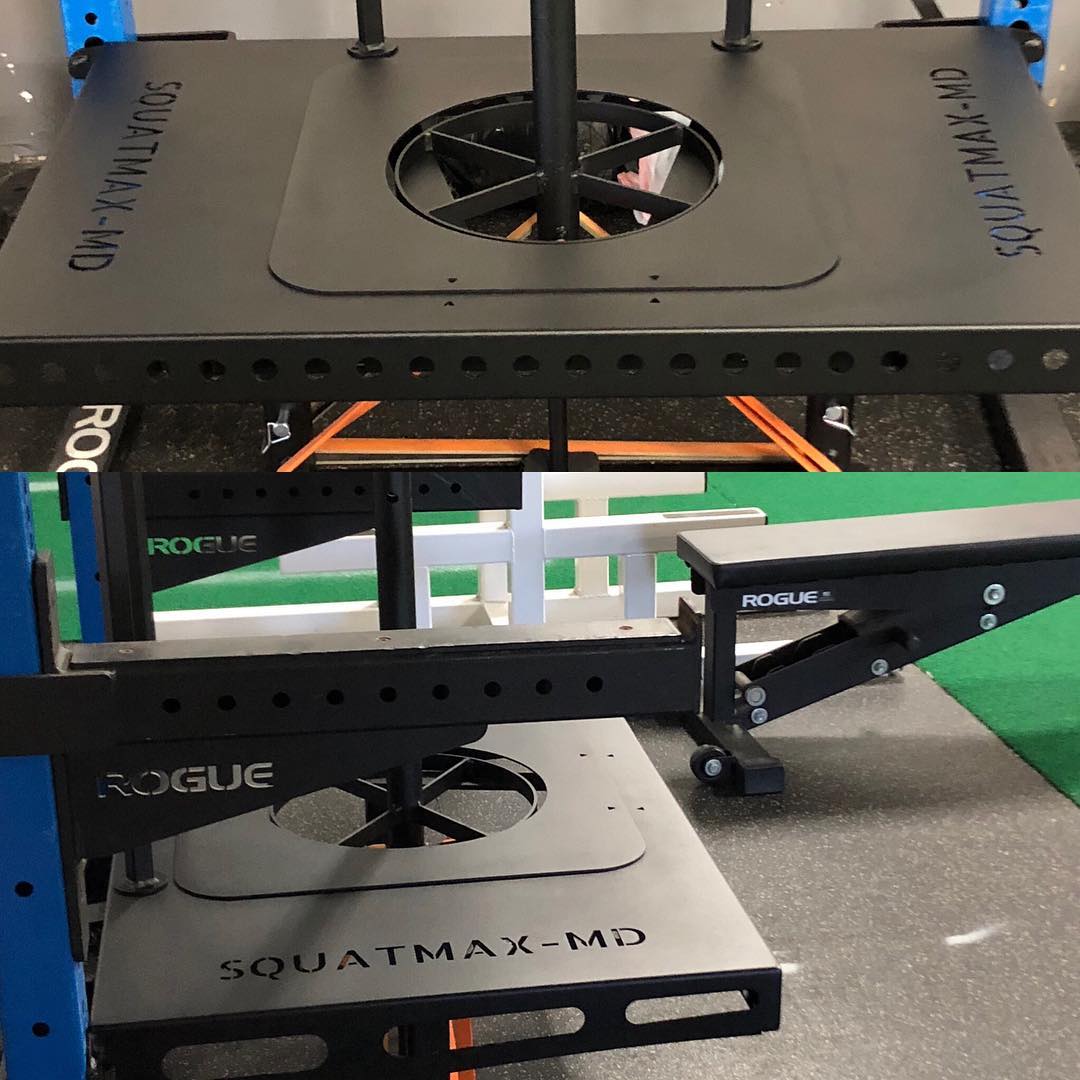 Squatmax-MD Rack Attachment Model
The Squatmax-MD is a patented belt squat system developed by Brian Henesey of OverAchieve Sports and Speed (creator of the Multi Belt and Henny Strap System) and manufactured here in Ohio by Rogue.Our rack-mounted version of the Squatmax-MD features an adjustable, laser-cut steel platform (18" to 24" height) with a loading pin that moves up and down a special guide rod welded to the base of the unit. This design keeps the weight load in the vertical plane as you train, creating a pure, free-weight movement that truly mimics the optimal lower body activation of a traditional barbell back squat—with little or no need for supervision.Because the weight can be centered directly under the lifter's hip musculature with band resistance, the Squatmax-MD also reduces the shearing effect on the lower back that's sometimes created by lever-arm and pulley-based belt squat systems. This difference, combined with the system's mobility and decompression benefits ("MD"), make the Squatmax a great option not only for athletes with back/shoulder limitations, but any gym looking for a safe, effective, spotter-free alternative to barbell back squats.How To Use: The Squatmax-MD will mount to most standard 2x3" or 3x3" power racks or squat stands that feature two vertical uprights between 27" and 50" apart. Once set up, users can add plates to the loading pin while it is in the upright position and supported by the unit's latch plates. Wearing the included Rogue Multi Belt with carabiner, users can then connect to the loading pin, pick up the weight slightly, and turn the 1x1 square tube steel handles away to hinge the latch plates out of the way and begin squatting.Specifications:Made In USA Patent No: US 8,961,375 B2 Rack-Mounted Belt Squat System Steel Construction Weight: 160 LBS Platform Dimensions: 44.75" length x 29" depth Adjustable Platform Height: 18" to 24" in 2" increments Texture Black Finish Rogue Multi Belt, Carabiner, and Narrow Stance Plate included Loadable Length of Pin: 19"The Squatmax-MD can also be used in a similar fashion for box squats, deadlifts, hip thrusters, and more.
The SquatmaxMD is probably the best belt squat available in my opinion, It's movement pattern is far superior than that of any other belt squat I have used however it does have some flaws too. It's a little bulky to be considered a stow-away piece of equipment and therefore needs to be mounted permanently and in some situations, not everyone has the space for that.
Would We Recommend the Sorinex J*Squat?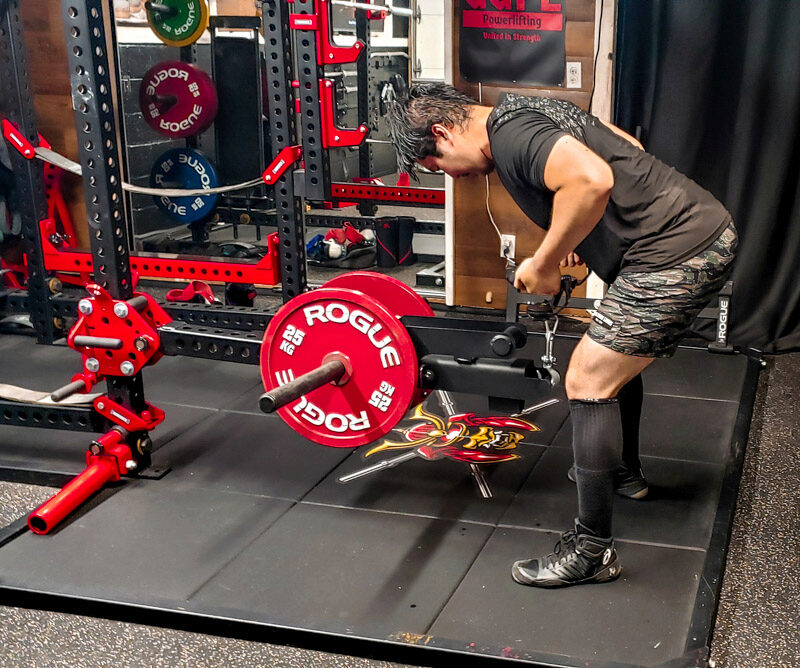 I would only recommend the J*Squat if you meet these two following requirements:
You already own a set of adjustable jammer arms or equivalent system
You absolutely do not have space to fit any of the other options out there
If you do not meet these requirements, I can't say that I can wholeheartedly recommend the belt squat. While it is a great compact and versatile device, it just simply isn't the best one when it comes to felt loading and movement pattern.
Now if you do meet these requirements, then it may be a good option for you. Personally, It was the only option I had since I already had the adjustable jammer arms, and there is no room in my gym for a SquatMaxMD or Rogue Rhino.
Author:
My name is Danny Tran, and I have been a home gym owner for about five years. I have a passion for collecting, using and studying strength equipment. In 2019, I turned my garage gym into a business. Infamous Strength, a private strength training gym and powerlifting lifestyle brand.

Personal Instagram: @DannyTran_INFMS
Business Instagram: @InfamousStrength
Full Rating
Sorinex J*Squat Belt Squat
The Sorinex J*Squat is a belt squat that attaches to Jammer Arms allowing the trainee to squat, march, deadlift, row, and do other movements otherwise not possible with Jammer Arms alone. After using them for over 6 months, Danny Tran of Infamous Strength gives his Sorinex J*Squat Review by saying, if you already have a set of adjustable jammer arms and are extremely limited on space, this belt squat may be the best option for you. However, it is a lever arm style of belt squat, so there are limiting factors inherent.
Product Brand: Sorinex
Product Currency: USD
Product Price: 499.00
Product In-Stock: InStock
Sorinex J*Squat Belt Squat FAQs
What is the Sorinex J*Squat Belt?
It is a belt squat that attaches to Jammer Arms, allowing the learner to squat, march, deadlift, row, and perform other actions that would be impossible with only Jammer Arms.
What's good about the Sorinex J*Squat belt?
Although there are several drawbacks to the design (most notably that it is a lever and hence encourages/forces forward knee motion), there is also a significant advantage. It's highly portable, simple to assemble, and simple to operate.