We test and review fitness products based on an independent, multi-point methodology. If you use our links to purchase something, we may earn a commission. Read our disclosures.
More than ever, universities are spending big money on the training facilities used by their athletic programs. Today, we want to show off ten collegiate gyms that blew us away that feature equipment by Rogue Fitness, Sorinex, Power Lift, and others. These range from college football, college basketball, college hockey, and others.
Why do colleges spend so much on their athletic programs? Because they're the biggest recruiting tools they have. Yes, good academic programs are important, but it's hard to advertise student's intelligence, it's incredibly easy to advertise your student's physical prowess. Due to this, universities across the country are spending millions of dollars to outfit their gyms and training facilities with not only the best performing equipment, but also the best looking. Custom is the name of the game. If your equipment isn't better than the opponents than it's not worth having.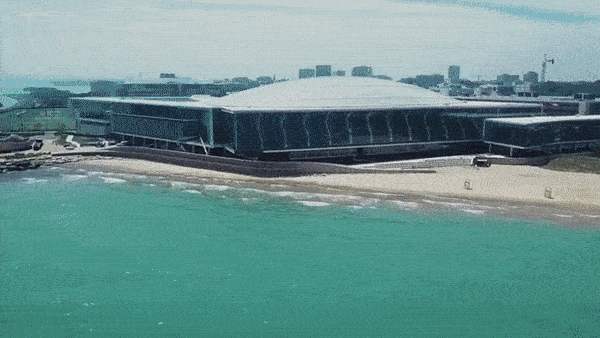 We've narrowed down a long list of extremely impressive facilities to ten of our favorites. These gyms feature equipment from Sorinex, Rogue Fitness, Power Lift, TechnoGym, Keiser, Concept 2, Atlantis, and others. If you're looking for inspiration for your garage gym, look no further. In no particular order, we present ten of the craziest D-1 University Training Facilities on the planet.
1. Ohio University Strength and Conditioning Facility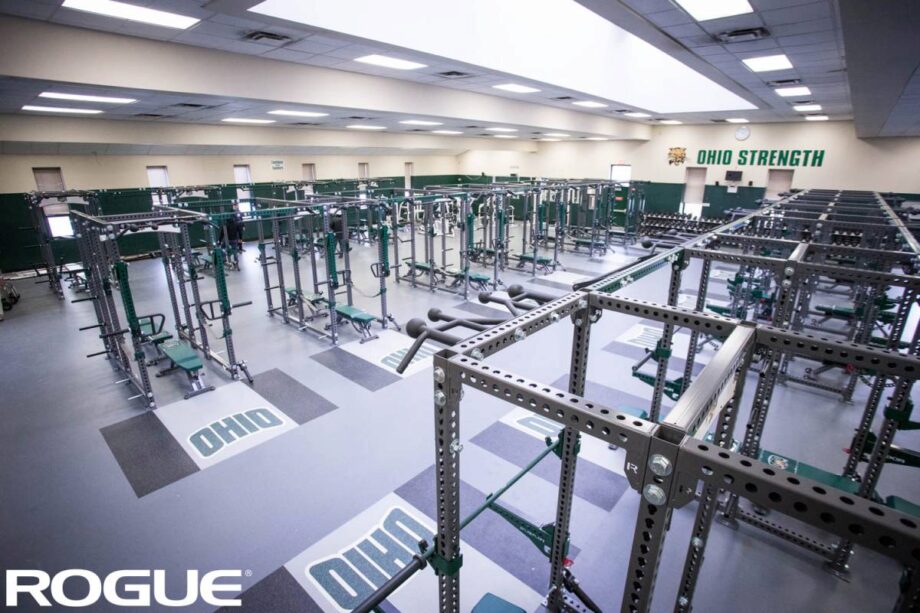 It's no surprise that Ohio University decided to go with Rogue Fitness to design and install their weight room. Rogue Fitness is based out of Columbus, Ohio and has made a name for the area in the strength training world. First, Rogue outfitted Ohio State University's gym and I would guess that upon seeing the fantastic install there, that Ohio University wanted to follow suit and use a local company.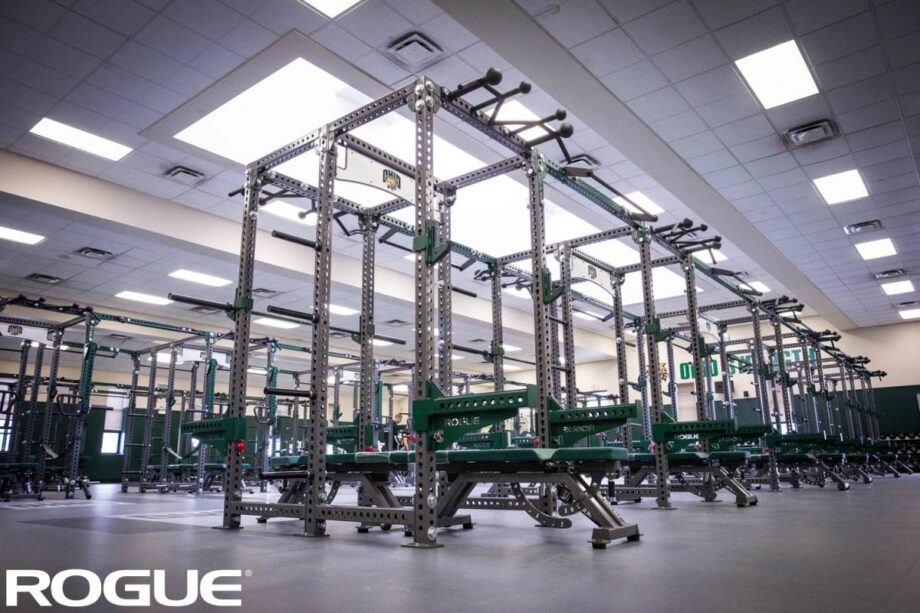 The Ohio University Carin Strength and Conditioning Center is the main training facility used by Ohio University Athletics. This is what Ohio University had to say about the facility: "The $1.1 million facility provides state-of-the-art equipment and enough space to accommodate 100 student-athletes training at any given time. Built completely from donations by Ohio University alumni and friends, the center was dedicated on Friday, November 12, 1999, and has since greatly enhanced the opportunities for and abilities of 600 Bobcat student-athletes who use the facility each year."
Rogue Fitness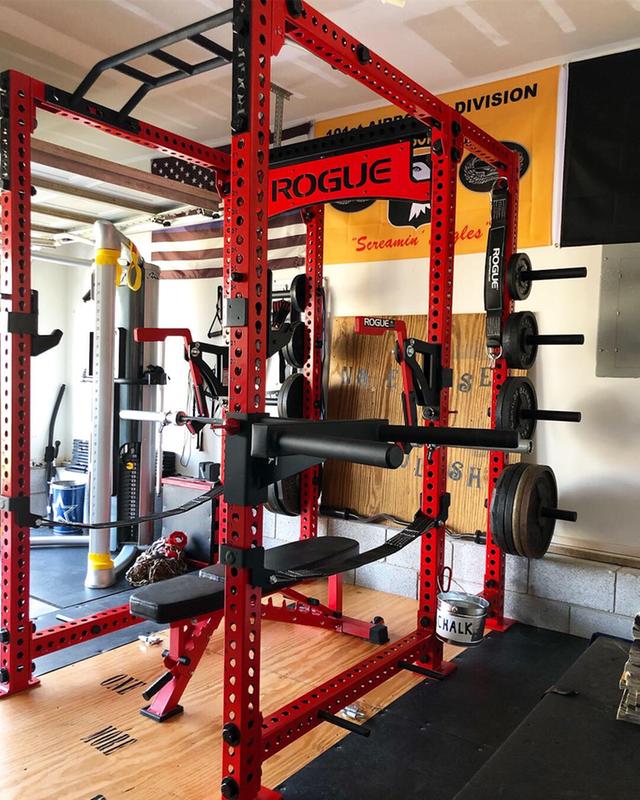 Rogue RM-6 Monster Rack 2.0
Rogue designed the fully customizable power racks of the Monster Series to meet the high demands of the top professional, collegiate, and high school athletic facilities in the world. We used bigger, 3x3" 11 Gauge Steel tubing, over-sized 1" hardware, and a bolt-together design for easier portability and affordable shipping. With Version 2.0, we've also rolled out a number of new features, including a wide spectrum of custom color options, laser-cut pin position numbers on the uprights and bottom crossmembers, and a keyhole pattern on the sides of each upright–creating compatibility with more add-ons and attachments.
The main portion of the training facility features a Rogue Monster Series 2.0 Rack setup with 32 squat stations. The Monster Racks are outfitted with custom powder-coat and arch logos, Lever Arms, Spotter Arms, Safety Straps, Crown Pull-Up Bars and is connected via matching cross-members. Every part of the racks is made in the USA with a majority of it being made in-house at Rogue's 600K+ Sq. Ft. Facility in Columbus Ohio.
Rogue Fitness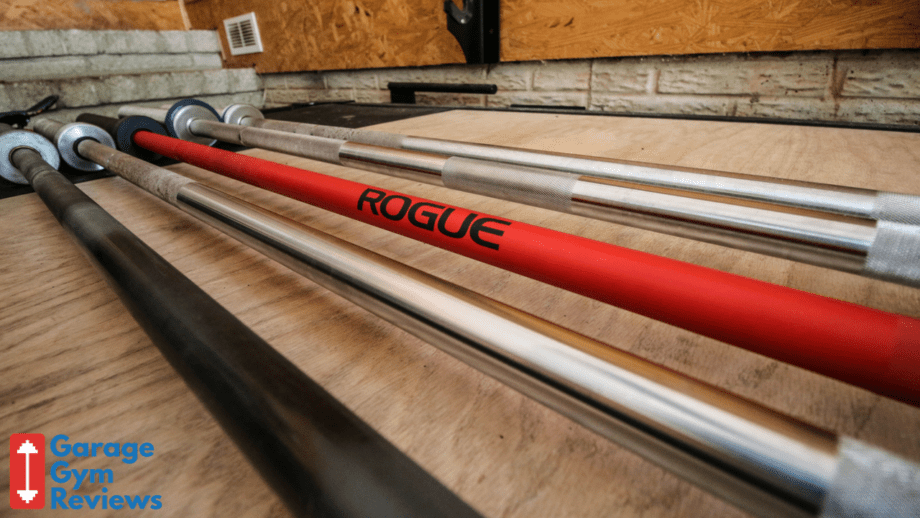 Rogue Ohio Bar - Cerakote
This new variation on our flagship 20KG Rogue Ohio Bar introduces a unique polymer-ceramic composite coating—popularized in the gun industry for its durability in thin applications. Available in a range of custom-color finish options with exclusive Rogue branding, this model is a genuine game-changer.Fully machined and assembled in Columbus, OH, the Ohio Bar continues to represent the highest level of precision engineering. The Cerakote Finish version maintains all the key features of the standard Ohio Bar, including a 190,000 PSI tensile strength shaft, dual knurl marks, quality composite bushings, and a lifetime warranty against bending.* A barbell that has always delivered multi-purpose versatility and dependable performance now also offers the ability to match it with the colors of your gym / school / team etc.This version of the Ohio Bar is distinct for its use of an advanced ceramic-based coating, originally established in the gun industry for its remarkable durability in thin applications. This unique finish can deliver superb abrasion/wear/corrosion resistance over time—100X that of standard black zinc—and it's available to order in a range of exclusive colors, with the Rogue logo branded on the center of the shaft. See the menu for current color combination options.This steel is manufactured in the US and has proven to be one of the best steel variants for a multi-purpose barbell.Each barbell shaft is ground and polished prior to machining which allows the bar to have a very smooth finish.Every bar shaft is machined in Columbus, Ohio, with painstaking attention to detail. The knurling has been carefully refined over the years, as well, for a firm but non-abrasive grip (there is no center knurl). We assemble the Ohio Bar with a snap ring design and quality composite bushings, which act as bearing surfaces between the bar sleeve and bar shaft, producing normal "whip" during Oly weightlifting but enough stiffness to hold for heavy powerlifting.Specifications:Manufactured in Columbus, OH Diameter: 28.5MM Weight: 20KG Dual Knurl Marks for Oly and Power lifts No Center Knurl 190,000 PSI Tensile Strength Steel Composite Bushings NEW Polymer-Ceramic Composite Finish option in Custom Colors w/ Rogue branding Sleeve Finish Options: Cerakote or Chrome Lifetime Warranty Against Bending*
In addition to the Monster Series Racks, the weight room has custom painted AB-2 Adjustable Benches that match the racks and was the first gym to feature custom Cerakote Ohio Bars. The Cerakote Ohio Bars feature both a custom Cerakote paint job and logos on both the center of the bar and on the sleeve collars. After using the Rogue Cerakote Bars for nearly two years, we can say definitively that Cerakote is one of the most durable coatings we've seen on a bar. You can see our full review of the bars here.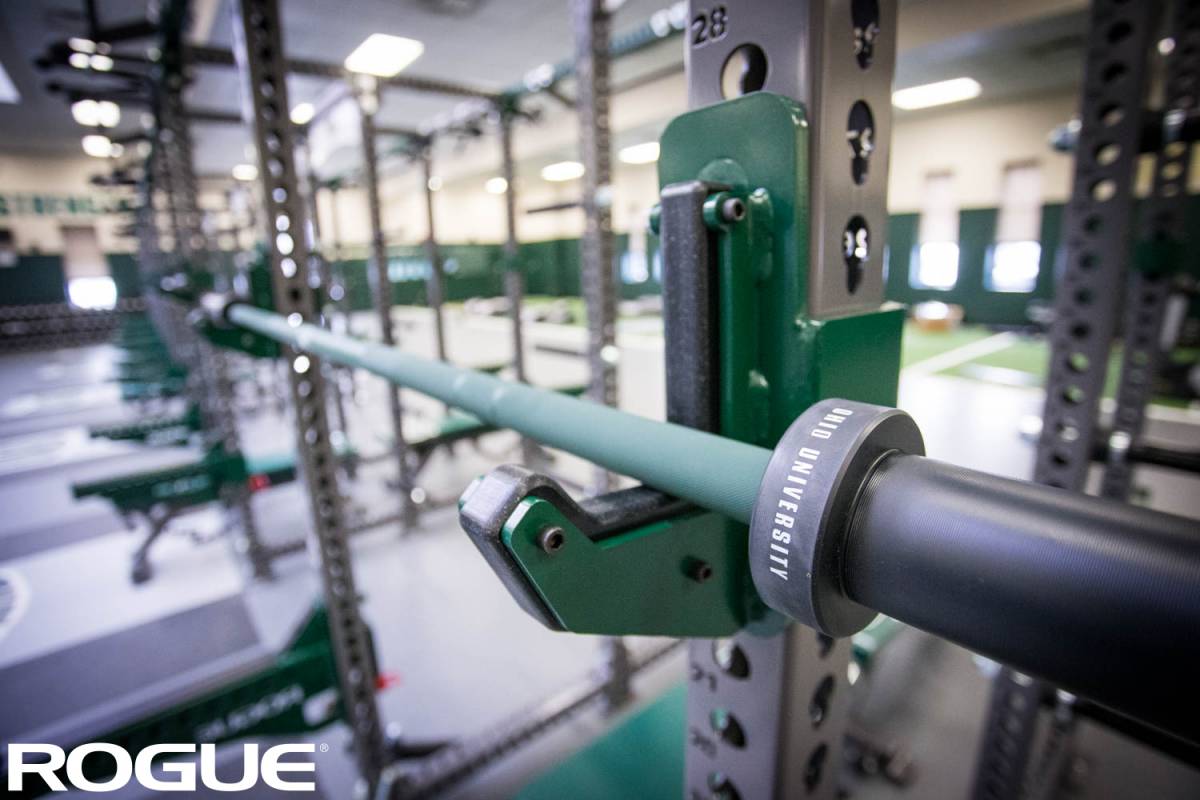 The Ohio University Gym is an extremely impressive gym and one of the best installs we've seen Rogue Fitness do to date. Despite this, there are still many others that we'll show on our list that in all honesty, blow this one away.
2. Oregon University Football Training Facilities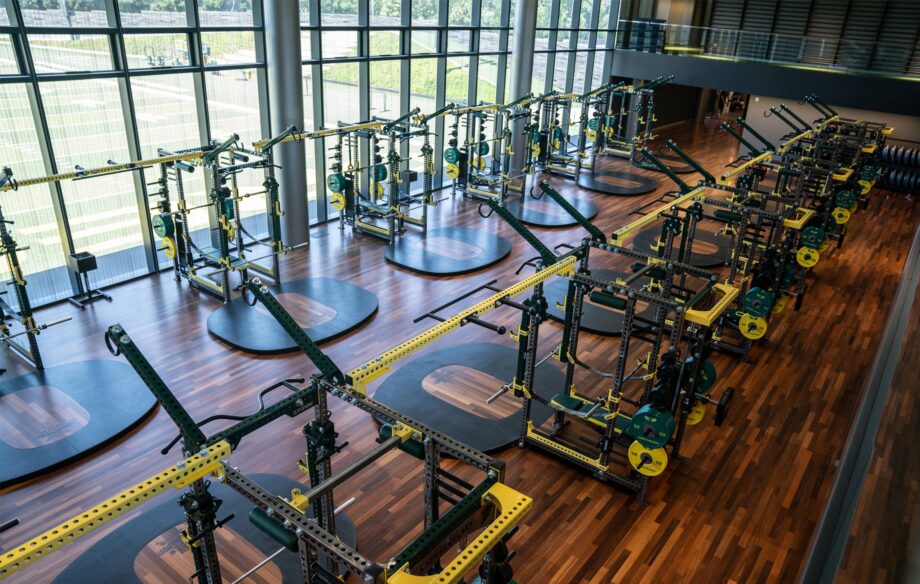 Oregon University, situated near Nike's world headquarters are notorious for having some of the coolest jerseys, shoes, and apparel. But, the excess doesn't stop there. With the newly renovated Hatfield-Dowlin Complex, Oregon University has solidified themselves as having one of the most awe-inspiring weight rooms in the country.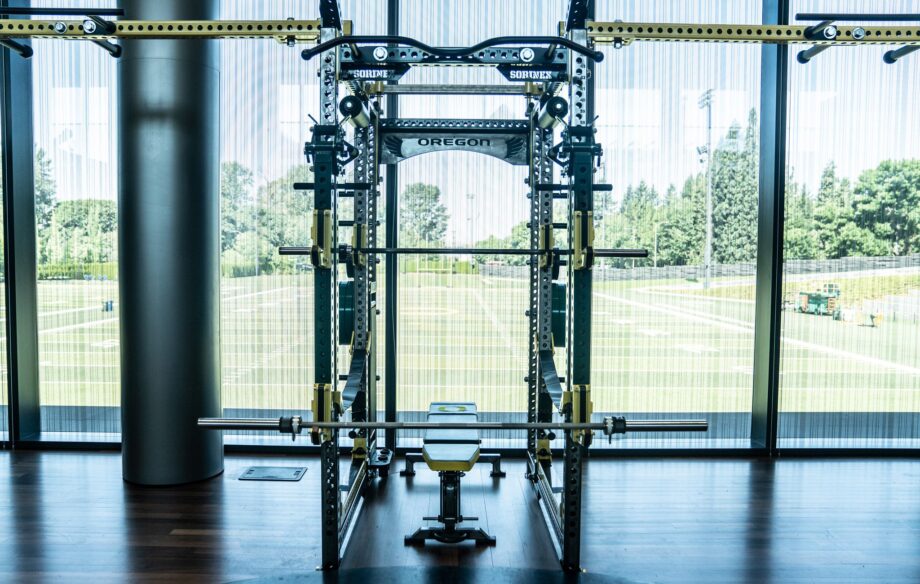 When the Hatfield-Dowlin Complex was originally designed, the equipment manufacturer was Power Lift. All of the racks, benches, and other equipment featured Power Lift's signature logo and it was no doubt impressive. However, with a new strength coach being hired in 2018, Aaron Feld with his signature mustache immediately removed the Power Lift equipment and went with his personal favorite equipment manufacturer, Sorinex Exercise Equipment.
Sorinex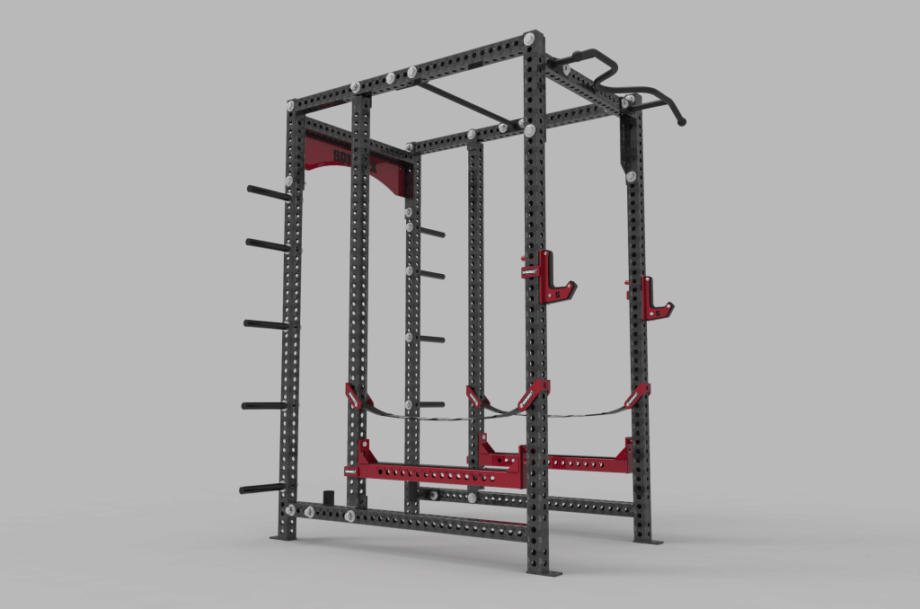 Sorinex Base Camp Rack
Sorinex Base Camp was designed out of necessity. In the early, 2000's, many coaches wanted customized racks; a band peg here, a storage horn there. Some wanted bumpers only, some wanted 35lb plates, and some wanted none. Keeping up with all of it was a nightmare, especially if there was a change in coaches, philosophies, or even of new plates were bought. Base Camp became the easy and obvious decision for coaches who could not decide between full power racks and double half racks, because Base Camp gave them both, with an option to change or add more later. The Sorinex Base Camp gave safety to step ups and Bulgarian squats by bringing the athlete inside the rack and allowing them to switch their feet unloaded and have a place to crash. Base Camp also allowed more people than ever to train at one station which also increased the carrying capacity of the facility. The configurations and adjustments were endless and obsolescence was eliminated. The new 4-Way Hole Design allowed bars, brackets, and add-ons to be secured in any direction front to back or side to side; Base Camp is limited only by lack of creativity. The holes confused some, but because of the 4-Hole Design, there was built in room for change. Thus, a new proven concept; room for constant growth, change, and efficient training time use was created and forever changed the strength training equipment world.First 4-Way Hole Design Numbered Holes 3″ x 3″ Welded Rack Sides 11 Gauge Steel 1″ Bolt Fasteners Custom Logo Options
Sorinex is known for doing crazy gym installs and as you'll see, their work makes up the majority of this list. The centerpiece of the Oregon University gyms are the massive Sorinex Base Camp Uber Racks done in Sorinex' signature Clear Grind powder coat, along with UO Green and UO Yellow accent colors. I may be biased because I have one of these racks in my garage, but they are one of the best currently available. You can see our full review on the Base Camp here.
Sorinex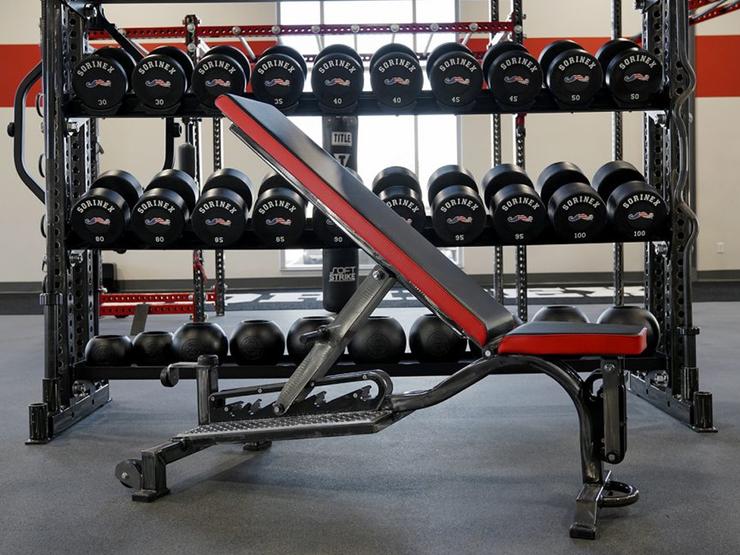 Sorinex 0-90 NP3 Adjustable Bench
The Sorinex NP3™ Adjustable Bench is the premier bench in our industry. Known for its durability and portability, it is adjustable to 6 positions; 0 ÌŠ, 15 ÌŠ, 30 ÌŠ, 45 ÌŠ, 60 ÌŠ, 75 ÌŠ. Urethane wheels and an integrated vertical rubber storage stopper make this bench extremely versatile and easy to move in and out of working areas. Brand your bench to your rack and make it stand out with colors and logos unique to your program.Structure The entire frame is constructed of 11-gauge and 7-gauge 2" square steel bent tubing with but-type miter corners and 70,000 PSI full-pass mig welds all open ends capped with welded-on steel/ rubber caps. All uprights are supported and gusseted for maximum integrity. All attachment bolts are 1/2" diameter grade #5 with anti-vibration locking systems. Integrated urethane wheels. Wide set 10" bearing blocks for 3⁄4" pivot pin to ensure back pad stability and longevity. Flat stock, gravity-activated angle support. Minimal gap (1 1/2") area between seat and back pad when bench is in 0 ÌŠ (horizontal) position. Bench pads are made with 3/4" birch plywood backboard with all corners and edges rounded; 1" thick high-density, non-moisture absorbing, closed-cell rebound foam covered with fully-sewn premium naugahyde leather. Bench can be stored in upright position when not in use.
The 16 Base Camp Uber Squat Racks include all of the trimmings such as Adjustable Jammer Arms, Batwing Pull-Up Bars, Safety Straps, Leg Rollers, Engraved Sandwich J-Cups, Triphasic Bars, and more. The racks are all connected by High Bridges and face floor to ceiling windows that look out onto a football practice field.
Despite the racks being as impressive as they are, they still pale in comparison to the custom Oregon "O" Weightlifting Platforms that are secured to the front of each rack. The platforms feature rubber on the outside and hardwood flooring that matches the flooring on the rest of the gym. They are by far one of the most impressive platforms I have ever laid my eyes on.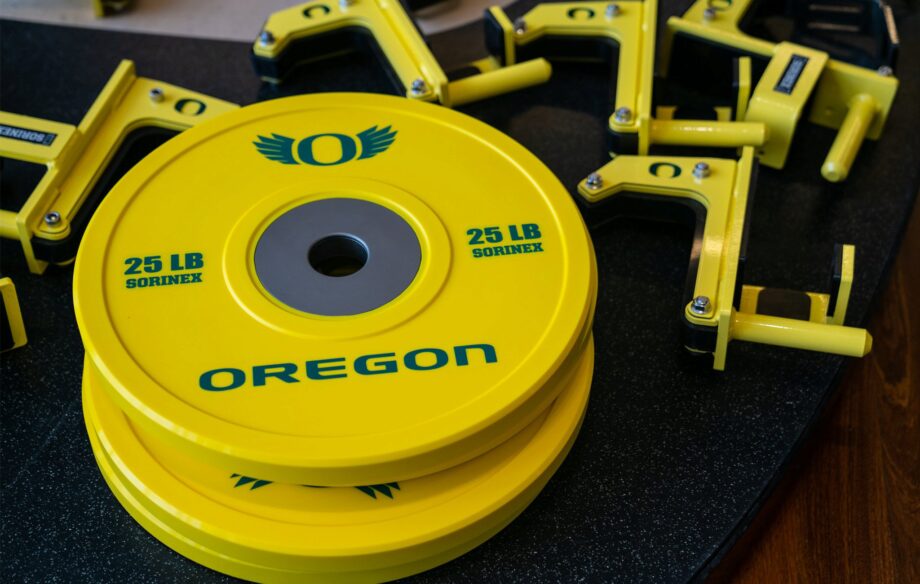 In addition to the platform, the weight room features 7,360 LBs of Sorinex Bosco Bumpers, and 13 custom Iron Bear Storage Solutions. The Oregon University Weight Room is out of this world and one of the gyms we'd most like to visit.
3. Texas A&M Football Weight Room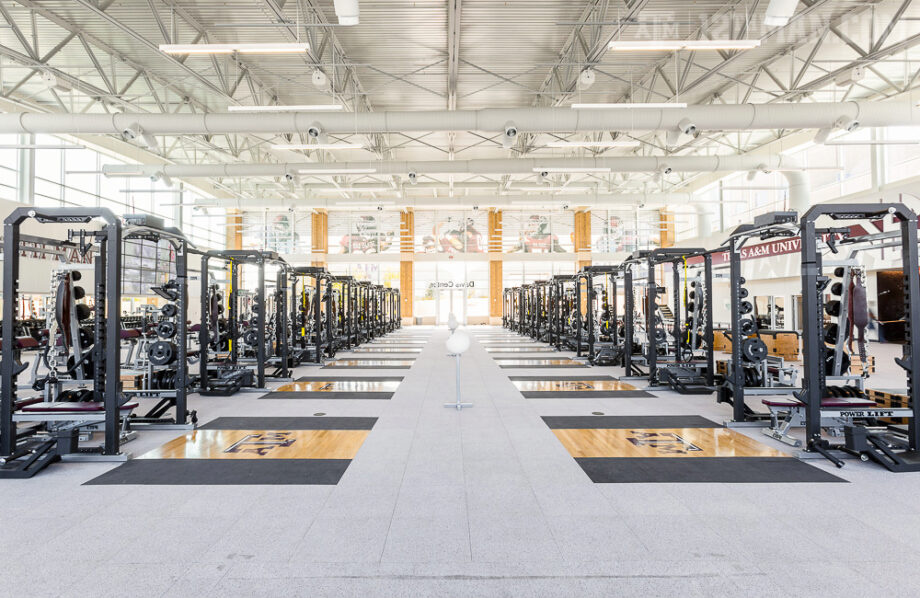 Texas A&M, an SEC Football powerhouse has extremely impressive facilities for their football players. As with most schools, the football team is where the most amount of money is spent because it's where the most amount of money is gained. The Davis Player Development Center is not only one of the nicest weight rooms in the country, it's one of the most technologically advanced.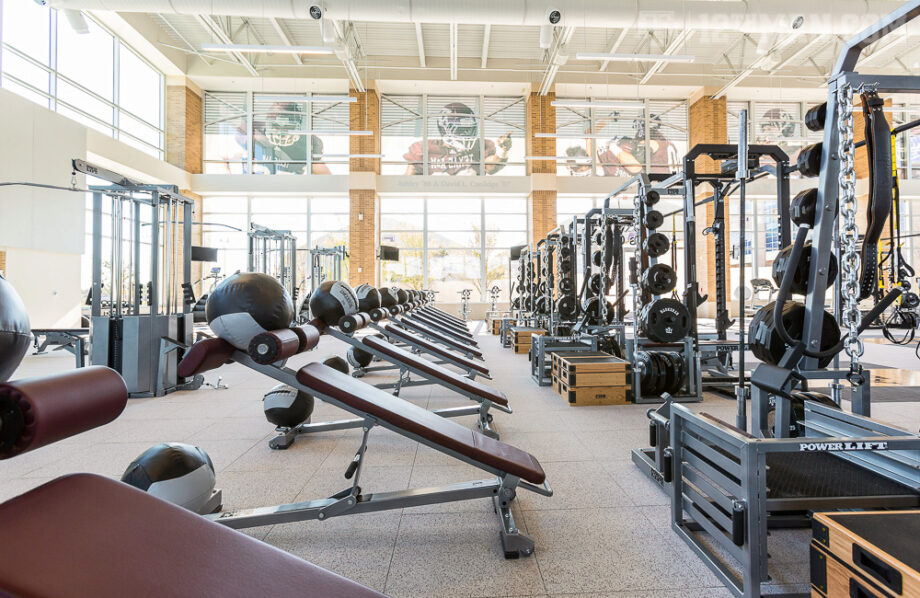 As with any weight room designed to be used by football players, the best squat racks are the main focus of the gym. The Texas A&M Football Training Facility features 16 different custom Power Lift Signature Power Racks. The Power Lift Power Racks are 9 ft. tall, and feature 7-gauge steel uprights, which is some of the strongest and thickest steel used in the industry.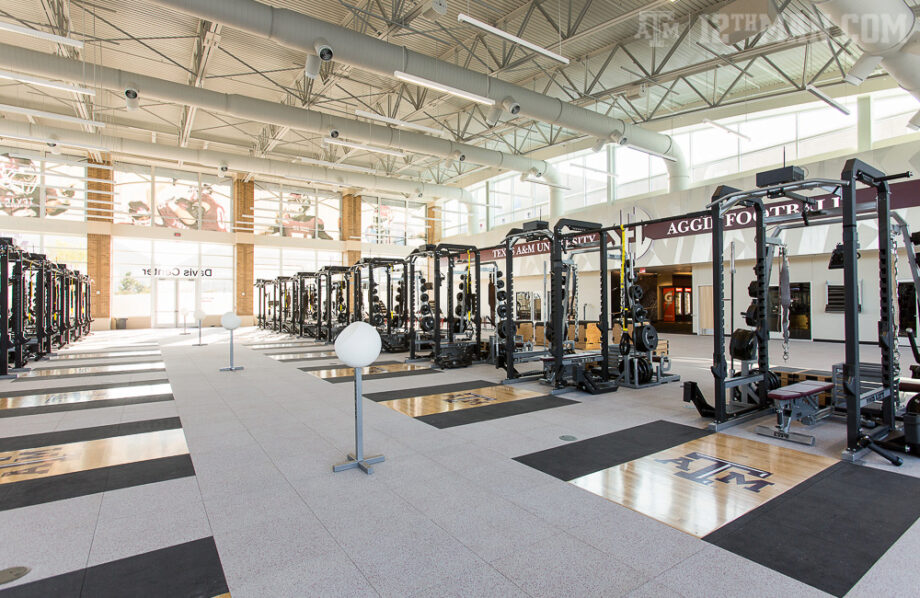 Although the squat racks used by Texas A&M are impressive, the technology used on the racks is even more so. All 16 racks are equipped with an EliteForm Camera System that tracks movement patterns, reps, sets, bar velocity and more. This data is all displayed along with the days workout on a tablet attached to the right upright of the racks. This is truly one of the most technologically advanced rack setups we've seen and is quite unique.
Power Lift Equipment is showcased throughout the weight room, but so are some other equipment companies, specifically, Iron Grip Dumbbells from 5 LBs up to 150 LBs in doubles. These are not only extremely expensive dumbbells, but also incredibly durable.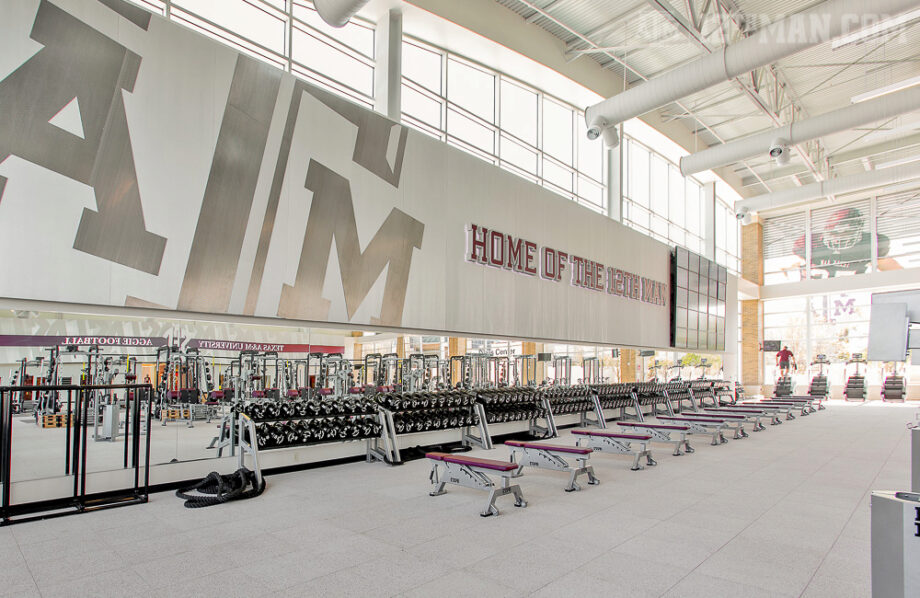 Every rack has it's own inset platform that allows for there to be wide open space that is accentuated by the many windows throughout the facility. The Texas A&M Davis Player Development Center ended up costing $8.45M for the 20,000 SF facility and is one of the centerpieces of the College Station Campus.
4. Northwestern University Football Weight Room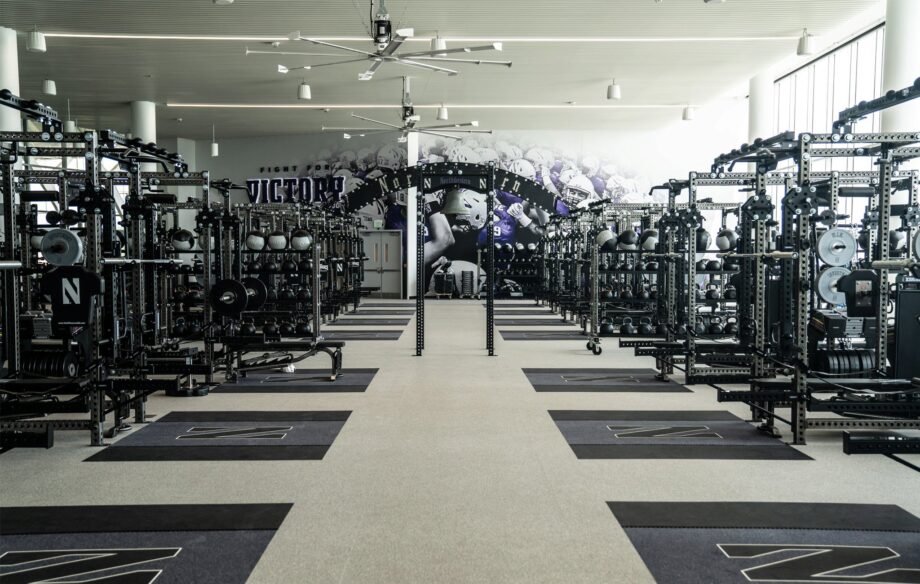 Northwestern University decided they wanted one of the most overdone, out of this world training facilities in the world., and I think they pretty much accomplished it. First off, the Walter Athletics Center is literally sitting on the beach. Not kidding; the Northwestern Football Team's practice facility and weight room overlooks the ocean and it's absolutely beautiful.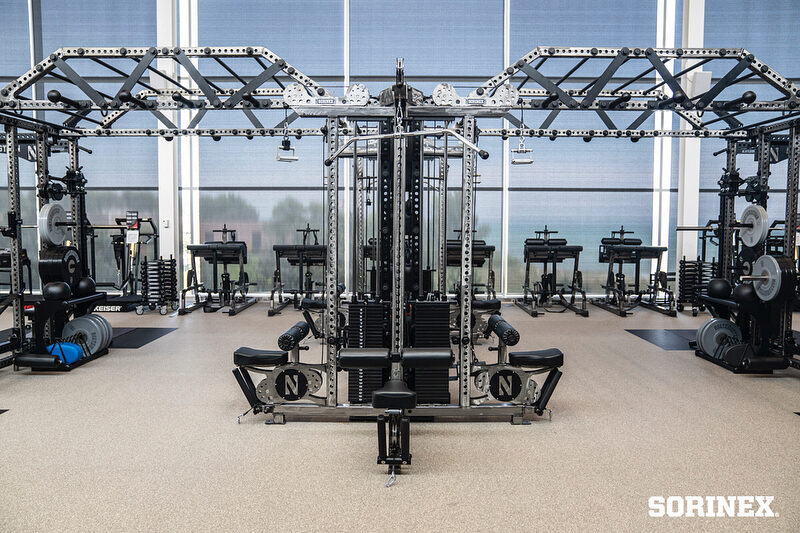 Although the views are stunning, being the equipment geek we at Garage Gym Built are, we are more impressed by the legendary selection of custom equipment that makes up the inside of the weight room. Like many of the top university training facilities, Northwestern chose Sorinex Exercise Company to outfit their equipment.
Sorinex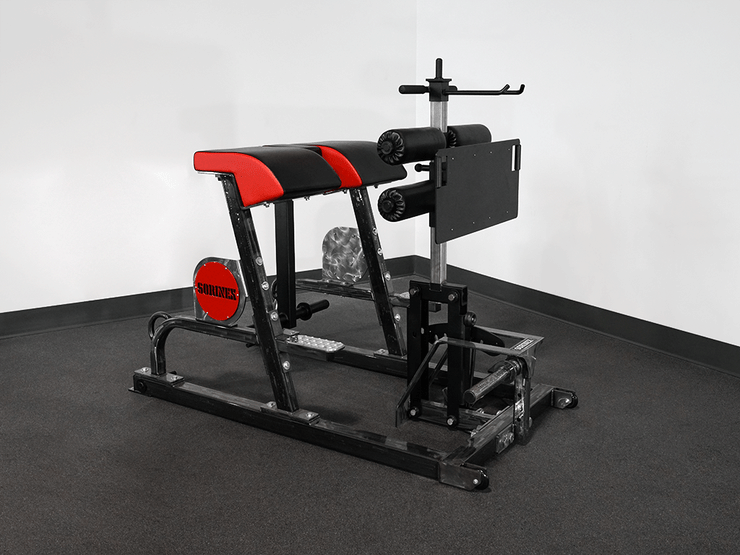 Sorinex Frankenhyper Machine
The Sorinex Original Frankenhyper was created in 2013 and combines the Glute Ham with a pendulum hip extension. Add plate storage, ball storage and a tab for handles that allow you to increase upper body work capacity, and you have a monster posterior chain training machine that only takes up a few square feet of space in your facility. The Frankenhyper allows for the entire rear of the body to be worked through contraction and decompression unlike anything before. The pendulum style weight arm is used for swinging hip extensions and can also be used for upper body movements like rows, face pulls, bicep curls, triceps, pull thru's, presses, TKE's, YTM's. Incorporate abdominal movements in the supine position with integrated med ball storage within arms reach. Each Frankenhyper comes standard with bumper weight plate storage and band attachment points.
The weight room features 16 Sorinex Base Camp Uber Racks with 16 Half Rack Add-On's, Adjustable Jammer Arms at every rack, 12 Frankenhypers, and an insane amount of custom equipment such as Custom Rolling Iron Bear Storage Carts, Bumper Wings, and "Wildcat Pillar" Stations that allow Lat Pulldowns and Storage Attachments to wrap around foundational pillars. In addition to all of the custom work, each rack is outfitted with its own PowerBlock Dumbbell station.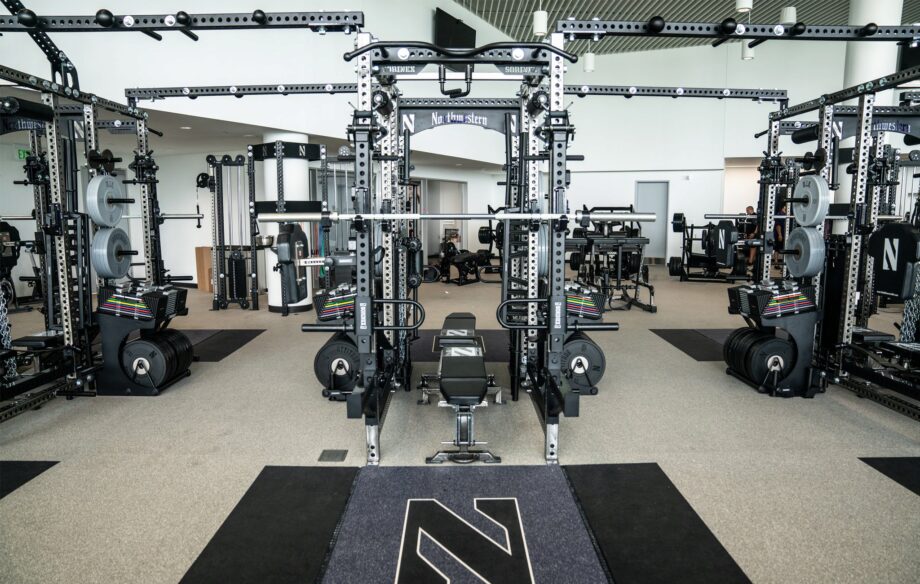 The entire room utilizes Sorinex' signature Clear Grind Powder Coat Finish, including on their benches, racks, and accessories. Along with all of the equipment is 18,800 LB of Sorinex Bosco Bumpers (yes, you read that right, 18K+ LB of bumper plates) as well as 14,760 Sorinex Prime Bumpers. I'm unsure the exact cost of the weight room, but the entire Athletics Complex cost $260 million and has been listed as the most expensive practice facility in the Big Ten.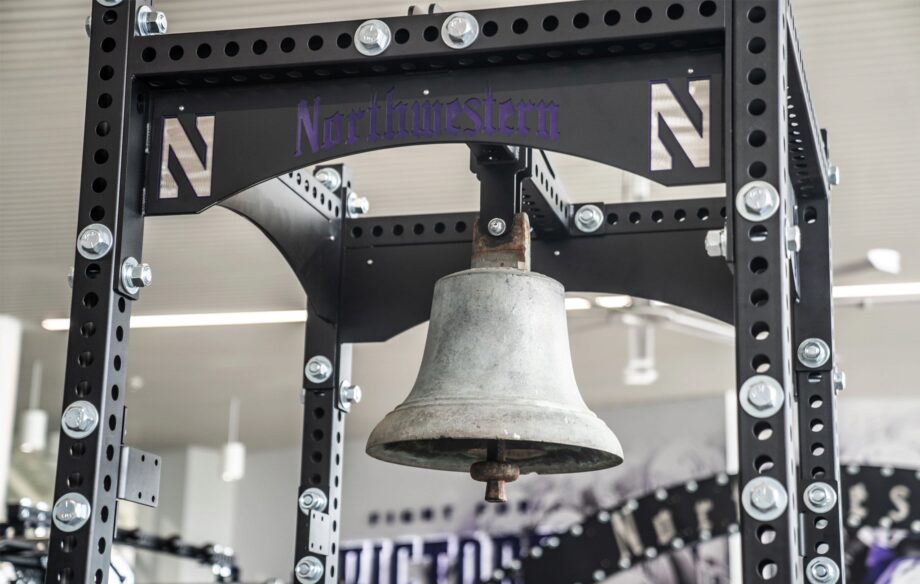 If you're trying to recruit the best players in the country, this is a great way to do it. One piece of the room that we've yet to mention yet, however, is the Custom PR Bell Tower that is the centerpiece of the entire gym. It looks beautiful and probably sounds even better when hit. If you can't get strong in this facility, you can't get strong anywhere.
5. University of West Florida Weight Training Facility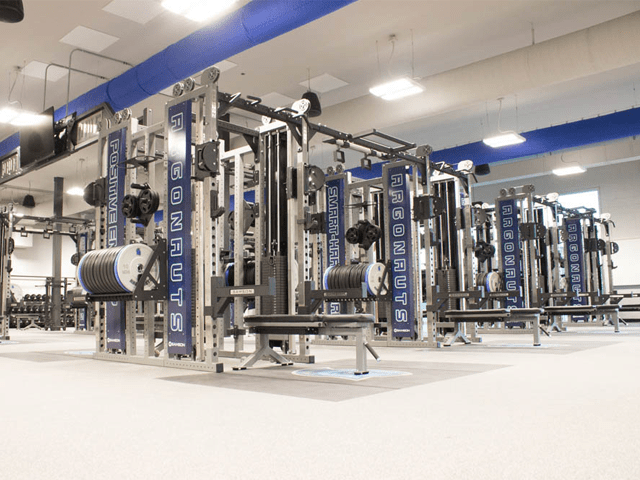 The University of West Florida is likely not a college you'd think of if asked to guess the most outstanding weight rooms in the country, yet, it has to be near the top. The UWF Gooden Training Facility is a $7 million, 32,700 SF facility that on the University of West Florida's Pensacola Campus.
The main attraction to the entire weight room is the Samson Equipment Custom Double Sided FTR Racks with Custom Graphics. Samson Equipment is known for doing over the top artwork on racks that allows every teams racks to look different from the competitions. The FTR Racks feature 7-Guage steel and utilize weight stacks between the uprights to allow a wide range of movements to be performed in a single rack.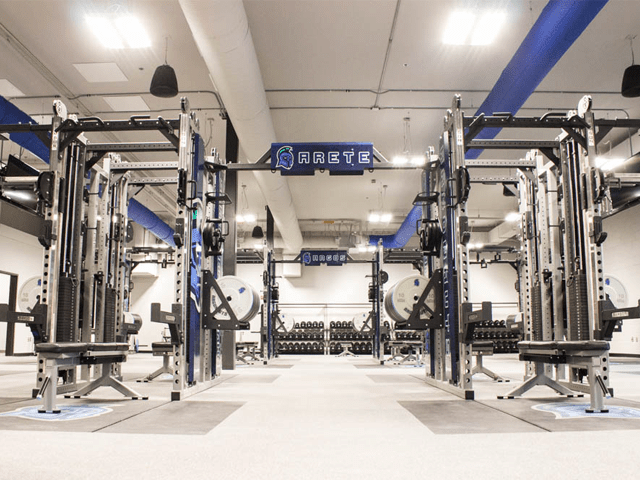 In front of every rack is an inlaid platform featuring the Argonauts logo and on the sides of the rack are custom bumper plate storage racks as well as DC Blocks for jerk block work. Not only are the racks high quality, but they're also technologically advanced with PerformX Tracking Systems inlaid into the platforms along with HD TV's throughout the facility.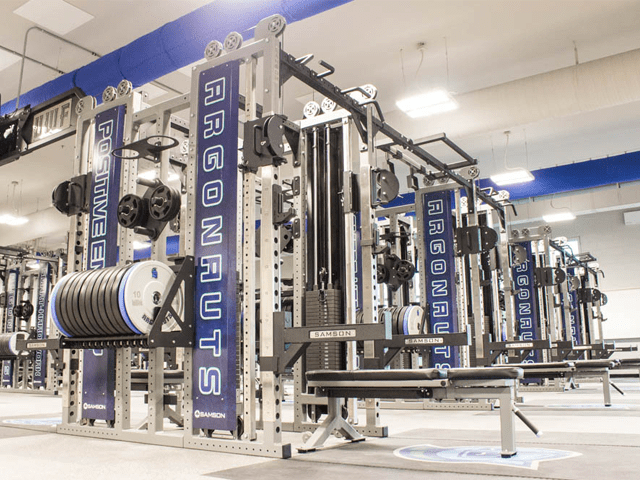 Although many of you have never considered the University of West Florida a football powerhouse, their weight room is a force to be reckoned with.