We test and review fitness products based on an independent, multi-point methodology. If you use our links to purchase something, we may earn a commission. Read our disclosures.
The Sorinex Base Camp Squat Rack is, put simply, one of the best squat rackswe've ever tested. Combining exhaustive attention to the details, endless customization, incredible build quality, and an indescribable "cool" factor, the Sorinex Base Camp Squat Rack and Uber Package is quite possibly the best squat rack being made today.
Sorinex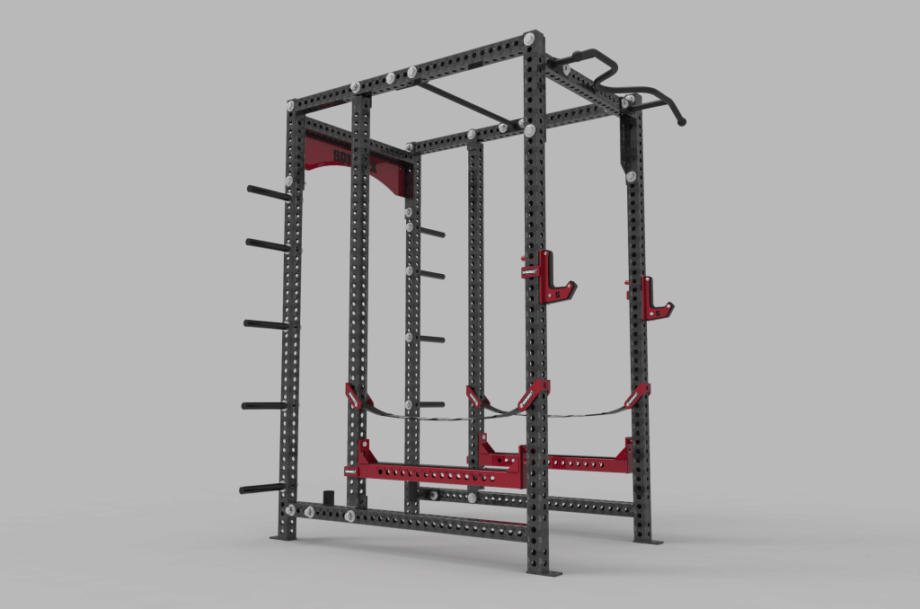 Sorinex Base Camp Rack
Sorinex Base Camp was designed out of necessity. In the early, 2000's, many coaches wanted customized racks; a band peg here, a storage horn there. Some wanted bumpers only, some wanted 35lb plates, and some wanted none. Keeping up with all of it was a nightmare, especially if there was a change in coaches, philosophies, or even of new plates were bought. Base Camp became the easy and obvious decision for coaches who could not decide between full power racks and double half racks, because Base Camp gave them both, with an option to change or add more later. The Sorinex Base Camp gave safety to step ups and Bulgarian squats by bringing the athlete inside the rack and allowing them to switch their feet unloaded and have a place to crash. Base Camp also allowed more people than ever to train at one station which also increased the carrying capacity of the facility. The configurations and adjustments were endless and obsolescence was eliminated. The new 4-Way Hole Design allowed bars, brackets, and add-ons to be secured in any direction front to back or side to side; Base Camp is limited only by lack of creativity. The holes confused some, but because of the 4-Hole Design, there was built in room for change. Thus, a new proven concept; room for constant growth, change, and efficient training time use was created and forever changed the strength training equipment world.First 4-Way Hole Design Numbered Holes 3″ x 3″ Welded Rack Sides 11 Gauge Steel 1″ Bolt Fasteners Custom Logo Options
Video Review
Setup
If you can't tell the Sorinex Base Camp is massive and one of the best squat racks. To be honest, I didn't realize its full size until an 18 wheeler pulled up in front of my house and a man wearing Jordan 11's and a Sorinex T-Shirt knocked on my door asking for help unloading.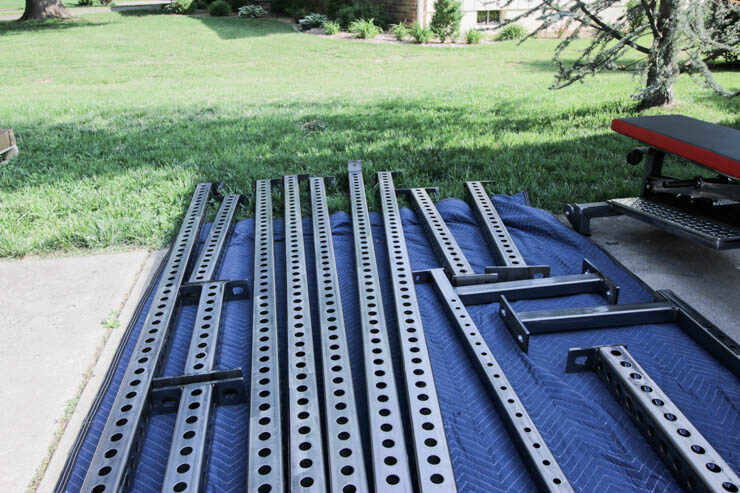 I ran out to the street trying to hold my excitement in as much as I could, opened up the back door on the trailer and to my astonishment, the rack and other accessories took up pretty much the whole trailer.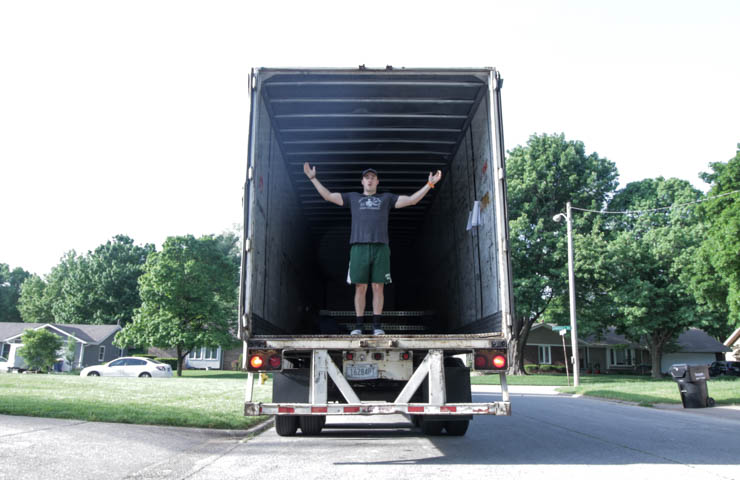 Seriously, I ordered so much gear that they sent an entirely separate truck to deliver my gear. It must be understood that things like this are reasons why Sorinex costs more than more consumer-oriented equipment companies like Rogue Fitness. However, as I'll discuss later in the article, Sorinex is making efforts to not just focus on big D1 University installs, but also garage gyms.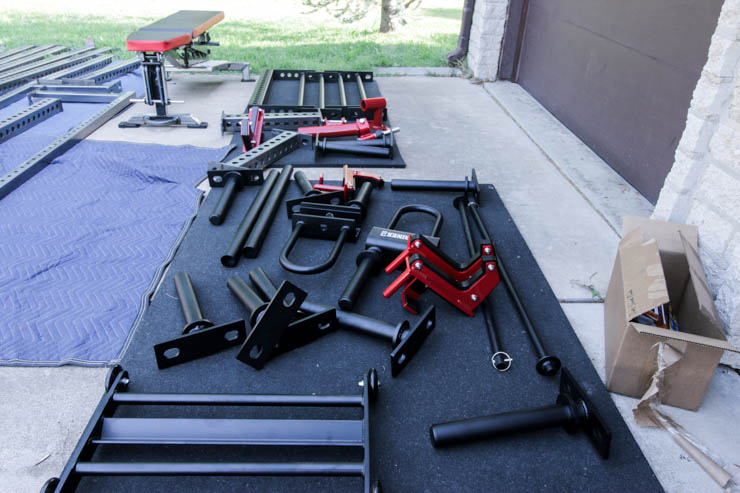 Thankfully, because Sorinex knew I was going to be doing a review, they sent Dan Mckim (4-time Highland Games Champion and all around awesome human) down to help tour me through the decisions behind all of the features and also aid in assembling the rack.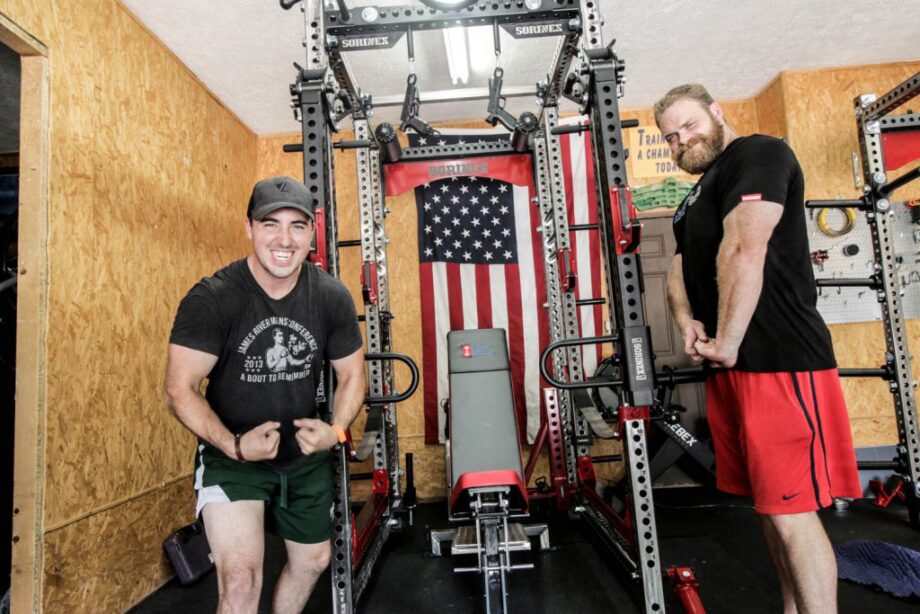 The Base Camp has much fewer bolts than other similar sized racks thanks to it's welded panels, but it still takes quite a bit of firepower to get those oversized 1″ bolts connected.
When it was all assembled, it became apparent very quickly that what Sorinex has been doing with their racks is pretty special.
Sorinex Base Camp Squat Rack Review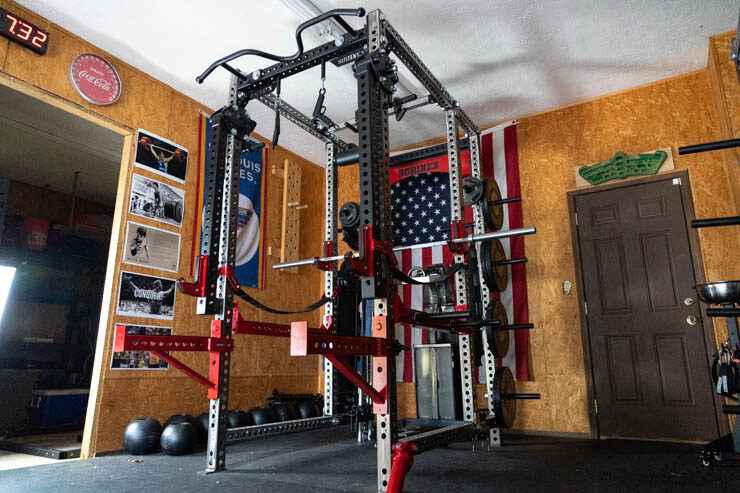 The Sorinex Base Camp is one of the most used squat racks among Division 1 Athletic Programs in the US. It's big, durable, insanely customizable, infinitely expandable, and just downright impressive.
Seriously, there are few things in this world I've seen that combine steel and sex-appeal like a Sorinex Base Camp Rack.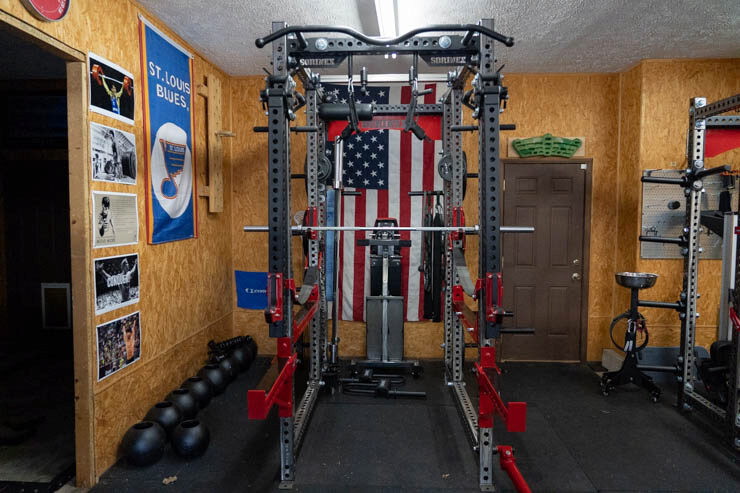 And as I said, I'm not the only one who thinks this. Here are other programs, gyms, and clubs that use the Sorinex Base Camp Squat Rack:
US Navy Seals
US Air Force Special Operations Command
Denver Broncos
Los Angeles Lakers
New England Patriots
Los Angeles Kings
University of Oregon
Kansas University
University of Kentucky
and many, many more.
The Sorinex Base Camp is the rack of choice for many of the most elite, performance-driven organizations in the world. So, the question is, why in a garage gym.
Well, I want to make sure I answer this question before getting into the nuts and bolts, so to speak, of the racks. Does a garage or home gym need a rack that's the level of a Sorinex Base Camp? Definitely not. It's excessive in every sense of the world.
But, it's also one of the best racks in the world.
To some, their home gym is more than just a place they go for a few hours a week to get a good sweat on. Many people view their home gym as their oasis. Their therapist. Their counselor. Their retreat away from the world that allows them to improve both their mind and body.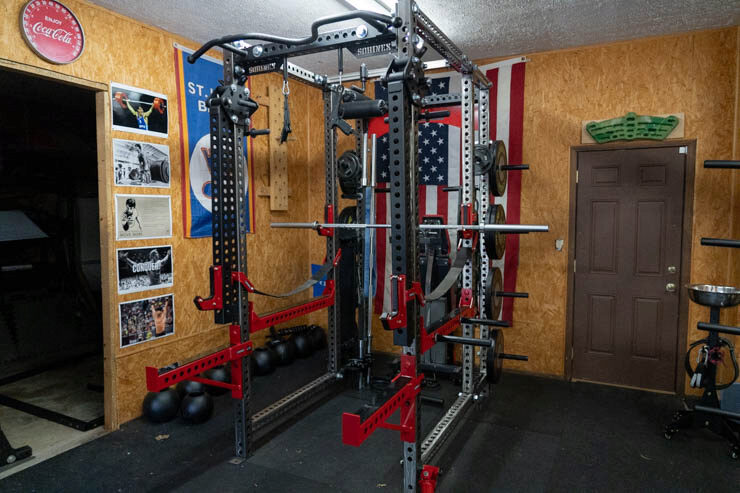 To some, their home gym is a catalyst for what they plan to accomplish outside of it. These are the individuals the Sorinex Base Camp is made for. It's not budget-friendly, ever on sale, or often found second-hand. When someone buys a Sorinex Base Camp, it's their "Rack for Life" (feel free to trademark that phrase Sorinex.)
So, what makes it one of the best squat racks available? Well, let's discuss that.
First, let's take a look at the specs:
First 4-Way Hole Design
Numbered Holes
3″ x 3″ Welded Rack Sides
11 Gauge Steel
1″ Bolt Fasteners
Custom Logo Options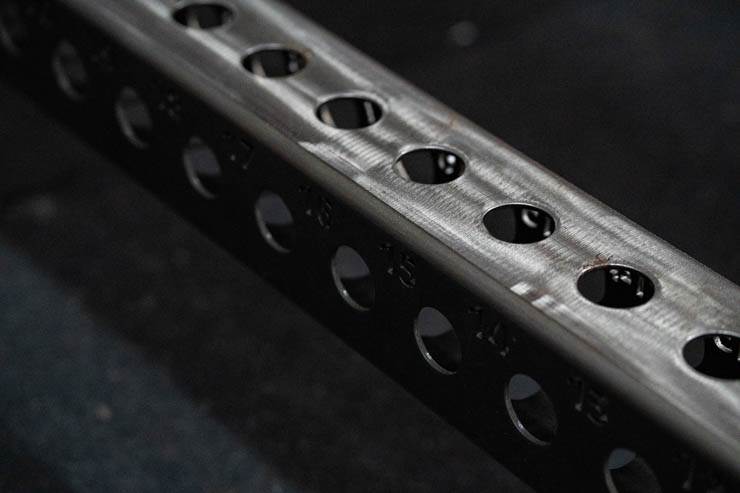 One of the unique things about Sorinex is the number of things they were the first to implement. Of them, the most significant, at least in my opinion, is the first 4-way hole design.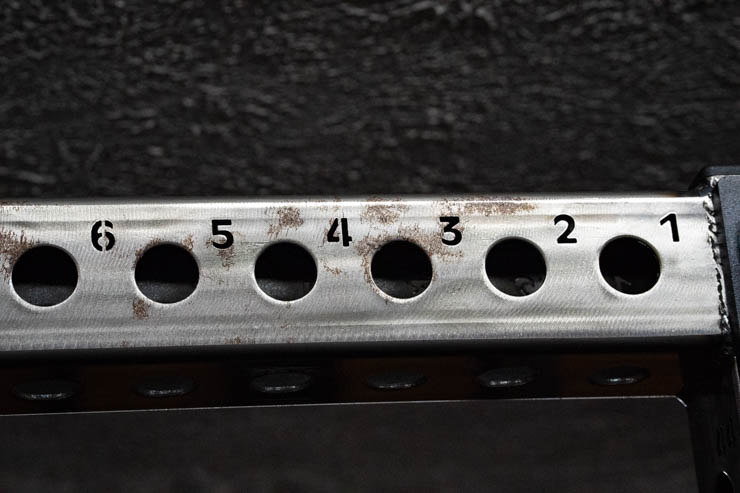 Most standard power racks have holes on the front of the uprights where the j-cups connect and a few on the sides spread out in random intervals. The Sorinex Base Camp Racks (as well as the XL Racks) have an equal amount of holes on every side of each upright. This means both the front and sides of the uprights have holes that attachments can be affixed to. This may sound small, but this opens up a world of possibilities for training.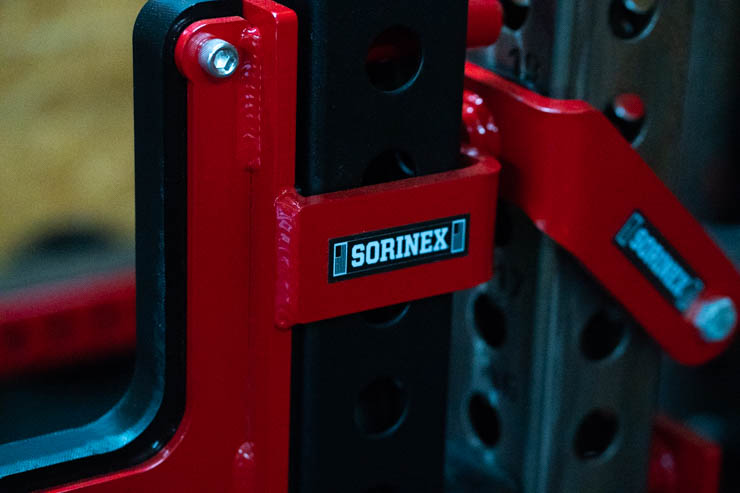 For instance, want to use the utility seat to bench off of? Simply put your J-Cups on the side of the rack instead of the back or front. Want to connect the utility pins on the side of the rack? No problem, you can put them at whatever height you'd like.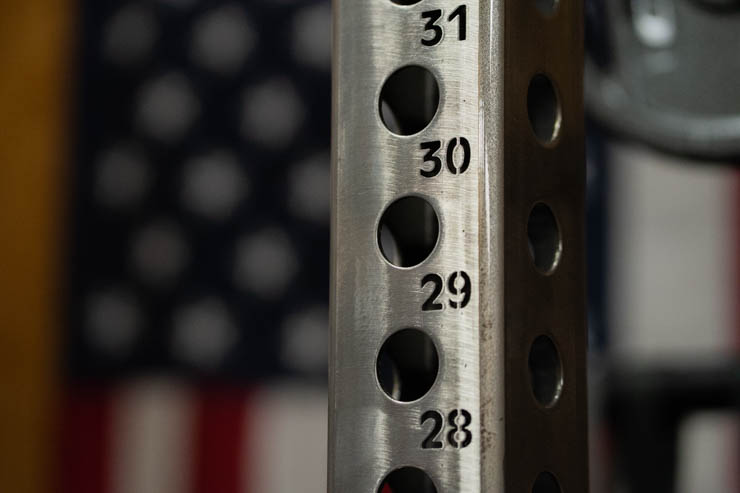 In addition to having so many holes, the front and back of the uprights, as well as the horizontal pieces, feature laser-cut hole numbers. After using the Rogue R3 for so long, this is a very welcomed change. This decreases my time messing with adjustments in the gym (something I don't like to do while training) and increases the amount of time I can spend actually putting in the work.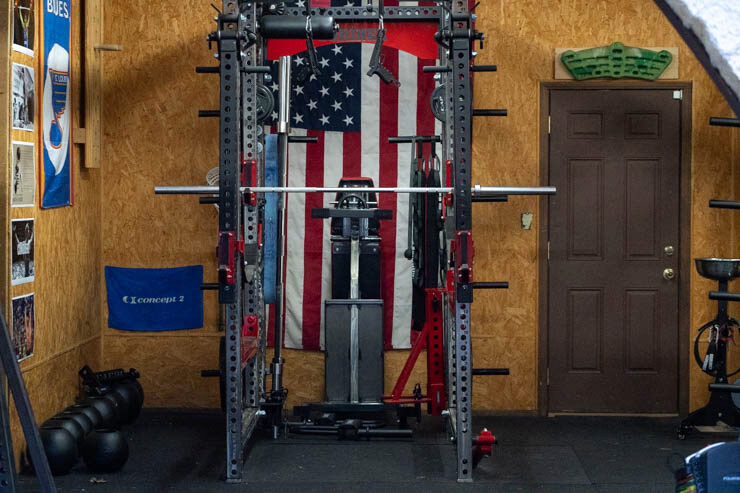 Efficiency is the name of the game for Sorinex Racks and for good reason. These aren't designed for the home gym user, they're designed for large football programs where you have 40+ absolute animals of all kinds pushing various weights at different speeds. If you're training guys at this level, you need to get them in and out as quickly and safely as possible.
If you're running a collegiate facility, I think it would be difficult to choose something besides a 4-way hole rack. The 4-Way Hole Design is vastly superior to the, yes more heavy-duty, slider style racks like what Legend Fitness and others offer. But, how much weight do you really need a rack to hold? And, the j-cups are going to break down before the uprights give way anyways. Nearly every rack offered today is going to stand up to the test.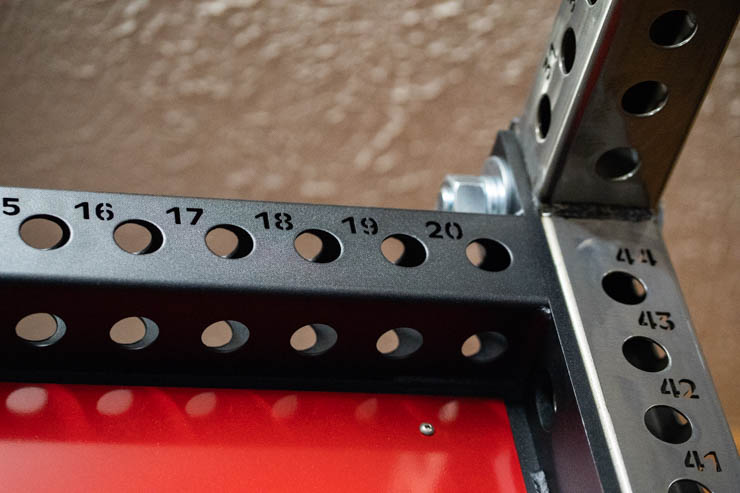 The typography of the laser-cut numbers is easily identifiable and large enough to see without having to get an inch from the rack. Due to the custom nature of the racks, Sorinex also offers the ability for laser-cut numbers on all four sides of the uprights…if that's your thing. It's excessive, but I like it.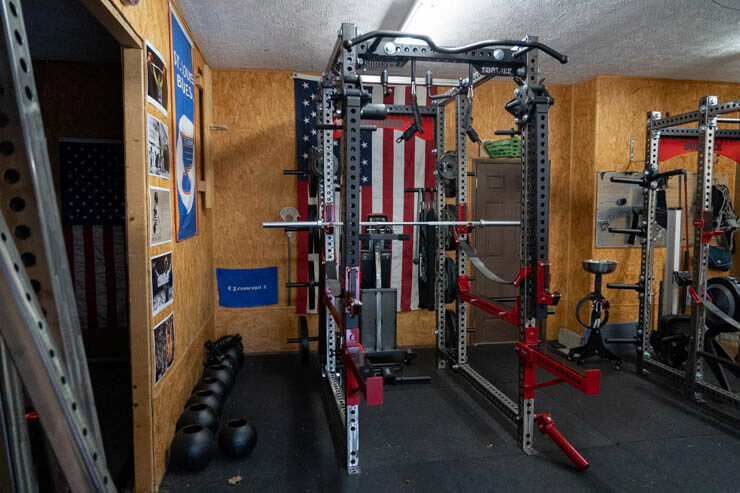 One thing about the Sorinex Rack that pictures don't really do justice is its size. It's massive. Seriously, after training the Rogue R3 for quite a few years (I was stubborn and didn't see a need or want to upgrade until I pulled the trigger on the Base Camp.)
Here are the size specs:
Length:69″
Width:47″
Height:101.4″
If that doesn't mean much, the rack is almost 8.5 ft tall! That's nearly a full foot taller than the Rogue R3 and pretty much every other rack. This means overhead work can be done INSIDE the rack. Even if you're well over 6′.
Now, due to the customizations available, you could easily get the rack shorter or even taller. The NBA team, the Philadelphia 76ers have a 10 ft tall rack. That's just insane, but then again they have a few 7 footers, so it makes sense.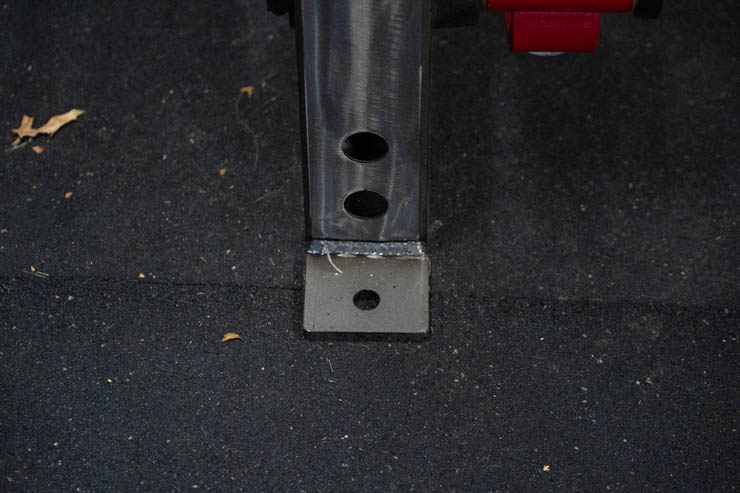 The base at each corner of the uprights feature holes that allow the rack to be bolted to the ground, however, this definitely isn't needed, especially if you rack weight on the weight pins. When you set this rack up, it's not moving.
One feature of the rack that adds to the overall ruggedness and aesthetics is the 1″ bolts that are used. There aren't a ton of companies using this size of bolt, and although it's not necessary, nothing that you're going to do in the rack is going to bend this bolt. Another feature that causes this rack to be the last rack you'll ever buy.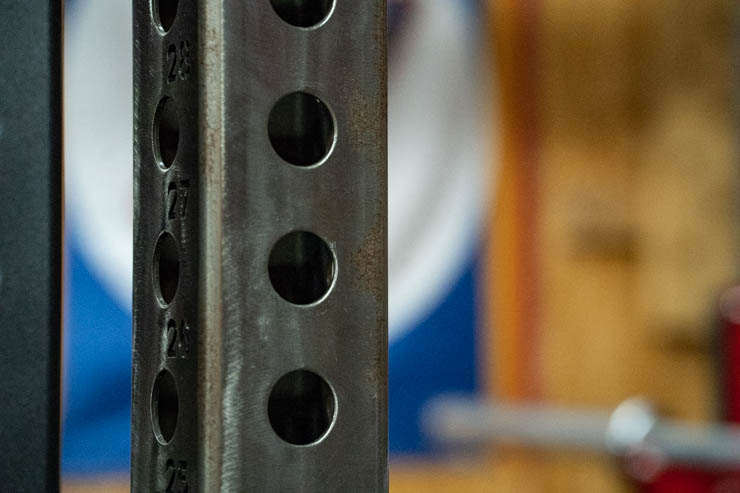 The color I most wanted for the rack was the clear grind. This is undoubtedly the color that is most associated with Sorinex and also their most ordered. It goes with any other colors and has more character than any other option. I also like the fact that as the powder coat chips (it will chip, all powder coat does) you won't be able to tell.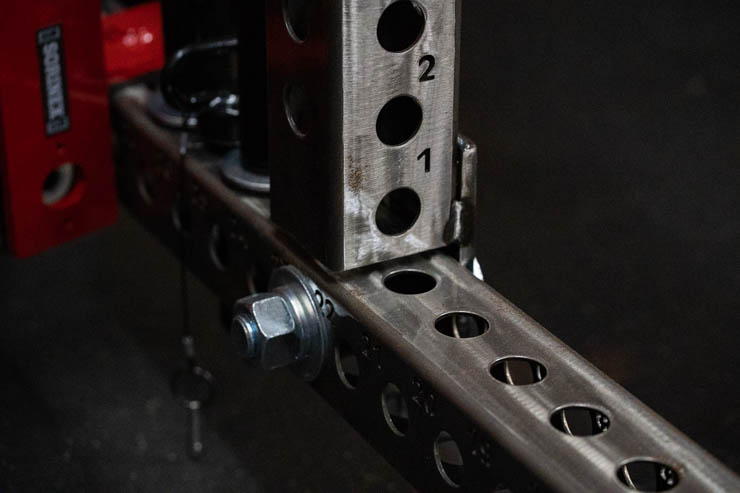 Despite the extra steps involved, the clear grind doesn't cost any more than other color options. When the rack is ready to go to powder coat, Sorinex runs a grinder all over the rack to give it a unique look that I absolutely love. They then coat it in a clear powder coat that's similar to what's used on the EliteFTS SS Yoke Bar.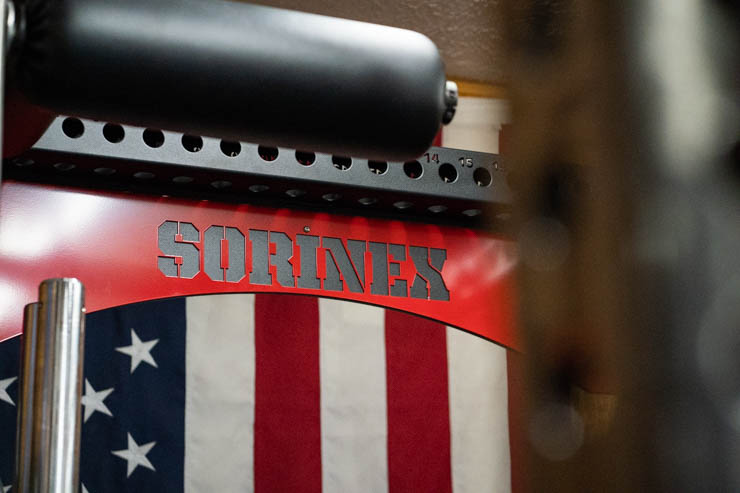 The complementary color I received was red. I like it, it's their standard and it stands out really well. One area available for customization is the back arch. I've seen some amazing different logos with 5 layers or more, but I went with the standard Sorinex logo. I'd like to eventually get a custom one for Garage Gym Reviews, but the Sorinex logo looks pretty sweet.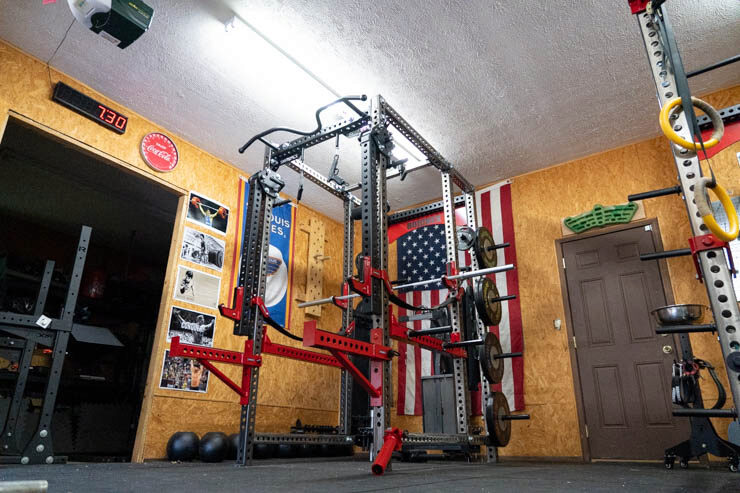 When you decide you want the Base Camp Rack, you have to decide which model and package. In my opinion, if you're going to get a rack like this, you might as well go all out. You're going to want the accessories and you'll use them so you might as well save up and buy everything together to save on shipping costs.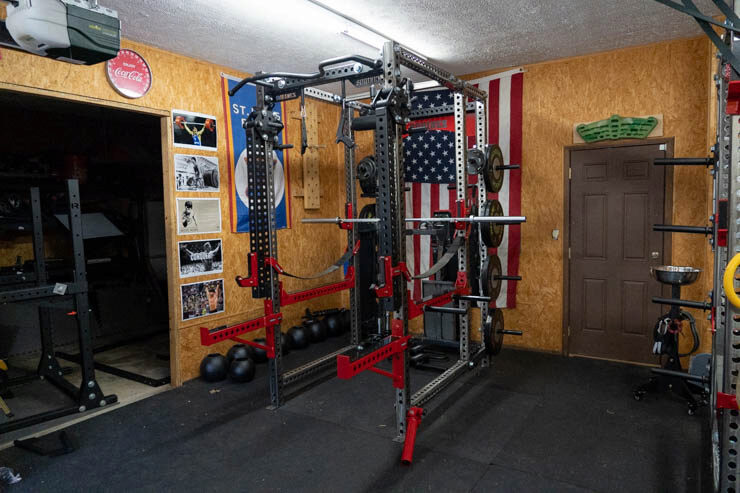 For this reason, I suggest getting the Base Camp Uber Package. This comes with nearly all of the accessories that Sorinex makes and really increases the variety that can be done with the rack. It's the package I chose, as well as, I would assume, most other customers that purchase from Sorinex.
The Base Camp Uber Package includes:
Sandwich Style J-Hooks (Pair)
Full Safety Bars (Pair)
Half Safety Bars (Pair)
Safety Straps (Pair)
Batwing Pull-Up
Indexing Chin
Full Arch w/ Custom Logo
Utility Seat
2 Bar / Utility Seat Storage
Landmine (1)
Roller Pad (2)
Permanent Urethane Pins (10)
Adjustable Urethane Pins (6
Because many of you will be purchasing these accessories individually and I have quite a few opinions on them, I figured I'll review each accessory individually.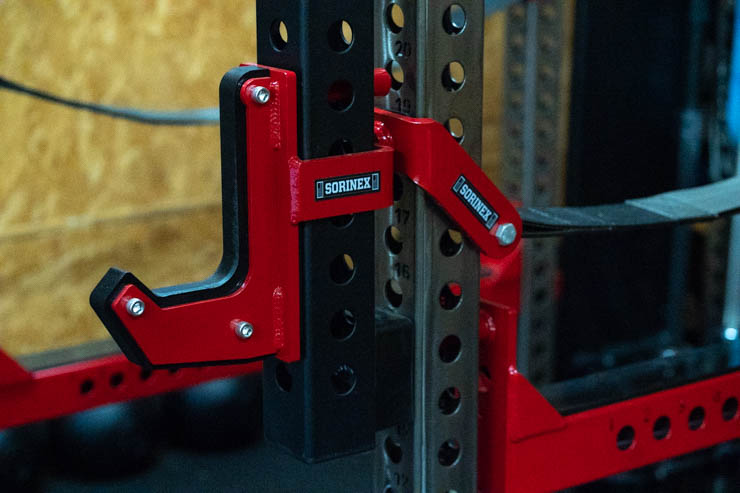 First, let's look at the Sandwich Style J-Hooks. These are without question, the part of the rack that will be used most often. Because of this, these need to not only be strong, but reliable and not destructive to your barbells.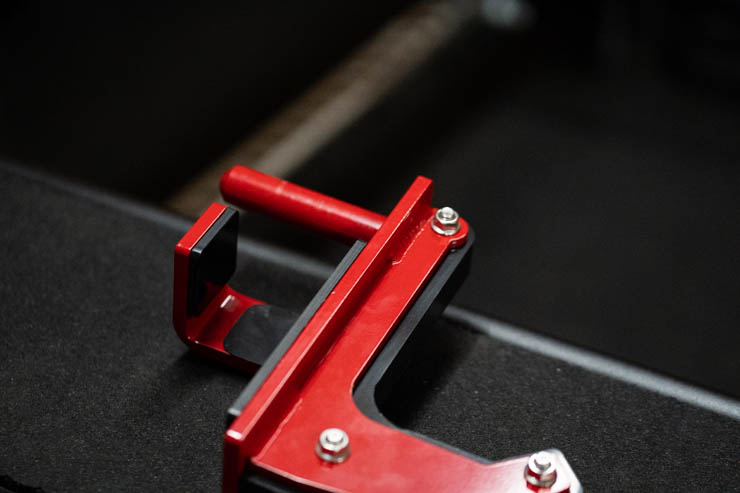 The Sandwich Style J-Hook is the strongest and most protective style of j-hook currently on the market. The bar rests on a fat piece of UHMW plastic that is bolted to the metal part of the hook.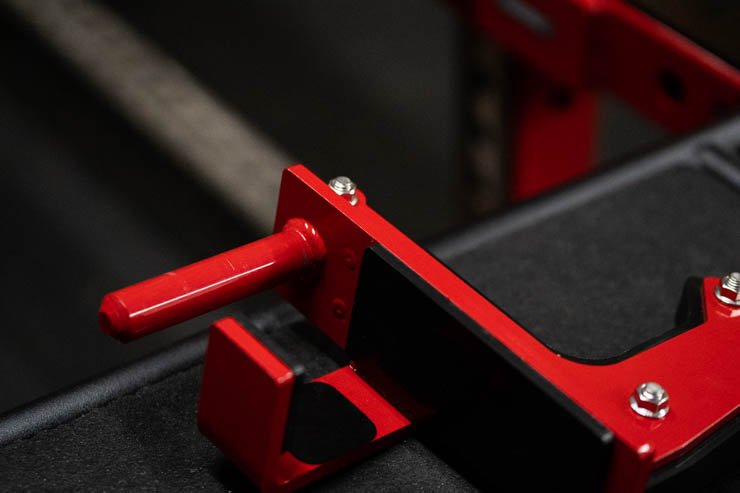 Talking about attention to detail, Sorinex makes the J-Hook pin rounded to a point so it goes into the upright hole easily without being exact. Another overlooked, yet great feature of a Sorinex Rack (This isn't to say they're the only company that's doing this, don't email me about it.)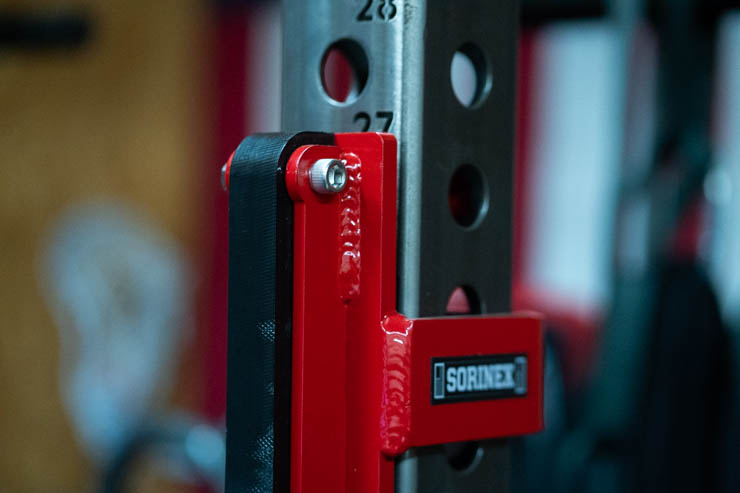 The Base Camp Uber Package comes with two pairs. One pair for the inside and one pair for the outside of the rack.
For safety, Sorinex offers Full & Half Safety Bars, Safety Straps, and the traditional Pin Safeties that are quite popular due to their price.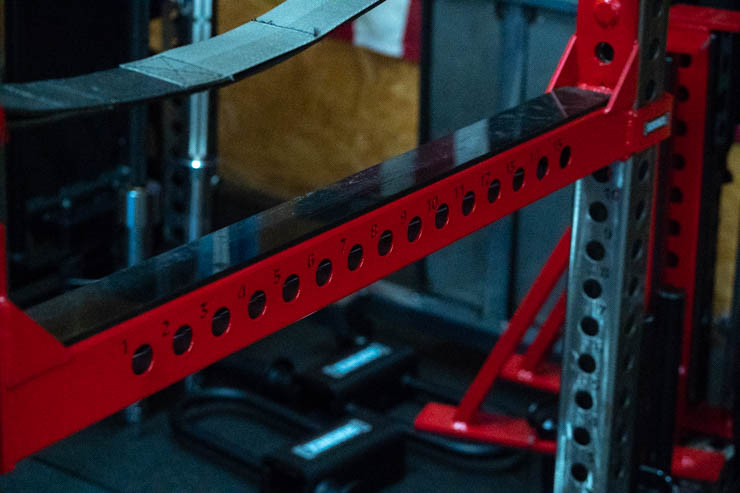 The Full & Half Safety Bars feature similar features and constructions except one connects in between two uprights and the Half Safety Bars connect to one upright and stick out for safety outside of the rack. There's nothing crazy special about these, except for the holes. You'll notice that both the Half and Full Safety Bars feature the same holes as the uprights (and they're also numbered on the Full Safety Bars.)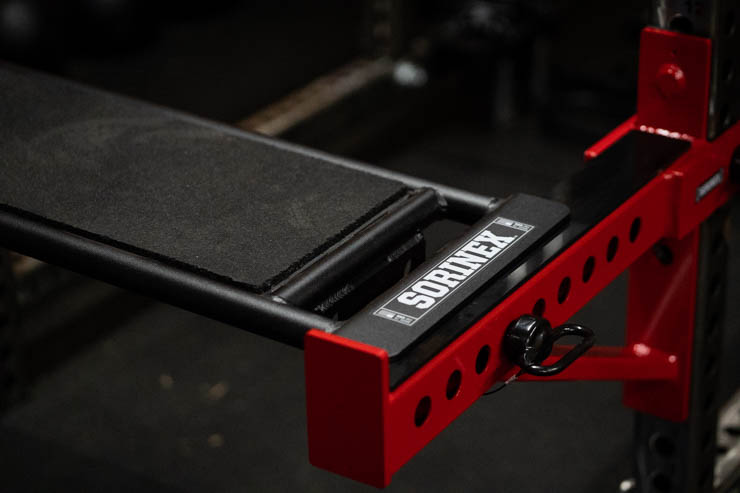 These holes allow you to connect all of the same attachments you can to the uprights. Accessories like the Utility Seat can be added to the Safety Bars for step ups, box jumps, box squats, glute bridges, and any other ideas you can come up with. The Roller Pads can be added to the Safety Bars for Bulgarian Split Squats, Nordic Hamstring work, or again, other fun variations you find for them.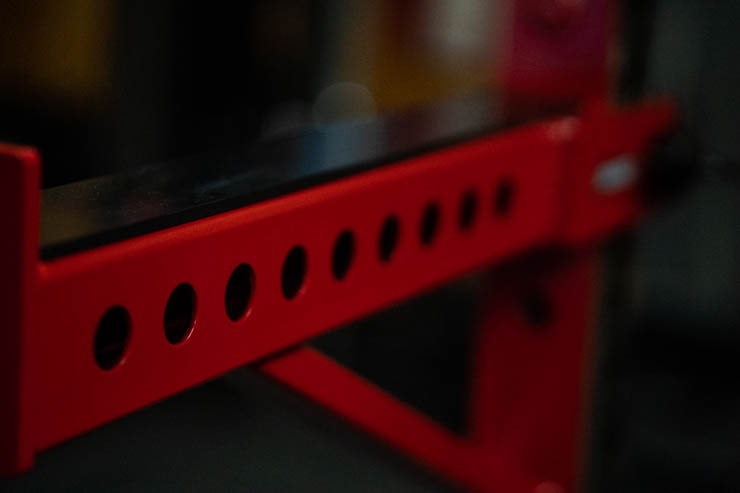 The Safety Bars have been tested to 7,500+ lbs of force impacted on one square inch without any noticeable bending of either the rack or bars. In other words, these will save you and keep on kicking for decades.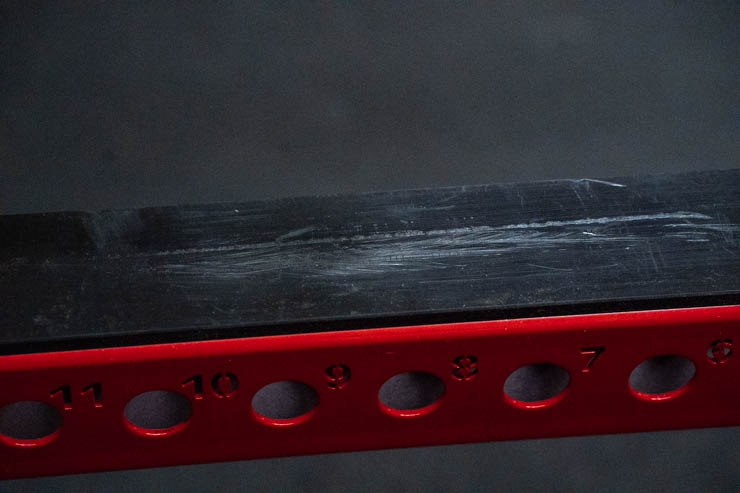 One thing I asked Dan McKim (Midwest Sales Rep for Sorinex) about, is what sort of warranty they have for things like UHMW plastic wearing out as I didn't see them for sale on their website. He informed me that it rarely happens that it wears out (this is the case for pretty much all UHMW plastic,) but in the cases that it has, they just send new strips free of charge. Pretty cool to have if you ever need it.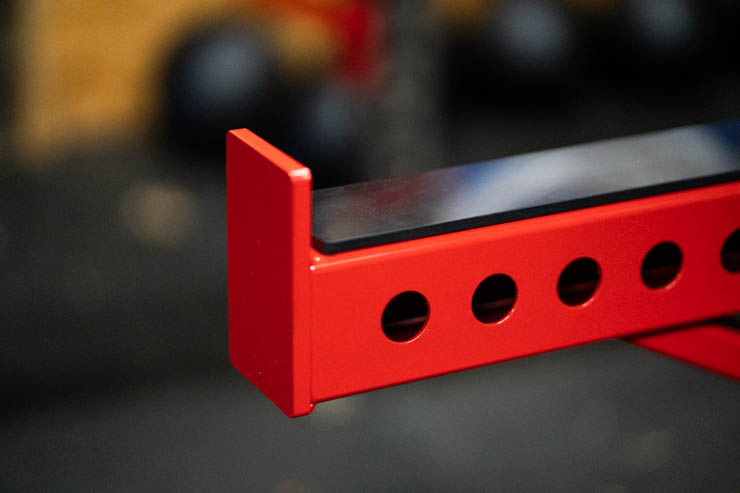 I would have liked to see laser-cut numbers on the half safety bars as well to match the full bars, but not a big deal (I'm sure they could add the for an extra charge.)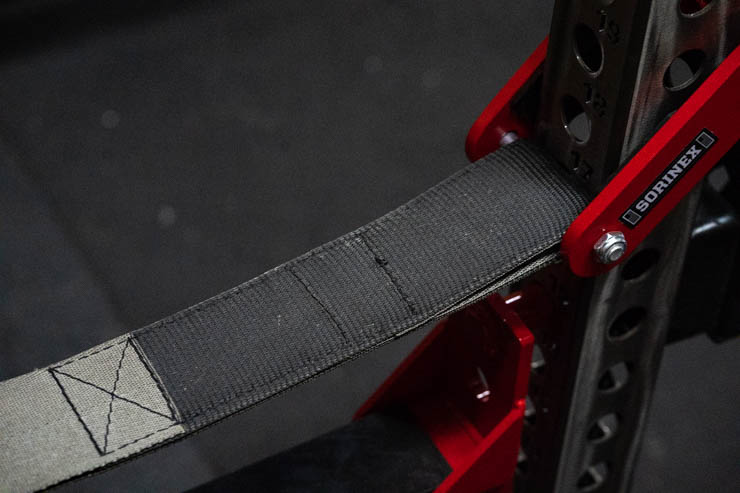 The Safety Straps, believe it or not, were actually created by Sorinex, and they weren't created for what you would assume. Although they're great for catching the barbell upon a missed lift, they were initially designed to save your face and neck in a bench press. Due to their ability to position each end at different heights, the Safety Straps can take the barbell away from your face when you miss a lift, allowing for the most safety out of any system when pressing alone.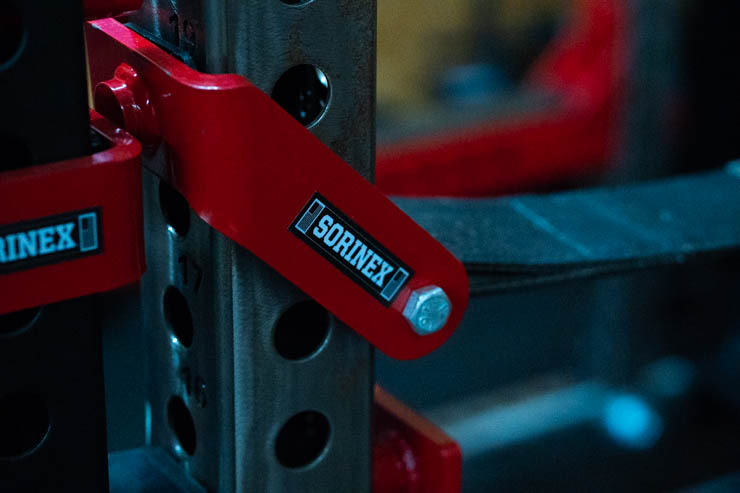 This is obviously important for those that train at home as you'll often be training alone.
The Sorinex Safety Straps are rated to hold 10,000 lbs per strap. In other words, you can consider yourself safe. The straps allow for micro adjustments via 1″ holes on each upright that can also be angled to take the bar away from you upon a missed lift. The safety straps could also be used in place of jerk blocks if really needed (if this is done, I would suggest using a cheaper bar as it will likely experience some bending.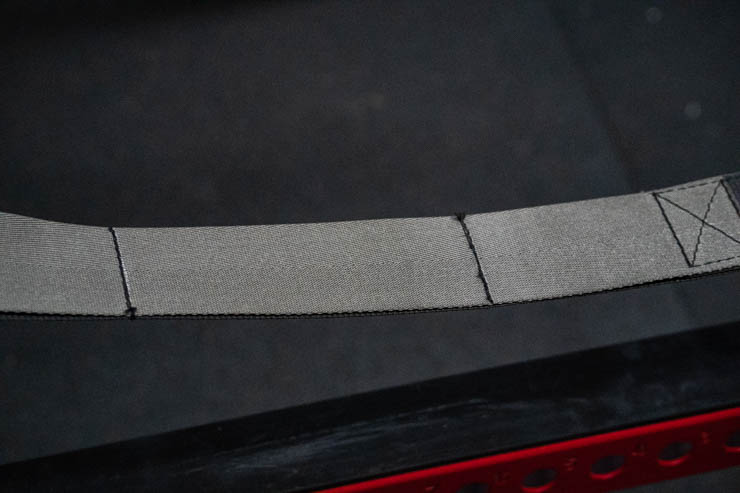 Each Safety Strap features a wear strip that once worn out can be resewn by Sorinex, free of charge (or so I am told.)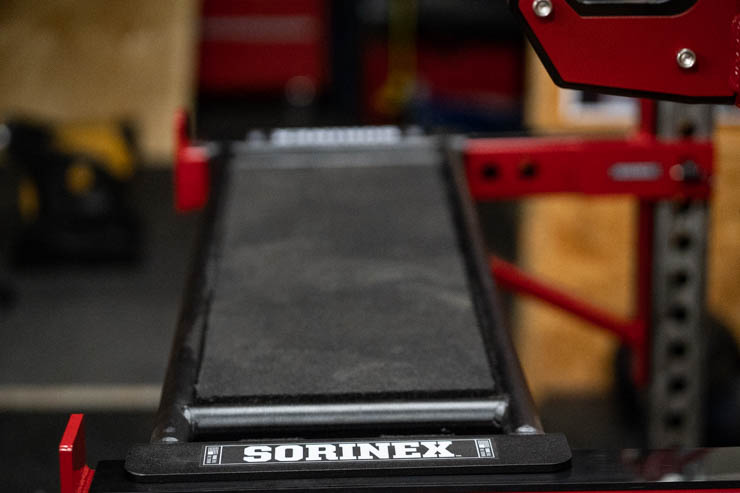 The Base Camp Uber Package comes with a few out of the ordinary attachments, and one of those is the Sorinex Utility Seat. Sure, other companies have copied this idea, but the Utility Seat is both ingenious and very well done. Rather than having to have plyo-boxes, box squat boxes, and step up boxes, you could have just one utility seat. The utility seat locks into the holes on both the full and half safety bars, meaning it can be adjusted to just about any height.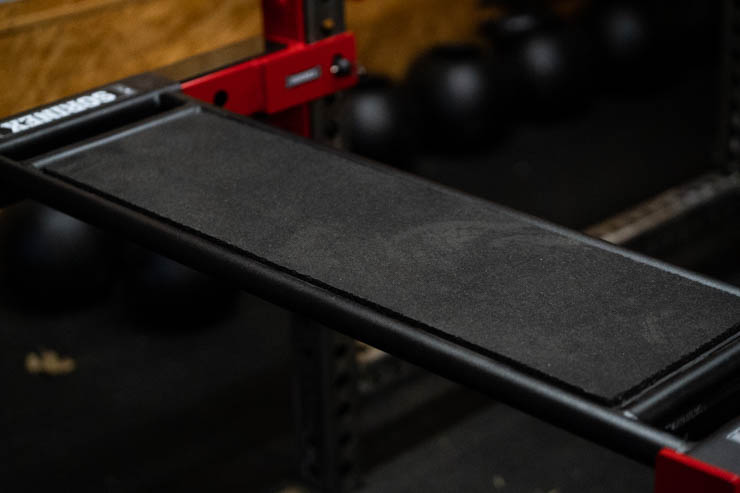 Although I wouldn't suggest attempting max box jumps on the utility seat, it is stable enough to be jumped on. It's also strong enough to box squat whatever tonnage you can handle. One use I really like using it for is weighted step ups. I can do barbell loaded step-ups in the rack without any fear of dropping the weight. The utility seat can also be attached to the Adjustable Jammer Arms for leg presses (full review on those to come; they deserve at least another 1,500 words.)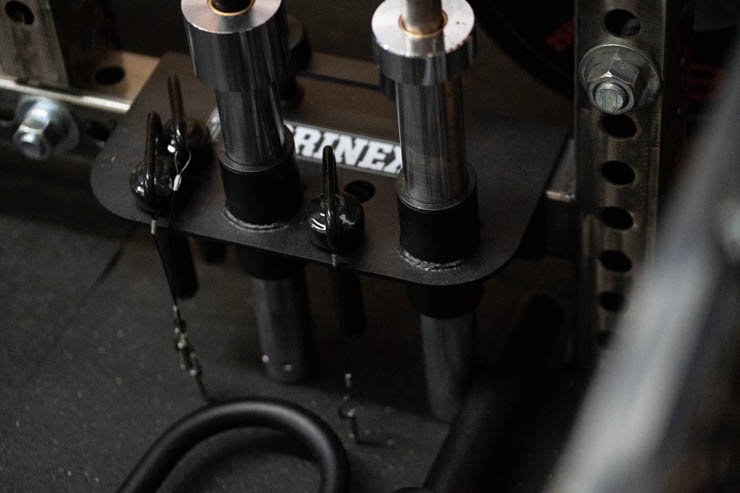 The Utility Seat, when not in use, can be stored vertically in the 2 Bar/Utility Seat Storage Attachment that comes with the Uber Package (this little storage unit is compact and strong; another example of Sorinex's R&D Team's prowess.)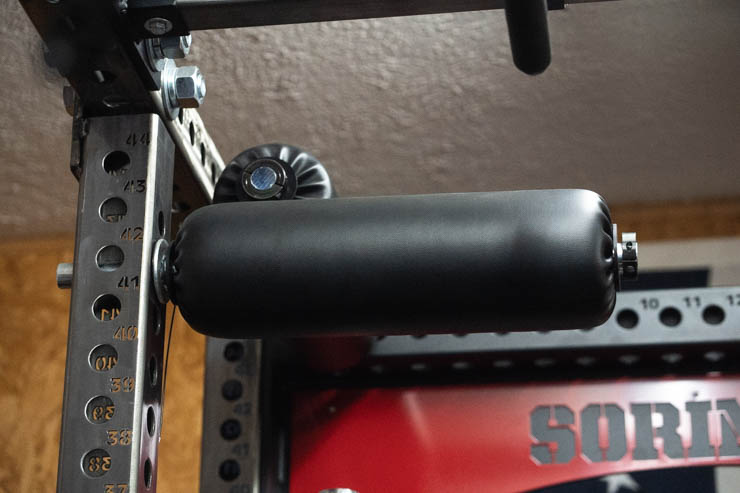 The other attachment that's a bit out of the ordinary is the Roller Pad (it actually comes with a pair of them.) The Sorinex Roller Pad allows you to do single leg squats anywhere around the rack. They're also great for Nordic hamstring curls as well as various ab movements. Thanks to the 4-way hole system, the Roller Pad can be attached anywhere on the rack and thanks to the solid steel post that goes all the way through the pad, there shouldn't be any worry about bending the rollers.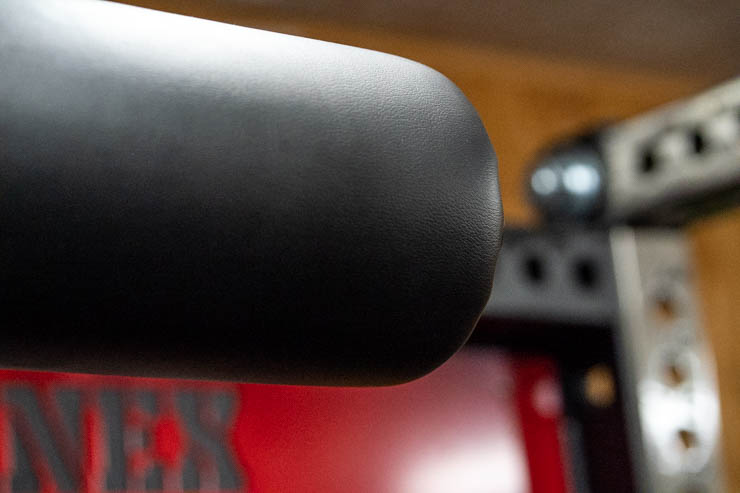 The pads are 16″ long and use double-stitched Premium Naugahyde that is also used on their benches and are designed to take a beating.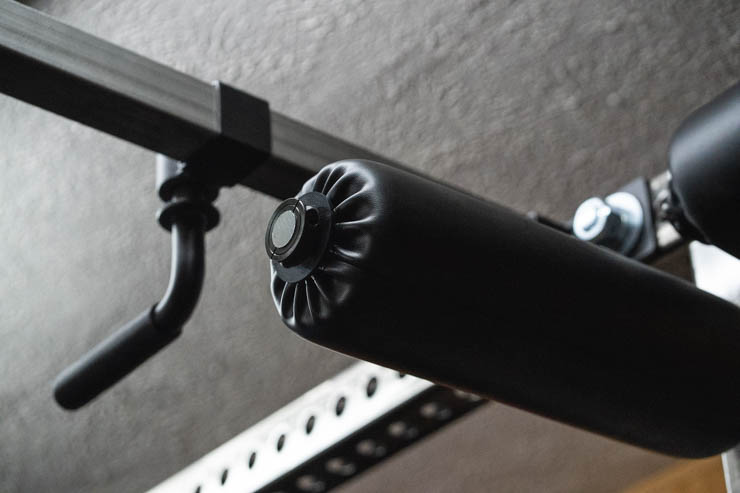 I would like to see some more refinement in the system they use to keep the pad on the pin. The edges on the collar are a bit sharp and it just looks a bit under-engineered compared to the rest of the rack and accessories.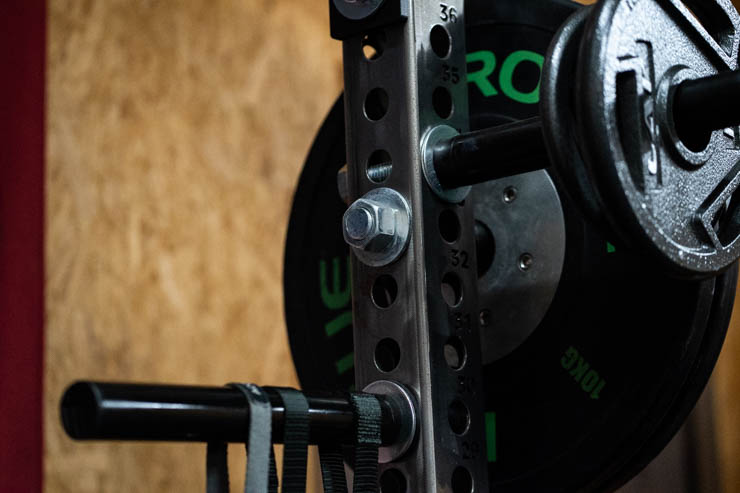 The next accessory pieces I'd like to discuss are the Urethane Pins. Sorinex offers both Permanent and Adjustable Urethane Pins with their Uber Package (10 Permanent, 6 Adjustable.) The Permanent Urethane Pins utilize a solid steel rod that's then wrapped in Urethane to grip and protect your plates. They screw onto the rack using a bolt and washer system.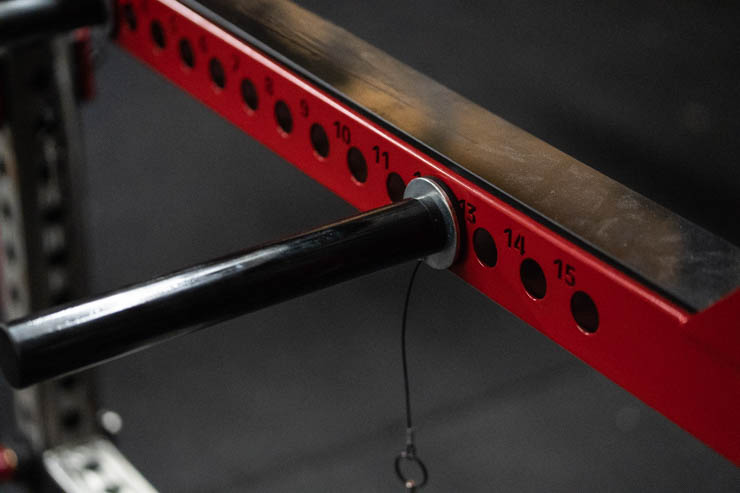 Although the Permanent Urethane Pins work well, the pins that really shine are the Adjustable Urethane Pins. Thanks to their size, build quality, and ease of placement, the Adjustable Urethane Pins can be inserted anywhere and everywhere on the rack.
Here are just a few of the uses we found for them while testing the rack out:
Bumper Plate Storage
Dip Horns
Pullup Horns
Monkey Bars
Pegboard (using the upright to climb up)
Pulling Trays (place two on each side of the half safety bars for things like block pulls)
Band Attachments
The Adjustable Urethane Pins are constructed to be extremely strong, but I would like to see some sort of rubber stopper or washer in between the metal washer and rack.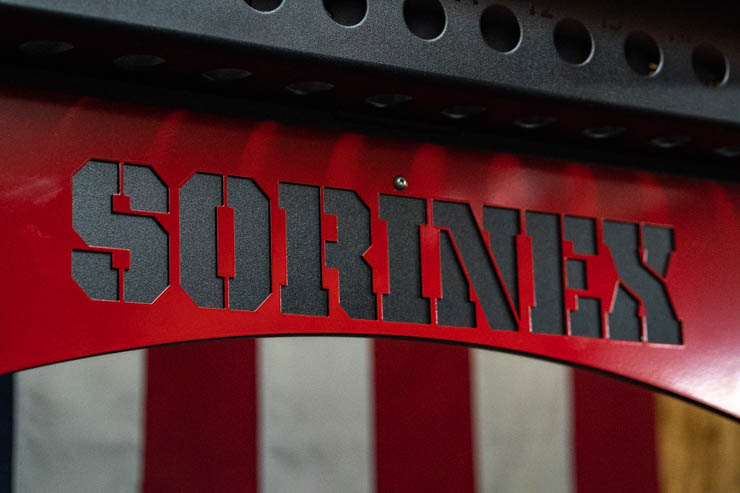 In addition to these accessories, the Uber Package comes with a Full Arch that has the ability to be customized (I plan on doing this eventually,) as well as a Batwing Pull-Up Bar and Indexing Chin Bar. Both of these pull-up accessories offer a lot of variety for pulling.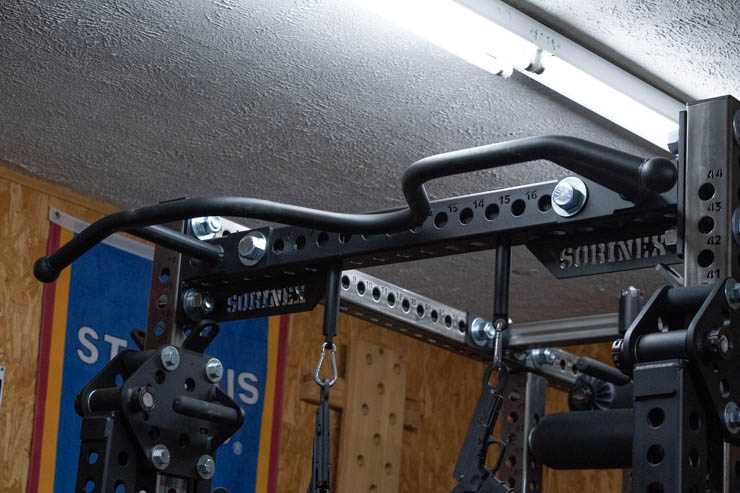 The Batwing Pull-Up Bar features a black powder coat on a pipe that has bent so close grip pull-ups can be done with a hammer grip. I'm definitely a fan of the Batwing Pull-Up Bar, but would have liked to see some fat grip options on the bar. I know it can be done custom (the University of Tennessee has Fat Grip Batwing's with knurling, yowza!,) but the racks so big, that it could have another pull-up bar attached to the other side of the front cross member.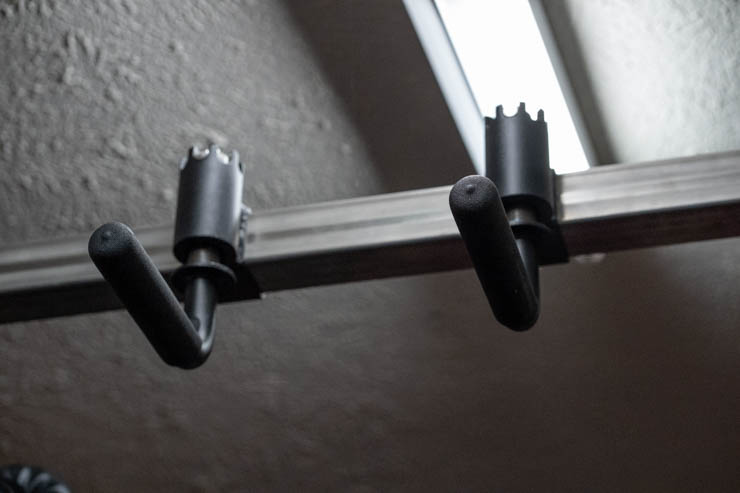 The Indexing Chin Bar is, again, an ingenious idea. These handles can be slid to any width and then the handles themselves can be positioned to 8 different pull-up angles. The versatility of these handles are unmatched, however, I do think they can be improved.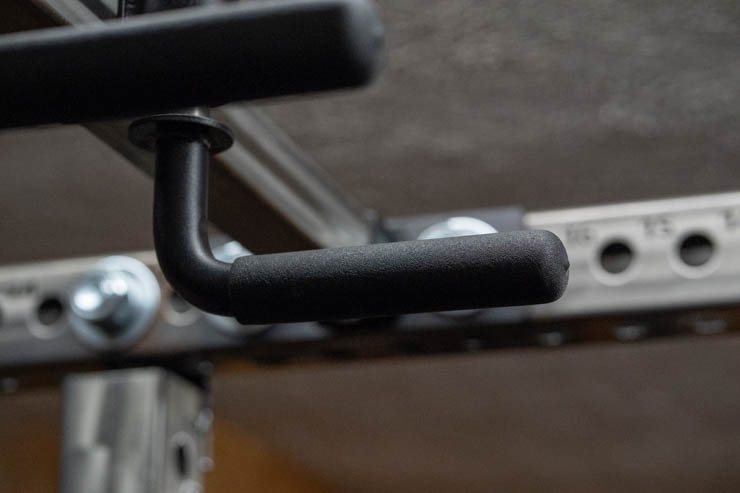 Currently, Sorinex offers one option, which comes with handles that have a rubber grip.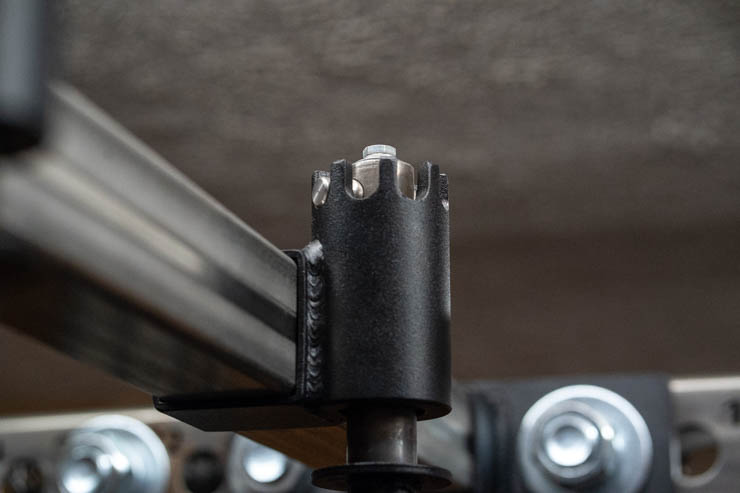 Although the rubber is high quality, I would much prefer passively knurled handles for better grip and a feeling that most trainees are used to. I'd also like to see different attachments for these handles; things like fat grips, balls, spinning handles, knurled handles, etc. They're such a wonderful idea, I'd like to see them expanded for even more versatility.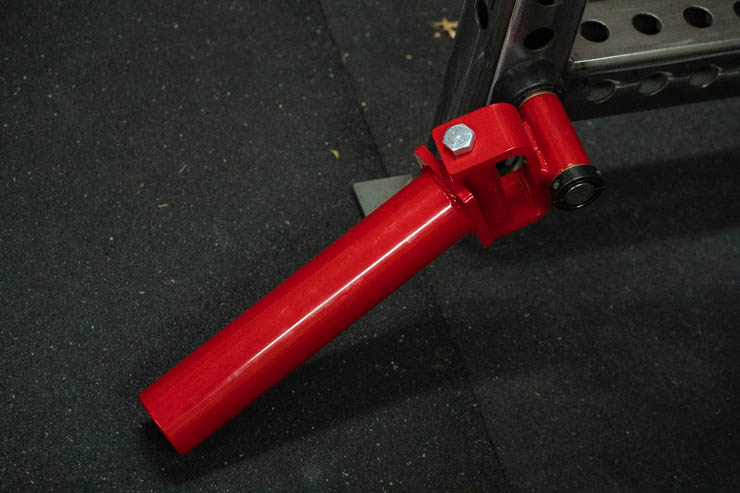 Finally, the Uber Package comes with a Landmine attachment, that although seems commonplace now, was actually developed by Sorinex. The Landmine attachment features a universal swivel joint, Bronze Oil Lite Bushings (what's used in many bushing barbells) and can be custom colored like everything else.
It's a beefy landmine that pairs well with the rack. I would like to see them create a way for the landmine to attach to rack instead of flopping around. Just another way for them to justify the premium price tag.
If you can't tell, we're big fans of what Sorinex is doing. Yes, they charge a premium price tag, but this rack isn't for those looking to just workout. These racks are for those that want not only the best quality, but also the most functionality that a rack can offer.
At Garage Gym Reviews, we highly recommend the Sorinex Base Camp Series of Racks.
Suggested Improvements
Although the Sorinex Base Camp Rack is the best we've tested, it's also the most expensive, which means I feel more room for critiquing.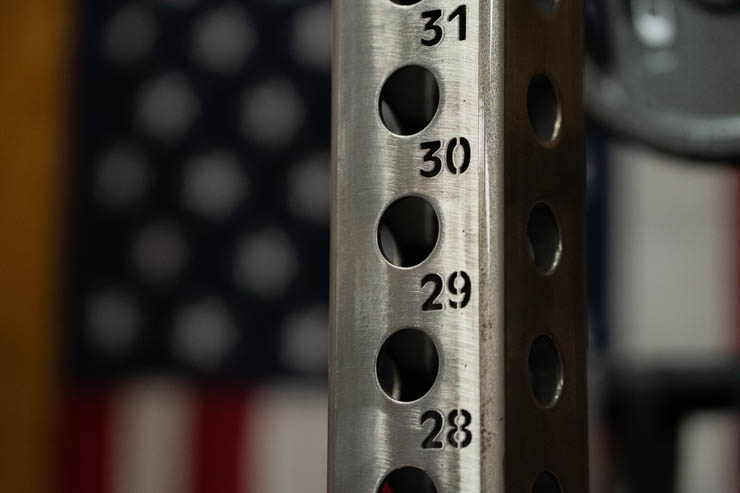 First off, and I've said this for a while, I'd like to see these racks offered in a Cerakote Finish. Cerakote is extremely durable, and really the only thing that's going to go wrong with a rack of this quality is the powder-coat chipping. It's like owning a Ferrari that's been left outside for years. The rack is going to perform no matter how much the powder-coat chips, but it won't be as pretty. We'll see Cerakote soon enough from just about everyone (just watch.)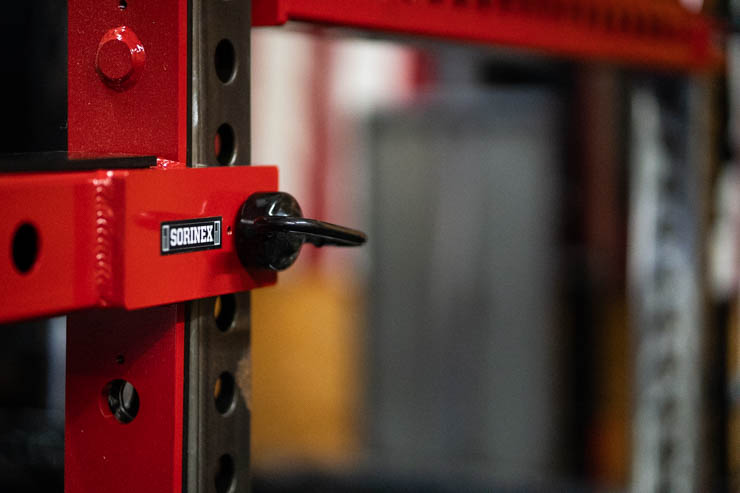 Next, and this is a big one, I think Sorinex should get rid of all of their stickers (I will likely remove mine soon.) Again, this rack is a Ferrari. It's made for high-performance and is priced accordingly (although there isn't nearly the price difference between a Sorinex Rack and competitors as a Ferrari is to Acura, etc.) You'd never see Ferrari slap some cheap badge on their prized vehicles.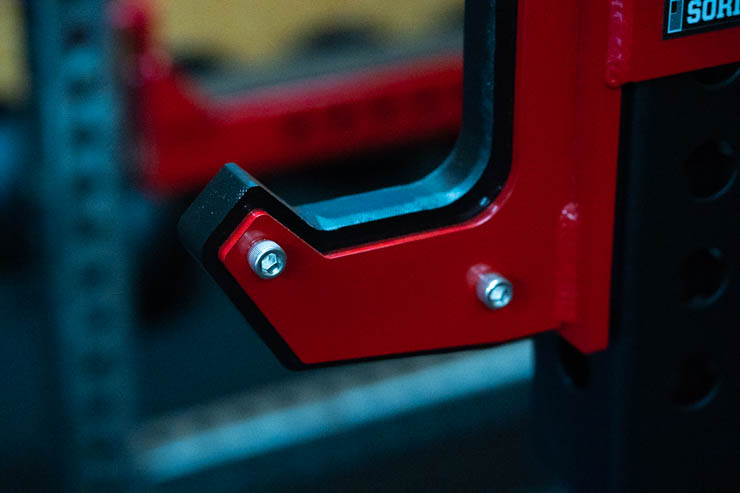 I'd like to see laser-cut logos on the J-Hooks, Safety Bars, Safety Straps, Utility Seat, etc. Basically, if Sorinex thinks an attachment deserves a sticker, it should receive something more permanent.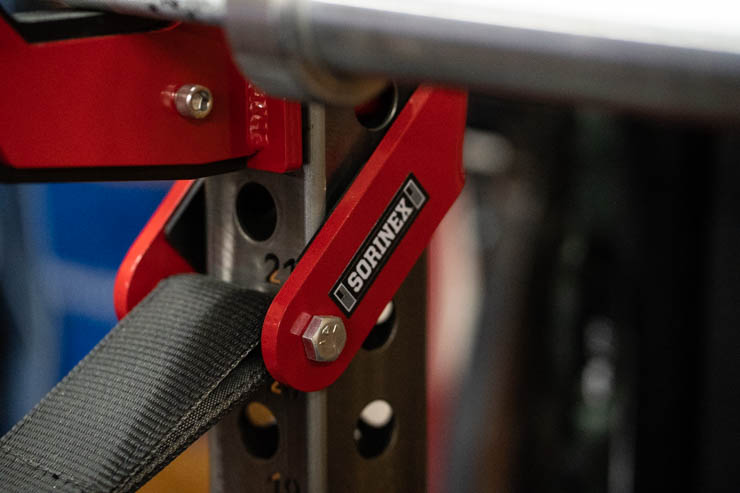 Somebody that spends this kind of money on a rack will likely want to show it off, for a company, that should be a no questions asked response. Just my opinion, others may disagree, but I doubt there's many.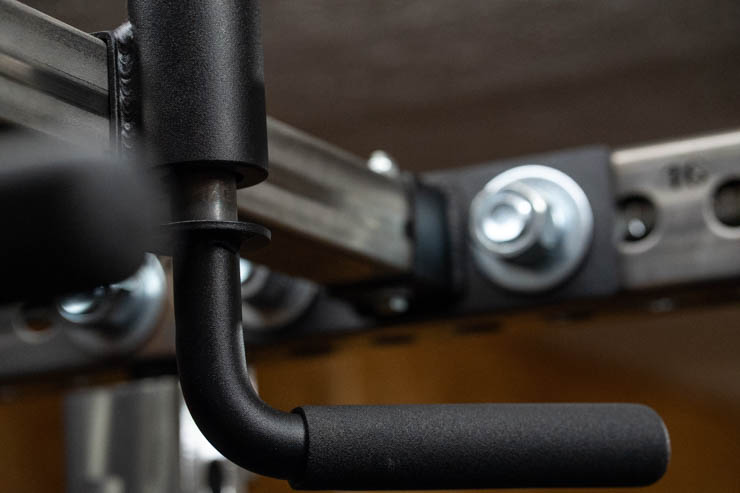 Another improvement I'd like to see is with the Indexing Chin Bars.Currently, Sorinex offers one option, rubber coated handles. Although the rubber is high quality, I would much prefer passively knurled handles for better grip and a feeling that most trainees are used to. I'd also like to see different attachments for these handles; things like fat grips, balls, spinning handles, knurled handles, etc. The more customization options, the better.
One attachment I'd like to see is Monolift Hooks, and I'd like to see them done as only Sorinex can. I don't want to see a copy of what everyone else is copying off each other, I want to see something entirely new. I believe Sorinex can do it, and it be very special.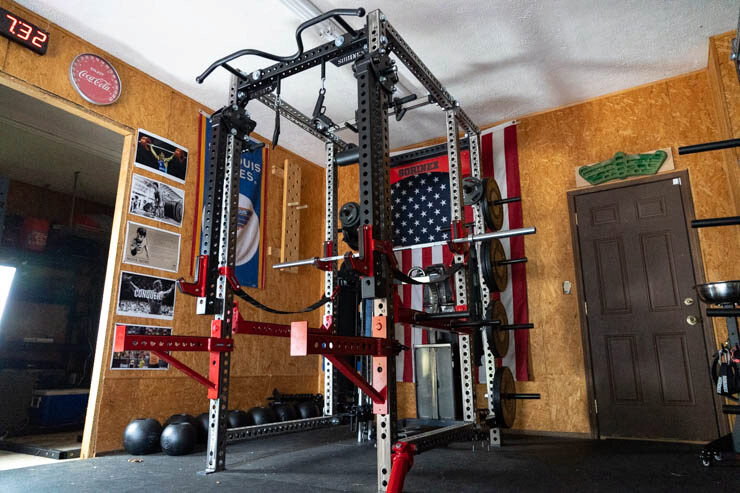 Finally, and I don't know if we'll ever see a change on this, but I would like to see Sorinex list their pricing on their site. I understand that due to the amount of customizations they offer, phone calls currently work best. But, I do believe that in order to meet the general consumer market, online purchasing will need to be streamlined as much as possible.
Full Rating
Sorinex Base Camp Squat Rack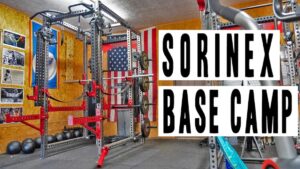 The Sorinex Base Camp Squat Rack is, put simply, one of the best squat rackswe've ever tested. Combining exhaustive attention to the details, endless customization, incredible build quality, and an indescribable "cool" factor, the Sorinex Base Camp Squat Rack and Uber Package is quite possibly the best squat rack being made today.
Product Brand: Sorinex
Product Currency: $
Product Price: 3759
Product In-Stock: InStock
Sorinex Base Camp Squat Rack FAQs
Is Sorinex worth the money?
The Sorinex Base Camp Squat Rack is one of the greatest squat racks on the market and for anybody looking for the best for their garage gym. It's endlessly adaptable, long-lasting, and comes with a host of accessories.
Is Sorinex better than rogue?
Sorinex's bespoke arches are superior, and the Rogue price excludes custom lasered J-cups, as well as a utility seat storage system and adjustable urethane pins. In the end, both the Sorinex XL Power Rack and the Rogue RM-6 are excellent racks.
Where to Purchase
Sorinex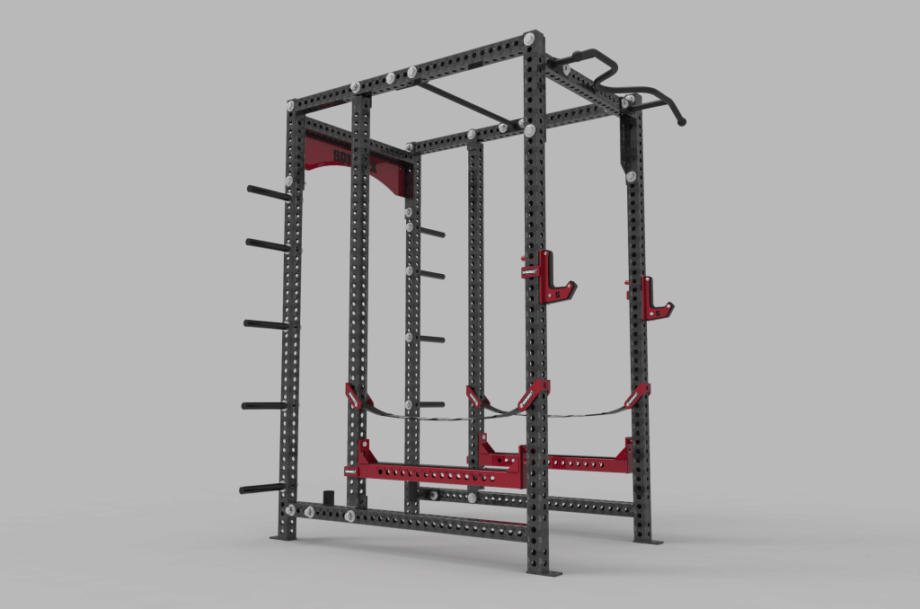 Sorinex Base Camp Rack
Sorinex Base Camp was designed out of necessity. In the early, 2000's, many coaches wanted customized racks; a band peg here, a storage horn there. Some wanted bumpers only, some wanted 35lb plates, and some wanted none. Keeping up with all of it was a nightmare, especially if there was a change in coaches, philosophies, or even of new plates were bought. Base Camp became the easy and obvious decision for coaches who could not decide between full power racks and double half racks, because Base Camp gave them both, with an option to change or add more later. The Sorinex Base Camp gave safety to step ups and Bulgarian squats by bringing the athlete inside the rack and allowing them to switch their feet unloaded and have a place to crash. Base Camp also allowed more people than ever to train at one station which also increased the carrying capacity of the facility. The configurations and adjustments were endless and obsolescence was eliminated. The new 4-Way Hole Design allowed bars, brackets, and add-ons to be secured in any direction front to back or side to side; Base Camp is limited only by lack of creativity. The holes confused some, but because of the 4-Hole Design, there was built in room for change. Thus, a new proven concept; room for constant growth, change, and efficient training time use was created and forever changed the strength training equipment world.First 4-Way Hole Design Numbered Holes 3″ x 3″ Welded Rack Sides 11 Gauge Steel 1″ Bolt Fasteners Custom Logo Options