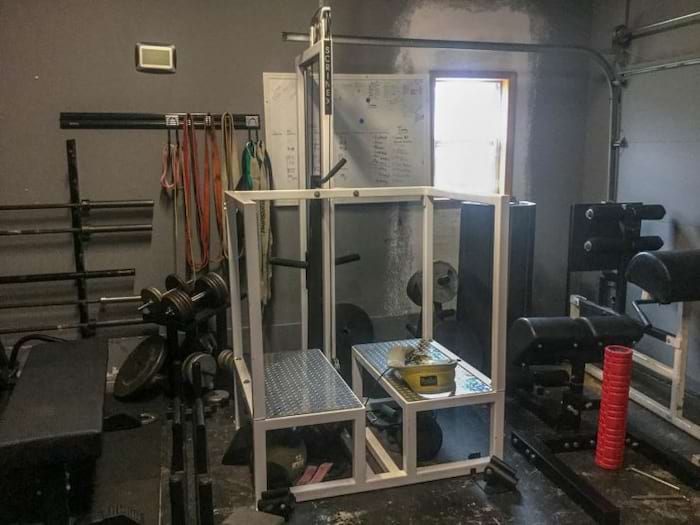 The Sorinex Belt Squat Machine perhaps is a valuable piece of equipment. For the lifter who plans on squatting and deadlifting 'till the day that they die, I would say saving up to buy a belt squat machine someday is a very good idea. Buying a Sorinex brand belt squat is a better idea because you definitely could will it over to your kids someday when the time comes. Heavy duty for sure.
Let me get into the specs.
The Sorinex Belt Squat Machine is made out of 11 Gauge steel. By itself, the weight is 275 pounds of meaningful metal. The foot plate is a glistening diamond cut – I've never even polished mine and it still reflects my handsome mug back to me! 
Most of the framework is powder coated white and is very hard to scuff. I'll include the measurements of the table to know (just so you can measure out a space for one in your garage).
Now it's time for the fun stuff! This Sorinex Belt Squat Machine is near and dear to my heart. I first set my eyes on it back in high school. At the time I was new to powerlifting and garage gyms in general, but as with anything in life – I guess learn as you go.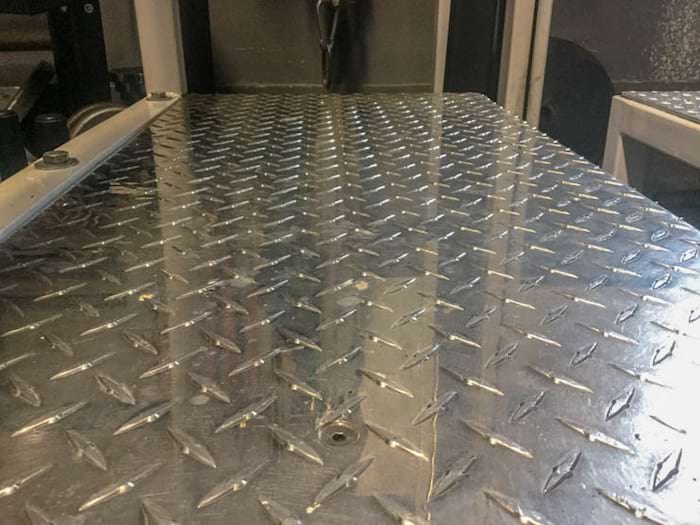 At the time it was in Missouri State's weight room. Being a poor schoolboy, I saw it as an awesome luxury item I wished to mimic. Being short and somewhat flexible, I rigged up my first belt squat movement on a lat-pulldown machine. I would do this movement once a week, but it slowly faded out of the course of my templates as it sure was a pain to set up and orchestrate.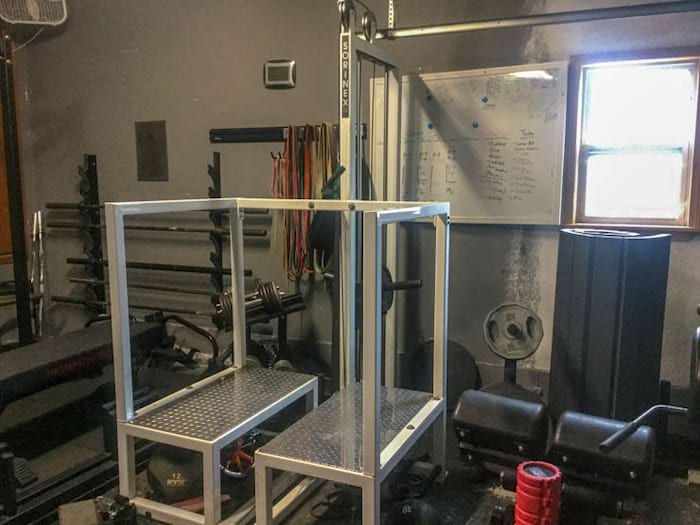 Even when I opened up gym, the very first thing on my bucket list of equipment to purchase was the Sorinex Belt Squat Machine. I remember my business partner Matt laughing with me and it was a running joke between us that one day we may be able to snag one.
Fast forward in time, and this machine becomes available for us to purchase. We do just that, and voila! – belt squats performed in luxury.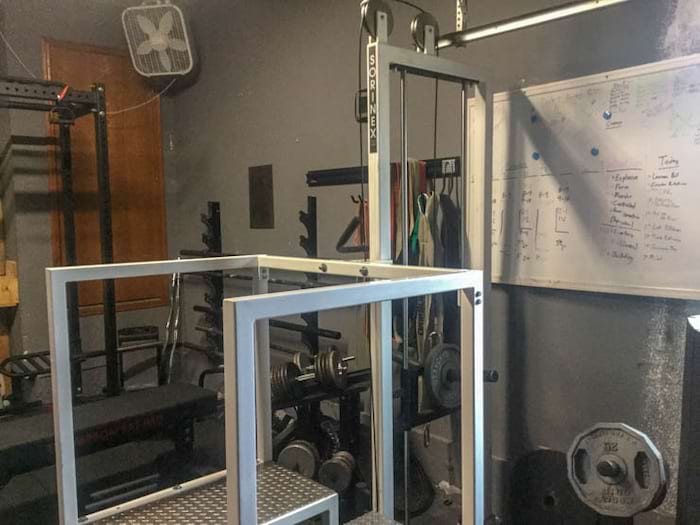 At the time, the only belt squat machine I had ever used was the one at Westside Barbell (back when my friend Billy interned up there for a semester). It was not a Sorinex brand, but it gave me a good idea of what a belt squat should do for you. Just to note, the belt squat at Westside was awesome as well.
I have had my Sorinex Belt Squat Machine for a few years now. Mine came with a very used hip belt that was already worn, so I purchased a belt squat belt from Spud Inc. The Spud belt I have is yellow and sewn together nicely. Highly recommended.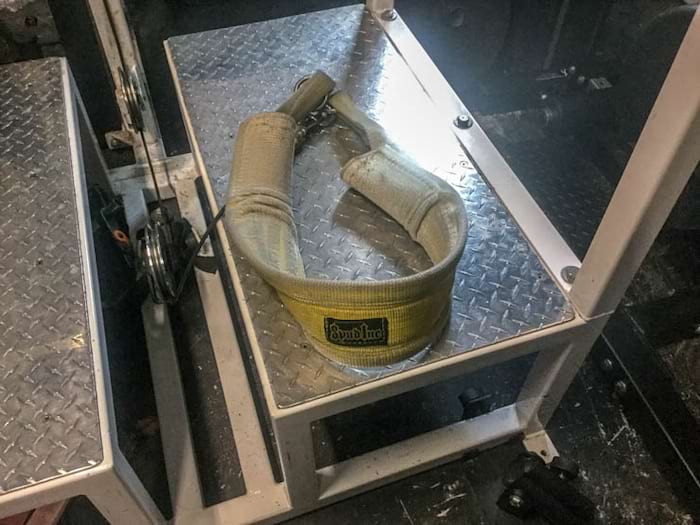 The belt is attached to the cable by a carabiner. The cable itself is heavy-duty and thick.
Note: The step-up to the platform is just short of being 17". What is valuable about this little tidbit is that not only can you perform your regular belt squat motions, but you can also perform weighted step-ups. Other machines aren't built with this in mind. Barbell step-ups can be a valuable exercise, but it sometimes can be annoying for always having to load the movement with a barbell. With the Sorinex Belt Squat Machine, you now have another option for loading single-leg work.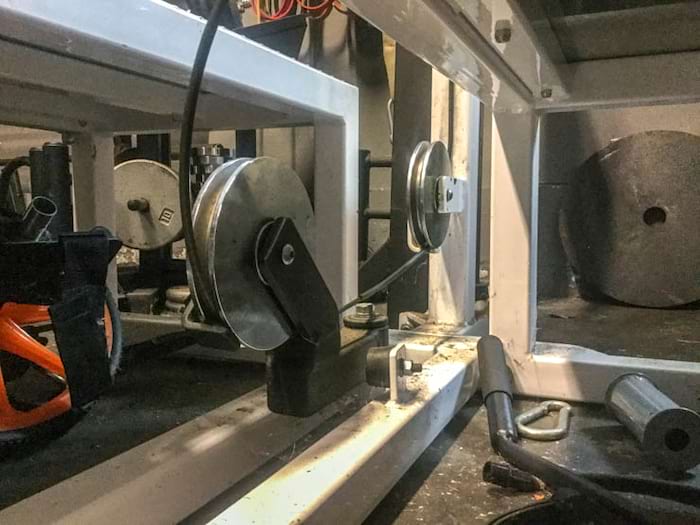 The bottom pulley is on a swivel for the purpose of accommodating to movements that involve lateral hip movement.
To begin with the standard movement of belt squatting, you will stand on the ground in front of the machine and slide the belt up to over your hip bones. You will then take a step up onto the diamond plated platform and get into squat position.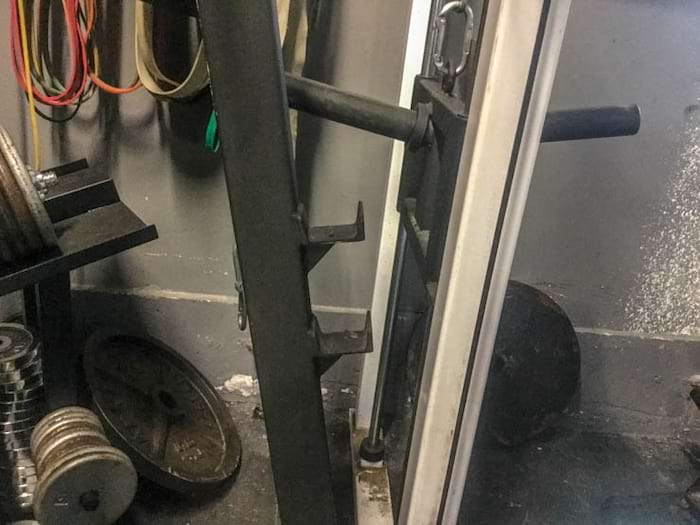 There are 2 height positions to choose from. I'm short so I'm always on the bottom position. Depending on your height you will either have to do anything from slightly raising your hips, walking forward on back, or raising up on your toes to take the slack out of the cable so that the counterweight will swing to the side. At this point the weight will fully be pulling down on the belt and you can begin squatting.
The counterweight is a long black lever with a handle at the user's end. When your done squatting, all you do is place your hand onto the handle, pull it in, and then lower yourself down so the weight will rest safely onto one of the two height positions.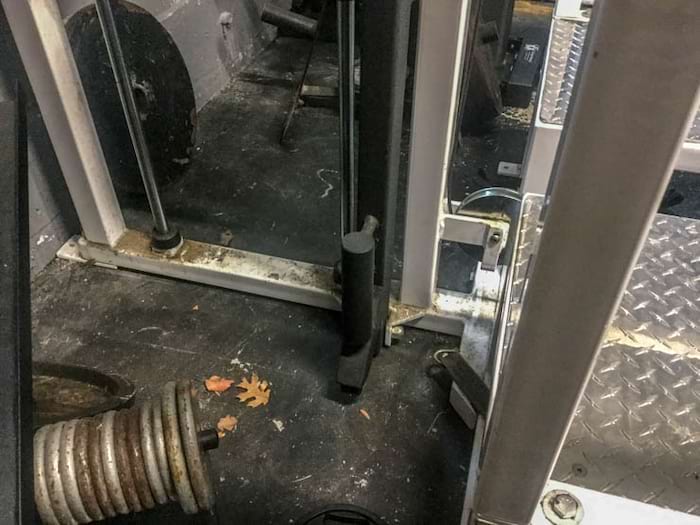 Belt squatting on the Sorinex machine is smooth and fluid. It will be a good idea to grease up the pulleys and the weight runs every so often to make sure it keeps that way. I called and talk to Phil over at Sorinex, and he recommend to me that the best stuff to use is a silicone-based spray. WD-40 could work, but it is sometimes sticky, and the residue can build up over time.
The machine is plate loaded, and the carriage can accommodate up to 6 (standard steel)-45 lbs. plates per side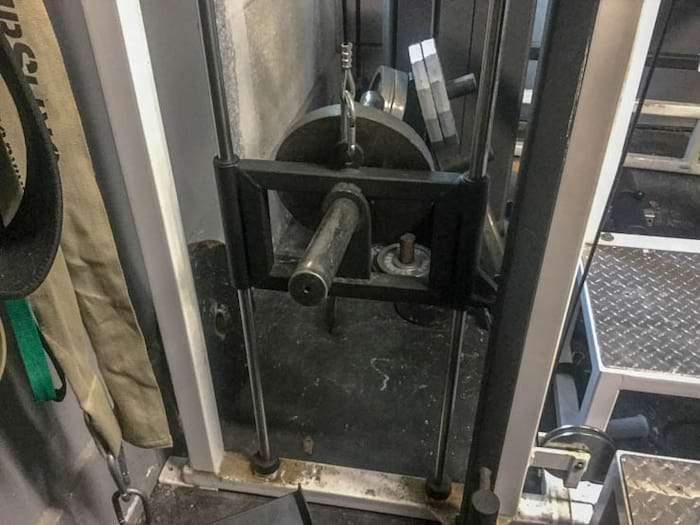 Back to squatting. With the counter weight lever out-of-the-way and with your feet in position, you can safely squat with no load on top of your back. Since the load is running through your hips, you may notice a slight traction in your lowest vertebrae.
Belt squat mechanics are slightly different from barbell mechanics. You have more options on where you will wish for the load to run through. With a barbell, pretty much your only option is for the load to run down in a straight line through the middle of your foot, as this is dictated by physics and not falling down.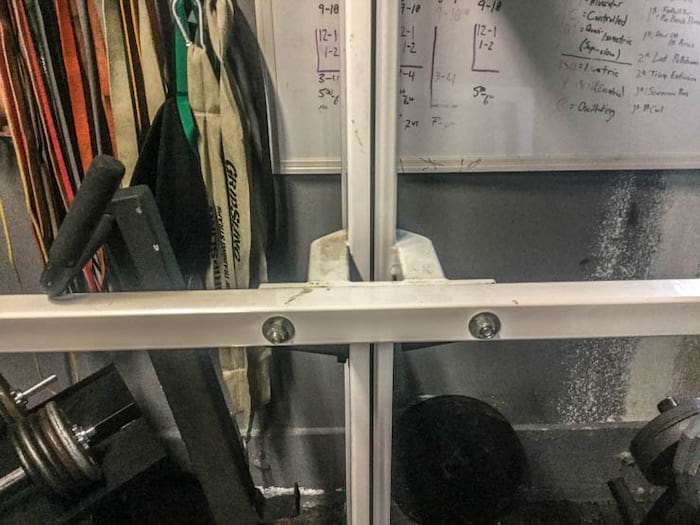 With a belt squat, the load line of the cable can be played with slightly. It can either be pulled at from angle around your mid-foot, straight up-and-down from mid foot, what have you. This is unique in that you can emphasize if you want the squat to be more hip focused or more quad focused. The flavor is up to if you can figure out which is which ☺
When your done racking the weight, just step off the elevated platform and slide the belt off. So far all I have described is the squatting fun you'll have on the Sorinex Belt Squat Machine – but there is way more you can do than just that!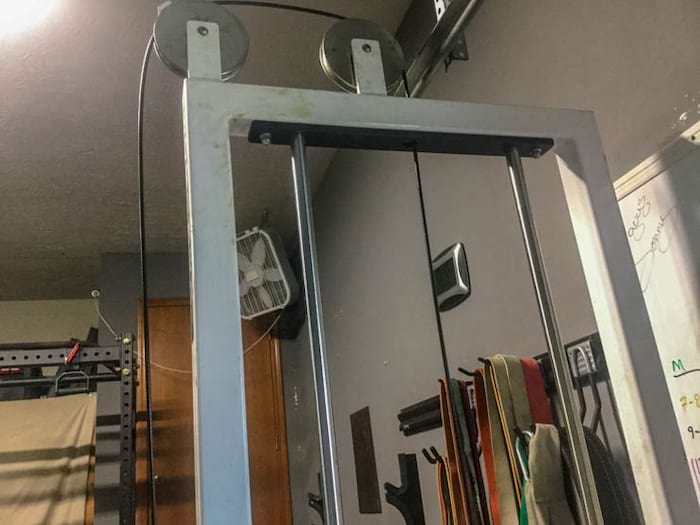 Push-Ups are a great movement to perform on the machine (as long as you have a proper harness). What I LOVE about this movement is that it has become my go to movement when I do not feel like bench pressing. The load is perfect and feels superior to having someone place weights on your back to perform weighted push-ups.
One-arm Cable Rows are another nice movement to perform on the Sorinex Belt Squat Machine. Since you can see the pull line of the cable, it's easy to configure the movement so it is more lat focused instead of bicep.
Sure, you could perform some of these movements on the leverage based belt squat machines, but what is really nice about the Sorinex version is the amount of cable travel you have. From bottom to top, you have a potential 80" of travel to perform certain exercise with. This is a BIG pro when it comes to the Sorinex compared to other belt squat machines.