We test and review fitness products based on an independent, multi-point methodology. If you use our links to purchase something, we may earn a commission. Read our disclosures.
Once a home gym owner has found the best squat rack for their workout space, the next things to look for are rack attachments: lat pulldowns, landmine attachments, dip stations, and more. One popular attachment is the seal row pad, a pad attachment that allows for chest-supported rows or incline presses without the footprint of a weight bench.
What if you're just looking to do rows? And heavy rows? The Rogue Pritchett Pad might be the rack attachment you're looking for, available in Monster and Monster Lite versions. Built by a professional Strongman, the Pritchett Pad is made specifically for chest-supported rows, and heavy ones at that.
But is this row attachment worth the price? Garage Gym Reviews founder and expert tester Coop Mitchell got to test out this unique piece of gym equipment, and we'll go over his thoughts in our Rogue Pritchett Pad review.
Rack Attachments? Yep, We Know About Them
Our team of testers consists of certified personal trainers, lifting coaches, and elite-level athletes. So when we test fitness equipment, we're speaking from experience and knowledge we've developed over the years of living and breathing the strength and fitness community.
At GGR, we've tested dozens of power racks and their attachments, from lat pulldowns and dip stations to seal row pads. We approach each piece of equipment with the same professional eye, looking at aspects of the item's construction, footprint, versatility, and overall value for you, the consumer.
RELATED: Best Power Racks with Lat Pulldowns
Rogue Monster Pritchett Pad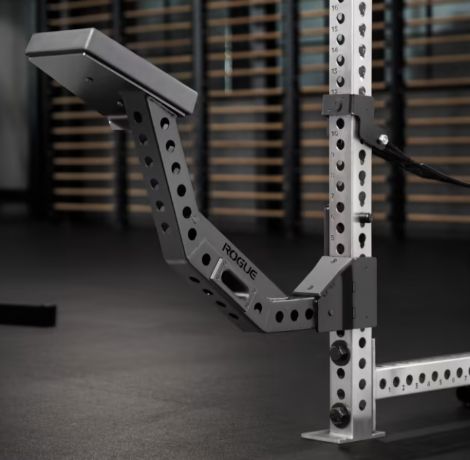 GGR Score: 4.1
Product Highlights
Co-developed with professional Strongman Jerry Pritchett

3" x 3" 11-gauge steel construction

Mounts onto 3" x 3" racks with 1" holes

Black powdercoat finish

Proprietary self-skinned polyurethane foam pad

Offset design to allow for chest-supported landmine rows
Pros & Cons
Pros
No hardware required
Ships fully assembled
UHMW inserts to protect rack
Stable on rack
Quality construction and design
Cons
Not as versatile as other seal row pads
Bulky and heavy to move on and off the rack
Hard to store
Bottom Line
The Rogue Monster Pritchett Pad is specially designed for chest-supported landmine rows done off of a power rack. Although not as versatile or adjustable as other seal row pads, if you're wanting to perform chest-supported rows, this rack attachment is heavy-duty, high-quality, and very stable in use.
A Quick Look at the Rogue Pritchett Pad
Made in the USA, the design of the Rogue Pritchett Pad was co-developed with professional Strongman Jerry Pritchett, who originally fabricated a prototype for use in his home gym; he then asked Rogue to improve upon it. This is most like a seal row attachment, although not as compact and adjustable.
The main reason for the design choices is that Jerry wanted a way to perform chest-supported rows with a landmine attachment. With the Pritchett Pad attached at the front of a power rack, and a landmine attached in the back, the landmine handles are at the right length to use effectively. Additionally, the pad is offset to allow the barbell to move freely during landmine rows.
The Rogue Pritchett Pad is great for any pulling motion done from a chest-supported position. Beyond landmine rows, you can do dumbbell rows, flyes, and curls (Coop said curls feel really good on the pad). There are other ways to set this up with weight benches or other tools, but the Pritchett Pad keeps the set-up relatively compact.
Before You Buy
We tested out the Pritchett Pad for the Rogue Monster series, but for those with a Rogue Monster Lite rack, there is the Rogue Monster Lite Pritchett Pad. At $20 cheaper, the main difference is that the Monster supports 1-inch holes, whereas the Monster Lite pad supports 5/8-inch holes. The Monster Lite version also has a hitch pin to connect to the rack.
Both versions of the Pritchett Pad work on 3-inch by 3-inch mounting uprights. If your squat rack doesn't have those dimensions (along with the right holes), the pad won't work with it. Also, companies that use imported steel like REP Fitness and Titan use metric measurements, so their uprights are slightly smaller than 3 inches by 3 inches. The attachment will still work, but may have a little more give or wobble than usual.
You can perhaps do movements on your back, but it's not designed or marketed to. According to Coop, the back pad is a little small. It's possible, but if you're wanting a seal row pad to use for back-supported exercises, you may want to look elsewhere.
Video Review
Is the Rogue Monster Pritchett Pad Worth It?
The Pritchett Pad is built to endure some heavy lifting. The design is impeccable and made to support Strongman-type loads. With solid 11-gauge steel and clean welds, it's made to handle some weight. However, to build a row attachment that could support so much weight, sacrifices had to be made in its versatility and adjustments.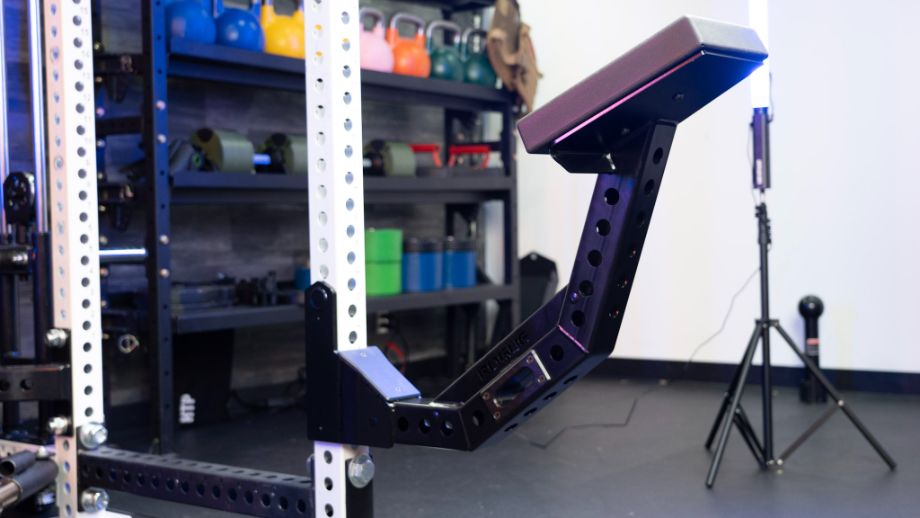 For one, Coop notes that there aren't any adjustment angles for the pad. While this would certainly add versatility to the machine, it would also hurt the stability of the Pritchett Pad and make it less stable at heavier weights.
If you're looking for more versatility in a seal row pad, there are some better options out there. But if you're looking to lift some heavy chest-supported rows, this is one of the best options available, and is reasonably priced for the task at hand.
Great for:
Athletes wanting to perform a chest-supported row
Lifters who want to add more versatility to their landmine attachments
Those with a 3" x 3" upright for power rack attachments
Not recommended for:
Home gym owners with a rig or rack that doesn't have 3" x 3" uprights
Those wanting more versatility in their seal row pad
Those needing an compact attachment that's space-efficient
Rogue Monster Pritchett Pad Specs
| | |
| --- | --- |
| Price | $295 |
| Weight | 39.15 lbs |
| Pad length | 12" |
| Pad width | 11" tapered to 8" |
| Pad thickness | 2.25" |
| Depth (from rack) | 33" |
| Construction | 3" x 3" 11-gauge steel |
| Fits | 3" x 3" tubing with 1" holes |
Workout Experience with the Rogue Pritchett Pad
The Rogue Pritchett Pad is made with a purpose in mind: chest-supported rows. It was made for strong people—like Jerry Pritchett—to do heavy landmine exercises while supporting the chest, and it does that well.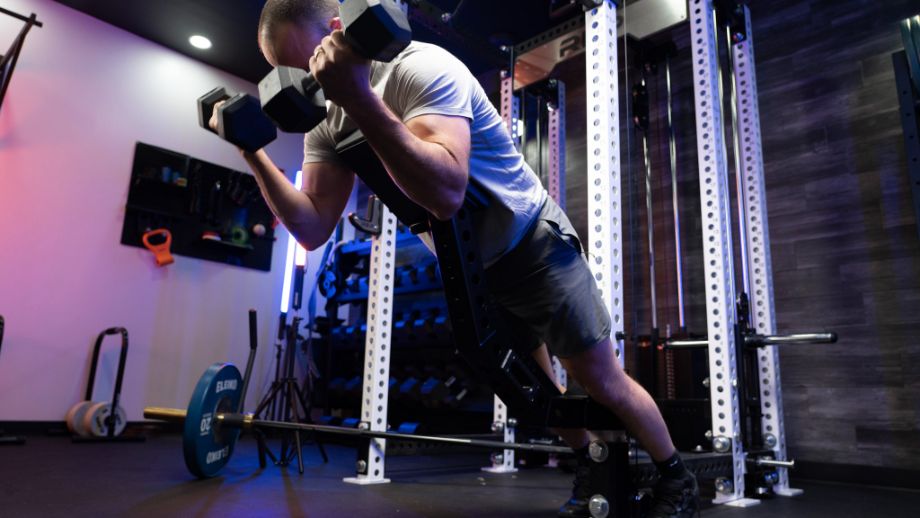 Practically every movement done in a chest-supported position feels great. Coop performed landmine rows, dumbbell rows, flyes, and curls—and they all felt great. "If you're going to use it and really want something for chest-supported rows, this thing…I think is probably the G.O.A.T. for that," Coop notes.
However, if you're looking for adjustability and an item that can perform multiple things, this may not be it. You can flip over and do some incline presses on the pad, but because it's not designed for that, it feels a little awkward at the angle. There's no adjustment outside of adjusting the pad height—which is just raising the attachment higher or lower on your power rack.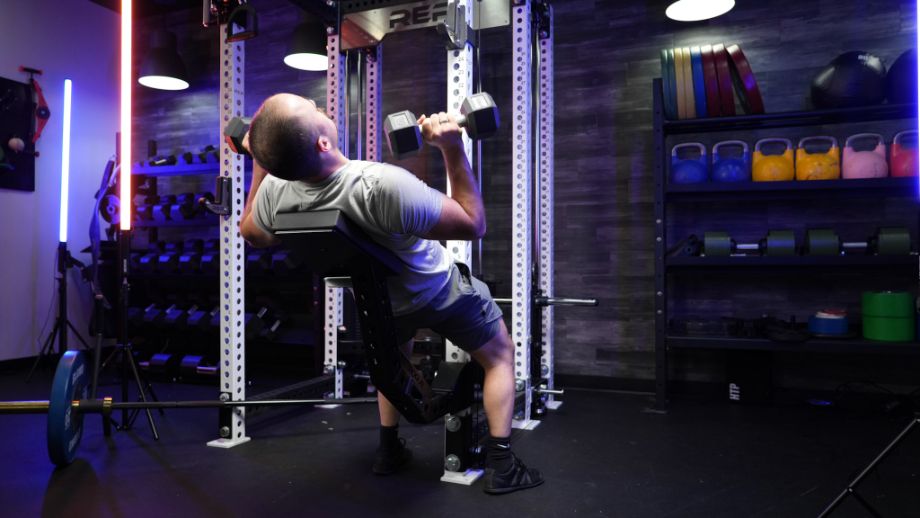 In his use of the Pritchett Pad, the main thing Coop wanted was an adjustment system for the pad. While it probably would have increased the complexity (and cost) of the pad, it also would have made the pad more versatile for a broader range of exercises—as well as helping change the angle for different heights of people.
Durability and Construction
The Rogue Pritchett Pad is built with the same consistent level of quality that is known from Rogue products. The attachment is built from 3-inch by 3-inch, 11-gauge steel tubing, the same used in their Rogue Monster racks. This makes it heavy and stable while in use, feeling very sturdy during your strength training.
It's designed for heavy weight, and Coop notes this, as he saw footage of Jerry Pritchett using the Pritchett Pad with a landmine with four weight plates—that's a lot of weight to support. Whether you're a weightlifter or Strongman like Jerry, or you're a beginner at rows, it'll hold virtually any weight you need for your workout.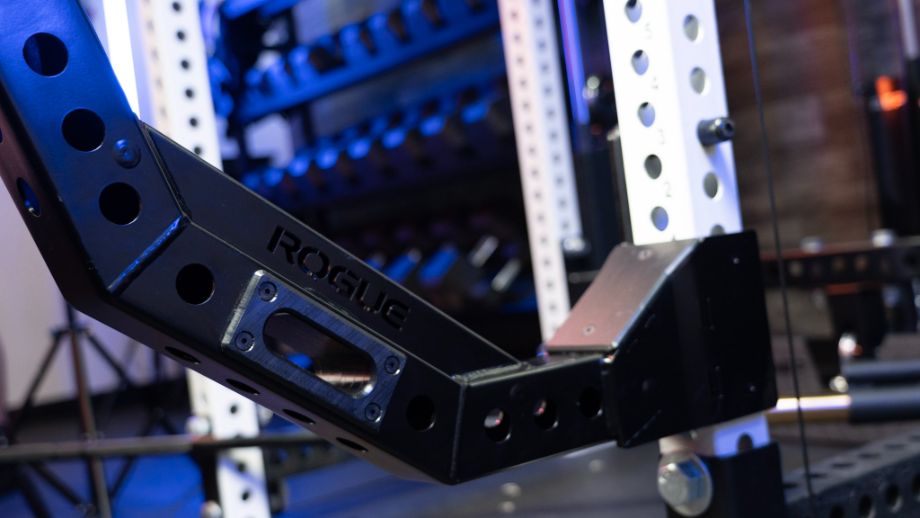 The quality of the build is solid, which can usually be expected from Rogue. The welds are strong and the laser-cut logos are crisp and clean. Also, the Monster Pritchett Pad has a black MG powder coat finish, which is a sharp-looking gloss. This gloss finish is solid, and it fits in with the rest of the Rogue Monster line…except with the Rogue Velocidor, Coop notes.
Additionally, Rogue has protected the metal coating with UHMW plastic inserts placed anywhere that there could possibly be metal contact with other metal. The channeling against the upright is covered in the protective plastic, as well as the center handle you use to carry the pad.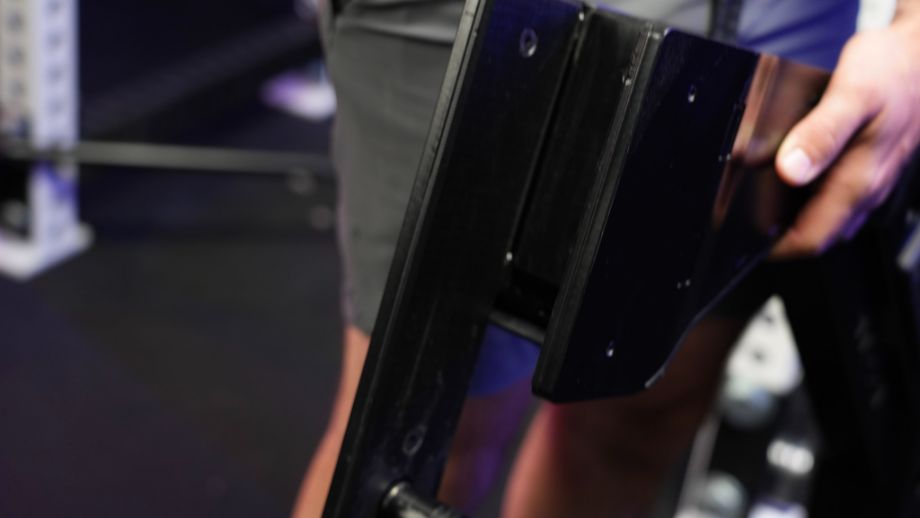 The rack attachment also has holes, which you could use to add other attachments to the pad. Coop isn't sure what attachments you could currently add to this, but likes the possibility of attachments down the road: "When in doubt, add holes. I love that idea."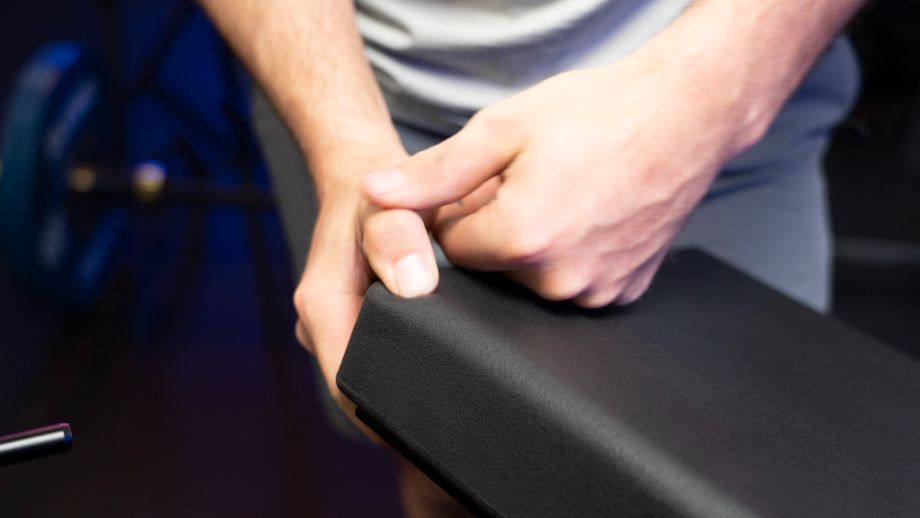 The pad is a proprietary self-skinned polyurethane foam, which is the same as on their Rogue Adjustable Bench 3.0. Coop likes it as it's pretty grippy—firm enough to keep you in place, but soft enough to keep you comfortable during your weightlifting. The padding is very durable, although Coop tends to prefer Rogue's other vinyl options.
Footprint and Portability
One of the Pritchett Pad's strengths is also its weakness. The pad is heavy, which makes it stable, but it also makes it unwieldy in moving it around. At nearly 40 pounds, it's not the most portable rack attachment; plus, it has an odd shape which is a little difficult to store. Coop says because of this, it's not the type of attachment that you're going to want to take on and off of your power rack between uses.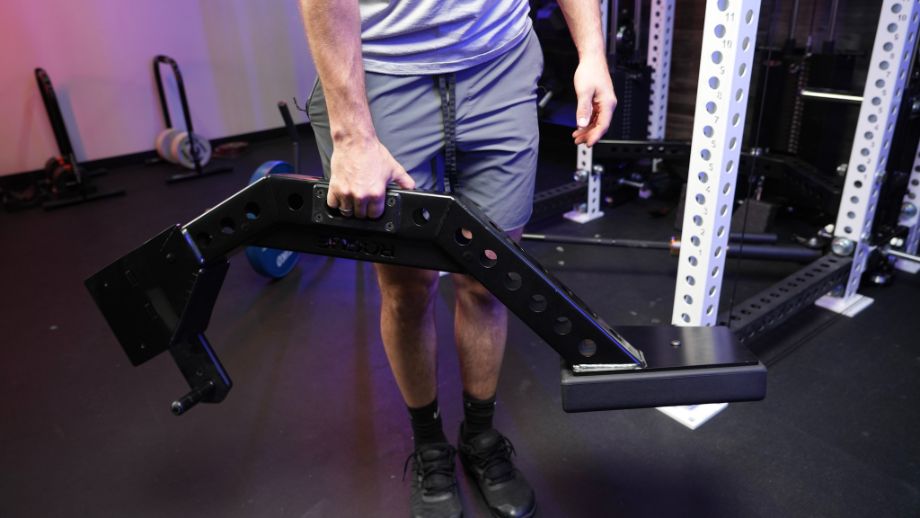 Coop wouldn't mind moving it between uses, but thought someone smaller may not enjoy moving it around, like his wife. "I could not see her leaving it off the rack, putting it on, and then taking it off when she didn't use it. She would probably just put it on and leave it on for me to take it off," he notes with a laugh.
It's a little difficult to store, due to its rounded shape. While the shape makes it great for chest-supported rows, there's no great way to store it off the power rack. Even on a power rack, it will take up a bit of space, extending from the rack 33 inches.
Comparison to Sorinex Bulldog Pad
Sorinex Bulldog Pad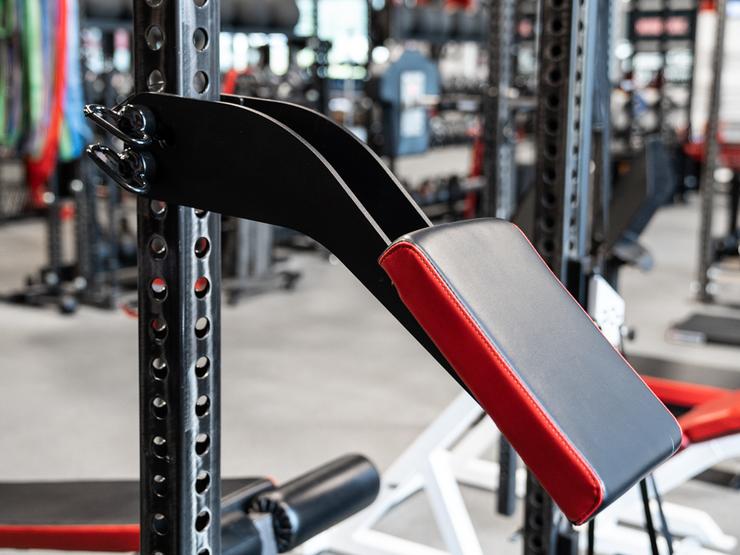 GGR Score: 4.5
Product Highlights
This patent-pending rack attached chest supported row can be utilized for rows or flys using a barbell, dumbbells, Center Mass Bells®, kettlebells, sandbag, or cable machine. This unit has four adjustment angles and can support arms, legs, head, or back for added stability during a multitude of pressing and pulling movements.
Made in USA
For a while now, the Sorinex Bulldog Pad has been one of Coop's favorite seal row pads, and for good reason. Compared to the Rogue Pritchett Pad, it has strengths and weaknesses, but which one is best for you depends wholly on which suits your fitness goals better.
Where the Bulldog Pad shines compared to the Pritchett Pad is in its compactness and adjustable angles. First, the Bulldog Pad has a depth from the rack of just over 27 inches, which is a bit shorter than the Pritchett Pad at 33 inches from the upright. Also, the Sorinex stands straight out from the rack, unlike the Pritchett Pad's angled design. This makes the Bulldog a much more compact attachment, easy to load and unload from the rack, and the attachment doesn't get in the way during barbell rows.
The Bulldog Pad also has four adjustment angles, making it versatile for a wealth of different exercises and people. The different angles can put it in a better position for incline pressing. While the Pritchett Pad does allow pressing, its inability to adjust doesn't make it ideal. The Bulldog is a more versatile piece of fitness equipment, so if versatility is needed for your home workouts, this may be the piece to go with.
Still, if you're wanting to just pull—rows, flyes, and curls—the Pritchett Pad is a solid piece of equipment. The heavy-duty steel and design allows it to hold a lot of weight. Plus, it comes out less expensive than the Bulldog Pad, even after shipping costs. The design is also specifically created for landmine rows,so if those are on your workout routine, this is a fantastic choice for your home gym.
For an in-depth look at this piece of equipment, read our Sorinex Bulldog Pad review.
| | | |
| --- | --- | --- |
| | Rogue Monster Pritchett Pad | Sorinex Bulldog Pad |
| Price | $295 | $369 |
| Weight | 39.15 lbs | Not disclosed |
| Pad length | 12" | 12" |
| Pad width | 11" tapered to 8" | 8.5" |
| Pad thickness | 2.25" | 2" |
| Depth (from rack) | 33" | 27.37" |
| Steel | 3" x 3" 11-gauge steel | 3/8″ thick steel |
| Fits | 3" x 3" tubing with 1" holes | 3" x 3" tubing with 1" holes |
Customer Experience
Rogue holds a limited lifetime warranty on structural welds and frames, which would cover the bulk of the Pritchett Pad. Upholstery such as the padding only has a 90-day warranty, however. Warranties can be voided due to faulty use, alteration, or mishandling of the equipment by the user.
Rogue offers 30-day returns on unused items, but the item has to be in its original packaging. There is an online returns and exchange form to fill out to begin the process. Any original shipping charges on your purchase won't be included in your refund.
There are quite a few ways to contact Rogue Fitness. The website provides a telephone and fax number. In addition, they have a FAQ page, along with a contact form to fill out. If none of these work for you, they even have a live chat option on the website.
Ordering and Assembling the Rogue Pritchett Pad
The Pritchett Pad can be ordered directly from Rogue Fitness, and the website states it'll ship within 2 to 4 weeks of making your purchase. It doesn't qualify for free shipping, so be prepared to pay extra for shipping costs. The pad comes fully assembled, so it's ready to use out of the box.
Rogue offers financing options in a couple of different ways, although these methods are available only to U.S. customers. You can finance through Affirm, making monthly payments over time, with orders of $250 or more. Fortunately, the Monster and Monster Lite Pritchett Pads both qualify for this on their own. PayPal customers can also choose PayPal credit, which has no payments and no interest for purchases of $99 or more—so long as the order is paid in full in six months.
Customer Reviews
As of this writing, the Rogue Monster sits at an average rating of 4.6 out of 5 stars on Rogue Fitness' website. Most reviews are very positive, and even the lower ratings speak positively on the build and quality of the Pritchett Pad. One review even touted that the Pritchett Pad worked well on a smaller half rack using a curl bar.
The most common complaint of the Rogue Pritchett Pad is the lack of adjustability, particularly in the padding. Some smaller people felt uncomfortable using it, and while adjusting the height was helpful, it didn't fully solve the problem.
Final Verdict of Our Rogue Pritchett Pad Review
The Rogue Pritchett Pad is designed for heavy weightlifting, particularly chest-supported rows. If you're looking for a rack attachment to support landmine rows, there isn't much out there that does a better job. However, the Pritchett Pad doesn't offer much versatility beyond pulling and rowing. If you're looking for an attachment offering a bit more versatility to your strength training, there may be better options available.
Rogue Pritchett Pad Rating
Rogue Pritchett Pad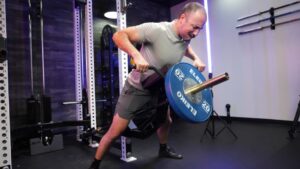 This overbuilt seal row pad is made to last through some heavy reps on your next back workout. Find out if it's worth a look in our Rogue Pritchett Pad review.
Product Brand: Rogue Fitness
Product Currency: USD
Product Price: 295
Product In-Stock: InStock
Rogue Pritchett Pad FAQs
How much does the Rogue Pritchett Pad cost?
The Rogue Monster Pritchett Pad costs $295, plus shipping costs. The Rogue Monster Lite version is $275.
What are the dimensions of the Rogue Pritchett Pad?
The Rogue Pritchett Pad extends 33 inches from the rack it's attached to. The padding itself is 12 inches long and has a width of 11 inches that tapers to 8 inches. The pad is 2.25 inches thick.
Is the Rogue Pritchett Pad worth it?
The Rogue Pritchett Pad is worth it for those wanting to do heavy chest-supported rows, with a landmine, dumbbells, or even kettlebells. Its solid construction and heavy-duty materials and welds help it support a lot of weight. However, if you're looking for more versatility, there are other seal row pads that have adjustment angles, allowing for more exercises and versatility.