We test and review fitness products based on an independent, multi-point methodology. If you use our links to purchase something, we may earn a commission. Read our disclosures.
When it comes to the best home gym equipment, rest assured that Garage Gym Reviews founder and OG product tester Coop Mitchell (and our team of expert product testers) will put our eyes, ears, and hands on anything we can.
In fact, we not only test home gym staples like barbells, dumbbells, and squat racks—we also enjoy evaluating accessories like lat pulldown and power rack attachments.
In this Rogue Velocidor review, we're going to examine both the pros and cons of Rogue's newest dip bar attachment and discuss what type of lifter and home gym owner this attachment is ideal for.
Testing Strength Equipment Since 2014
Speaking of our expert product testers, I think it's worth mentioning that we're not just a group of writers off the street. Our expert testers and review writers are a group of industry professionals including certified personal trainers, nutrition coaches, and even Olympic athletes. We think our collective experience in the weight room helps paint an accurate picture of the strength training products you are researching and potentially investing in.
Rogue Velocidor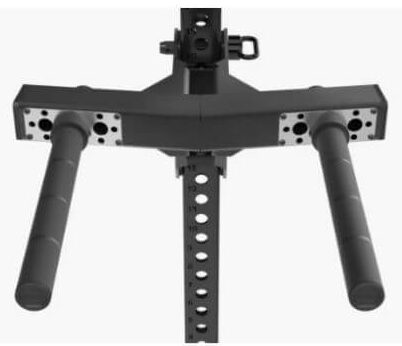 GGR Score: 4.35
Product Highlights
Adjustable dip bar attachment

3 width options

4 different angle options

Heavy-duty 7-gauge steel construction
Pros & Cons
Pros
Adjustable width for a custom fit
Adjustable angle for targeting different muscles
Can also be used for pull-ups
Heavy-duty construction built to last
Can accommodate weighted dips and pull-ups
UHMW plastic coverings
Cons
Overbuilt and heavy
Only compatible with racks built like Rogue Monster and Monster Lite
Expensive price tag
Rogue does not offer free shipping
Bottom Line
If you're someone who struggles to perform a dip with traditional parallel bars, this could be the solution for you with several ways to customize the experience with width and bar angle. The Velocidor is compatible with Rogue Monster Rack or Monster Lite Rack (or a other rigs and racks that are built with the same 3-by-3-inch tube steel and either 1-inch holes or ⅝-inch holes.
A Quick Look at the Rogue Monster Velocidor
Unless you live under a rock, you probably know that Rogue Fitness is one of the most popular brands to manufacture strength and conditioning equipment. Rogue manufacturers everything from versatile squat racks and barbells to niche equipment like belt squat machines and specialty pull-up bars.
RELATED: DIY Belt Squat Machine
From humble beginnings in 2006, Rogue has grown into the official equipment supplier for the CrossFit Games, USA Weightlifting, the Arnold Strongman Classic, and the World's Strongest Man competition.
Before You Buy
The Velocidor comes with a 12-inch Mini Strip for additional storage off the rack plus wood lag screws for mounting it into studs.
Coop notes that an additional hitch pin would be helpful for rotating in and out of storage-mode on the rack.
The Velocidor comes in two variations: One variation is compatible with the Monster rack (1-inch hole) and the other with the Monster Lite (⅝" hole).
Video: Rogue Velocidor Dip Bar Review
Is the Rogue Velocidor Worth It?
What's worth it for your home gym is highly subjective on your preferences, training style, budget, and overall space. All that said, we think the Rogue Velocidor might be worth it for folks who already own a Rogue Monster Rack (1-inch holes) or Monster Rack Lite (⅝-inch holes).
The Velodicor dip attachment could also work if own a squat rack that's constructed from 3-by-3-inch tubing with either 1-inch or ⅝-inch holes.
For example, the REP PR-4000 and the Bells of Steel Hydra Four Post Power Rack are both made from 3-by-3-inch tubing with ⅝-inch holes and are compatible with Rogue's ecosystem of ⅝-inch attachments—if you own one of these, you could get great use out of the Velocidor.
RELATED: REP Fitness Releases The PR-4000 Power Rack
Great for:
Home gyms or commercial gyms
Folks who own a Monster or Monster Lite squat rack or cage
Anyone who trains seriously for Strongman, powerlifting, or weightlifting
Not recommended for:
Folks who don't own a rack or rigs made from 3-by-3-inch tubing with either 1-inch or ⅝-inch holes
Anyone who wants a lightweight and portable option for a dip attachment
Home gym beginners or people on tight budgets
Rogue Velocidor Specs
| | |
| --- | --- |
| Price range | $295 to $325 |
| Weight | 44.5 lbs |
| Width settings | 3 |
| Angle settings | 4 |
| Maximum handle width | 29.5" |
| Minimum handle width | 13.5" |
| Handle diameter | 1.9" |
| Useable handle length | 16" |
| Materials | 3×3" 7-gauge steel |
Using the Rogue Velocidor
The first thing to note about the Velocidor is the fact it's pretty heavy and designed to sit on your rack. It's not a bad idea to have a dedicated upright on your squat rack for this attachment because of the weight and bulk.
However, "if you don't have multiple uprights or a place where you can just leave this, you will be putting this up on a rack similar to the way you put a 45-pound plate from the floor on your barbell because it's about that weight," says Coop.
RELATED: Rogue Echo Bumper Plates Review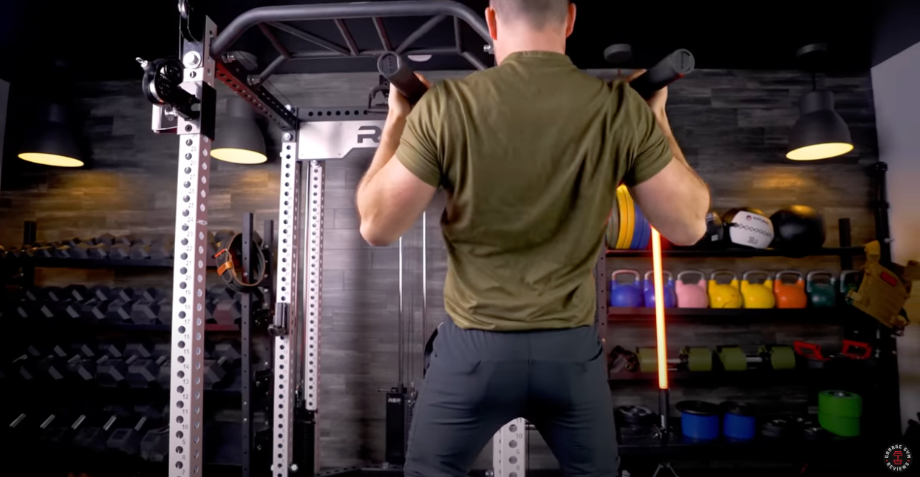 Coop also notes that the Velocidor only comes with one hitch pin, which can make moving or pivoting it into the storage mode a little harder. Basically, any time you decide to move or hinge the attachment, you're going to be pulling the pin with one hand and supporting nearly the entire weight of the Velocidor with the other hand.
Aside from the logistics of moving the attachment up and down (and on and off) the rack, the functionality is actually quite user-friendly for a dip bar with width and angle adjustments for the most custom dip experience you'll ever have.
Both dip handles feature a stainless steel pin for selecting the width, Additionally, beside the steel pin is a small buttonhole that allows you to twist the handle and press the button into one of four button positions surrounding each pin on the attachment itself. We'll get into more specifics about the adjustability later when we talk about ergonomics and comfort.
The handles on this dip bar have a 1.9-inch diameter and feature "a nice, medium, passive knurl—it's enough to give you grip while you're pulling and it's also not too much when you're pressing that it just digs into your hand," says Coop.
All of this aside, one of Coop's main callouts is the powder coating, which is everywhere including the frame. "I like powder coats anywhere I need extra grip, but I don't need extra grip on the frame."
He also notes that powder coat also doesn't match the glossy sheen of the Rogue Monster ecosystem of products available for the Monster Rack including the landmine attachment, jammer arms, trolley arms, safety spotters, flip-down safeties, and the Slinger pulley system.
RELATED: Rogue LT-1 50 Cal Trolley + Lever Arm Kit In-Depth Review
Footprint and Portability
For something that will be added to your rack, the Velocidor adds some considerable space with a length of about 29 inches (depending on the handle position while mounted), width of over two feet, and height of one foot.
It's also relatively heavy at 44.5 pounds. We know that if you're shopping for a specialty piece of equipment like this, you're used to racking and unracking 45-pound plates on and off your barbell, but Coop thinks it's worth mentioning because "at 45 pounds, this is an extremely heavy attachment," he says.
RELATED: Rogue Ohio Power Bar Review
Plus, because of the way you have to un-pin and attach the hitch pin through the holes, there will be moments when you're supporting the attachment with one hand. It's also worth mentioning the weight of the attachment because you may want to use this for pull-ups, which would have you actively attaching the Velocidor to your rack at an angle over your head.
Durability and Construction
"This is first and foremost very much a Rogue Fitness product," Coop notes in the GGR YouTube video review. And what he means by that is the heavy-duty construction of the dip attachment. The Velocidor is constructed from 3-inch-by-3-inch, 11-gauge steel through the bent (and welded) crossmember, plus quarter-inch-thick bent steel on the part of the frame that hugs the upright of your squat rack.
Coop's no. 1 reason why this looks and feels like a traditional Rogue product: "Because it's absolutely, positively overbuilt."
This is not necessarily a bad thing, though. It means that this dip attachment will accommodate your body weight plus any additional load you want to use for your dips. "Heavy can be good. It means it's very stable and overbuilt," says Coop. He even predicts that your squat rack would bend before you could damage the actual Velocidor—it's that solid.
Coop also mentions the fact there is UHMW plastic "covering every bit that touches your squat rack, which means that there will be no metal on metal contact when you use or move this dip attachment," says Coop. This includes on the underside of the attachment when it's in storage mode, too.
Another thing to note is the stainless steel backer plate placed around the width adjustment holes to protect the powder coating when you make adjustments to width and angle.
Ergonomics and Comfort During Dips
According to Coop, the most notable feature is the adjustable handles—both width and angle. There are three width adjustment points and four different angles per handle.
Coop notes that these adjustment points don't limit the functionality of this dip attachment, rather enhance the experience and customize it based on your preference, limitations, and overall body size and strength.
Coop compares the angle adjustments on the dip bar to the same type of flat, incline, and decline bench adjustments you can make on a bench. The handles can adjust to your width preference in addition to the angle including inward, outward, upward, and downward.
That means if you have a fairly narrow frame you can adjust the handles inward. If you have limited mobility, you can tip the handles upward to decrease the range of motion and potentially make the dip movement feasible.
According to the Rogue website, here are four the angles you can achieve:
Standard setting: 14 degrees outward, parallel to the floor
Upward setting: 7 degrees upward, 7 degrees outward
Parallel setting: Handles parallel to each other and floor
Downward setting: 7 degrees downward, 7 degrees outward
The angles really allow you to change the muscle groups you're targeting. Coop boasts about this angle adjustability saying, "this feature is something that I will use often and honestly makes this standout from pretty much every other dip handle that is out there."
Rogue Monster Velocidor vs Rogue Matador
Rogue Monster Matador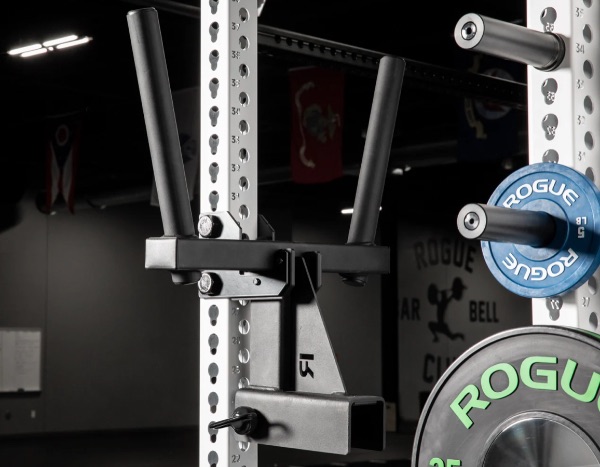 GGR Score: 3.6
Community Score: 4.6
Product Highlights
The Monster Matador Hanger a set of steel bolt-on plates custom-designed for securely storing the Rogue Monster Matador. Sold individually or as a 2-pack, the hanger is compatible with any Rogue Monster Series rack or rig, as well as the side panel of a Monster Mass Storage System.
Made in USA
The Rogue Matador is basically the little sibling to the Velocidor. It has a lot of similar features, but the feature that Coop think is the Velocidor's main attraction—the custom angle configurations—is what the Rogue Monster Matador is lacking.
However, the one thing Rogue reviewers note about the Matador is the fact it has a more user-friendly J-cup attachment rather than a hitch pin closure. The Matador is lighter, less expensive, and is only manufactured to fit with 1-inch holes on squat racks.
Additionally, we think it's worth mentioning that an adjustable dip bar design originated from Mutant Metals, a small American manufacturing brand. Mutant Metals took a simple horn-style dip bar and improved the design with the adjustable widths with the Ultimate Dip Attachment (aka UDA). Then Rogue went ahead and took that design to the next level with the adjustable angles.
All that said, the Mutant Metals and the similarities has stirred up some controversy in the strength and conditioning world. However, Rogue is now teamed up with Mutant Metals to produce the UDA and have it available on the Rogue website.
| | | |
| --- | --- | --- |
| | Rogue Velocidor | Rogue Monster Matador |
| Starting price | $295 | $185 |
| Weight | 44.5 lbs | 27 lbs |
| Handle diameter | 1.9" | 1.875" |
| Handle adjustability | Yes | No |
| Compatibility | Available for Monster racks or Monster Lite (with 5/8" hole and detent pin) | Rogue Monster racks and rigs (1" hole) |
Customer Experience
First, our expert product testers have overall had a pleasant experience with Rogue's customer support team and we typically get a speedy response from the live chat in the upper righthand corner of the website or via email.
Second, the warranty for items like the Velocidor is impressive with the brand covering a limited lifetime warranty on the frame and structural welds. However, with any warranty, the brand uses decisions about damage to products from alterations, faulty use, or improper handling.
And last, the return policy Rogue upholds is pretty typical: A 30-day window from the date of the arrival. If you plan to return an item, you must use the return form to initiate any return. You will also need to send it back in the original packaging and you'll be on the hook for return shipping fees.
Ordering the Rogue Velocidor
At checkout, after entering your personal shipping information, you will have the option to pay the full amount for the Velocidor with your credit card or click the "other method" button for three payment options including PayPal, Pay Later, and Affirm.
You'll need a PayPal account for the Pay Later option through PayPal. If you choose to use Affirm, you'll be able to apply by entering your cell phone number to receive a verification code to start the credit check process. The Affirm pop-up window assures you that checking your loan eligibility will not affect your credit score.
You might like knowing that this is a super easy install for your home gym. You'll unbox your Rogue Velocidor and walk it over to your squat rack, attach the arms, and you'll be ready for dips and pullups. The frame is one fully welded piece. The only parts that are separated are the detachable and adjustable dip handles.
Customer Reviews
Because the Rogue Velocidor is a new product, customer reviews are few and far between. There are plenty of comments on the GGR video review and Rogue's introduction video, but as far as folks actually hopping online to write a customer review, I only found one.
The reviewer below notes that this dip bar doesn't hurt his wrists like the Rogue Matador (or the Titan X-3 dip bar) and is pleasant to use. He notes issues with the fit being a little loose on his Monster Lite rack and issues with storage. Other than that, this one reviewer gives the Velocidor a solid 4-out-of-5-star rating.
Final Verdict of Our Rogue Velocidor Review
While not all folks need an heavy-duty, overbuilt dip attachment for their home gym, some lifters are going to swoon over this attachment. We think Rogue Velocidor dip bar will be worth the roughly $300 investment if you incorporate a lot of dips into your routine or perform weighted dips.
This attachment is also a solid investment if you own already own a Rogue Monster or Monster Lite Rack (or have a rack with built in the same style, meaning the uprights are from 3-by-3-inch tubing with either 1-inch or ⅝-inch holes).
Rogue Velocidor Rating
Rogue Velocidor
If you're searching for the ultimate dip bar attachment, the wait might be over. Find out all the details and specs in this Rogue Velocidor Review.
Product Brand: Rogue
Product Currency: $
Product Price: 295
Product In-Stock: InStock
Rogue Velocidor FAQs
Is Rogue just for CrossFit?
Rogue is not just for CrossFit boxes and elite athletes. Rogue Fitness is a brand that is seen in many home and commercial gyms across the country. That said, Rogue Fitness is also the official equipment supplier for the CrossFit Games, USA Weightlifting, the Arnold Strongman Classic, and the World's Strongest Man competition.
Is Rogue Fitness owned by Nike?
Although Rogue Fitness offers Nike apparel and shoes on the online store, Rogue Fitness is not owned by Nike.
Where is Rogue equipment made?
Rogue Fitness Headquarters is located in Columbus, Ohio.
Who is the CEO of Rogue?
Bill Henniger is the CEO of Rogue Fitness.
What brand is comparable to Rogue Fitness?
One of the most comparable brands to Rogue Fitness is REP Fitness.