We test and review fitness products based on an independent, multi-point methodology. If you use our links to purchase something, we may earn a commission. Read our disclosures.
If you're looking for high-protein meals or just simply trying to answer the never-ending question of what's for dinner, then you may be in the market for one of the best meal delivery services.
We know busy people like yourself are plagued with the question of what's for dinner, so we tried 40 different meal delivery services to help you weed out the good ones from the not-so-good ones.
In our Gobble reviews, I will take you through my personal experience with the brand's menu options and meal preparation so you can decide if you want to sign up. I'll also cover price per meal, nutritional information, and a general look at macronutrients and meal balance.
Medical disclaimer: This article is intended for educational and informational purposes only. It is not intended as a substitute for medical advice. For health advice, contact a licensed healthcare provider.
We've Tested 40 Meal Services To Date
At Garage Gym Reviews, you may know us for our in-depth and honest takes on home gym equipment—from the best treadmills for a home gym to the best shoes for deadlifting—tested by fitness industry experts and personal trainers.
But we're also experienced in the field of supplements and nutrition. Plus, we staff expert testers with nutrition coaching certifications and work with a panel of registered dietitians. We even went through a vigorous testing methodology with 40 different meal delivery services to discern the best options on the market.
For this Gobble review, I personally tested this meal kit delivery service and spoke with GGR panelist, registered dietitian and licensed dietitian Perry Nix, RD, LD, about her overall impressions on this subscription-based kit.
Gobble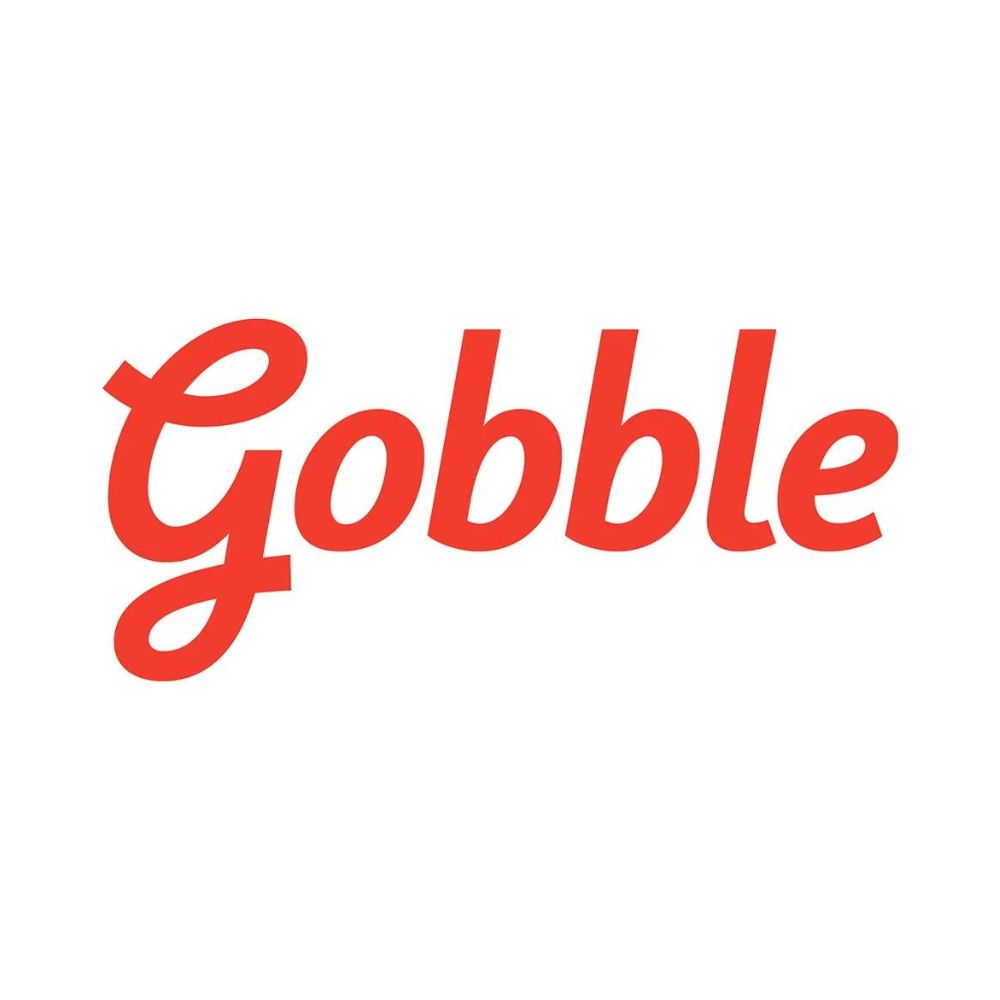 GGR Score: 3.57
Product Highlights
Weekly subscription meal kits

Fresh ingredients

Semi-prepared food

Easy-to-follow instructions
Pros & Cons
Pros
Fresh ingredients
Prepare dinner in 15 minutes
Ability to skip a week
Wide range of meals to choose from
Seasonal Thanksgiving meal boxes available
Cons
No smartphone app to manage subscription
No free shipping after first week
Bottom Line
Gobble is a meal kit delivery service with three meal plans including: Classic, Lean and Clean, Vegetarian. Regardless of which plan you choose, you'll have fresh ingredients show up at your doorstep that are mostly prepared and ready for your final touches. Depending on how many meals are in your subscription per week, prices range from $16.99 to $11.99 per meal.
A Quick Look at Gobble
Gobble started in 2010 when female founder Ooshma Garg was balancing her career and home life and found herself disappointed with endless takeout and not enough home cooked meals. While Ooshma remains CEO, in 2022 Gobble was acquired by Intelligent Foods, which also owns Sunbasket.
In a world where meal kits are a dime a dozen, Gobble meets a niche market with the promise to provide nutritious, home-cooked, and gourmet meals on the table in 15 minutes. While you'll be doing some of the prep work, Gobble does the majority of the heavy lifting before your order arrives at your door.
Before You Buy
Gobble is a subscription-based meal service with a 4-meal minimum per week
You'll make selections every week from the rotating menu
In addition to entrees, you'll be able to choose from a variety of sides, salads, and breakfasts
Is Gobble Worth It?
After personally testing Gobble, I feel confident that this meal kit service is ideal if you've got a busy life but still want to eat high-quality and good-tasting food at home. You'll be able to quickly put meals together that have more of a weekend dinner vibe versus a down and dirty midweek meal.
RELATED: Best Prepared Meal Delivery
And even if you're not the busiest person on the block, I think it's also a good option if you're new to cooking or you're interested in adding new flavors to your palate.
Good for:
Big appetites
Open-minded eaters
Vegetarian options
Not recommended for:
Gluten-free folks
Seasoned home cooks
Low-calorie diets
Gobble Specs
| | |
| --- | --- |
| Price per meal | $11.99 to $16.99 |
| Meals per week | 4 meal minimum |
| Meal kit or prepared | Meal kit |
| Diet options | Vegetarian, high-protein |
| Fresh or frozen | Fresh |
| Delivery area | Contiguous U.S. with the exception of Montana. Limited service in Nebraska, New Mexico, Kansas, Missouri, Iowa, Wisconsin, Michigan, North Dakota, South Dakota, and Louisiana. |
Experience Using Gobble
After testing Gobble, I think it's an ideal service if you're looking to reduce grocery shopping trips and prep time in the kitchen but you're still committed to eating homemade meals.
I also think this could be a meal kit that helps you learn how to cook or expand your cooking skills and taste for new foods. Gobble recipes are more interesting than a basic pasta dish or standard bodybuilding meal prep of chicken, rice, and broccoli. The changing weekly menu is one of the more interesting menus I came across in my testing experience and research.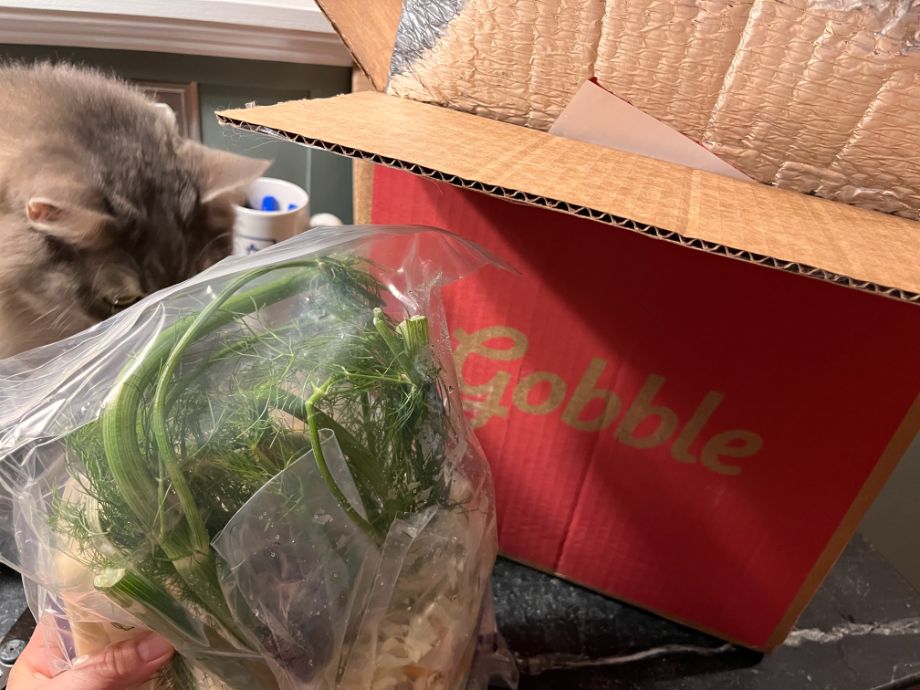 "Gobble is great for busy families who prefer not to eat frozen dinners," says Perry Nix, RD, LD. "The menu is extremely diverse with everything from global cuisine to classic comfort food. Meals include lean protein, carbs, and vegetables to provide you with the nutrients and energy you need to feel good."
I personally tried the following two meals:
Caramelized Onion and Swiss Chard Ravioli with Mushroom Marinara Sauce
Chicken Burger with Yuca Fries and Apple-Fennel Slaw
You'll have menu items like Sirloin Steak with Crispy Potatoes and Sugar Snap Peas, Thai Coconut Curry Chicken Soup, or Shrimp Louie Sandwich with Cheesy Baked Zucchini Wedges. Some items come prepared for you and other items will need some preparation, but you'll get the feeling of a real home cooked meal at the end.
All that said, I think it's important to note that this is not a super diet-friendly meal kit service. Gobble looks good and tastes good, but is not necessarily designed for weight loss or muscle gaining purposes.
RELATED: Best High-Protein Meal Delivery
Price Per Meal
When it comes to price per meal, I gave the Gobble meal delivery service a 3.5-out-of-5-star rating. Meals will range from $11.99 to $16.99 per meal depending on how many meals are in your weekly subscription order.
You can either order dinner kits for two or four people and request meals for two, three, four, or five days per week. That said, the minimum order is four meals (two dinner kits) and there is no maximum because you'll be able to add more meals, side dishes, or other add-ons during the menu selection process.
For my personal experience, I went with the minimum order: Dinner for two, for two nights. This had a grand total of $67.96 (which does not include $8.99 for shipping, because new customers get free shipping on the first box).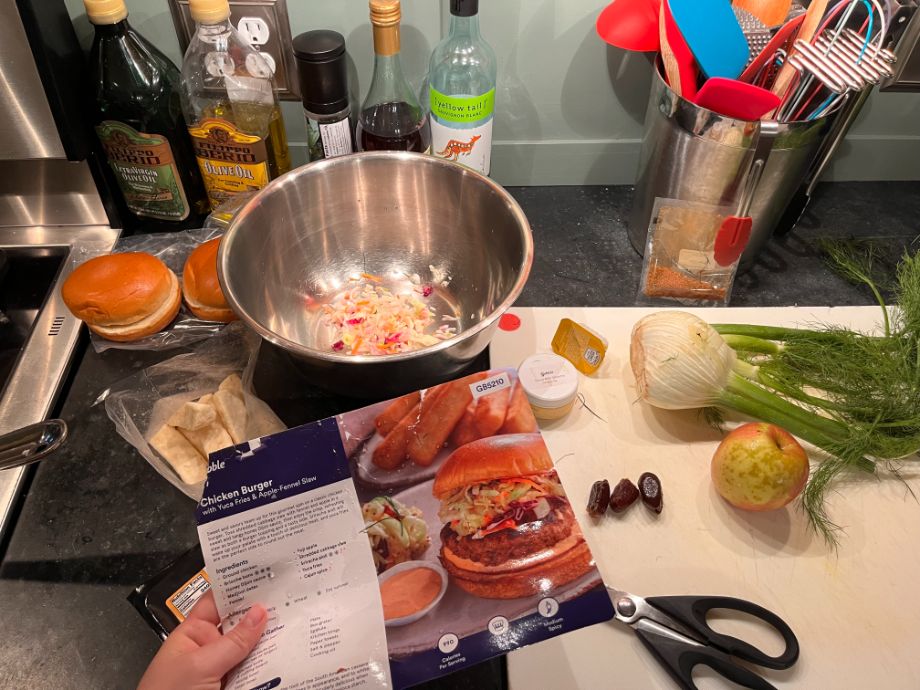 I think it's also worth noting that the more meals you have in your subscription plan, you will receive a slight price break. So when I chose the minimum order amount, my price breakdown was $16.99 per meal. Even so, this service is still cheaper than take out.
RELATED: Cheapest Meal Delivery Service
Gobble Meal Preparation
The Gobble meal kit cooking process is pretty straightforward. With every meal kit is nearly everything you need (minus things like salt, pepper, and olive oil) and a recipe card with cooking instructions.
Before I dive into the details, I think it's important to be honest about my cooking habits: I'm an avid home cook and I make pretty balanced, healthy meals about four to five nights pers week and I supplement with minimal takeout and restaurant meals.
Overall, I give the preparation process a 4-out-of-5-star rating. The website says that all dinner kits are designed to go from kit to table in 15 minutes, including cooking time.
I personally think 15 minutes is a stretch. In an FAQ section, the website notes that Gobble tries to do as much preparation for you by providing par-cooked sauces, grains, and pasta, or pre-sliced vegetables and meat.
I find that statement only partially true. All the sauces were prepared, but I still did quite a bit of chopping. One of the meal kits I tested was the Chicken Burger with Yuca Fries and Apple-Fennel Slaw. I needed to chop three different items for the slaw, season and form patties with the ground chicken, and fry the pre-made yuca fries.
I don't think that took me more than 20 or 25 minutes, but I guarantee it was not 15 minutes. Frying up the yuca fries alone took at least 8 minutes (about 2 minutes per side, for all four sides).
However, when you factor in the time it takes to grocery shop (and brainstorm a new recipe idea) you are certainly saving time.
Perry Nix, RD, LD, says the most appealing part about Gobble is the fact it "Takes care of the prep work but leaves the cooking up to you so you can enjoy a fresh homemade meal without spending a lot of time chopping and peeling."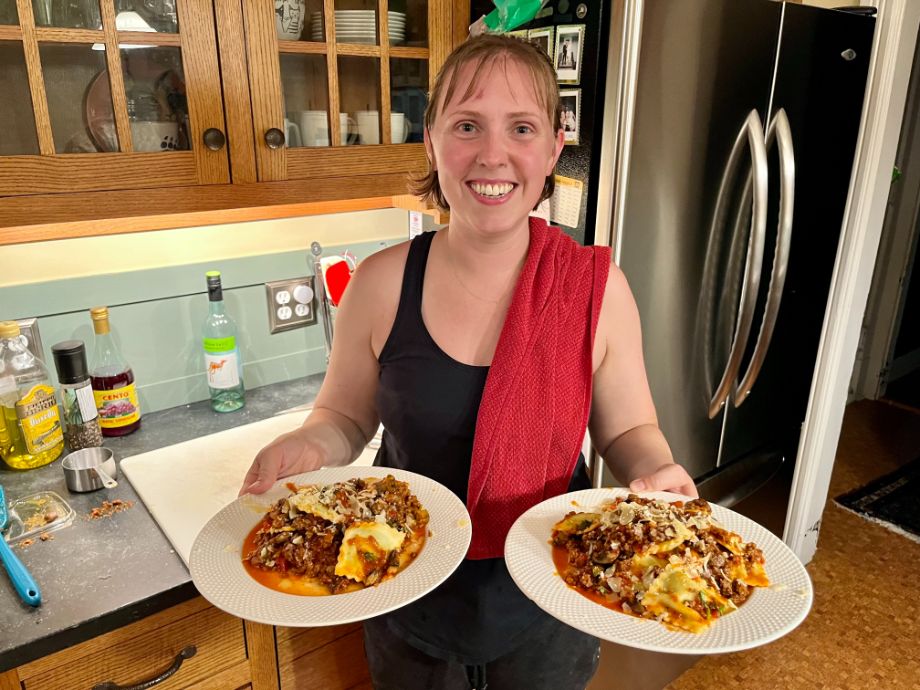 If you're ordering this service to learn how to cook, it's just going to take a little extra time. I'd suggest reading through the menu fully before you get started on chopping everything and firing up the stove. I personally went in with too much confidence and found myself double checking the recipe card a dozen times because I didn't give it a once-over before starting.
You will have kitchen cleanup to do that will feel similar to any meal you cook at home—both meals I tested required two pots or pans, which I think is pretty typical if you're cooking your own meals. I will note that it didn't feel like I totally destroyed the kitchen like I might when trying a brand new recipe.
Taste and Portion Size
For overall taste, I give my Gobble experience 4 out of 5 stars. One was a vegetarian meal with veggie ravioli and the other was a chicken burger with a slaw and side of yuca fries. Here are the names of what I ordered and calories per serving:
Caramelized Onion and Swiss Chard Ravioli with Mushroom Marinara Sauce (660 calories per serving)
Chicken Burger with Yuca Fries and Apple-Fennel Slaw (990 calories per serving)
My husband and I both enjoyed the ravioli dish and honestly thought it was a delicious meal topped with fresh basil and parmesan cheese. The chicken burger was just OK. The ground chicken patties just felt bland and dry, which is not that surprising and really not unique to Gobble's recipe. I personally think ground chicken is just OK to begin with, so I probably shouldn't have ordered this meal based on my own preferences.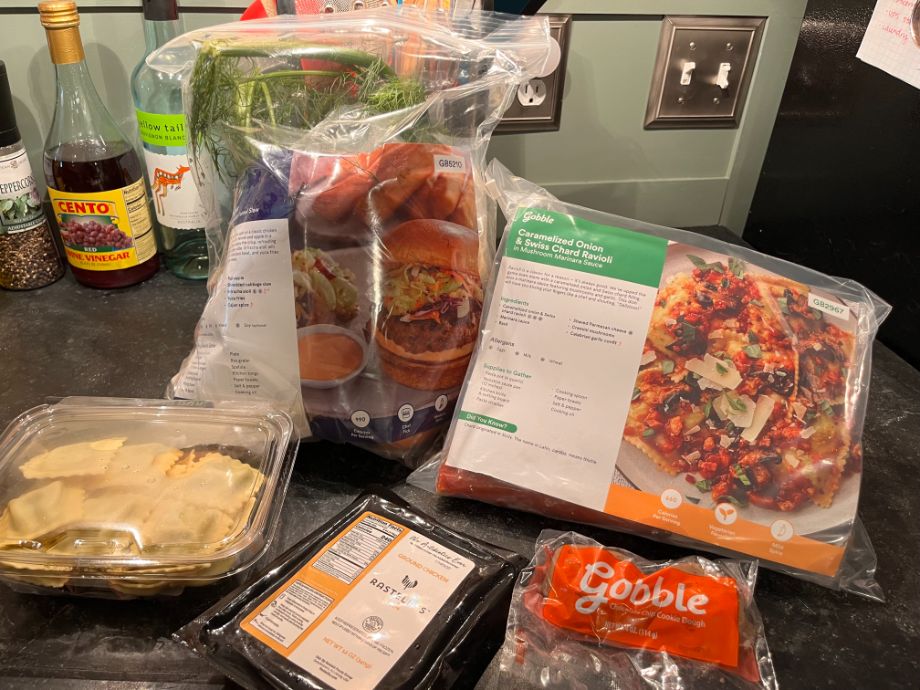 However, the yuca fries that came with the burger meal were fantastic (plus an aioli dipping sauce, how can you go wrong with that?). Although I thought the fries were the redeeming factor to this meal, my husband and I got knocked on our butts after eating the 990-calorie meal.
While both meals were enjoyable, I didn't find either of my selections particularly healthy. Portion sizes were hefty and generally high in calories. I give the portion sizes a 4-out-of-5-star rating because I honestly think they are a little too much.
After we tried both meals, I browsed through the FAQ section of Gobble's website and realized most entree meals from the Gobble menu range from 700 to 900 calories. That said, I would not recommend Gobble as a meal delivery service if you're on a weight loss journey.
RELATED: Best Meal Delivery for Weight Loss
Ingredient Quality and Nutritional Information
When it comes to ingredients, I was happy with the freshness and condition the ingredients and produce arrived in. Out of the two meals I tried, the only ingredient I noticed was a little beat up was an apple. But once I peeled the skin, the blemishes were gone.
While Gobble does not explicitly offer organic ingredients, the website has a little icon noting that they use sustainably sourced ingredients. While I was happy with the food quality, I give Gobble 4 out of 5 stars for ingredient quality because the brand doesn't offer more information about how and where the food is sourced from.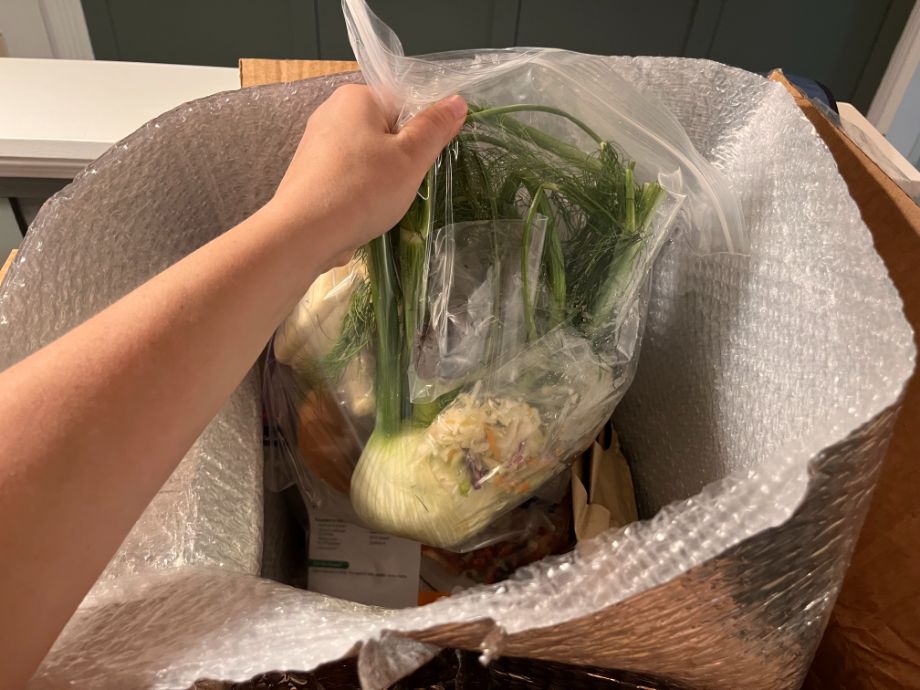 When it comes to access to nutritional data about the food, I rate Gobble a 4.5 out of 5 stars because it provides quite a bit of information on the recipe cards (and online while you make your selections) but doesn't include a traditional nutritional label. You will find a list of ingredients, allergen warnings, macronutrients, and overall calories but not a regular label.
Meal Plans and Customization
Gobble tries to offer meals for a wide range of people and dietary restrictions. However, other meal services I tried made it more clear during meal plan selection that siloed your dietary needs away from meals that didn't suit your needs.
For this reason, I rate Gobble 3.5 out of 5 stars for meal plans and customizations. There are only two tracks to choose from: Lean & Clean or Classic.
From there in your weekly menu selection, you'll be able to find gluten-free, dairy-free, and plant-based meals. However, you'll have to pay attention to your selections—the website doesn't automatically sort non-meat meals because you eat a plant-based diet, you will see all the menu items.
Additionally, Perry Nix, LD, RD, finds it "odd that the Lean & Clean meal plan doesn't include grains. Whole grains like brown rice and quinoa are full of fiber, which improves blood sugar control and lowers cholesterol."
Ordering, Packaging, and Shipping
Ordering is pretty straightforward, but I think it's incredibly annoying that you have to sign up to fully view the menu and have full access to the website. For that reason, I'm giving Gobble a 4-out-of-5-star rating for the ordering process.
Once I signed up, placing my first order was simple by choosing from the menu. After your first week, you have the ability to hand-pick your meals, but Gobble will automatically place suggestions in your cart unless you manually override them.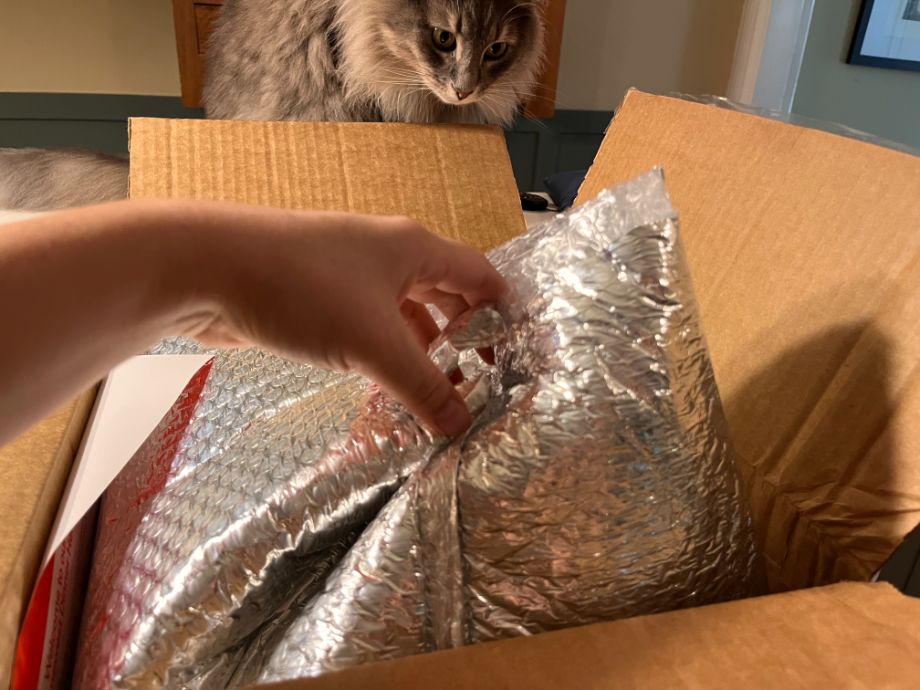 I thought packaging and shipping was simple and straightforward. All of the fresh ingredients and shelf stable items came packed in a cardboard box with reusable gel ice packs. Everything was cool to the touch and the ice packs were still half frozen. Plus, everything was recyclable. Gobble gets 5 out of 5 stars for shipping and packaging.
Gobble vs HelloFresh
HelloFresh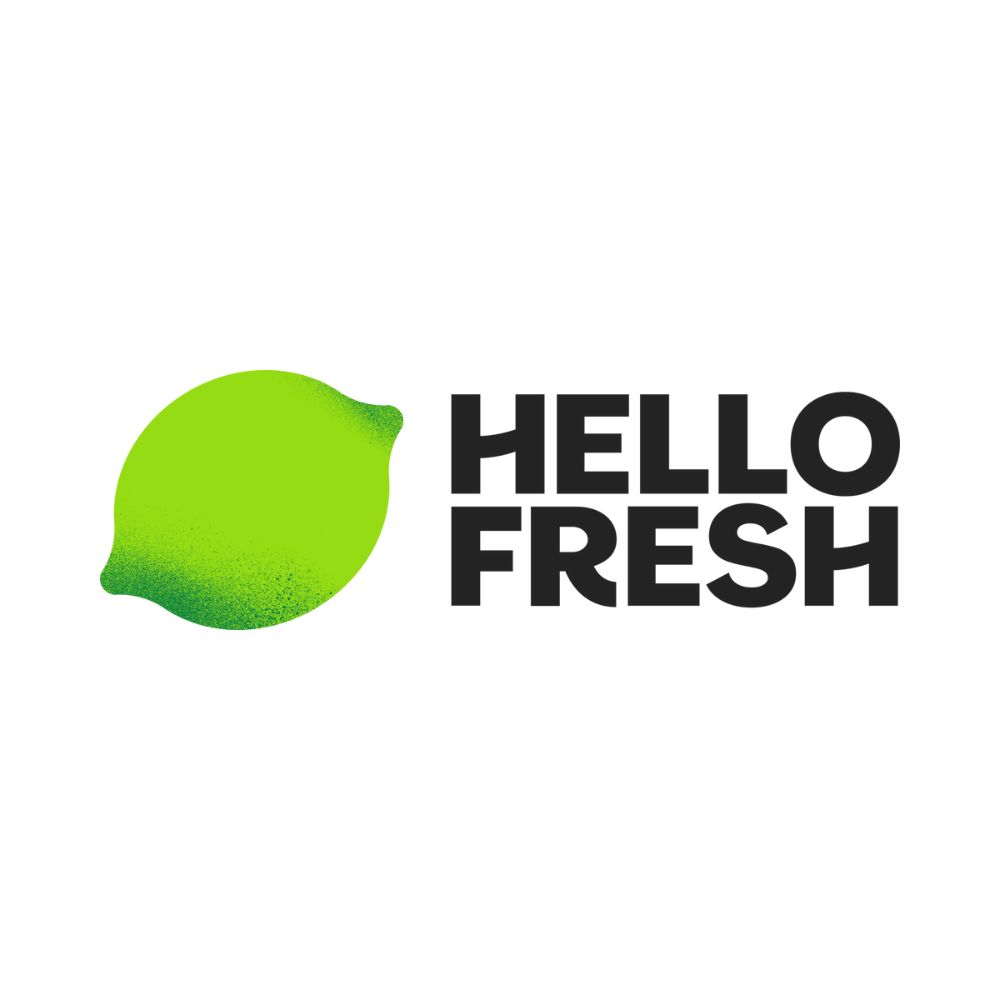 GGR Score: 4.13
Product Highlights
Meal service that delivers ingredients and recipes

6 different plans available, including vegan and pescatarian options

Can swap out different proteins and sides

Can purchase between 2 and 6 meals, in portions to feed 2 or 4 people

40 weekly recipes to choose from

Sourced from U.S. farmers
Pros & Cons
Pros
Saves on meal-prepping
Can swap out ingredients
Chef-curated recipes
Sourced from U.S. farmers
6 meal plans to choose from
Cons
Customer reviews complain about ingredient inconsistencies
Some reviews claim meal portions are small
Bottom Line
HelloFresh is a subscription meal delivery service that provides ingredients and recipes for weekly meals. They provide six different plans, including plant-based, pescatarian, and quick and easy meals. Additionally, 40 different recipes are available each week, and proteins and sides can be swapped out as needed. The subscription is flexible, as you can skip a week, pause, or cancel your account at any time.
HelloFresh is one of the OG meal kits that hit the market and is still thriving. Our expert product testers ordered, tested, and wrote an in-depth HelloFresh review—and agree that it's one of the best meal kits available. That said, it's similar to Gobble in that neither offer diet-specific meal plans or truly cater to folks with dietary restrictions.
While both brands are similar and offer gourmet-style cooking kits, we scored HelloFresh with a higher overall rating at 4.13 stars and Gobble with a 3.57-out-of-5-star rating overall.
Part of the overall rating has to do with the fact HelloFresh meal pricing is more reasonable and the taste was more consistent for our product testers.

RELATED: HelloFresh Alternatives
| | Gobble | HelloFresh |
| --- | --- | --- |
| Price per meal | $11.99 to $16.99 | $8.99 to $12.49 |
| Meals per week | 4 meal minimum | 2 to 6 |
| Meal kit or prepared | Meal kit | Meal kit |
| Diet options | Vegetarian, high-protein | Meat & Veggies, Veggie, Family Friendly, Fit & Wholesome, Quick & Easy, Pescatarian |
| Fresh or frozen | Fresh | Fresh |
Customer Experience
I'm going to give Gobble a 5-out-of-5-star rating for customer experience. Although I'm not a huge fan of these subscription-based companies, my experience with customer service made canceling and requesting a refund a breeze.
To test Gobble I had to sign up for the subscription because there is no trial period or anything like that. And because this was truly a test, I didn't want to keep receiving Gobble boxes so I skipped the second week to allow myself a longer window to go ahead and cancel the whole subscription plan.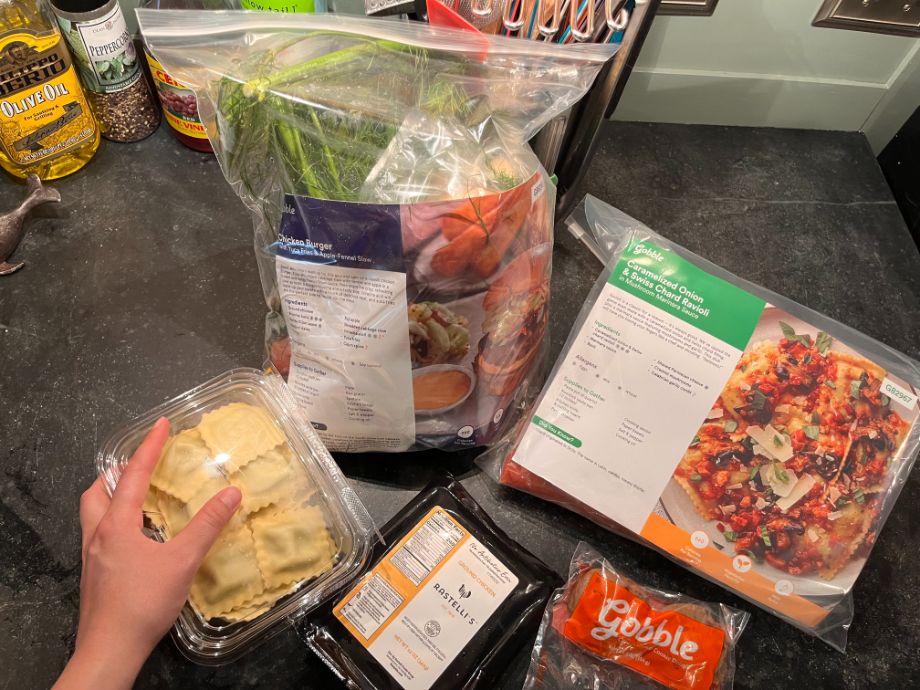 And of course, two weeks goes by and I forgot to log in to Gobble's website and cancel. I didn't remember until I got an email that my order was getting ready for shipment (but I was surprised I never got an email saying it was time to make my next menu selections).
All that said, I used the customer support phone number provided on the website and got through to a live person quickly (shoutout to Angela) who canceled the order and refunded me for the order I didn't want without any fuss.
Gobble also offers a live chat feature, general inquiry form, and phone numbers you can call or text. Plus, the business hours are listed, which I find helpful.
Customer Reviews
While there are no customer reviews featured on the Gobble website, I went to Trustpilot and found that there were over 2,000 customer reviews and an average rating of 4.2 out of 5 stars. Reviews ranged from raving fans to folks who thought the meals were terrible.
I did read several reviews that certain flavor combinations and meal choices were out of the customer's comfort zone, so perhaps that's one of the reasons folks were disappointed in taste.
Another thing I noticed was folks saying that the packaging was sloppy and the recipe cards were often soggy and falling apart. I actually did notice this on one meal, but I thought it was because I didn't prepare it right away—it sat in the refrigerator for probably three days after the delivery date. The recipe card was super soggy by then. It also had more fresh produce while the other meal I tried had more shelf-stable items.
Final Verdict of Our Gobble Reviews
If you're looking for a meal delivery service that helps you expand your palate, try new recipes, and sharpen your cooking skills, then Gobble is going to check a lot of boxes for you. However, if you're looking for a meal delivery service that will help you lose weight and improve your health metrics, this is not the meal service for you.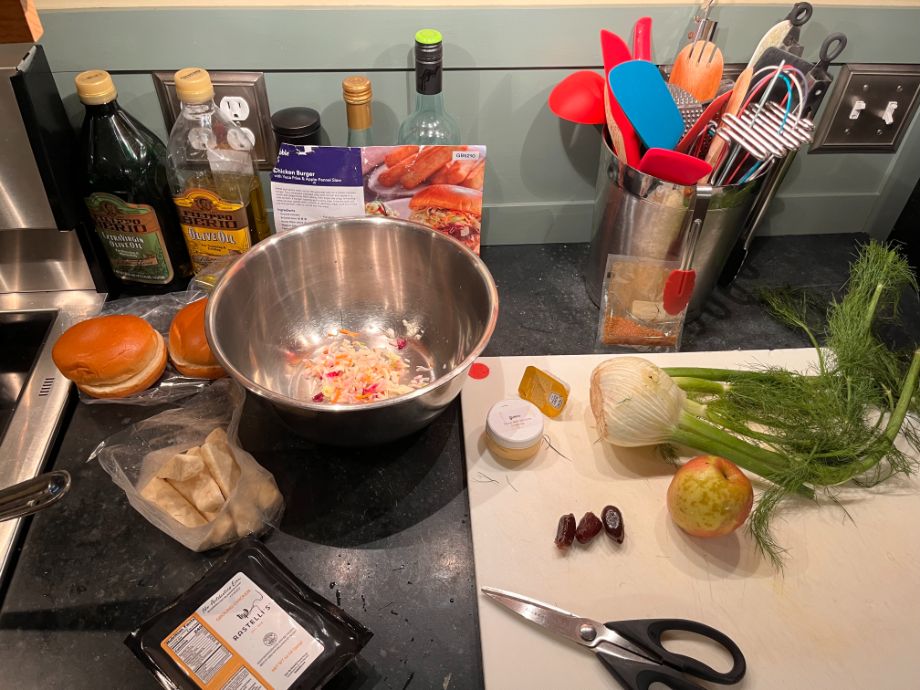 Gobble offers good-tasting meal kits that are delivered with fresh ingredients right to your door. Here are some things to keep in mind before you sign up:
All meal kits come with fresh ingredients, not frozen
Gobble meals average 700 to 900 calories
Price per meals ranges from $11.99 to $16.99 depending on how many meals you order
Gluten-free, dairy-free, and vegetarian options available within weekly menu selection
No options for diets like Keto, Paleo, or other restrictive eating patterns
Full Gobble Rating
Gobble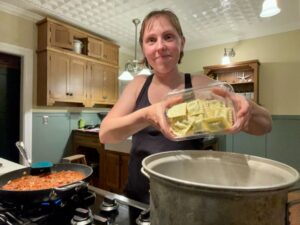 Find out if this meal kit is worth the subscription in our honest Gobble reviews.
Product Brand: Gobble
Product Currency: USD
Product Price: 36.00
Product In-Stock: InStock
Gobble: FAQs
Here are some frequently asked questions on the meal kit delivery service, Gobble:
What does Gobble cost?
Gobble ranges from $11.99 to $16.99 per meal. The brand offers a slight price break when you have more meals in your weekly order. You will have a minimum of two meal kits per order, which is four meals. 
Who bought Gobble?
Intelligent Foods acquired Gobble in 2022, which is the same parent company for Sunbasket. In the acquisition, founder and CEO of Gobble, Ooshma Garg was named CEO of Intelligent Foods. 
Is Gobble easy to cancel?
Gobble is easy to cancel online and can be done without calling customer service. To avoid unwanted boxes, be sure to cancel before your next weekly delivery. 
Is Gobble pre-cooked?
Gobble does not send prepared food to your door. Gobble is a meal kit that features grocery items, semi-prepared ingredients, and par cooked sauces so you can reduce prep time in the kitchen and still have home cooked meals. 
These statements have not been evaluated by the Food and Drug Administration. This product is not intended to diagnose, treat, cure, or prevent any diseases.