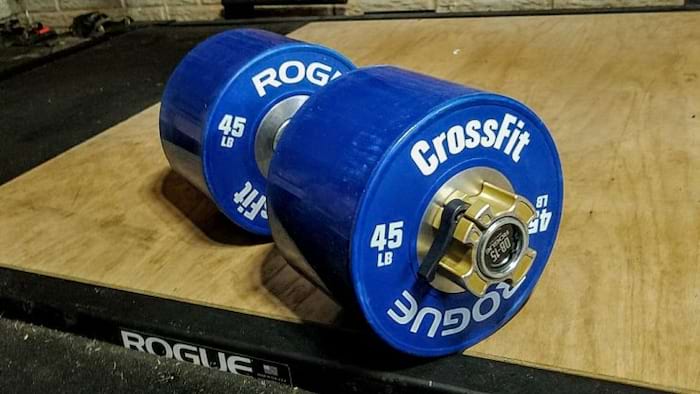 Rogue Fitness is known for introducing new, unexpected and innovative pieces of training equipment to market. Through their storied history that despite having such a large presence, is actually a very short one, Rogue has pushed the boundaries to help produce better athletes and healthier people through strength equipment.
You'd be hard-pressed to go through the comments section on any Rogue social media post and not see at least a couple of comments like the following:
"Way overpriced!"
"Who would ever even use that?"
"Rogue just wants your money!"
Although these comments annoy me to no end, they're always there. First off, if something is more than you want to pay, simply don't buy it--it's called voting with your dollars. The same goes for whether you would use it or not; just because you wouldn't use it, that doesn't mean nobody would use it. I say all of this because I've seen more of these types of comments on posts involving the Dumbbell Bumpers than any others.
The Rogue Dumbbell Bumpers are not for everyone, but they are for someone and for the people who decide to use them, they will be more than satisfied.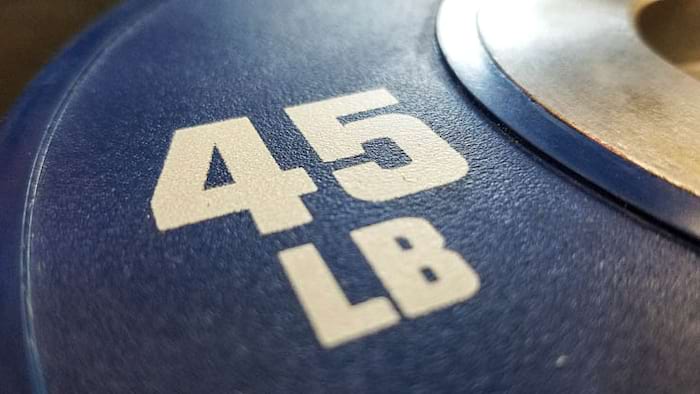 In typical Rogue fashion, nothing about the Rogue Dumbbell Bumpers is underdone. From the rubber used to the unique cut-out in the hub, the Dumbbell Bumpers are high quality, effective, and to be honest, they're just plain cool. For those like me that geek out over new equipment, this is one of the "coolest" pieces of strength training to be released in 2017.
As stated, the rubber used isn't cheap. Granted, as with all Rogue Bumper Plates, they're still being imported from most likely China, but that fact doesn't mean they're not high quality.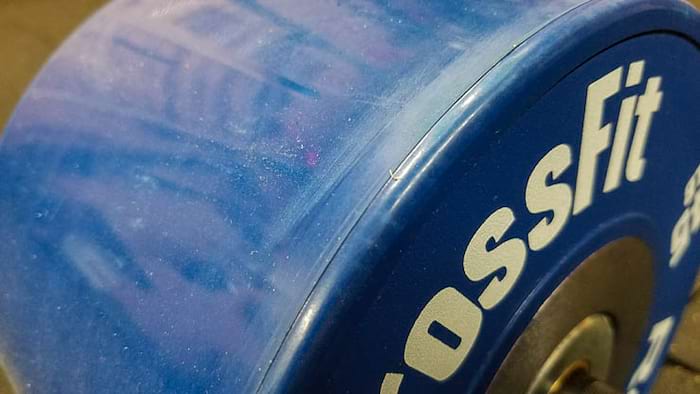 The way you achieve a stable bumper is through the use of a high-density rubber, as measured through a durometer rating, as well as a large center hub. The width of the Dumbbell Bumpers also plays a role in its stability as there is more contact of the bumper plate with the ground.
The durometer rating, being a measure of rubber density, tells quite a bit about how the bumper plate will perform over time. The lower durometer rating a bumper plate has, the softer it is, and therefore the more likely (often times) it is to break down. A lower durometer rating will also indicate a higher bouncing rubber; if you think of durometer ratings in terms of things outside of strength training, a bouncy ball would likely have a very low durometer rating while a horse stall mat would have a high durometer rating.

The durometer rating of the Rogue Dumbbell Bumpers is an 88. When we compare this to Rogue's other bumper plates, it's on the upper end regarding ratings. Their premier bumper plates are the Rogue Competition Plates which have a durometer rating of 94. The bumpers that are most like the Rogue Dumbbell Bumpers (I'd assume they use pretty much the same rubber) are the Rogue Color Training 2.0 Plates which have a durometer rating of 86.
I go into all of this detail to illustrate that the Rogue Dumbbell Bumpers aren't just made to look cool, they're also going to be very durable.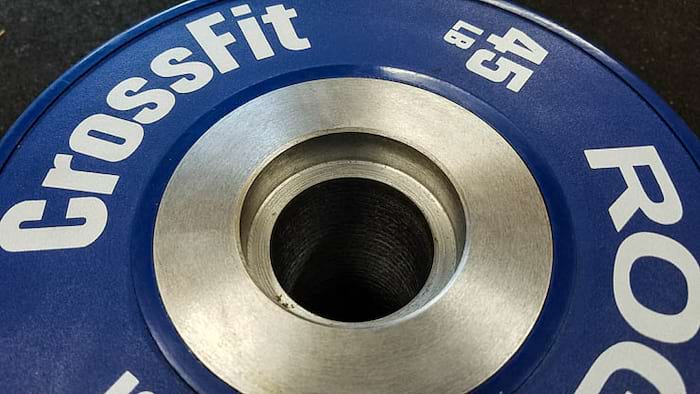 The inside of the Dumbbell Bumpers feature the same chrome-plated hub that's used on Rogue's Training Plates and should prove to provide good corrosion resistance, but also helps Rogue to remain within +/- 1% of the stated weight.
Everything about the Dumbbell Bumpers is pretty standard for bumpers, sans them being both wider and shorter. However, there is one part of the bumper plate that is honestly a pretty intelligent move on Rogue's part. Instead of the Dumbbell Bumper sitting flush with the barbell/Loadable Dumbbell Handle collar, Rogue has cut out a piece of the bumper plate hub to allow it to encapsulate the sleeve collar. This was imperative for Rogue to keep the Dumbbell Bumpers the height they have them, while also allowing for a smooth place to rest your hand.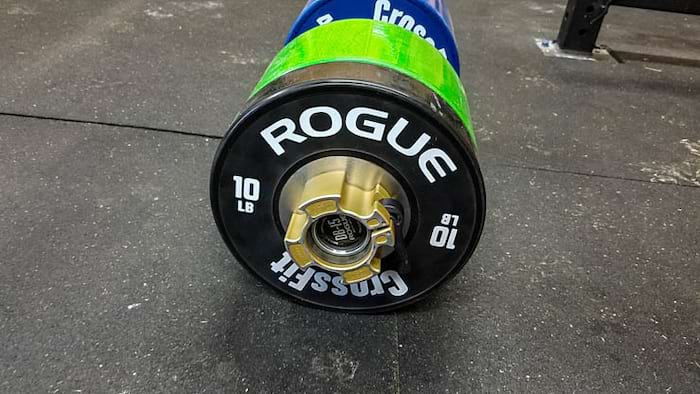 I decided to purchase the 10 lb, 25 lb, and 45 lb bumper plates thinking this would allow me to get the maximum weight combinations for my dollar. Due to the 10 lb bumper plate being so thin, they will fit on the bar along with the 25's, while an OSO collar keeps them in place. What this means is there's little need for the 35 lb dumbbell bumpers, because you can combine the 25 and 10 lb options to arrive at the same weight.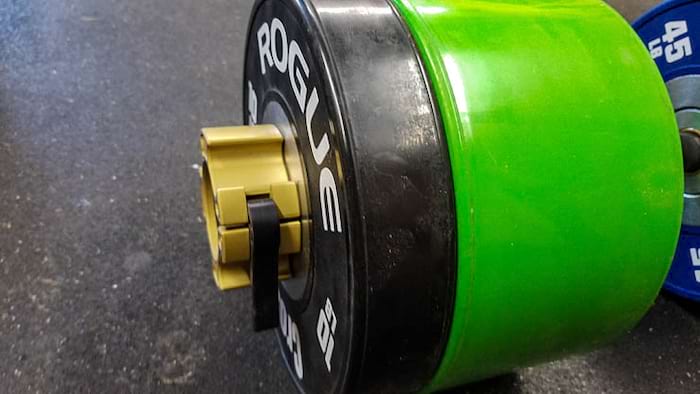 In use, the Dumbbell Bumper Plates along with the Loadable Dumbbell Handle are actually much more versatile than I was expecting. I thought they'd be great for dumbbell snatches and rows, but I've found myself throwing them into all sorts of workouts.
Here are a few different movements I've done with the Dumbbell Bumpers without much awkwardness or issue:
Snatch
Clean and Jerk
Kroc Rows
Lateral Raise
Overhead Press
Bench Press
Curls (all angles (for the gainz))
Turkish Get Ups
Tricep Kickbacks (just kidding)
Behind the Neck Tricep Extensions
I'm sure there are many more movements that can be done for those of you that like to get really creative as well.
To prevent the comments section from blowing up with whether you can drop the dumbbell bumpers or not, here's my opinion. I have no problem dropping them from waist height. However, I would not advise dropping them from any higher than that. There's no issue with the bumpers and handle taking the impact, but due to their size, they will land unevenly and fly all over the place.
The Rogue Dumbbell Bumpers are more than simply a cool toy; they're useful and real piece of training equipment. If you do CrossFit, these are perfect for most movements involving a dumbbell, and if you own a training facility, these are sure to increase excitement in workouts (which does matter.)