We test and review fitness products based on an independent, multi-point methodology. If you use our links to purchase something, we may earn a commission. Read our disclosures.
Food Network icon Alton Brown once said that the only unitasker in the kitchen should be a fire extinguisher, and I think the same rule should apply to most home gym equipment as well. The more functions a piece of equipment can perform, the better in my book. But there's a fine art to balancing versatility and going overboard.
Our NordicTrack FS14i review looks at a cardio machine that mimics the movements of not one, not two, but three machines in one. But is that too many, or can this jack-of-all-trades master them all?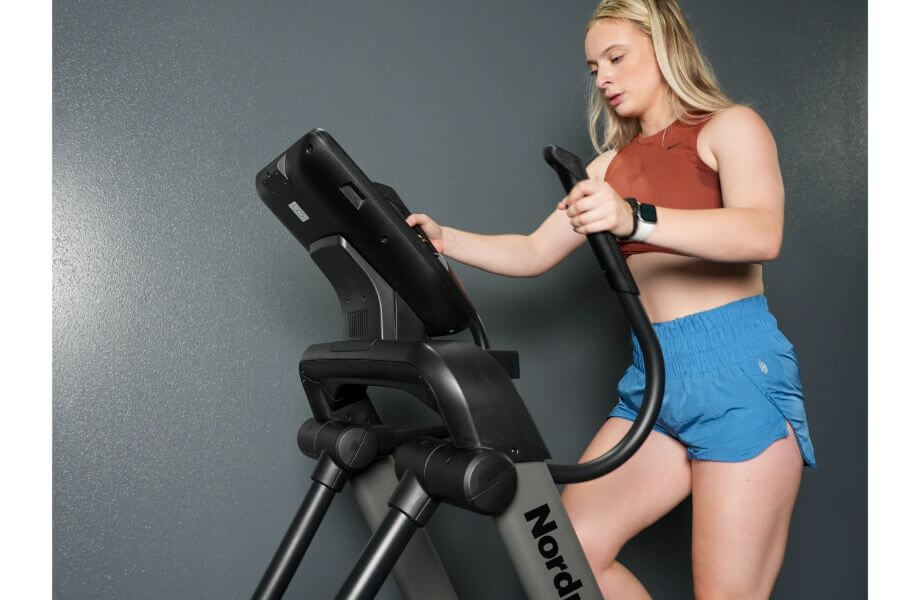 Fitness Advice and Product Reviews—Garage Gym Reviews Does it All
Think of us as the Swiss Army knife of home gym equipment reviews. We're not only certified personal trainers, CrossFit L-1 coaches, and nutrition experts who can help people achieve their fitness goals, but we know cardio machines like the back of our hand. Our product testers have spent countless hours examining every part of the ellipticals, treadmills, and exercise bikes you can find on this website.
NordicTrack FS14i
NordicTrack FS14i FreeStride
The NordicTrack FreeStride Trainer FS14i is a multi-functional workout machine that functions as three different machines in one. The extensive workout library from iFIT, multitude of resistance levels, and different ways to train make it the perfect machine for any fitness enthusiast who loves to do different forms of cardio.Make use of the three-in-one technology as you channel both muscle and cardio development. The 14-inch touchscreen allows you to see your workouts with trainers as they adjust your settings for a maximized workout experience.The main downfall to this machine is its large size and heavy weight, but to be fair, it takes up far less space than if you were to purchase a stair climber, elliptical, and treadmill all separately.
A Quick Look at the NordicTrack FS14i
The NordicTrack FS14i FreeStride Trainer is primarily an elliptical machine, but can also be used as a stepper or a treadmill. Well, that last one is only kind of true but we'll explain what we mean in a little bit. For now, all you have to know is that this machine is large. It measures 74 inches in height, which is taller than this writer, and 58.5 inches in length, and weighs 287 pounds.
The benefit of that is you feel super stable no matter what movement you're doing on it, but it is a pain to move around if you need to create space in your home gym.
My Tips
Pros:
Can be used to achieve three different movement patterns  
26 levels of resistance 
375-pound weight capacity 
Feels stable in use 
Automatic trainer control through iFIT
Cons:
Complicated assembly (professional installation is available)
Weighs close to 300 pounds and is difficult to move
Expensive, starting at $2,499 (financing options are available)
Is the NordicTrack FS14i Worth It?
The NordicTrack FS14i starts at $2,499, which is a lot for any cardio machine. But does the fact that it's technically three-in-one make it a little more worthy of that price?
The short answer is yes, in that it's a great machine with all the bells and whistles you could ask for, feels comfortable when you're using it, comes with high-quality iFIT programming, and is versatile. There's also the NordicTrack FS10i, which has everything this machine has but with a 10-inch screen instead of a 14-inch one.
But that's our opinion, and some people may disagree with us. Here's who we think will be on our side, and who may feel differently.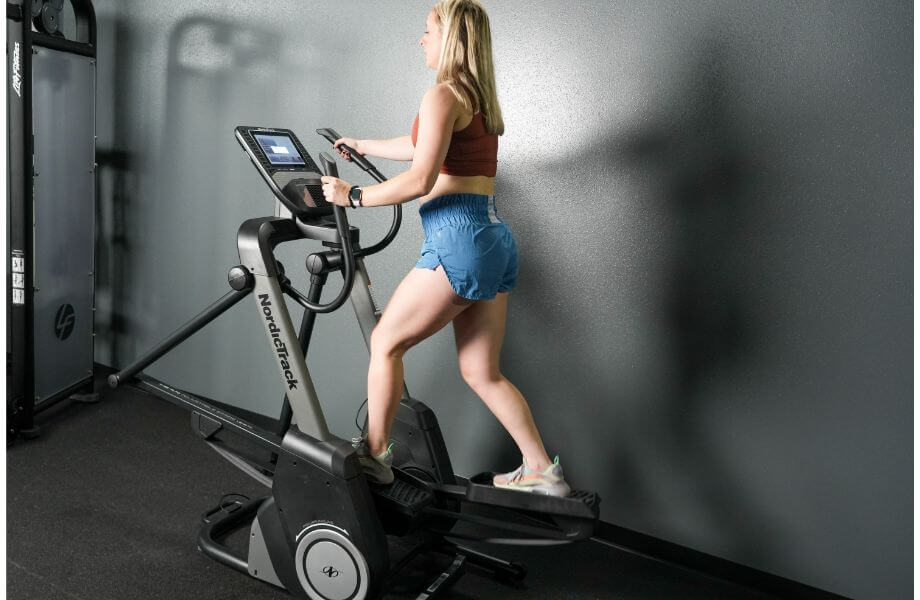 Great for:
Anyone who wants a cardio machine that provides a low-impact workout 
People who like their equipment to have built-in workout programming
Home gym owners looking for versatile machines
NordicTrack FS14i Specs
| | |
| --- | --- |
| Footprint | 58.5″ L x 29.5″ W x 74″ H |
| Weight | 287 lbs |
| Weight capacity | 375 lbs |
| Resistance Levels | 26 digital |
| Flywheel Weight | 20 lbs |
| Stride Length | 32" |
| Incline/Decline | -10% decline to 10% incline |
| Display | 14" Smart HD touchscreen |
| Programming | iFIT |
| Warranty | 10-year frame warranty, 2-year parts, 1-year labor |
Workout Experience With the NordicTrack FS14i
Garage Gym Reviews editor Nicole Davis is so dedicated to doing hands-on reviews of fitness equipment that she flew out to NordicTrack's parent company, iFIT (which also owns ProForm), in Utah just to test out the NordicTrack FS14i. OK, she tested a few other machines while she was there, too.
Her impression of the FS14i is that it's "interesting." You're able to use it as a vertical stepper, sometimes known as a climber, and an elliptical trainer all in one. You simply change your motion to switch how you use it.
There is, technically, a way to use it as a treadmill as well, or at least that's what NordicTrack claims.
"I'd say them referring to it as a treadmill is a stretch,"" Nicole says. "Even if you can achieve that movement pattern, it's still not like walking—it's more like gliding."
Unlike on a treadmill or the sidewalk, your feet never leave the ground when you're using the FS14i in this capacity. Nicole said it was difficult to achieve and maintain the walking pattern on the machine, and fellow product tester Caroline Lubinsky compared it to walking on skis (which, if you've ever had to do that, you know how weird that can feel).
On the plus side, using it as a stepper and elliptical is seamless.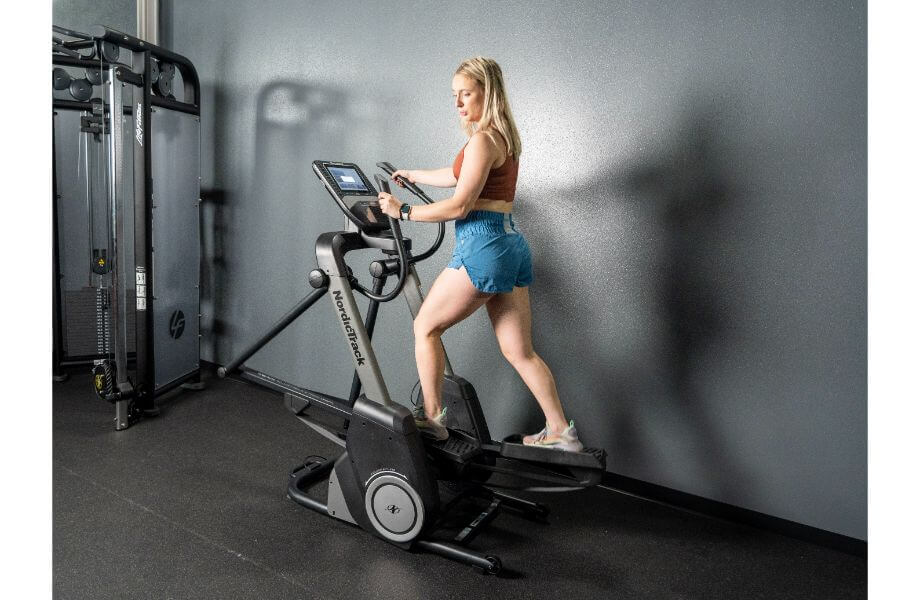 One big advantage of the FS14i is that it has an auto-adjustable stride length that can go up to 32 inches, meaning someone Nicole's size (5 feet, 4 inches) can use it just as easily as someone as tall as me (6 feet, 3 inches). Even better, you don't even have to press any buttons to adjust the stride as the machine will do that for you.
On the moving handlebars, you have adjustments for the resistance and the ramp to use the incline and decline training features, which is rare on an elliptical machine. This helps to target different muscle groups and train for real-world situations, such as climbing a steep hill.
Silent magnetic resistance (SMR) helps keep it quiet so you're not disturbing any of your roommates or workout partners.
The incline and decline can also be controlled by your iFIT trainer during live or on-demand workouts, but you can disable this function if you want to remain in control.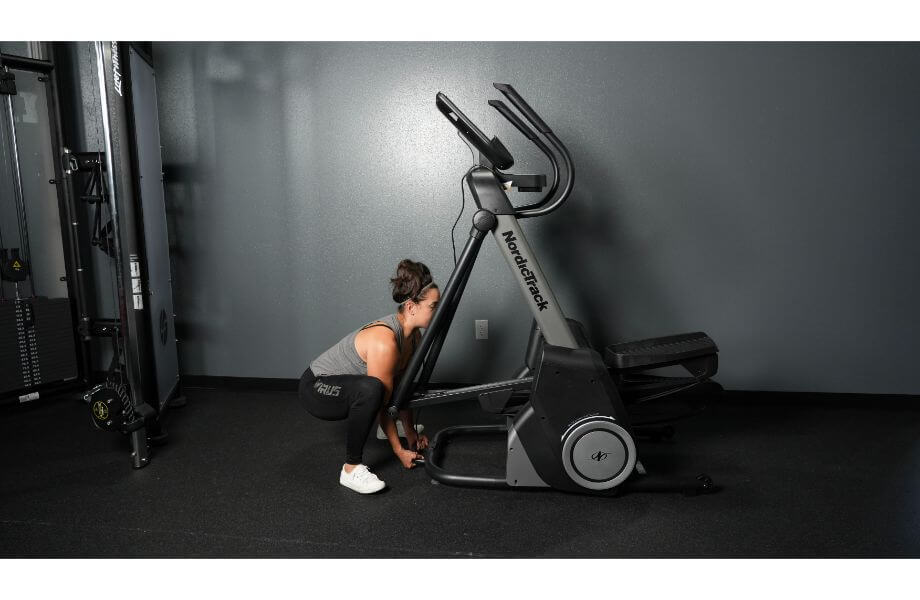 Footprint and Portability
The NordicTrack FS14i can help you maximize your space because of its versatility, but it's not what we'd call space-saving. At 58.5 inches in length, 74 inches in height, and 29.5 inches in width, it takes up quite a bit of floor space. There is a handle and transport wheels, though it's quite chunky at 287 pounds so it's not the easiest thing in the world to move.
Durability
The NordicTrack FS14i is made with "commercial solid steel," and though we're not sure exactly what type of steel it uses we're not worried about it breaking down any time soon. It feels super stable in use and has a maximum user weight of 375 pounds, so this thing is built like a tank.
The silent magnetic resistance also helps reduce the amount of maintenance needed.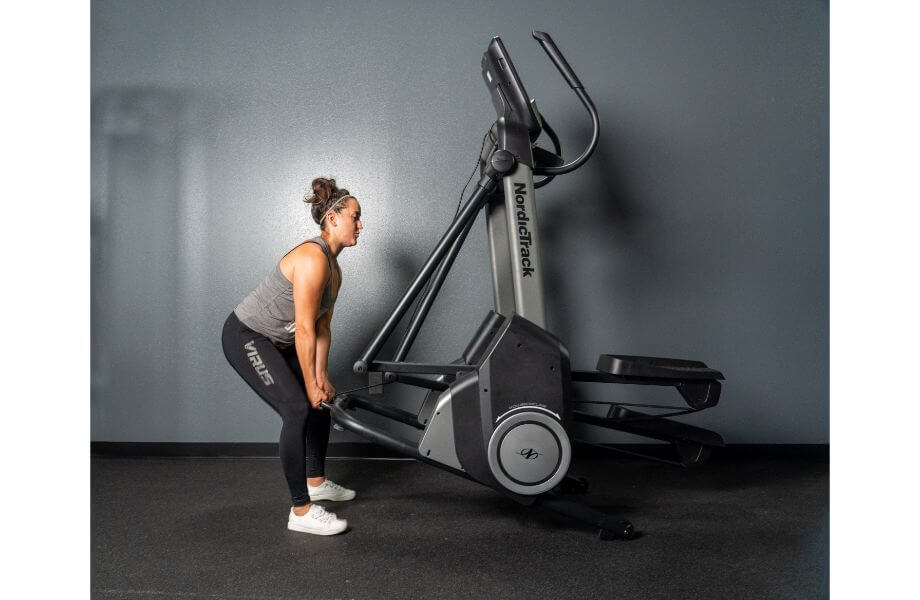 Pedals
The NordicTrack FS14i features two oversized cushioned pedals similar to what you'd find on most ellipticals.
Flywheel
The NordicTrack FS14i has a 20-pound center-drive flywheel, which is about middle of the road for ellipticals. It's heavy enough to provide smooth movements throughout the workout and be challenging enough for people of most fitness levels.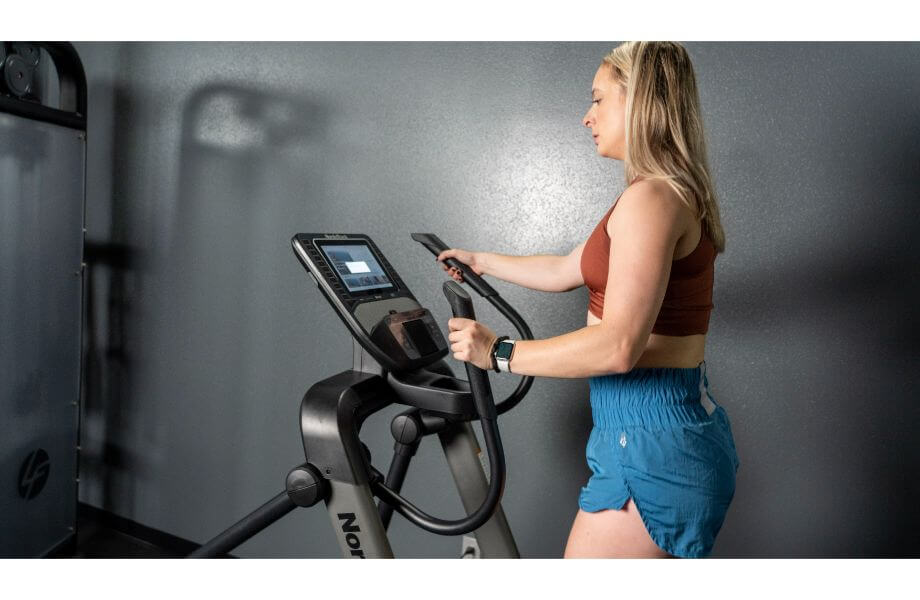 Technology Features
The NordicTrack FS14i comes with a 14-inch HD smart touchscreen, Bluetooth and WiFi connectivity, two speakers, an AutoBreeze workout fan, and automatic trainer control.
iFIT
The NordicTrack FS14i comes equipped with iFIT capabilities, which can be used to access stepper and elliptical classes (and other cardio-based workouts that can be done off the machine). You can choose from hundreds of on-demand workouts, and new classes are added every week.
Conveniences
The NordicTrack FS14i has a water bottle holder, media shelf, workout fan, transport wheels, and a handle.
Financing, Warranty, Returns
Financing options are available for the NordicTrack FS14i, with plans starting at $65 per month at 0% APR for 39 months.
The NordicTrack FS14i has a 10-year warranty for the frame, which is the industry standard, two years warranty for the parts, and one year for labor. NordicTrack will void your warranty if you store the machine in a garage gym that is not climate-controlled.
You have 30 days from the date of delivery to return the NordicTrack FS14i for a full refund, minus a $250 shipping and handling fee.
Ordering and Assembling the NordicTrack FS14i
The NordicTrack FS14i has a ton of moving parts, and may take a couple of hours to put together even if you have a friend helping you. Professional assembly is available at checkout for an additional $300.
For what it's worth, a NordicTrack worker who assembles machines every day recommended professional assembly for this machine.
Customer Reviews
NordicTrack's website doesn't list individual reviews for the NordicTrack FS14i (there are only reviews for iFIT workouts done on the machine). Google has the machine's average rating at 4.2, with 24 reviews as of this writing, though most of the written reviews were for the same version of the machine with smaller screens, such as the FS7i.
A few reviewers echoed complaints about complicated assembly, and a few even said the machine fell apart on them while in use.
Final Verdict of Our NordicTrack FS14i Review
As Nicole put it, the NordicTrack FS14i is a shining example of doing too much. If it was just the elliptical and stepper our opinion of it might be a little different, but the treadmill functionality felt like an unnecessary addition. That said, this is still a highly versatile machine that costs about the same as a heavy-duty elliptical.
In our personal opinion, we'd go for the NordicTrack FS10i FreeStride as it's $500 cheaper (the slightly larger screen is not worth the extra cash in our opinion). 
NordicTrack FS14i Rating
NordicTrack FS14i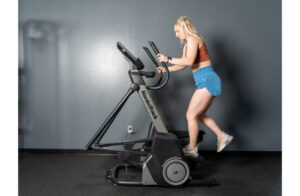 This NordicTrack FS14i review takes an in-depth look at this machine and all the features it has to offer.
Product Brand: NordicTrack
Product Currency: $
Product In-Stock: InStock
NordicTrack FS14i FAQs
How much space do I need for a NordicTrack FS14i?
The NordicTrack FS14i measures 58.5 inches in length, 74 inches in height, and 29.5 inches in width. So you'll need that much space, plus enough so that your head is not hitting the ceiling. You'll also want at least 32 inches of stride length in front of the machine.
How much does the NordicTrack FreeStride weigh?
It depends on which model you order — the NordicTrack FS14i weighs 287 pounds.
Is NordicTrack a good elliptical machine?
NordicTrack ellipticals are some of the best in our opinion. NordicTrack not only makes heavy-duty ellipticals, but they're often packed with features you don't see on other machines, such as incline and decline training.