We test and review fitness products based on an independent, multi-point methodology. If you use our links to purchase something, we may earn a commission. Read our disclosures.
I love to find a good deal, don't you? Going to thrift stores and buying a lamp for $1 or using a coupon I got in the mail gives me a rush of serotonin that not much else will—I just really like saving money.
If you're reading this roundup of the best budget ellipticals, I assume you would like to know what's the best elliptical for the price too! Hi, fellow bargain shopper! Below, I'll guide you through some of my favorite ellipticals on the market that are budget-friendly and tell you exactly why I'd recommend them. I've tried so many ellipticals (both expensive and inexpensive) and know what you need to look for to make a smart purchase. Let's dive in. 
The team at Garage Gym Reviews has done all the leg work for you (pun definitely intended) when it comes to finding the best budget ellipticals on the market. We're passionate about fitness equipment and really know our stuff–– we're certified personal trainers, nutrition coaches, and CrossFit L-1 trainers.
Plus, we're a thrifty bunch (we're writers after all, not stock brokers) and are always looking to help you spend wisely to meet your fitness goals.  
6 Best Budget Ellipticals
Best Budget Elliptical Overall: Horizon 7.0 AE Elliptical
Good for: People who want an all-around durable and sturdy elliptical under $1,000.
Out of any budget elliptical I've tried, the Horizon 7.0 AE shines as my top pick. It has an excellent stride length of 20 inches, which is ideal for taller folks like myself. I feel like I can comfortably use this machine without carefully calculating my strides. Plus, the 7.0 AE is sturdy as a brick wall. I had it resting on carpet instead of hardwood for a while and it still didn't shake while I used it. Consider me majorly impressed.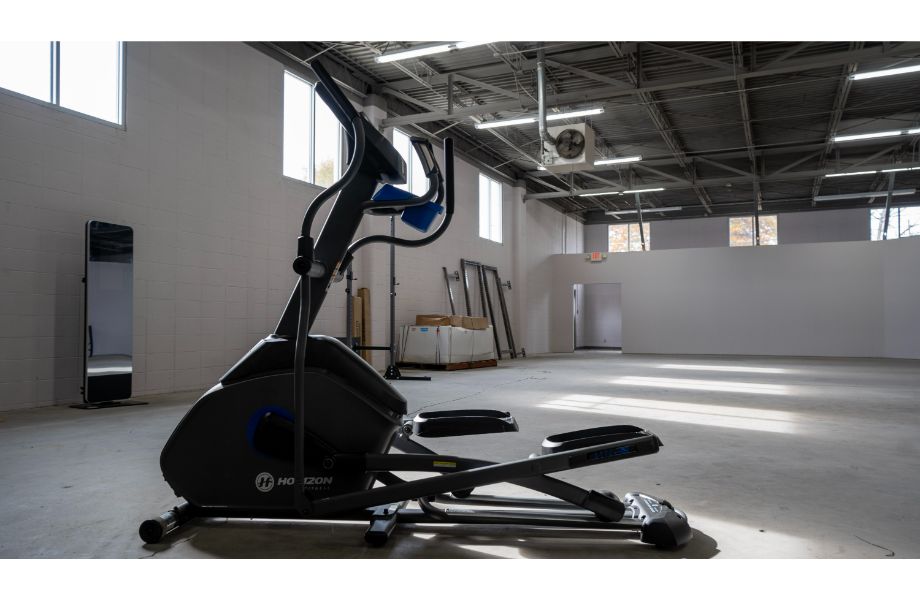 RELATED: Best Treadmill for Tall Runners
There are also both 20 resistance and incline options on the 7.0 AE, which can make an average workout a challenging one with a quick button press. Although you could easily purchase an iFIT subscription to use in tandem with the 7.0 AE, there are also eight preset programs included on the elliptical.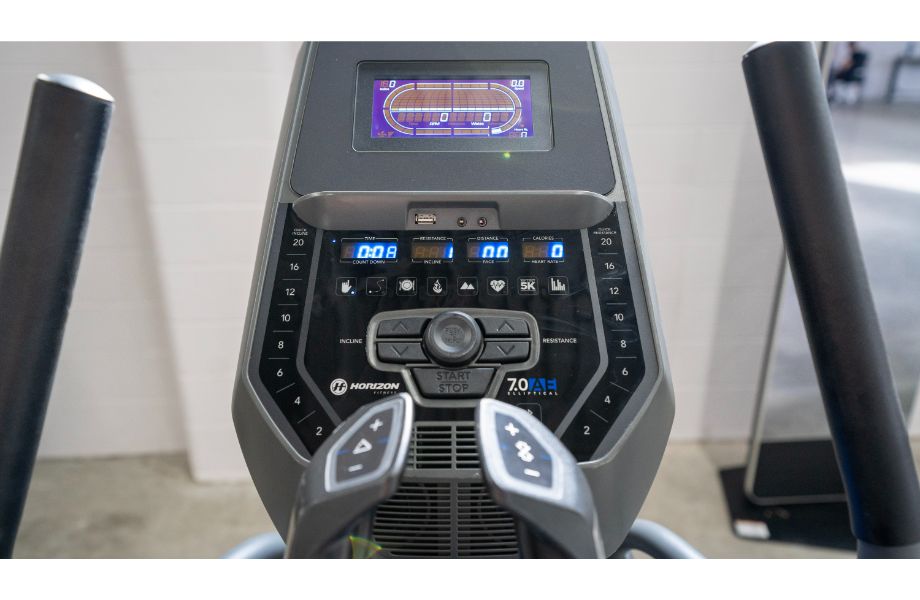 If you live in a small apartment or shared space, you might not have room for the 7.0 AE. This cardio machine has a large footprint and is super heavy, too. When it arrives at your doorstep boxed, it weighs 194 pounds. I had to take the machine out piece by piece to get it into my home.
The assembly process is also not exactly all sunshine and rainbows. I would recommend grabbing an additional person to assist in the process because doing it yourself is next to impossible. Trying to simultaneously wire a display down a tube while holding the front of the elliptical isn't really enjoyable–– or safe. Luckily, the actual machine makes the hellish assembly process worth it, since it's so wonderful (and comes with a stellar lifetime frame and brake warranty).
Check out our full Horizon 7.0 AE Elliptical review.
| | |
| --- | --- |
| Price | Under $1,000 |
| Assembled Dimensions | 76″ L x 24″ W x 65.5″ H |
| Warranty | Lifetime on frame and brake, 3 years on parts, 1 year on flywheel and labor |
| Stride Length | 20 in |
| Resistance | 20 magnetic resistance levels |
| Product Weight | 23 lbs |
| Max User Weight Capacity | 325 lbs |
Best Lightweight Budget Elliptical: Body Rider Body Flex Elliptical
Good for: Small spaces and moving from room to room with ease
When I initially tested the Body Rider Flex Elliptical, I was pleasantly surprised by just how lightweight it is. At just 58 pounds (and with two convenient transport wheels), moving this machine is a breeze for able-bodied people. You could probably single-handedly bear hug this elliptical if need be, but don't do that unless you really need to, m'kay?
The Body Rider elliptical machine has a small footprint––and an inexpensive under-$150 price tag to match. I love that you don't need an outlet to use this machine, which really opens up the options of where you can put the elliptical in your home.
RELATED: Best Compact Ellipticals
For those who dread the assembly process of fitness equipment and IKEA furniture alike––fear not! The instructions to put together the Body Rider Elliptical are simple and straightforward. You'll likely put this together in the time it takes you to normally eat lunch.
The stride length on the Body Rider is just 12 inches, which is exceptionally short compared to the industry standard of 18 to 20 inches. Oddly enough, I didn't hate it, but the motion I was making was closer to a step rather than a stride. This is something to keep in mind if you're looking for a more traditional elliptical experience.
Read our entire Body Rider Fan Elliptical Trainer review.
| | |
| --- | --- |
| Price | Under $150 |
| Assembled Dimensions | 9.06″D x 38.58″W x 24.8″H |
| Warranty | 1 year |
| Stride length | 12 in |
| Resistance | Air |
| Product weight | 58 lbs |
| Max User Weight Capacity | 250 lbs |
Best Quiet Budget Elliptical: NiceDay Elliptical Machine
Good for: Individuals in shared spaces or who need very quiet exercise equipment
There's a good reason I referred to the NiceDay Elliptical Machine as "quiet as a church mouse"––it's virtually noiseless. If you want to get a quick workout while others are sleeping, this is an excellent option for you. Plus, the machine doesn't need to be plugged in to work, so you can move it to any corner of your house that suits you without worrying about finding an outlet.
I'm a huge fan of the lifetime parts warranty, which is not common on budget machines. The brand promises to send you a replacement part for your NiceDay Elliptical whenever anything breaks or stops working.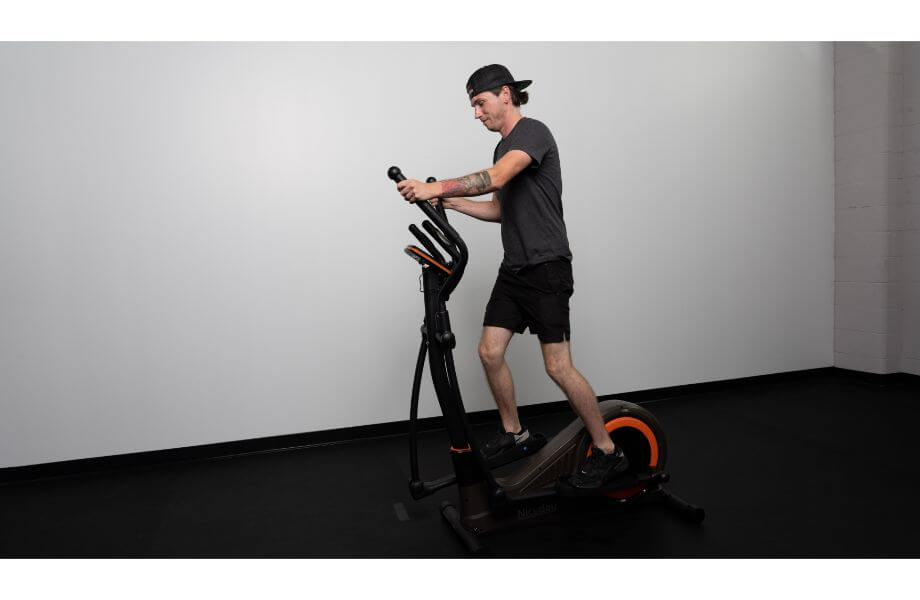 And there's more to love–– the NiceDay Elliptical has oversized pedals to fit a variety of foot sizes, and there are 16 levels of resistance to choose from.
"When I turned the resistance to the hardest level, it felt like I was getting a good workout," GGR Head of Content Kate Meier said.
Kate did note that the handles were a bit wobbly the higher the resistance got. Although the brand brags about the 400-pound weight capacity, we're a little skeptical of these claims.
"I'm well under half the max weight and felt some play in the structure while using it," Kate explained.
Take a look at our full NiceDay Elliptical Machine review.
| | |
| --- | --- |
| Price | Under $600 |
| Assembled Dimensions | 48″ D x 25″ W x 62″ H |
| Warranty | Lifetime on parts |
| Stride Length | 15.5 in |
| Resistance | 16 levels |
| Product weight | 16 lbs |
| Max User Weight Capacity | 400 lbs |
Best Budget Elliptical Under $500: Gazelle Freestyle
Good for: People with a limited budget or small spaces
Trying to find literally anything for under $500 feels almost impossible. Heck, when I had the electrician come out, it's an automatic $500 before anything is even fixed. If you feel the same way as I do, you're about to breathe a sigh of relief. The Gazelle Freestyle is under $250 and has a compact footprint and weight, so it's ideal for small spaces.
Plus, this sucker is foldable! Yes, you heard me right. It can be folded up and moved up and down stairs with ease, which I love. I wouldn't recommend leaving it unfolded and trying to move it because the machine will hit you in the shin.
Although this elliptical has just a 15-inch stride length, I actually still found it to be enjoyable to use. GGR Editor Nicole Davis is shorter than me and didn't feel the same (she thought the stride was too short), but it was fun to me. I did feel sort of gazelle-like swinging back and forth.
You don't need to plug this elliptical in the wall to use it, and it's super quiet. If you live in a shared space and aren't trying to wake up family members or roommates, this is an ideal pick.
Unfortunately, with an inexpensive price tag does come some compromises. The warranty is just 12 months long, and this might not be the elliptical for you if you have balance issues. It can be hard to mount and dismount safely since the elliptical has no resistance behind the strides. They can swing quite a bit when being stepped on, which is definitely something to note.
RELATED: Gazelle Freestyle Review
| | |
| --- | --- |
| Price | Under $250 |
| Assembled Dimensions | 44″ L x 33.5″ W x 53.5″ H |
| Warranty | 1 year |
| Stride Length | 15 in |
| Resistance | N/A |
| Product Weight | 55 lbs |
| Max User Weight Capacity | 300 lbs |
Best Budget Elliptical for Beginners: Sunny Health & Fitness Magnetic Elliptical
Good for: People who need an easy way to get a full-body workout
New to working out and don't know where to start? Consider picking up (not literally, unless you need to) the Sunny Health & Fitness SF-E3912 magnetic elliptical. This cardio machine is ideal for beginners because it has 24 built-in workouts.
Simply just select one of the available options and stride away! No complicated mumbo jumbo that makes working out harder than it needs to be. Plus, this machine has a user weight capacity of 330 pounds, which is above the industry standard of 275-300 pounds. I like that the SF-E3912 is a more inclusive option than most budget machines, which again might make it a solid option for new exercisers.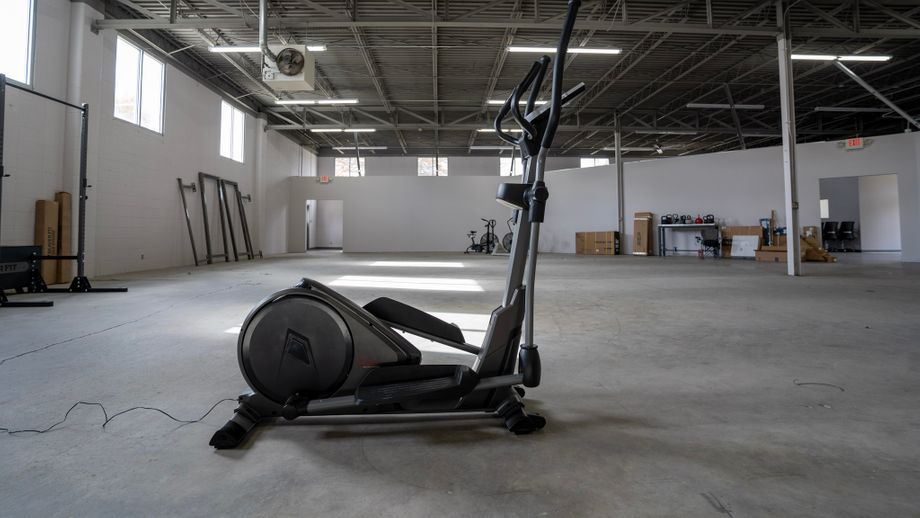 When you're ready to kick things up a notch, the Sunny elliptical has 16 different resistance options that can easily be utilized via the display.
A few things I don't love? The complicated assembly and the subpar warranty. I would definitely recommend grabbing a friend and a Phillips head screwdriver to make the process a little easier. The instructions given aren't very clear and although the needed tools are provided, using your own screwdriver makes things quicker.
Let's talk about the warranty––with just three years on the frame and only 180 days for all other pieces, I am leary about the long-term durability of this machine. Although I didn't experience any issues, I haven't used the SF-E3912 for three years and can't speak to long-term sturdiness.
Take a look at our full Sunny Health & Fitness Magnetic Elliptical review.
| | |
| --- | --- |
| Price | Under $400 |
| Assembled Dimensions | 23″ D x 64.5″ W x 55″ H |
| Warranty | 3-year structural frame/180 days other parts and components |
| Stride Length | 15.5 in |
| Resistance | 16 adjustable magnetic resistance levels |
| Product Weight | 104.8 lbs |
| Max User Weight Capacity | 330 lbs |
Best Value Budget Elliptical: ProForm Hybrid Trainer
Good for: People looking for variety in their workout routines
Trying to decide between purchasing an exercise bike and an elliptical? Contemplate no more! The ProForm Hybrid Trainer is a 2-in-1 cardio machine for under $700. Plus, you get a free 30-day trial of iFIT, which gives you a multitude of workout options on-demand. However, you don't have to pay for iFIT to get a great workout––there are 16 preset programs to follow along with (eight for the elliptical and eight for the bike). Even better? You can switch between the bike and the elliptical with ease.
RELATED: Elliptical vs Bike
I enjoyed using the recumbent bike portion of the ProForm Hybrid. There isn't any play in this position while in use, which is always a plus. I do think the pedals might throw some people off at first, since they are in front of you versus the traditional underneath placement.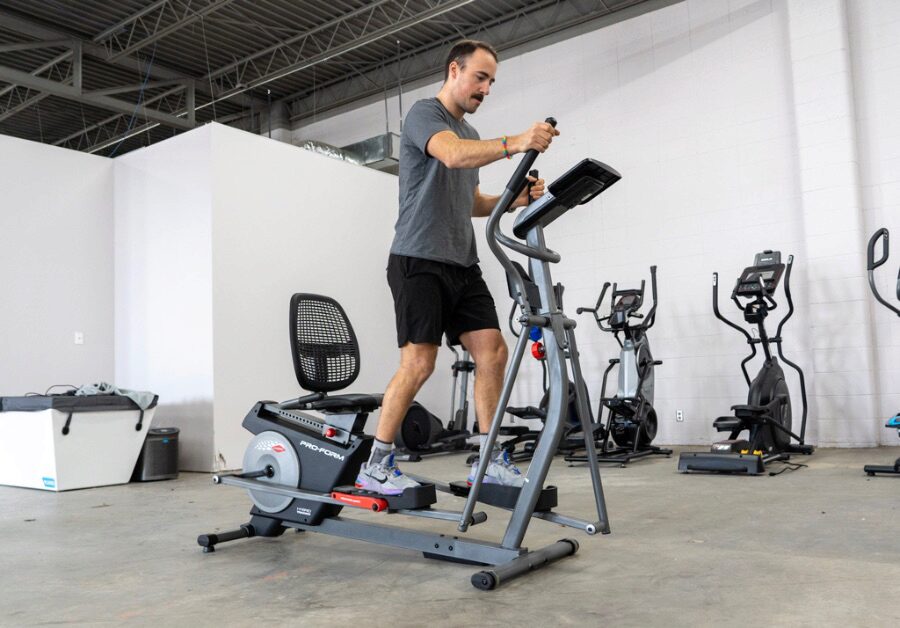 When using the elliptical, there was a slight bit of shaking, likely due to the lightweight 13-pound flywheel. It wasn't enough to make me not want to use the machine, but I think it could be problematic for heavier users. Plus, the stride length is just 15 inches, which felt a little short for me (I'm 5 feet, 9 inches). If you're shorter, this likely won't bother you.
Although this bike-elliptical combo isn't super heavy at 117 pounds, it does have a sizable footprint potential customers should be aware of (not that it's surprising). There are included transport wheels to help folks move this machine from room to room.
Read our full ProForm Hybrid Trainer Elliptical Review.
| | |
| --- | --- |
| Price | Under $700 |
| Warranty | 5-year frame, 1-year parts and labor |
| Stride Length | 15 in |
| Product Weight | 117 lbs |
| Max User Weight Capacity | 250 lbs |
Other Budget Ellipticals We Researched
Stamina Inmotion Elliptical: While I like the idea of this $120 machine, I hesitate to even call it an elliptical. It's supposed to mainly be used while sitting down—an under-desk elliptical if you will—but there is a stock photo of a woman standing on it with zero support. Sounds like a recipe for a broken bone or two if you ask me.
Schwinn Fitness 411 Compact Elliptical Machine: Although I love the 18-inch stride length and strong warranty, the Schwinn 411 is apparently difficult to use. Multiple purchasers of various fitness levels complained about the resistance levels being too hard, even at the lowest level.
Decathlon-Domyos EL500 Elliptical: Preset programs are a great way for beginners to get started, and the EL500 has quite a few options to choose from. However, the stride length is a measly 12.59 inches, which is well below the industry standard. Tall folks will have major difficulty comfortably using this machine.
Exerpeutic Heavy Duty Magnetic Elliptical: This inexpensive elliptical will get the job done for around $300, but everyone in your neighborhood will probably hear you working out. The Exerpeutic elliptical squeaks to the high heavens!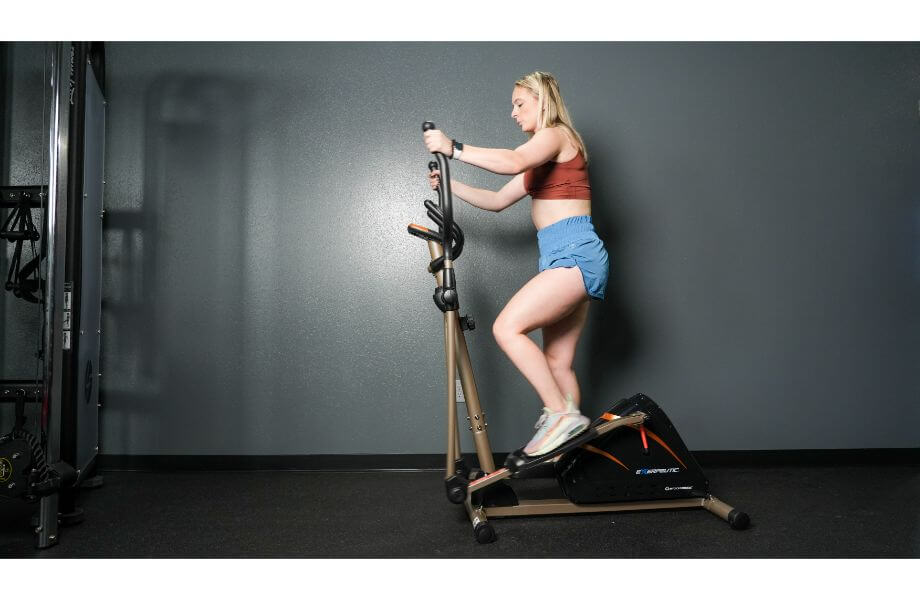 How We Picked and Tested the Best Budget Ellipticals
At Garage Gym Reviews, we take our testing and reviewing very seriously. Hours of research and exercising goes into us evaluating each piece of equipment on our site. When determining which ellipticals would make it into this roundup, we examined the following.
Price: Is the elliptical machine under $1,000? Are there financing options, even at a lower price point?
Workout experience: Was the elliptical stable while in use? Was there any shaking or play in the handlebars or frame?
Stride length: What is the stride length? Is it at least 18-20 inches for maximum usability?
Weight capacity: What is the weight capacity? How does it compare to the industry standard of at least 275 to 300 pounds?
Display: Is there an LCD monitor? Is it backlit?
Compactness/Portability: How big is the machine? Can it be folded or stored in any way? Does it have transport wheels? Do you need a second person to move the elliptical?
Warranty: What is the warranty for the frame, labor, and parts?
Resistance levels: Are there at least 12 levels of resistance?
Adjustability: Can anything be adjusted (like the range of motion, the foot pedals, and magnetic resistance)?
Incline levels: Does the machine have any incline options?
Assembly: How difficult is the assembly process? Will it require additional help? Are the directions clear and easy to follow?
Extras: Does the elliptical have a water bottle, accessories, or device holder? Are there pulse grips on the elliptical?
Pedals: Are the pedals oversized? Are they textured or cushioned?
Technology: What type of display does the elliptical have? What metrics does it show? How big is the screen? Is it compatible with any interactive programming? Is there Bluetooth connectivity? Are there any preset programs?
Benefits of Budget Ellipticals
Why the heck should you spend your hard-earned money on an elliptical or cross trainer? I'm glad you asked! Check out Garage Gym Reviews Staff Writer and NASM certified personal trainer Anthony O'Reilly's thoughts.
Low-Impact Exercise
Ellipticals are a perfect choice for those recovering from injury, or those who have sensitive joints. "Because your feet aren't crashing down with every stride, like they are during outdoor running or on a treadmill, your knees and ankles don't take as much impact," he says. "This can also lead to longer cardio workout sessions, which in turn could lead to increased caloric expenditure."
Saves You Time
Because you're simultaneously using your upper- and lower-body muscles, you can get a total-body workout in a shorter amount of time.
Improved Cardiovascular Fitness
"One of the main reasons to invest in an elliptical machine is it helps get your heart rate pumping, which leads to improved stamina and overall cardio performance," Anthony says. "This has been shown to decrease the risk of diseases like diabetes and heart disease, and improve multiple health markers from insulin resistance to lowering your resting heart rate."
Buying Guide: What to Look for in a Budget Elliptical
Everyone is looking for different things when it comes to purchasing an elliptical for home use. However, here are some of the most common factors to keep in mind when you're thinking about adding an exercise machine to your home gym.
Space Constraints
Some of us have giant, dedicated basements, garages, and rooms for our home gyms. Others have a small corner of their living room to fit a piece of cardio equipment. Whatever your situation is, make sure to measure the space beforehand so you know the maximum footprint your elliptical can have.
Price Range
What might be considered an affordable elliptical to me might not be to you. Determining your price range ahead of time will keep you from overspending. Pro tip: Check out our discount codes and keep your eyes peeled for holiday savings to keep some cash in your pocket. Plus, many retailers now offer excellent financing options, so you can break down your payment into manageable chunks.
Warranty
Typically, I like to see a warranty that is at least 10 years (if not more) on the frame of an elliptical. However, it is important to keep in mind the price of the machine. You generally won't find a top-of-the-line warranty on a $100 elliptical machine, so you have to pick and choose your battles.
Resistance and Incline Options
For those who want to up the ante on their elliptical workouts, make sure your new cardio machine has resistance or incline options. The majority of budget ellipticals have resistance knobs, but incline is a bit more rare.
RELATED: Best Elliptical Workout
Stride Length
If you're a shorter person, the stride length of your machine will matter quite a bit less. However, if you're tall, you may find you are most comfortable on an elliptical that has an 18-20-inch stride length. This can be more difficult to find on budget machines, but it isn't impossible.
Portability
Especially if you live in a multi-story building or home without an elevator, you'll likely want to consider the portability of the elliptical you plan to purchase. Of course, you can hire professional movers, but if that's not in the budget, make sure your potential elliptical has transport wheels to help it move around a room (and consider the total weight of the machine).
Budget Elliptical FAQs
What muscles do ellipticals work?
"An elliptical HIIT workout tends to affect all major muscle groups," Garage Gym Reviews Head of Content and certified personal trainer Kate Meier shares. "Your hamstrings, quads, and glutes take on the brunt of the work, especially if you have an elliptical where you can vary the incline to target those groups in different ways." 
"If your elliptical has moving handlebars, your upper body also gets involved, though to a much smaller degree than the lower body. Pulling and pushing on the handles will work your biceps as well as the upper back, specifically rhomboids and traps," Kate explains.
"Lastly, your core has to work hard to keep you stabilized, much like your core is activated during running sprints. I wouldn't call an elliptical workout a core workout, but you certainly engage your core muscles when you hold proper posture on an elliptical."
Are home ellipticals worth it?
Yes, it is important to get some type of cardio in routinely, and purchasing an elliptical may be the best option for you. Prior to purchasing, I'd recommend deciding which form of cardio is your favorite (Iidoor biking, treadmill running, or elliptical striding) so you get something you'll actually use. Check out if your potential elliptical has things like preset workout programs, a water bottle holder, and a stride length that will support you.
How much does a cheap elliptical cost?
Depending on the features you're looking to have on your budget elliptical, you may spend anywhere from $100 to $1,000. If you want a longer stride, a better warranty, added pulse sensors, or extra stability, you do end up paying more.
What is the best elliptical that doesn't require a subscription